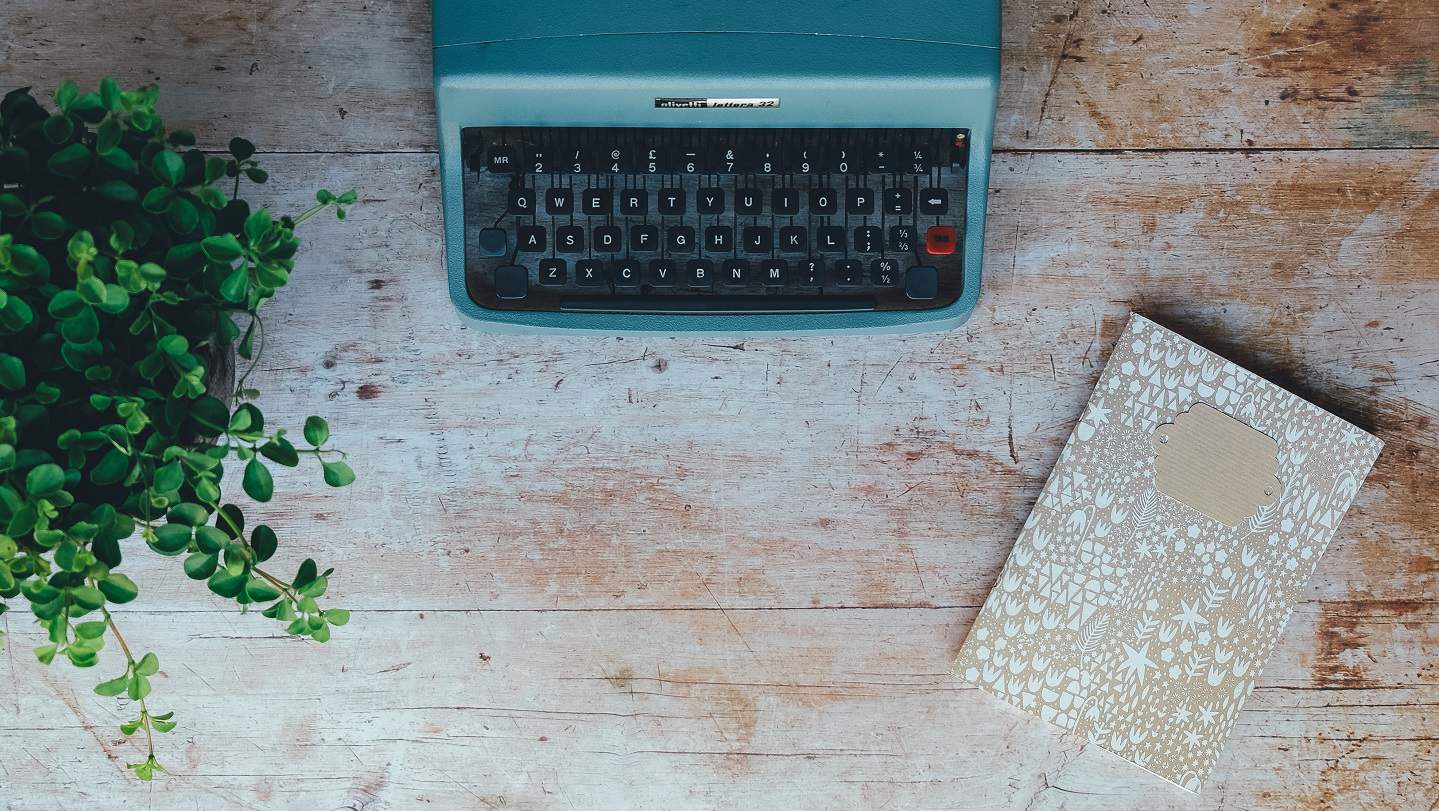 One of the fastest ways to scale your blog's content production is to outsource the writing to freelance writers.
Some blog owners have time to churn out a ton of content by themselves. Others (like us at The Meta Blog) run their blogs as side hustles alongside full-time jobs. We want to grow fast so outsourcing is necessary.
Of course, no blog outsourcing process is complete without a solid content brief to communicate and share expectations with freelance writers.
Keep reading to discover what makes the perfect content brief and steal our free content brief template to complete your blogging toolkit.
What is a Content Brief?
A content brief is a set of instructions to a writer on how to approach and what to include in a particular piece of content. A brief typically includes the content goal, word count, topic description, main headings, SEO keywords, sources to cite, and other instructions.
Content briefs can be as "brief" (no pun intended) or as detailed as you need.
To successfully produce an article, a writer needs two things from you: a copy of your blog writing guidelines and a content brief.
Writing guidelines will help the writer adapt their style to your blog while the content brief is specific to an individual blog post. These two items go hand in hand. 
Pro Tip
Go one step further and develop a dedicated onboarding pack for new writers! Include the likes of your writing and tone of voice guidelines, buyer personas, brand mission, and value statements—the more context the better. Your writers will thank you for it. 😉
Does the writer really need a content brief?
Yes and for a number of reasons: 1. To ensure the writer's work hits the target. 2. To eliminate countless back-and-forths and 3. To avoid rewriting an entire draft yourself (been there, not fun 😑).
One of the common misconceptions people have when hiring blog writers is that "the writer will figure it out". So they give the writer a vague topic, throw in a couple of keywords, and send them on their merry way. This is what we'd call a high-level approach.
Now for some blog owners and content managers, this works just fine. For example, when they know a writer well and are confident in their abilities.
But for the vast majority, to not brief your content writer is a recipe for disaster 💣 Why? Because the writer can't read your mind. What's obvious to you is not necessarily obvious to the writer, even less so if they're unfamiliar with the subject matter.
So if you've got specific points you want the writer to address, be it examples to include or product features to promote, the content brief is a way to express these needs and set the writer on the right track.
Creating a Reusable Content Brief Template
Growing a blog fast is all about finding scalable, repeatable processes. Use templates where possible to increase the efficiency of your blog operations.
Making a template for your content briefs is a no-brainer. Create a skeleton document with the relevant headings and sections so all you need to do is fill in the gaps each time.
Here at The Meta Blog, we're always looking for ways to make our briefing process more efficient (let's face it, content briefs can be a major time suck). No surprise that having a reusable template saves us time and helps organize our ideas. 💡
So what does a content brief template actually look like, you ask?
Content Brief Template Example
Here's an example of a typical content brief we use to brief our freelance writers.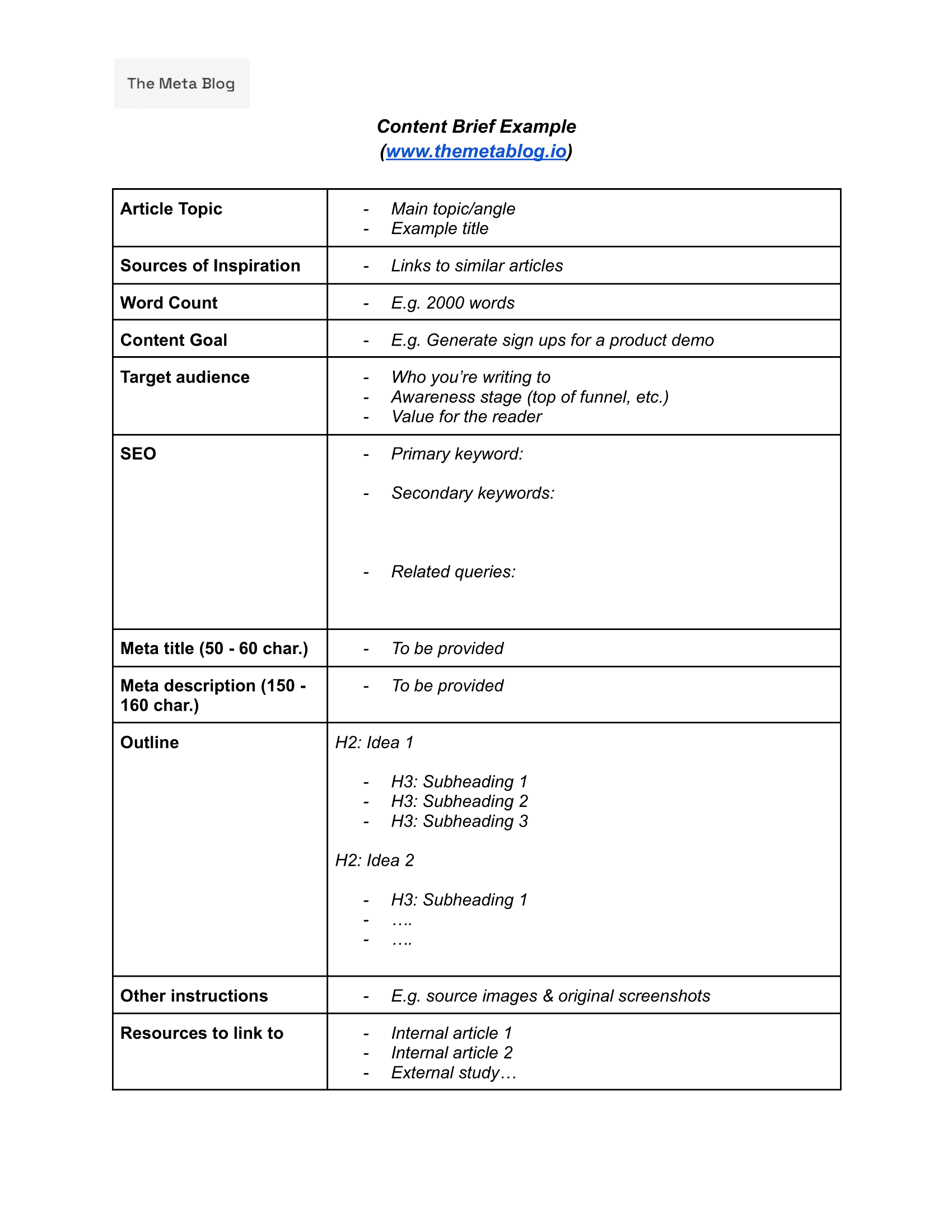 Download the editable content brief template here by making a copy of the Google Doc. 👇
Download the free content brief template
What to Include in a Content Brief Template
There are no hard and fast rules when it comes to content briefs. Customize your content brief template according to what you think the writer needs to know. 
Most briefs, however, will mention some or all of the following:
1) The topic
This one's obvious—what will the writer write about? 
If you already have a vision, provide details of the angle you want them to take. An example title and links to similar content will also help point the writer in the right direction.
2) The content goal/business objective
What's the content supposed to achieve from a business perspective? What action(s) do you want the reader to take?
Some examples of content goals include:
Encourage readers to sign up for a free trial or demo
Get readers to click an affiliate link
Rank first page on Google for the main target keyword
Generate shares on social media
The writer needs to know the 'why' behind your blog post so they can align the content accordingly.
Pro Tip
Don't know what the goal of your content is? Uh-oh, time to go back to the drawing board and rethink your content strategy. Each blog post should serve a clear purpose. Otherwise, you'll waste money on content that won't bring value to your business.
3) The target audience
Who are you targeting? What stage are they at in the buyer journey? What are they supposed to learn or gain from this content?
The writer needs to know who they're writing to and these are important questions to establish that context.
Already got established buyer personas for your brand? Now's the time to share the relevant persona with your writer.
4) Format and word count
Don't leave any doubts as to the content format. Are we talking about a blog post, landing page, or ebook? If it's a blog post, then what kind of blog post? Cornerstone piece, how-to guide, listicle, product review—these details matter, folks!
Next up is word count. Not only is it necessary in determining the project scope and blog writer costs, but the word count also needs to be the right amount to do the topic justice. 
Underestimating the word count can mean missing out on important details while overestimating could leave the writer filling the article with meaningless filler content just to hit the target. Gotta find that balance.⚖️
Start by looking at the top-ranking competitor content on Google. How long is it? Use this benchmark as a guide.
5) SEO keywords
Google is one of the few distribution channels that'll keep bringing traffic long after the initial promotion efforts have died down. Invest in this channel by optimizing your content for organic search.
The best approach for an SEO content brief is to assign a main keyword and secondary keywords. The main keyword has the highest search volume and traffic potential. You want the writer to include it in the H1, meta title, opening paragraph, first H2, etc.
Secondary keywords typically have lower volume and will be distributed throughout. You can also include any specific google queries or questions to be addressed as well.
Pro Tip
Don't assume the writer will do keyword research for you. Blog writing doesn't typically include keyword research and most writers don't have access to SEO tools anyway. Keyword research is on you unless agreed otherwise.
Not sure which keywords to target? Use a keyword explorer tool. Search the main parent topic to find an array of associated keywords and their volume. We're big fans of Ahrefs. Other popular tools include SEMrush and Moz.
Don't have the budget for a paid tool? Try a free keyword tool like Google Keyword Planner (note that you need to create a Google Ads account to access the planner).
6) Outline/Main points to cover
This section can be as detailed as you need it to be. We recommend at least a rough outline with some of the main H2s and H3s.
Indicate how you want the writer to work in any CTAs, product mentions, or specific examples e.g. "Refer to the case study about XYZ here", "Aim to compare at least 9 email marketing tools in the listicle".
7) Internal links & sources to cite
Including contextually relevant links to your existing content is important for SEO. Every blog post should have internal links. It helps establish topical authority in the eyes of Google and it's also a good way to keep visitors on-site for longer.
Don't forget to include any external sources or studies you want the writer to cite.
8) Any other specific instructions
This could be anything depending on how you operate. Some examples:
Image sourcing: Is the writer expected to source the images?
Meta information: Should the writer supply a meta title and description? Recommended to save time.
Submission format (Google Docs, Word?), the deadline, etc.
The 8 points mentioned above represent the most common components of a content brief template. Of course, you can customize the template however you want.
Curious to know how other content practitioners structure their briefs? Clearscope did an insanely good webinar on this topic. It's an hour and a half long but has soo much value (I rarely watch webinars but this one is gold 😍)
How Long Should a Content Brief be?
1 – 2 A4 pages depending on the length of the content and the complexity of the topic.
Keep it short. Use bullet points. Save time writing lengthy descriptions by linking to sources and examples instead.
It's easy to get carried away writing a content brief. Ever spend so long on a brief that you pretty much write the thing yourself? Been there 👋 In fact, most content managers fall into this trap at some point.
You need to find the balance between getting instructions across to the writer but not spending so much time that it becomes counterproductive. This brings us to the next question…
How Much Time Should You Spend on a Content Brief?
It depends. Ideally, thirty minutes to one hour. But it doesn't always work out that way…
Some topics simply require more detailed briefs. Throw keyword research into the mix and you could be running way over an hour. It happens 🤷
The more you practice putting content briefs together, the faster you'll become and the more streamlined your process.
You may also need to work with a writer several times before you can gauge how much direction is needed.
Bottom line: Briefing is slow in the beginning but with practice and a well structured content brief template, you'll be a brief-writing machine in no time 😎