How to Create a Content Plan [Free Content Planning Template]
Trying to implement an effective content marketing strategy without a plan will likely lead you to fall short of your goals and targets. To have a successful content marketing strategy, you need to make sure that you have a well organized and targeted content plan.
In this article, we're diving into what exactly content planning is, why you need to do it, and all the tools you need to create your own bullet proof plan—plus, our free content planning template for you to use!
What is a Content Plan?
A content plan is structured to execute the goals set out in your content strategy—they contain marketing processes, content initiatives and everyday workflows.
Generally speaking, content plans will contain:
Supporting content pieces
This is a list of pieces to be created that support the overall content strategy, and can include blog articles, e-books, and videos. Here's an example of a blog content plan from Backlinko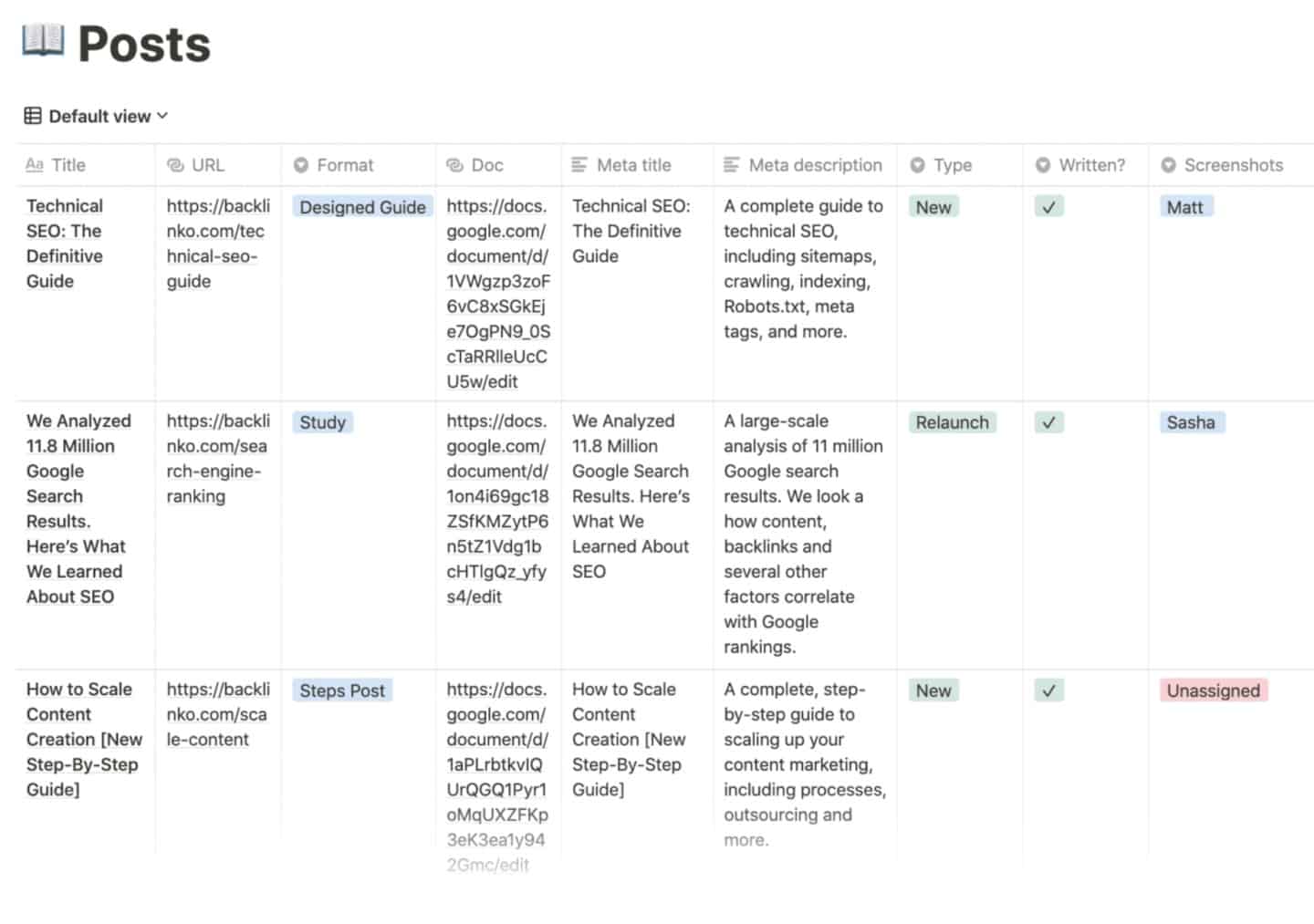 High-level information for each piece
This will cover the purpose of each piece, SEO content, the angle, any target keywords, associated search volumes, search intent and the corresponding stage in the buyer journey.
Content calendar
The expected publication timeline for each content piece, plus what you want to have achieved by when.
Assigned tasks
Content plans should outline who is responsible for which task.
What's the Purpose of a Content Plan?
To maximize the success of your blog going forward, you really should have a content plan. Your blog needs a content plan to help you:
See the big picture
A plan can help you understand exactly what you need to do to get from where your blog is now to where you want it to be. A content plan drives your vision and keeps you on track, staying accountable while being able to measure your success as you go.
Increase efficiency
Planning ahead ensures you stick to relevant content and understand how your pieces might work together. In addition, if you plan in advance you'll have an overview of tasks that can be grouped together to save you time, like bulk briefing several blog posts at the same time. This can increase your workflow and help you to work faster, not harder.
Make outsourcing easier
It's not easy to find the time to plan, manage, and write for a blog, so outsourcing your content to freelance writers is a common choice. Unlike you, they're unlikely to be available at 2 in the morning when you realize that the latest post is still to be written, so maintaining a solid handle on your content calendar and schedule can make it much easier to work with you!
Stay relevant
Planning properly can ensure that you're giving your target audience what they want, meaning you are staying on track by meeting their needs, rather than your own.
Maximize your SEO
If you plan in advance, you can research the best keywords and terms to ensure that your content performs as well as it can.
Meet key dates
A content plan will help you make sure you don't miss any key dates throughout the year. Specific dates, days and festivities can creep up on us, so having a calendar of notable dates will help make sure you don't miss important days so you can plan relevant content accordingly.
What's the Difference Between a Content Strategy and a Content Plan?
While the words 'plan' and 'strategy' are often used interchangeably, there are succinct differences between a content plan and a content strategy and it's important to know the difference between the two.
A content strategy consists of the overarching goals and objectives for your content, with specific targets to reach. A content strategy is focused on the big picture, and the high-level vision for your blog, alongside any specific business targets you may have. 
Your content strategy will outline your target audience and the direction that you want to take your blog in. It should also include a summary of how you plan to reach these targets, the types of content you plan to produce and the channels you will publish content through without going into too much detail.
You should ensure that you write a content strategy before you write a content plan. Your content strategy will show you how and why your content will help you to achieve the targets and goals you have for your blog.
Meanwhile, a content plan should piggyback your content strategy, focusing on its execution. The content plan will help you decide the specifics of your content and when it will be produced. 
Your plan should contain concrete actions that all contribute to making your strategy a success, planning on a more granular level with clearly defined timescales and tactics.
This is the time to set clear processes and workflows to meet your targets which will help keep you, your team and your freelancers on the same page and on track.
Simply put, your content strategy will help you identify key themes, targets and the direction of your blog. Your content plan will then help you flesh out this strategy and implement processes to reach success.
7 Steps for Building a Successful Content Plan
#1 Know your target audience
There's no point creating content when you don't know your target audience. Good content is targeted towards specific consumers, and your plan should outline exactly who you're producing content for.
If you're struggling to define exactly who your target audience is, a good first step is to research your current content consumers. If you can gather information and data on your current audience, you can work on providing them with more content that they want to see, while growing this audience further.
You can use data-gathering methods like market research or Google Analytics to get information on everything from gender to education, age to interests. Using this information, you'll be able to better understand how to produce the best type of content for your audience.
You may also have different audiences on different platforms and channels. For example, Instagram users are generally younger than Facebook users, so you may want to adjust your content on each channel to appeal to each audience.
You might even plan different pieces of content for different demographics on the same platform!
#2 Do a content audit
Learn from your past mistakes and successes by auditing your content. Which of your previous content pieces performed well and how can you replicate the approach?Which content clusters can be further developed, and which new clusters can be created from scratch?
It can be tempting when creating a new strategy and plan to overthrow the old, and create a whole new way of doing things, but if you do this you might be overlooking something your blog is already doing really well.
Analyzing your previous content also provides you with a good starting point to refer back to further down the line to measure the success of your content plan.
A content audit further ensures you don't double up on content, and can highlight existing content that can be reworked and optimized.
#3 Determine the content topics that will serve your blogging goals
Keep your content strategy in mind when drawing up the content plan. You should stick to topics that are going to support this strategy to help you drive traffic to your site, ultimately increasing revenue.
Each time you consider a content topic, ask yourself the question 'why'? Why is this content important to my blog? Why will it help me to reach my strategy targets? Each piece of content should have a purpose: it should add value to your audience and help you on your way to success.
You should also ensure that you account for seasonality, if your blog niche is impacted by specific times of the year.
For example, if you're going to publish a Christmas gift guide, you should ideally do so in October. Or, if your blog includes reviews, make sure that you keep track of product release dates so that your product review is timely for your audience.
#4 Find a place to house your content plan
There are a plethora of tools to help you create an organized content plan. You can use mediums like Notion or Google Sheets, or project management tools like Asana, Trello, Monday or Airtable.
At MetaBlog, we content plan using Notion—we like it because it's easy to create a clean table and overview. We originally used Google Sheets, but we love how easy it is to customize a Notion board to give our content plans a more engaging aesthetic.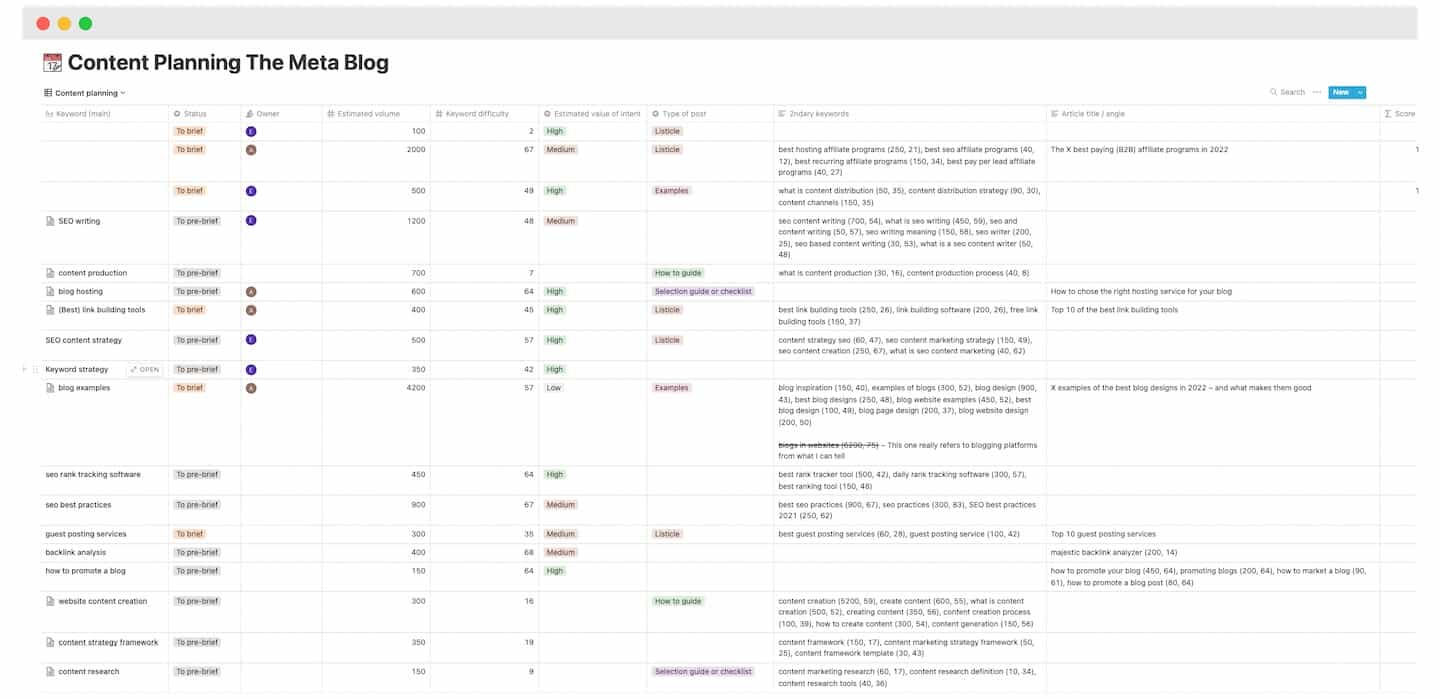 #5 Organize your planning document according to needs and priorities
Every blog will have different priorities depending on your niche and goals. Our blog strategy is SEO-driven so our planning document is customized to include SEO information such as the main target keyword, search volume, difficulty and secondary keywords.
Your strategy will have outlined your own blog's needs and priorities, which will determine how you organize your content plan.
#6 Grant access to relevant stakeholders
Whichever platform you decide to use, make sure that every member of your team who will be contributing to the execution of your content plan has access and knows how to operate it.
You might even want to make a version of your content plan available to your freelance writers so they can ensure their writing is in line with your vision and strategy. Make sure to also provide freelance writers with a good content brief to help them say in line with your content strategy. 
#7 Track and keep updated
Work out a system to keep your content plan up to date as you progress. You can use processes like tagging items with keywords or codes to indicate the status of content pieces, whether it's scheduled, needing reviewed, in progress or is published.
What We Include in Our Content Plan
Our content plan is organized using the following headings:
Main target keyword, search volume and difficulty
As we already mentioned, our blog is SEO-driven and our main focus is organic traffic. This means that for us, each content piece needs to have a corresponding keyword target to make it worth our time to produce.
Having a clear and organized keyword roadmap also helps us avoid keyword cannibalization and duplicate content issues down the line.
Status
Our content plan will always include the production status of each content piece to give a clear overview of the content pipeline and keep us on track.
We use the following tags:
To pre-brief
To brief
Next up
To write
In progress
Proofreading
Published
We have these laid out on a separate Content Board to make it easier to collaborate with writers.
Content owner and writer
Each content piece is assigned an owner and a writer, so we have a clear overview of everyone's responsibilities and access, while helping us to organize our internal team and freelance writers.
Search intent
Our content plan includes content for each stage of our audience's journey. We list content in terms of high/mid/low when describing purchase intent.
Another option would be to classify your content according to the stage of the purchase funnel that your audience will be in when they read each particular piece of content, whether they're in the 'transactional' phase, the 'comparative' phase or the 'information' phase.
Article title/angle
This provides an easy reminder to the content owner of the expected outcome of the content piece and indicates the direction that they should take. This should correspond with the search intent for the main target keyword.
Type of post
The type of post indicates the expected format for the content writer.
Our tags include:
Listicle
Product review
How-to guide
Selection guide
Checklist
Tutorial
Comparison
Cost of the content
Secondary keywords
Secondary keywords usually consist of long tail keywords or queries the writer is expected to include, plus their search volumes.
Prioritization score
We use a prioritization score for internal use, so we know which content we should prioritize based on the search volume and difficulty of each content piece.
Free Content Plan Template on Notion
We've made our content plan template FREE to duplicate on Notion. Simply duplicate our template and customize to suit your own needs! No email capture, no funny business, 100% free to use 🙂
Access our content planning notion template
Use Content Planning to Kickstart Your Content Creation
Once you've come to the realization that a content plan is something that your blog needs, starting it from scratch may seem like a mammoth task.
We're sure, however, that with the information we've provided above, along with our free content plan template, you'll have an organized, well structured content plan to help you reach your content strategy goals.