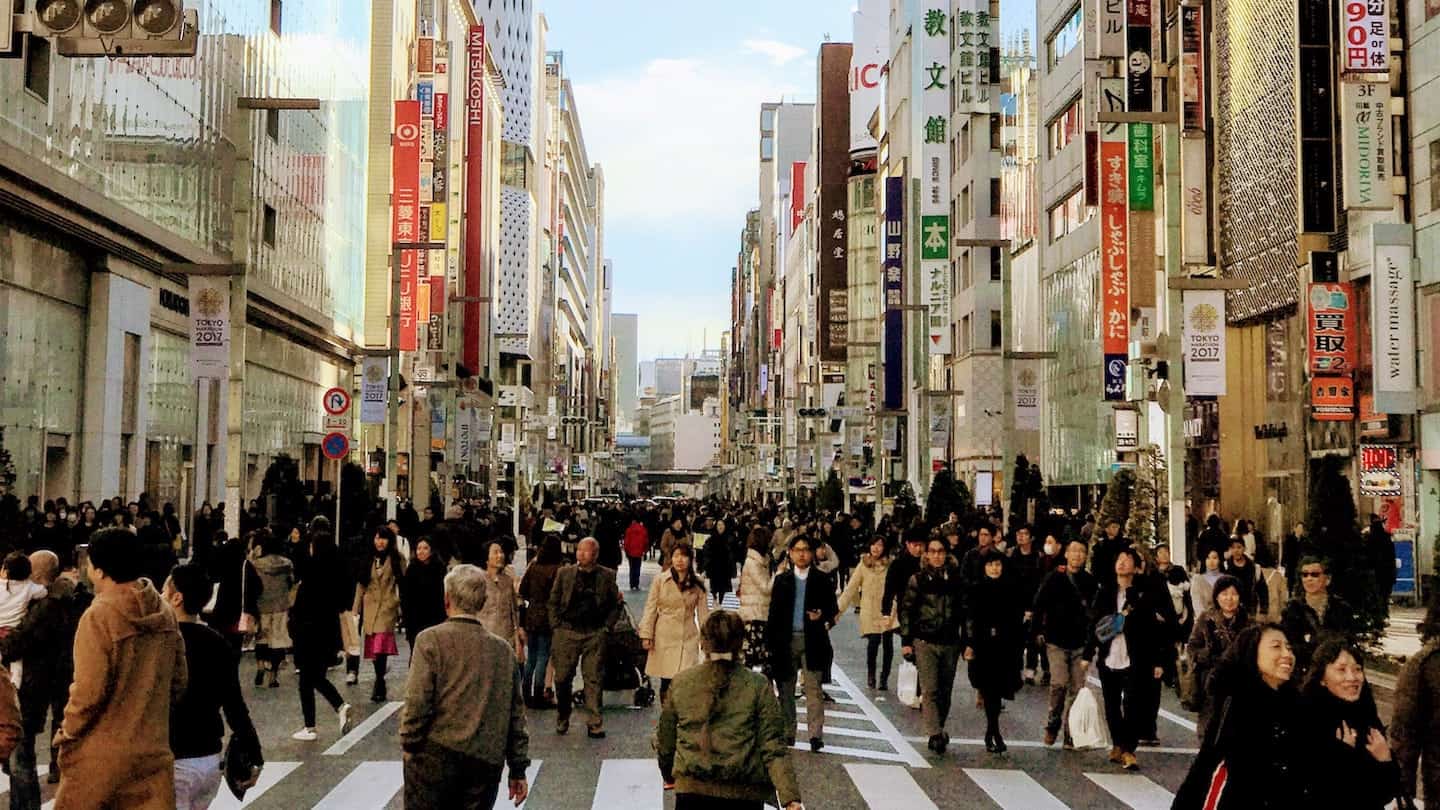 Depending on the size of your business, your industry, and the specifications you're looking for, the best affiliate marketing software can vary.
Let's take a look at what you should keep in mind.
5 things to look for in affiliate marketing and tracking software
1. The affiliate network
Platforms that offer an affiliate network can put thousands of contacts at your fingertips – although this doesn't always impact your revenue the way you might expect.
In affiliate marketing, 95% of your business comes from just 5% of affiliates, and the numbers these big-hitters bring in can make a huge impact on your revenue—particularly in the B2B sphere.
But the other 95% can be responsible for greater SEO and word-of-mouth impact. Finding these people organically is time-consuming, especially with the lower success rate of cold outreach—that's where the affiliate network can be beneficial.
2. The tracking and setup options
The best affiliate software will have some, if not all, of these options available:
Form tracking
This is one of the easiest ways of tracking new leads. Provide your affiliate with HTML code for a form they can add to their website, blog or network. This is great for personal referrals but it certainly isn't recommended for larger-scale websites.
Link tracking
With new privacy laws like GDPR in the EU, link tracking has become harder and more problematic.
Excessive use of link tracking can lead to traffic cannibalization meaning you lose valuable affiliate "juice". The best affiliate software will offer direct links to counteract this.
Coupon tracking
Coupon tracking can be really inefficient. Your affiliate could simply place their coupon code on a site and receive a slice of compensation as a result, having done nothing to help your business grow. They have no real incentives as the customer journey is not linked to the affiliate in any way until that final 'purchase' stage.
3. The reporting options
Something the best affiliate tracking software has is clear reporting for you and your affiliate. Consider what you'll be tracking, how, and its importance to your affiliates' compensation. If affiliates are able to see what techniques of theirs are most effective at each stage of the customer journey, they'll understand how to utilize them moving forward and will be motivated to continue pushing your product.
4. The partner management features
If you have under 25 affiliates, partner management features can be an unnecessary expense. A well-set-up spreadsheet will offer the same information without the cost.
But in B2B environments, affiliate program software with a management feature can be particularly effective. The main plus is the monthly reporting features which can make it easier to track if affiliates are doing well. You can also use it to track and motivate those who are perhaps not doing as well.
However, affiliate marketing software that offers this option is usually more costly than those that don't.
5. The pricing and pricing structure
The dreaded question – how to get good, useful software without paying through the nose.
There are different factors determining the best affiliate software's pricing structure. Some charge by the click, others by the conversion, others a monthly rate depending on the number of affiliates, etc.
Be aware of what your affiliates' wants and needs are too. For example, software that charges based on the commission amount paid can lead you down a dark path where you cut costs by not paying your affiliates as much; and they subsequently look elsewhere, so you may find you've saved nothing at all by losing their business.
And make sure to read the fine print, if affiliates find you through their program, the company may take an additional cut (e.g. PartnerStack).
Finally, consider your business's future plans. Migrating information later can be a total nightmare, so you want to choose the best affiliate software for you now, and later. Some may look great now but cost too much down the line.
Top 10 affiliate marketing software: comparison table
1. FirstPromoter: for bootstrapped SaaS companies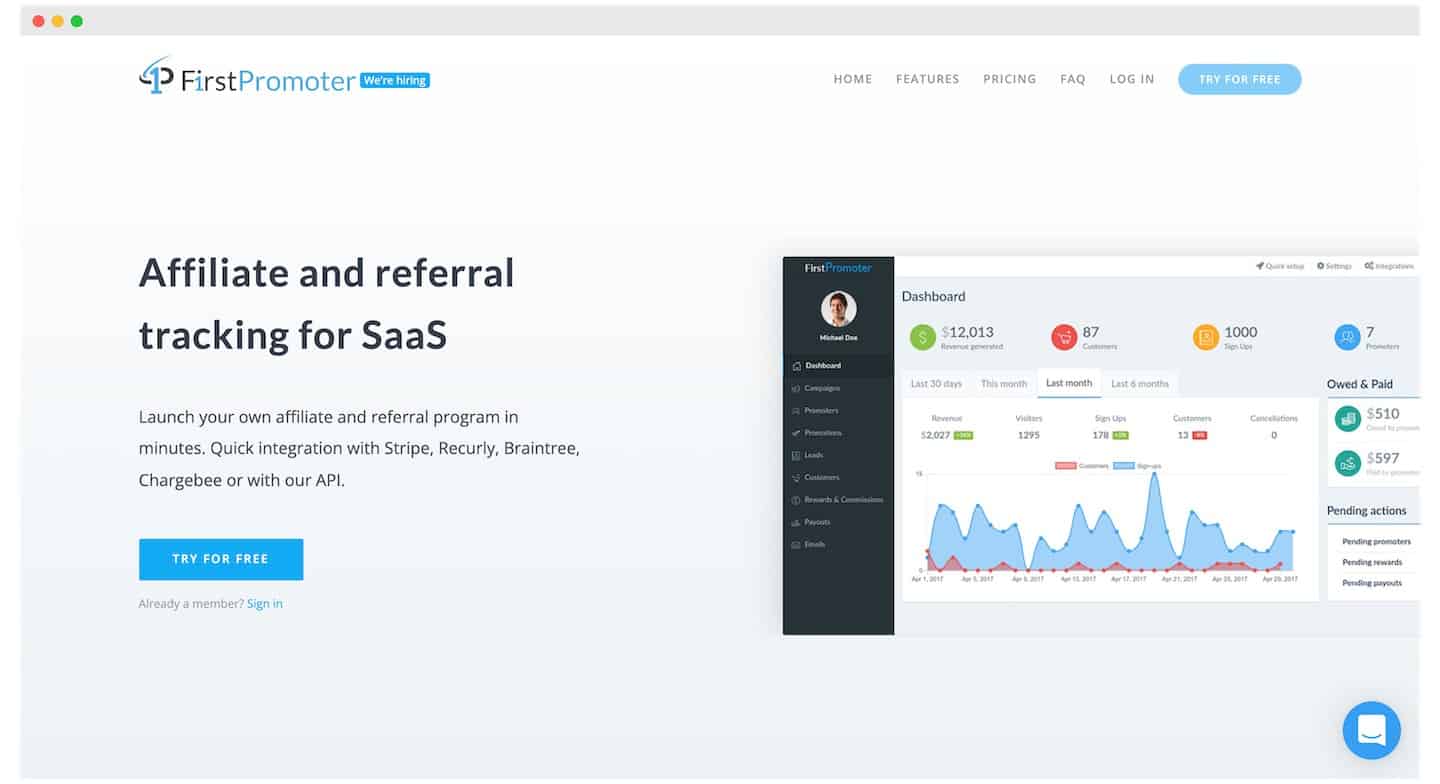 As a platform aimed at the B2B SaaS market, all its features focus on how to make subscription-based referral tracking as simple as possible. FirstPromoter helps bootstrapped companies launch their affiliate marketing with personalized links and coupon codes.
The company has been commended for its simplicity and accessibility. For smaller businesses or those just setting up their affiliate program for the first time, FirstPromoter can be a great place to start as it offers great flexibility and solid segmentation.
But its simplicity can be a double-edged sword in that the software only offers click counting tracking and no real analytics or partner management. And FirstPromoter doesn't offer a partner network, which depending on your affiliate plans can be a disadvantage.
That being said, if you're looking for an affiliate network software that knows what it's about and does it well, this can be a great start.
You can try it for free for 14 days by signing up on their website.
2. Impact: the affiliate marketing powerhouse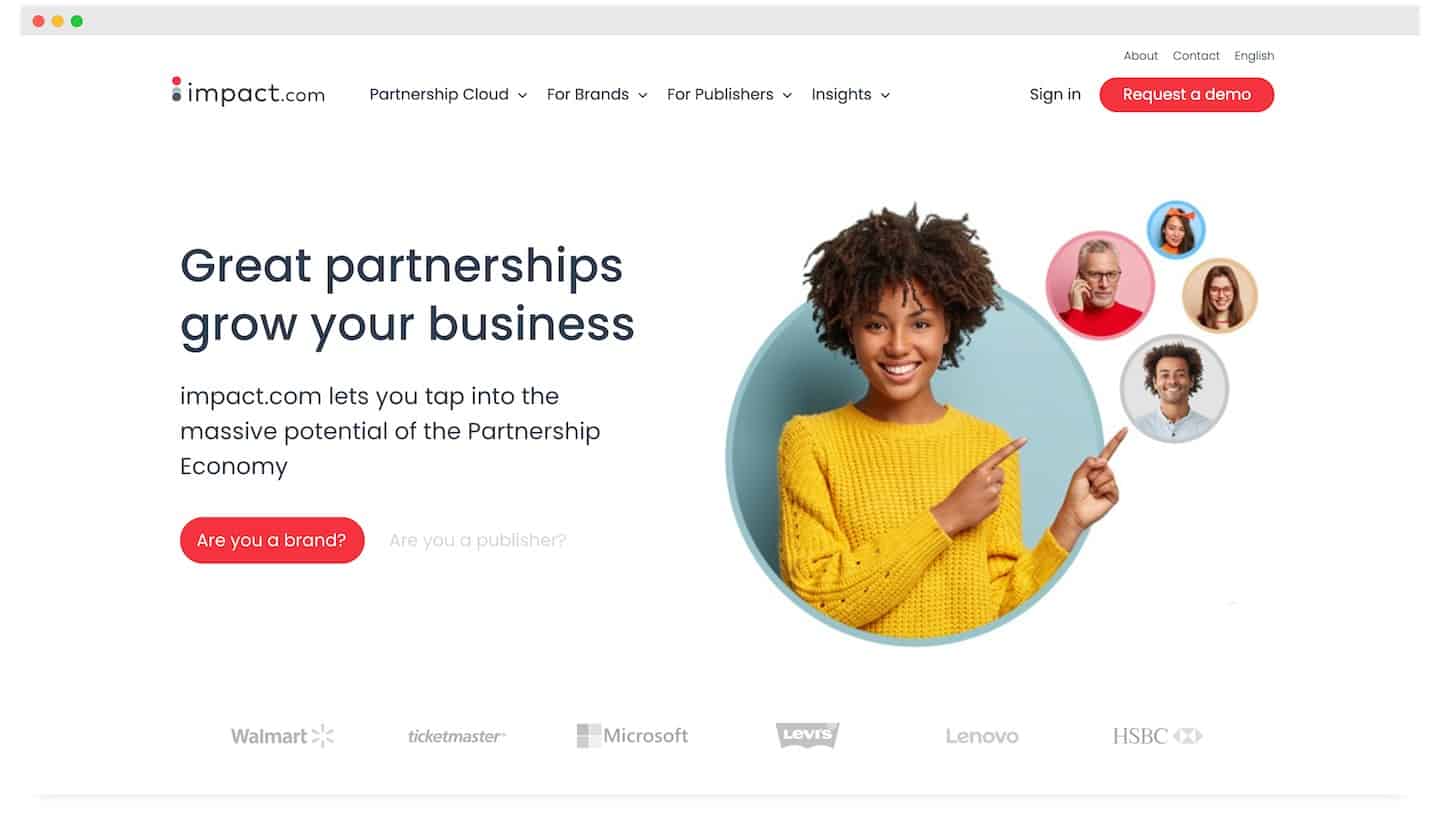 Impact is the leading affiliate marketing platform company for some of the biggest global brands—including Microsoft, HSBC, Air BNB, and Uber, amongst many other recognizable names and B2B businesses. It focuses on high-impact affiliate programs and influencer schemes.
Impact offers one of the largest affiliate networks available and their partner management features are some of the most advanced. That's because it focuses on automation across a full partner life-cycle.
Of course, the downside of such a large affiliate network and advanced management features is that it isn't very well refined. Its reporting has suffered and anyone can sign up to become an affiliate, leading companies to report that the quality of the affiliates found on the platform can vary wildly. And the affiliates themselves on Impact don't seem too happy, reporting missed payment dates and a terrible technical support team.
There are no pricing details on its website but other sites have reported their costs as starting at $500 per month.
If you want an all-in-one integrated and detailed partner network, Impact could be the way forward. You can book a demo with them to find out more here.
3. Ambassador: global referral marketing platform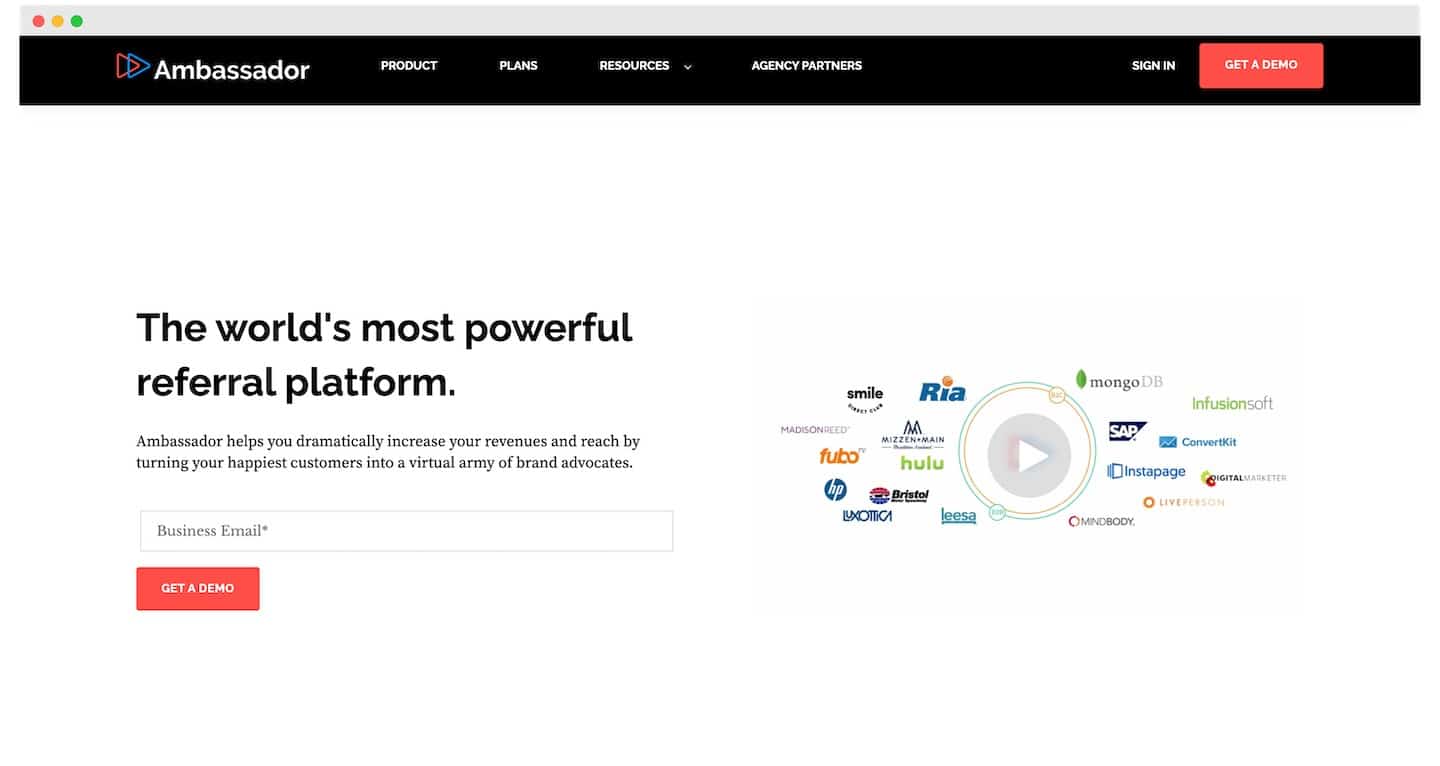 Ambassador focusses on optimizing global referrals with an emphasis on word-of-mouth and brand awareness referrals. It boasts relationships with companies of all types and sizes, from start-ups to big names like HP, Spotify, and GrubHub and from consumer brands to B2Bs.
Ambassador has received praise for their open API and integration abilities. It emphasizes that its message is 'relationship marketing' and boasts some of the best partner management features on the market as a result.
Like Impact, it aims to be an all-in-one solution for companies looking for the best affiliate marketing software and offers multi-language and multi-currency meaning you can look globally for affiliates.
On the downside, it can be difficult to get Ambassador set up and running to match the needs of your company's affiliate program. Users have also fed back that Ambassador has limited reporting and a poor user interface that can make it frustrating to navigate.
It doesn't mention pricing on its site but you can see that there are three plan levels available: Pro, Pro Plus, and Enterprise. On other sites, people have reported the prices to be $800/month and $1500/ month respectively for the first two plans, and the Enterprise plan requiring custom pricing depending on business needs.
If this is accurate, then Ambassador is one of the most expensive companies available, and perhaps with good reason as it's one of the most popular choices out there.
Either way, you could book a demo to find out more without committing to the price tag.
4. CJ Affiliate: one of the biggest affiliate networks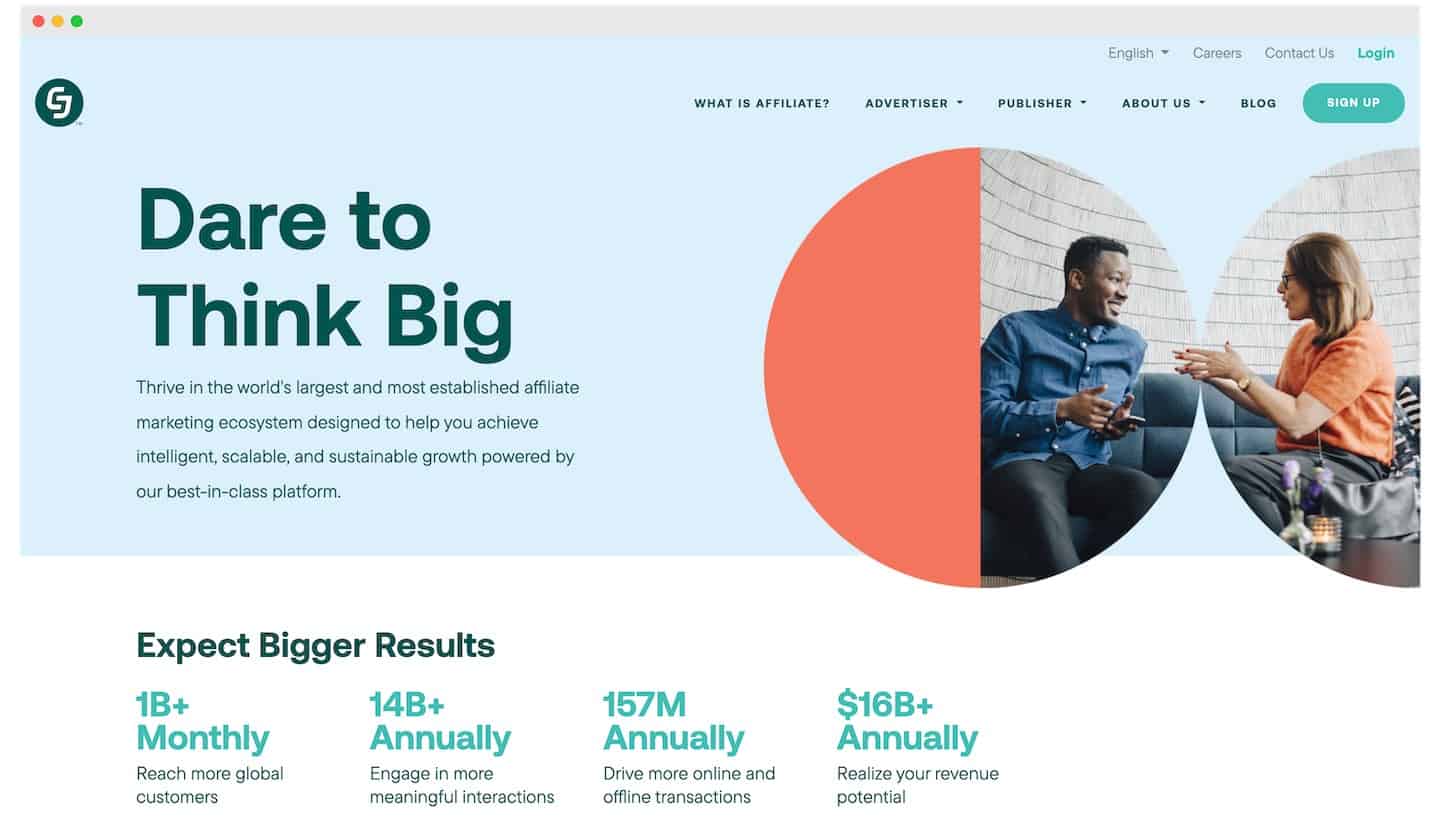 CJ Affiliate is a huge, global offshoot of a Fortune 500 company and focuses on online B2C retail brands.
It's popular with affiliates and offers a wide and rich partner network with pretty good real-time reporting features.
The downside is more affiliates can mean a more diluted pool of high-quality options, and its pricing model is a bit outdated.
CJ Affiliate asks that each individual company sets up a call where they negotiate their rates and action trackers. It does seem though that the company takes about 30% per sale. If you want to find out more, you can set up a call here.
5. Tapfiliate: the most flexible affiliate tracking software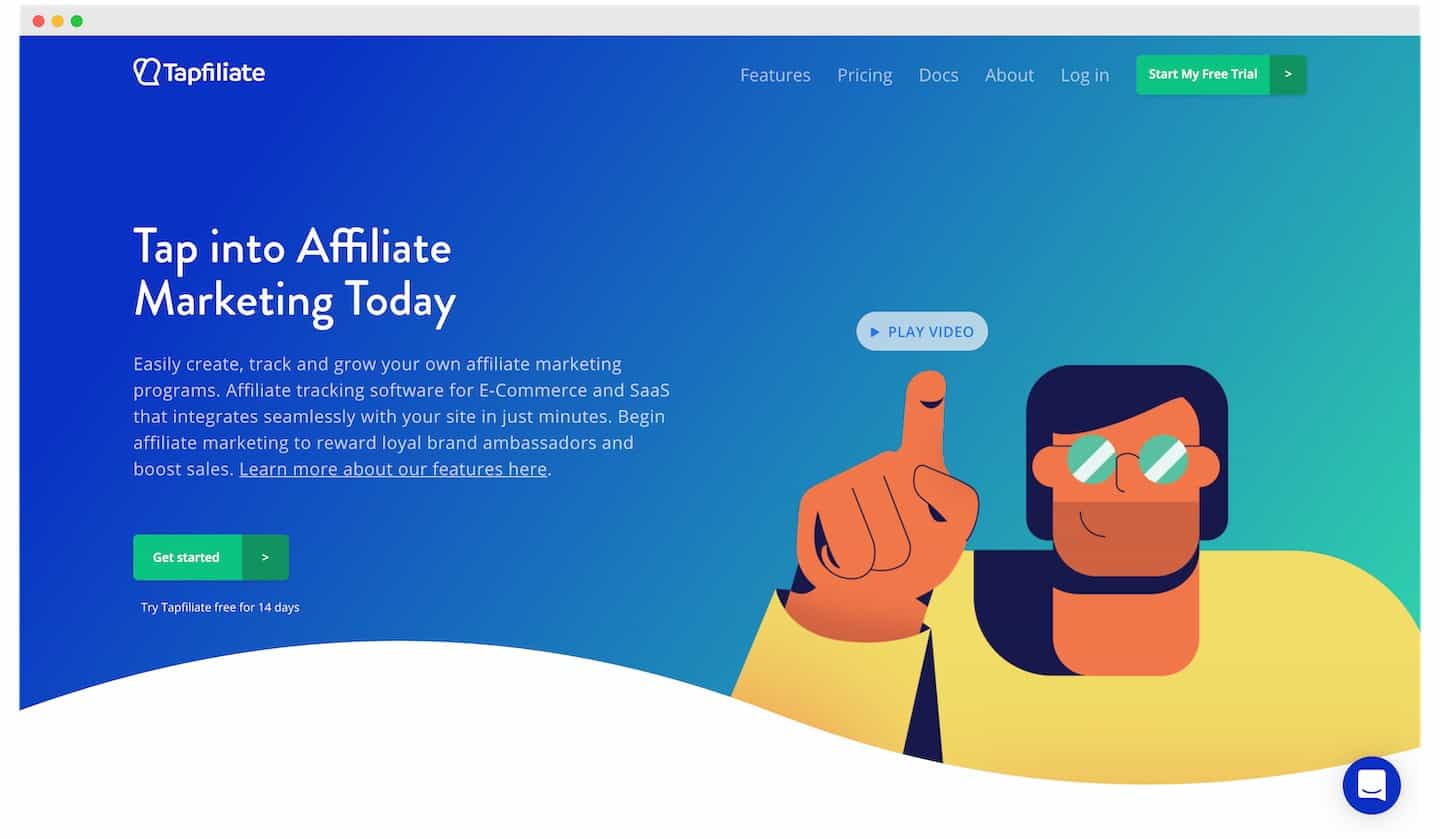 Tapfiliate focuses on ecommerce and SaaS companies that use referral links and coupons. Although it boasts some big names, it's best suited to smaller businesses and start-ups.
It's reported as one of the easiest and most flexible affiliate marketing software to set up, with tons of integration options, easy subscription management, and great reporting features for both the company and its affiliates.
But Tapfiliate is limited in what they provide. It offers no multi-currency options and no partner management features, instead just focusing on tracking.
And although it has full pricing transparency (starting from $89 a month), it limits each plan by the number of clicks and conversions; so may not be as suitable for larger businesses.
If it still sounds right for you, there is a 14-day free trial available.
6. Everflow: the all-in-one partner management software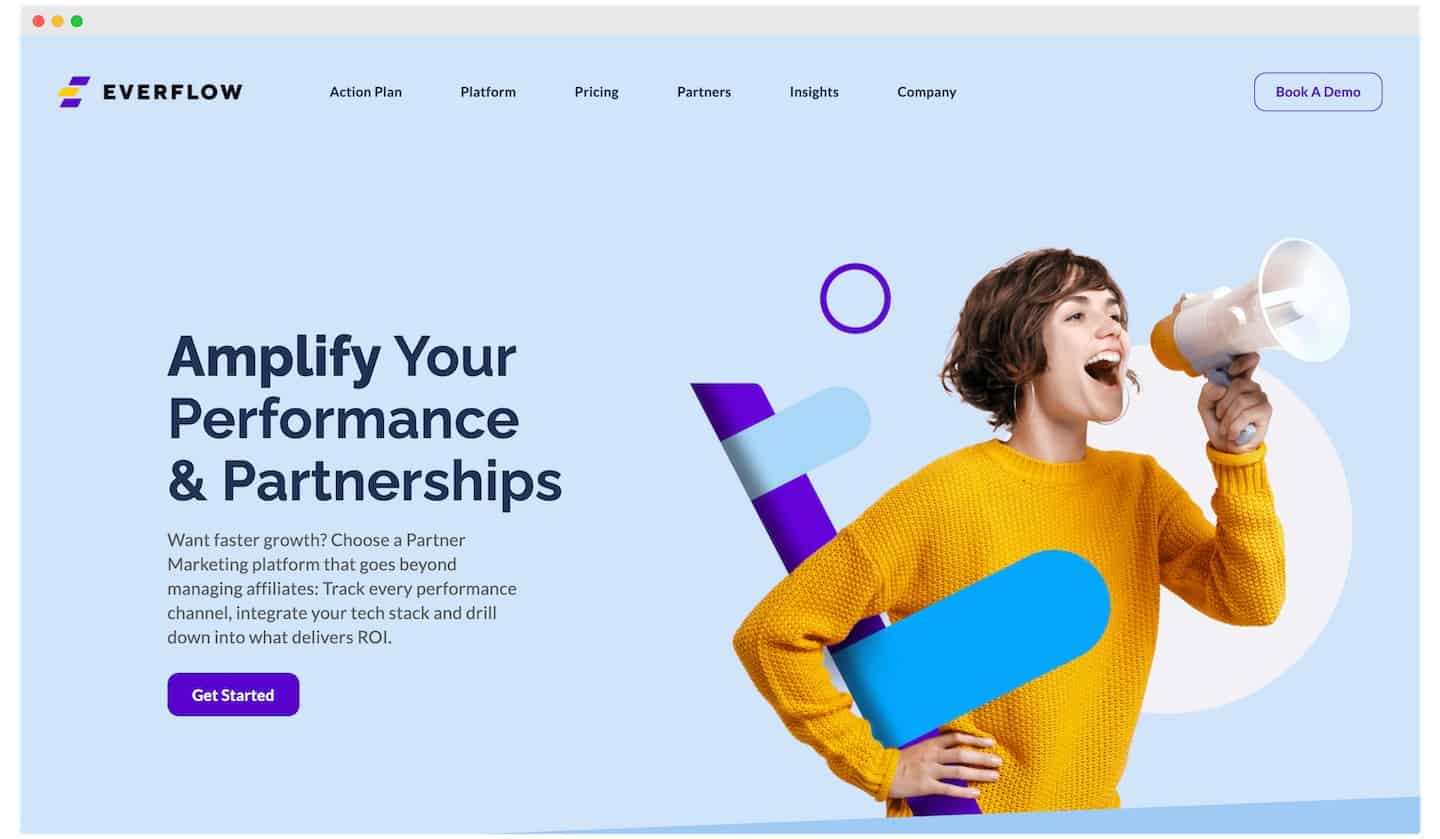 Everflow is a relatively new (est. 2016) robust and holistic all-in-one integrated platform. It caters to all types of business but seems to sit most comfortably at the small-to-medium size.
Everflow offers some of the most advanced tracking options on this list and its easy, powerful integrations make it a good solution for a company with many affiliate and referral routes. It offers a strong affiliate network and has solid reporting.
Users generally seem happy but have fed back that the platform and reporting can be a little confusing and overwhelming, and its multi-currency conversion is clunky to implement.
Everflow is also one of the more expensive companies with its affiliate software pricing starting at $750/month, and a custom option for companies needing set up support and migrations.
The price may seem steep but it does offer an all-in-one option that not many software's do. It wouldn't hurt to book a demo and find out more.
7. LinkTrack: the low-cost option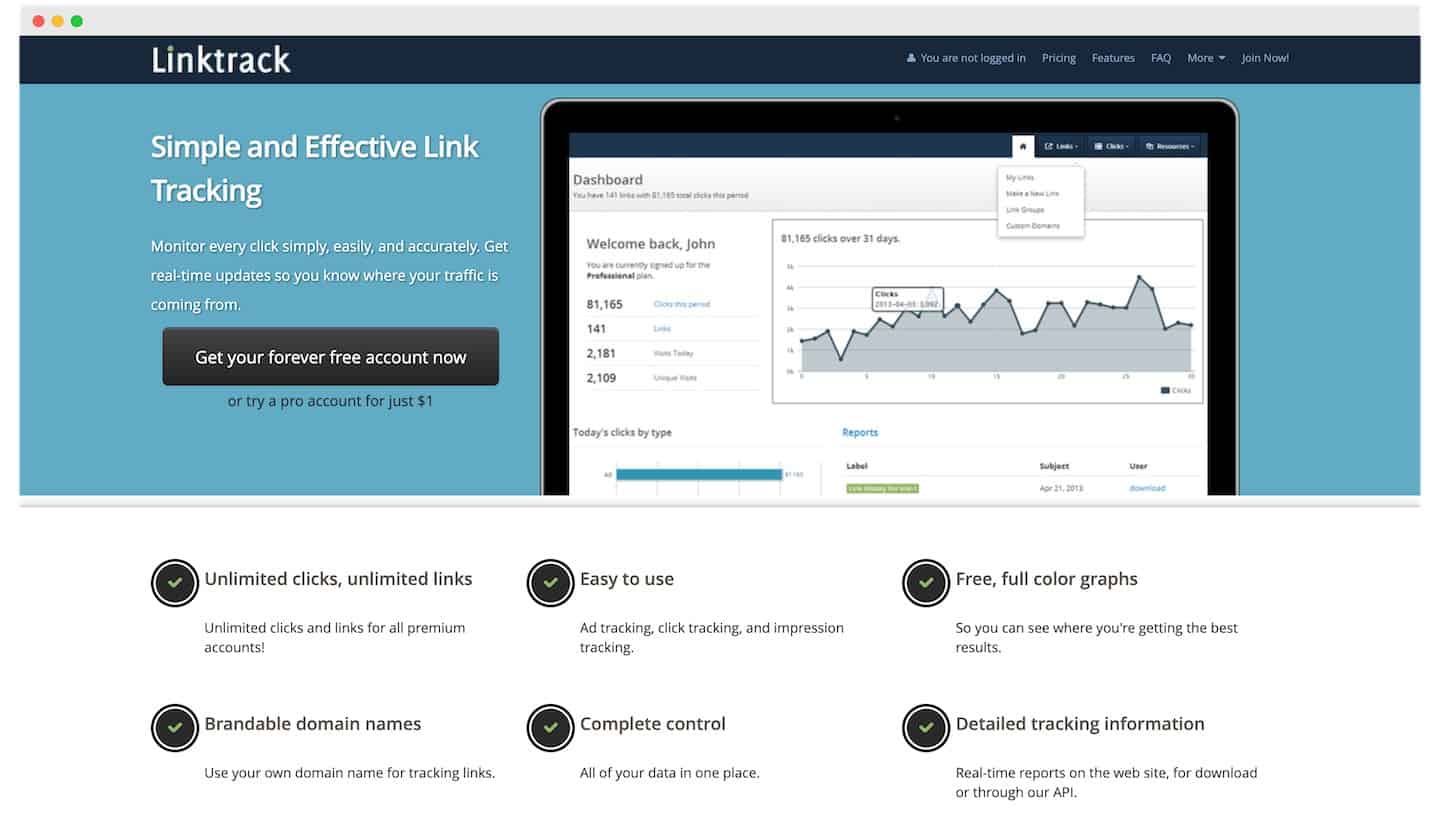 LinkTrack is a simple and effective company aimed at small-scale B2C businesses.
Because of its simplicity, LinkTrack has honed in on perfecting link tracking and has excellent reporting to back it up. Although it has limited features and a slightly outdated UI, it makes up for it by nailing its target market.
It's also extremely low-cost, so ideal for bootstraps and startups who are new to the world of affiliate marketing software and don't yet want to get dragged into the complexity of partner networks and in-depth tracking.
There's even a free version to try out! And then the 'basic' package is only $9.95 per month, so you may as well sign up and see what LinkTrack offers.
8. PartnerStack: growing fast in the B2B SaaS space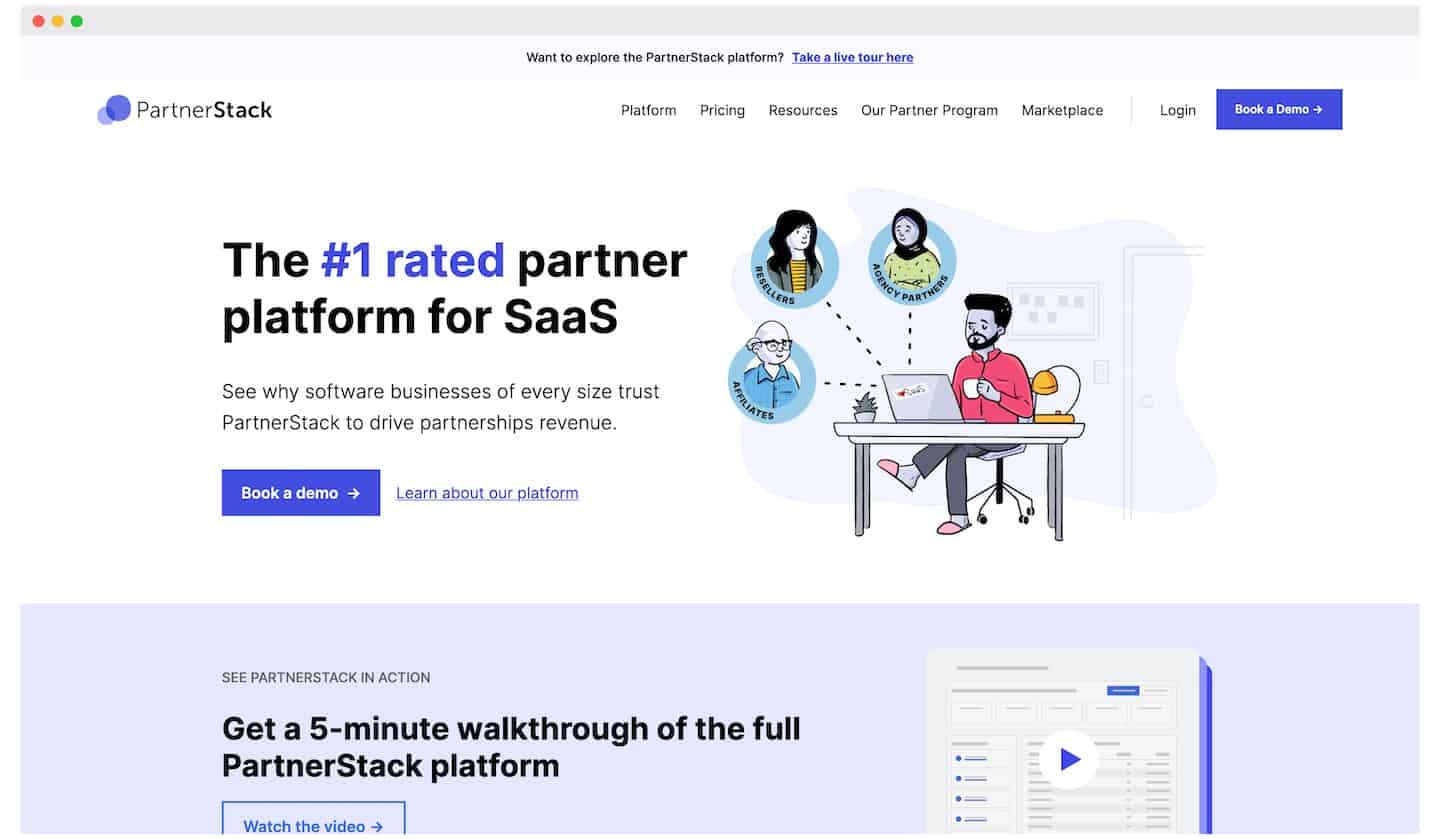 PartnerStack is relatively new (est. 2015) and fast-growing in the B2B SaaS and ecommerce business sector. It's landed some big clients like Pipedrive, Loom, and Monday, but most of their clientele are mid-sized businesses.
PartnerStack has received approval from affiliates who report good experiences with the company and like that it has its own dashboard. One of its saving graces is its affiliate network that reportedly has good connections for the B2B SaaS sphere.
However, that's where the positives end. Its set-up guidance, data architecture, and API leave something to be desired and as a result, customers' personal information is often left visible to all, which is deeply problematic. Although its online reviews are positive, when speaking to managers personally, they're not happy with the platform.
As for pricing—if you find an affiliate through their network, PartnerStack will charge an additional 20% commission on any successful sales, and other sites report its pricing plans start at $500/month, not including transaction fees.
If you still think they could be right for you, you can book a demo here.
9. ShareASale: affiliate marketing platform specializing in ecommerce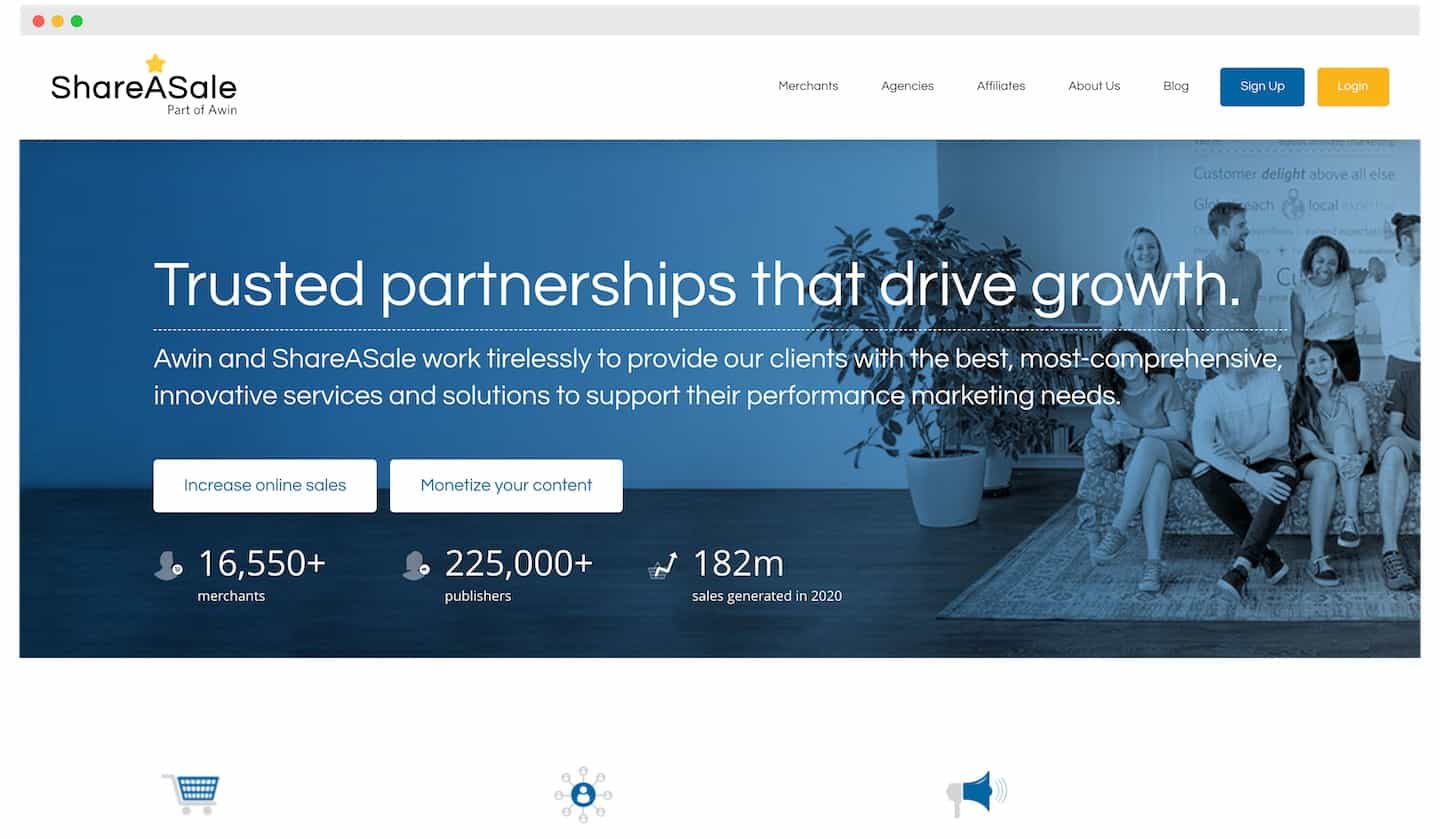 ShareASale is owned by Awin, but instead focuses on B2C and C2C platforms for a pure-play affiliate marketing network. It has nabbed some big names like Etsy, Honey, and BuzzFeed.
ShareASale exclusively focuses on affiliate marketing and has an extensive global partner network.
Unfortunately, the quality of the affiliates you can obtain is on the lower end of the scale and many affiliates also report an unpleasant experience from their side, with struggles to get their commission paid and an unresponsive support team. Their UI doesn't look like it's had much love since the 90s either, so the whole platform could do with a refresh.
Merchants on ShareASale are charged a one-off $550 set-up fee with a $100 non-refundable deposit and then an ongoing monthly rate that is dependent on your network transaction fees.
If its low cost makes up for its bad press, you can sign up here.
10. Awin: big network, but the platform could really be improved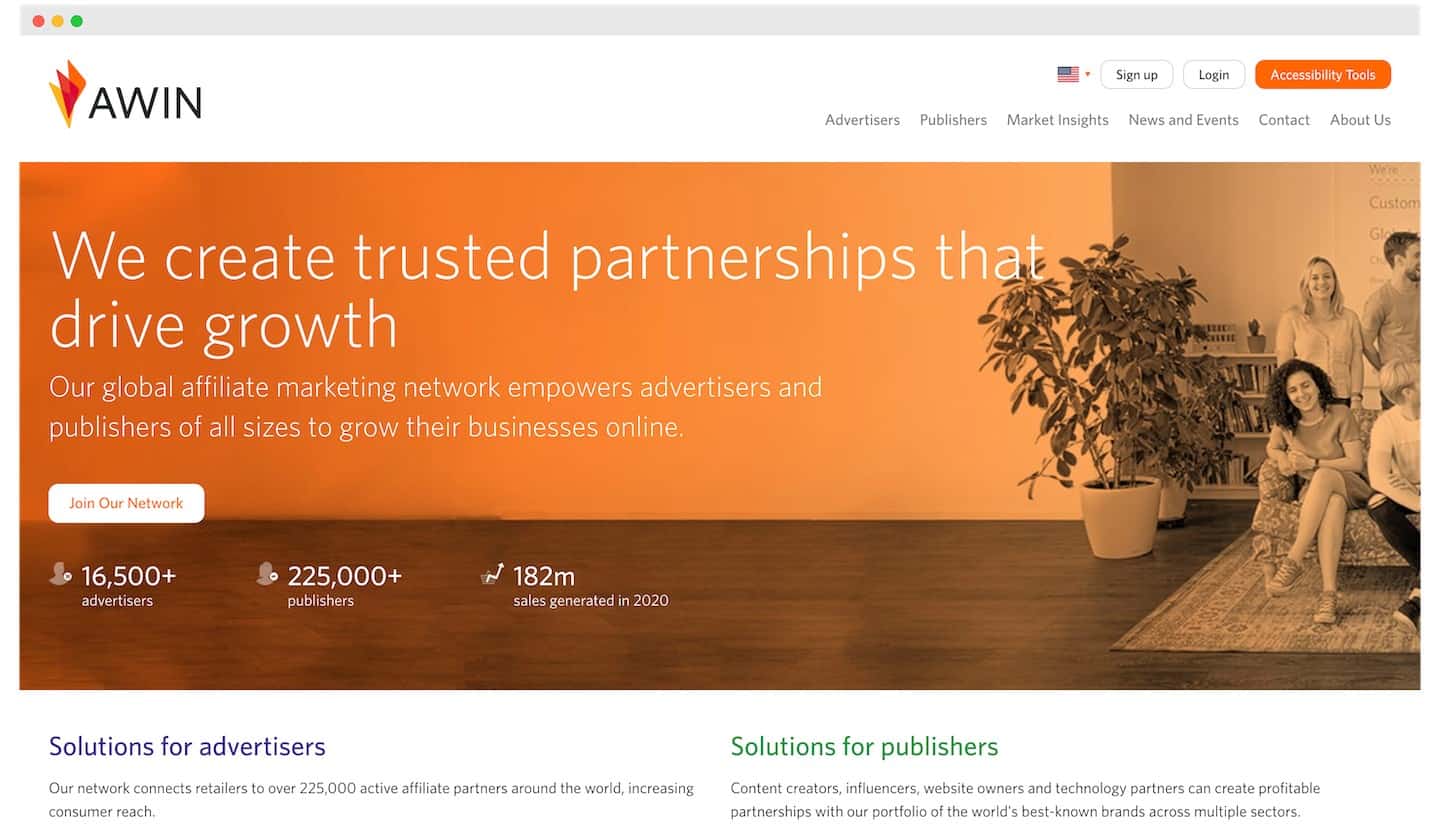 Awin emerged in 2017 as a consolidation of 2 much longer-running companies and then later that year purchased ShareASale. It offers affiliate and influencer marketing coupons and link building for B2B and B2C businesses but doesn't appear to have a set direction or industry sector they specifically market towards.
Awin has one of the most extensive partner networks on the market, however, this is where its positives end.
The company has a really poor interface, unclear and difficult reporting and a higher level of fraud than any affiliate marketing software should.
It charges high prices, starting at $500 a month, and forces its clients to deal with partner managers as an "incentive" for this pricing. However, these individuals are usually under-qualified for the role.
If you're still interested in learning more after all that, you can sign up with Awin here.