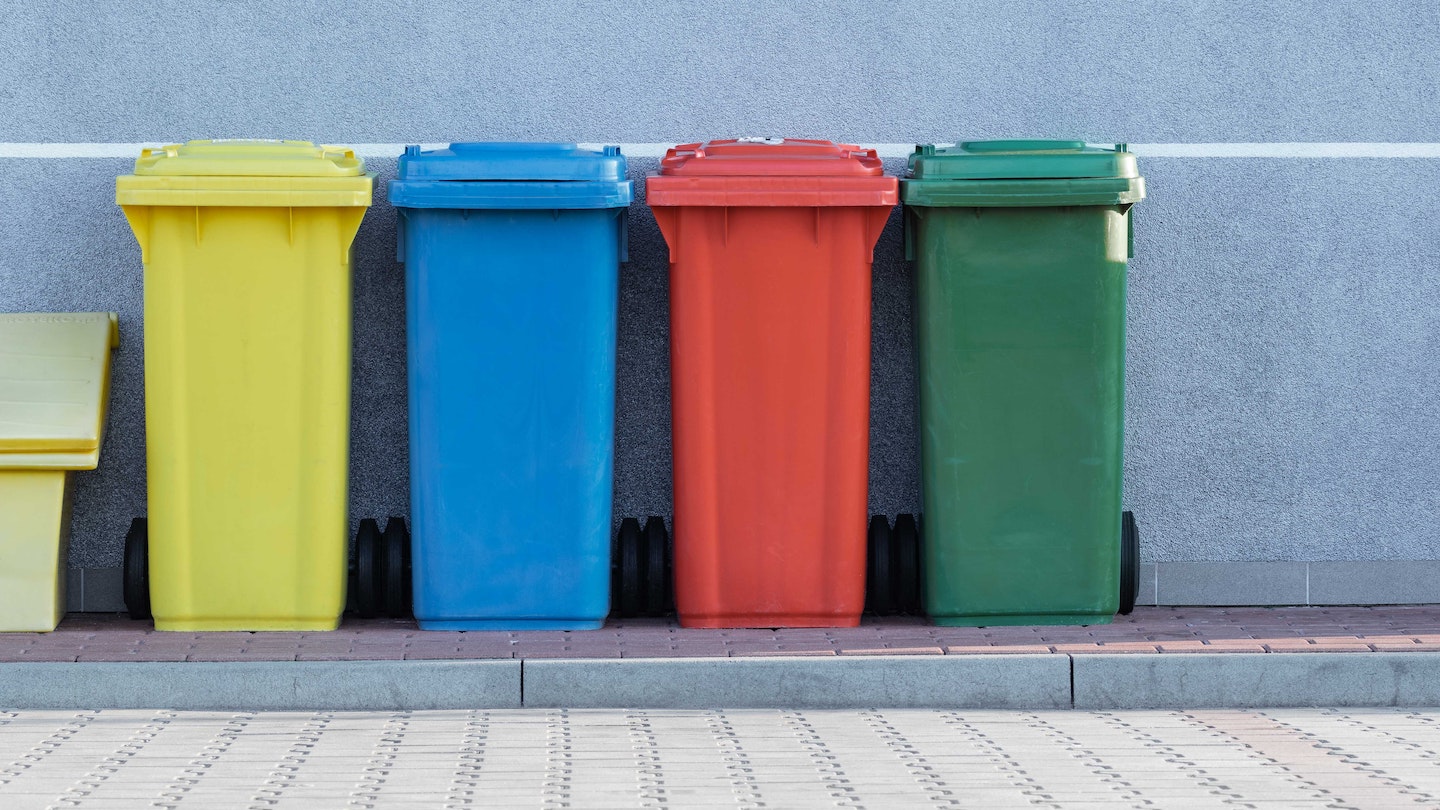 Creating and effectively distributing new, high-quality content is important but time-consuming. What happens when there's a lull in your content calendar?
Content repurposing is a great way to extend the lifespan of your content, maximize its value, and continue to drive traffic to your site.
If you do it yourself, this process takes a long time. There are many curation tools and repurposing platforms that make the process quick, streamlined, and cost-effective.
We've organized this list by the kind of content you want to repurpose. We start off with repurposing tools for blog posts, then cover audio/video, meetings, tweets, and other forms of content.
Here are 15 of our favorite content repurposing tools.
Benefits of content repurposing
#1 Reach new audiences
You have to meet your audience where they are. There's not a lot of overlap between people who consume social media content, blogs, podcasts, and videos.
Repurpose one piece of content for different platforms and mediums. If you only focus on one or two content streams, you miss out on a large potential audience.
#2 Reinforce your content
It's rare for your audience to convert after seeing your message only once. That's why repetition is a key principle of marketing.
People consume content over different mediums, so repurposing is a great way to keep your business fresh and front of mind. If you repurpose high-quality content everywhere, again and again, people will remember you.
Social media marketing is a great way of reinforcing content. Leverage the fact that your audience uses more than one social media platform.
#3 Diversify content
Not all content does well in every format. If you have a blog post that's not getting traffic, try reformatting it into another medium, like a social media post, and see how it performs.
Diversifying your content on various platforms will develop consistent messaging with a fresh spin for your audience.
Best content repurposing tools: Comparison table
#1 MeetEdgar: Best for repurposing existing content into social media posts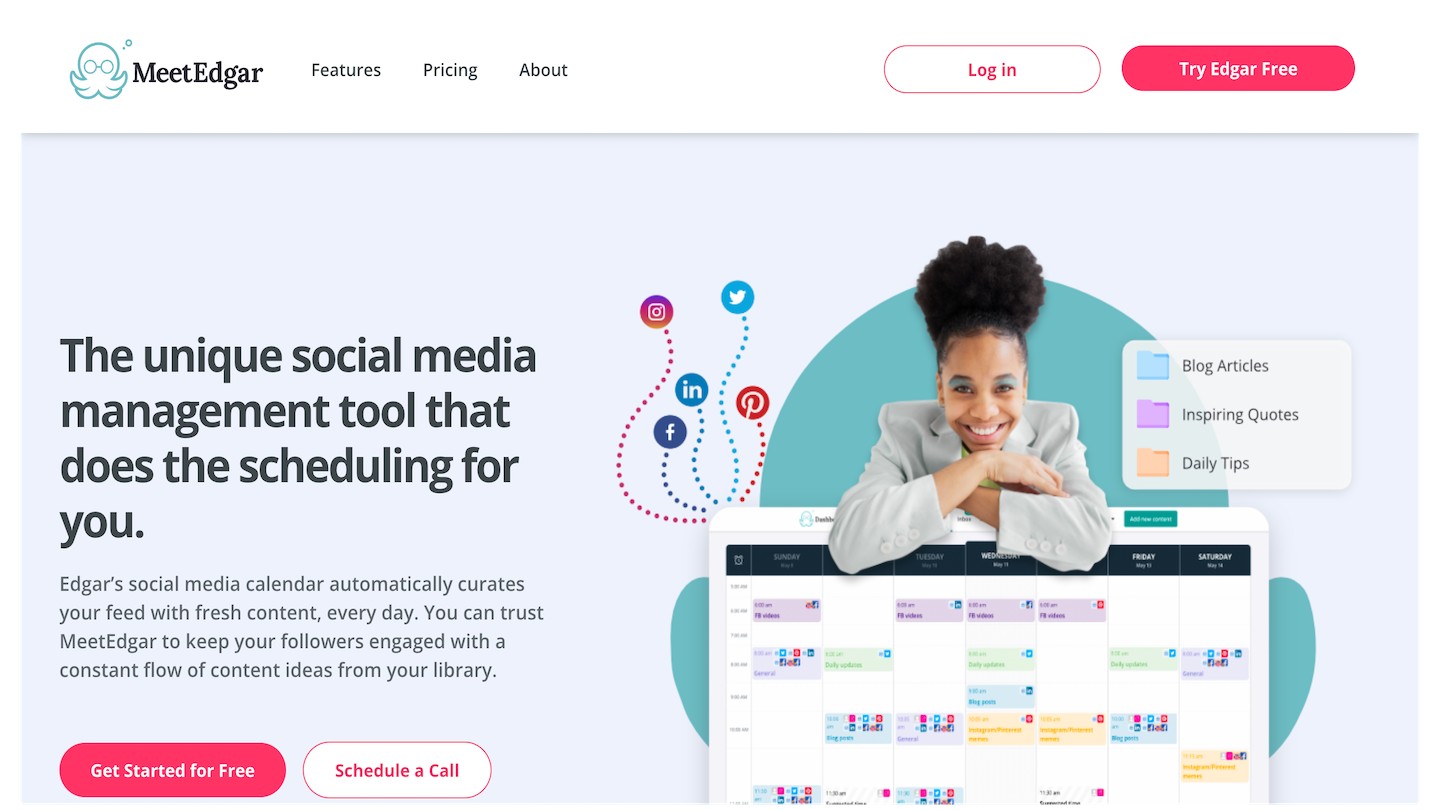 Input: Blog posts / eBooks. MeetEdgar's repurposing tool works best with long-form content.
Output: Short-form social media content. Create digestible posts for Instagram, Pinterest, Twitter, and LinkedIn.
MeetEdgar is a social media management tool that creates a steady stream of bite-sized posts that maximize the lifespan of your blog posts and eBooks.
It scans your older content for relevant quotes and blurbs to create an evergreen flow of different posts for each social channel. Users love its automation capabilities. Set daily and weekly schedules to save time and keep audiences engaged.
MeetEdgar is one of the pricier options on the market, making it out of budget for some small businesses.
The Eddie Plan is $29.99/month and gets you unlimited scheduled posts for up to five social accounts. The Edgar Plan is $49.99/month and offers larger feature capacities, including 1,000 automations for up to 25 accounts.
#2 Visme: Best for repurposing blog points to infographics & slides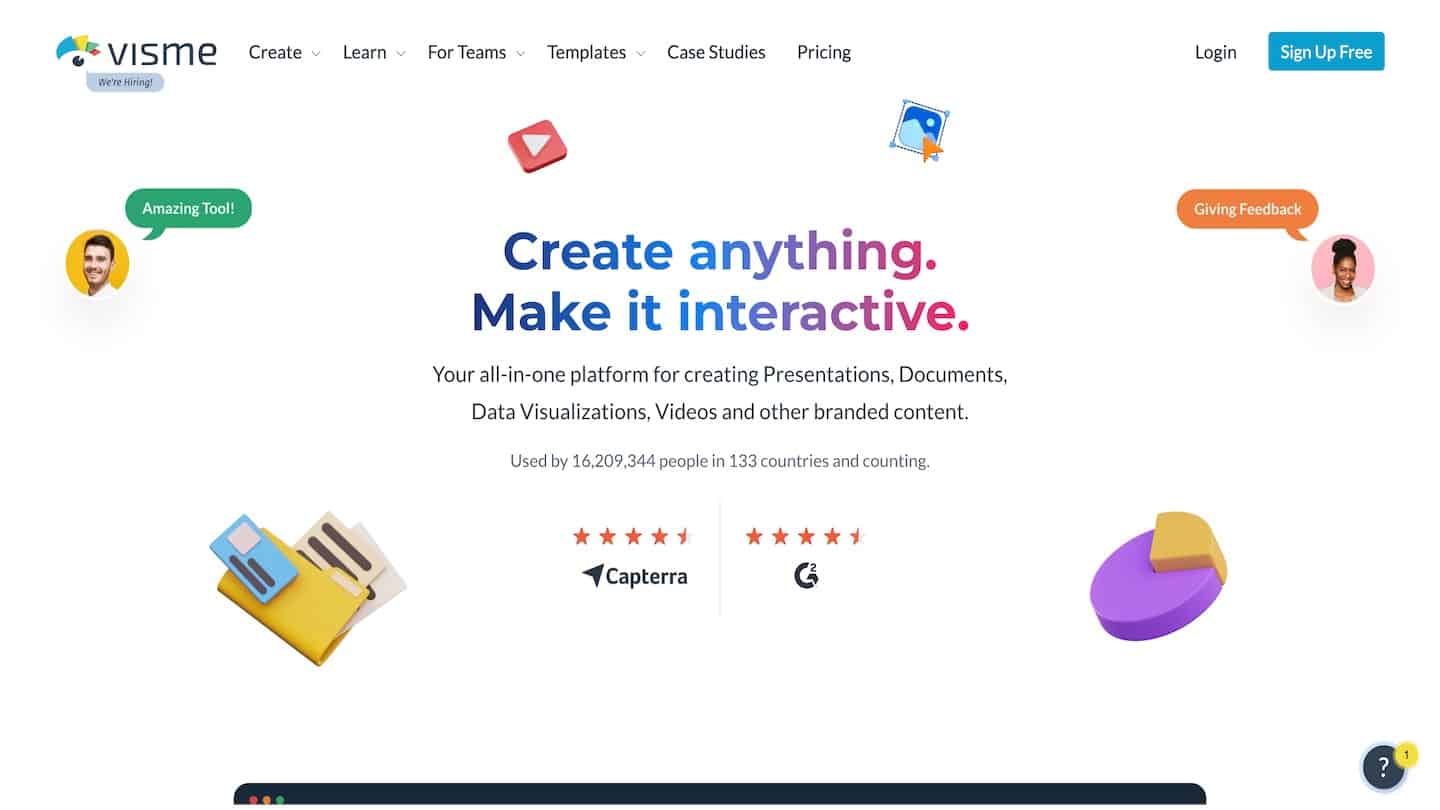 Input: Blog posts. Pull information from long-form content to share with a wider audience.
Output: Slide decks / Infographics. Key points are organized into a visual that gets the point across.
Visme is a dynamic tool that works best for repurposing case studies, whitepapers, and blog posts. You can create anything from animated presentations to infographics.
Its library of beautiful ready-made templates makes it easy to synthesize your long-form content into digestible visuals that will quickly get your message across.
Although the templates are customizable, users with design experience will find the features limiting. It has social media templates, but they're not as dynamic as alternatives like PixTeller.
Visme offers a free Basic plan with limited access to most templates and some design assets. The Personal plan ($12.25/month) gets you all templates, assets, and JPG/PNG downloads. The Business plan ($24.75/month) adds brand kit capabilities, analytics, and integrations.
#3 Adobe Audition: Best for converting blog posts to podcasts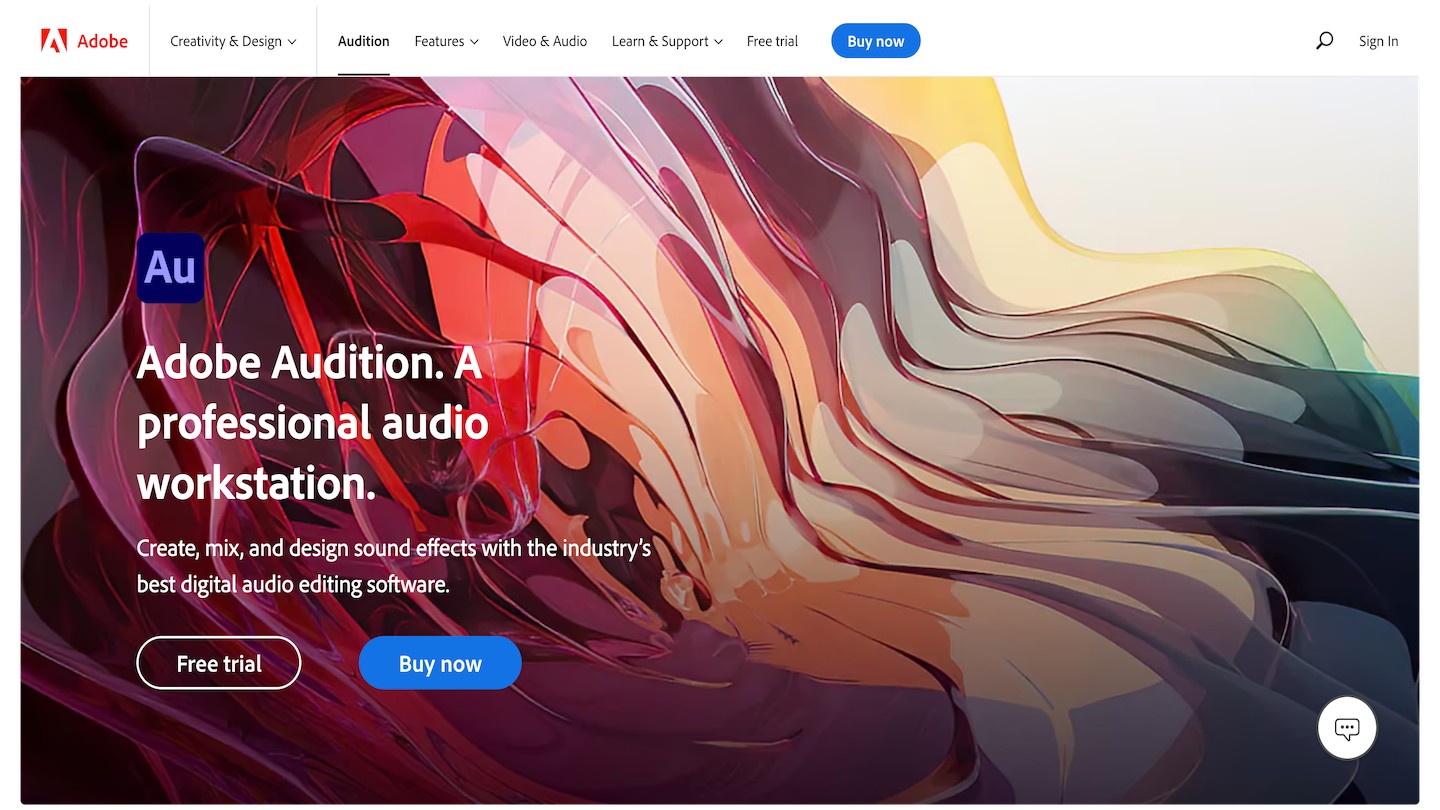 Input: Blog posts. Turn posts into informative podcasts to reach a new audience.
Output: Podcasts. Produce recordings that will make you sound like a professional.
Adobe Audition is a solid, professional-grade audio recording and editing software. It's the way to go if you're looking to convert your blog posts into high-quality podcasts or interviews.
You can reduce background noise and record multiple audio tracks at the same time. Audition's tools give you free rein to record and edit what you want, how you want.
Because of Audition's price point, it's best for heavy-load use cases or users who want more control over production. It can be purchased separately from Adobe Creative Cloud, but it's a steep price to pay if you're just starting out.
Adobe Audition starts at $20.99/month and gets you access to all software features. You automatically get a 7-day free trial when you first sign up. Adobe Creative Cloud is $54.99/month and includes Audition plus all Adobe software apps.
#4 Animoto: Best for editing & making videos from blog posts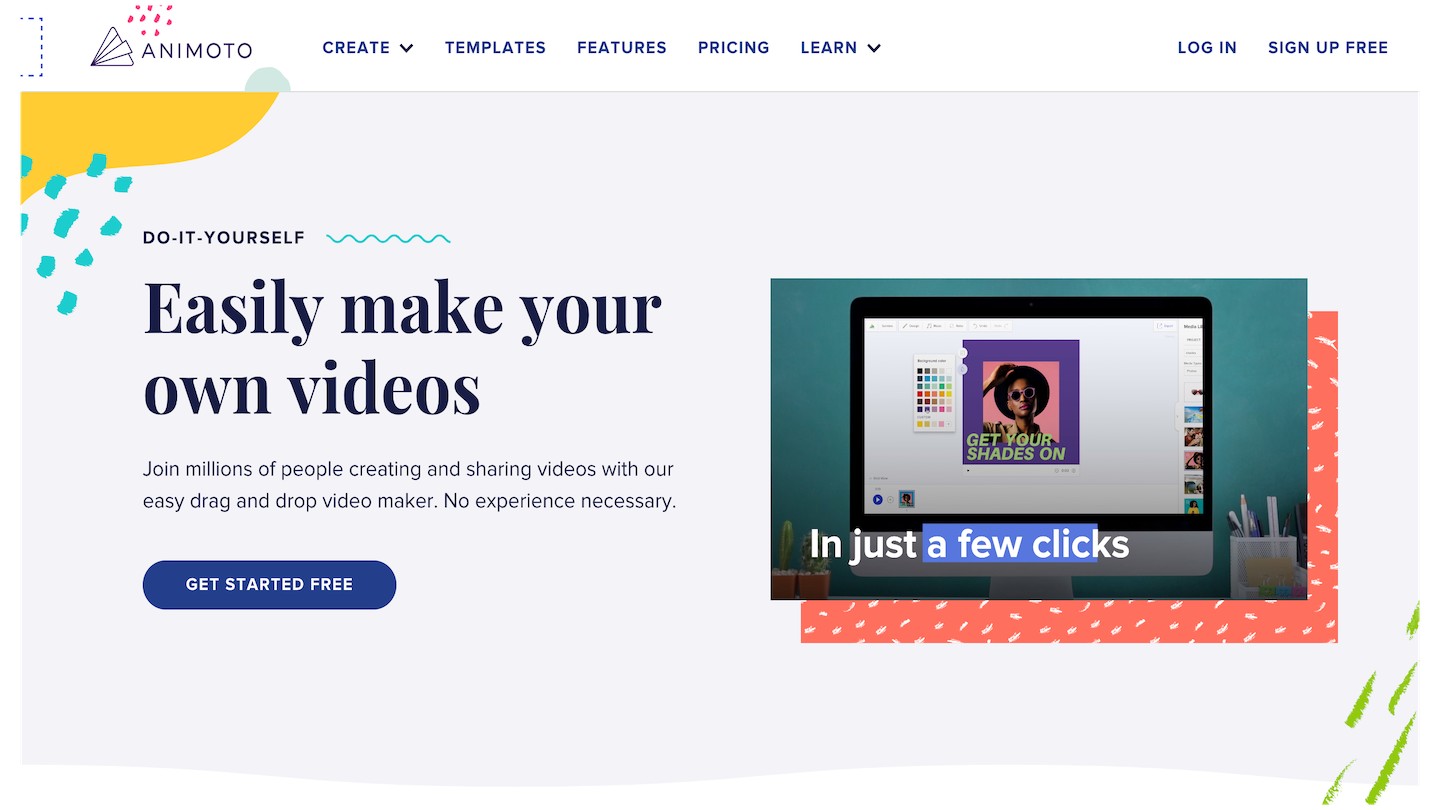 Input: Blog Posts / eBooks. Repurpose long-form content that most social media users won't take the time to read.
Output: Videos. Animoto can include key points to reach new audiences and expand social reach.
Video is the rising star of social media, and Animoto makes optimizing your content for social platforms easy. Its user-friendly editing software seamlessly incorporates quotes and key points into eye-catching video shorts.
Create animated text overlays with your own personalized footage or stock footage from Getty images. There's a wide selection of licensed music, as well.
This platform is best for users who don't have deep editing knowledge. Some advanced users find the templates to be limited and outdated. If your use case needs more technical editing flexibility, consider Adobe Creative Cloud.
Animoto's free forever plan lets you create unlimited videos with watermarks. Basic ($8/month) lets you create unbranded videos. Professional ($15/month) includes licensed music/photos, plus the ability to add your brand logo. Professional Plus ($39/month) is best if you're looking to scale.
#5 SEMrush Content Marketplace: Best for getting a writer for blog posts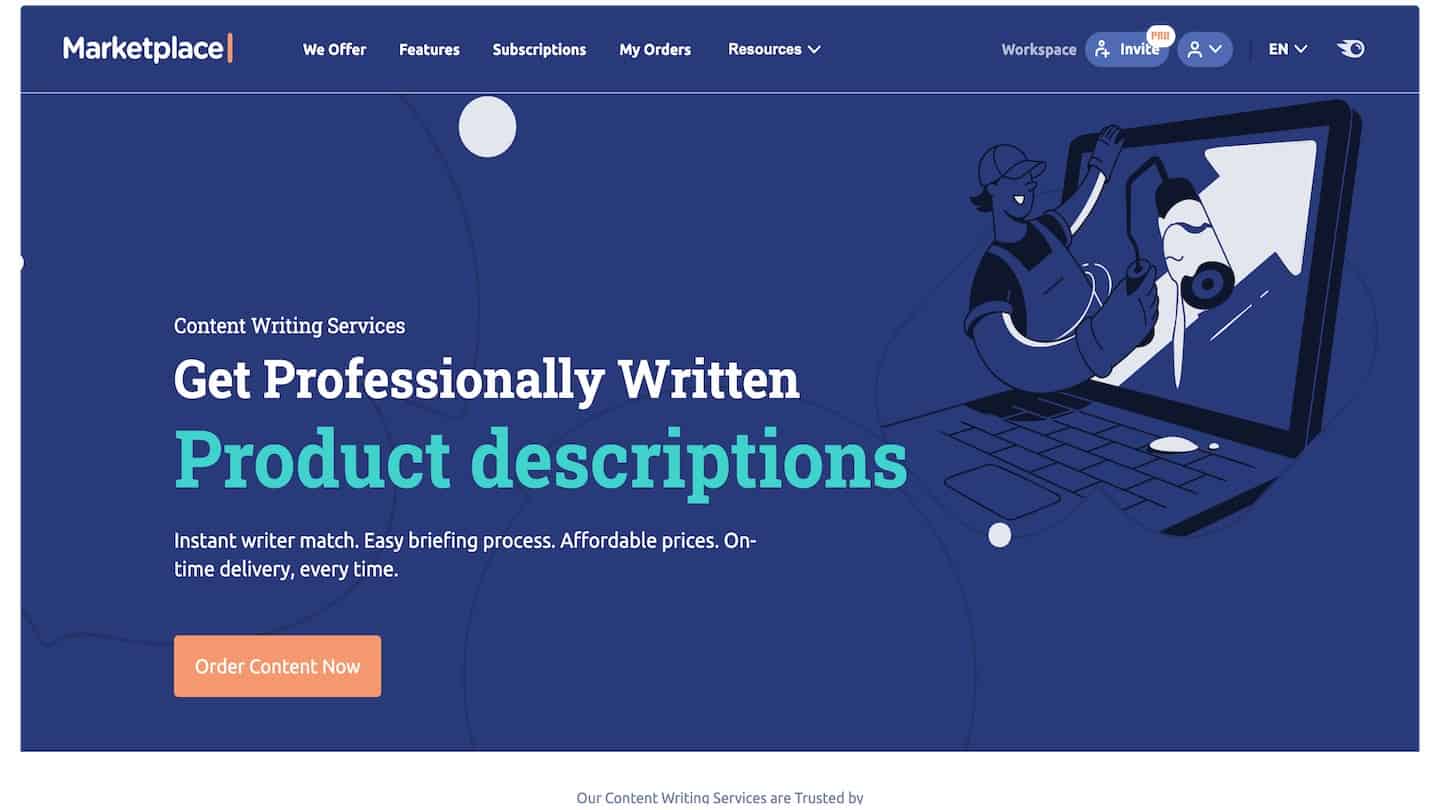 Input: Content briefs. Short-form copy or briefs can be turned into long-form posts for your site.
Output: Blog posts. Save time and resources by sourcing a SEMrush writer to expand on your ideas.
The SEMrush Content Marketplace is a great platform to source content writers for your blog, email newsletter, or business website.
Writing content briefs takes long enough, so hiring a qualified writer to produce your long-form SEO-optimized content is a huge time-saver. Submit a brief, select from various writer proposals, and you'll have quality blog content in no time.
Writers are fully vetted by SEMrush and guaranteed to produce quality work. The price can be steep depending on your needs, but you get what you pay for.
It's free to sign up for the Marketplace. A $40/month Professional plan offers perks like a 10% discount on content orders, unlimited revisions, and the ability to save brief templates.
#6 Sonix: Best for repurposing audio or video into text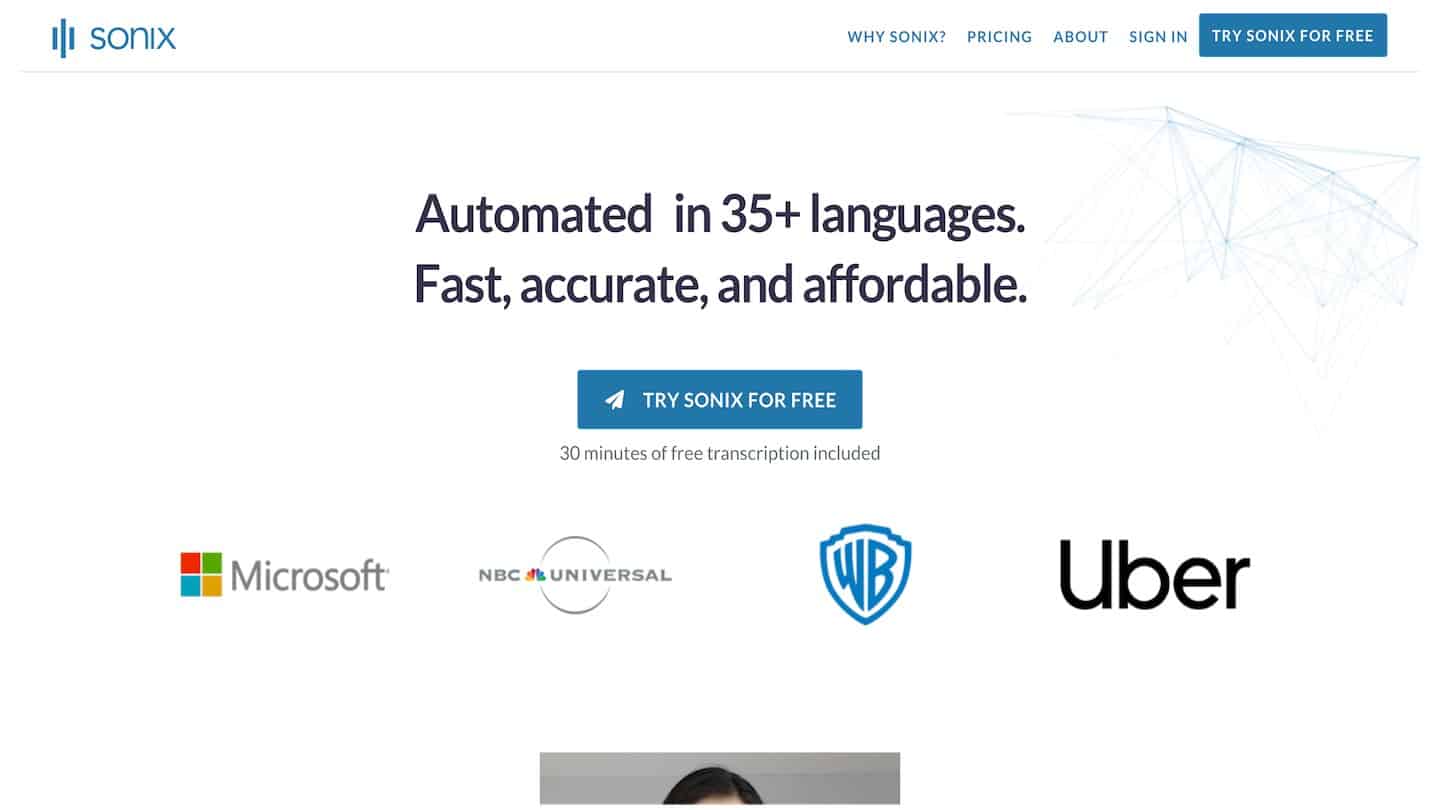 Input: Audio / Video. Podcasts and videos are chock full of content that can add value to other platforms.
Output: Text. Use transcription to create blog posts, whitepapers, and social media content.
Sonix is an automated transcription tool that converts any audio file into a piece of text. No AI transcription tool is perfect (yet), but Sonix is pretty solid.
Transcribe podcasts and repurpose them into high-value blog posts, or generate subtitles to make your visual content more accessible.
One drawback is that Sonix doesn't offer transcription of live audio. Also, its per-hour pricing structure can be costly depending on your use case.
Sonix offers $10/hour pay-as-you-go transcription, which is best for project-based work. If you have more frequent transcription needs, the Premium subscription is $22/month/user plus $5/hour.
#7 Designrr: Best for transcribing audio & video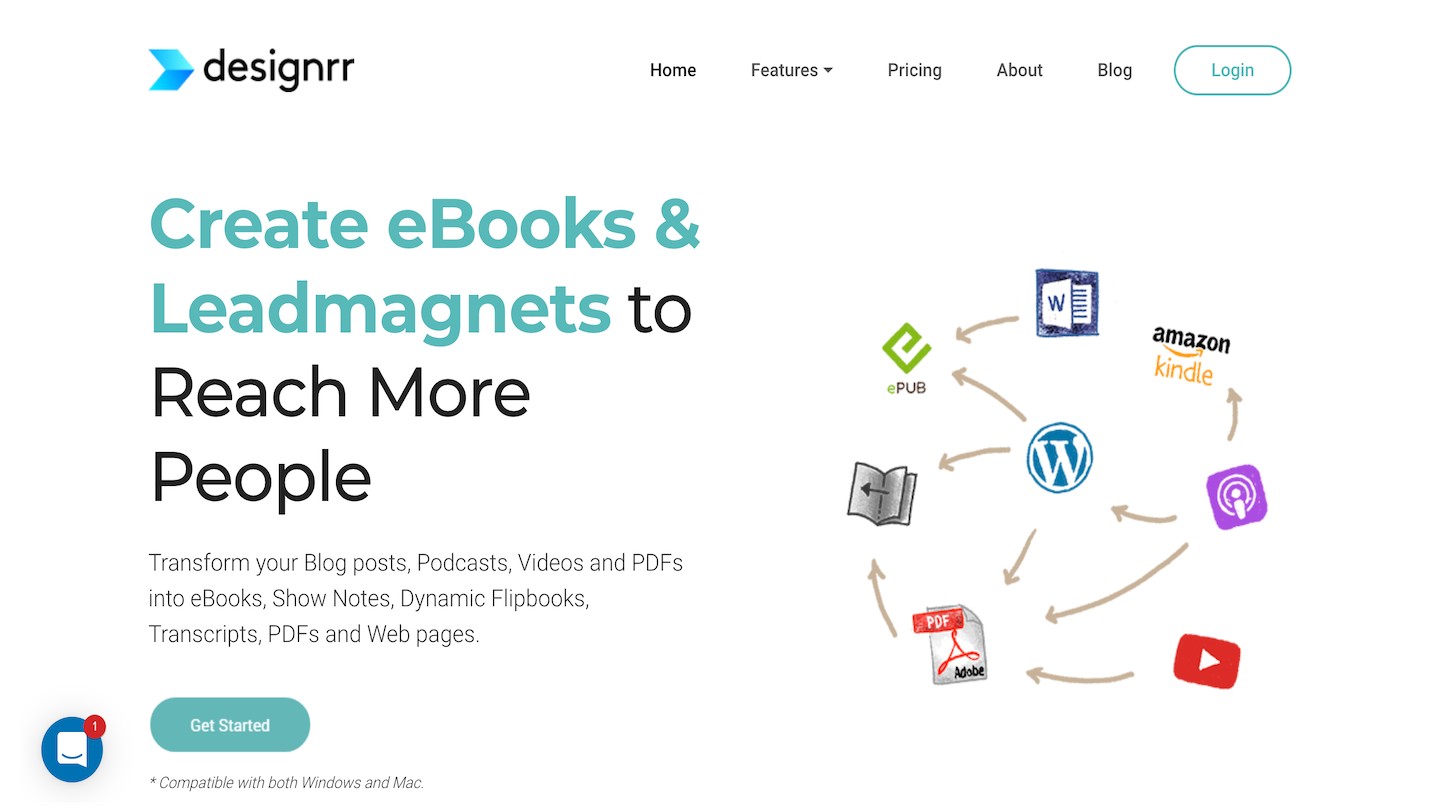 Input: Audio / Video / PDF. Designrr consolidates a variety of different sources into a new piece of content.
Output: Written content / eBooks. Create high-value eBooks, blog posts, or online courses that generate a steady stream of engagement and revenue.
Designrr is one of the market's top content marketing tools that is specifically designed for repurposing. It's a great resource for producing an evergreen digital product that can convert and drive engagement.
Designrr pulls from different sources like audio, video, and PDF files and consolidates the information into an attractive eBook. You can format your digital product with different templates, book covers, and stock images.
Designrr's Standard Plan is $29/month and includes unlimited eBook creation, Google Docs integration, and a table of contents generator. More technical and scaleable features are included as you move up in subscription tier, like cover design and the ability to clone projects. Pro is $39/month, Premium is $49/month, and Business is $99/month.
#8 Anchor.fm: Best for recording, uploading & editing podcasts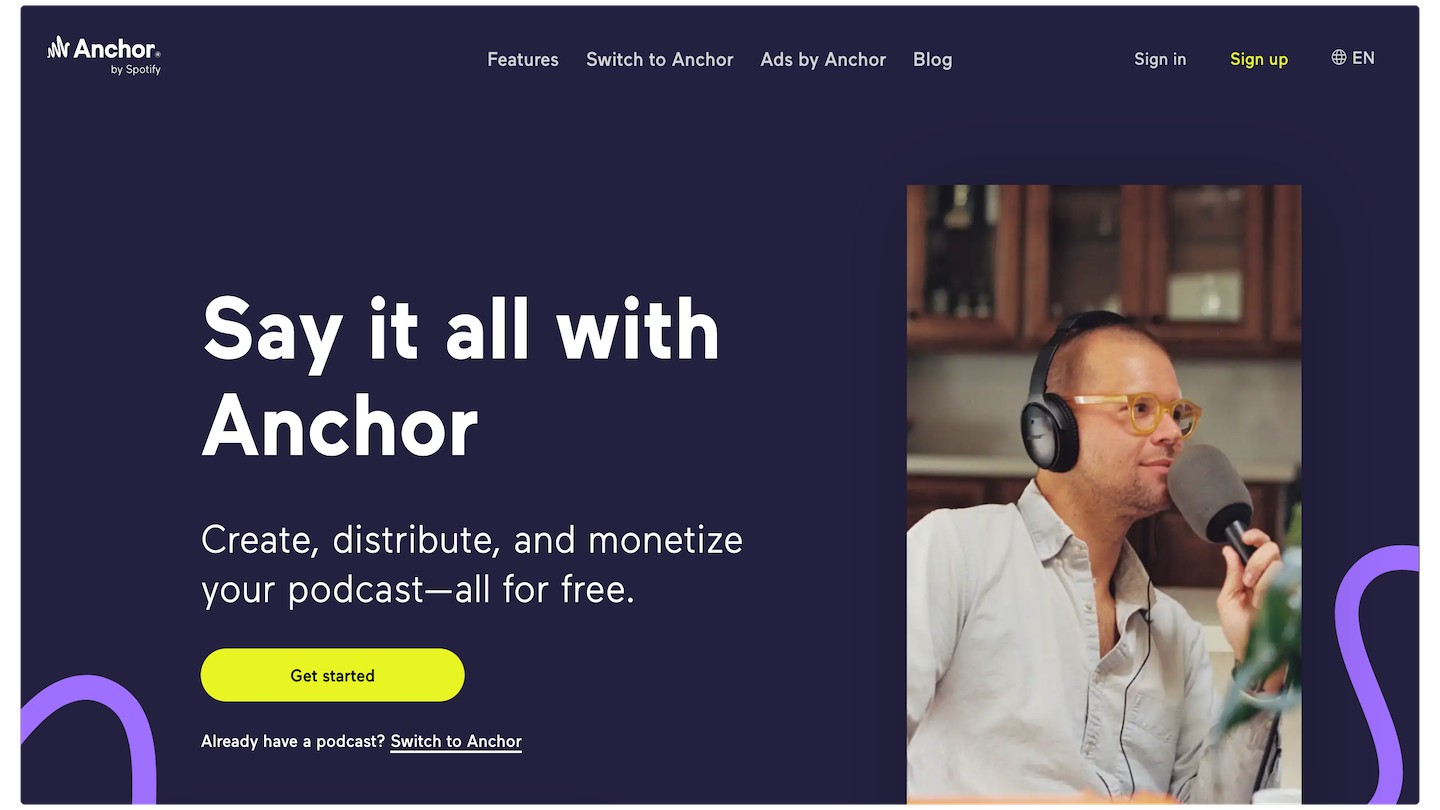 Input: Raw audio clips. Upload clips or record straight from your phone, computer, or tablet for easy editing.
Output: Podcasts. Full-length podcasts get distributed to all major apps with the click of a button.
Anchor is an all-in-one podcast tool and a great alternative to Adobe Audition.
You can record audio directly from your phone or import raw audio clips. The editing tools are user-friendly and intuitive, creating an efficient workflow for beginners and podcast veterans alike.
Creators can monetize content on Anchor through ads. There's also unlimited hosting, analytics, and distribution to major listening apps.
Anchor's editing tools have limited functionality, which can be frustrating. It doesn't integrate with some of the smaller listening platforms, which minimizes audience reach.
Anchor is free and includes all features, including hosting, all creation tools, and analytics.
#9 Piñata Farms: Best for making creative meme-based videos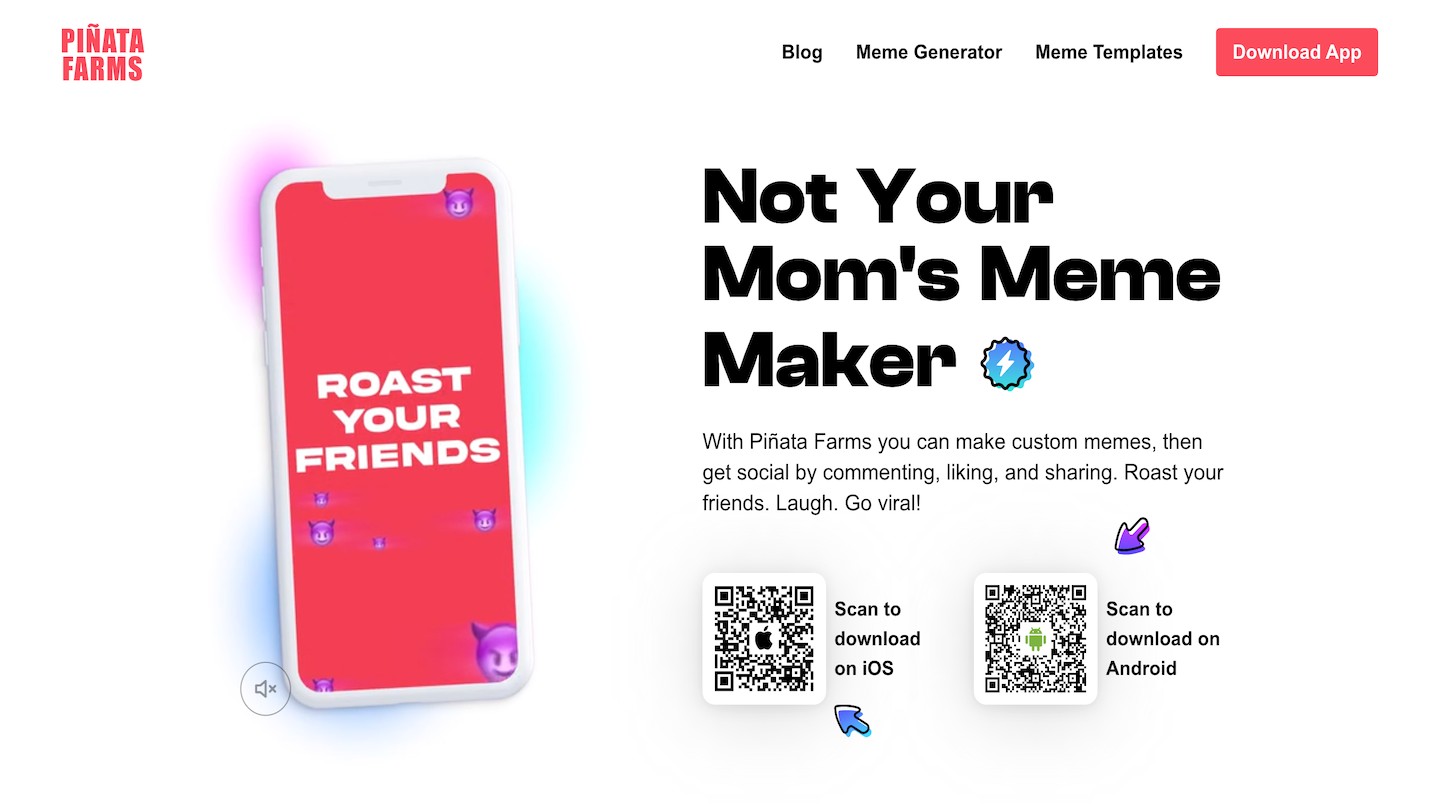 Input: Trending videos. Source popular memes and videos to stay on-trend.
Output: Creative brand promotional videos. Create publicity by posting relevant content that builds brand awareness and generates social media buzz.
Piñata Farms started as a social platform where people share personalized memes with friends. Businesses can leverage this tool to create on-brand, trending content for creative promotion.
Repurpose content that's already trending by sourcing popular memes from Piñata Farms' expansive library. In case you need some guidance, there's a handy explanation of each meme.
All memes created on the platform have a watermark that can't be removed. This can be a drawback if you want more professional branding for your business. The template library doesn't appear to be sorted by popularity or relevance, so you have to know what you're looking for.
Piñata Farms is free and includes access to all meme templates and the meme generator.
#10 Piktochart: Best for repurposing content into infographics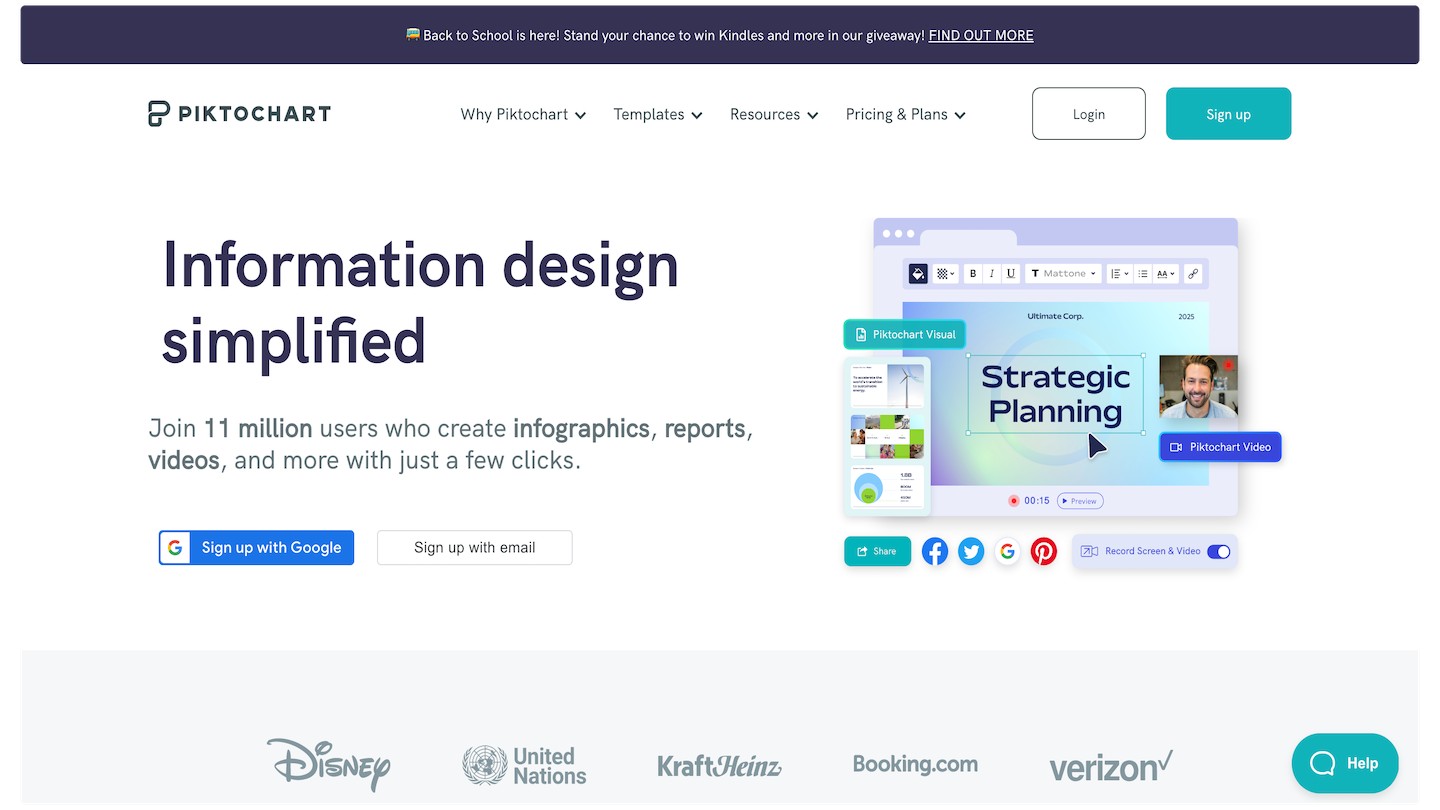 Input: Data. Piktochart can repurpose raw data, .csv files, and text into attractive visuals.
Output: Infographics. Piktochart has a huge library of infographic templates that can be used for social media, websites, and presentations.
Piktochart is best for creating infographics and is a less pricey alternative to Visme.
The drag-and-drop tool and customizable templates make it simple to convert raw data, whitepapers, and blog posts into eye-catching visuals. The Piktochart Visual feature lets you repurpose Zoom meetings and webinars into social media-friendly content.
Users commonly cite limited customization and buggy software as major drawbacks, but it's a solid repurposing tool overall.
Piktochart has a free plan that offers most of its core features. The Pro plan is $14/month and offers unlimited downloads, custom templates, and custom branding capabilities.
#11 PixTeller: Best for creating visually appealing images from content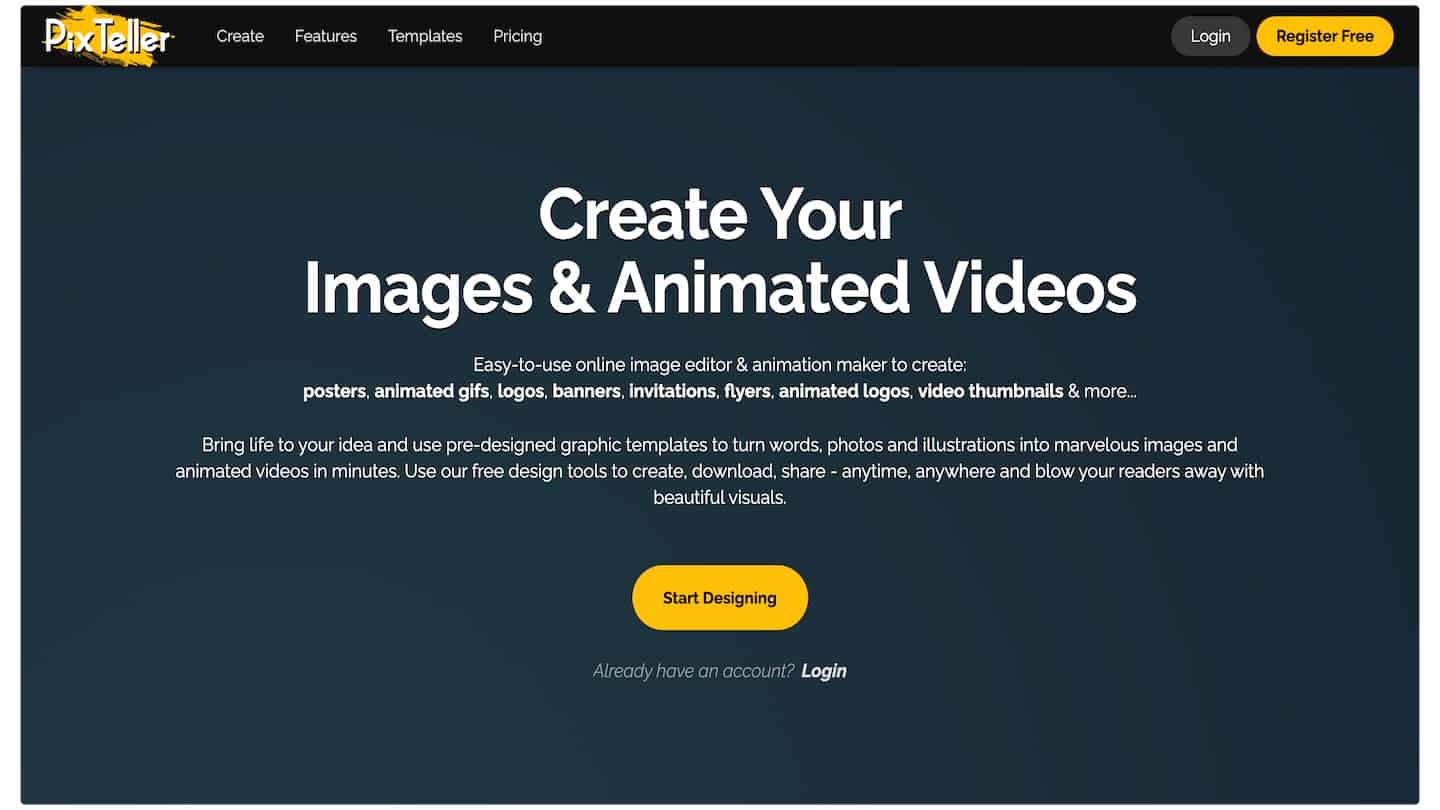 Input: Content / Quotes. Repurpose quotes, testimonials, or key points from your blog posts, interviews, or email newsletters.
Output: Social graphics. Ready-made social templates make creation easy and fast.
PixTeller is a graphic design tool known for its functionality. It's a valuable tool for creating text-based social media visuals like quotes, testimonials, or excerpts of customer reviews.
The Animation Maker feature lets users create GIFs, dynamic Instagram stories, or video banners.
PixTeller doesn't have the most attractive interface, and the templates get redundant if you use the tool for a while.
PixTeller offers a free plan. If you want more editing capabilities, the Pro plan ($7/month) gives you access to unlimited images and custom fonts. The Diamond plan ($12/month) includes animation/GIF capabilities and an animated video library.
#12 tl;dv: Best for free video transcription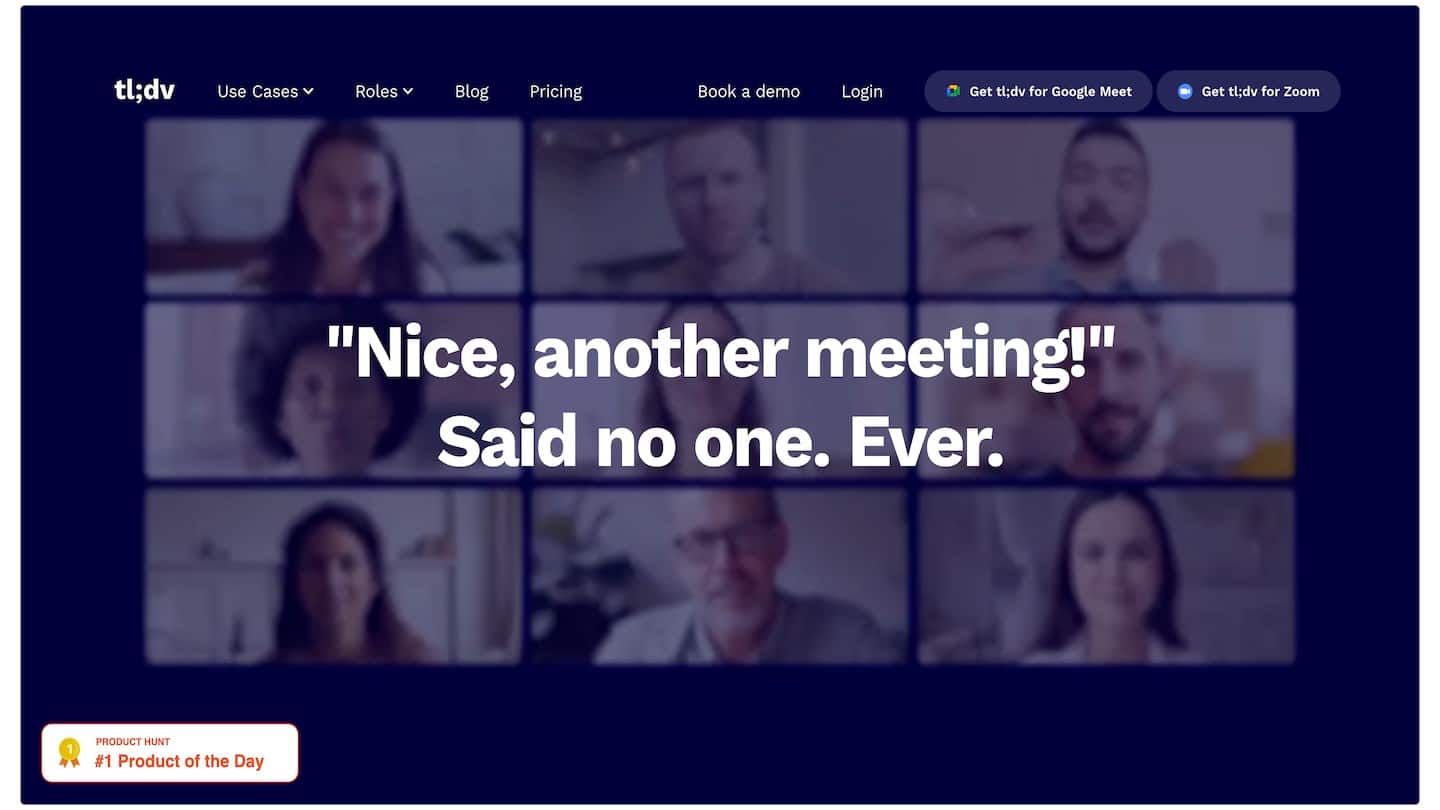 Input: Full meetings / interviews. Audio is a goldmine of evergreen content. AI transcription shortens the turnaround time of content generation.
Output: Transcripts. Text generated from tl;dv can be used for long-form content, social proof, and social media posts.
Tl;dv is used to record and transcribe Google Meet or Zoom meetings. It features editing tools and a search capability. Users can even highlight important moments in live meetings.
It's useful for conducting expert interviews in your niche. Any transcription can be repurposed into a blog post, social media quotes, and email newsletter content.
Tl;dv is a relatively new tool that was launched in June 2022, so there are occasional bugs in recording and downloading transcripts.
Tl;dv's free plan offers the platform's key features, including unlimited recordings and transcription of Zoom/Google Meets. If you need advanced team features like analytics and downloads, the Pro plan is $20/month/user.
#13 Otter.ai: Best for transcribing meetings to text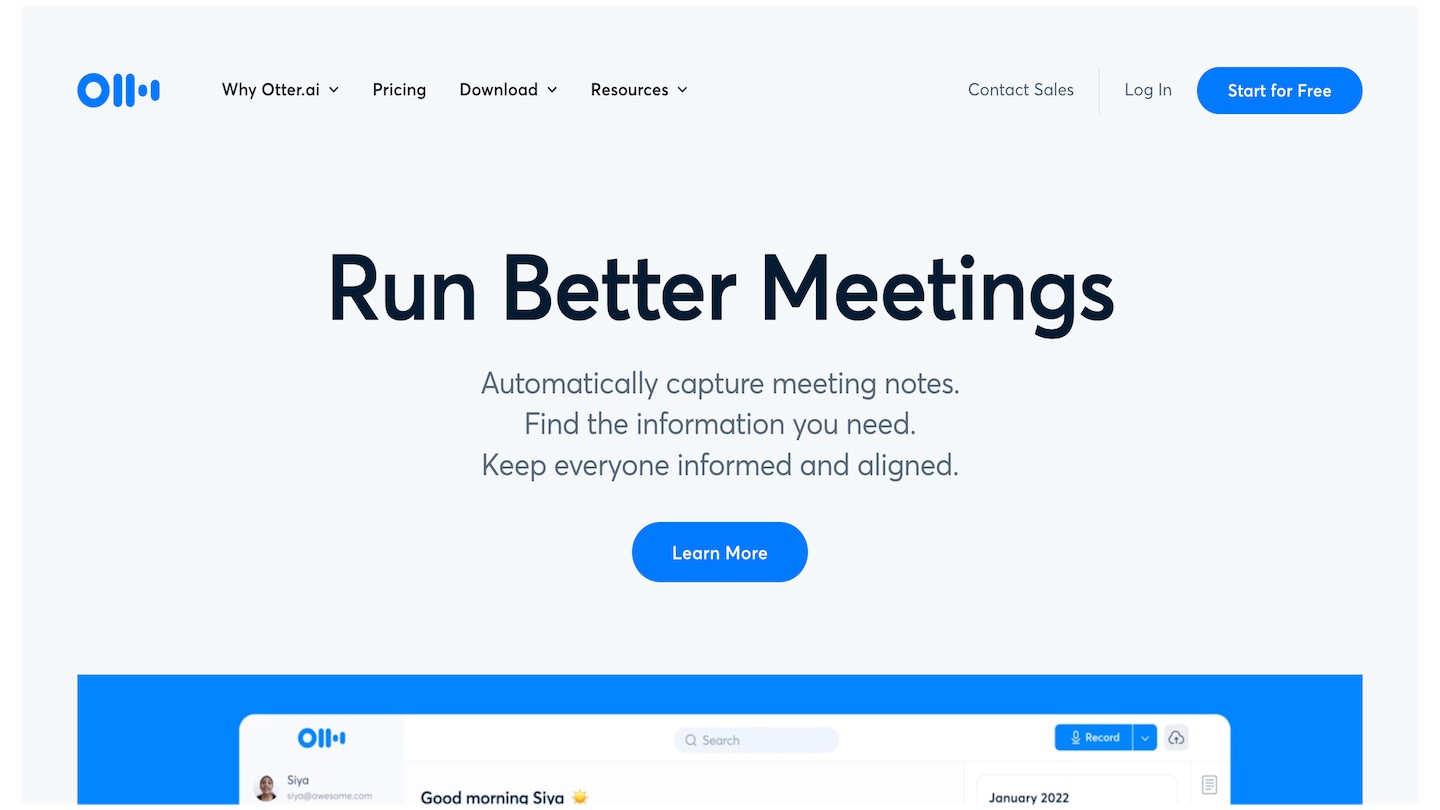 Input: Meetings. Record and transcribe business meetings, class lectures, or expert interviews.
Output: Transcribed texts. Repurpose audio content into written evergreen content.
Otter.ai is a transcription tool that integrates with Microsoft Teams, Google Meet, and Zoom. It's similar to tl;dv, but its features are more expansive.
Otter offers live captioning, and the software learns vocabulary unique to your business. The AI provides summaries and key takeaways for meetings. It can even be used by students to get transcripts and summaries of lengthy classes.
Otter's Basic plan is free and includes live recording, transcription, and video playback. The Pro plan is $8.33/month and adds on pre-recorded importing and custom vocabulary. The Business plan is $20/month/user and includes prioritized customer support.
#14 TweetPik: Best for repurposing tweets to images for other social media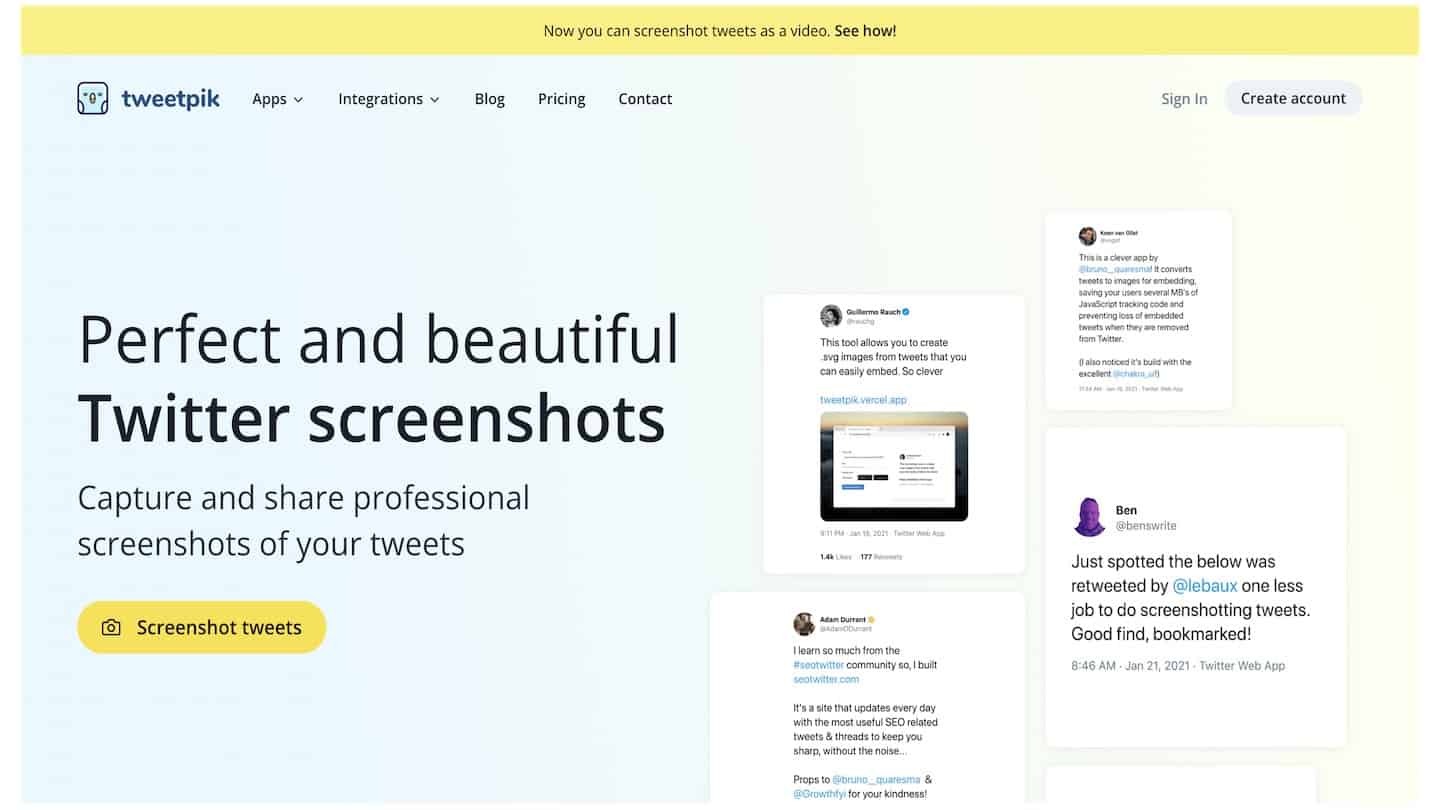 Input: Tweets. Screenshot any tweet you want to share.
Output: Images for other social media. Share relevant tweets on Instagram, Facebook, and LinkedIn.
TweetPik is a simple tool that repurposes tweets for other social platforms. Create screenshots for Instagram (stories and grid), Facebook, and LinkedIn for quick sharing and on-trend content creation.
This tool generates images that are visually appealing and customized. There are a bunch of editing features like custom background images, logos, and a Twitter quote maker.
The TweetPik tool is free if you want to generate Instagram posts and don't mind the watermark. The Pro plan is $9/month and gets you access to all social post dimensions and allows for custom branding.
#15 Paper.li: Best for creating newsletters from tweets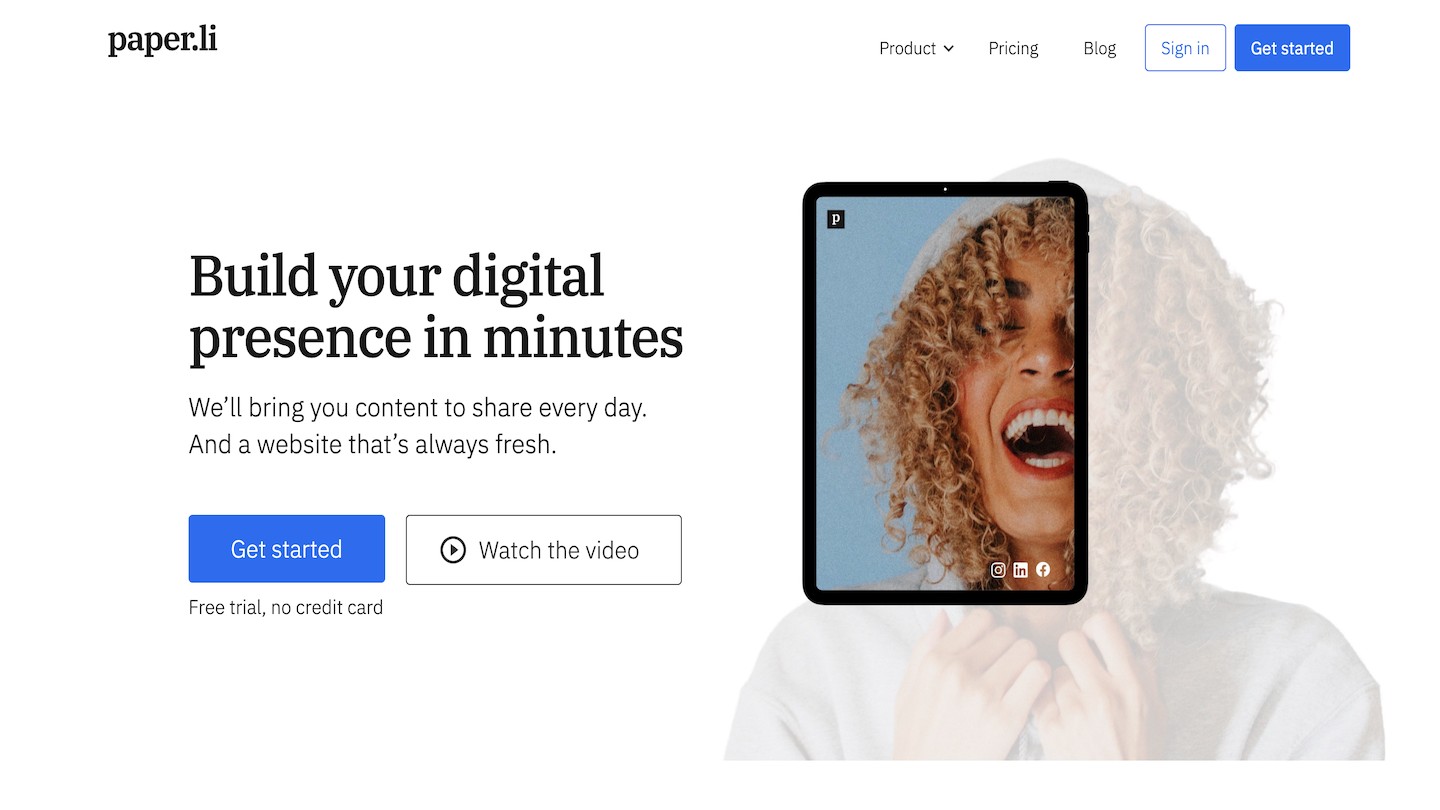 Input: Tweets. Source tweets relevant to your industry or niche.
Output: Newsletter with sources. Repurposing relevant content from other high-value sources keeps content creation flowing.
Paper.li is great for repurposing high-quality content via newsletters and social media.
You receive curated emails full of suggested content that you can then share with your audience. Add your own thoughts and comments to the articles you're sharing, or write your own blog post inspired by the curated content you receive.
It's a great tool because it transforms tweets into a newsletter with sources. Paper.li also utilizes AI to automatically make social media posts for Twitter, Facebook, and LinkedIn.
Paper.li is $12.99/month and includes all platform features, like the newsletter creator, scheduling tool, and daily content suggestions. Every Paper.li subscription includes a 5-day free trial.