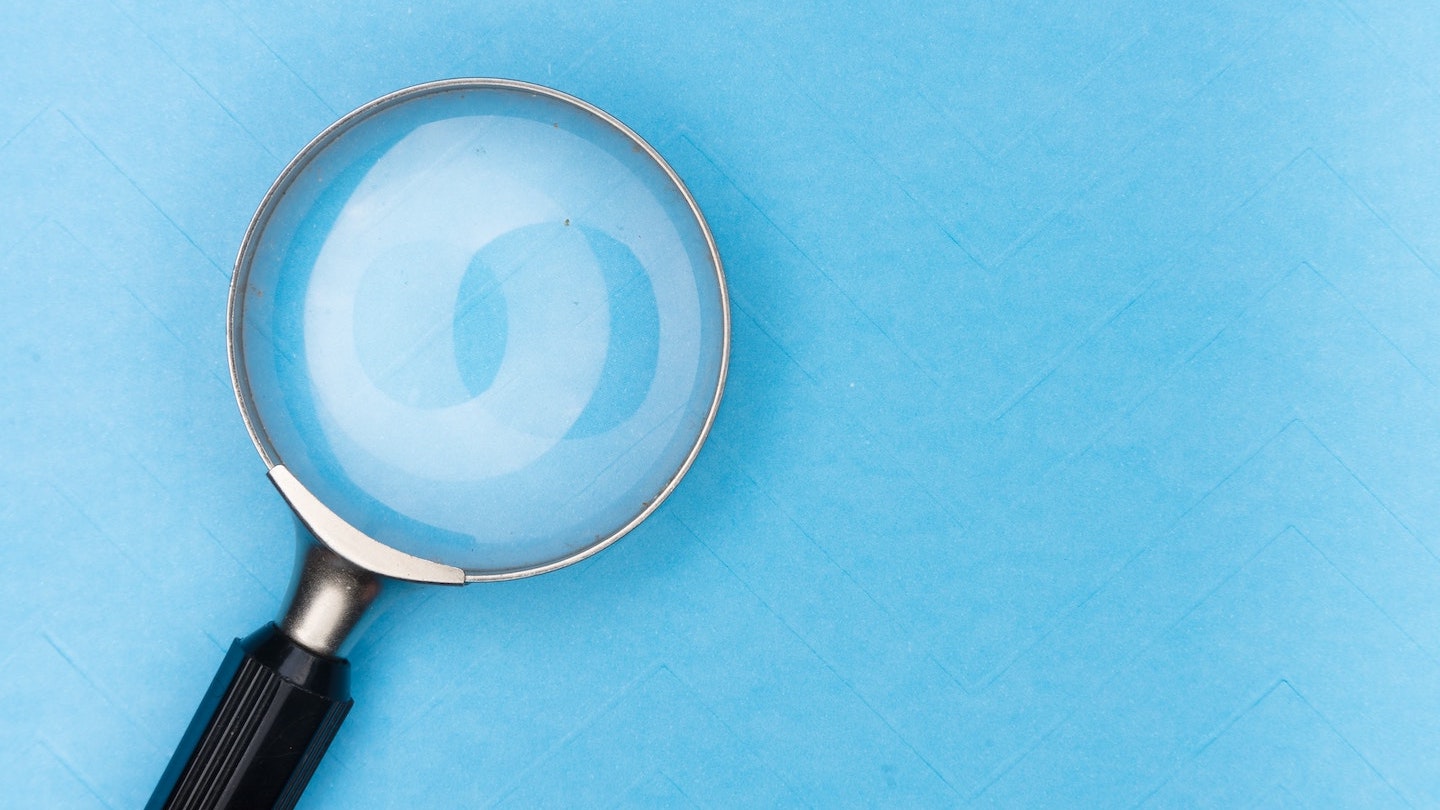 Hunter is a great resource to use after you've conducted a competitor backlink analysis and are looking to prospect emails for your link-building strategy. For many, it's a good starting point for building a database of verified leads and contacts.
Hunter offers a variety of different subscriptions, including a free account option that includes 25 monthly email searches and 50 monthly verifications. Their paid subscriptions offer more, of course. They start at $49/month for 500 email finder credits, and you can get up to 10,000 credits for $199/month.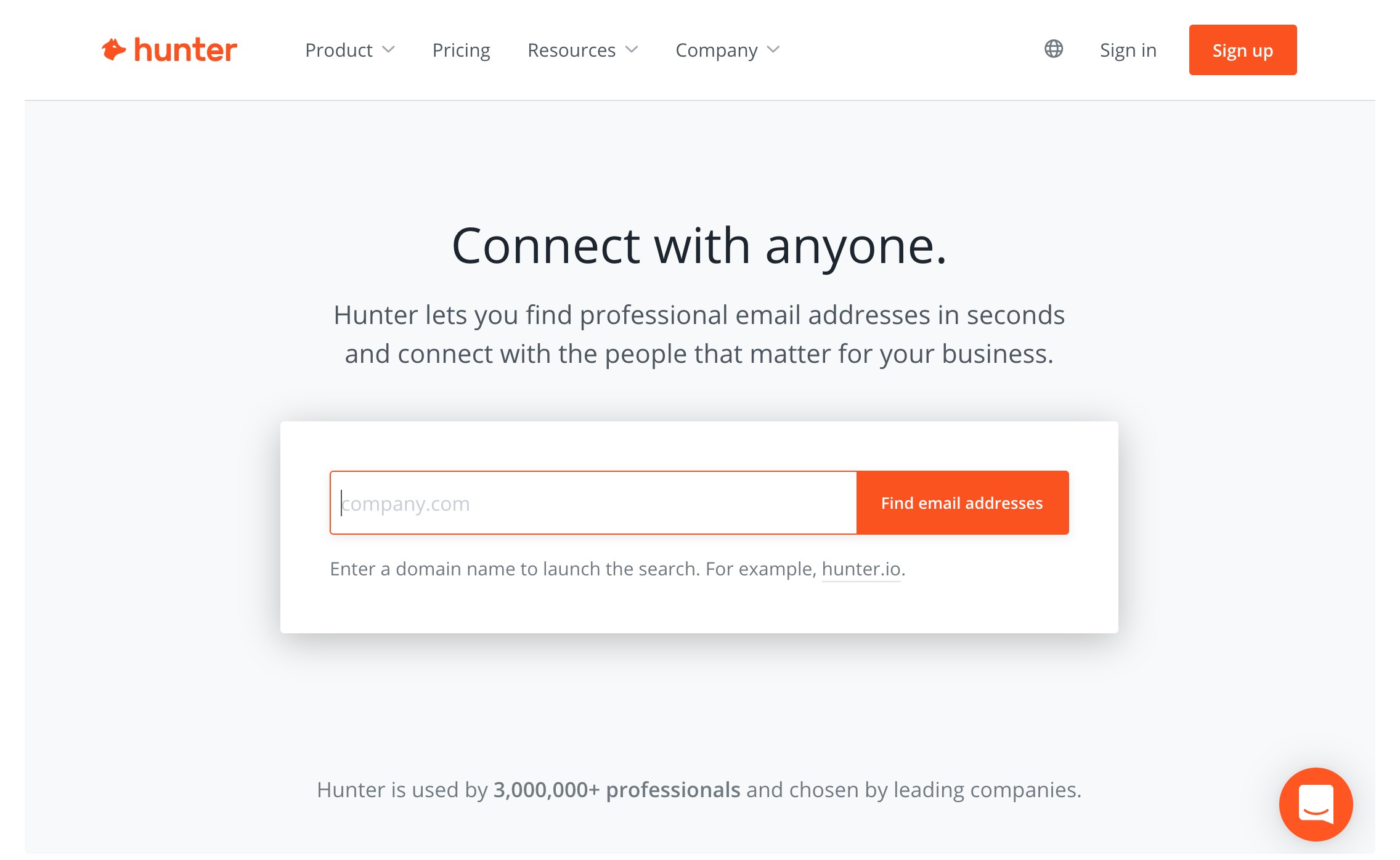 Finding the Right People
Before finding email addresses, you'll have to identify the right person to reach out to.
There are 2 approaches to finding the right person for a link-building campaign:
Find the author and reach out to whoever signed the blog post. Hunter actually has a neat feature for this. The main problem with this approach is the author doesn't necessarily have access to the site anymore (guest posts, previous WordPress author accounts, etc).
Find the SEO and/or content manager at the target company. This usually works great because they're the ones who are able to link to you. LinkedIn is a great place to start for this.
Although it's not always accurate, these methods are a great starting point for collecting emails that you want to reach out to for guest posts, replacing broken links, and any other backlink campaigns you have in mind.
You can also simply search for an author's name on LinkedIn or Google. Sometimes it's easy to find an author or content manager's professional email address by just punching their first and last name into search.
Use advanced Google syntax to get higher quality results when searching for a post author or other appropriate point of contact. For example, searching site:linkedin.com/in firstname lastname will give you much better results than a simple name search. Get a more in-depth explanation here.
Limitations of Hunter.io
While Hunter is a great resource for finding and verifying emails, it's not always accurate. Sourcing email contacts from a variety of alternative tools similar to Hunter will create a more comprehensive, valuable list for your backlink outreach campaign.
In our experience, the main limitations of Hunter are:
Lack of LinkedIn integration: LinkedIn integration capabilities used to be possible, but it's no longer available. This is a big drawback since LinkedIn is one of the most important places to source contacts.
Pricing: Yes, Hunter does offer a free plan, but it's limited to 25 monthly email searches. Their cheapest paid plan is $49/month, which is pricey when compared to some competitors.
Quality of emails: Hunter's email and author finder features are valuable tools, but they're not the best in the game. While Hunter validates all the email addresses they return which almost guarantees low bounce rates, they're very often unable to return an email address.
What to Look For in Hunter.io Alternatives
Hunter has some gaps that can thankfully be filled by alternative tools and services. There are several high-quality competitors that cover a lot of Hunter's limitations, and even offer features that Hunter doesn't. When looking for the best Hunter alternatives, consider the following:
Success rate: Not all email finders and verifiers are created equal. Some finders use sales-grade technology and data, while others simply scrape a few websites and call it a day. Hunter is ranked on the lower end of the success rate spectrum.
Email validity: You need to make sure that emails you're getting from a finder are verified and functioning. Hunter runs its finder and verifier features at the same time, which provides valid emails in most cases. Look for similar quality in an alternative tool, or at least for integration with an email validation tool like Bouncer or Emailable.
LinkedIn integration: Hunter does not have LinkedIn integration, which is a major drawback. Most of the alternatives we selected have solid LinkedIn integrations since it's such an important source of quality leads and contact info.
Competitive pricing plan: Hunter's free plan might not cut it, and the paid plans can be pricey. There are competitors out there who offer similar, if not better, tools at lower prices. Depending on your budget, alternatives like Snov.io or RocketReach may be better options.
Integrations: LinkedIn isn't the only integration you should be looking for. Hunter has CRM and Google Sheets integrations that are crucial for bulk enrichment. When researching alternatives, we made sure to take these bulk enrichment integrations into account too.
Top 10 Hunter.io Alternatives
#1 Apollo: All-In-One Sales Engagement Platform
Apollo has over 150 million validated emails and mobile numbers in their database. They're known for providing high-quality data that is consistently updated more than their competitors.
A highlight of Apollo is their Chrome extension. It integrates with LinkedIn, which is a plus over Hunter. Integration allows you to prospect verified emails and phone numbers directly from LinkedIn, making your job way easier.
Apollo is a great all-in-one platform that offers seamless integrations with CRM and sales engagement software. Their automated workflows save time and enrich your data.
Apollo offers a free plan with 50 monthly email credits. If you want more credits or features like advanced filters, the Basic plan ($49/month) gets you 200 credits and the Professional plan ($99/month) offers unlimited credits.
#2 Datagma: Best for B2B Emails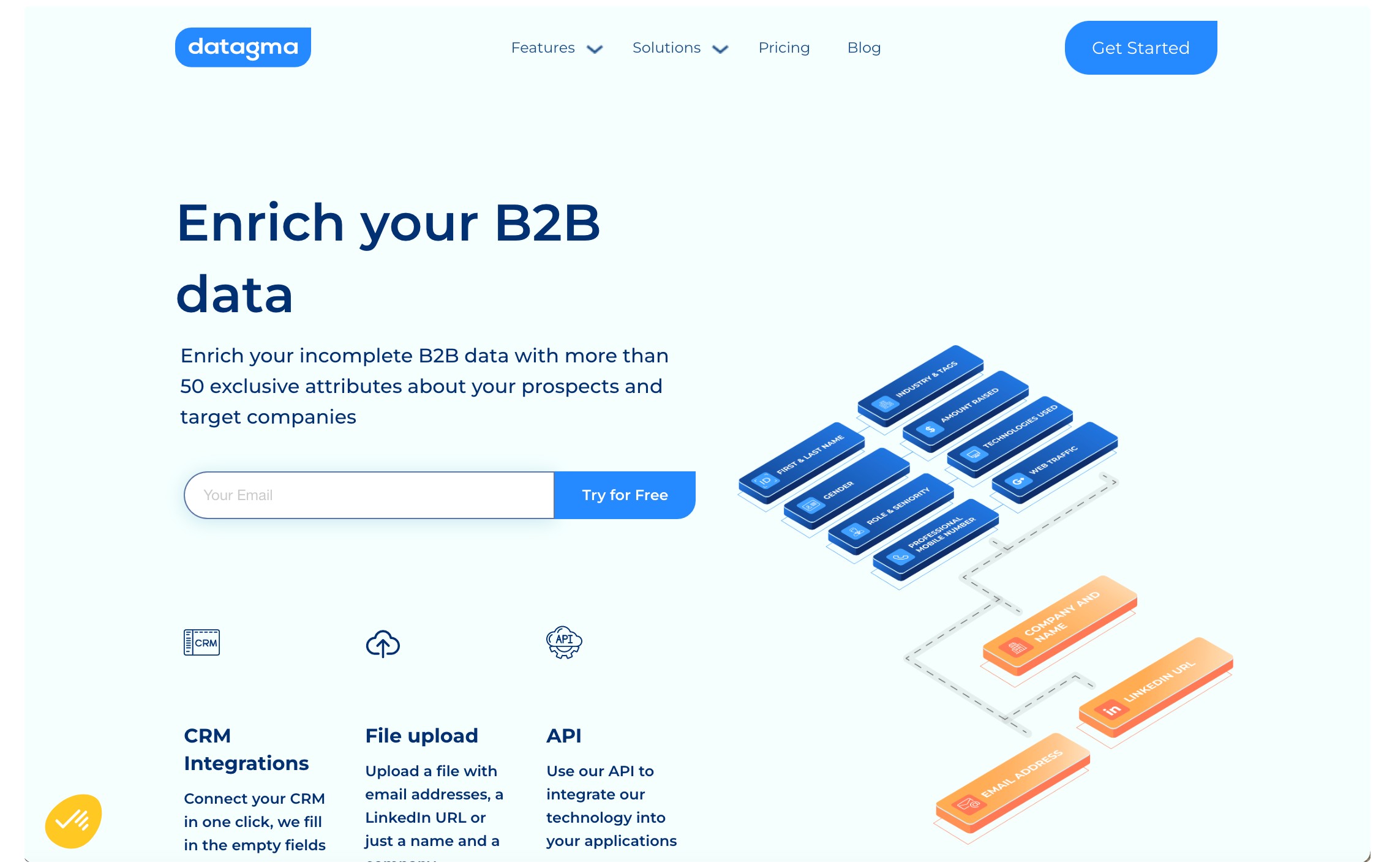 Datagma is one of the best B2B contact databases out there. They provide very detailed B2B data points including financial data and website information.
It's a great tool for enriching data you may already have. Upload an incomplete Excel or CSV file with company names or LinkedIn URLs and let Datagma work its magic. It can provide more than 75 possible data points and completely upgrade your email research game.
Datagma has a great suite of APIs not offered by many competitors. It can also seamlessly integrate with CRMs like HubSpot or Zapier.
Datagma doesn't have a free option, but their pricing is flexible and based on a sliding scale of how many searches you want. The lowest plan starts at $24/month with 1,000 searches. You pay only when you get data. Unused credits are rolled over to the next month.
#3 Snov.io: Sales Automation Platform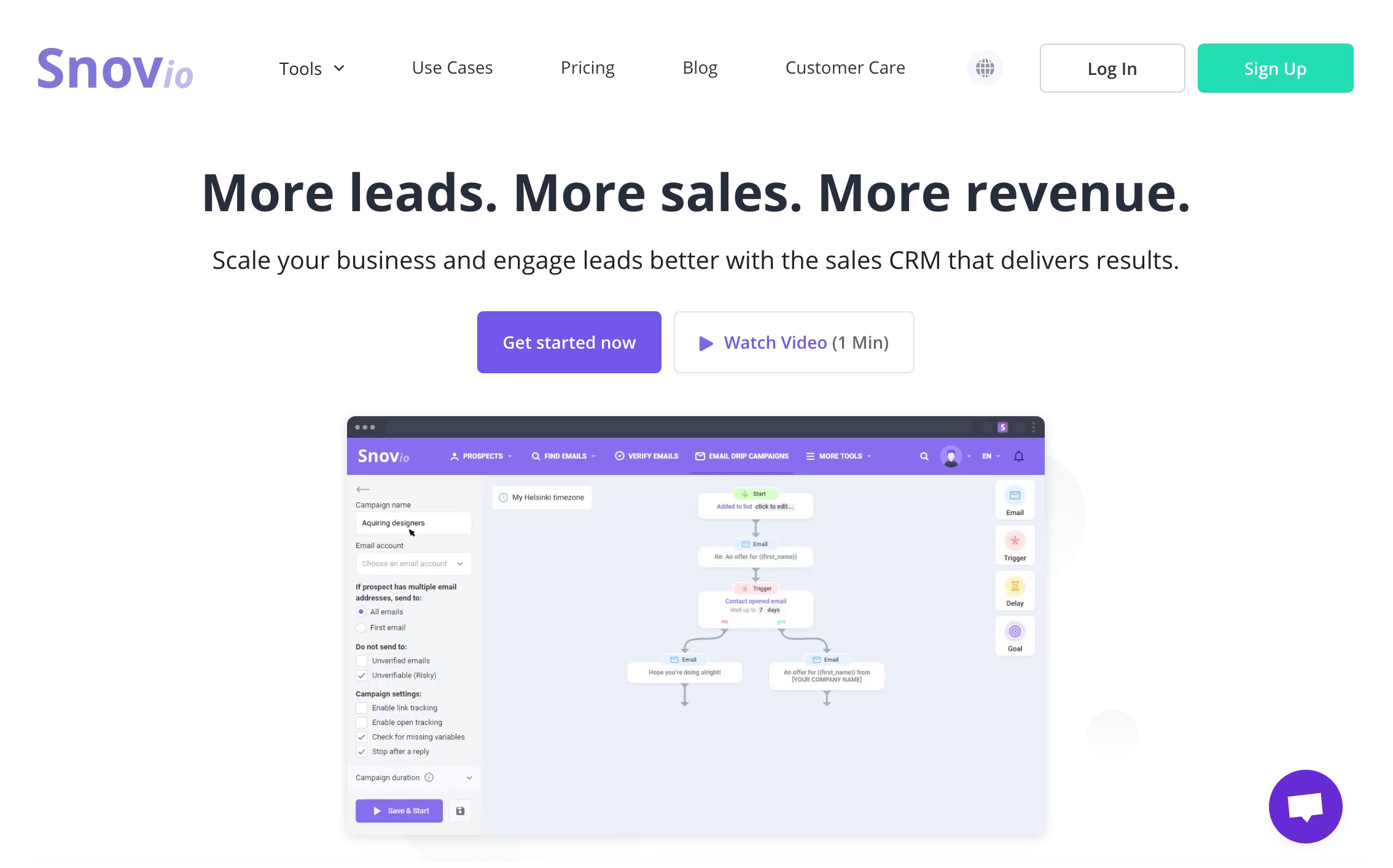 Snov.io is a sales CRM that will help you scale your backlink campaigns and prospect high-quality leads.
Snov.io's CRM software lets you directly reach out to leads through its site. It's an all-in-one tool that can find content makers, investors, and influencers relevant to a company, allowing for effective backlink outreach.
A big perk of Snov.io is its forever-free plan that gives users a full-functioning CRM and access to all Snov.io tools. The best part is that there are an unlimited number of users.
Annual plans range from Small at $33/month all the way to XXL at $615/month. Their Small plan offers 1,000 email searches and 2,000 email verifications. Credits scale up from there depending on the plan.
#4 Findymail: Verified Emails Only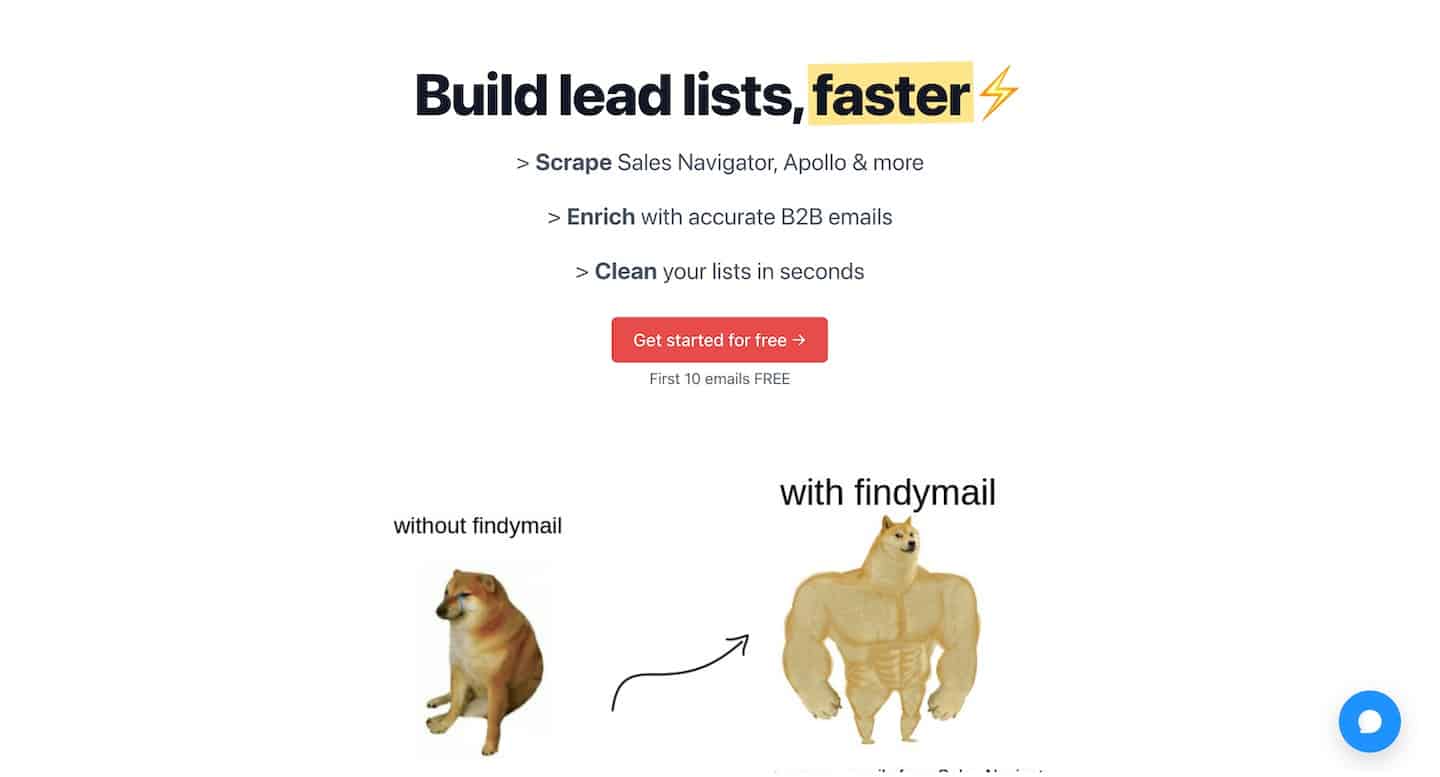 Findymail is a SaaS email finder and email verifier coupled with a Chrome Extension providing prospecting automation on major platforms like Linkedin Sales Navigator and Apollo.
The data quality is top-notch as Findymail is the only tool doing real-time verification of the emails they provide. That way you only use one of your email credit for emails that are valid and that you can actually use in your outreach.
The Chrome extension is also a huge time saver, allowing you to export complete searches from Sales Navigator or Apollo enriched with verified emails, all in autopilot.
The Basic plan starts at $49 per month for 1,000 verified emails and 1,000 email verification. You can then upgrade to a Starter plan at $99 for 5,000 emails and a Business plan at $249 for 15,000 emails. Higher plans are also available.
#5 Skrapp.io: Cheaper Email Lookup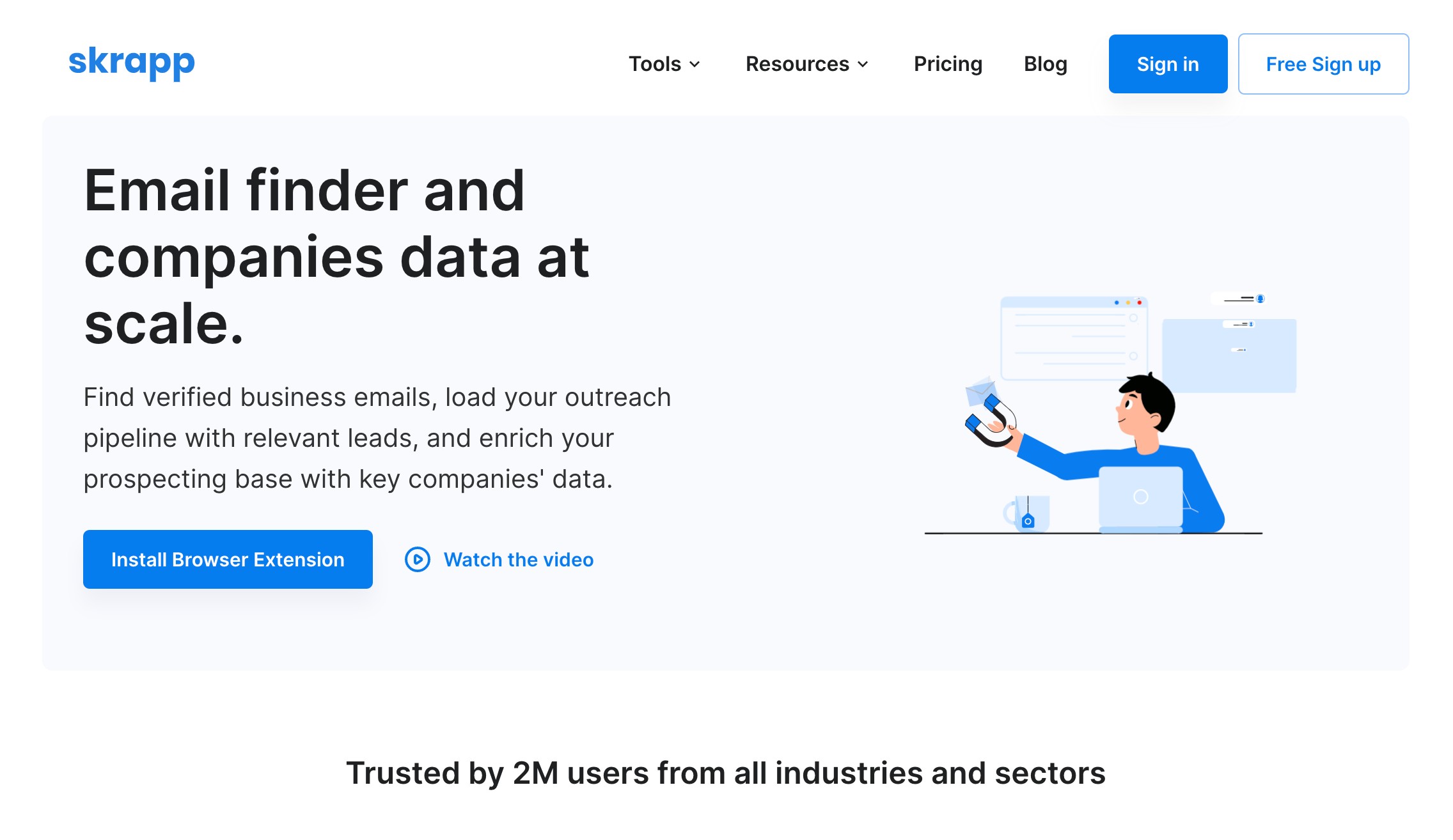 Skrapp.io is a great tool to use on LinkedIn. Its extension scrapes LinkedIn profiles and turns that data into verified email lists that you can use right away.
Much like Datagma, Skrapp.io has a bulk email finder that works off of any imported CSV or Excel file. It's a great tool to add to your arsenal if you're looking for bulk database creation to launch your outreach campaign.
Skrapp.io's flexible plans are more affordable than other competitors. There is a free account option that gives you 50 email credits a month. Credits roll over and invalid emails are refunded.
Their Starter plan gives you 1,000 monthly emails at $39/month. Seeker provides 5,000 emails at $79/month, Enterprise gets you 20,000 emails at $159/month, and Global offers 50,000 emails at $239/month.
#6 Lusha: Best to Find Phone Numbers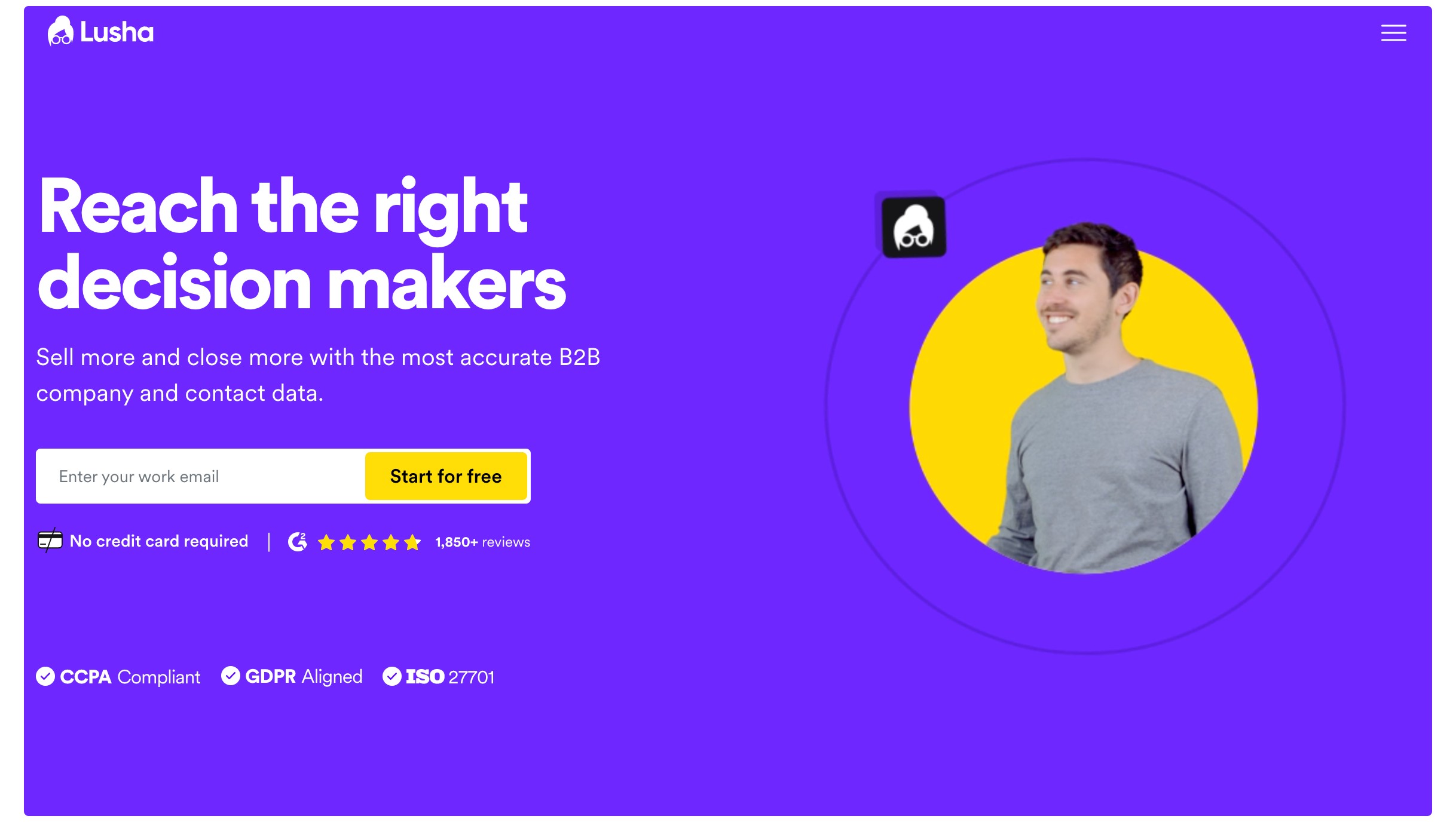 Lusha is an easy-to-use tool useful for teams. Lusha's software helps speed up workflow because it's easy to share data and push contact lists to your CRM of choice.
Lusha is a great resource for general information like work numbers and emails. Their advanced search and filters can be a helpful tool to pinpoint the ideal contacts you'd like to get in touch with for your link-building strategy.
Lusha offers free, Pro, and Premium plan options. A free account gets you 5 credits a month for one user. Pro is priced at $29/month per user and offers list management and export, among other perks. Premium, priced at $44/month per user, is best for small teams.
#7 RocketReach: Easy-To-Use Database of Professionals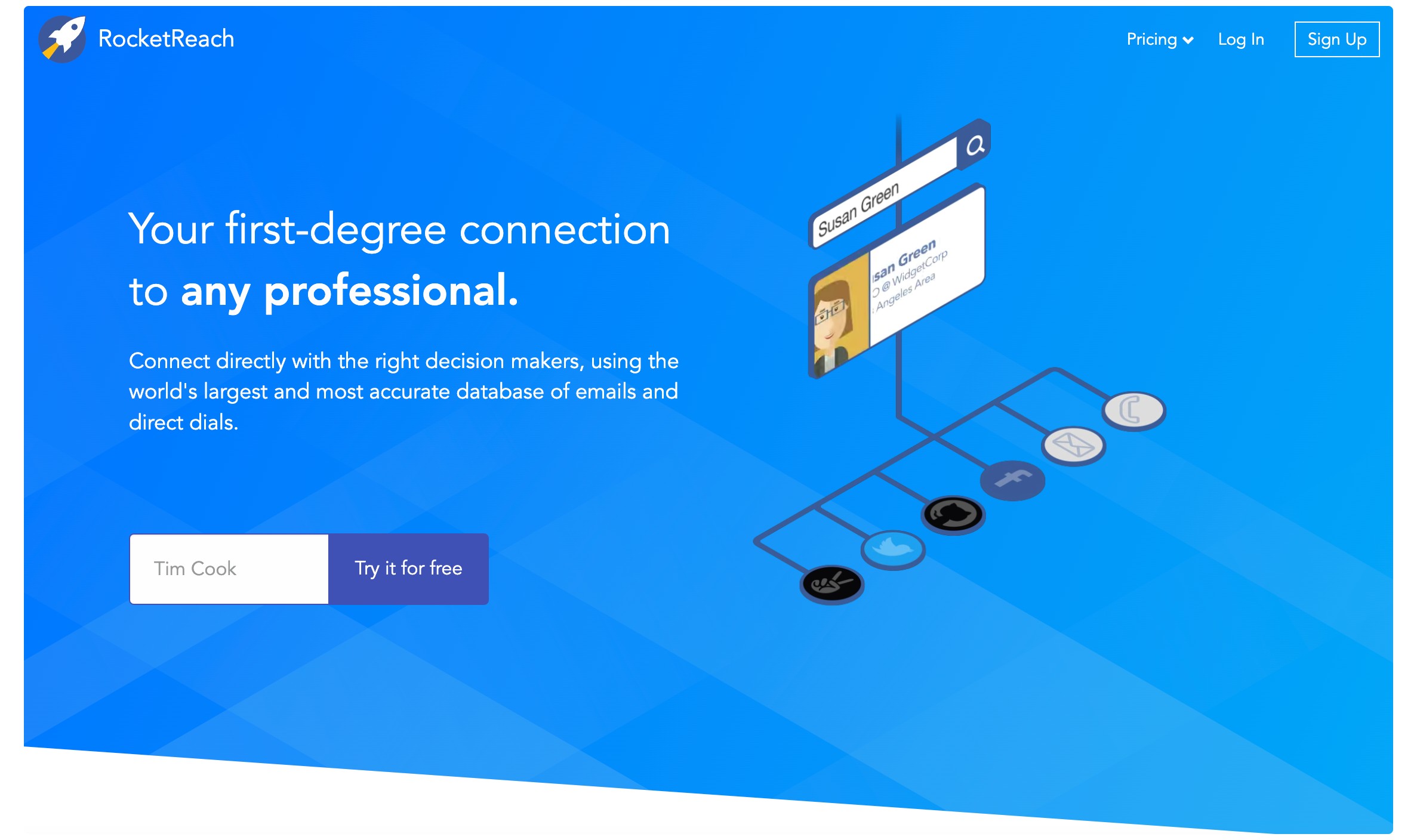 RocketReach is an email finder with CRM integration, a good API, and a browser extension that works with LinkedIn. What else could you possibly ask for?
It can be used to boost marketing, sales, recruiting, and link-building strategy. RocketReach has a unique Compose feature that can take any email campaign to the next level. It uses your own mailbox to send messages that appear organically written, reducing the chances of your email going into the dreaded spam folder.
RocketReach has a free account option, which gives you access to 5 free lookups per month.
From there, pricing starts at $39/month for their Essentials plan, which offers 1,200 lookups and email data only. The Pro plan ($99/month) offers email and phone data and 3,600 lookups. If you need more, their Ultimate plan ($249/month) gives 10,000 lookups and API access.
#8 UpLead: B2B Database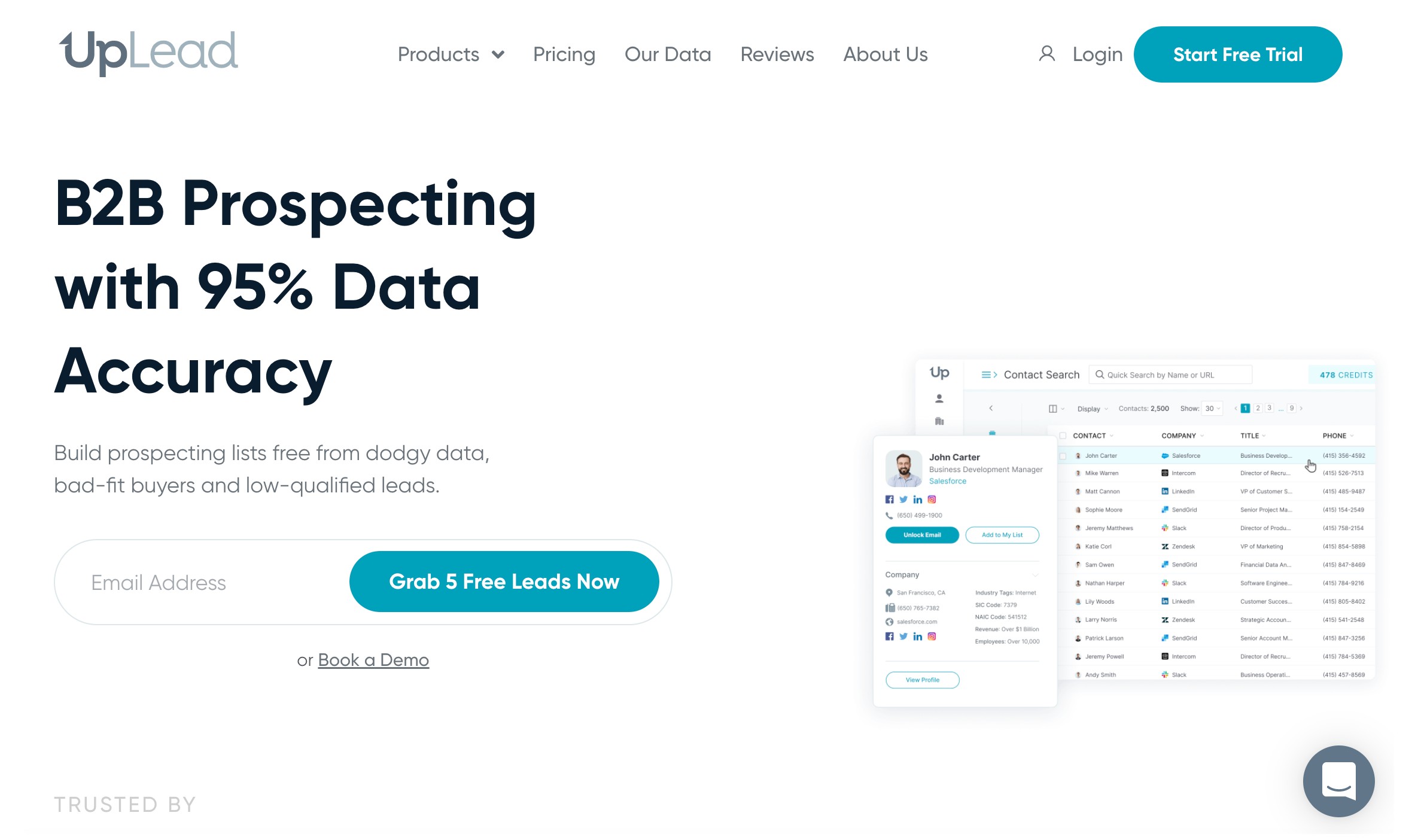 UpLead boasts 95% data accuracy, so you'll get high-quality prospects and verified emails with this tool.
Prospect for leads on websites and LinkedIn, and even see related contacts to build out a more comprehensive list of prospects for your next outreach campaign.
If you've already compiled a list of leads, UpLead can clean it up with its stringent data verification. It will identify the most important and high-quality emails you have, saving you time and increasing the success of your cold email campaign.
UpLead offers monthly and annual credit-based plans starting at $74/month for their Essentials subscription. You get over 2,000 credits with the option of purchasing more if necessary. Plans scale up and offer more credits based on whether you go with Plus ($149/month) or Professional ($299/month).
If you want to try out UpLead before you commit, they offer a 7-day free trial that includes 5 credits.
#9 Wiza: Bulk Email Checker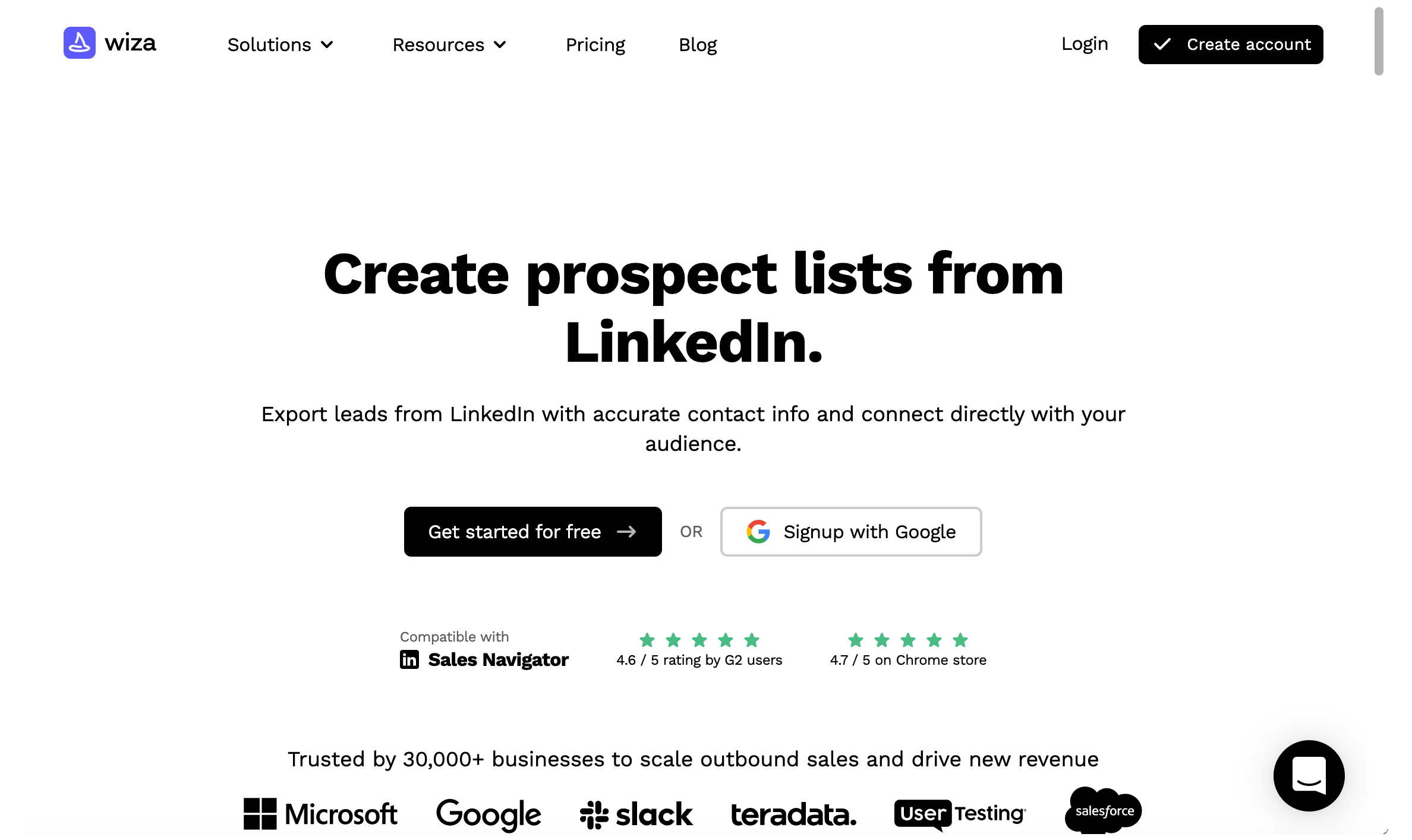 Wiza is all about building prospect lists from LinkedIn. It can be a great tool used in tandem with Hunter to fill that LinkedIn gap. Convert a LinkedIn search into a verified and accurate contact list, or export entire searches to gather prospects at scale.
This tool is all-around a great resource for building up a personal database of leads that is accurate and effective. If you already have a large list of email contacts, Wiza can clean it up with its bulk email verification feature.
Wiza offers flexible pricing and they only charge when you get verified contact information. Their Micro plan is $30/month per user and gives you 75 credits a month, with the option to purchase more if needed.
The Pro plan comes in at $50/month per user and 250 credits, and the Growth plan is $100/month per user and 750 credits.
Wiza also has a free account option that gives you 20 credits a month.
#10 Kaspr: Email Finder Chrome Extension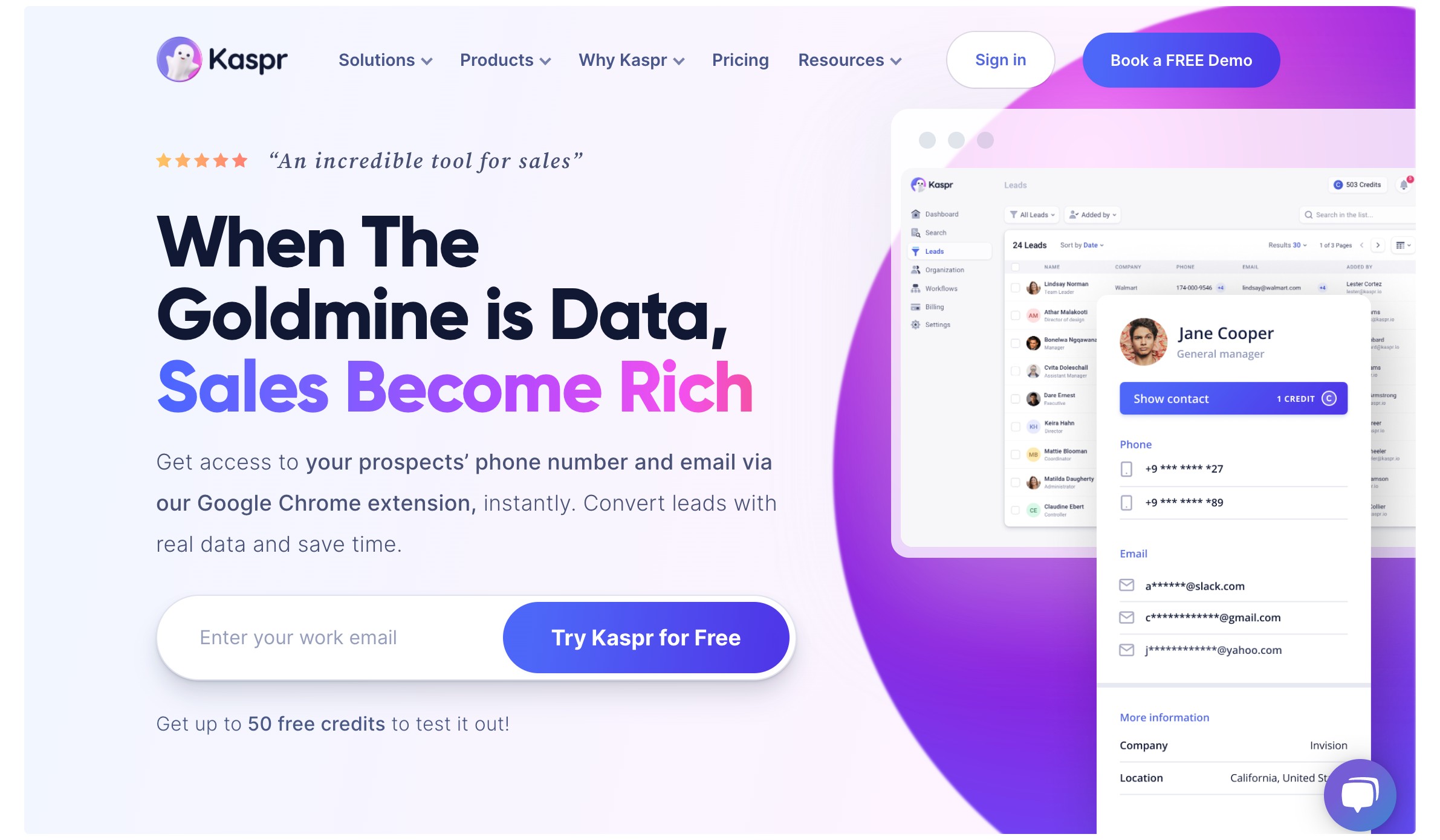 Kaspr's Chrome extension is all about automation. Use this extension to prospect on LinkedIn and get accurate emails, phone numbers, and other relevant data.
The Sales Automation feature can save you a ton of time doing outreach. You can send messages on LinkedIn automatically and it updates contacts in real time.
Kaspr offers a free plan with 50 credits when you sign up. You get access to contact search and analytics, but not Sales Automation or the ability to export contacts.
Kaspr's paid plans are the Start-up package ($31/month per user) and the Enterprise package ($47/month per user). The Start-up offers 50 credits a month and the Enterprise offers 100.
#11 Clearbit Connect: Free Gmail Extension for Contact Search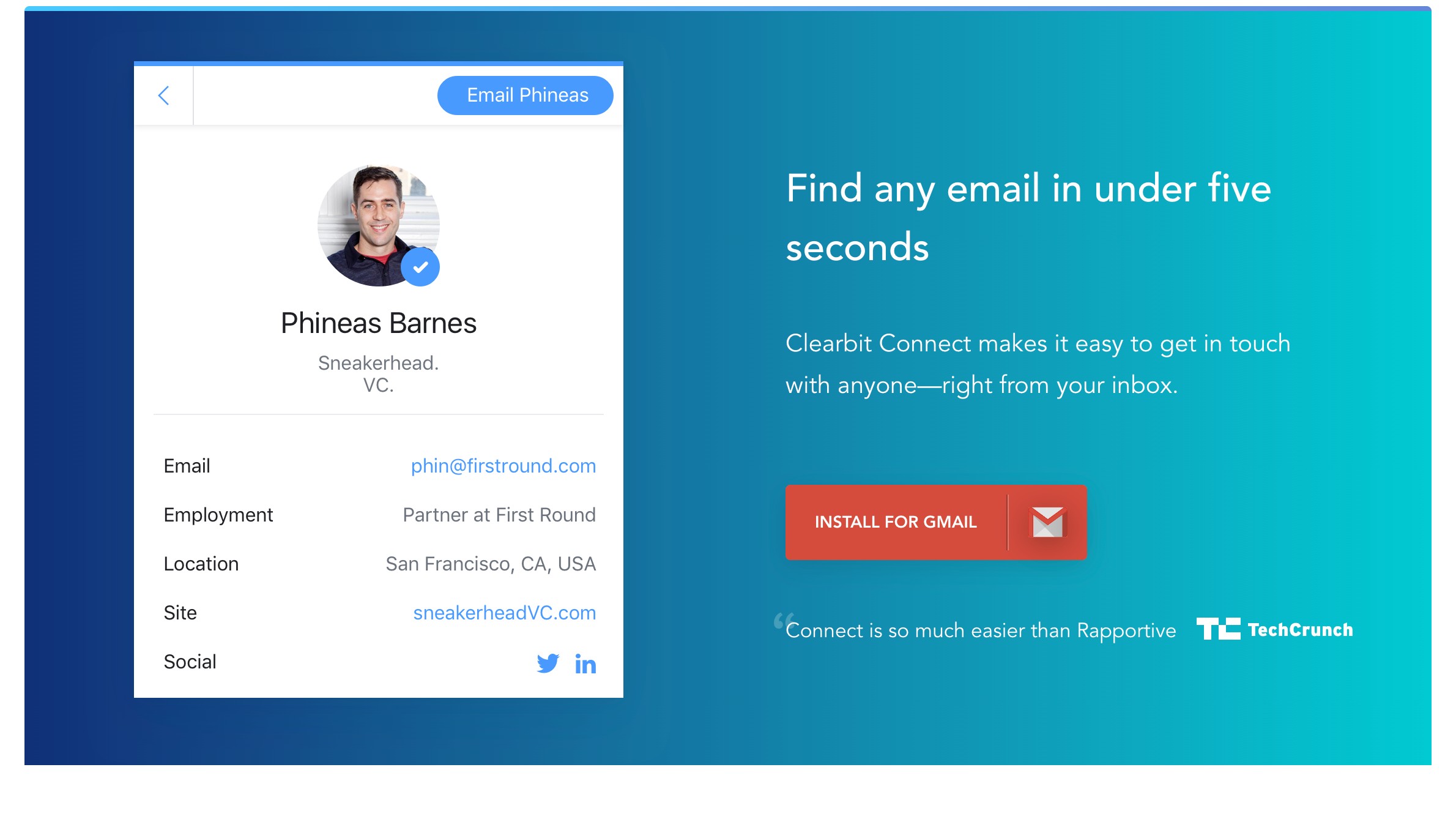 Clearbit Connect is a Gmail plugin that can help you find anyone's email address without ever leaving your inbox. The best part is that it's completely free to install and use.
This widget uses an up-to-date database that instantly pulls employee email addresses from almost any company you search for. You can also search by employee name or role.
This plugin is a great tool that helps you reach out directly to the right people at any organization. It's easy to use, as it has only one function. It's the perfect free tool to add to your backlink strategy tool belt.