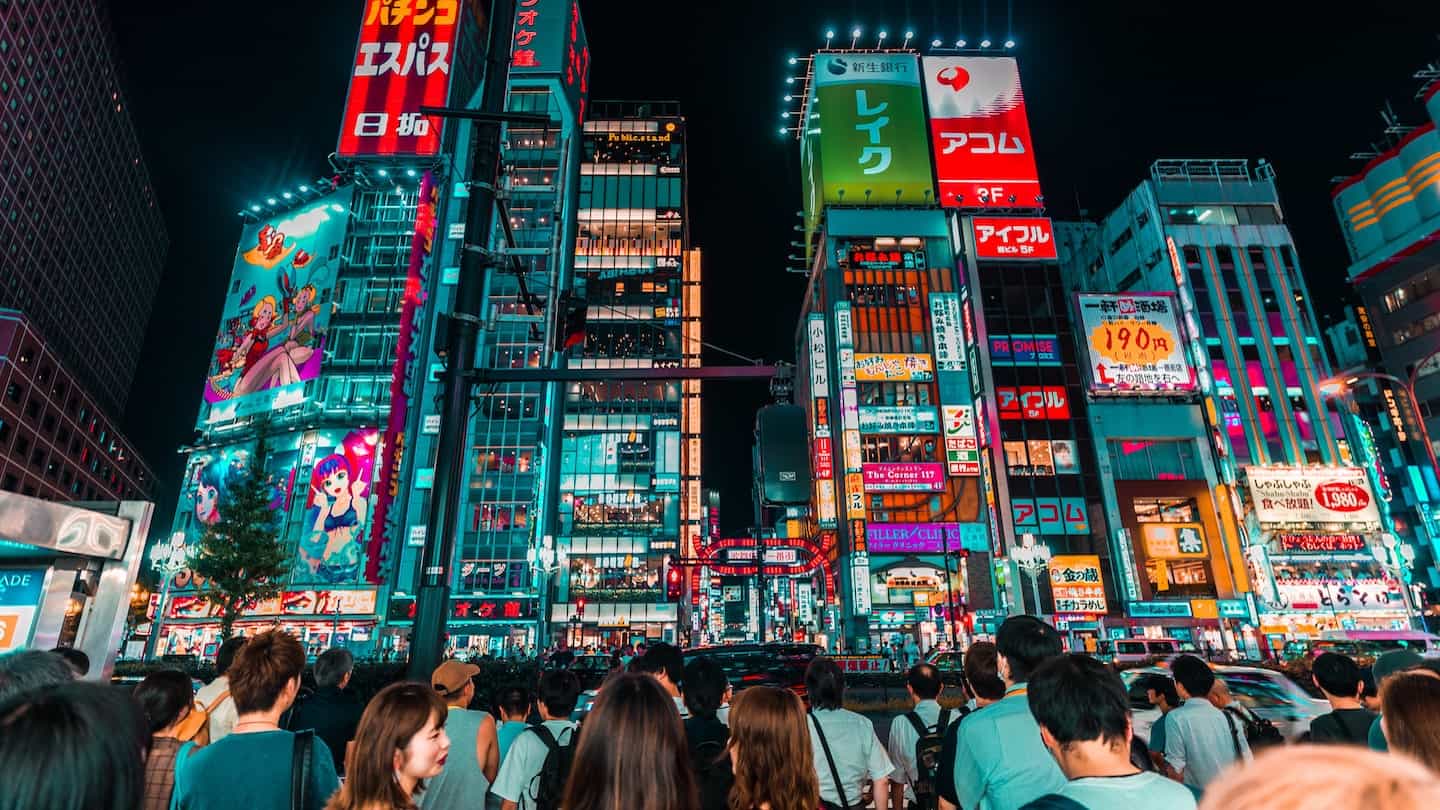 WordPress popup plugins are integral to increasing conversions, attracting visitors to your site, and building up your email database. The right plugin will help you gain loyal customers, whilst the wrong plugin could cost you money, time, and a lot of frustration!
Hopefully, our choice of the top 16 WordPress popup plugins helps you make an informed decision on the best software for you.
What Makes for a Great WordPress Popup Plugin?
There's an ocean of WordPress popup plugins out there, and it can be hard to choose which one is the best for your site.
There are some key features of great plugins to help you decide:
1. Control
A good plugin will have targeting and exclusion options, with features like exit-intent, referral detection, geolocation targeting, and product recommendations based on products in carts.
2. Performance
Some popup plugins for WordPress are more efficient than others. Popup builders will often add up JS and CSS to your front end, which will undoubtedly affect your loading times, user experience, and ultimately, rankings.
3. Integrations
At the end of the day, you're running popup campaigns to capture leads. For that to work, you'll need to efficiently store emails in a database. Make sure you check the integration options available for your email marketing or marketing automation platform. Some plugins may charge you a premium for a basic integration.
4. Depth of promotional options
Popups are efficient, but there are many other ways to capture leads and generate clicks, such as inline banners, floating bars, live chat, and browser notifications.
These popup plugins can eat up a significant portion of your blog costs so it's important to get your money's worth and achieve strong conversion rates without affecting user experience too much.
We'll take a look at our choice of the top 16 WordPress plugins, their strengths, weaknesses, and price points so you can make an informed decision about which plugin is right for you.
Top 3 WordPress Popup Plugins: Comparison Table
The 16 Best WordPress Popup Plugins
#1 Optinmonster: Uncontested leader in WordPress popups
Popup Builder by OptinMonster – WordPress Popups for Optins, Email Newsletters and Lead Generation
Optinmonster is arguably the best opt-in and email capture software in the WordPress popup space. It helps you to grow your email subscriber database, generating leads and sales through its conversion optimization software.
Created by WPbeginner founder Syed Moiz Balkhi in 2013, Optinmonster is WordPress friendly and well designed, with seamless integrations.
Optinmonster has some great features which make it stand out from the crowd:
Pop-up builder
Optimonster provides a popup builder with drag and drop features to design pop-up campaigns without the need for prior design knowledge.
Targeted campaigns
Optinmonster's software allows you to design targeted campaigns depending on the page or section of your website, geographical location, the traffic source, or the device your site visitors are on.
Campaign triggers
In addition to targeted campaigns, Optinmonster uses smart campaign triggers to display these targeted campaigns to specific visitors at specific times. In fact, Optinmonster provides the most campaign triggers of any other solution on the market.
Campaign types
Choose from 8 different campaign types to ensure you have the most attention-grabbing popup for your site visitors. There are full-screen welcome mat options, floating bars, and lightbox popup options, among many others.
Insights
Optinmonster has the added benefit of detailed insights so you can see how well your campaigns are performing while actioning any improvements you could be making.
Pricing
In terms of pricing, Optinmonster has various options to suit different budgets: Basic: $9, Pro: $19, Pro: $29, Growth: $49. The Basic plan gives you a license for a single site with all the basic tools, but the most popular plan is the Pro plan, which gives access to all the features for up to three sites.
#2 Popup Maker: Full-featured pop-up builder for WordPress
Popup Maker is another extremely popular plugin for WordPress used by hundreds of thousands of people worldwide. As you might have guessed from the name, Popup Maker allows you to make popups for your website to increase lead generation and your email database.
Popup Maker was created by Daniel Iser on the back of 4.5 years of user feedback on his previous platform, Easy Modal. Within the first year, over 20,000 websites were using Popup Maker, and now over half a million websites use the WordPress plugin.
Some stand out features of Popup Maker include:
WYSIWYG (what you see is what you get) editor
Popup Maker's easy-to-use editor allows you to customize and build the exact experience you want for your site visitors.
Popup triggers
Popup Maker allows you to choose from multiple options to trigger your Popups. This includes optional delays, automatic openings, opening upon form submission and there's even a premium option for pop ups to open when a visitor is about to leave your site!
Integration
Popup Maker integrates with all of the other most popular WordPress plugins for blogs, including Ninja Forms, Gravity Forms, and Mailchimp for WordPress amongst many more. You can copy and paste forms using the free version, but the premium version offers a built-in subscriber form.
Pricing
Popup Maker offers a FREE core plugin, with extensions bundles costing from $16. To try it for free today, click here.
#3 Ninja Popups: One of the oldest popup plugins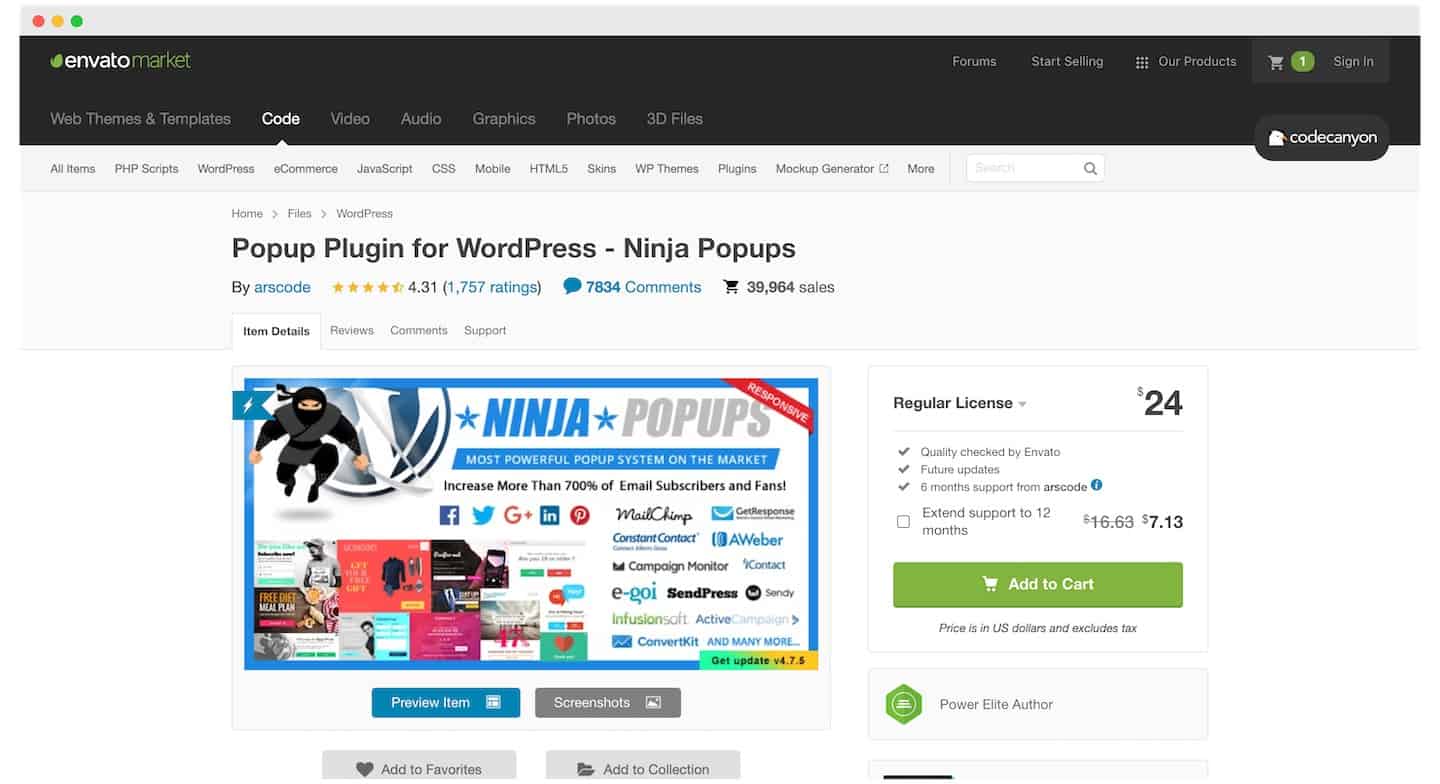 Ninja Popups is one of the older popup plugins for WordPress. This plugin allows you to be in control of the design and performance elements of your popups.
Ninja Popups was created in 2012 by Arscode, but despite its age, has been regularly updated with new features to keep it relevant and user-friendly for today's users.
Some of the best features of Ninja Popups are:
Highly customizable
Ninja Popups offer customization over features like colors, button shape, and size, text customization, and subheadings.
Exit-intent popups
Ninja Popups allow you to design popups for when visitors are about to exit your site, increasing sales leads and converting more visitors to sales!
Theme builder
One of the newer features in Ninja Popups is a theme builder. This theme builder allows the user to create custom popup opt-ins. It's a user-friendly and straightforward feature to use and you'll have stylistic control over the popup design.
Integration
Ninja Popups offers integration with all of the major plugins including Google Analytics, so you can optimize your popups and keep a good oversight on how they're performing.
Pricing
You can use Ninja Popups for a one-time fee of $27, and the software offers additional extras for added fees. To learn more, click here.
#4 Optimonk: A solid freemium option from 2014
Optimonk is a WordPress plugin that offers a good, basic free option and a more advanced premium option for users at $29 per month. The software was first developed in 2014 to help businesses create a great customer experience for site visitors.
Optimonk offers good features such as A/B testing, audience segmentation, behavioral targeting, and geo-personalization. Other great features are their live support system and its easy-to-use software.
To try Optimonk for free today, click here.
#5 Sumo: The famous popup builder
Sumo is a popup builder software with over 100,000 users, created by the Sumo group in 2014.
Sumo's aim is to help both small and large businesses increase their conversions by providing an easy tool to build an email list while reducing cart abandonment and increasing value.
The plugin comes with free customer support, an all-in-one marketing tool kit, shortcuts for e-commerce, and an ROI-focused dashboard. Sumo is also compliant with Google and has good integrations with relevant programs.
The downside to Sumo is the premium price. Starting at $29, Sumo charges up to $79 for its 'customer success management package' and the A/B testing option.
#6 Icegram: A low-cost WordPress popup plugin
Popups, Welcome Bar, Optins and Lead Generation Plugin – Icegram
Icegram is a low-cost WordPress plugin, offering stunning options for you to design the perfect popups and opt-ins for your website. Icegram's basic plan is free for users, but they offer premium services up to $147 per year, which is still relatively reasonable.
Icegram offers more than just plugin creation—you can create converting messengers, a hello bar, and toast notification features.
Other great features include:
Advanced targeting with flexible options
Time targeted pop ups and optimized lightboxes
Slide-in messengers
A/B testing
Good integrations
There are a few downsides to Icegram, such as the lack of a drag and drop builder, the lack of choice for popup templates, and the fact that the exit-intent popup builder is a premium feature.
To try for free, click here.
#7 Bloom: Design first popup maker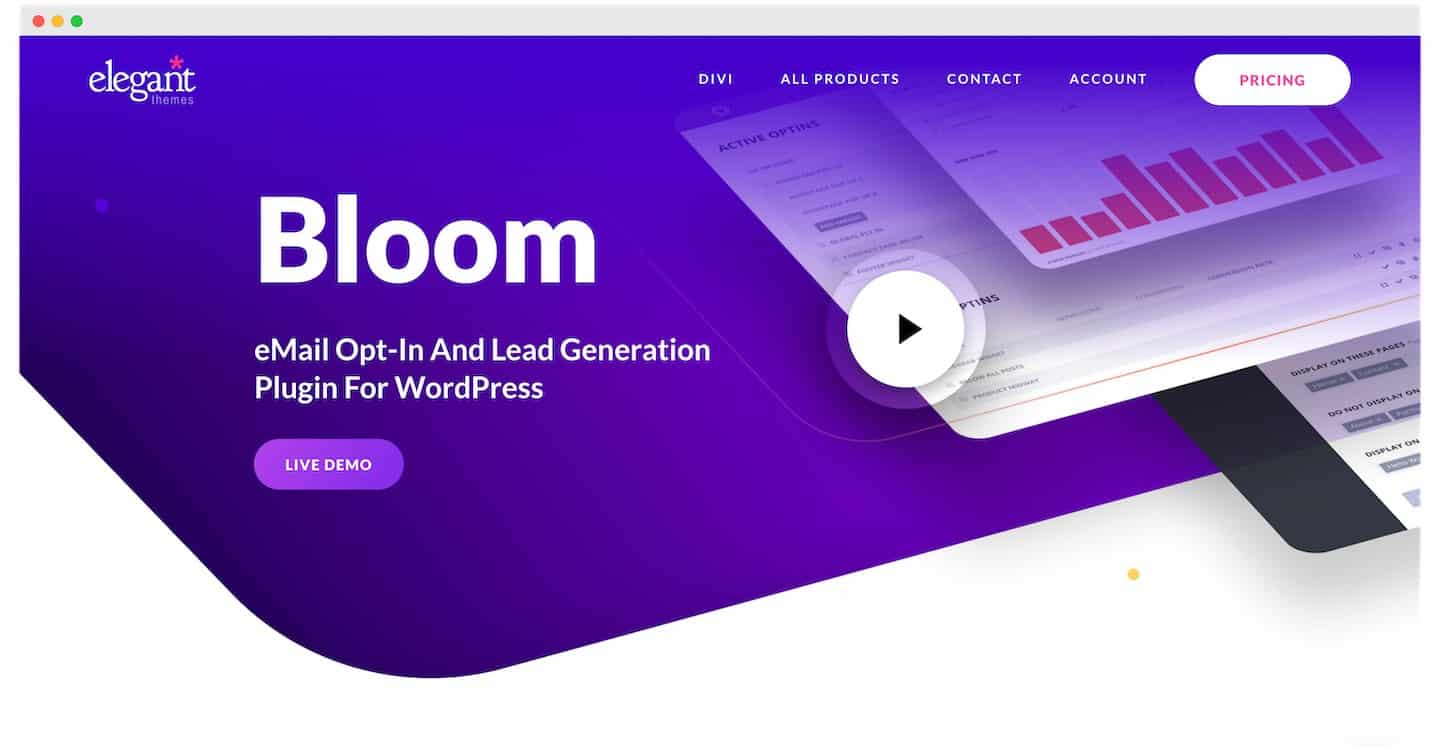 Bloom is a WordPress plugin from Elegant Themes, created in 2015.
Bloom is a lead generation and email opt-in plugin, offering over 100 customizable templates and a huge range of design options.
Bloom offers design and trigger features like:
Below content opt-in forms
Widget area opt-in forms
Automatic opt-in popups
Multiple display types
Timed delay triggers
After inactivity triggers
After scrolling triggers
On the downside, the software doesn't offer exit-intent popups, and the set-up process of popups can be difficult to navigate.
To access Bloom, you'll need to purchase an Elegant Themes membership at $89, making it a pricier option. To learn more, go to their website, here.
#8 ConvertPlus: An easy to use and simple option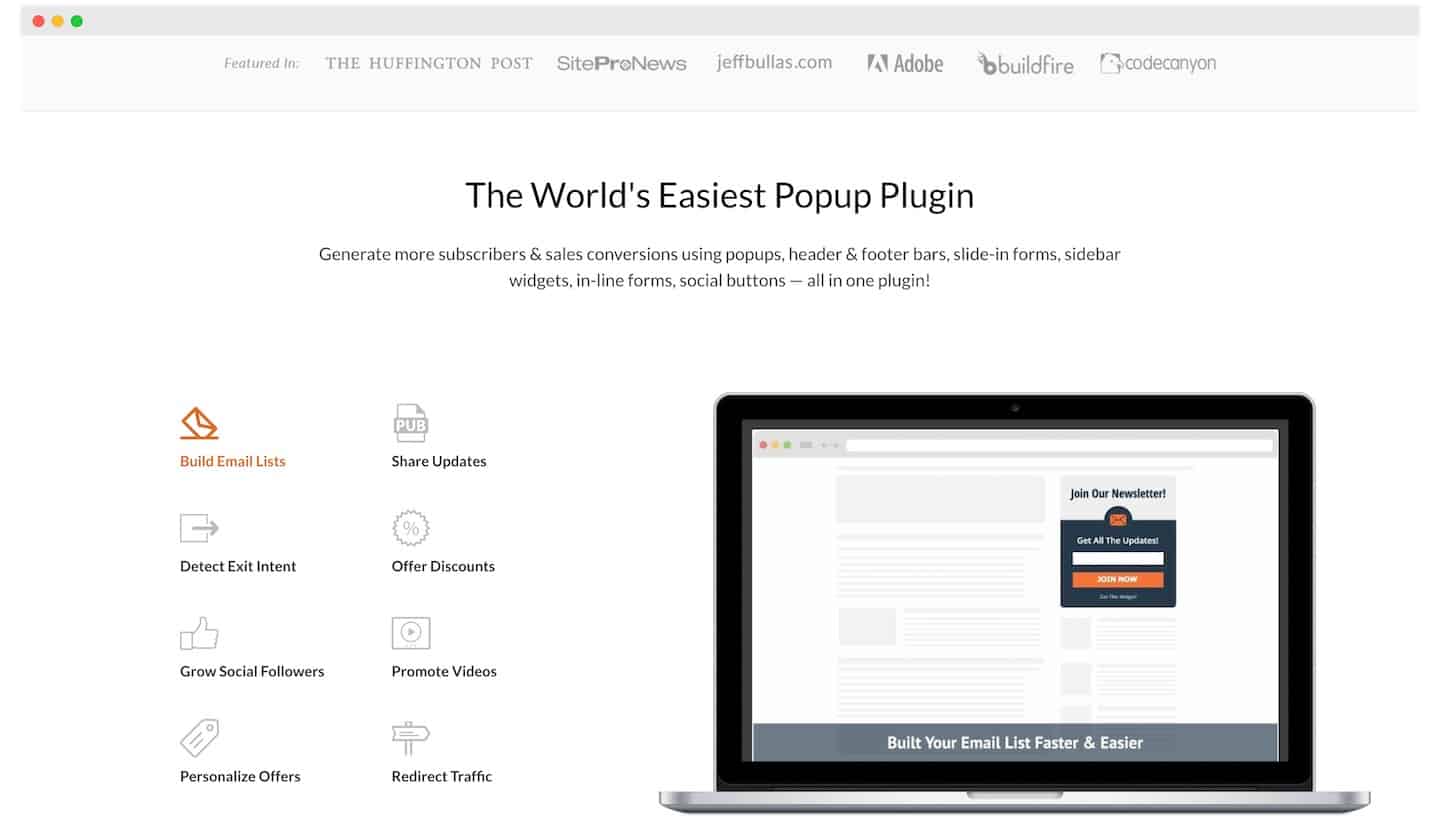 ConvertPlus was created in 2013 by Code Canyon. The plugin offers a wide range of features and easy customization options to help you convert visitors into sales leads and subscribers.
Some of the best features include:
A mobile editor
Drag and drop customization
Background settings
Animations
Over 700 fonts
Modal size
There are also trigger features, personalization, and integration systems that make ConvertPlus a great popup plugin choice. ConvertPlus also offers users great analytics with A/B testing.
ConvertPlus's pricing is reasonable too, at a decent $23. To sign up, head to their website.
#9 Wisepops: The e-commerce specific player
Wisepops is a conversion popup tool used by over 2,000 e-commerce websites to grow their email subscriber list. It was created in 2013 by Benjamin Cahen specifically for the e-commerce industry.
Standout features of Wisepops are:
Email and CRM integrations
Chat support
A/B testing and scheduling
Goal tracking and analytics
Pro features, such as Onboarding and training
Wisepops pricing starts at $49 per month and has multiple package options that cost up to $250 per month. To learn more and try their 14-day trial, click here.
#10 Hustle: WPMU DEV's popup plugin
Hustle is an online marketing tool and plugin for WordPress. Hustle offers an easily customizable design process, with floating social bars, popups, email opt-ins and slide-ins to help you increase conversions on your site.
With an advanced behavioral targeting system, exit-intent technology, geotargeting and great integrations, Hustle is a good choice as your WordPress popup plugin. It also provides good facilities for analytics, although its A/B testing feature is only available if you opt for the premium package.
Hustle offers a 21-day free trial, with prices starting from $5 after the trial. To find out more, visit their website.
#11 GetSiteControl: For stunning mobile popups
Popup plugin by Getsitecontrol — promotional and email popups, surveys, feedback and order forms, exit popups
GetSiteControl, released in 2014 by GetWebCraft, promises to boost website conversions by creating stylish popups.
The standout features of GetSiteControl are its attractive widgets, with a great mobile system and good reporting for analytics. There are also over 1000+ software integrations and live support access.
GetSiteControl prices start at $9 for basic features and go up to $29 for premium features, so it's a good option if you're on a budget. For more details, click here.
#12 Thrive Leads: All in one lead generation site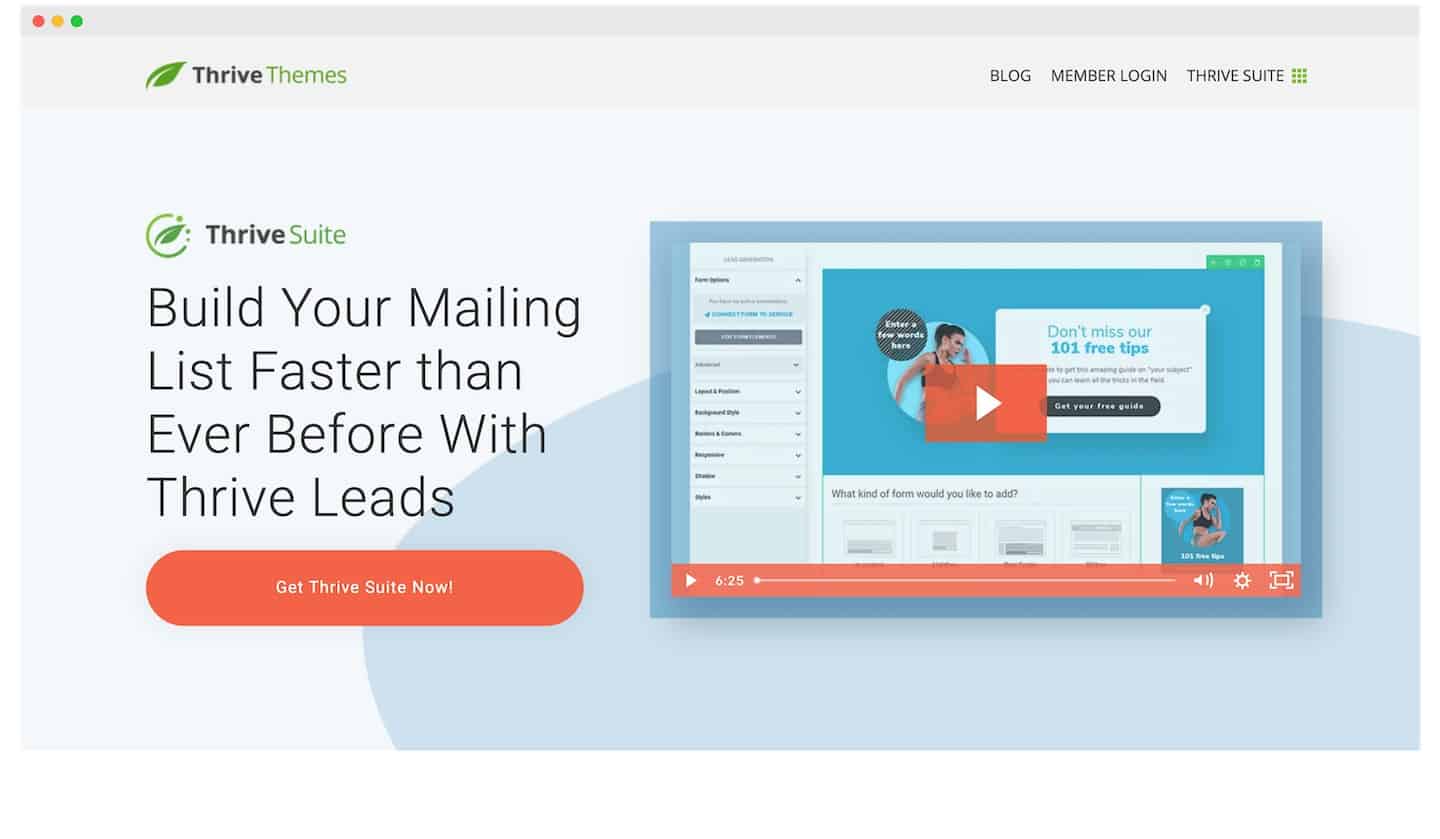 Thrive Leads is an email list-building all-in-one plugin for WordPress. Thrive Leads has A/B testing, a variety of opt-in form and drag and drop form builders, and at $19 per month, we think this is a great deal— check it out here.
#13 Mailoptin: All in one marketing automation plugin
Popup, Optin Form & Email Newsletters for Mailchimp, HubSpot, AWeber – MailOptin
Mailoptin helps you increase lead generation, automation, and conversion through their easy-to-use popup builder. Mailoptin has great design options, trigger features, and analytics. Pricing starts at $69 and goes up to $269 for premium options, so head to their website to learn more.
#14 Green Popups: Formerly Layered Popups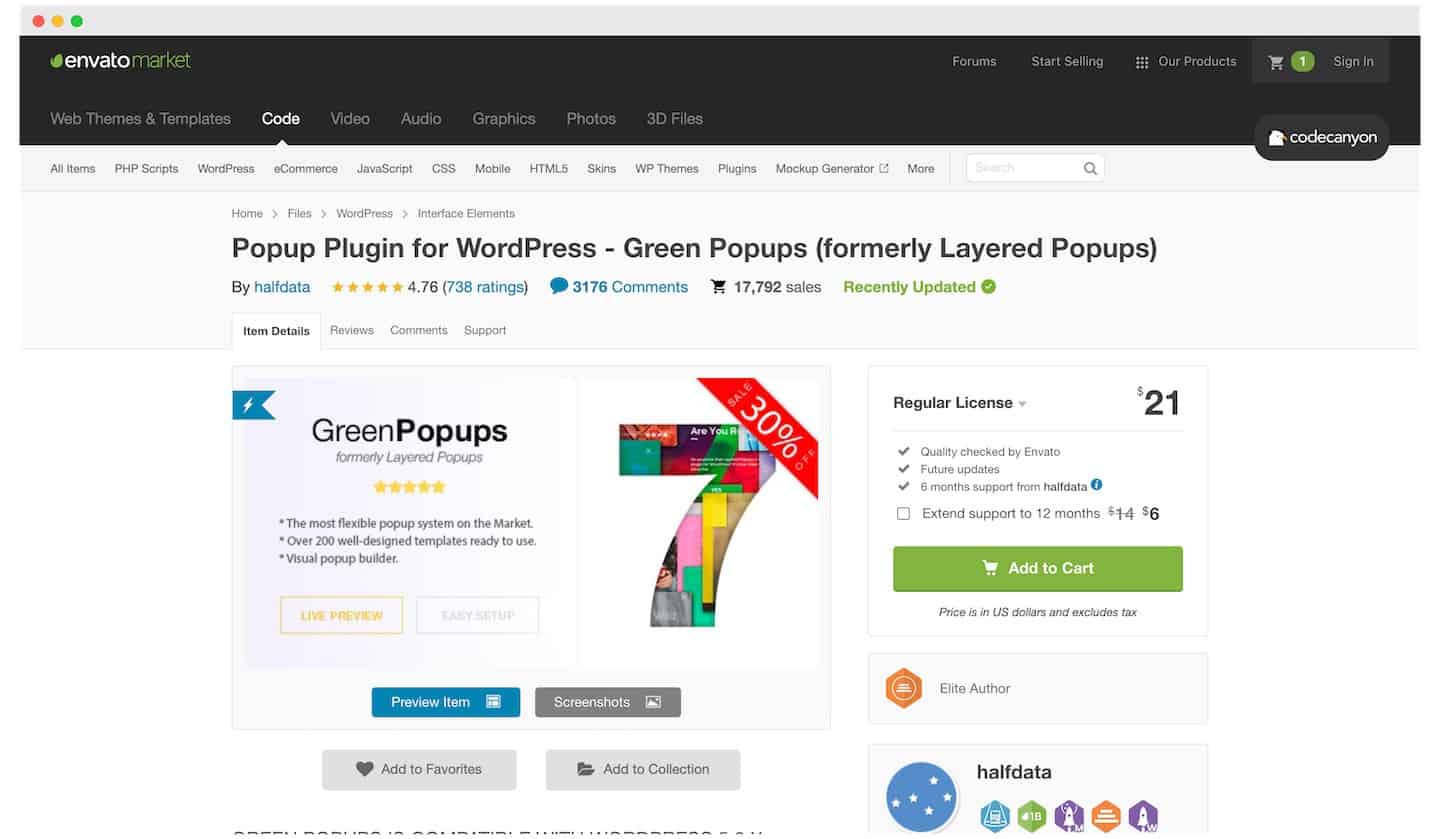 Green Popups' specialty is multi-layered animated popups. There are over 150 popup templates to choose from, but the plugin offers fewer trigger options than other similar software. A regular license costs $21, but you can read more about the pricing options here.
#15 Hubspot: The inbound marketing suite
HubSpot – CRM, Email Marketing, Live Chat, Forms & Analytics
HubSpot is an inbound marketing plugin that promises to help you close sales, convert leads and attract more visitors to your site through their engaging popup options. HubSpot starts at $45 per month and goes up to an eye-watering $1,200 per month. Learn more about what's included here.
#16 Elementor Pro: Drag & drop website builder with solid popup options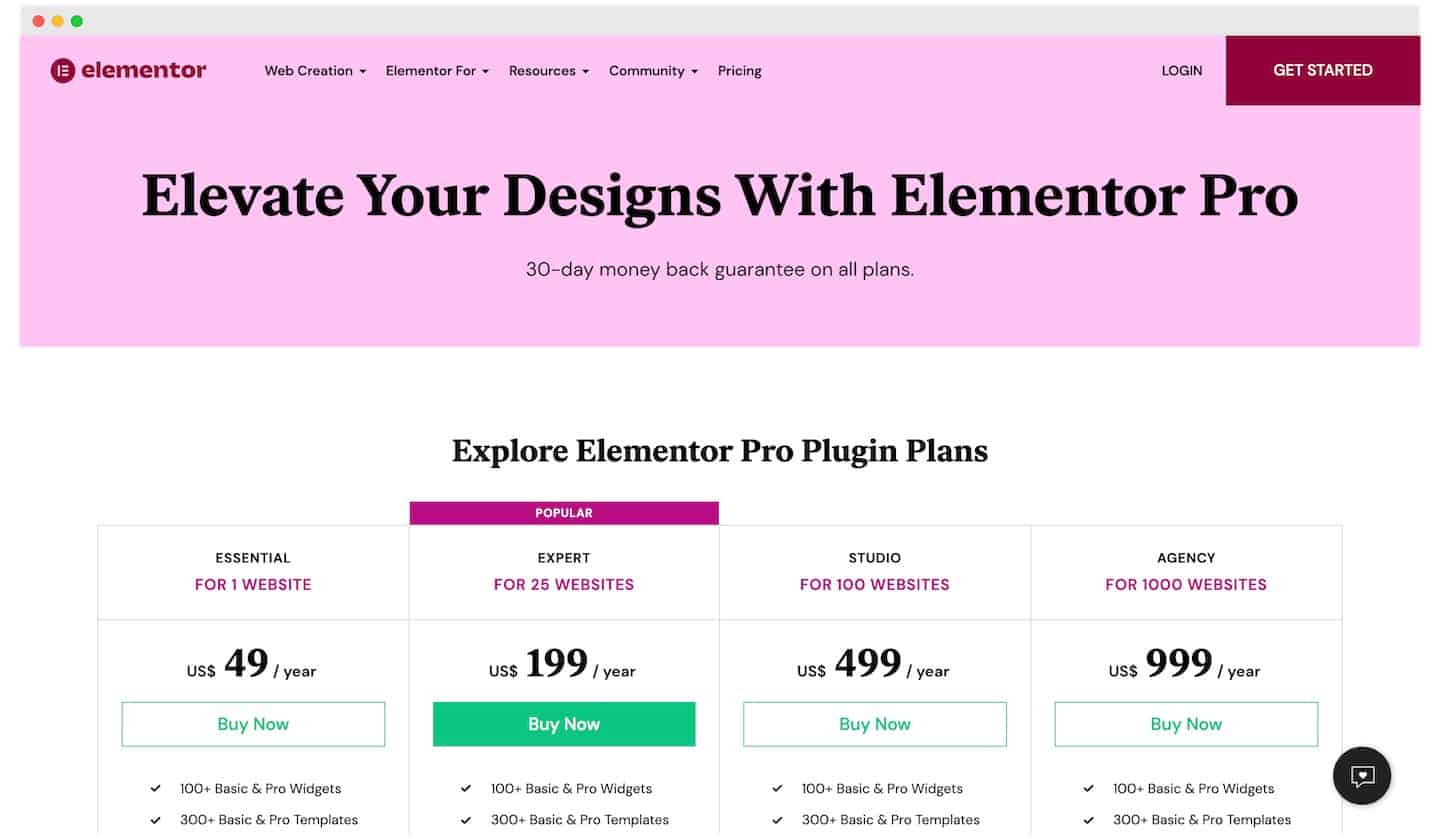 This plugin has a drag-and-drop editor, with a wide range of popup types so you can create simple login forms or complex upsells. Elementor Pro has advanced targeting options but doesn't have A/B testing options. Prices range from $49-$199 per year, learn more by clicking here.