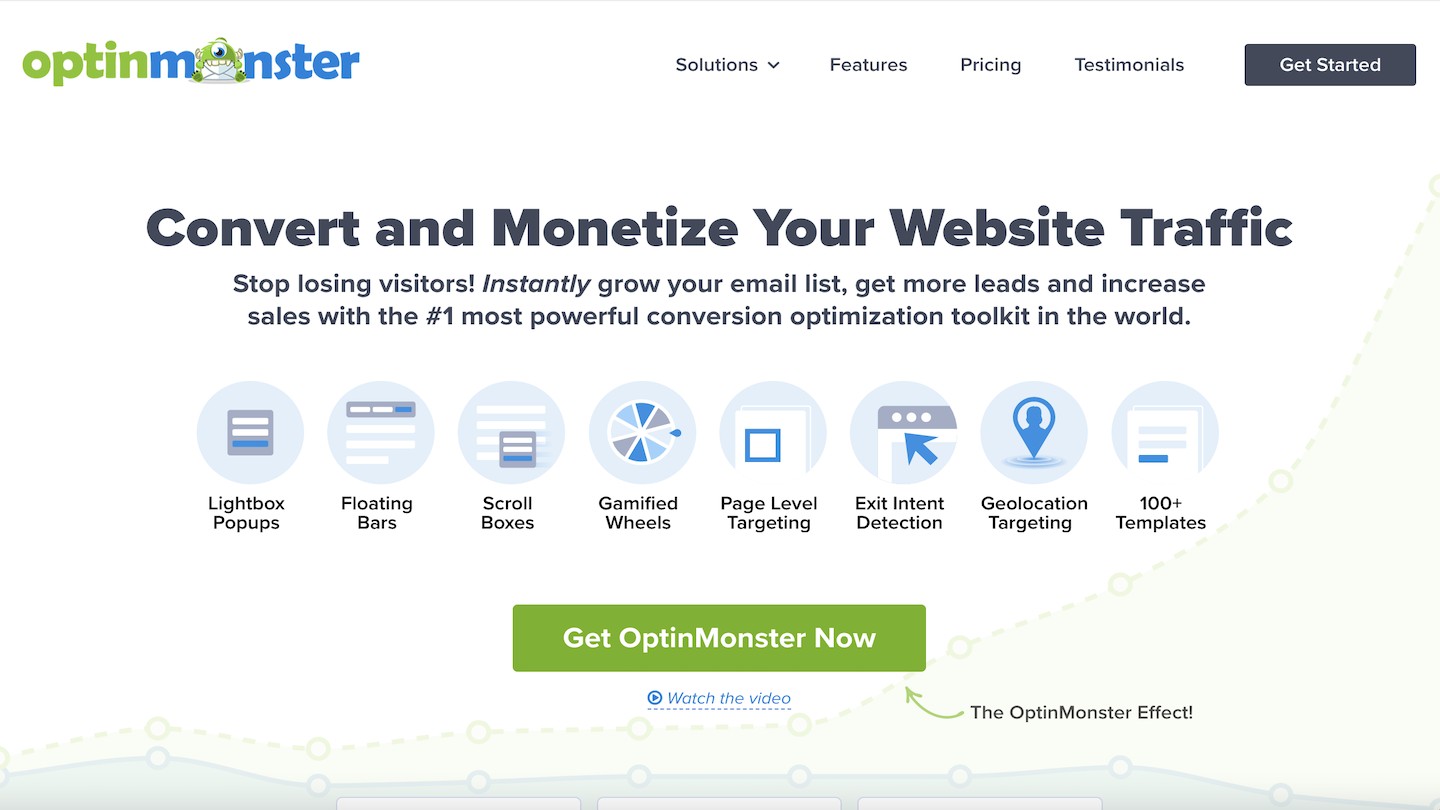 OptinMonster is one of the most popular lead generation tools on the market. It's jam-packed with features that help increase conversions, get more page views, and grow mailing lists.
It's more than a simple lead generation tool, though. Besides being one of the best email capture tools, OptinMonster's features appeal to a variety of use cases.
Lead generation: Many use OptinMonster to capture emails, create targeted campaigns, increase sales conversions, and redirect to forms/calls to action. It taps into existing email marketing solutions to provide complete conversion optimization.
Affiliate revenue: You can use OptinMonster's tools to redirect traffic to other high-value pages. Push your blog visitors towards a corresponding feature page and pass lead data to the redirect URL. OptinMonster's ability to pass lead data allows you to customize the redirect URL page further.
Ecommerce: Ecommerce sites can reduce cart abandonment by triggering pop-ups when visitors close their cart. The exit intent feature helps retain visitors. OptinMonster also uses retargeting to provide better product recommendations to returning visitors. These powerful features create effective upselling, down selling, and cross-selling campaigns that can maximize revenue.
WordPress: OptinMonster has one of the best WordPress popup plugins out there. It integrates into your website and can run with any tag manager, like Google Analytics. It's easy to use and seamless, making it a popular option.
Effective lead generation is vital for the growth of any business or website. We're going in-depth through OptinMonster's features to show you what stands out and what this tool can achieve for your website.
Our Opinion on OptinMonster
OptinMonster Pros & Cons in a Nutshell
Pros
Templates: OptinMonster has a great selection of easily customizable templates. You can also create your own designs from scratch.
User-friendly: Starting your first campaign is incredibly easy. The drag and drop campaign builder makes creating forms optimized for conversion easy.
Adaptive pop-ups: OptinMonster will show targeted pop-ups based on the user's behavior. Personalized marketing messages help drive conversions as well.
Cons
Familiar pop-ups: Since many websites use OptinMonster, the pop-up templates can look routine and boring to visitors, even when you customize them.
Plan prices: Many useful features, like retargeting, are only available with the Growth plan, which is the most expensive option at $49/month.
No free option: OptinMonster doesn't offer a free plan or free trial. As of right now, there's only a 14-day money-back guarantee.
Feature Set for OptinMonster
1. Campaign Triggers – When to Trigger a Campaign
OptinMonster offers a huge selection of triggers compared to its competitors. You can even use several triggers and conditions at the time in a campaign.
Timing when a pop-up appears to your visitors can make or break a campaign. You control when, why, and how your pop-ups appear on your site.
The possibilities and advantages of OptinMonster's trigger options are dynamic and focused on conversion.
Time-dependent triggers: There are a ton of time-dependent triggers to choose from. You can target a range of time conditions, such as visitor time on page, time on site, specific times of day, and visitor inactivity.
Targeted triggers: Set triggers for when visitors meet certain conditions. You can set triggers such as referral targeting (when a visitor comes from a particular website), cookie targeting (when a visitor has a specific cookie stored), and query targeting (when a visitor has a specific parameter in the URL).
Personalized triggers: There's also a selection of triggers dependent on visitor behavior. For example, exit intent campaigns can trigger when visitors try to leave your site. You can also trigger follow-ups and retargeting. Customize the types of pop-ups visitors see so returning guests don't see the same one every time.
Ecommerce triggers: OptinMonster has a wide range of ecommerce-specific triggers. Base your pop-ups on the value of customers' carts, previous amount spent by returning customers, and the number of items in a cart.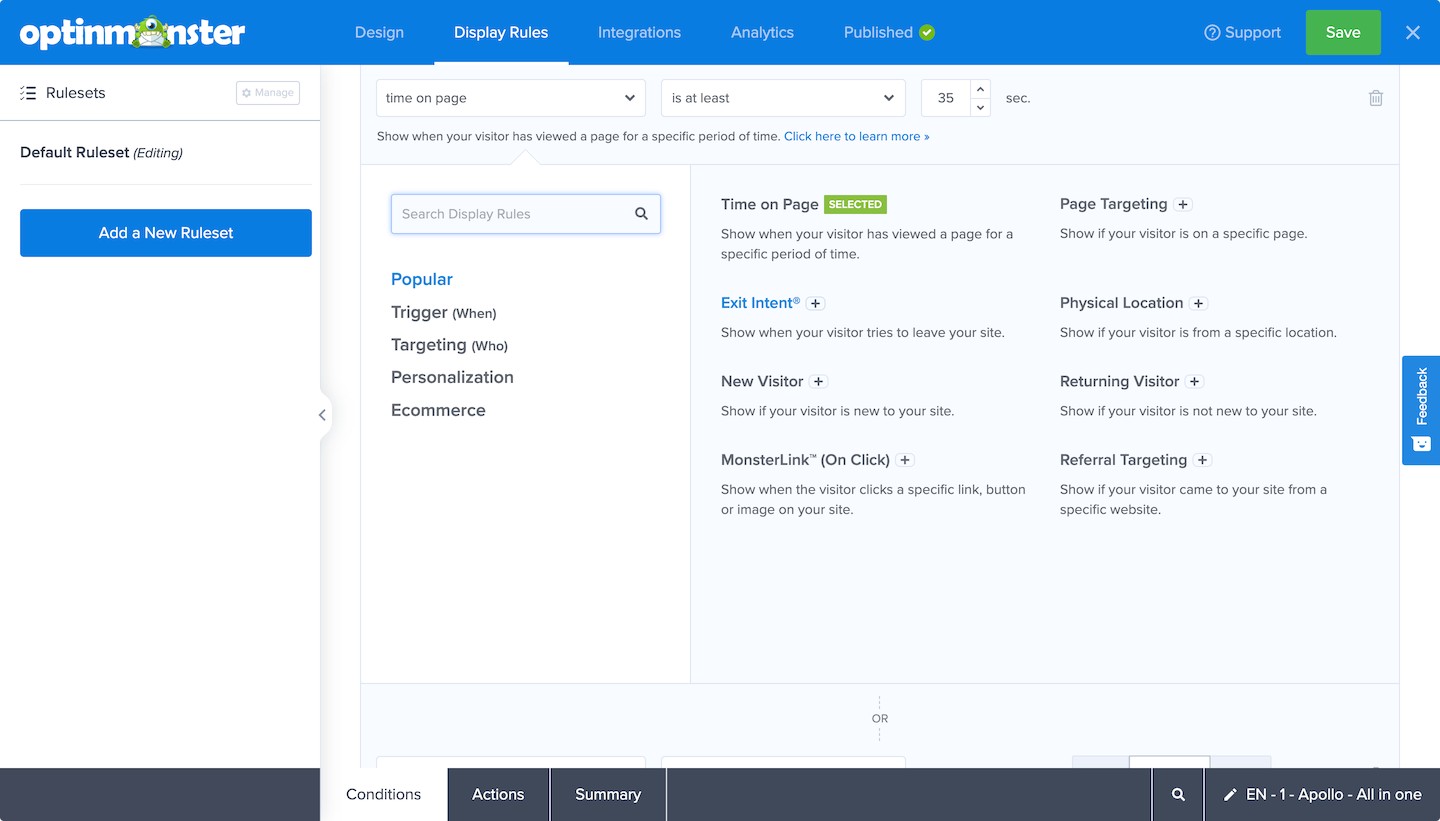 2. Campaign Types
OptinMonster offers a considerable range of campaign types depending on your use case. Each campaign type maximizes engagement and captures high-quality leads in slightly different ways.
Lightbox pop-ups: Deliver a targeted message at the optimal time to drive conversions. This type of pop-up fades all other content to the background and gets visitors to make a decision. It's great for capturing emails and sales conversion.
Floating bar: Create a footer or header bar that follows visitors as they scroll without intruding on their site experience. These pop-ups can highlight email sign-ups, sales, and time-sensitive campaigns.
Full screen: Create a full-screen call to action that site visitors can't ignore. You can highlight top content, offer targeted coupons, or prompt email lead capture. This campaign type acts as an overlay on the home page, so SEO isn't negatively affected.
Inline forms: This campaign type is excellent for converting users already engaged with your content. Embed a call to action, like a newsletter signup, within a blog post. You can also use an inline form to lock portions of content to increase lead generation.
Gamified pop-ups: Engage visitors with a gamified campaign that requires interaction, such as a wheel of fortune pop-up.
Slide-in scroll box: This campaign is a good alternative if you don't want to intrude on user experience with a pushy pop-up. The slide-in option appears at the bottom of the page as the visitor scrolls. It's great for feedback forms, exit intent prompts, or related content.
OptinMonster has a large selection of attractive, pre-made templates for each campaign type, making it a breeze to get started.
If you're at a loss for where to start, you can use ready-made campaigns developed by OptinMonster experts. Consultations with company experts are also available to help you craft an effective campaign.
3. Drag & Drop Editor & Personalization Options
OptinMonster is incredibly user-friendly and has a shallow learning curve for new users.
There is a super easy drag and drop editor that makes creating campaigns accessible and unintimidating. You don't need prior software or coding knowledge to create highly personalized campaigns that convert.
The drag and drop editor lets you embed videos, images, text, custom code, and even chatbots into your campaign. A countdown feature is also available for limited-time offers or sale announcements.
With the editor, it's important to note that loading needs to be deactivated if you use the same font as your site. If it's not deactivated, you'll end up loading fonts for no reason and slowing down your site. This slow-down from not deactivating loading is one of the main complaints from users.
4. Reporting and Google Analytics Integrations
OptinMonster has various reporting features, including conversion analytics, revenue attribution, and A/B split testing.
In addition to its internal reporting features, OptinMonster can integrate with Google Analytics to get basic lead information.
OptinMonster also converts data into actionable insights through its real-time behavior automation. It can provide insights into visitor behavior to help you personalize and retarget campaigns.
OptinMonster's reporting is pretty basic compared to other competitors, and there's room for improvement. You can access surface-level data and graphs, but that's about it.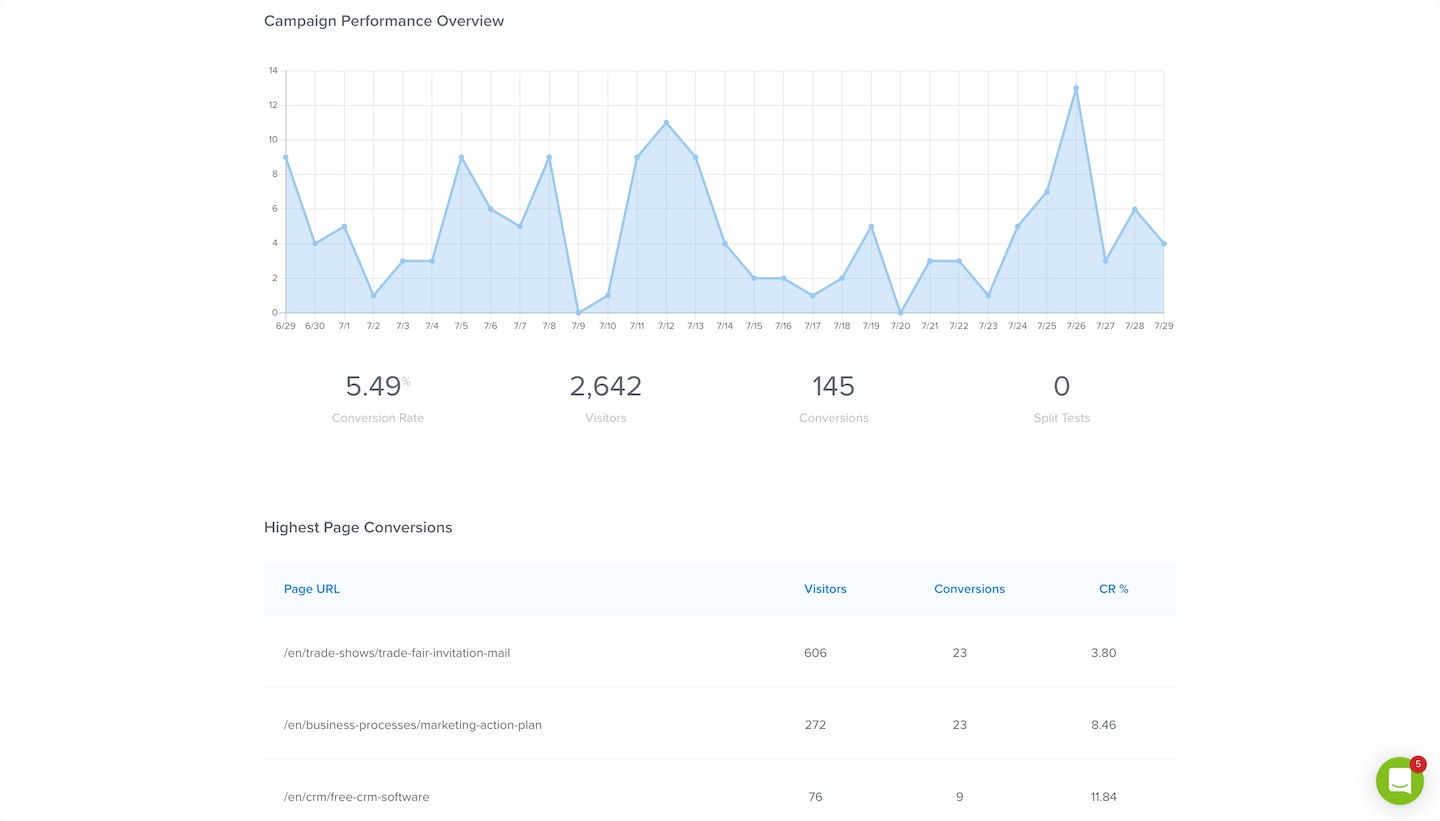 5. A/B Testing
OptinMonster has a powerful A/B testing feature. In just a few clicks, clone your campaign, use the drag and drop tool to make variants, and run optimized tests to see which version is the most successful.
The A/B testing tool can conduct split test variants of website copy, different campaign types, and pop-up messaging.
OptinMonster's A/B test feature evenly distributes traffic between all variant options of a test, ensuring an equal number of visitors see each version. This ensures the reported data is accurate and informative.
6. TruLead
TruLead is OptinMonster's original AI-powered lead verification algorithm. It efficiently gets rid of fake, disposable emails and blocks spam submissions, ensuring you have high-quality leads.
You'll get higher email opens and domain email reputation protection by pre-filtering leads. Another perk is that it automatically fixes email typos.
Take advantage of this tool because it can reduce the cost of email marketing platforms that charge per contact stored. You don't want to be paying for useless spam contacts.
Customer Reviews on OptinMonster
Pros for Customers
Customer service is great and responsive
Prices are low for the amount of features they offer
Cons for Customers
Most integrations are only accessible on the more expensive plans
Reporting can be improved upon
Customer Support at OptinMonster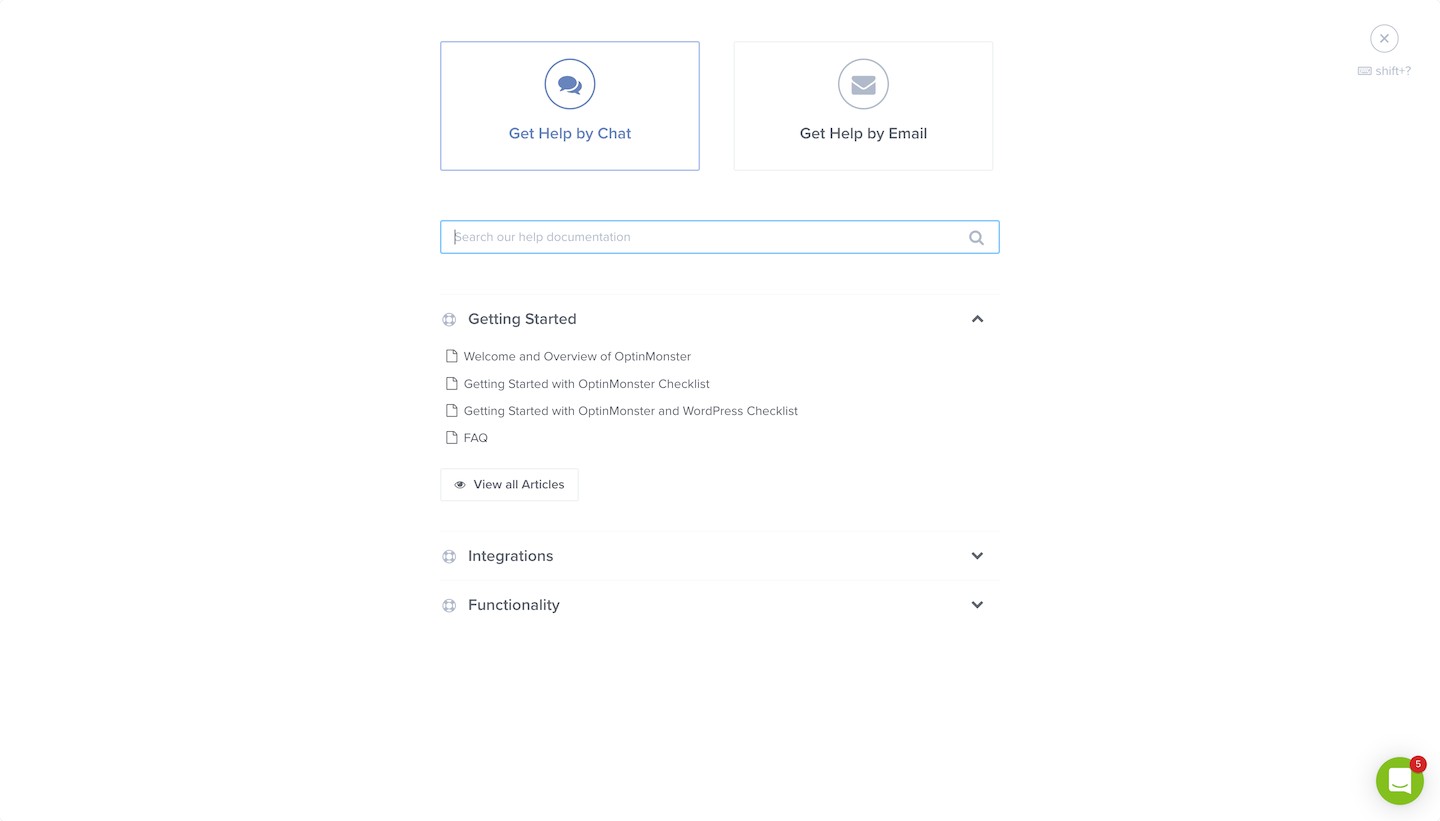 Users can reach OptinMonster customer support via email or live chat. However, live chat is only available with the Pro and Growth plans, which isn't ideal.
OptinMonster also has a great selection of videos and documentation explaining every feature. In addition, the OptinMonster team posts new webinars frequently. The blog is also very active and full of tips and software update information.
OptinMonster doesn't offer phone support, even with the most expensive Growth plan, which can be a drawback for some users.
OptinMonster Integrations: Our Opinion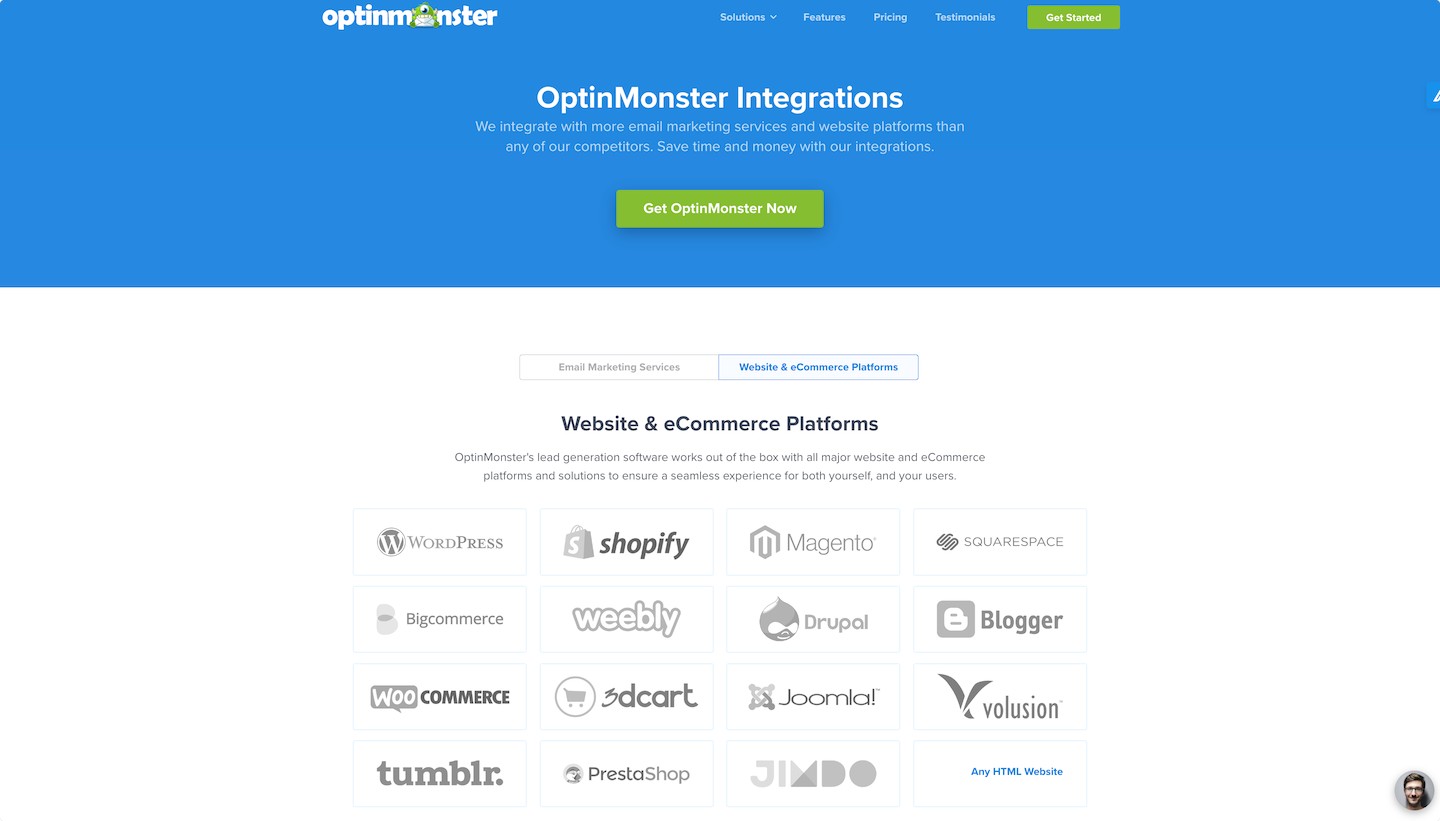 OptinMonster offers a ton of integrations. It notably has one of the best integrations with WordPress through its plugin. It's super easy to use and seamlessly integrates with your established workflow.
It also integrates with many popular digital marketing solutions like MailChimp, AWeber, InfusionSoft, ActiveCampaign, HubSpot, Salesforce Pardot, Marketo, Conversio, GetResponse, and Google Analytics.
There are also plenty of integrations with CMS platforms, such as Zapier.
OptinMonster Pricing Plans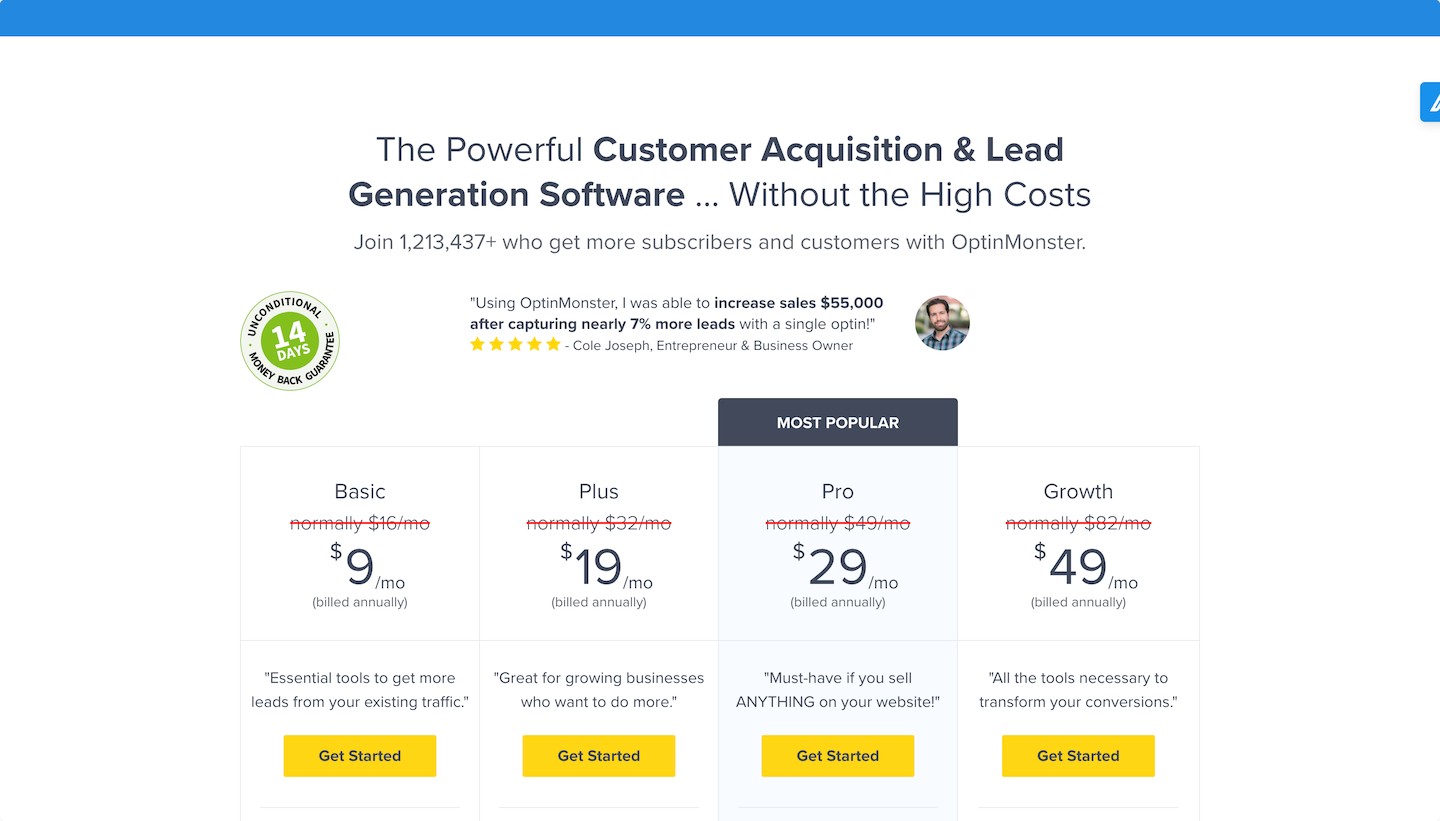 OptinMonster is on the cheaper side compared to other services on the market. There's no free plan option or free trial, but there is a 14-day money-back guarantee.
You can start with the Basic plan ($9/month) for unlimited campaigns and basic features like list segmentation. The Plus plan ($19/month) adds features like integrated A/B testing and full reporting. The Pro plan ($29/month) gets you more integrations and all OptinMonster branding removed. The top-tier Growth plan ($49/month) gets you access to all features and integrations, plus priority chat support.
OptinMonster Alternatives to Consider
When looking at OptinMonster alternatives, it's important to consider available features, pricing, and requirements in relation to your use case.
Consider alternatives that outperform certain features in OptinMonster, such as its basic reporting.
OptinMonster's features are more generalized, making it appealing to many use cases. There are some better alternatives out there that offer more focused solutions for users with more specific needs.
OptinMonster vs. Thrive Leads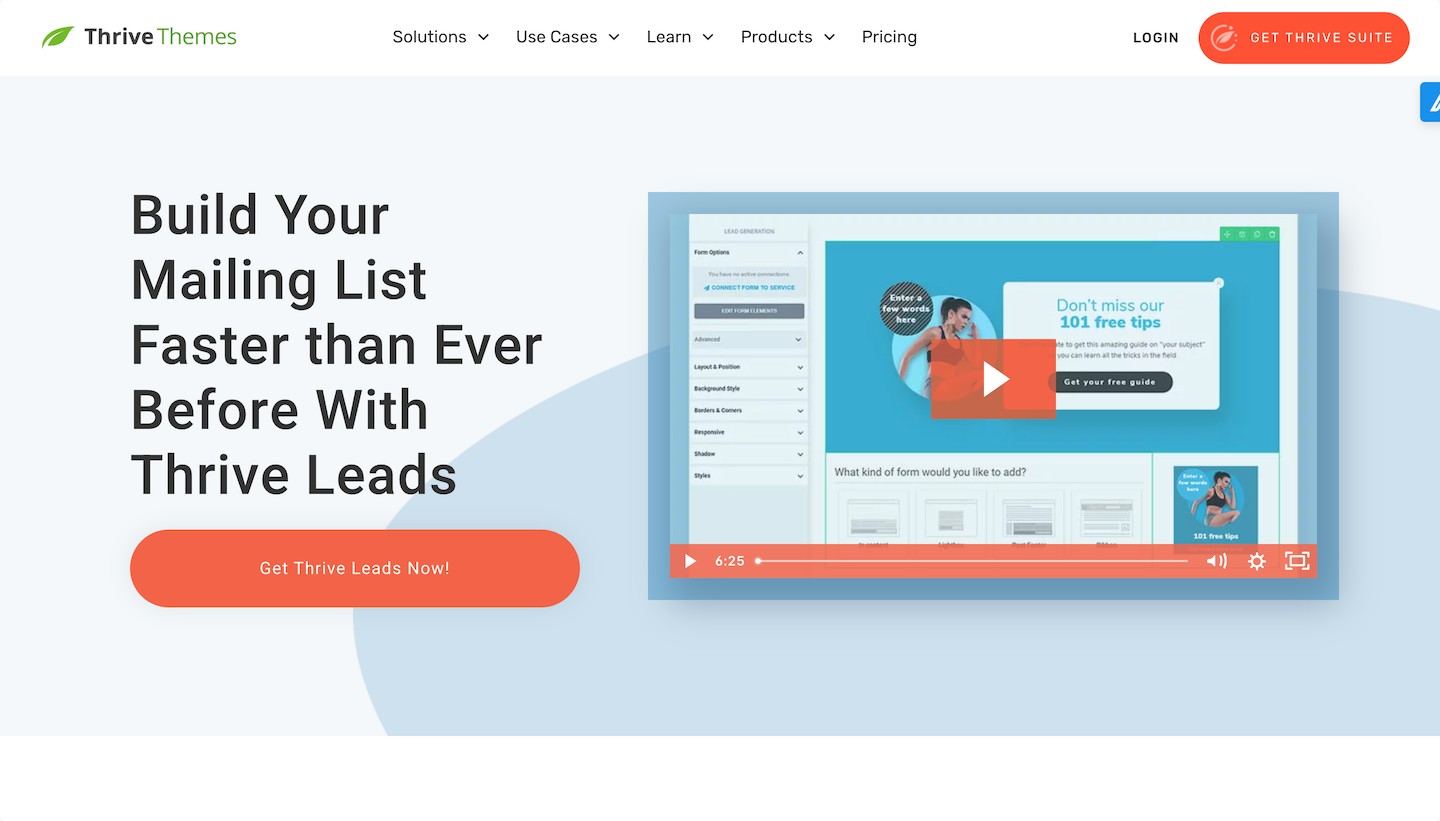 Thrive Leads also has a popular WordPress plugin and offers all-in-one website building and marketing solution software.
Unlike OptinMonster, Thrive Leads has triggers for A/B testing campaigns. Creating and analyzing A/B tests is fast and easy with Thrive Leads' powerful, detailed reporting.
One drawback of Thrive Leads is the lack of real-time campaign optimization based on what the user is doing on your site.
Optinmonster vs. OptiMonk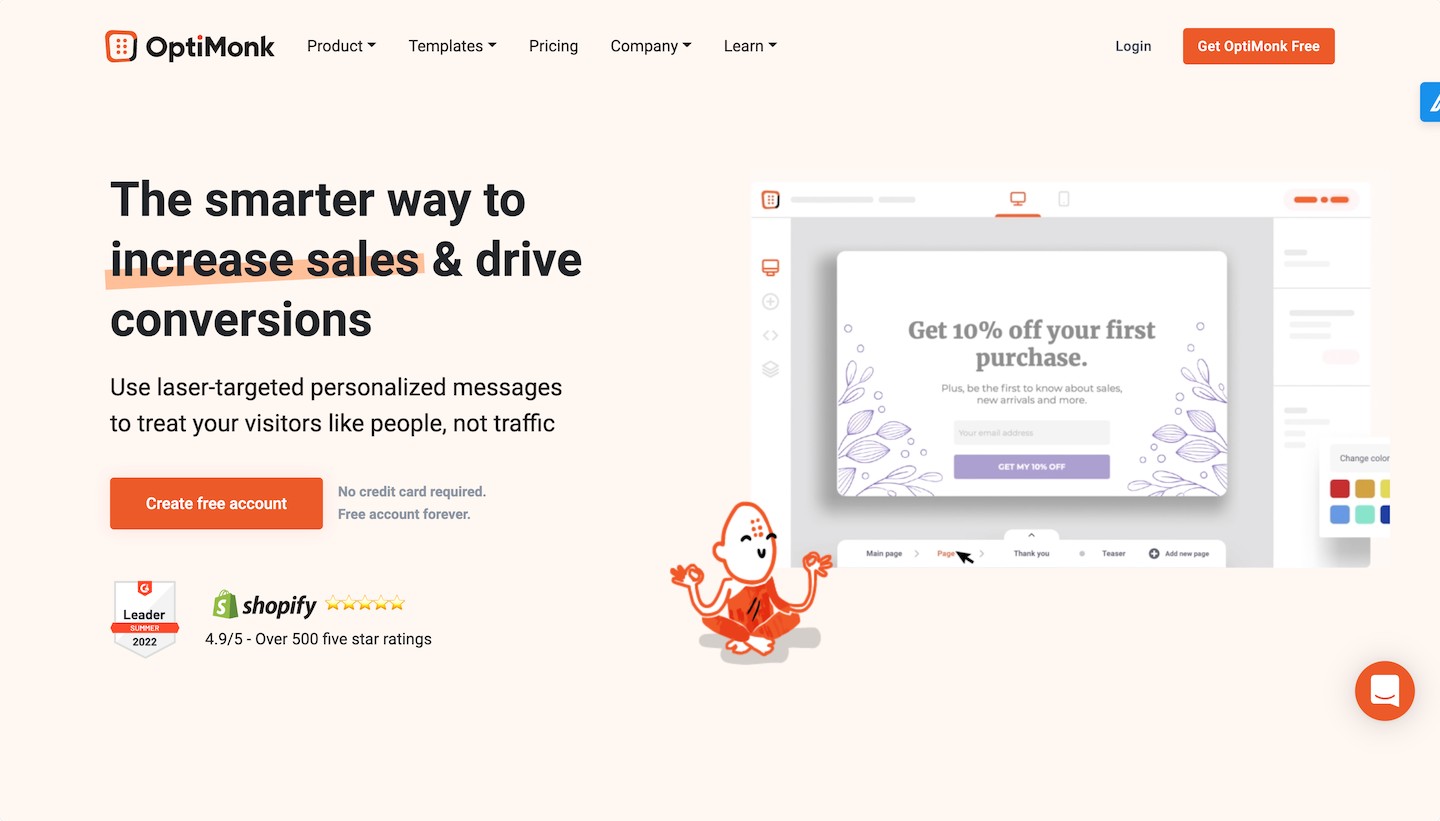 OptiMonk is an excellent option if you're looking for a cost-effective alternative to OptinMonster.
It has a great free plan with many features, including unlimited campaigns and email support.
OptiMonk's reporting features are even more basic than OptiMonster's, making the paid plans unappealing to users who want more actionable insights. OptiMonk's free plan is a great alternative, but the paid plans won't get you the most bang for your buck.
OptinMonster vs. Privy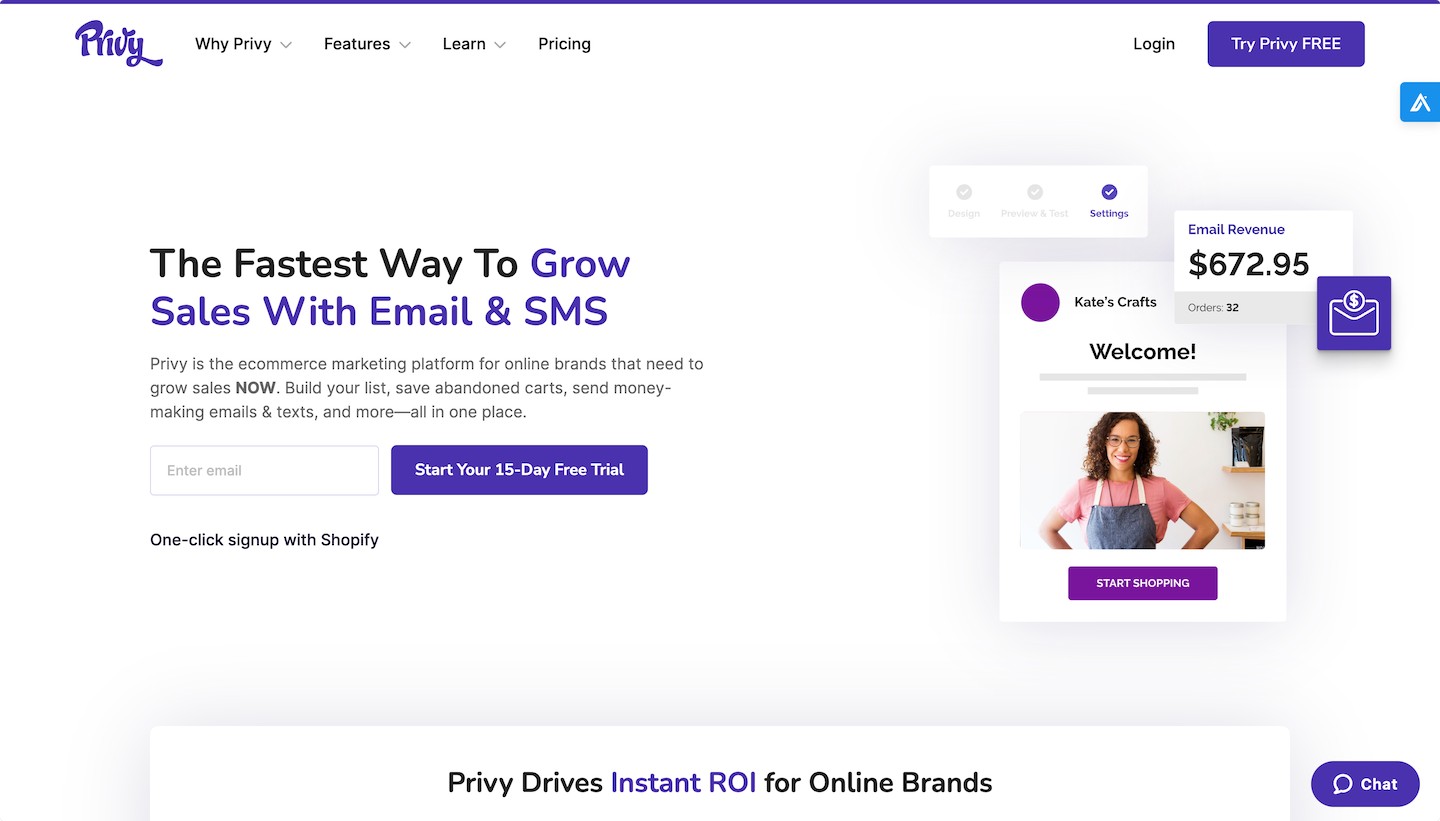 Privy is an e-commerce platform that offers email marketing campaigns in addition to lead generation, making it an efficient, all-in-one tool.
Privy has some email features that OptinMonster doesn't, including cart abandonment and customer winback campaigns.
It's a more expensive option than OptinMonster, but if you're looking for software with more specific tools and features, Privy is a great option.