WordPress is the number one content management system on the market. it's so flexible you can use it to literally build anything. A member space, a forum, a portfolio, anything.
And there are plenty of WordPress developers out there who'll convince you it's the way to go. But you could end up overlooking better-suited WordPress alternatives
Depending on what you want to do, there are alternatives with built-in features specifically for that use-case.
Whether you're building an indie newsletter, corporate website, lead generation machine, or a way to handle complex content operations, there's probably a better solution than WordPress out there.
Top 10 WordPress Alternatives: Comparison Table
1. Hubspot CMS: Best for Inbound Marketing Lead Generation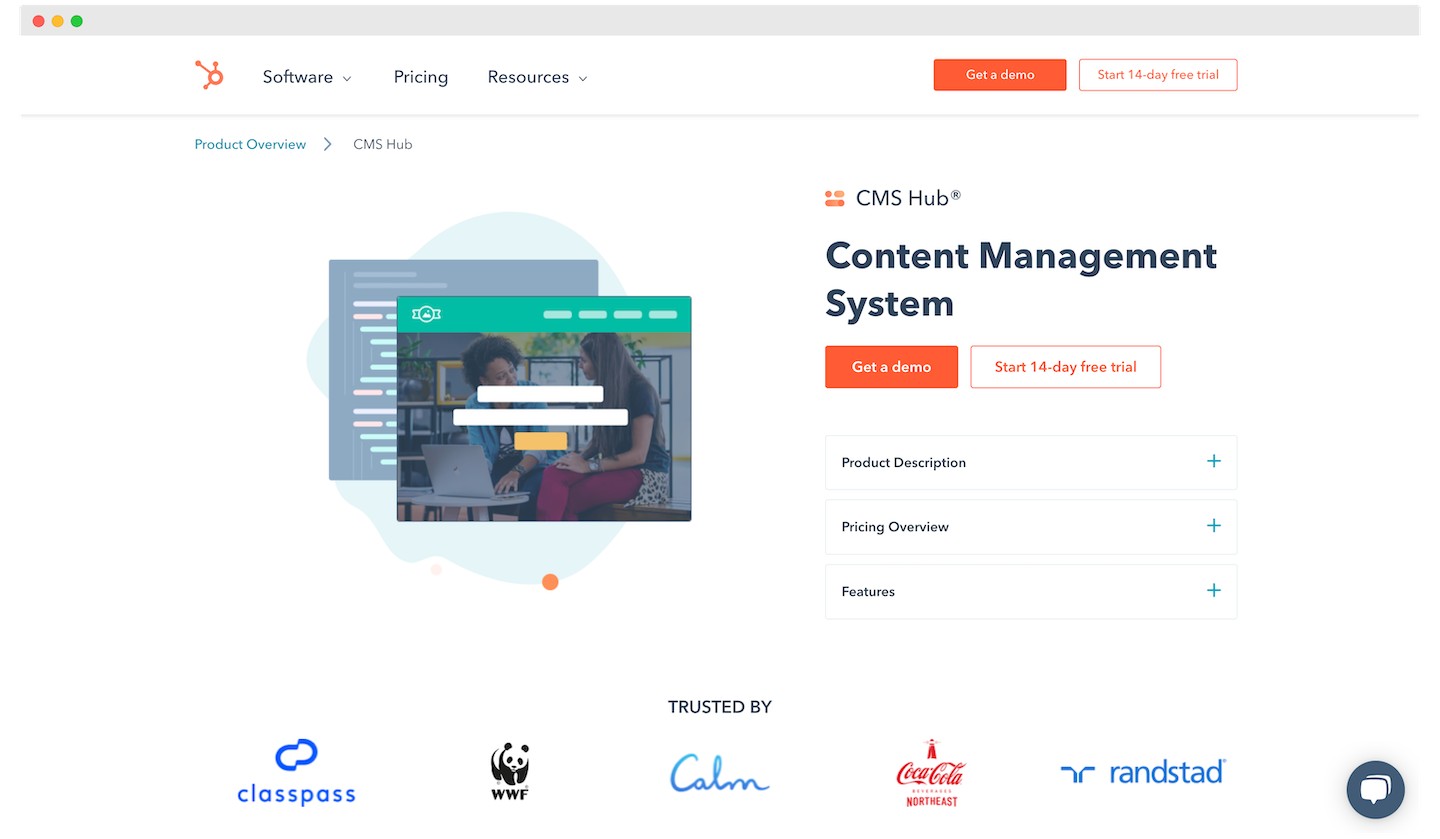 Hubspot's CMS is fairly easy to use. It has lots of templates and offers a free built-in CRM that's incredibly useful for tracking and segmenting your audience.
It comes equipped with tons of lead generation tools like forms, pop-ups, landing page creation, and marketing automation.
For those looking to optimize their lead generation process, Hubspot's funnel analytics are invaluable. It specifically tracks lead generation, giving a clear view of what is and isn't working in your process.
It also makes it super easy to create gated content with dedicated landing pages.
Hubspot offers three packages or pricing levels, depending on your needs. Its Starter package at $23 a month provides plenty of features for blogs and small businesses.
But for bigger businesses looking at their Professional or Enterprise packages, the pricing is a lot higher at $360 and $1200, respectively.
For them, the SEO recommendations, smart content, and A/B testing options in the larger packages will be highly valuable.
Get a Demo or Start Your Free Trial
2. Podia: Best for Building a Membership Site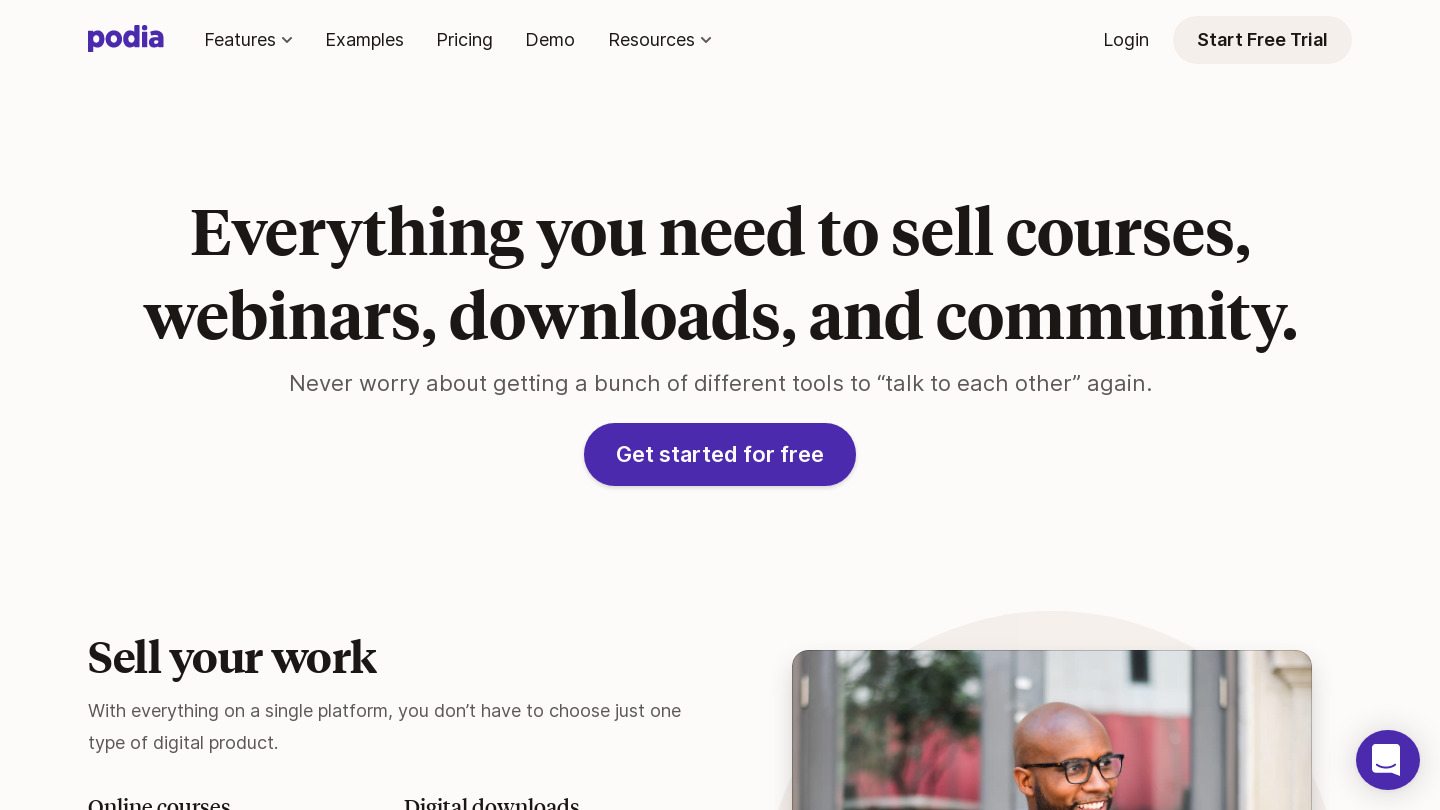 Podia offers all the features to build a membership/subscription site, and far more easily than WordPress. The site tagline sums it up well: "Everything you need to sell courses, webinars, downloads, and community."
Unlike WordPress, which requires plugins for digital product management, Podia built its e-commerce completely around the ability to sell digital products and subscriptions. You can even build courses live inside the platform.
Some of its best features are its live chat,built-in email, and affiliate marketing software. You can connect affiliates to your shop and generate new links right in your platform, as well as grant them access to their own dashboard.
Podia doesn't offer the same range of customization as WordPress but for subscription management, it's still a strong option.
Its pricing is split into three categories, entertainingly named Mover, Shaker, and Earthquaker. It starts at $33 a month but offers unlimited courses and downloads, as well as live chat on all plans. Those looking to use it for affiliates will have to choose the Shaker or higher plans at $75 a month and $166 a month, respectively.
3. Medium: The Best Blogging Platform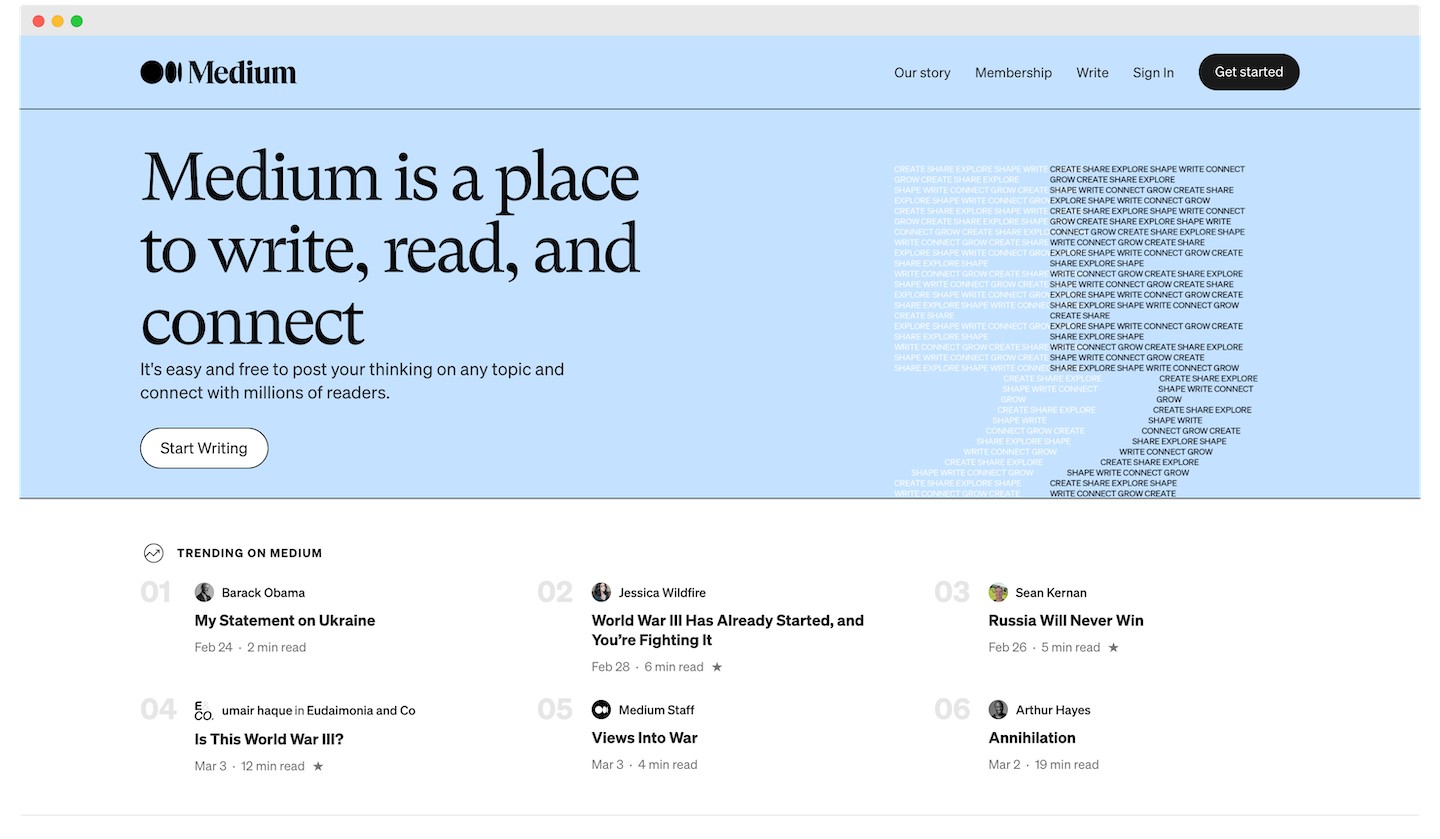 As all bloggers know, one of the biggest challenges with content is distribution.
That's where Medium comes in.
It's a popular platform with a strong base of frequent readers, so it's a great way to get your content actually read. Those who join Medium follow their favorite blogs and authors, letting you build up an organic community.
And if you consistently post valuable content, you'll often receive offers to publish your work on a brand's on-site blog.
Once you have over 100 followers, you can join Medium's partnership program which allows you to earn a portion of your readers membership.
Medium is free to join and you can write as much as you want on the platform, but you can only read up to three stories a month on this plan.
Paid membership is only $5 a month, and it offers a great amount of value for this price point. It's definitely a worthwhile WordPress alternative all bloggers should look at investing in.
4. Substack: Best for Building an Indie Newsletter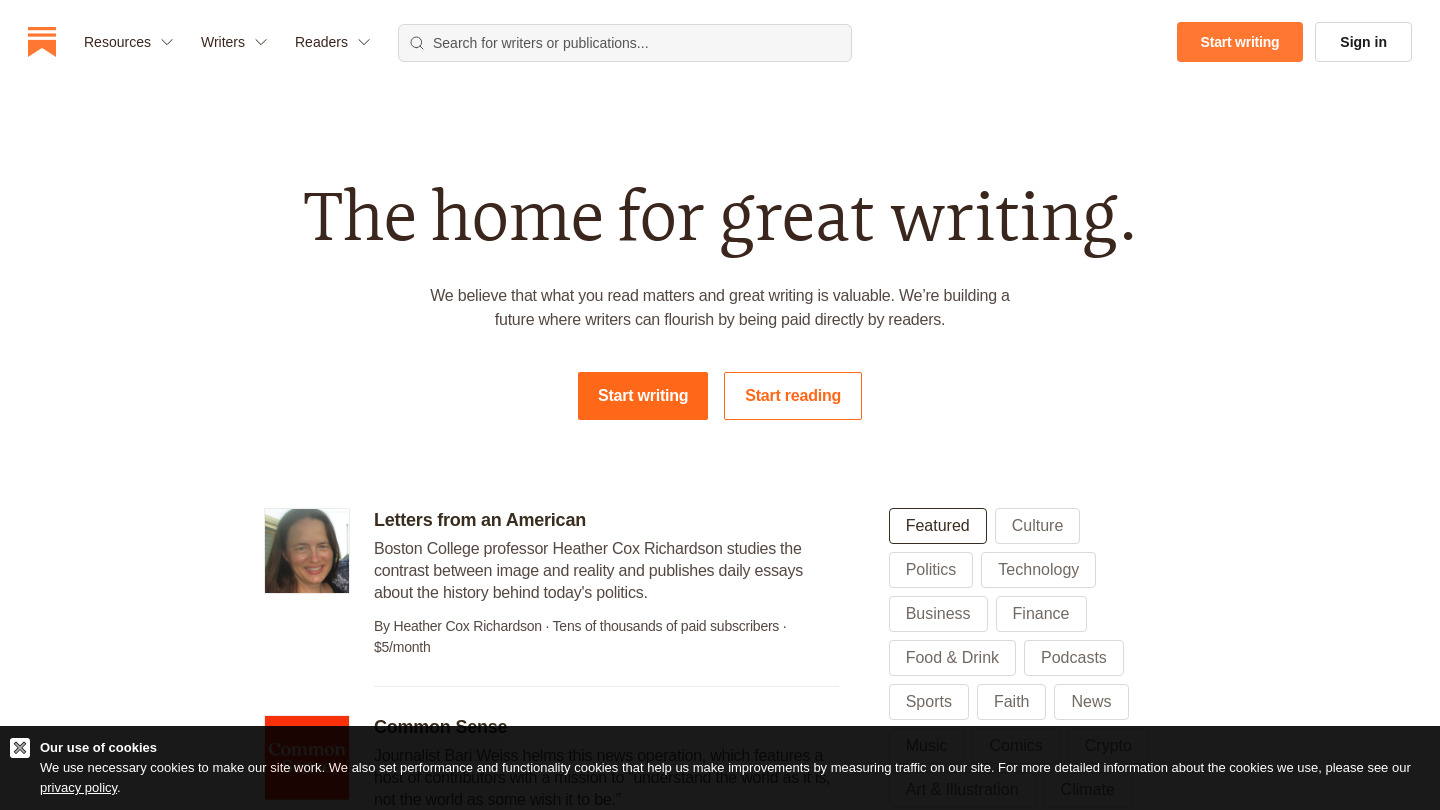 WordPress can be a lot of work if you just want to do something simple like tie in membership logic or build a newsletter. That's where a platform like Substack can be the perfect alternative to self-hosting. And it's literally designed for building newsletters.
Substack, or similar alternatives like Mighty Networks, focus on monetizing your content properly. Both have features to build a community on their platforms and tie in services like subscriptions.
And like Medium, Substack's reader community is active and it's easy to build up a readership base.
The only downside is that you can't leverage SEO properly on these types of platforms and your tracking options are limited.
And instead of a set fee, Substack bases your subscription cost on how much money you're making. This is the perfect answer for blogs looking to monetize their content with minimal extra effort. You set a price for subscribing to your newsletter, and Substack just takes 10% of your revenue (plus credit card fees).
It's not a one-way street either. Because this is how Substack makes its money, it's keen to promote top newsletters, making the platform a really viable content stream.
5. Jekyll: Best for Building Rocket-Fast Static Sites with Data Mark-up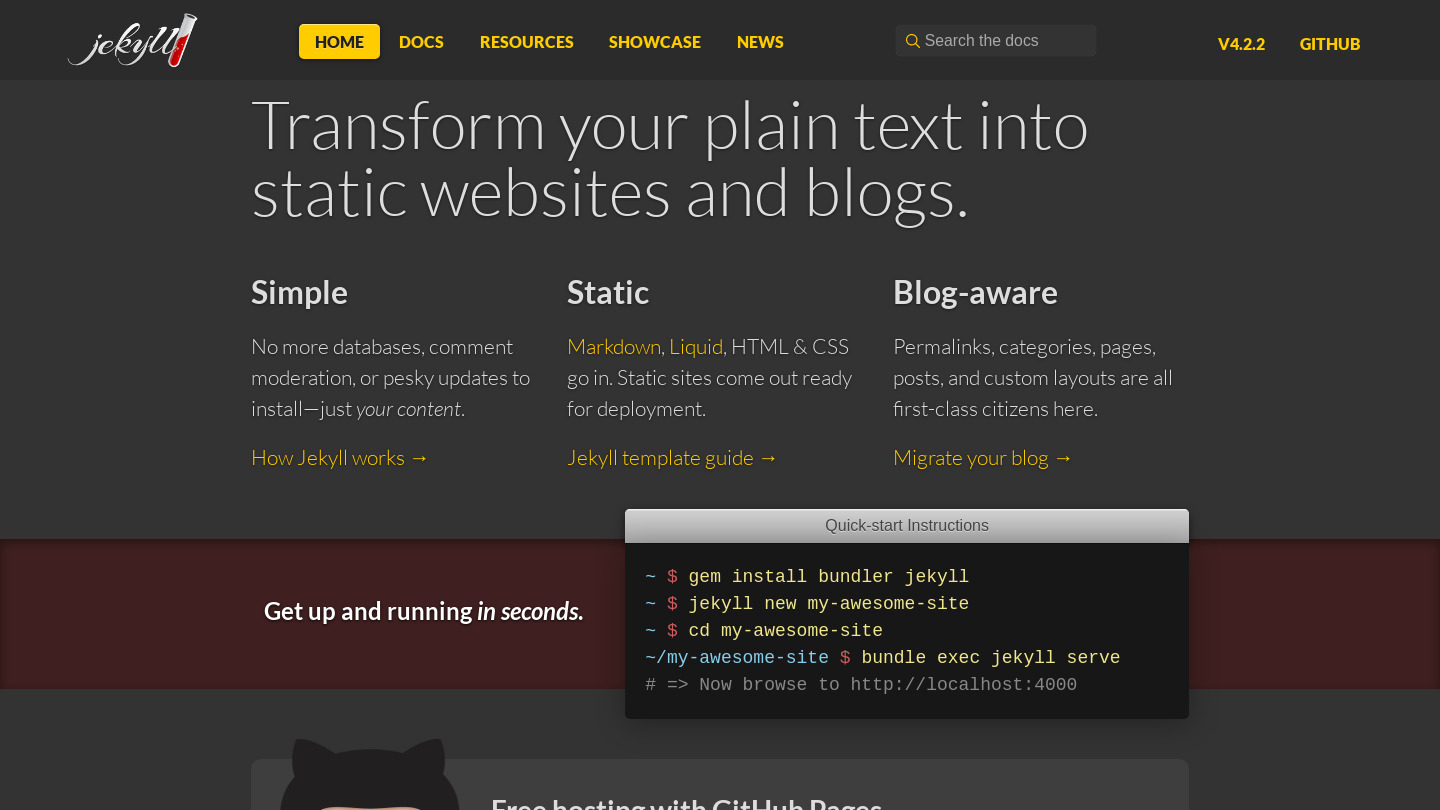 First, a quick definition:
Static sites are sites made up of a bunch of static web pages with no shared database to pull from. This means that all the information is linked to that page and that page alone. If a user requests a specific page, the server spits back the same content every time.
Dynamic sites reply to user queries by running code and fetching information from a database. They pull information from different sources to build a webpage.
Static sites have been made out to be a bad thing in the day of modern, dynamic content. But this isn't exactly true. Dynamic sites are actually overrated.
Ecommerce and user-generated content sites like Reddit need dynamic features. But a blog? A blog only needs updating every time you add or update a post.
In fact, sites like WordPress often make blogs static through heavy caching mechanisms. That's why static website generators like Jekyll or Hugo can actually be great alternatives.
Both build up your blog's pages and serve them straight from your server with just files, no database required.
Jekyll and Hugo are great options that cut back on the difficulty of the front-end of WordPress and are popular with bigger organizations, who use them with headless CMS.
Jekyll is also open source, so it's totally free! It offers ways to import from almost any existing blog site or the option to create an importer if one doesn't already exist.
6. Ghost: The Best CMS for Content-First Businesses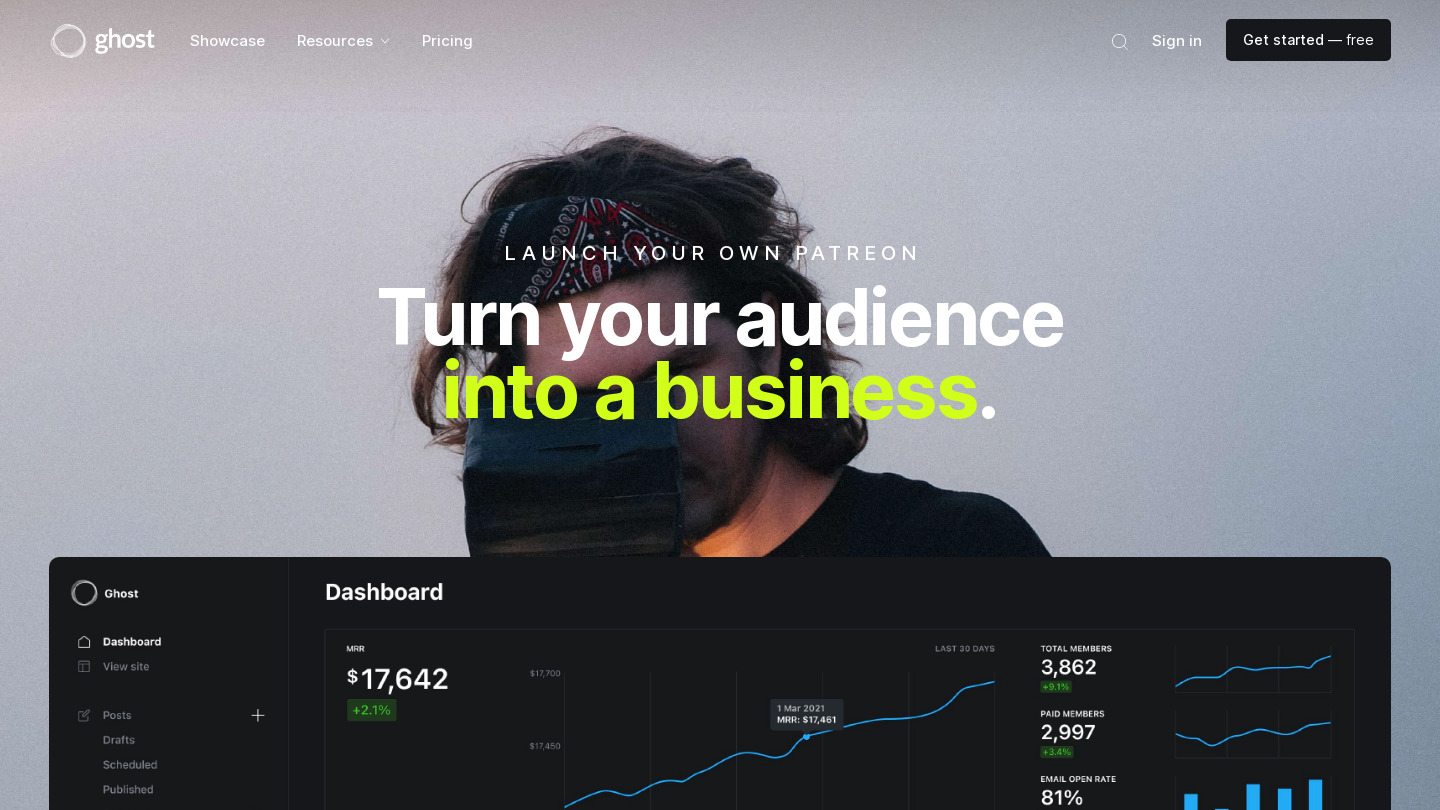 Ghost is open source and non-profit. Its goal is for its members to "publish, share and grow a business around their content."
This means it's built for blogs and its text editor is wonderfully easy to use.
Text editor and templates aside, one of the best things about Ghost is its content distribution features. Its SEO features go beyond basic metadata and into complex Schema markup and built-in accelerated mobile pages (AMP).
Ghost's pricing scale can initially look overwhelming, but it considers all options at each stage of its packages.
To begin with, it has Starter, Creator, Team, and Business options, and all offer built-in themes, although from Creator and up you can also have custom themes and integrations.
Each package price varies depending on the number of members you have signed up to your site. The minimum is 500 members and just $9 a month for the Starter package, and pricing increases from there.
7. Drupal & Joomla: The Open-Source WordPress Alternatives for Enterprises & Public Organizations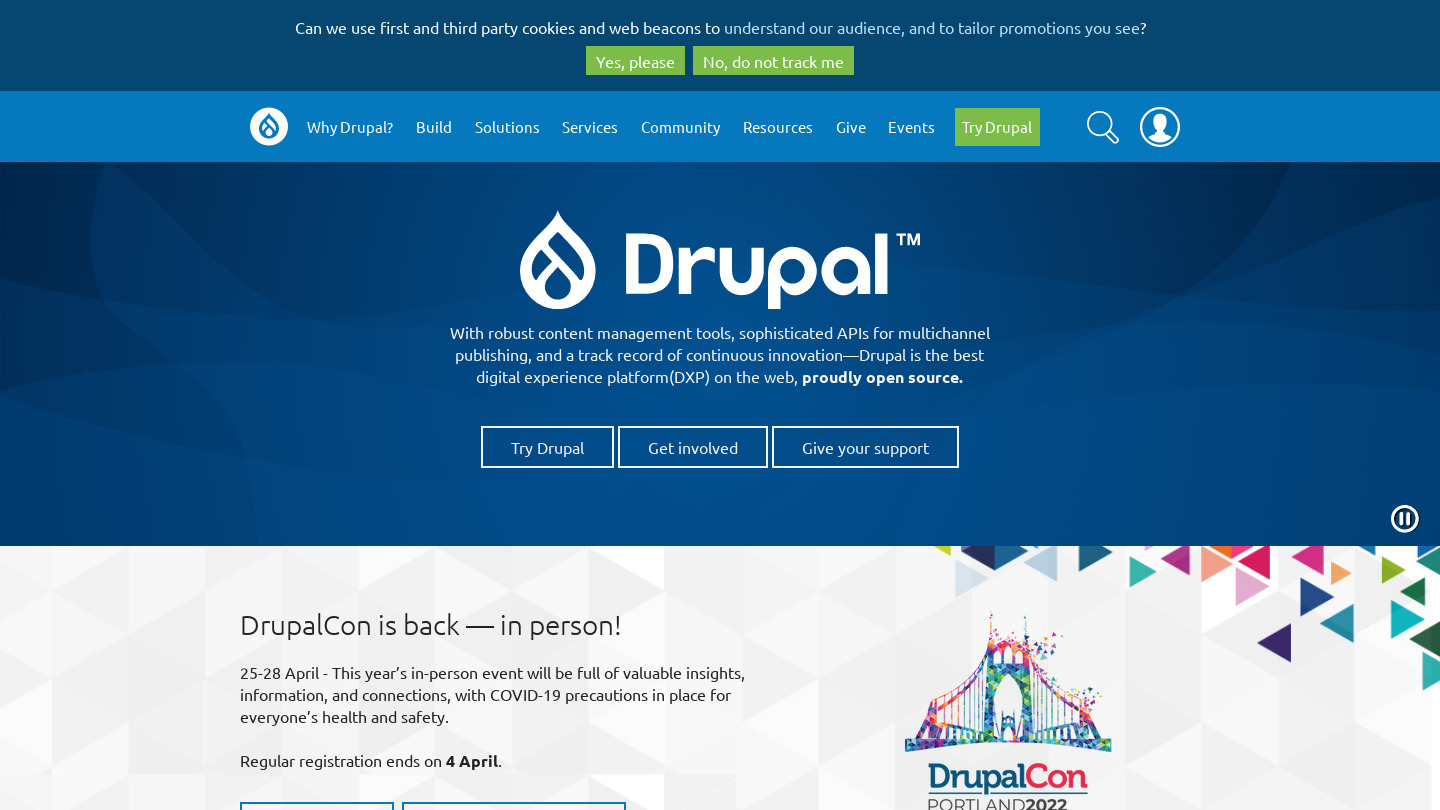 Drupal and Joomla aren't for the faint of heart. Unlike a lot of other options on this list, both are a lot more complex. But both are also open-source, free for anyone to use, share or add to.
This means there's a strong sense of community if you use either tool and usually someone willing to offer advice (or commiseration) if needed.
The upside of this is that there are a lot of customization options and different content types. Both Drupal and Joomla offer more flexibility to create custom post types than WordPress.
Both also offer advanced security and different layers of access control. This is great when working with multiple writers and freelancers.
Drupal modules and Joomla extensions are pretty much the equivalent to WordPress plugins, but more complicated.
Joomla, for instance, has a notoriously over-complex code base and Drupal requires developer help – and they're not common, or cheap.
Get started with Joomla  Try Drupal free
8. ExpressionEngine: An Advanced Open-Source Headless CMS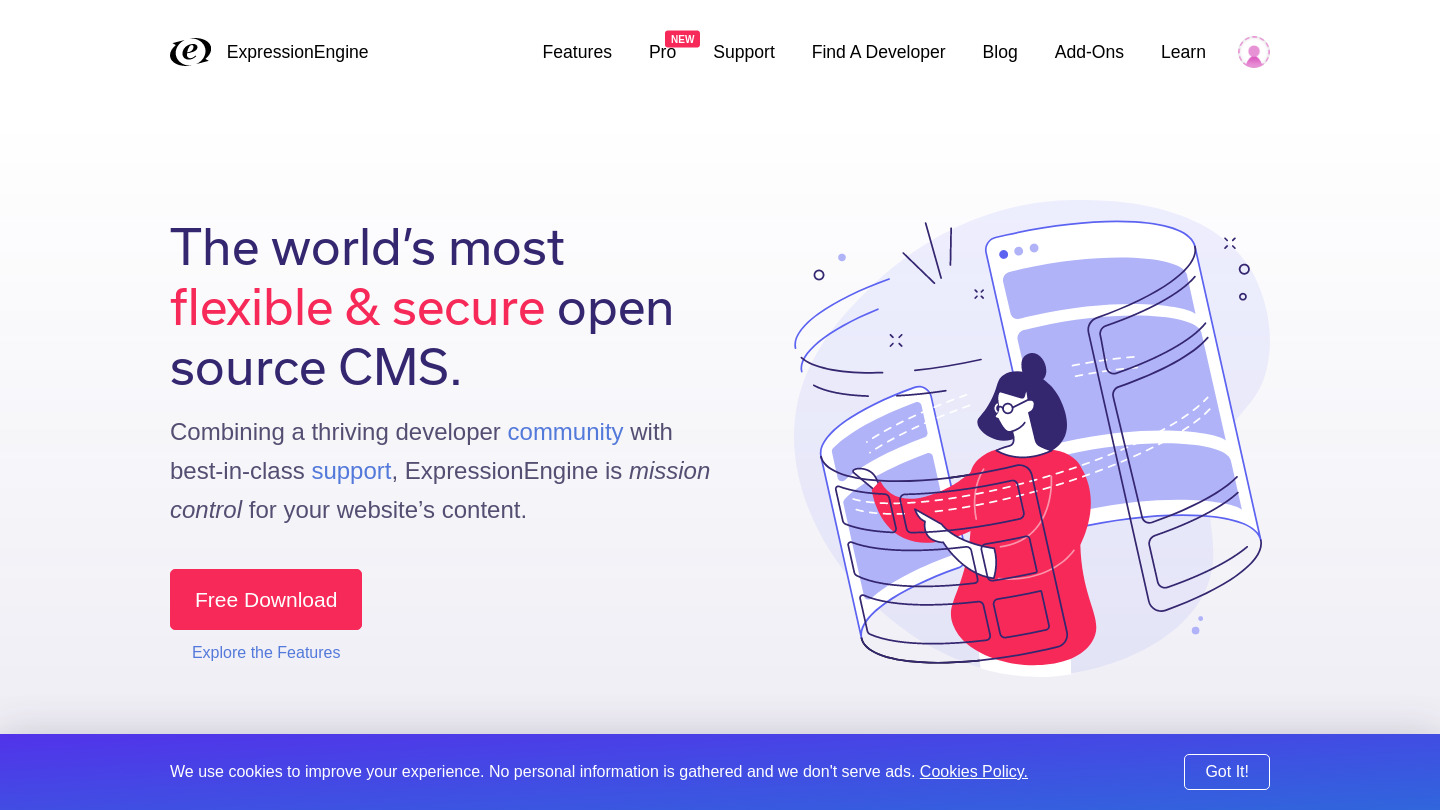 One of the best things about ExpressionEngine is it has loads of advanced features you'd usually see on an Enterprise-level CMS, only free!
On ExpressionEngine, there are flexible data containers that allow you to store your content by type. This means it can be shown anywhere on your site and designed to your exact specifications.
Its multi-site management tools mean you can manage all your content easily in one place and control access across individual users.
This is great if you're a bigger site working with a variety of contractors and freelancers you found online.
9. Contentstack: Best for Complex Organizations Looking for a Digital Experience Platform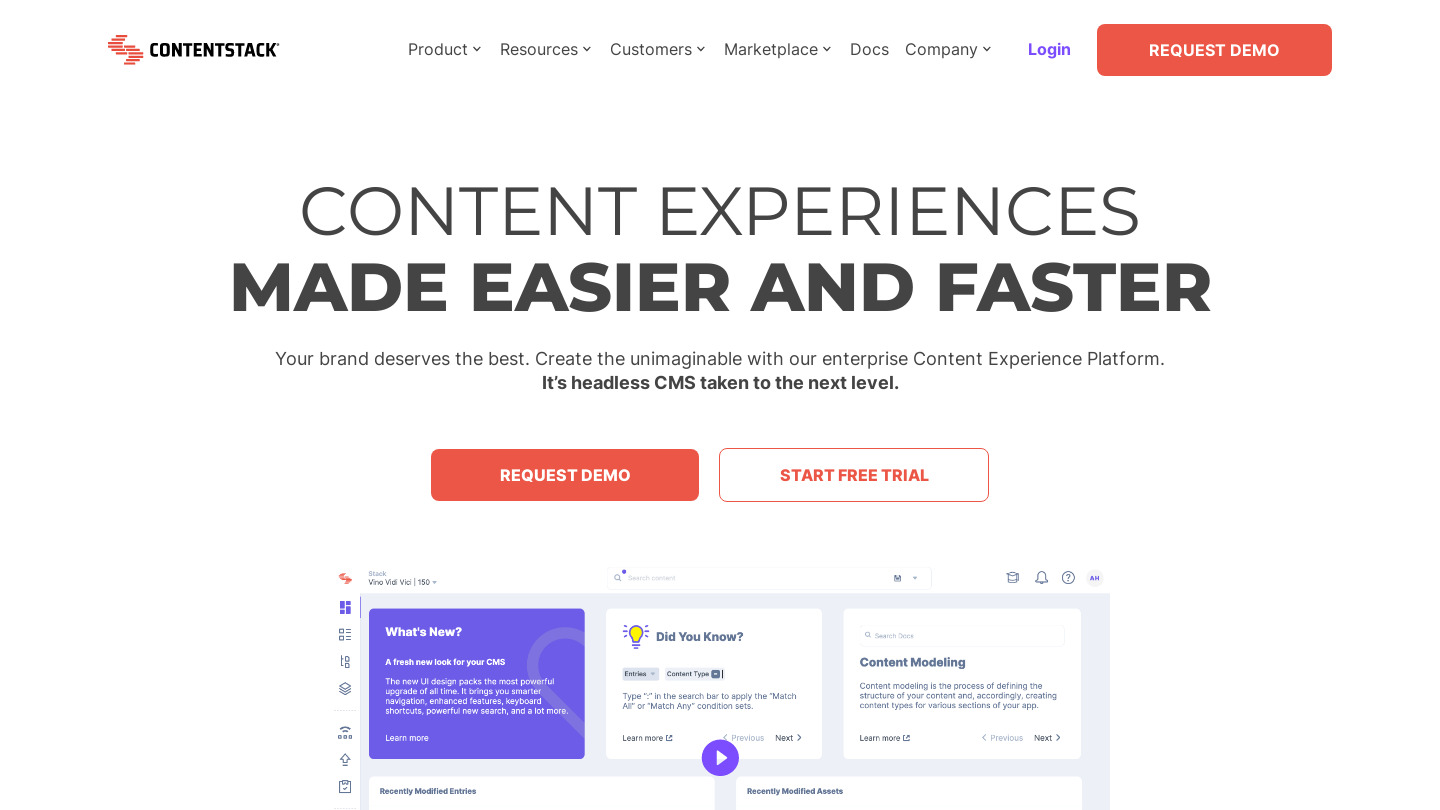 Contentstack is a headless CMS that prides itself on digital experience management.
It's ideal for bigger businesses, creating a content production workflow that includes approval, proofreading, and a built-in CMS. It considers omnichannel delivery and integrates with third-party apps.
But you don't need to listen to us. Contentstack explains it best in this video
If you already use a separate program like Trello or Notion (we do) for this or a similar site like Kontent.ai, this system may not have the same allure.
Contentstack isn't really a WordPress blog alternative. But it is ideal for big businesses looking to streamline the digital user experience.
Contentstack kicks off at a steep $995 a month for single-property sites before jumping to $3000 a month for those who want to manage single-property sites, apps, and IoT. Its largest package is simply called Scale and requires speaking with a member of their team for more information.
10. ArcXP: Best for Content-First, Complex Organizations

ArcXP is another headless CMS that's absolutely loaded with features. It was built by the Washington Post and originally called Arc Publishing before its rebrand in 2021.
As The Washington Post says itself: "Arc's expertise is rooted in its success helping some of the world's largest media organizations solve their toughest content and user experience challenges."
It's best appreciated for how it focuses on class digital experiences, offering scalable content management and formats.
It's an advanced headless CMS that offers complex features for best-in-class digital experiences.
Arc XP pricing isn't readily available on their site. They want you to get in touch instead, which probably means it's got quite the price tag.
Why The Meta Blog Still Chose WordPress
Despite all these CMS being great WordPress alternatives, there are strong reasons why we still went for WordPress.
Let's take a look.
Hubspot: Very expensive if you're not directly selling something (which we're not).
Podia & Substack: Wee love the membership-first prioritization but we don't love that you can't control or optimize your own SEO, which is problematic for distribution.
Medium: Probably the platform we debated about most, but at the end of the day, we want to go down the self-hosted route.
Static Site Generators like Jekyll: They're developer-first, which we're not. Instead, we made our site static with Cloudflare which only costs $5 a month.
Ghost was the second platform we seriously considered but the pricing was too steep. Plus, we already had a couple of custom WP themes we're familiar with so getting set was going to be easier.
Drupal & Joomla: Both are mainly used by public administration because agencies over-charge for highly complex features nobody really needs.  Would recommend either of us these unless you need something highly customized.
ExpressionEngine, Contentstack, and other alternatives: These are really built for big businesses looking to smooth out their complex content and approval processes.
Why We Didn't Mention Website Builders
Although the two are often confused, website builders are far simpler to use, using drag-and-drop design and requiring no technical know-how to set up, but they don't help with content management, so they hardly qualify as valid WordPress alternatives.
There are plenty of drag-and-drop options now on the market that are much better than WordPress for this use case. They offer a range of built-in features for corporate websites that WordPress doesn't, including:
Drag-and-drop page and template designers
Translation and internationalization features
SEO optimization and tracking features
A name that frequently pops up is Wix. Its attractive affiliate program makes it a popular recommendation among bloggers. But it's really not built for content websites as it has no content management features or templating.
A much better alternative, and one that's gained a lot of popularity lately, is Webflow. It's easy to use and they have an advanced template market. So if you want to go down the website builder route, and not get stuck by a limited feature set, it's the ideal choice.