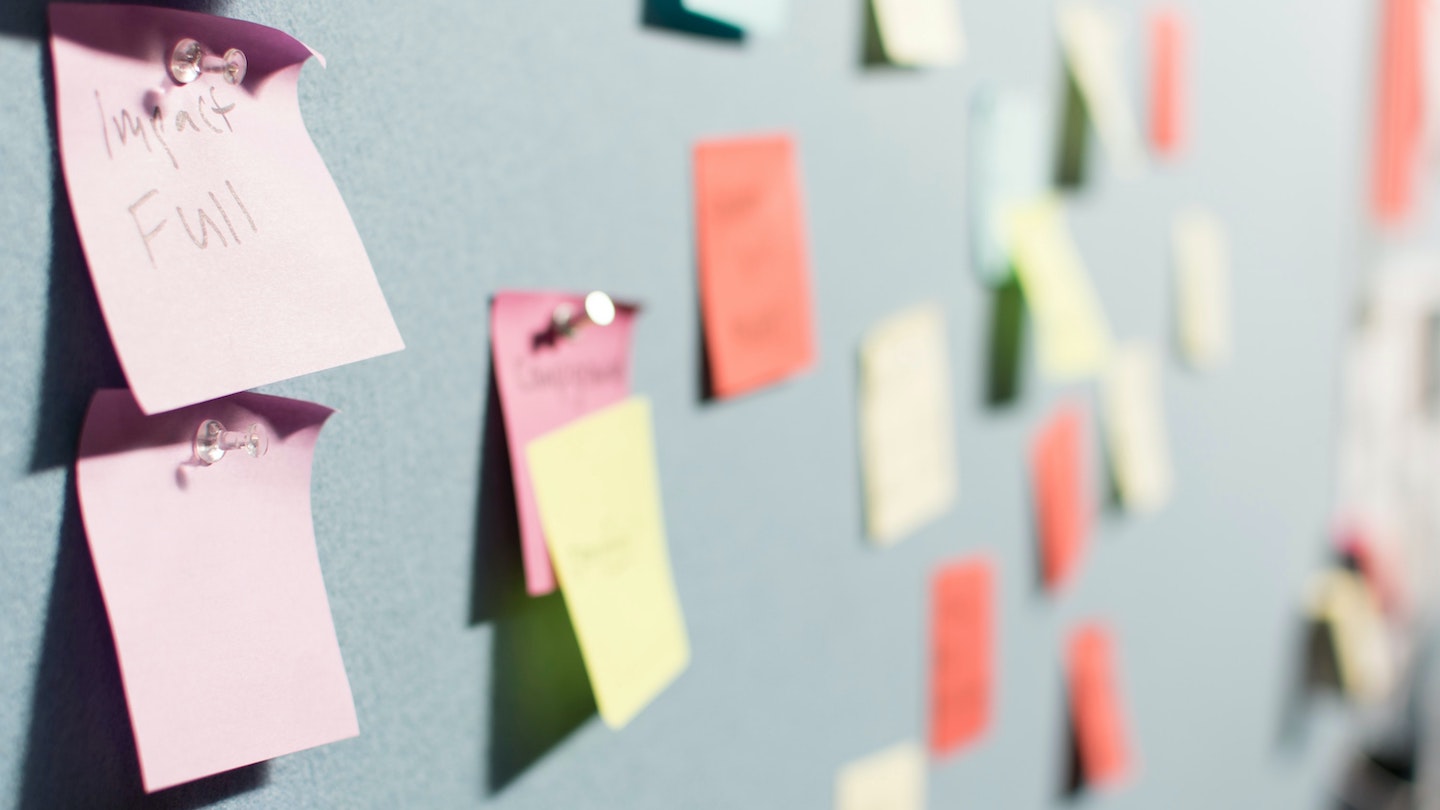 How do keyword research services work?
Keyword research is the backbone of any SEO strategy. Knowing what keywords you want to rank for and their intent allows you to organize your content production process accordingly. But it can be extremely costly to run it in-house, while highly competent SEO agencies offer affordable and highly standardized keyword research services.
The SEO keyword research process usually goes as follows:
1. Identify keyword possibilities
SEOs use different keyword tools like AnswerThePublic or other keyword generators to identify every possible topic linked to their seed keyword.
Seed keywords are the high-value keyword you're looking to target or use as a jumping-off point to find similar keywords you're more likely to rank for. Some agencies will audit your search positions and look at your competition to do this.
2. Cluster keyword possibilities
Once you've chosen a few hundred possibilities, keyword clustering can begin. This is where you identify keywords' intent and group those with the same intent together. This can be quite quick to do manually with some experience on how best to use Google. For example, keywords with the same intent will have the same SERPs. But keyword clustering tools can automate this process and make it simpler for you.
3. Prioritizing keywords
This is where the most value sits, and where there are many different opinions on how to prioritize.
Agencies will typically look at these factors when determining a keyword's importance:
Traffic potential: This is usually shown in the monthly search volume, or monthly impressions figure.
Keyword difficulty: This is something all SEO tools provide, and no one questions. But there are other signifiers. Advanced SEO agencies will look for other clues, like if Quora is ranking in the top 10 SERPs (if yes, it suggests it's an easy keyword to rank for), the authority of the pages in the SERPs, etc.
Intent and value of intent: This is open to interpretation. The lower the value of the intent, the higher the volume. Informational searches such as "what is keyword research" have lower value intent than "keyword research services", for example. That's because those looking for "keyword research services" are much closer to buying than those searching for "what is keyword research".
Value of audience: Someone typing 'keyword research services' knows more about SEO than someone typing 'SEO agency.' Which one has more value can depend, but it provides a lot more information on the audience's maturity on a given topic.
How much do keyword research services cost?
There are plenty of keyword research tools out there. Popular tools like Ahrefs and SEMrush are hugely comprehensive and start at $99 a month, going all the way up to $500 / month.
But even with these tools, it can take a good chunk of time each month to analyze your keyword data. There are a few approaches to SEO keyword research. The cost of keyword research services will depend mostly on the approach you decide to go for:
On-the-go: You can just pay for a few hours each week to identify high-value keywords. This makes sense if you're working in agile scrum sprints, or starting from scratch.
Build keyword backlog from scratch: This is organized around keyword clusters. You pick one "seed keyword" you want to rank for and the keyword research service you hire will look for long-tail keywords to support your main keyword. . The biggest drawback here is the lack of feedback before starting. Keyword research tools do a decent job of guesstimating how successful keywords will be, but it's not always accurate. Depending on the degree of detail and complexity of your keywords, it can take (and cost) anywhere between a few hours and days to get a definitive answer.
Monthly or recurring keyword research: This is a combination of the first two options. Your keyword research service optimizes your existing keyword backlog by identifying new opportunities and refining existing ones. And at the same time builds up new clusters. This is usually priced hourly.
Top 10 keyword research services: Recap Table
#1 Loganix: Structured and experienced approach to keyword research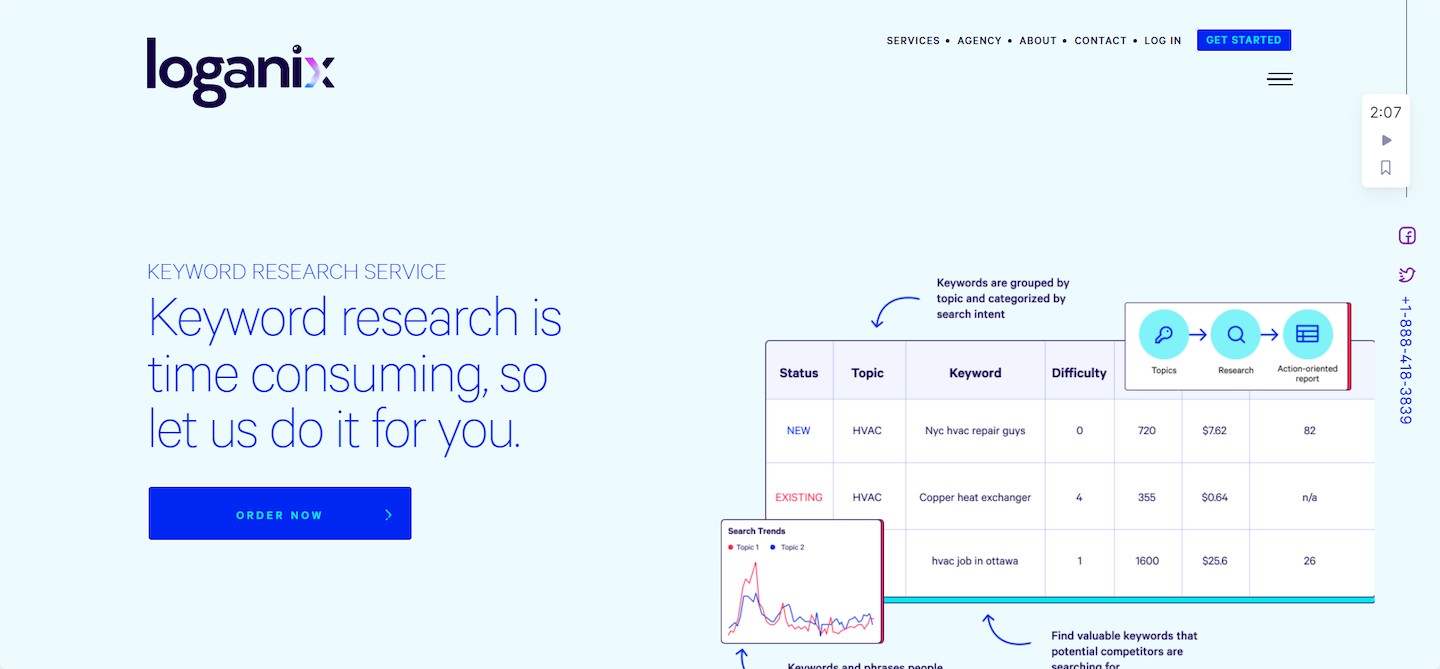 Loganix focuses on product and service-based keywords. It bases the results on what terms align best with your 5 seed words and provides search intent and topic grouping. Loganix bases its findings on commercial keywords to target and also filters out irrelevant keywords.
Loganix is a company that offers multiple SEO and link-building services, geared predominantly towards small businesses, SEOs and webmasters. You can order anything from a full-service to individual products and aspects of SEO and link-building.
Its keyword research service costs $149 for a full report with actionable data, with a 2-day turnaround.
Try Loganix
Order their keyword research service today.
#2 Spectroomz: Fixed price with results in 7-days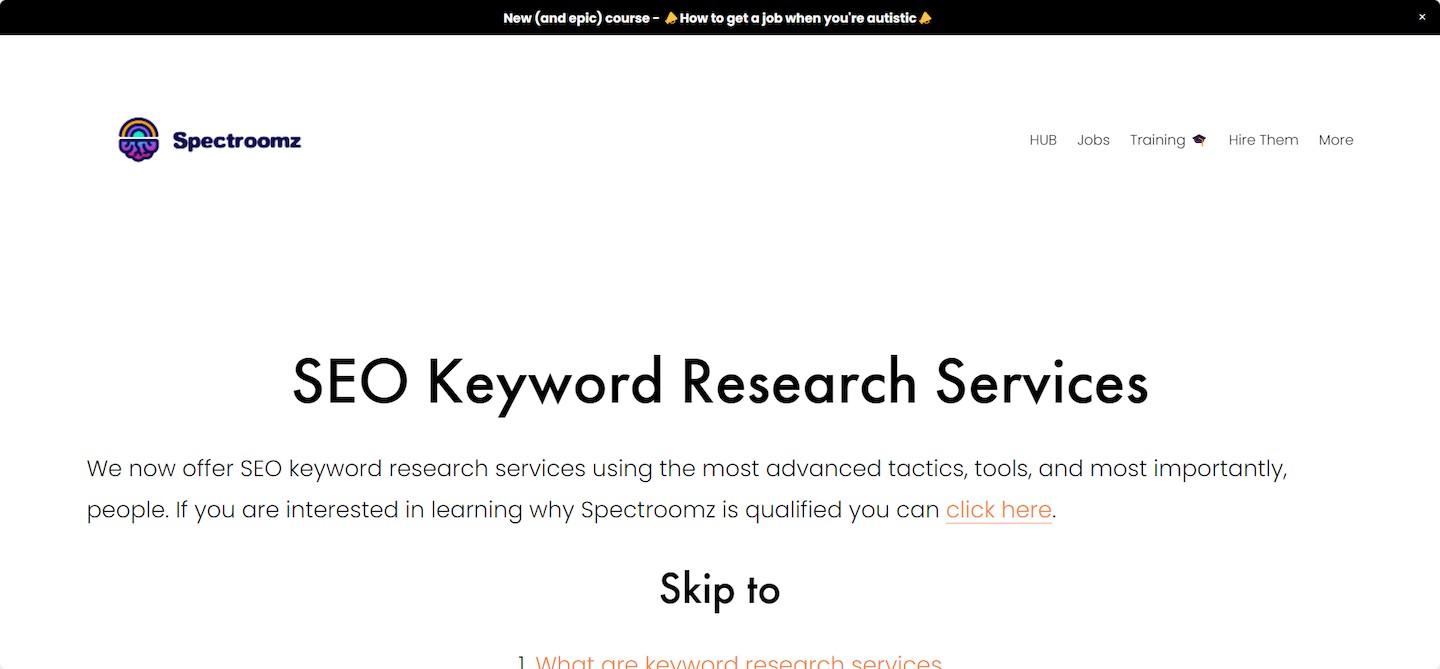 Spectroomz uses a secret set of 15 tactics to form a list of relevant keywords. It asks you to fill in a form and they send you a questionnaire online to analyze the intent behind your keywords. Its full report also provides you with information on how to leverage content to reach the first page of Google. It'll tell you how hard it is to rank and how long it should take to do so for specific keywords.
Spectroomz is an agency that offers something unique – everyone who works there is autistic. Its focus is on hiring autistic freelancers and supporting them so they have sustainable careers. The platform has a freelancer hub where you can see their qualifications and hire individuals. It offers a suite of SEO services, including content planning and optimization, backlink generation, and technical guidance.
Spectroomz keyword research report is $399 upfront and will be delivered within 7 days of ordering.
Try Spectroomz
Fill in the form for free.
#3 Alphametic: Funnel-based keyword research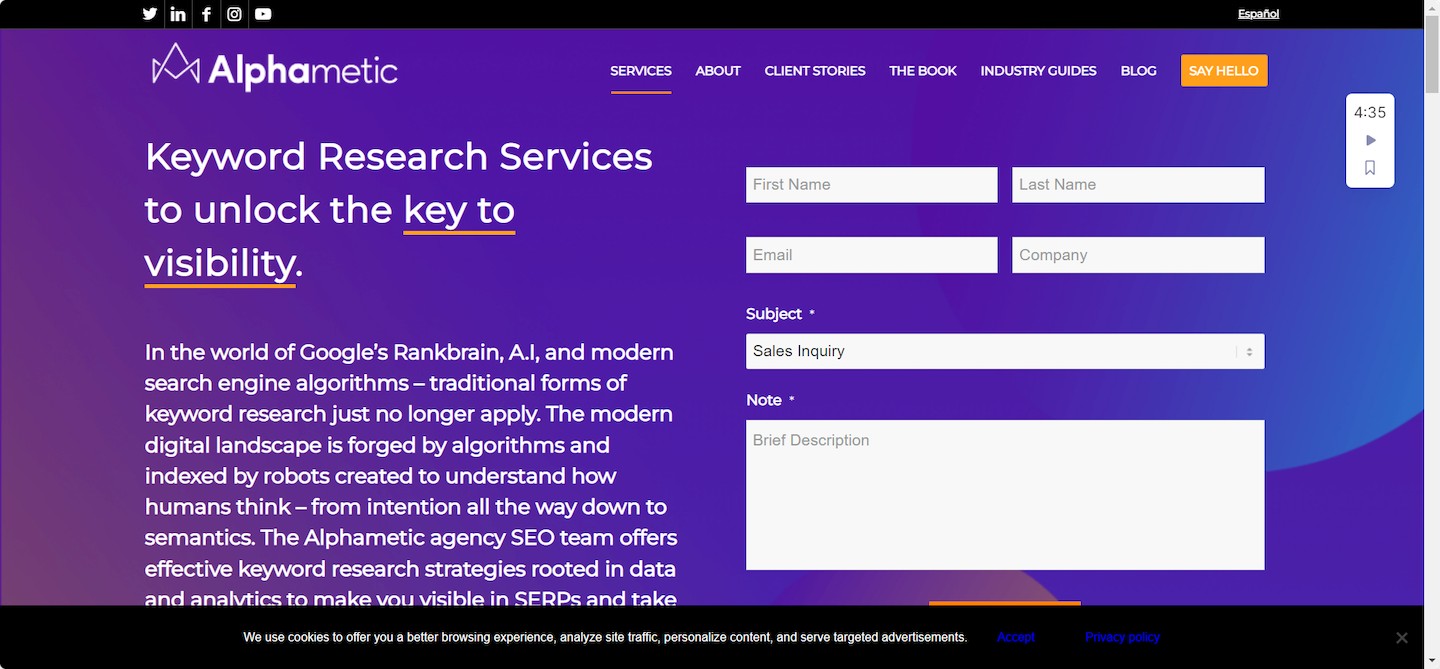 Alphametic groups keywords and arranges them in relation to each step in a buyer's journey. It focuses specifically on keywords most likely to convert and maps them to the best pages on your site. Alphametic's approach is all about analyzing intent and narrowing your customers' focus.
Alphametic is a full-service site with options for SEO, SEM, content curation, social and advertising. It works with some big names, including L'Oreal, and is mostly geared towards these medium-to-large-sized B2C businesses.
It doesn't provide any pricing info for keyword research services, just asks you to fill in a form to receive a free quote. But it's likely to be on the pricier end.
Learn more about Alphametic
Fill in the form for a free quote.
#4 Influence & Co.: B2B and PR-focused keyword research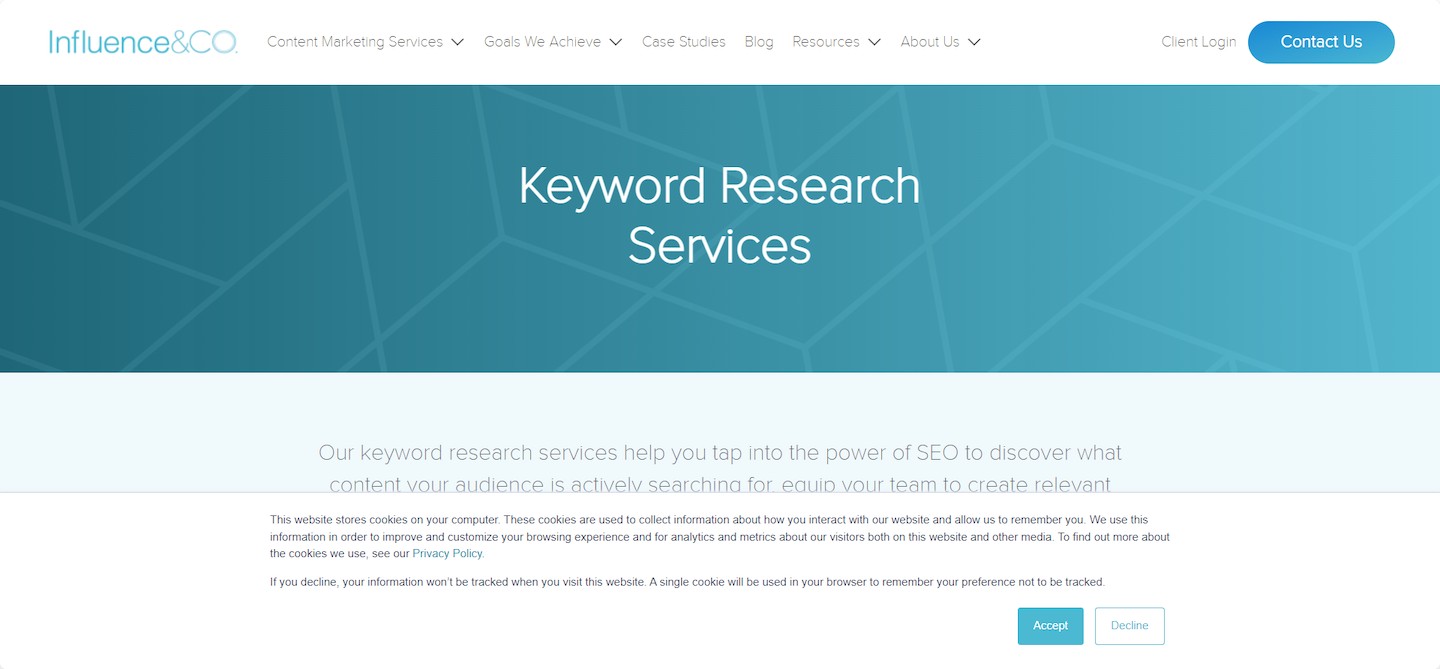 Influence & Co. ask you to pick a priority goal to better target keyword research. It will identify new opportunities and then organize keywords into topic clusters.
Influence & Co. also asks you to pick a priority goal for what you want to achieve. This can be lead generation, SEO, sales enablement or thought leadership. Depending on your choice, Influence & Co. will provide the appropriate keyword research to drive its intent.
The platform focuses on creating industry-leading content. Boasting relationships with over 1,000 publications it can distribute your content to the people that matter most. Influence & Co. class itself as the next step in the PR evolution.
There's no trial for Influence & Co. and all pricing is monthly, with packages starting at $5,000 a month, with a yearlong commitment. It does not offer keyword research as a separate service, instead providing multiple services in a package decided by your priority goal.
Get in touch with Influence & Co.
Learn more by contacting them.
#5 Semetrical: Intent-based keyword research reports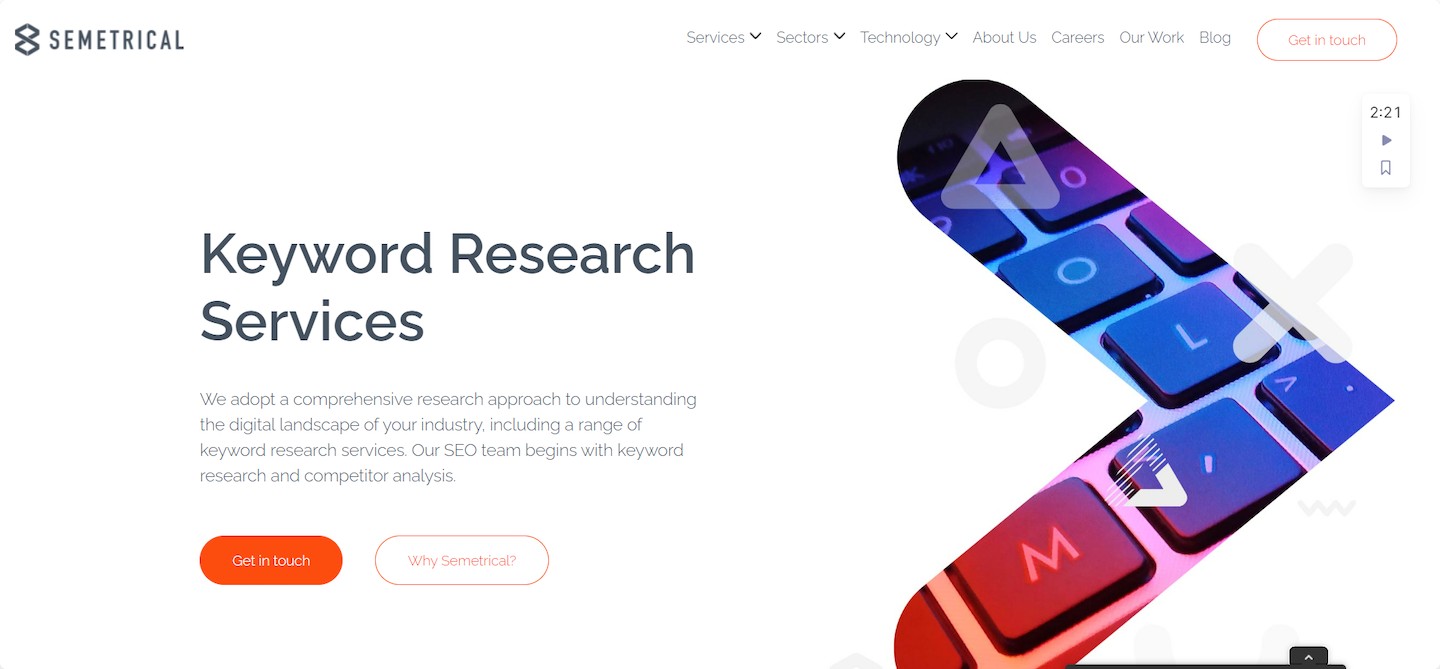 Semetrical includes competitor analysis as part of its keyword research. It segments hundreds of thousands of keywords to identify the best combinations and long-tail versions. Semetrical claims their keyword research reports are data-driven and are pulled from multiple libraries using bespoke technology. The report is then segmented by intent – from informational, to PPC, to website architecture.
Semetrical offers services across the full sphere of digital marketing and multiple industries, including both B2B and B2C.
It doesn't reveal its pricing on-site, instead asking you to get in touch to receive a quote.
Learn More About Semetrical
Fill in their online form to chat with one of their team.
#6 E-Store Factory: Amazon keyword research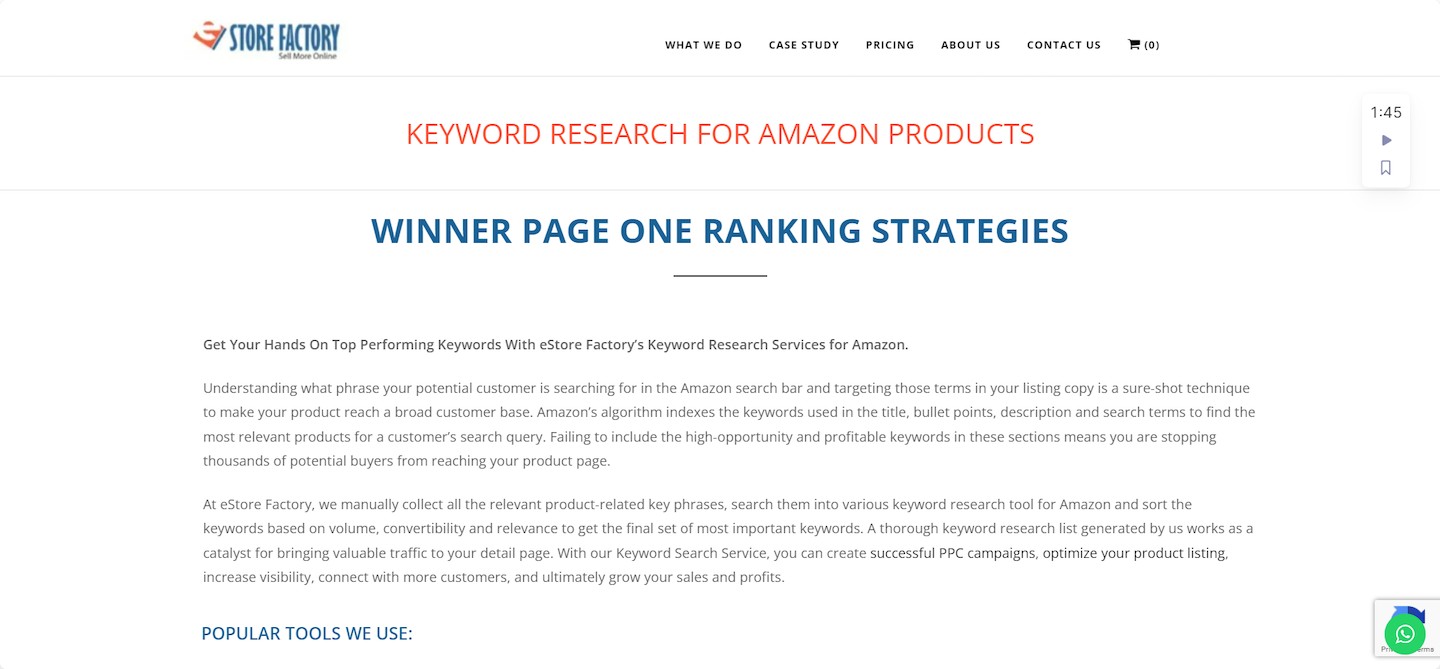 E-Store Factory focuses specifically on finding keywords that will help you rank higher on Amazon listings. It manually collects all relevant product-related keywords and phrases. You'll receive a list of the ones most likely to convert and bring traffic to your Amazon page.
E-Store Factory focuses specifically on eCommerce marketing for Amazon sellers. It's run by a team of consultants, SEO experts, developers, designers, and content writers.
An E-Store Factory keyword research report costs $49, which you pay for upfront and they then contact you to discuss requirements.
Rank higher on Amazon with E-Store Factory
Learn more about their services.
#7 SureOak: Prioritization framed keyword research reports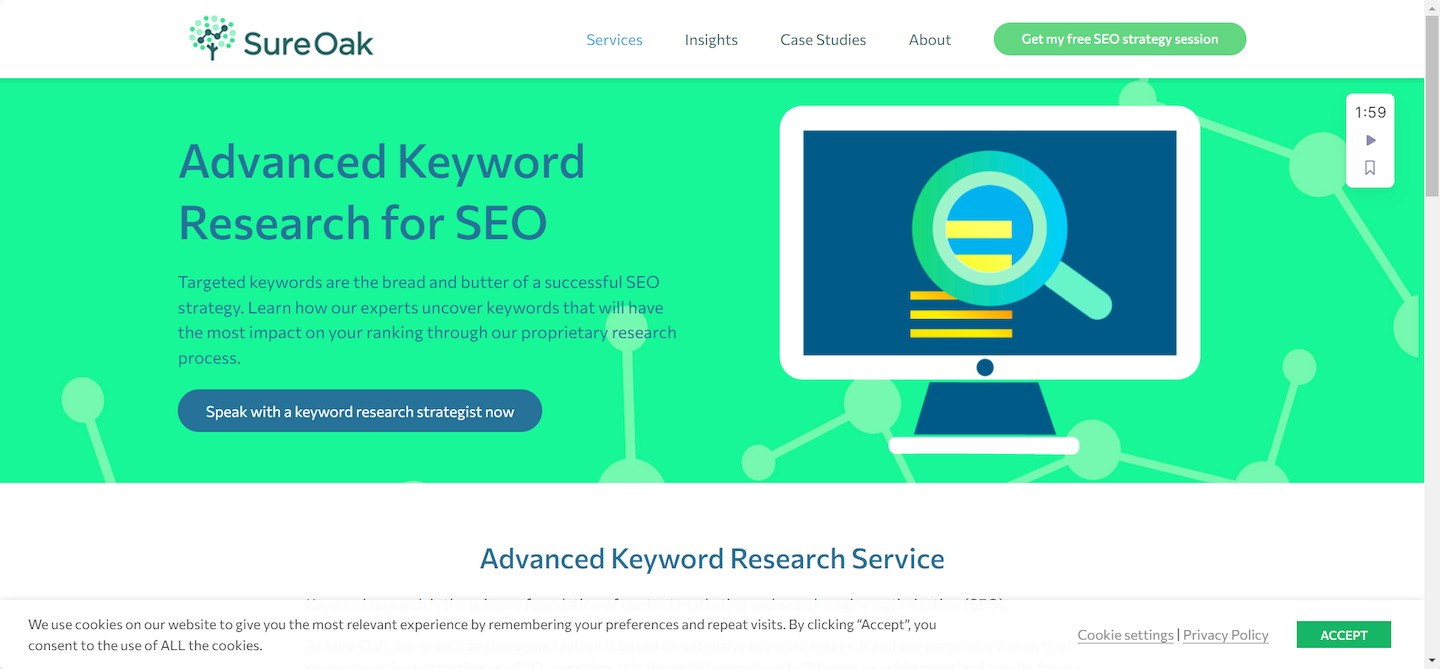 SureOak uses proprietary analytical processes for their keyword research service. First, it collects thousands of keywords from multiple sources before analyzing and clustering them into topics. From there, it maps keywords to specific pages and presents a holistic keyword strategy report to you.
SureOak offers a full SEO service and also provides guest posting services and content strategy. It works with medium to large B2C businesses and non-profits.
Rather than providing pricing information, SureOak offers a free SEO strategy review consultation call to discuss costs.
Get results-driven SEO with SureOak
Enter your website and business email to set up a call.
#8 Victorious SEO: Full-service SEO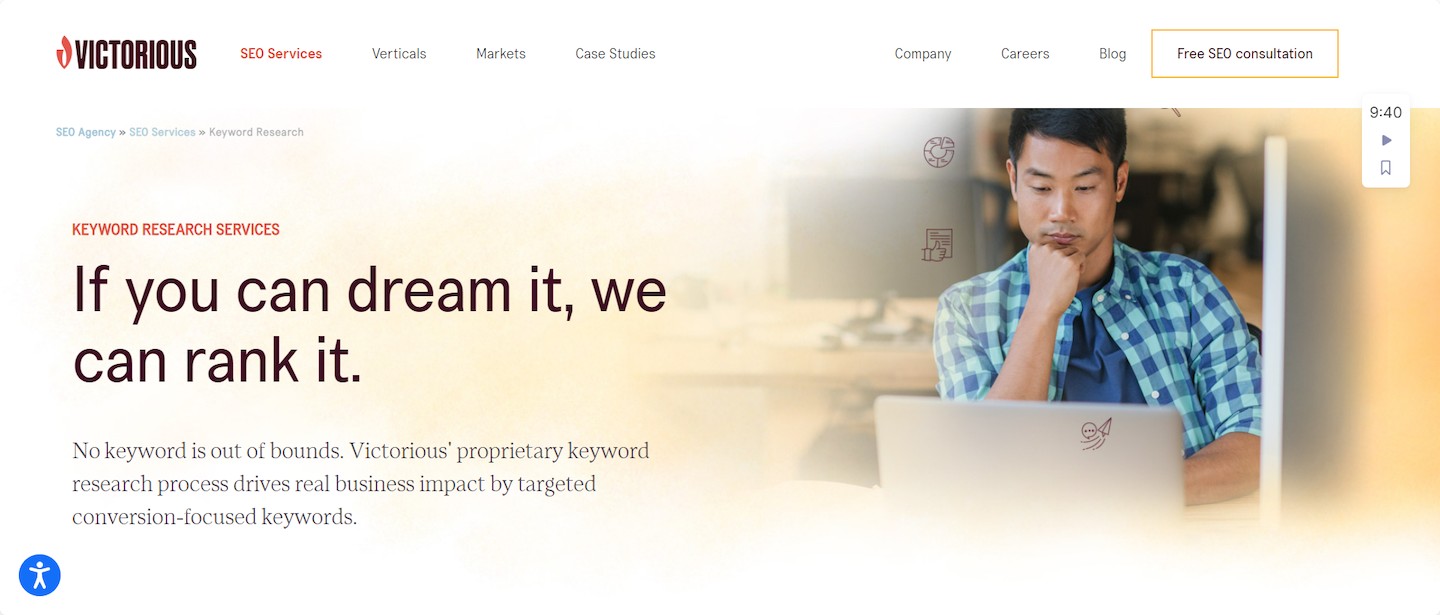 Victorious' process is to identify thematic keyword groups and then choose results based on purchase intent. It bases these choices on its search volume and competition, looking at themes that will drive sales intent.
Victorious offers a full SEO suite of services and works with smaller SaaS and B2C businesses.
Pricing is unavailable on-site, but you can book a free SEO consultation to find out more.
Learn more about Victorious
Set up a free SEO call.
#9 Andy Chadwick: SEA and SEO keyword opportunities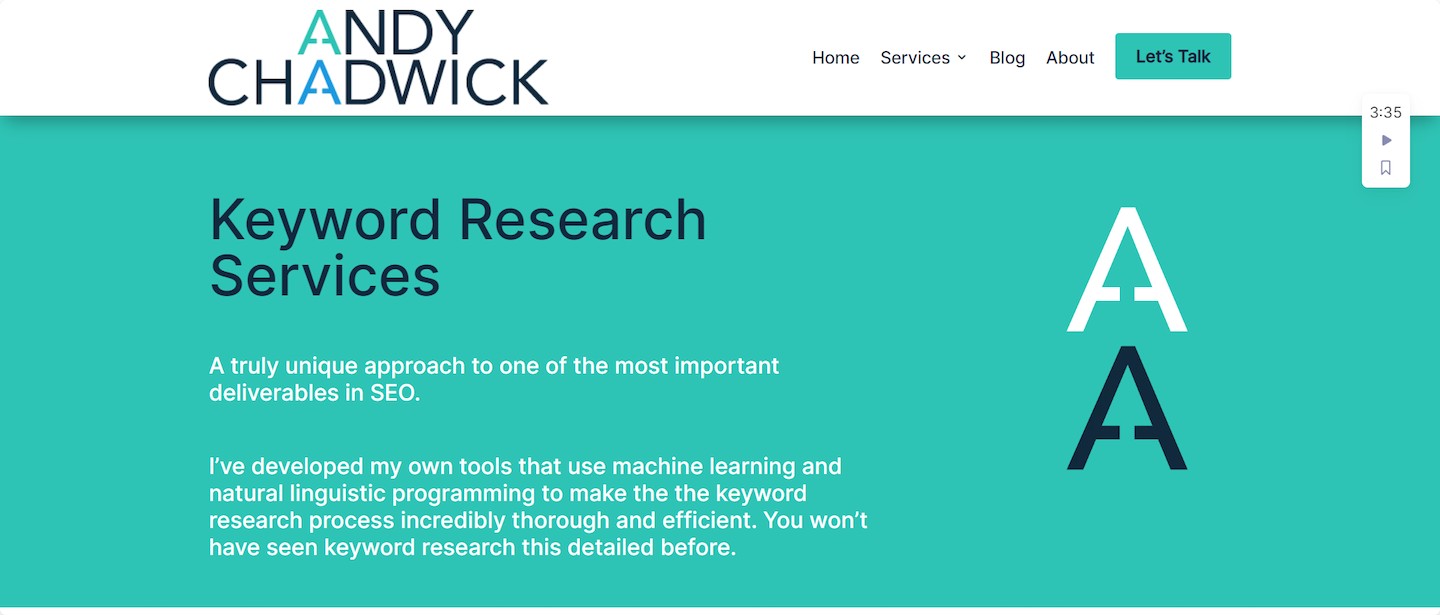 Andy Chadwick's keyword research services use AI to cluster and categorize over 20,000 keywords. As part of the service, it will analyze your site to discover shortfalls and provide information that helps analyze your landing pages' relevance. The report is organized into 4 categories for easier prioritization.
Andy Chadwick is a one-man-band. He focuses on a few areas of SEO, largely looking at the conversion process and how best to optimize it. He works with in-house SEO teams, agencies, and start-ups.
As a consultant, his pricing is unsurprisingly unavailable on his site. Instead, he asks you to set up a call to "see what the power of machine learning and AI can do in a keyword research document".
Get in touch with Andy Chadwick
Set up a call.
#10Keyword Insights – offers keyword clustering in research reports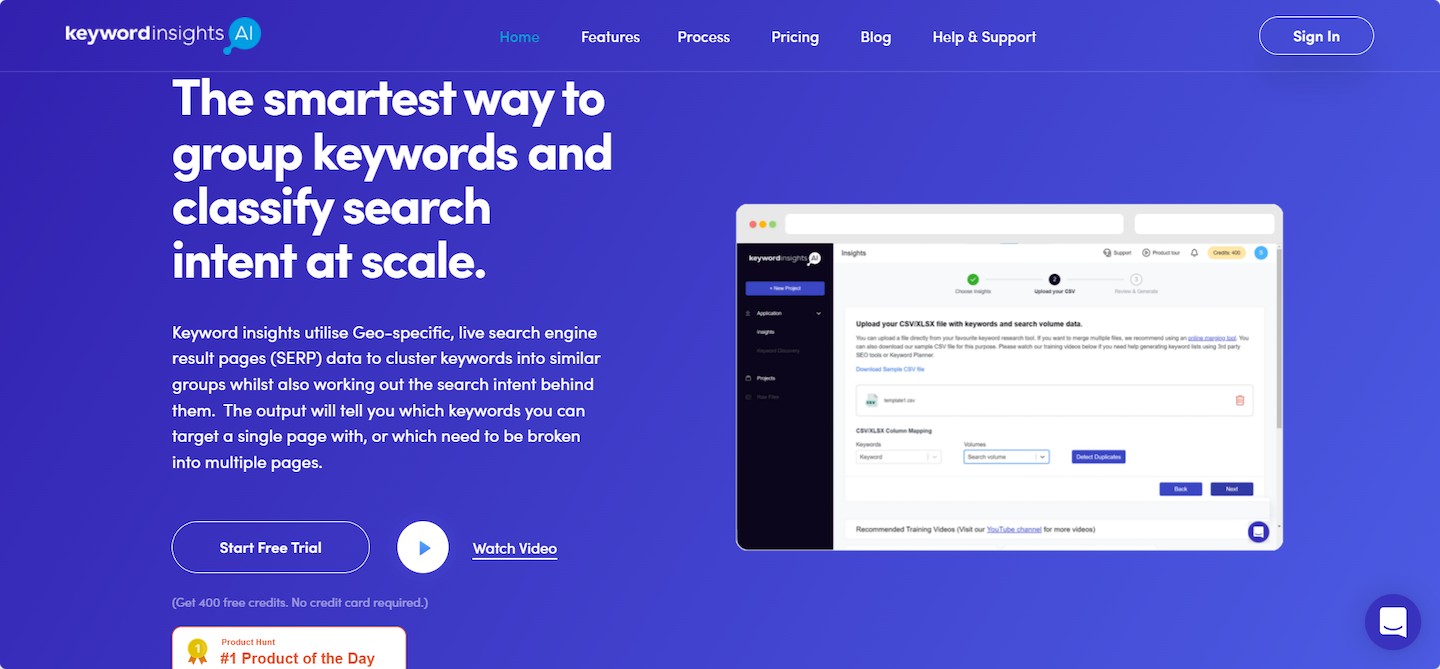 Keyword Insights is the AI-based tool that Andy Chadwick built and uses for his keyword research services. It will group keywords that show up on multiple top 10 pages and analyze their intent. It covers more than just the standard keyword research report, offering a few keyword services that also include 4 AI optimized title ideas for each cluster and free access to rank tracking software.
Keyword Insights focuses specifically on keyword research. It works globally with medium-sized businesses to optimize their brand's keyword strategy.
You get 400 free credits with any Keyword Insights account and can purchase on either a monthly subscription starting at $9.99, annual at $110, or a pay-as-you-go scale. The credits are charged per insight, per keyword, with the credits required decreasing the more insights chosen.
Find out more about Keyword Insights
Get 400 free credits.