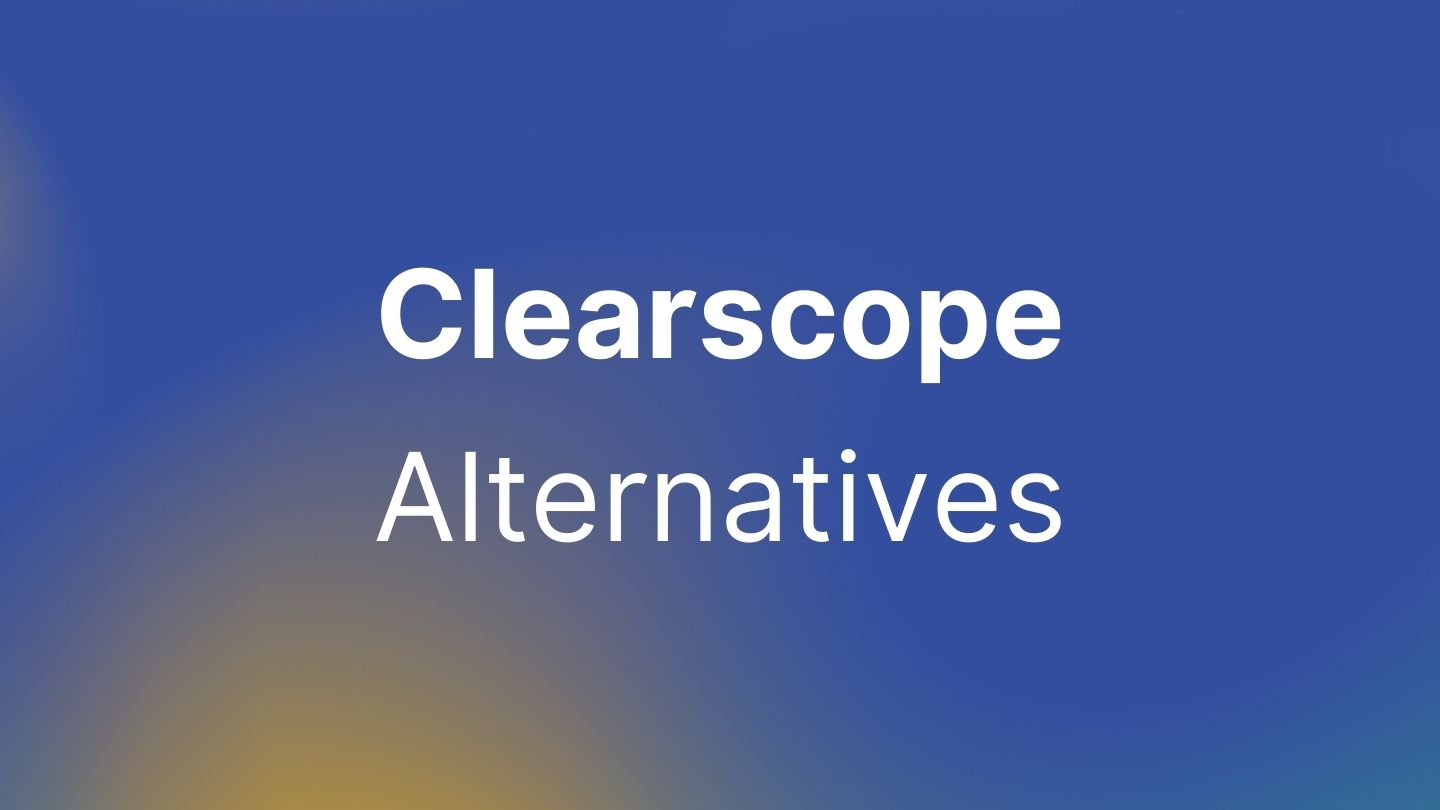 Clearscope is one of the leading content optimization tools on the market.
It's popular for its ease of use and gamified approach. The fully customized reports suggest topics to improve content and rankings, encouraging writers to think about their copy in fresh ways.
We're not going to go into too much more detail on its features here. Backlinko has already done an extensive Clearscope review. But suffice to say, Clearscope isn't for everyone.
As far as SEO tools go, its keyword data is pretty light and it's doesn't offer any suggestions for things like internal linking.
And at $170 a month for their smallest plan and no free trial, it's hard for smaller businesses to justify Clearscope's price.
Depending on your needs and budget, one of these Clearscope alternatives may be far more appropriate for your business.
What to Look for in a Content Optimization Tool
Content optimization tools harness the power of AI and Natural Language Processing.. They suggest relevant keywords and topic clusters to rank higher on Google. Rather than following an SEO checklist for blog posts, using one of these tools will instead optimize content for you.
The best content optimization tools offer some, if not all, of the following features:
Advanced keyword research
Content structure optimization (e.g., heading suggestions and brief outlines)
Suggests what type of internal links to include:
Ease of use
Suitable price point
Integration with CMS and collaborative tools like Google docs
Easy share options for collaboration
SEO audit options
9 Best Clearscope Alternatives: Comparison Table
1. MarketMuse: The AI powerhouse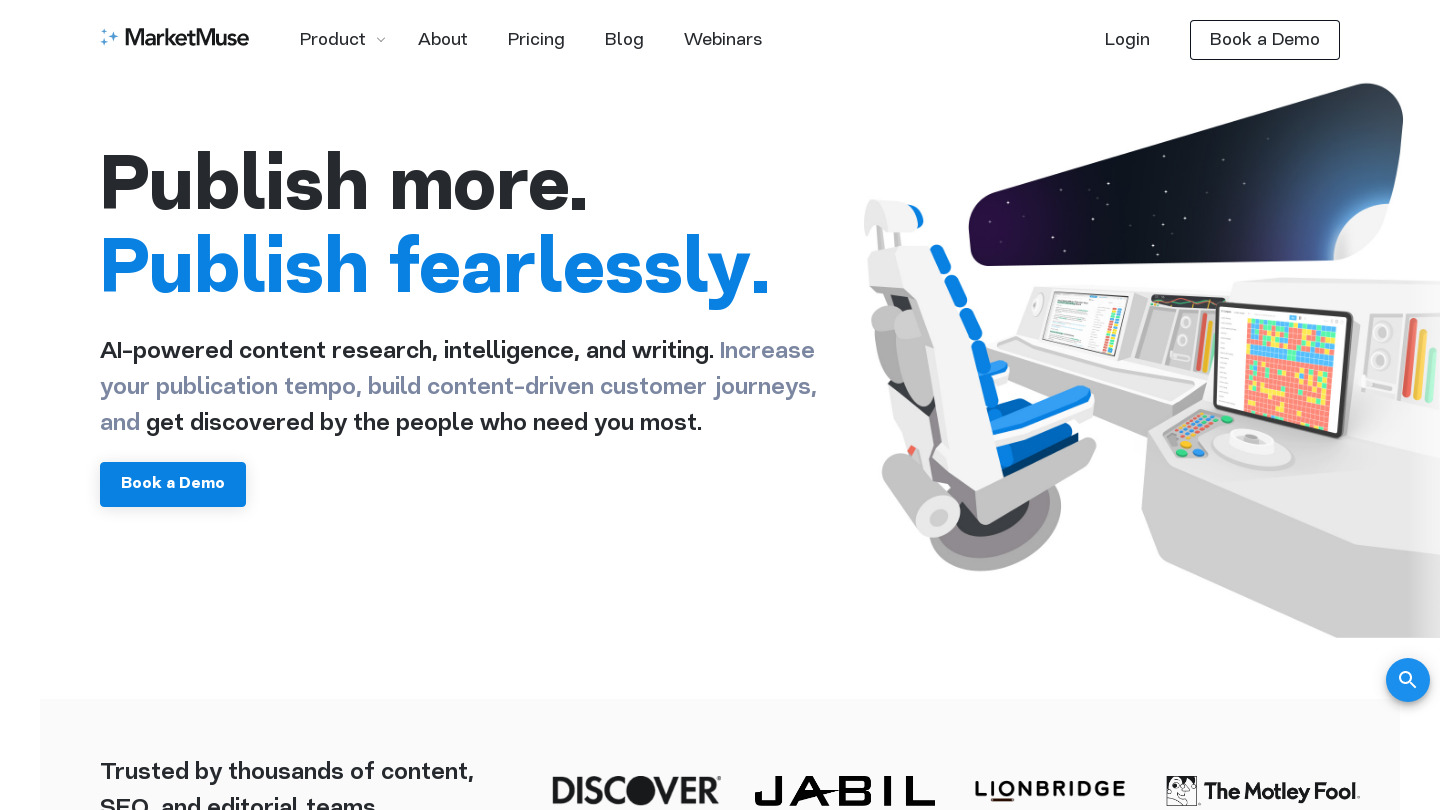 MarketMuse is best suited to large enterprises looking for help with end-to-end content strategy and optimization.
It offers most of the same features as Clearscope, but also has powerful AI that shortens content planning time.
One of MarketMuse's best features is its advanced, AI-generated content briefs.
Writing the perfect content brief is a skill, but MarketMuse cuts out the middle man. Its AI analyzes hundreds of articles to identify gaps and opportunities. It then generates detailed outlines that include headings, keywords, and a summary of points to include.
This is great for creating content briefs quickly. But MarketMuse's most popular feature amongst SEOs isn't the AI, but its personalized keyword scoring.
Each keyword is analyzed in regard to how much chance your site specifically has to rank for it. No other tool on the market offers this feature, which is why MarketMuse is the option you see compared to Clearscope the most.
MarketMuse pricing
MarketMuse is a powerful content tool, but it's expensive.
Although it eases you in with a limited free option, pricing starts at $149 a month for the standard package. It's only for 100 queries and one user, before jumping up to $999 monthly for the premium package. It's a pricey option used by big-hitters.
2. Topic: The research optimizer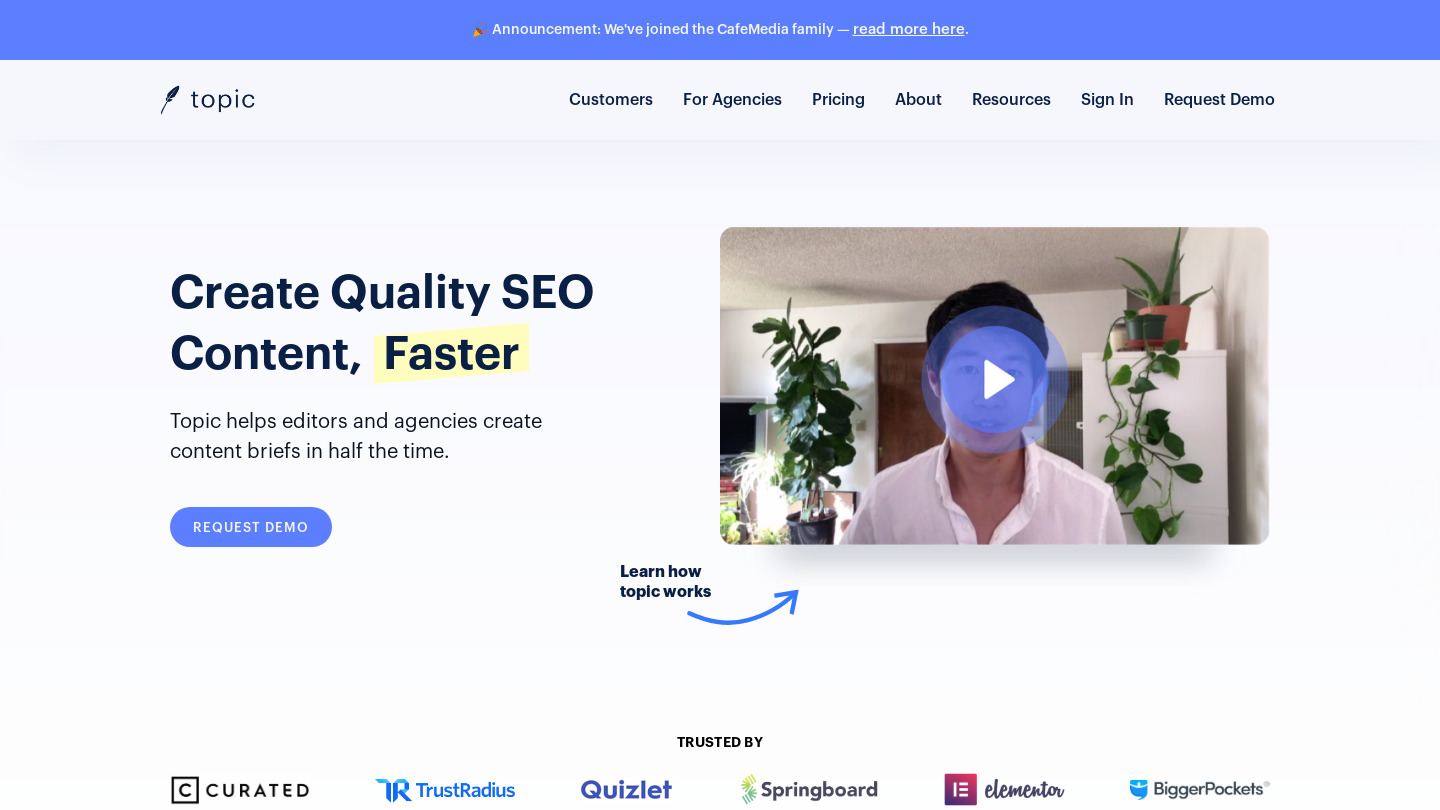 One of Topic's best features is how it cuts hours of research time down to just minutes with NLP.
Users love how the whole research process is streamlined. The software identifies search intent from keywords and pulls thousands of related queries from the 'People Also Ask' section of Google. From there, it creates semantic clusters to generate article briefs, not dissimilar to MarketMuse.
CEOs and managers have complimented how Topic has helped scale their content and improve search rankings across the board.
The tool also integrates with WordPress and Google docs for easier collaboration. This makes it the better choice for teams or businesses over individuals.
Topic pricing
Topic is a little pricey, but its starter plan at $99 a month has a decent number of abilities.
Overall, the pricing model seems quite fair and levels out across the board.
They offer plans for plus, premium, and enterprise levels, so it really is positioning itself as an option for any size company.
3. Frase: The low-cost option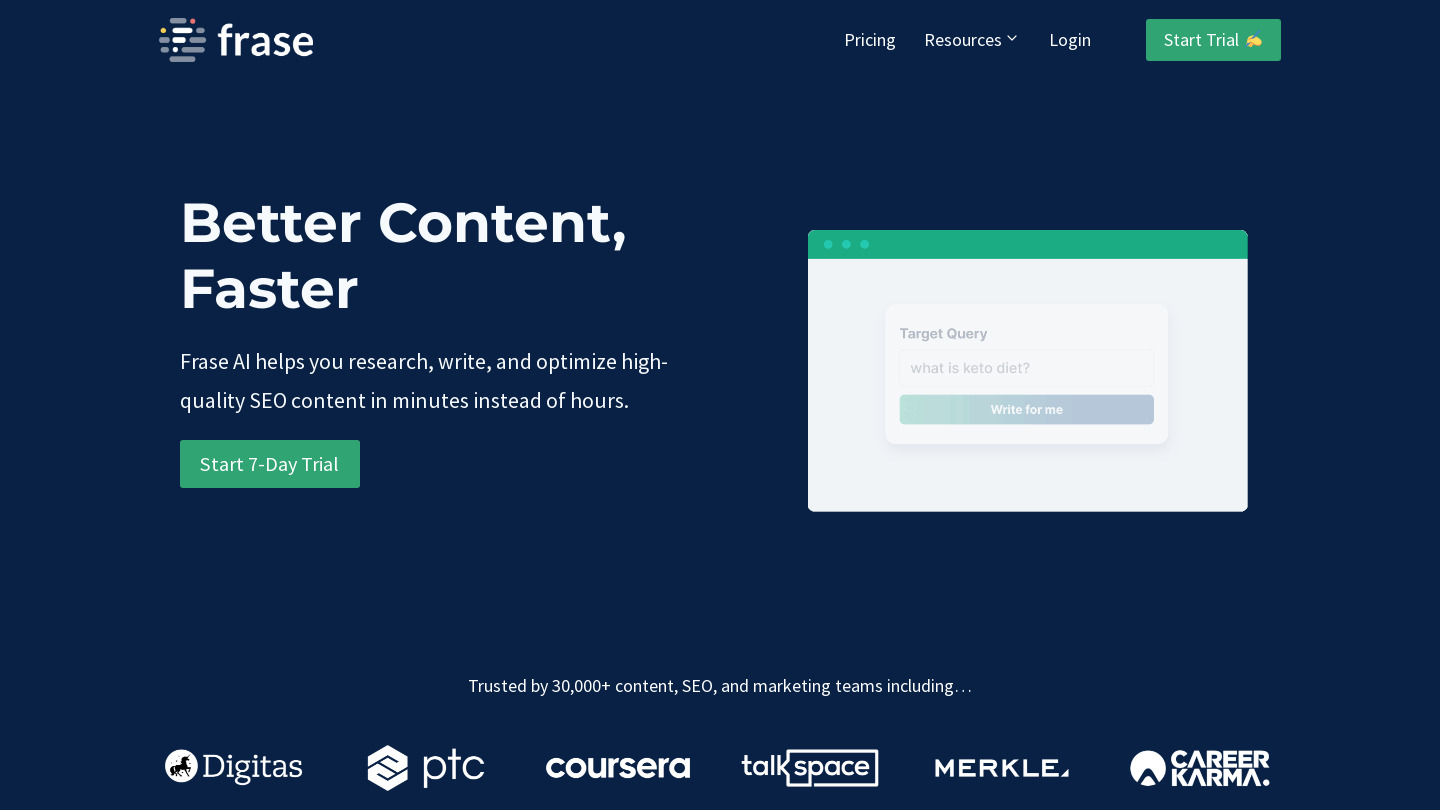 Frase was on the Capterra shortlist in 2021 and it's easy to see why. According to the Director of SEO at Shopify, "Frase feels like a next-gen content tool that's not just exciting for SEOs, but for writers as well."
Frase's best feature is that it's the first "answer engine optimization" platform. This means its AI operates on a question-answer basis.
It analyzes users looking for actionable information and structures your data in response. This means it's more likely to become a featured snippet..
For its price range, Frase offers an expansive range of features, matching up to the much higher-priced Clearscope. It even includes more detailed content briefs and targeted SEO suggestions.
Frase pricing
From its transparent monthly pricing, it's clear that Frase is targeting individual SEOs, marketers, and agencies.
Their solo package is just $19.99 which is great for individuals. But even the most expensive Team option is only $114.99 and offers unlimited document credits and sharing.
Overall, it's a much cheaper alternative to Clearscope if you're looking to supplement your content process, rather than an end-to-end tool.
4. SurferSEO: The technical SEO option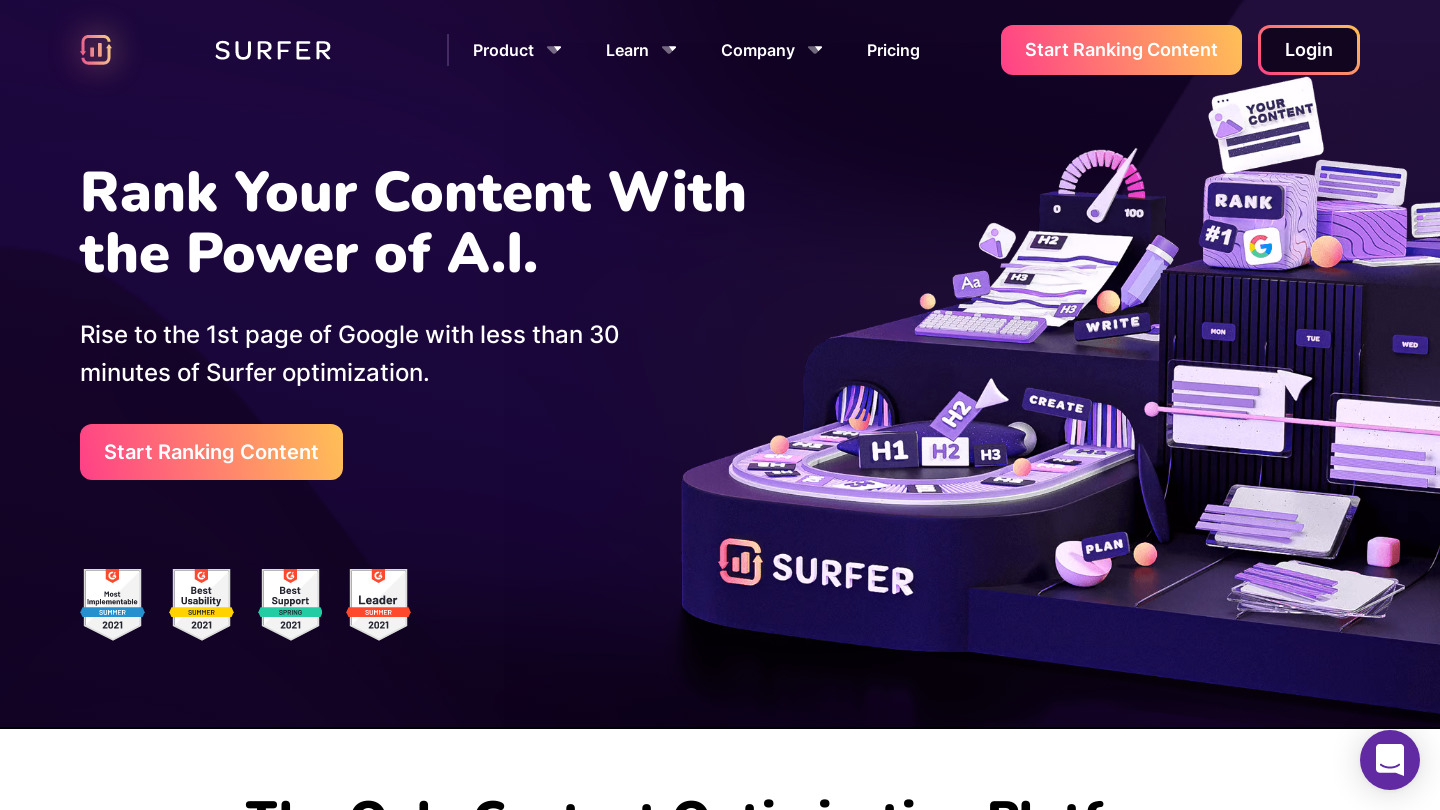 SurferSEO is similar to Clearscope, but focuses on aspects of on-page SEO Clearscope does not. The tool will provide suggestions for the number of keyword inclusions, internal links and alt text.
Like Clearscope, SurferSEO doesn't create content briefs automatically. Instead, it pulls results from top-rated pages to guide writing.
But unlike Clearscope, SurferSEO doesn't really analyze content as a whole. Its audits and recommendations are more about ensuring you're covering everything on the SEO checklist. Do you have the right number for each keyword? Have you optimized your alt text? Etc.
Although its suggested keyword tool can be a little generic, the SEO audit feature is powerful and integrates with Google docs. This makes collaboration much easier and is a popular feature among users.
SurferSEO pricing
SurferSEO's basic package starts at $49 but offers only limited access to its features.
Unfortunately, to access NLP you'll need to jump onto its Business plan, which starts at $199 a month, suddenly making it a more expensive choice.
5. SEMrush Writing Assistant: The behemoth SEO powerhouse option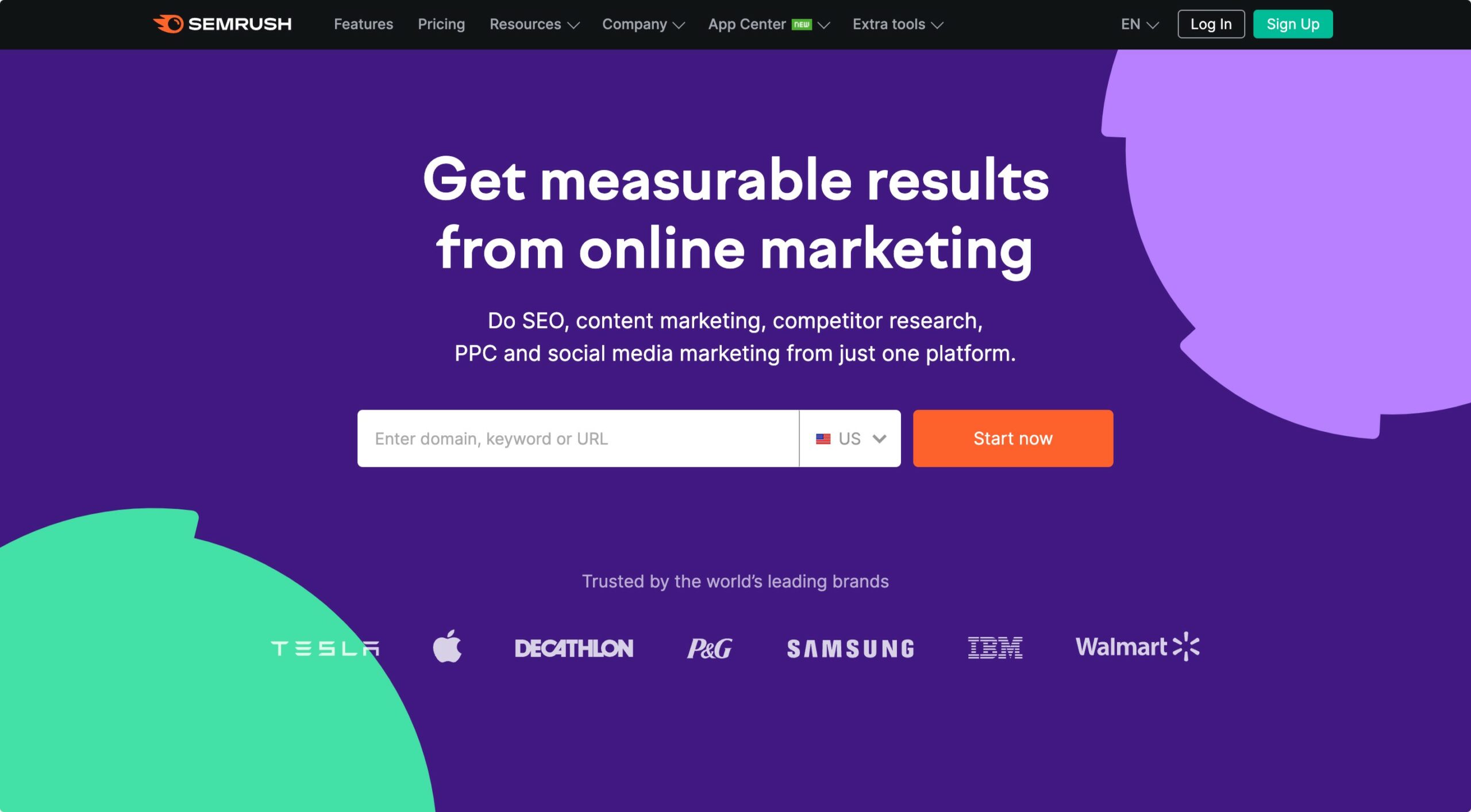 SEMrush is an all-in-one SEO tool that covers more than just content optimization. Where it really shines is in-depth keyword research and analysis. If you're looking for SEO management across your entire site, then SEMrush is the best option. SEMrush also has a very powerful tool to measure domain authority score.
Although its Writing Assistant is helpful, it is not where its focus truly lies. It's also not available on its own. Those interested in the tool will have to fork out for the entire SEMrush package, and it's not cheap.
The content optimization suggestions on SEMrush's Writing Assistant are somewhat basic. It doesn't generate automatic briefs or suggest headings, but writers particularly like that it considers other metrics.
SEMRush gives scores for readability and tone of voice, and it integrates directly into WordPress for live editing.
Overall, it offers a lot more across the board than Clearscope SEO options. It's great if you're looking for whole site optimization, making it the preferred choice of managers and large businesses.
SEMRush pricing
The writing assistant is only available on the Guru package or up, so it clocks in at a hefty $229.95 a month.
6. Copywritely: The low-cost, simple option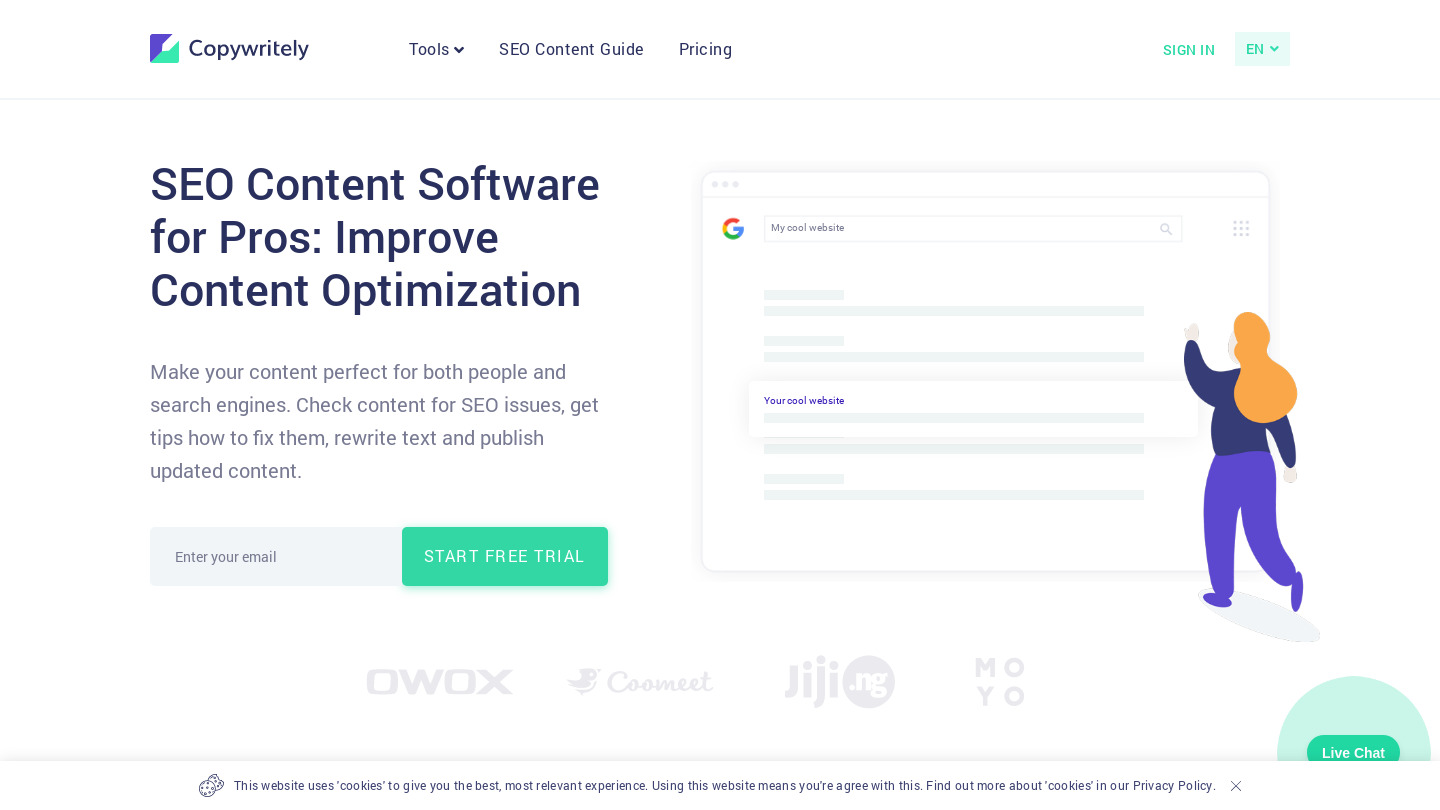 Copywritely's focus is on grammar, readability, and keyword integration. Unlike more comprehensive tools, it doesn't include features like integration, linking, or automated briefs.
Most often compared to Grammarly, it's a favorite of freelancers and solopreneurs. For its price point, Copywritely offers a good number of features, but some users find its keyword and optimization suggestions to be a bit limited.
It also offers built-in user templates. Writers enjoy implementing its content strategy suggestions in real-time when working with others.  One of the favorite features of the tool, though, is its SERP checker. It analyzes competitor bigrams and trigrams and provides suggestions to strengthen rankings.
Copywritely pricing
As a Clearscope alternative, it's ideal for smaller businesses and individuals and covers that gap in the market well. Its solo plan offers 50 checks for just $18 monthly, and its start-up plan offers 200 for $45 a month.
It also offers a company and enterprise option, but they're still on the smaller end of the scale at $35 and $67 monthly respectively, and none seem designed for big businesses.
7. Dashword: The user-friendly option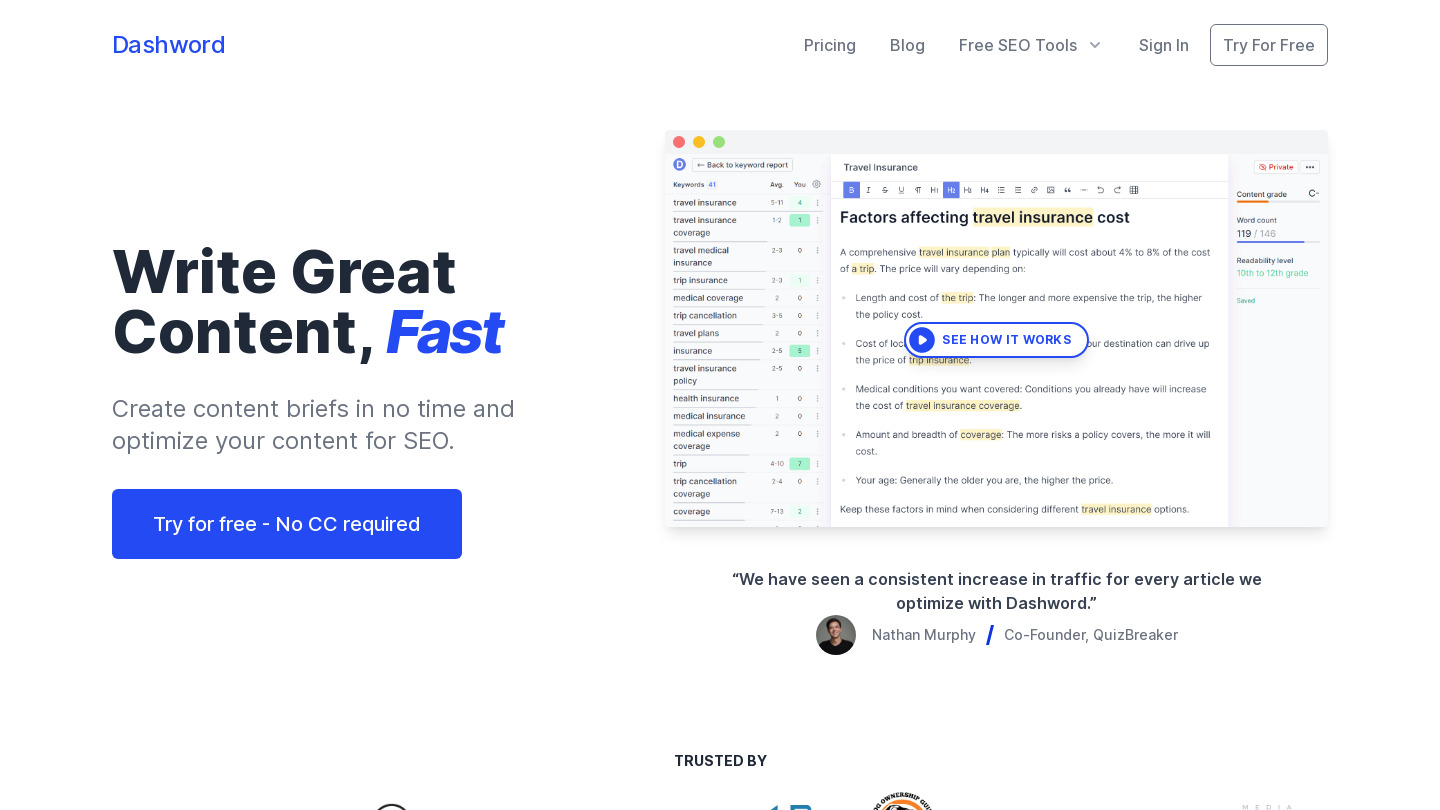 Dashword is probably the most similar to Clearscope. It offers SERP reports, content discovery, and optimization features.
Despite offering keywords and most searched queries, it doesn't offer in-depth keyword analysis. Dashboard fails to provide the ranking difficulty and search volume of each keyword, leaving their importance a bit of a guessing game.
But users love Dashword for its simplicity. Just import your document and see its recommendations. Within seconds, you'll have a list of frequent queries to build your content around.
On Clearscope, information is available in different places, forcing you to dig around to assemble it. But on Dashword, everything is in one place for easier usability. And although it won't AI generate content briefs for you, it provides the tools to create simple briefs quickly.
Dashword pricing
Dashword's free trials offers 5 articles, enough for you to try it and see the results.
Pricing starts at $39 per month. Although it says this plan is aimed at "hobbyists", it covers enough that any solopreneur or freelancer would find it beneficial, and even some small agencies or businesses.
It also offers NLP on any plan (which is rare), and its start-up plan at $99 monthly will analyze up to 100 traffic pages.
If you're already using a separate SEO and keyword research tool, then it does the same job as Clearscope, at a cheaper price.
8. Demand Jump: The data-driven option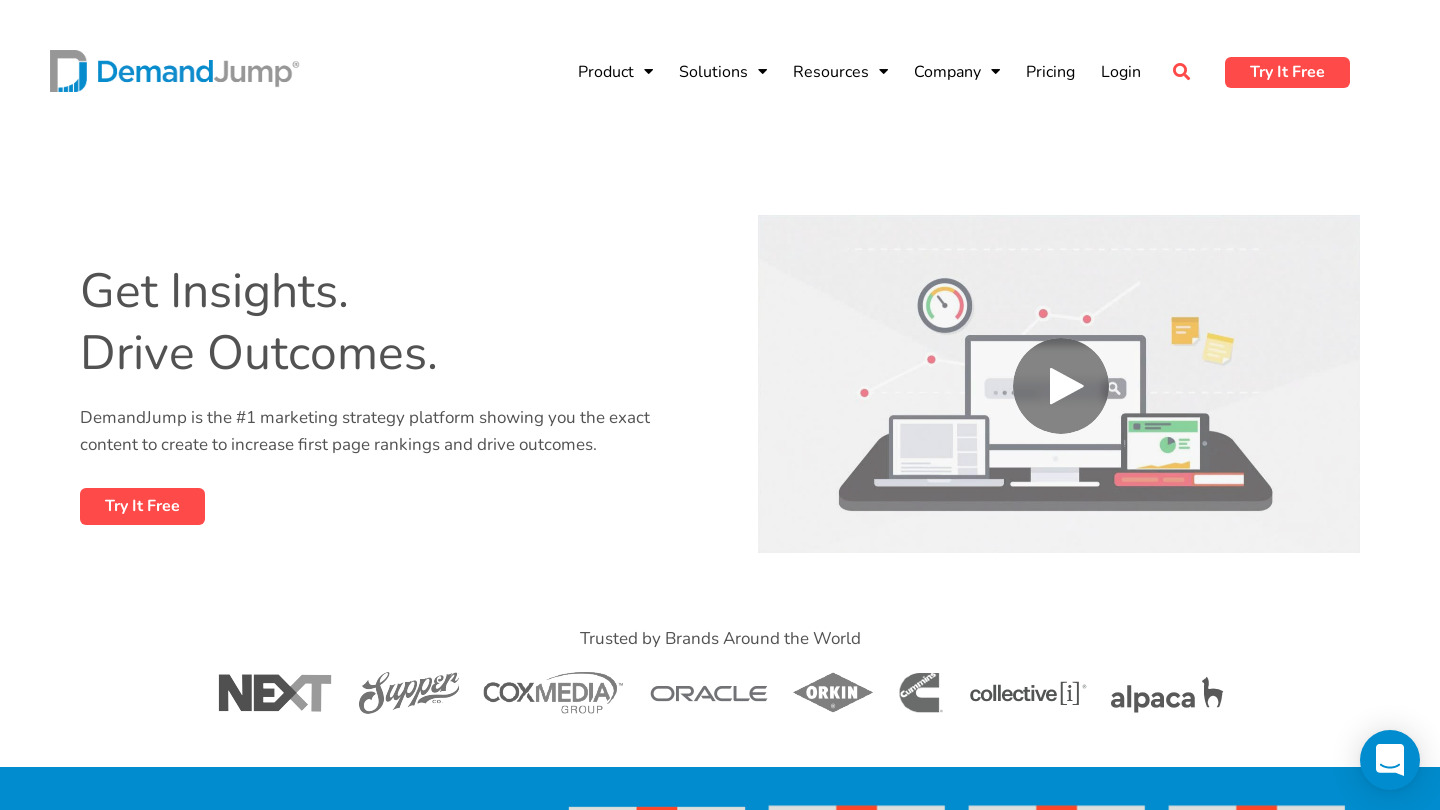 DemandJump is heavily data-driven. It integrates and analyzes competitor behaviors across multiple platforms to deliver insights on what content will rank highly next.
Next, it provides a content strategy based on those competitors and other automated keyword research.
Managers and high-level executives find DemandJump one of the best ways to manage their content. They particularly like its actionable insights and cross-platform analytics.
Its data management is highly analytical, offering in-depth stats. This unique approach allows content to be thought of in new, more granular ways.
Clearly, its way of analyzing content works, because it cleaned up at the G2 Winter awards.
DemandJump pricing
Although it starts at $99 a month, it offers smaller plan numbers and is more aimed at the SMEs looking to dip their toe in the water.
Their next option quickly jumps to 20 content briefs and unlimited users at $399 a month, offering pillar strategy building for larger businesses.
9. CognitiveSEO: The SEO audit option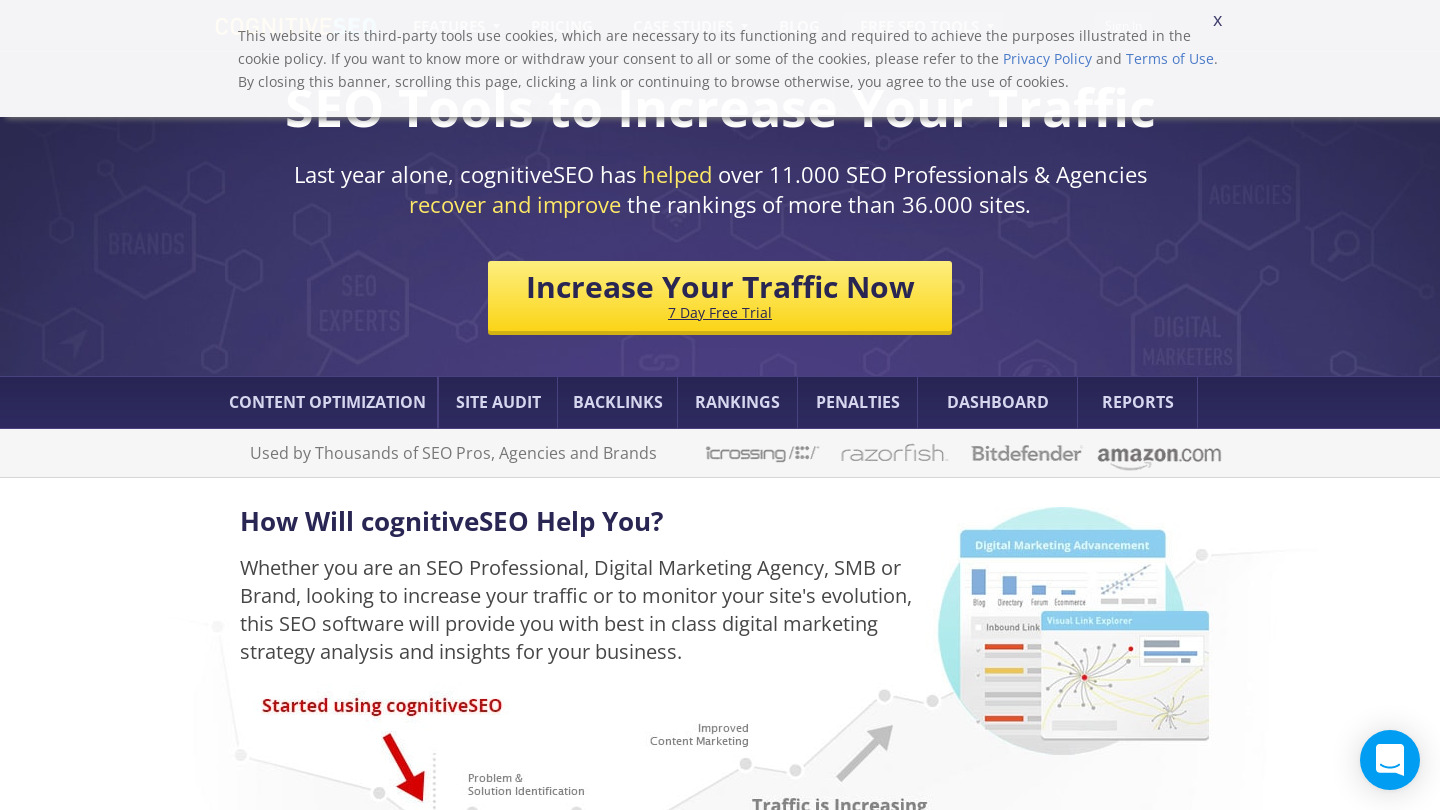 Cognitive SEO is for agencies and SMEs looking for a content optimizer that focuses on rank tracking and SEO audits. Its content performance tool offers actionable insights to improve ranking, based on SERP analysis.
Like SEMrush, it's more focused on backlinks, keywords, and ranking analysis than on generating content ideas or briefs. CognitiveSEO will identify keyword cannibalization, broken pages, and defunct links.
Website owners, agencies, and entrepreneurs find CognitiveSEO useful for identifying existing errors and providing new ways to optimize old content. Although Clearscope SEO is detailed, CognitiveSEO really drills into these features.
CognitiveSEO pricing
You can try some CognitiveSEO tools for free on its site, but unless you sign up for a free trial, the access is limited.
It positions itself as the tool for larger businesses as even its 'start-up' plan is $129.99 a month. As a Clearscope alternative, it offers more for the price, analyzing 200,000 inbound links, and 150 content audits.
Its Premium and Elite plans are $199 and $499 monthly, respectively, so it really are trying to target much larger enterprises.