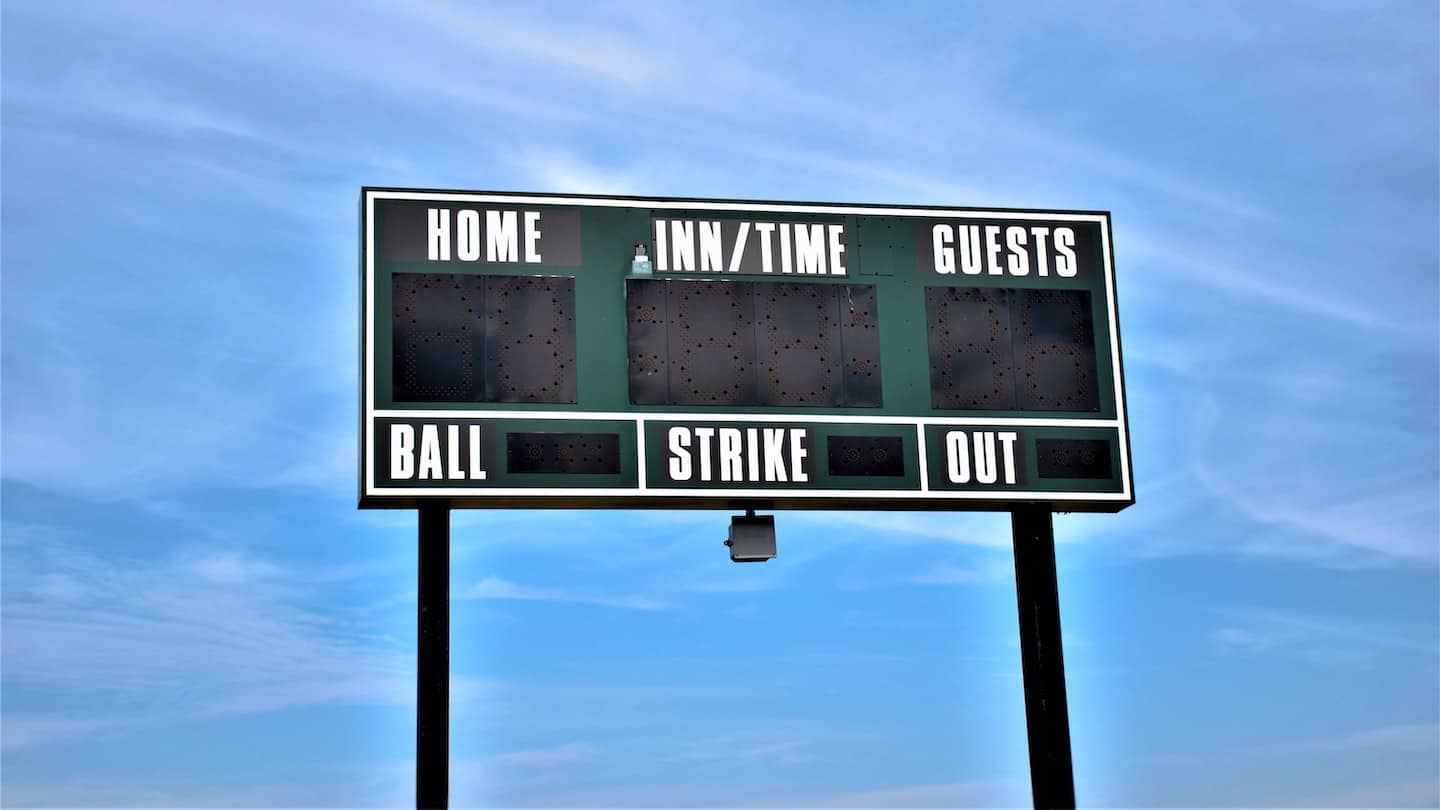 To run a successful blog, you need to know what your site's domain authority is and constantly work to improve it.
What Is Domain Authority?
Moz defines domain authority (DA) as a score attributed to a website based on the number of linking root domains and the likelihood of it ranking on a search engine's result pages (SERPs).
Moz is actually the original creator of the domain authority metric, using a scale of 1 to 100.
Other SEO software and link-building tools will have different variations of it based on their own algorithms.
Another way of looking at domain authority is in terms of a concept rather than a score defined by Moz. Think of it in terms of how relevant Google considers your site to be in relation to a specific topic or niche.
Let's say you produce a ton of quality content on email marketing., Over time, Google will consider your site to be an authority source on this topic. This means new content will rank faster for email marketing keywords.
The higher a website's domain authority score, the better. A website with a DA of 90 is going to rank a lot faster than one with a DA 20.
What Is My Domain Authority Score?
To check your site's domain authority you'll need to use a dedicated SEO software.
There are loads of tools offering ways to check your site's domain authority score–some of them for free.
The best domain authority checkers and their metrics:
#1 Moz – Domain Authority

As mentioned above, it's Moz who initially coined the term Domain Authority.
Moz is an SEO software suite that can be used for keyword research, link building, and more. It has a 30-day free trial and pricing starts at $99 a month.
Simply enter a URL in their Site Explorer tool to check its domain authority.
#2 Ahrefs – Domain Rating (DR)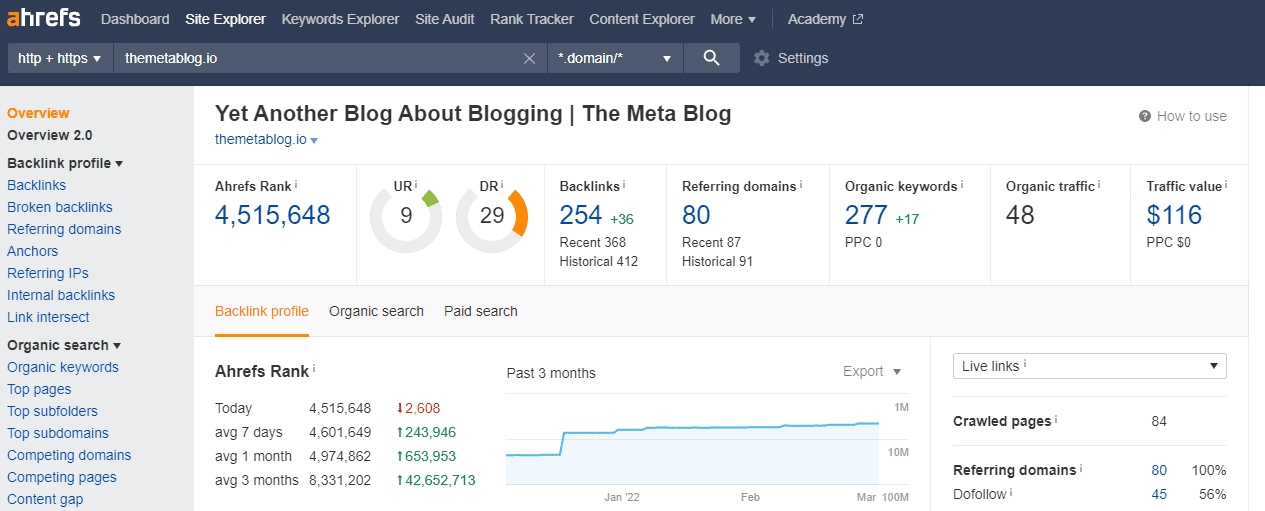 Ahrefs is another all-in-one SEO software. It measures a site's authority in terms of what it calls "Domain Rating". This number from 0 to 100 represents the strength of a website's total backlink profile compared to other sites in the Ahrefs database.
Ahrefs offers a completely free "Website Authority Checker" that will tell you a website's domain rating without actually having to create an account.
Insert the URL into the Site Explorer bar to check the DR and UR (this last one is a rating for individual URLs, instead of a whole domain).
Ahrefs' complete SEO package is a really useful tool starting at $99 a month, with no free trial.
Instead, you can sign up to Ahrefs Webmaster Tools, to get free, limited access to the Site Explorer and audit tools.
#3 SEMRush – Authority Score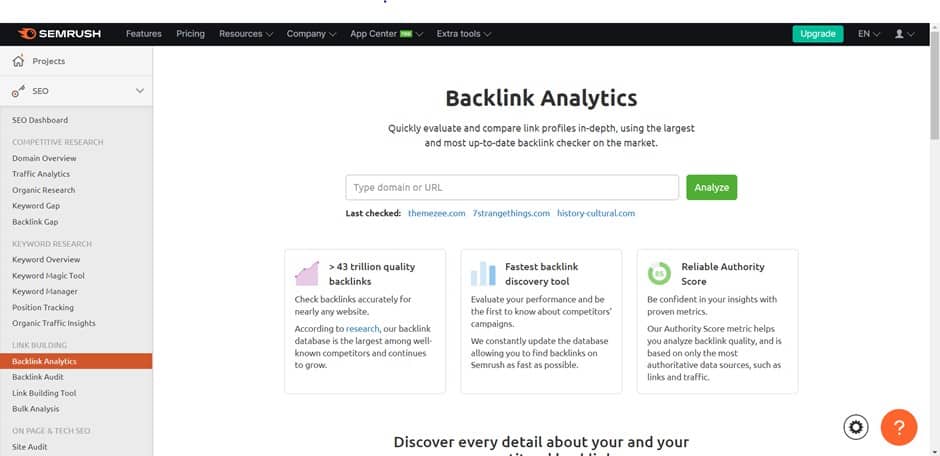 Like Ahrefs and Moz, SEMRush is an all-in-one SEO tool with its own Authority Score of 1-100. It uses backlink and search analytics to calculate your domain score in relation to the most authoritative domains in your niche.
SEMRush offers limited free access to their Backlink Analytics and Domain Overview tools. Using either you can enter your URL to see your Authority Score alongside other metrics. The closer to 100 your score is, the better your website's authority is.
SEMRush also offers a Bulk Backlink Analytics tool. By inputting competitor URLs you can see their Authority Scores and how yours compares.
You can register an account and find out your Authority Score for free. But for competitor comparison and more in-depth information, you need to purchase one of SEMRush's packages, which are quite pricey.
SEMRush offers a 7-day free trial with pricing starts at $119/a month.
#4 Majestic – Trust Flow

Majestic is yet another SEO and backlink analysis tool. They've created the trademarked Majestic Trust Flow, which provides sites with a score between 1-100. To create their Trust Flow score, the folks at Majestic manually collated a list of the most trusted seed sites on the web. Trust Flow then bases its score on a URL's degree of separation from these seed sites.
Majestic also provides a separate 'Topical Trust Flow'. This tool identifies your site niches and gives individual authority scores for each specific industry.
They allow one free search using their Site Explorer tool but there are no free trials currently offered. Pricing starts at $39.99 monthly for their Lite package, which makes Majestic the more affordable option than Moz, Ahrefs or SEMRush.
What Is A Good Domain Authority Score?
Clickhub reports the average domain authority score as being between 40 – 50. Sites around this number still have a good chance of ranking and are generally seen as decent, legitimate sources.
But a 50 – 70 domain authority score is better, indicating a solid website with good quality content. It means the website is well established and has proven its worth to Google.
70 – 89: The website is a topical authority in its niche. It has amassed a considerable number of backlinks and is likely to rank on the first page of Google for a sizable chunk of its target keywords.
90 – 100: These are super powerful sites, and ones you've probably already heard of. A backlink from a DA 90+ is considered highly valuable because they dominate the SERPs in their target niches and are the toughest competition to outrank. They win a ton of natural backlinks because they're considered to be well-known and reliable sources.
Examples Of High Domain Authority Websites
Using Ahrefs Domain Rating these well-known sites score as follows:
How Long Does It Take To Increase Domain Authority?
There's no definitive answer to this. Different factors will influence the speed at which domain authority grows (how valuable your content is, how much link-building you do, and so on).
At the time of writing this article, our site is 5 months old. We've been regularly producing content, i.e. at least one blog post a week and some link-building, for about 3 of those months. Our DR currently stands at 28.
Sure, we've got some work to do, but this indicates what's possible for a new blog in just 3 months. That's with only 19 articles and 80 referring domains, by the way.
So, what's the fastest way to increase domain authority?
In our experience, it's through high-authority backlinks, search-optimized content, and other tactics which we'll outline below.
How To Increase Domain Authority: 7 Ways That Work
All new sites start with a domain authority score of 0, which grows over time as you produce content and gain backlinks.
But there are a number of actions that'll help speed up the process:
1. Do backlink outreach
This is the process of reaching out to other website and blog owners to get links. The faster you build links, the faster your authority grows.
Remember, not all links are equal—you should aim to get links from relevant, high authority sites (ideally with a DA score of 50 or higher) in the same niche as you.
Links from spammy, low-quality sites should be avoided at all costs. Google recognizes links to these domains and can penalize you for using them.
For example, some sites exist purely for the sale and exchange of backlinks. These are easy to spot—they're what we like to call "everything and anything" sites. They typically cover tons of random topics (tech, entertainment, gaming, gambling, crypto, etc). A backlink from here is more likely to negatively impact your authority score, than help it increase.
But there are several ways to get high-quality backlinks through outreach such as:
Researching a site's broken links and offering to replace it with a link of your own (a technique known as "broken link-building")
Proposing to write guest post for the target site
Offering to pay for a link or sponsor a post
Offering a link exchange
Get a better response rate from your outreach by using our link-building email templates, which cover all possible link-building requests.
2. Hire a link-building service
Backlink outreach is time-consuming! There's a lot of back-and-forth, research, and content creation that may only end up resulting in one high-quality backlink.
If you don't have the time or people power to manage link building at scale, then you could team up with a link-building service.
This is an agency that manages link-building for you. They take care of the entire process from A-Z until a backlink goes live (including sourcing domains, email outreach and follow-ups, content creation for guest posts, etc.)
There are 3 types of link-building agency you can work with:
Digital PR and outreach: These leverage your existing content by targeting sites in your niche and seeking opportunities to increase awareness of your site.
Full-service content marketing agencies: These take on content production and use guest posting to build backlinks.
Network based services: These work by building a network of partner sites, which they then pay for link placements. These are looked upon less favorably as the quality of backlinks tends to be lower.
The downside is all these agencies charge fees that may be out of reach for individual bloggers.
3. Optimize your content for SEO
Although it can be done organically, there are plenty of tools that are highly useful when optimizing your content for search..
Purchasing a monthly subscription to SEO software, like SEMRush, or a content optimization tool, like Clearscope or one of its alternatives, is cheaper than using a link-building agency.
There are several steps you can take to optimize blog posts:
Doing keyword research before writing
Aligning your content with the search intent for your main target keyword
Checking the keywords competitors are ranking for and optimize your articles accordingly
Avoid producing duplicate content
Incorporate relevant questions from Google's 'People Also Ask' section
Keep sentences short and easy to read
Include relevant internal and external links
Optimize meta titles, meta descriptions and alt text on images
For an in-depth look at the above and more, check out our SEO checklist.
4. Natural link building
Natural links occur when you create high-value "link worthy" content. Other sites identify yours as an authority and subsequently link to you for more information.
The type of content that attracts natural links is:
Thought-leadership content offering unique insights
Reports, benchmarks, statistics
Free resources or templates
In-depth skyscraper posts
"Buzz" content to go viral (Digital PR link-building is based on this approach)
This is one of the hardest ways to naturally build your domain score. But if achieved, it's the most effective.
5. Improve page speed
Faster loading websites are ranked higher by Google. Improving your page speed increases your domain authority, site ranking, and user-friendliness.
There are a bunch of things that could slow down your site, including:
Using unnecessary plugins
Not using a caching plugin
Not optimizing your image sizes
Too many CSS files
The less tech-savvy blogger may need a developer to help fix these issues, but once you do, your domain authority (and page speed) should increase.
You can check your site speed and see a breakdown of issues for free using Googles' PageSpeed Insights Tool. It provides a separate desktop and mobile speed, which is essential as Google can give different SERPs depending on the device used.
6. Having a mobile-friendly website
Not having a mobile-friendly site will impact your overall Domain Authority. You can check your site's usability for free using Google's Mobile-Friendly Test tool.
Google is also working on a mobile-first index and sites that don't support these devices will not be included. As 61% of visits to U.S. websites in 2020 were via mobile, this will seriously impact your site's ability to rank.
7. Audit your link profile and remove toxic links
Good quality inbound links are essential to increase your rankings and Domain Authority score. But spammy or harmful links will have the opposite effect.
Good owners regularly check their site's health using an SEO audit tool. This will help identify any problems and allow you to remove links from dodgy websites.
If you can't remove them, then you can instead disavow them using Google Search Console. If you disavow bad links, Google then knows not to take them into consideration when indexing your site.
Got any other tips on how to increase Domain Authority? Let us know in the comments!