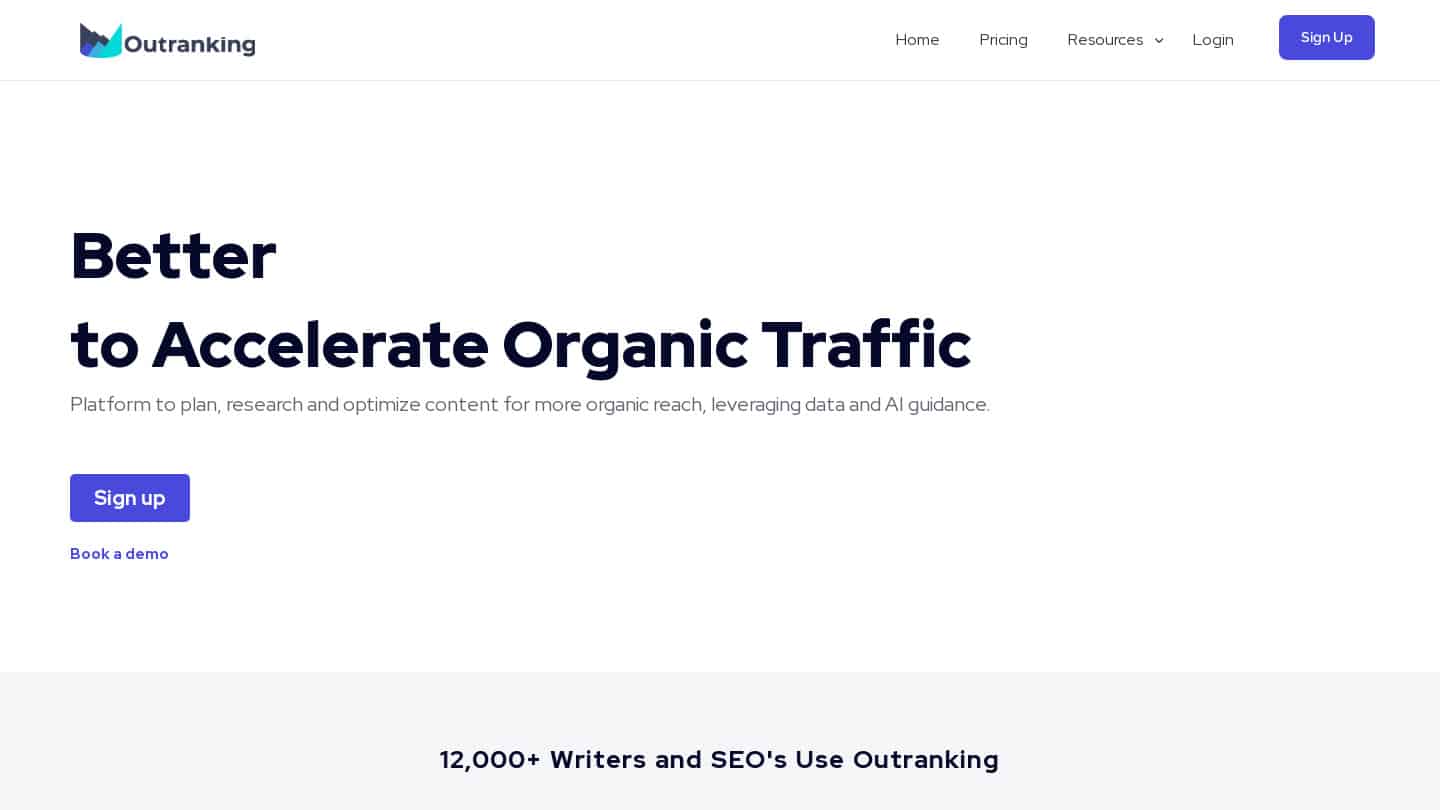 Researching, generating outlines, and writing optimized content costs you precious hours you can't afford to spend. That's where AI writing software comes in.
Using AI and machine learning helps to improve on-page SEO and content quality to ultimately outrank your competition.
Outranking.io is an SEO-based content creator used for content optimization. It can create new optimized content for your site or help optimize old content with its AI-driven content writing guidance.
Like most AI-powered copywriting software, Outranking uses Open AI's GPT-3. GPT-3 is a model that uses internet data to produce high volumes of machine-generated copy.
With Outranking, you can come up with headline variations, content summaries, and outlines to help with content ideation. This powerful AI writing software can save you time, money, and resources by creating engaging, ranking content in a matter of minutes.
In this Outrank.io review, we walk you through the software's features, pricing, and alternatives.
Our Opinion on Outranking
Outranking Pros &  Cons in a Nutshell
Pros
Professional-grade tools and services while keeping it beginner-friendly.
It gives clear step-by-step instructions for users to optimize their content.
There is a detailed SERP analysis tool.
Cons
There's a lack of variety for long-form content.
AI processing has a word limit on all plans except the most expensive one, Enterprise.
Outranking.io has no free plan options.
Feature Set for Outranking
1. Long-Form Content: One of the Main Pros of Outranking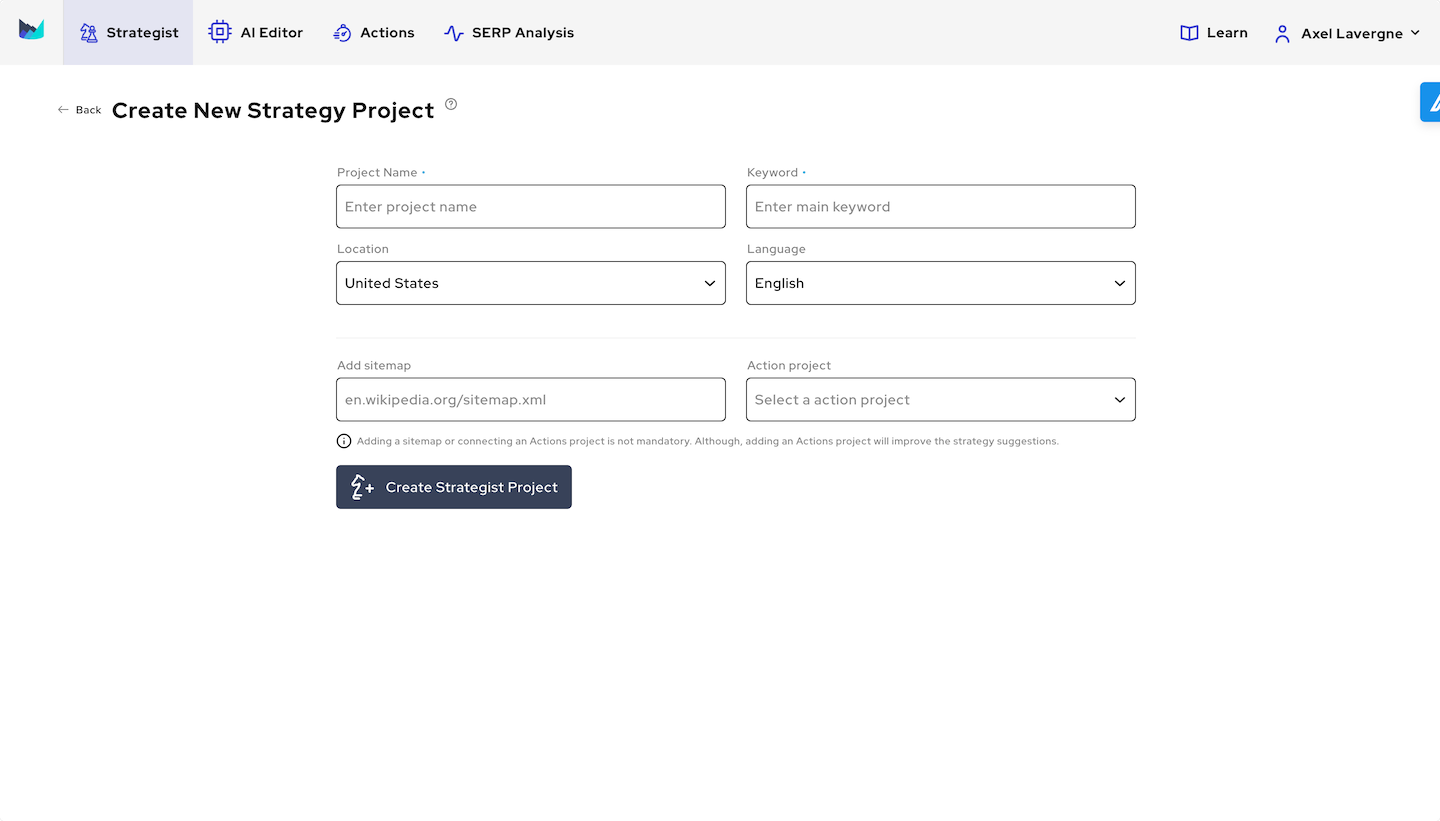 Outranking is one of the only AI writing tools out there that focuses on long-form content and does it well. Most other AI writing tools on the market focus on product descriptions, emails, digital ads, and other short-form content.
Outranking not only writes long-form content– it helps optimize it, too. Its AI Wizard helps users create titles, meta tags, and outlines that highlight reader intent, keywords, and SEO characteristics.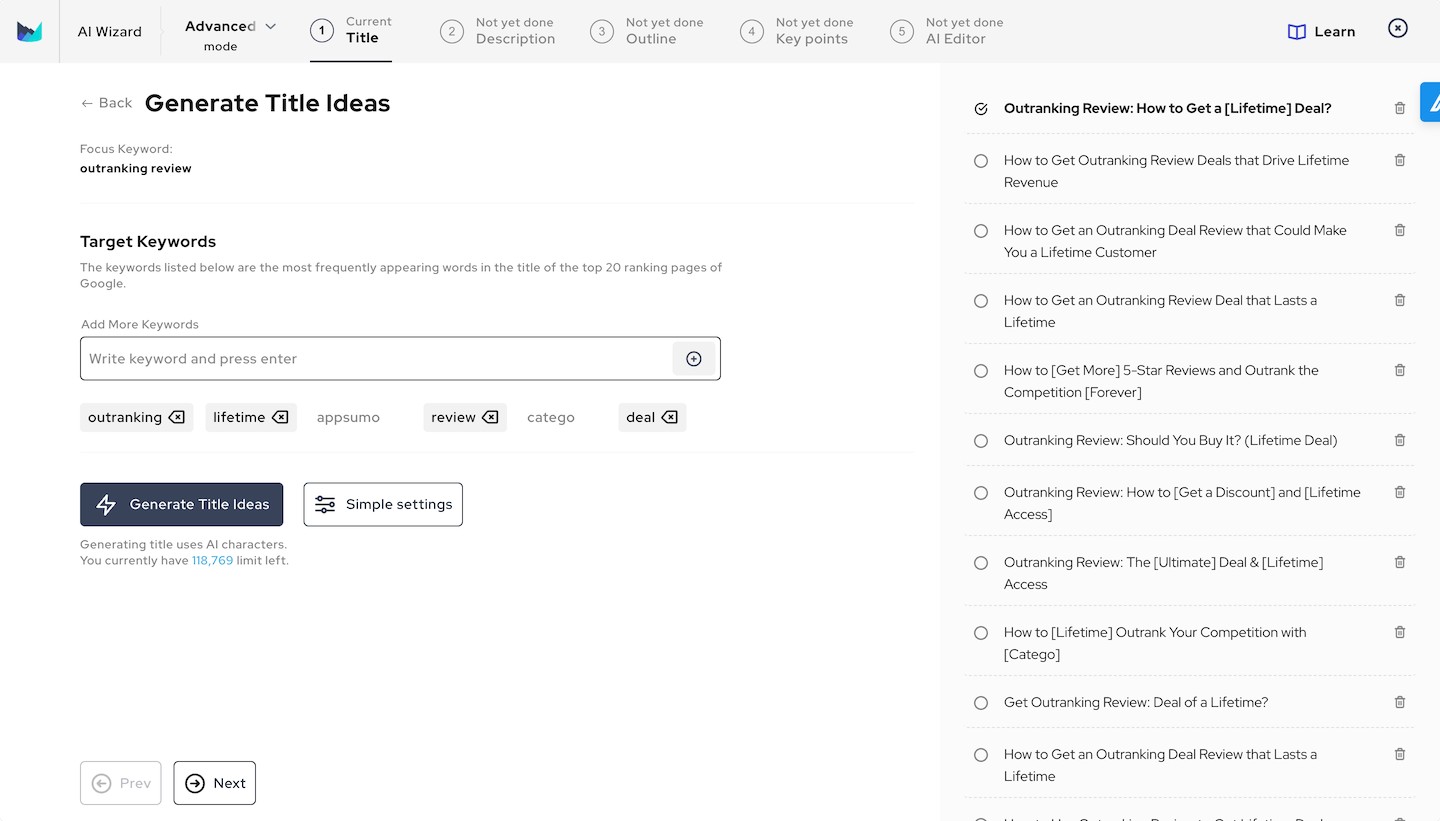 The AI Wizard takes you step-by-step through the content creation workflow. It will generate title ideas based on target keywords, making optimized title generation easy.
Outranking's workflow inexplicably generates a meta description before creating an outline. While this may seem counterintuitive, it can help focus your outline and writing.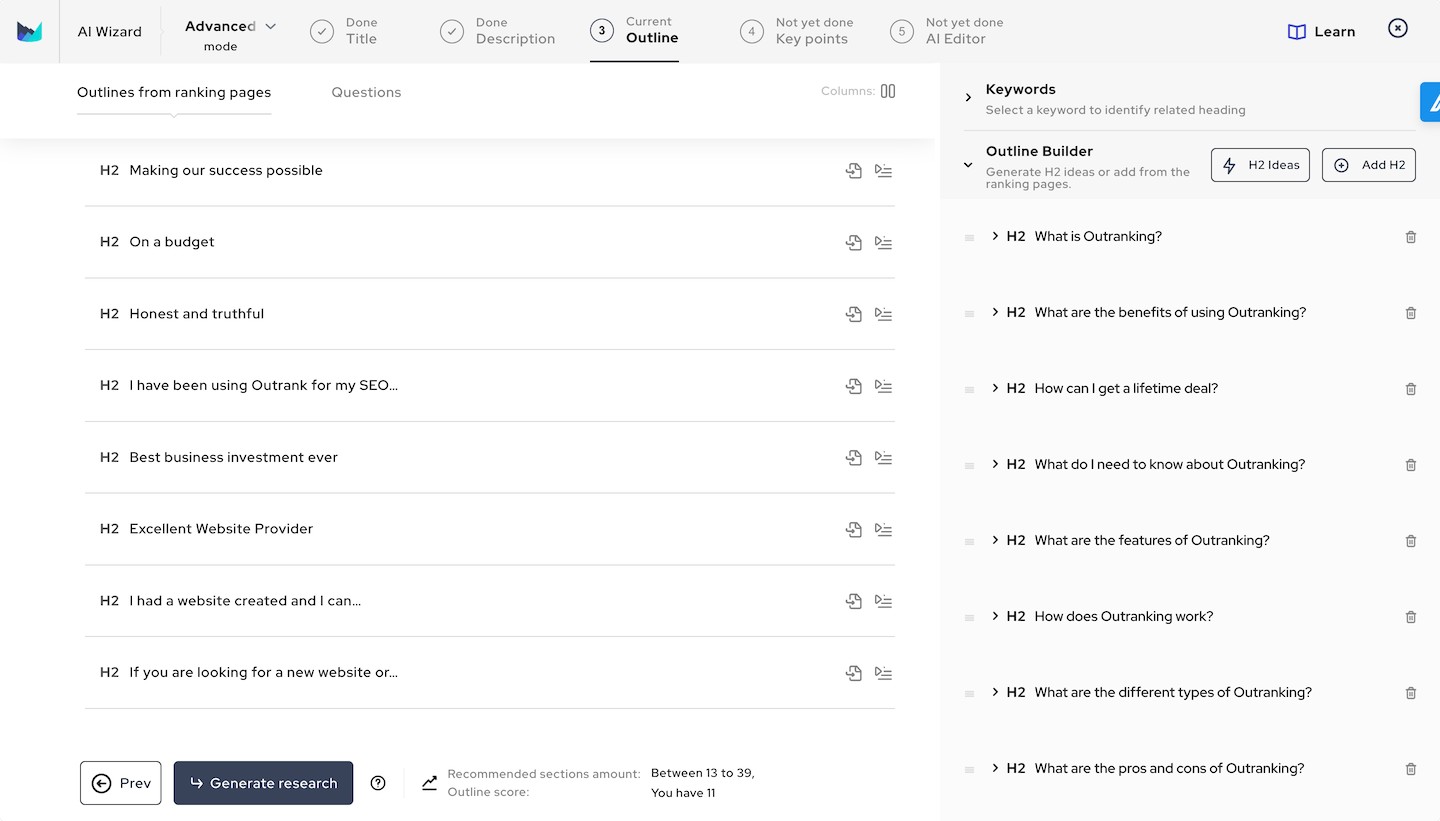 The outline generation tool is powerful and works pretty well. It will generate H2's based on top-ranking pages and has a feature where you can look at commonly asked questions related to your keyword.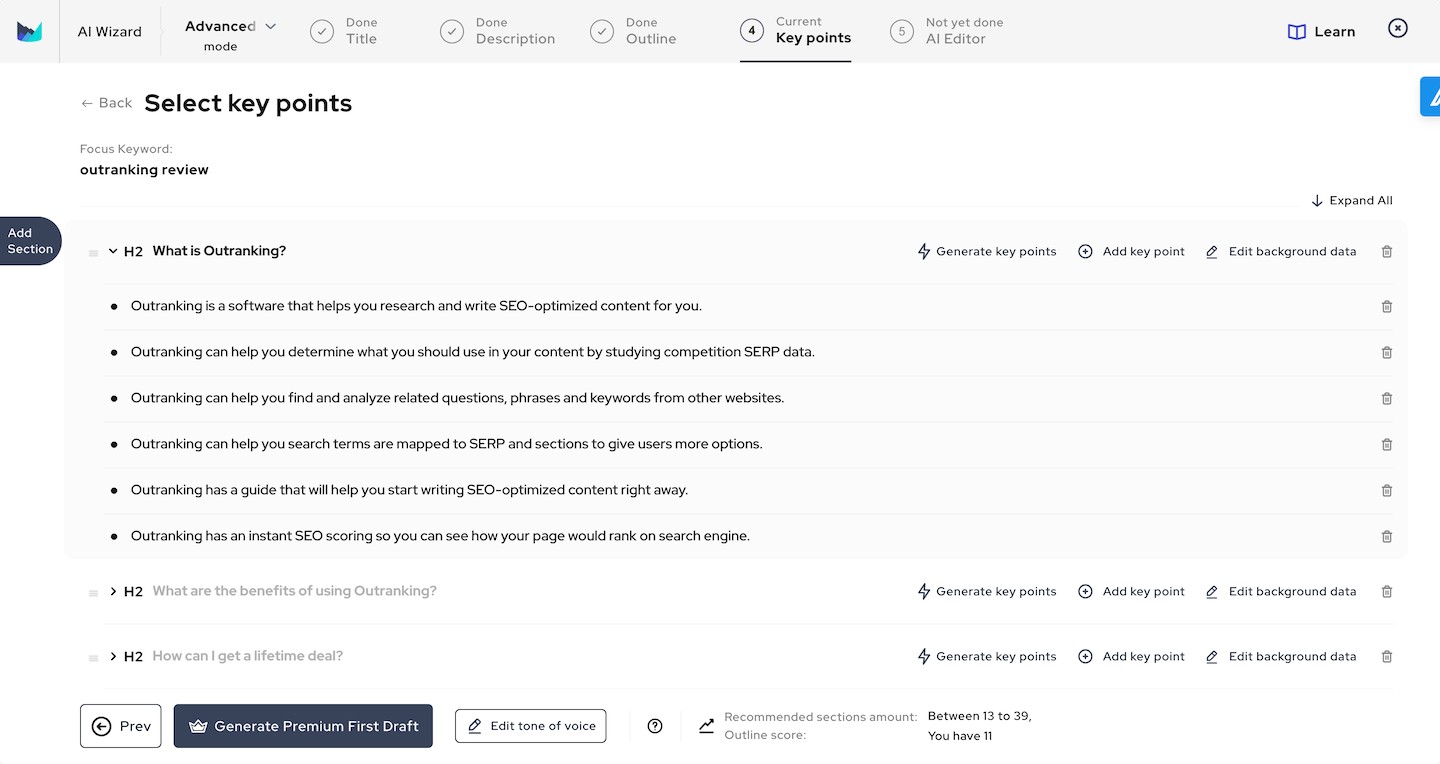 The AI Wizard takes long-form content planning one step farther with key point generation. Writing points are created based on generated H2s. You can edit background data or add your key points as well.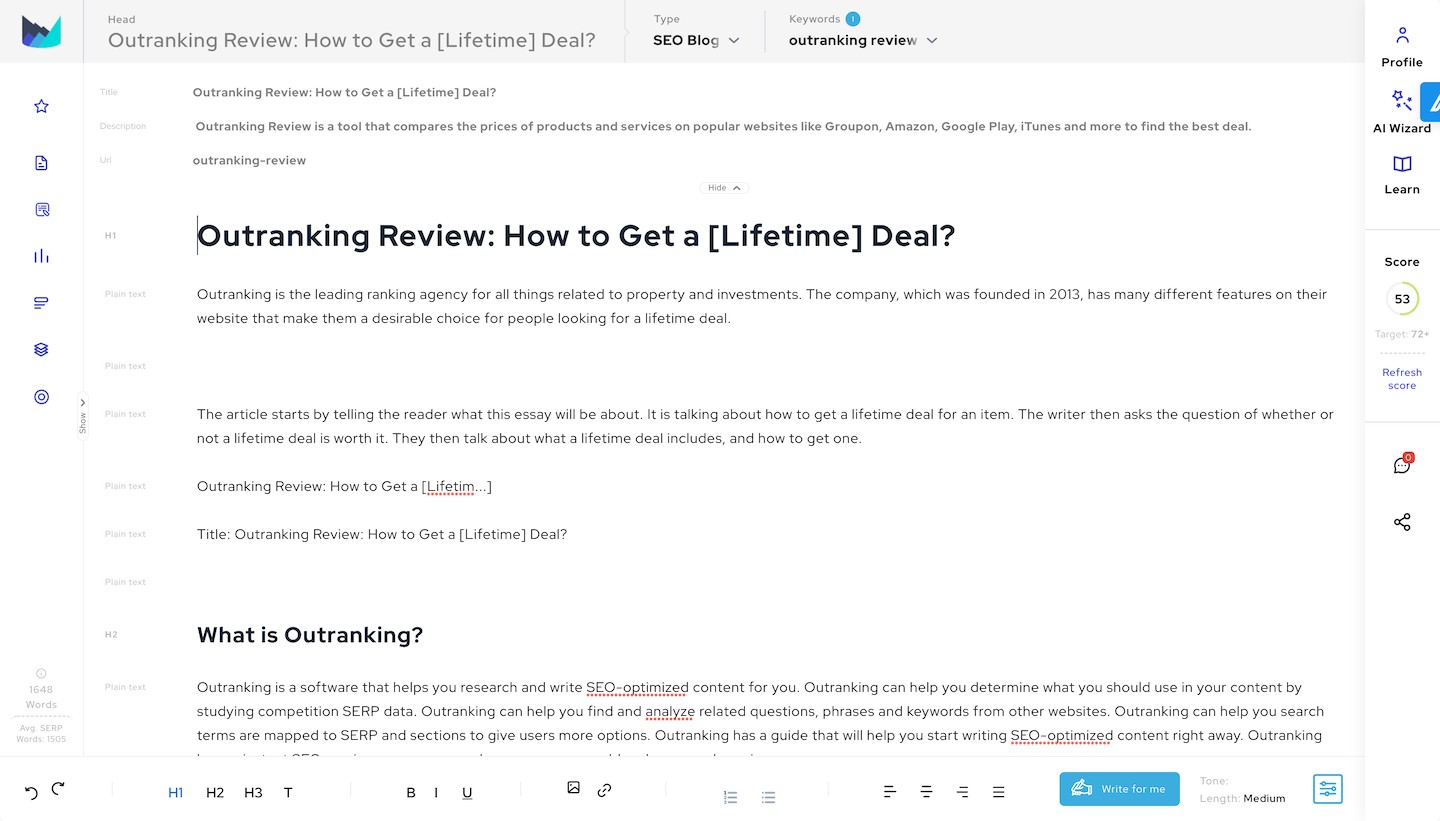 The final step of the content creation workflow is the AI editor. Outranking will generate a rough written version of your post, which you can go in and edit as necessary.
The SEO sidebar is easily accessible on this screen, so you can optimize as you edit.
The concepts feature also helps gather factual information for your content. This feature can save you a ton of time that would have been spent on independent research.
2. Content Templates
Outranking has templates for writing press releases, webinars, Ecommerce content, social media posts, and more. It also has templates to create briefs for writers, which is helpful for ideation and culling factually correct information.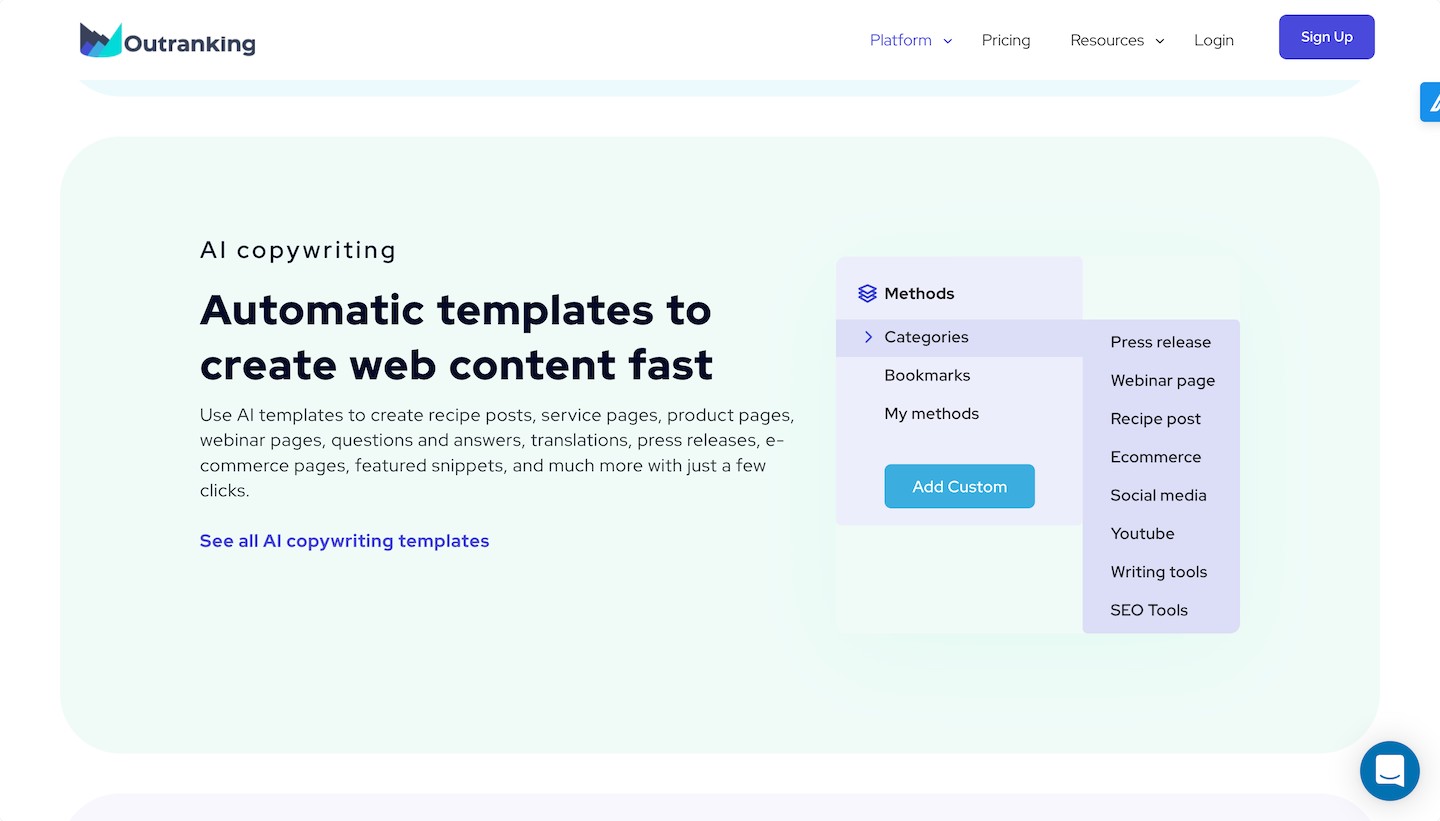 One drawback is that Outranking has a lack of different content styles. Different tones and informal writing styles are essential for short-form content. Other competitors on the market do it better, like Copy AI.
Copy AI offers a large selection of content styles, making it an appealing alternative. You can read more about it in our Copy AI review.
3. Ease of Use
Outranking is very beginner-friendly. It's easy to use, has a clean AI, and handles the workflow step-by-step.
The dashboard is easy to understand and approachable. Its interface makes collaborating on projects within a team very easy.
Outranking also has a comprehensive 11-step content optimization guide inside the "Content Creation" interface on the platform.
Overall, Outranking makes coming up with long-form and short-form content a breeze.
4. SEO
As you can guess from its name, Outranking helps with outranking competitors. The software comes up with SEO-optimized content and does SERP analysis, so you don't have to use another tool like Ahrefs or Semrush.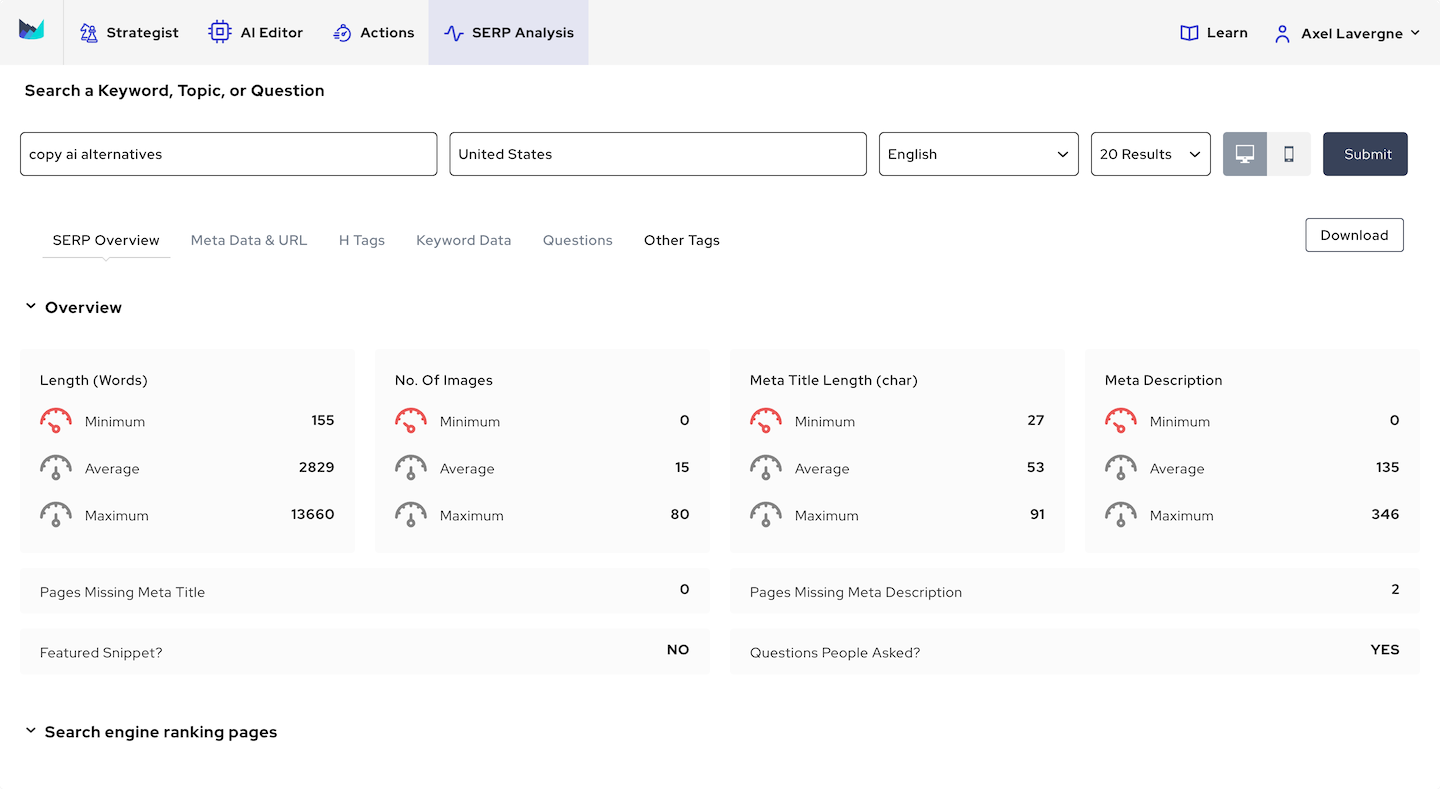 Outranking's SERP analysis gives an easy-to-understand overview of the top-ranking results for keywords, topics, or questions.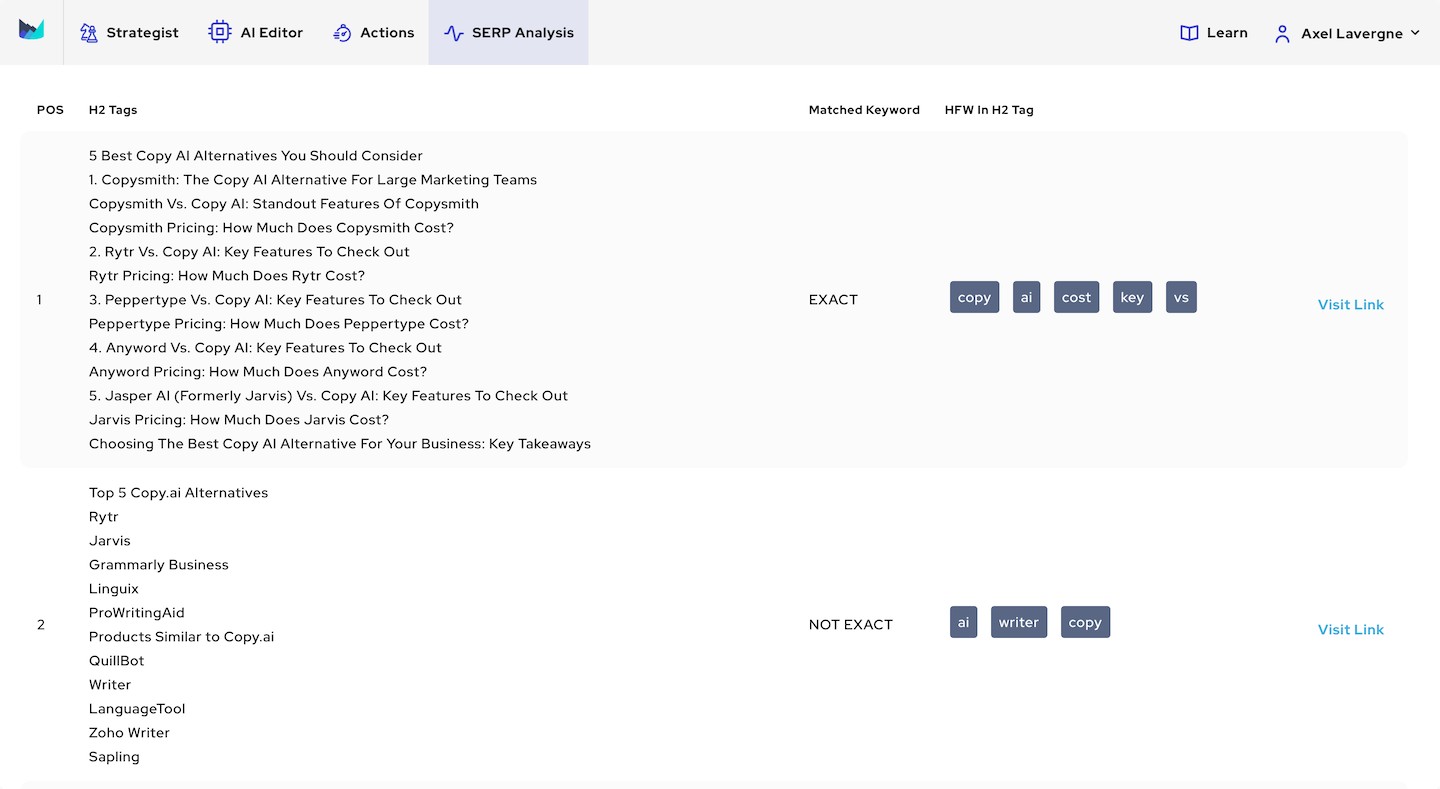 This tool also gives insight into the H2s that other top-ranking results are using. Using this data will make framing a post a lot easier.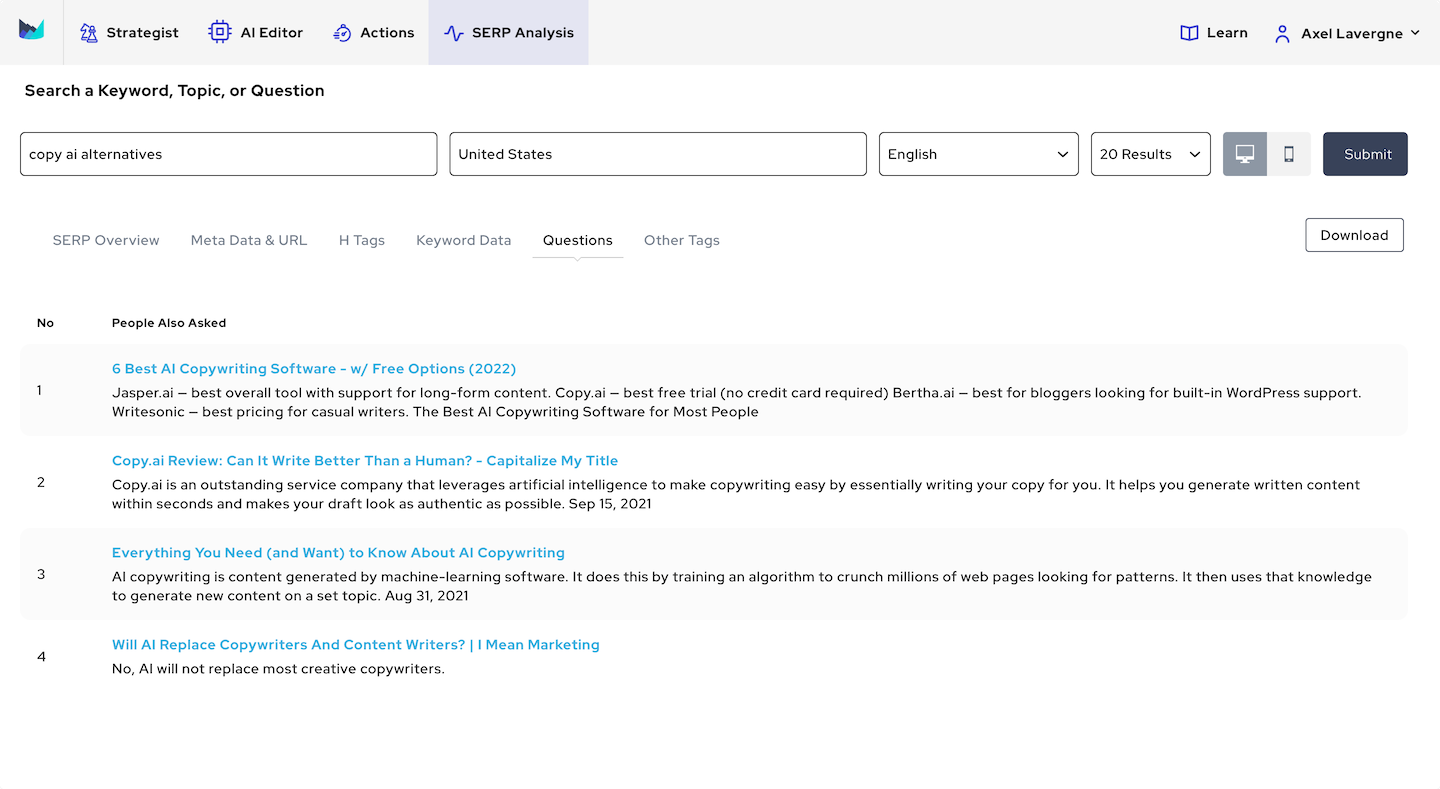 Conducting a SERP analysis will show similar searches and questions people ask when looking for a particular keyword. This valuable analysis helps focus your writing, and having answers to these questions in your post will help you rank.
Outranking's software will also create a meta title and description for your content.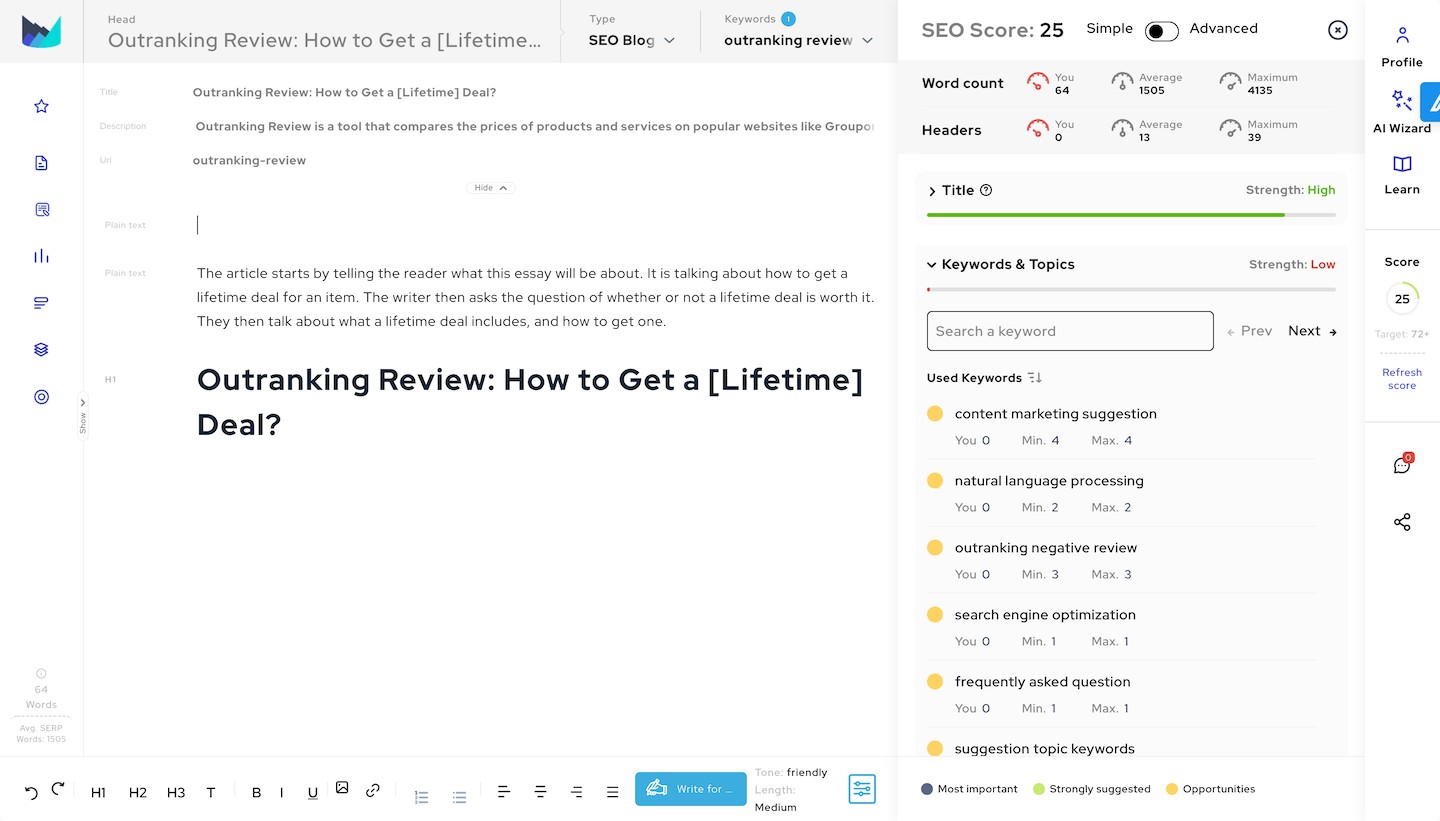 The SEO score, available on the sidebar feature, is Outranking's own metric that pulls all the information and statistics from the top 20 sites ranking for a given topic.
An overall score of 85 is considered good and will give you the highest chance of ranking.
Customer Reviews on Outranking
Pros for Customers
With Outranking, customers can efficiently create comprehensive content in a concise amount of time.
Price is on the lower end of the market compared to competitors.
Cons for Customers
Outranking needs very specific input data. Otherwise, your content may go off on a tangent and become largely incoherent or unfocused.
It doesn't work very well for languages other than English, which can be limiting.
Customer Support at Outranking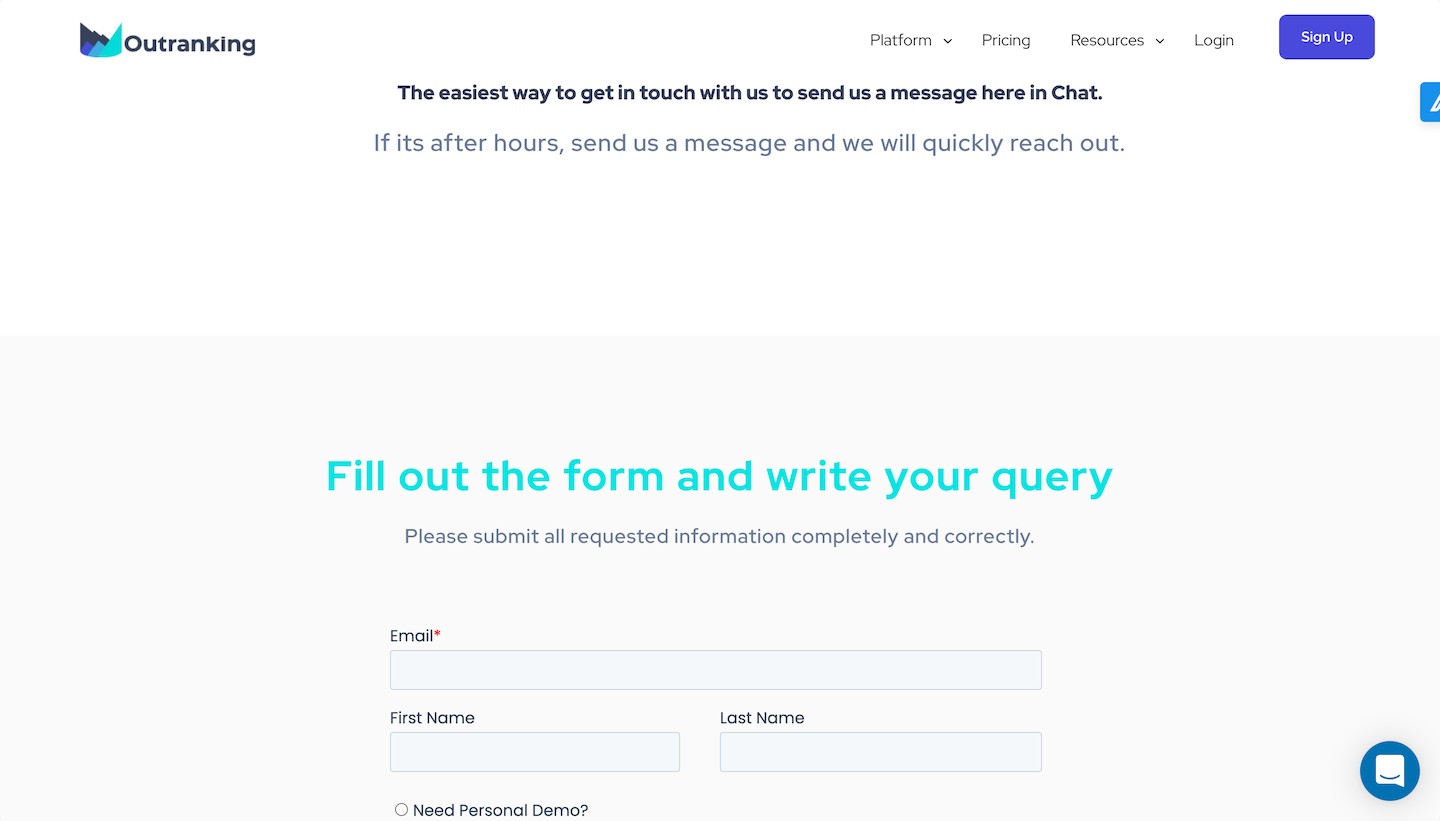 Outranking's customer support is decent; customers can reach them via email or live chat. If you enroll in the top-tier Enterprise plan, you also have a dedicated account manager.
Outranking also offers a lot of resources for users, including a weekly webinar to explain new features that are coming out. There is also a comprehensive blog full of videos, documentation, and an archive of past webinars.
No phone support is available for Outranking, which might be a con for people who prefer more direct person-to-person interaction when it comes to customer support.
Outranking Integrations: Our Opinion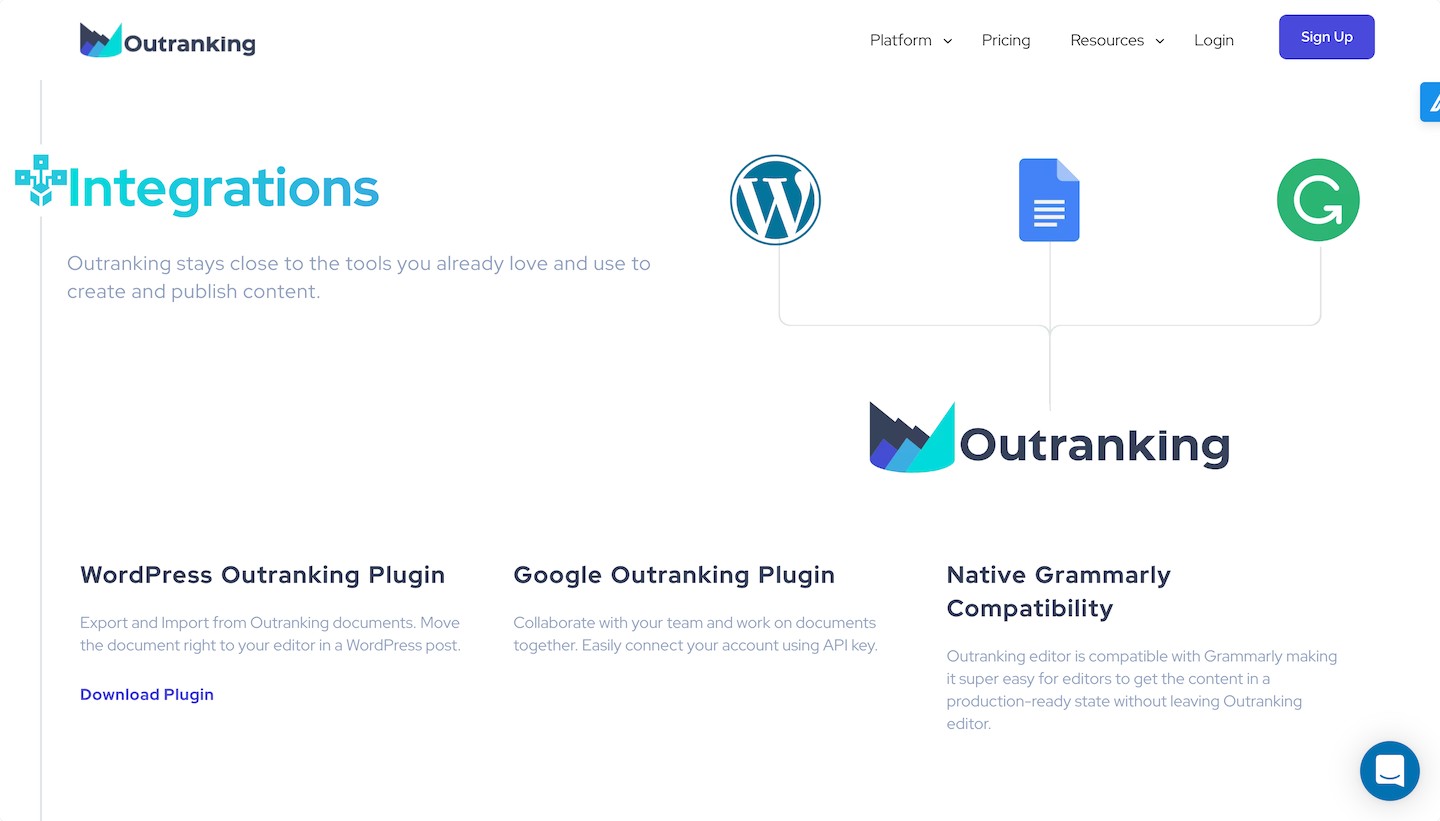 Outranking has integrations with Google Docs. It also has a WordPress plugin, so users can directly upload content from Google Docs to WordPress.
It's conveniently compatible with Grammarly's browser plugin, so it's easy to eliminate mistakes while reviewing generated content.
Outranking lacks when it comes to integrations with email, social media platforms, and other software focused on short-form content. Compared to its competitors, it doesn't stack up in this regard.
Outranking Pricing Plans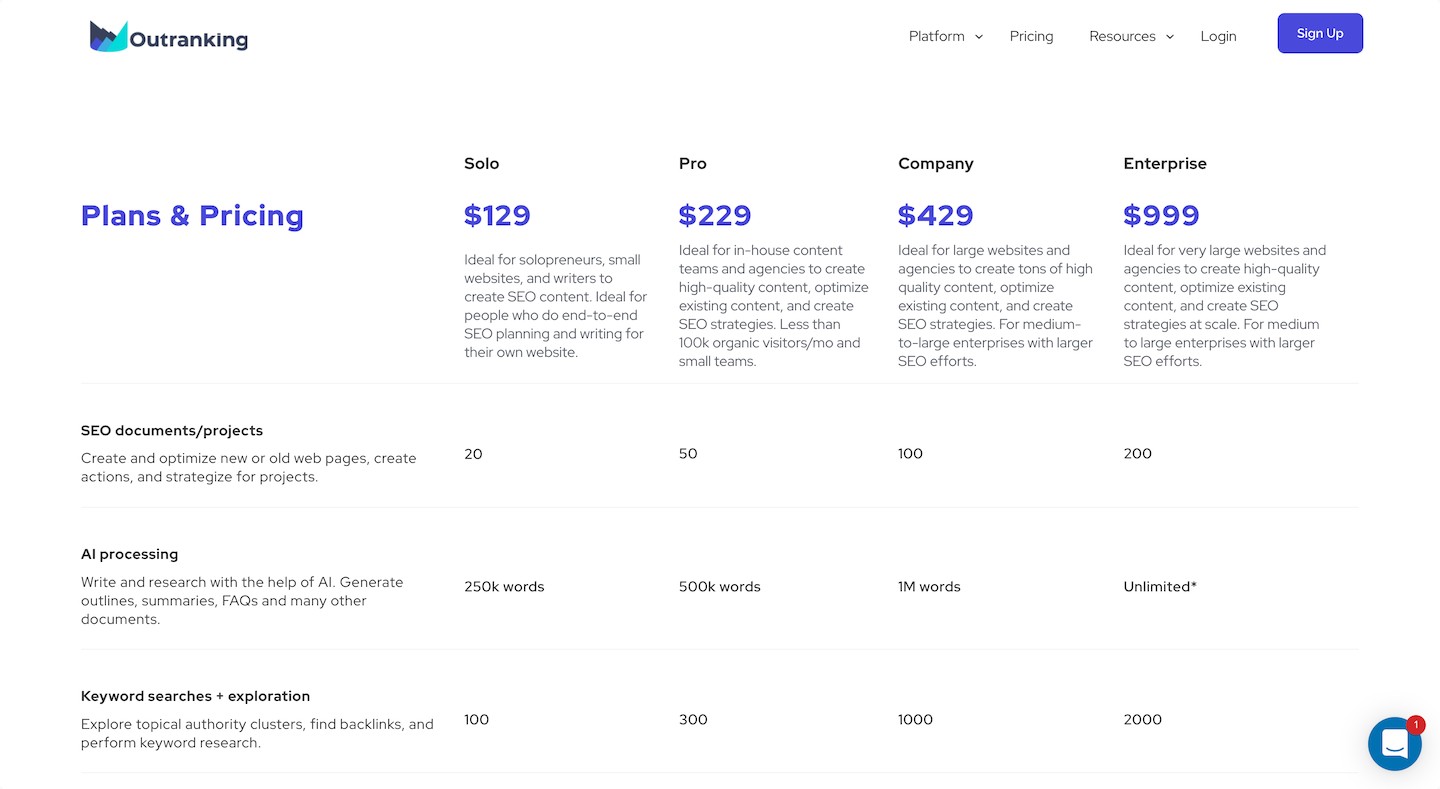 Outranking offers several plan tiers based on business size and scale.
Their Solo plan ($129/month) is best for solopreneurs and gives you access to their AI processing, SEO documents/projects, and keyword search tools. Plan prices go up from there with Pro ($229/month), Company ($429/month), and Enterprise ($999/month). More Outranking features and capabilities are available the higher you go.
A drawback of Outranking is its lack of a free plan option. There is a 7-day money-back guarantee if you decide to cancel within a week of signing up, but you have to contact customer support for that.
Outranking is on the cheaper side when compared to its competitors, like Copy AI and Jasper, making it an accessible option for solo creators or new businesses.
You can try Outranking through our affiliate link. Use coupon code: OUTRANK50 for 50% off the first month.
Outranking Alternatives to Consider
When looking for alternatives, it's crucial to consider feature sets, pricing, and content options. Look out for features that aren't up to par with Outranking, such as integrations, templates, and a lack of varied content.
If your use case is more focused on short-form content, it might be worth paying for a different tool.
Outranking vs. Jasper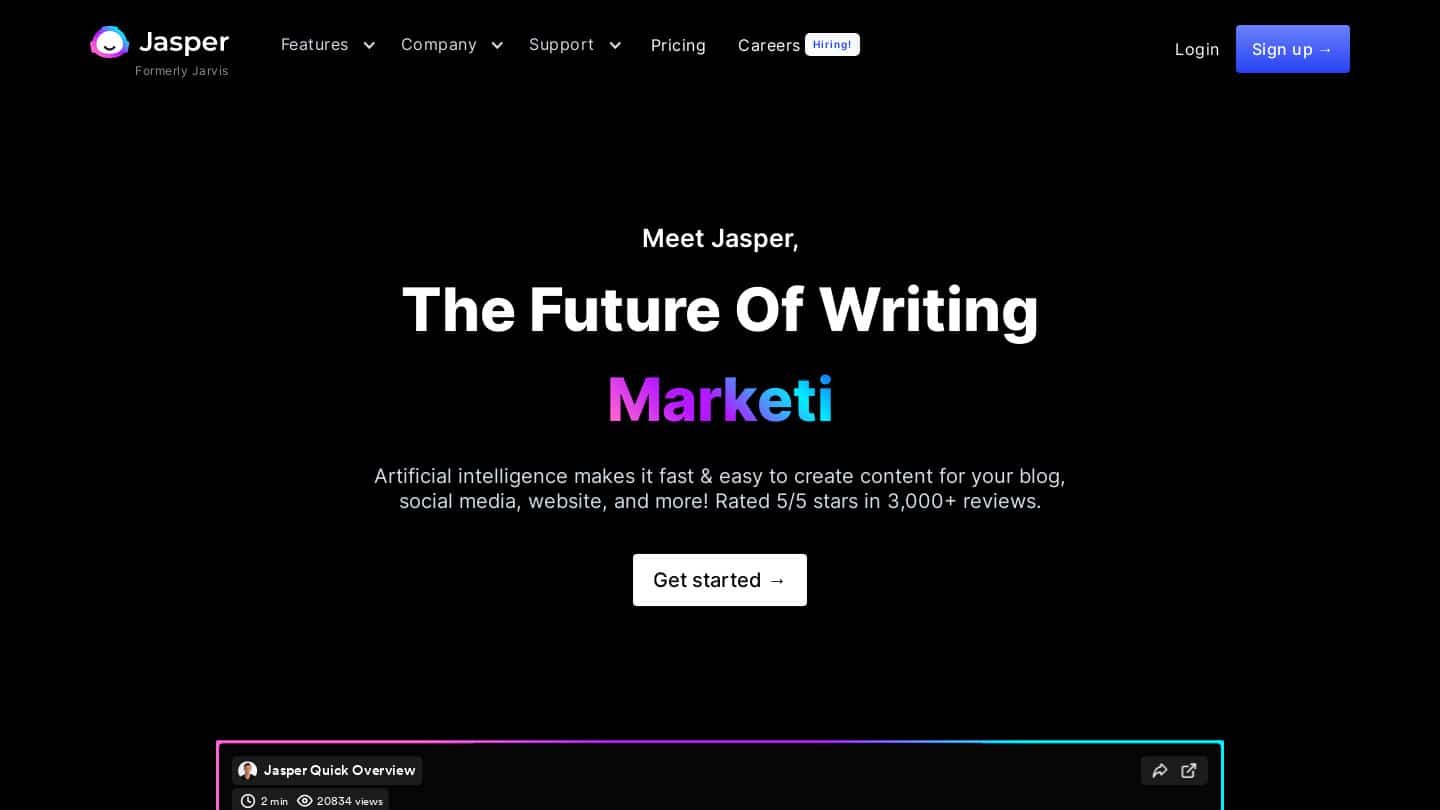 Both Outranking and Jasper do long-form content pretty well. However, Jasper's AI processing is only available with the Boss Mode plan, which can get pricey.
Jasper doesn't have built-in SEO functionalities like Outranking, but it does integrate with Surfer SEO, which is a decent alternative.
Unlike Outranking, Jasper does not provide content briefs. This can be a significant drawback depending on your use case. Outranking generates SEO content briefs using SERP analysis, making it a valuable tool.
Outranking vs. Writesonic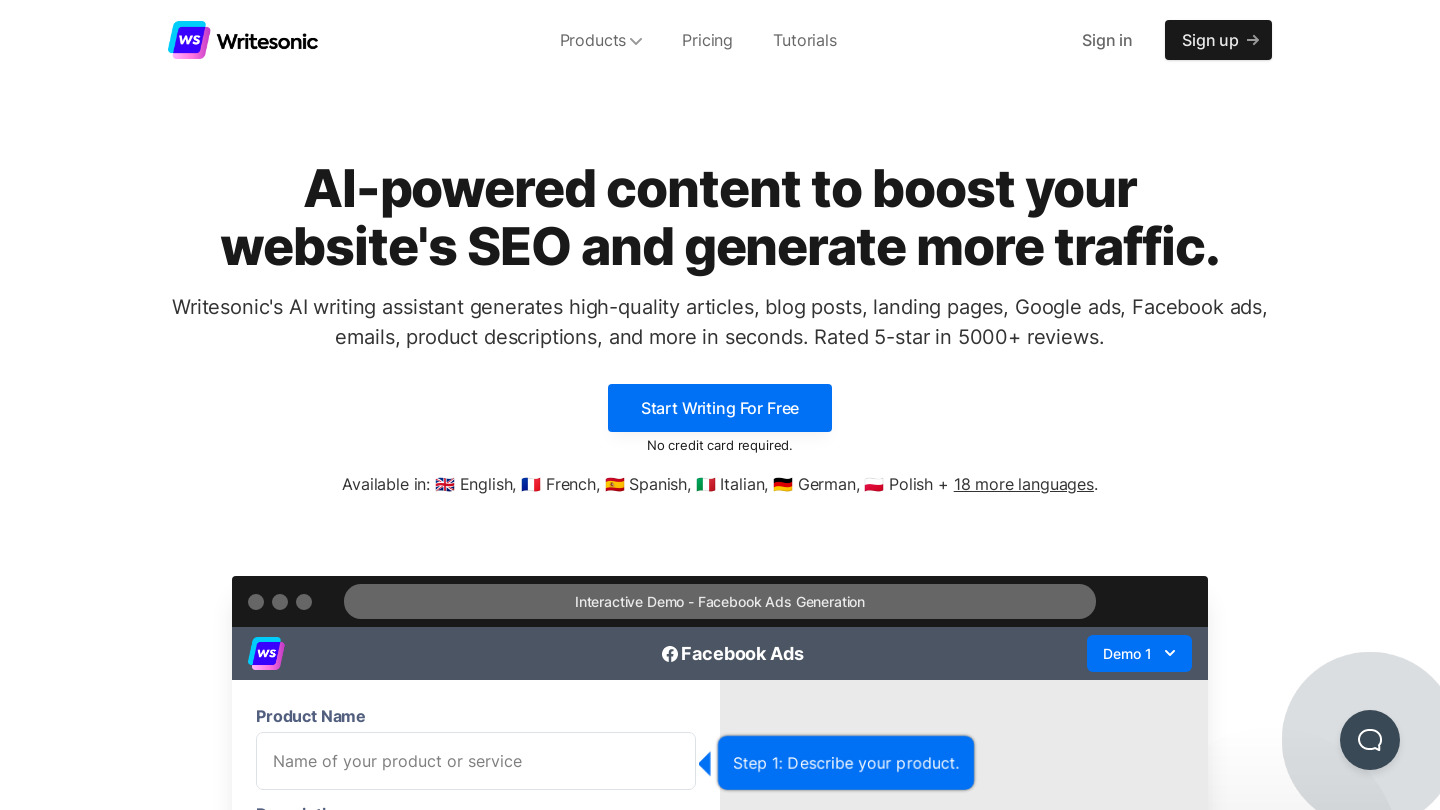 Writesonic is cheaper than Outranking and has similar tools, making it one of the most affordable products on the market.
It has 40 templates available, which is a lot more than what Outranking has to offer.
Writesonic is limited when it comes to 3rd party integrations, much like Outranking.
Outranking vs. Copy AI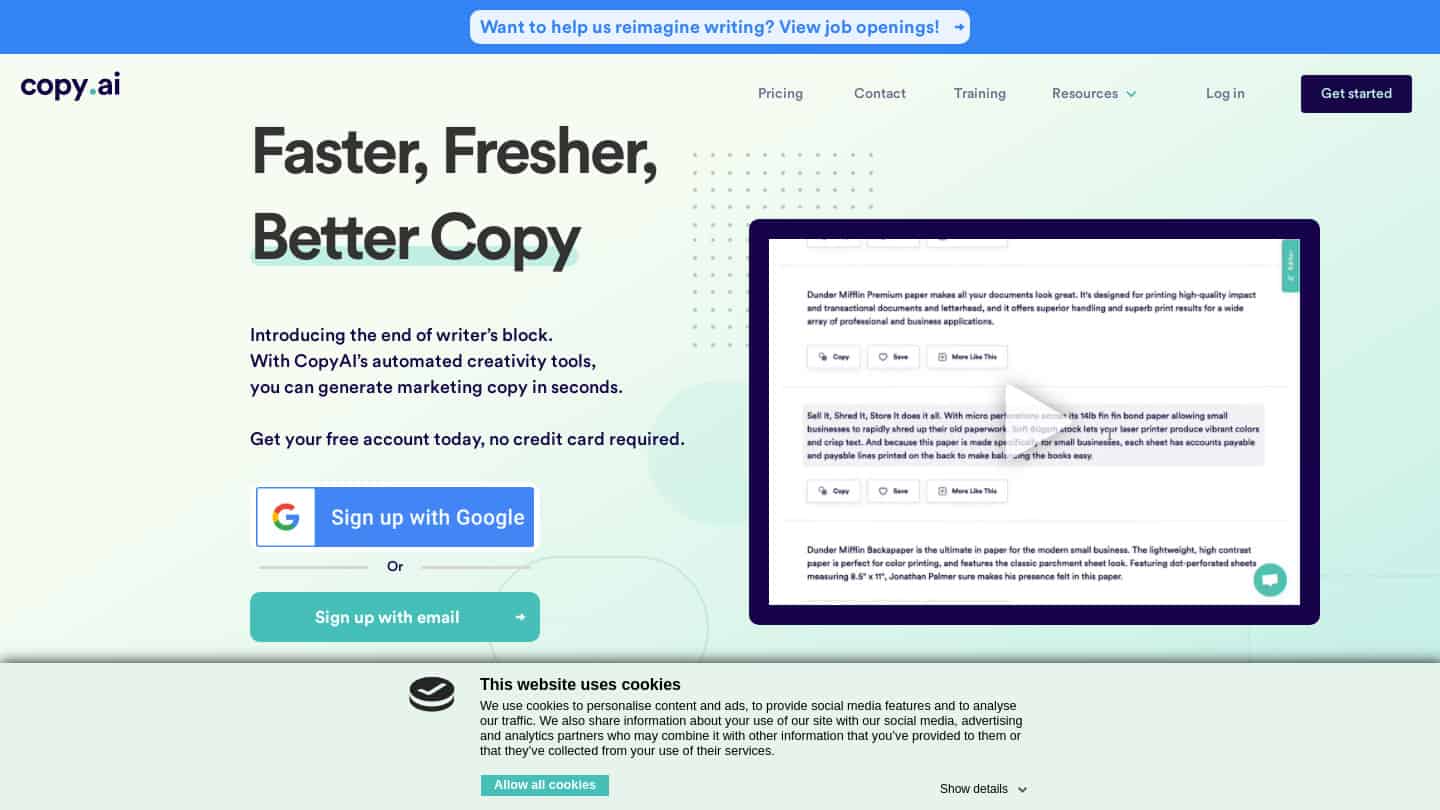 Copy AI offers a broader range of templates and writing styles than Outranking, making it a great tool for short-form content.
Outranking is one of the best Copy AI alternatives when creating long-form content since this is where Copy AI falls short.
Outranking also offers SEO features and integrations, unlike Copy AI. Overall, Outranking provides more features for a better price.