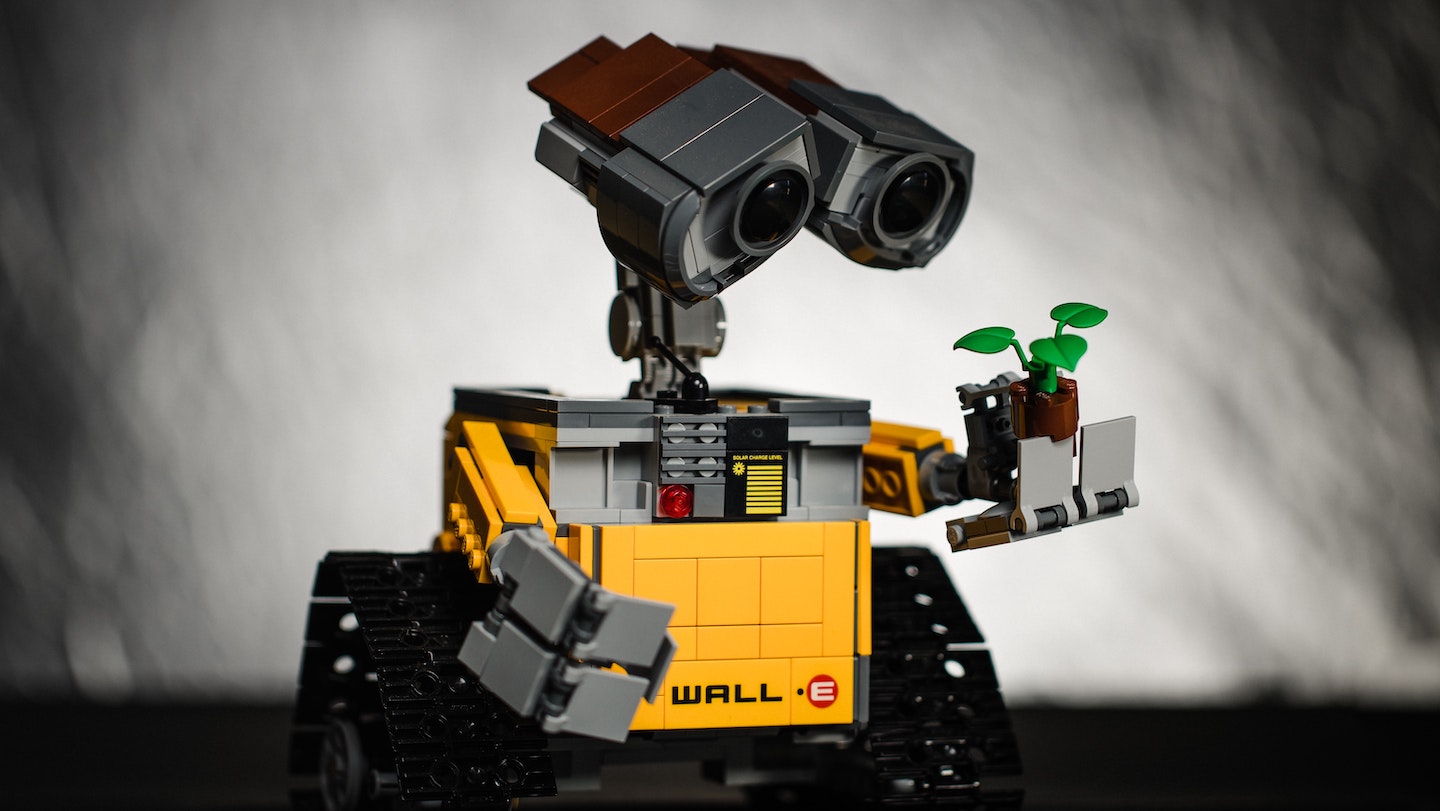 Top ten AI writing tools: comparison table
What AI Writing Tools Are Used For
AI writing tools are great for generating copy for ads or for title ideation. These tools also reframe bullet points into structured copy with established frameworks like the AIDA method.
This is particularly useful for sales copy, product reviews or for non-native writers as a means to achieving optimized, cheap copy.
AI writing tools also help you repurpose content into social media posts. AI writing tools can be used to turn a 'Top 10 Tips' listicle into 10 tweets or engaging LinkedIn posts, maximizing your content distribution reach.
You can formulate answers to precise questions based on Google's 'People Also Ask' section on their results page. It can be useful to at least partially automate a presence on platforms like Quora.
AI tools can also create SEO optimized paragraphs based on both precise & extensive bullet points which is handy for writers.The main limitation, however, is that AI writing tools tend to produce factually incorrect information. 
You also need to know what you want to write, which requires research—the research component is definitely the most expensive aspect of long-form SEO blog posts.
There are some tools that are trialing the use of AI to decide what to write for you. The best we've found so far is Outranking, although its scope for this still is fairly limited. Frase.io and Surfer SEO don't come close.
What to Look For in Copy.ai Alternatives
Copy.ai was first released in 2020 and its inception sparked a huge impact on the content industry. But Copy.ai has its limitations, and several viable alternatives have appeared which capitalize on one or more of Copy.ai's shortcomings. Namely, there are alternatives that offer much more in the following areas where the original tool falls short:
Integrations with other key tools;
In-app collaboration;
Multiple content types available in workflows and templates, specifically long-form editors; 
Other languages available;
Competitive pricing options;
The Content Quality Myth
Though they all advertise cutting-edge custom AI algorithms, each of the tools we cover here use very similar open source technology: Open AI's GPT-3. In short, GPT-3 is a model that uses internet data to produce huge volumes of machine-generated copy. 
Some AI copy programs advertise a custom-built model that works in addition to the GPT-3 model. We'd expect this to be only a minor improvement to the base model. 
Running a custom model requires a huge amount of data, and would likely still lead to an output that GPT-4, when it comes out in 2023 or 2024, will easily trump. 
In truth, each AI writing tool likely just uses a variation of the original GPT-3 algorithm, so the content quality you'll see will be fairly consistent across the board. This assumption definitely held up in our testing. 
The one area in which these tools do vary is how inputs are submitted, and given the effect that obviously has on the output, finding the right tool may be a case of working out what input your current processes can provide. 
1. Copy.ai: Where it's a Good Fit, and Where it Falls Short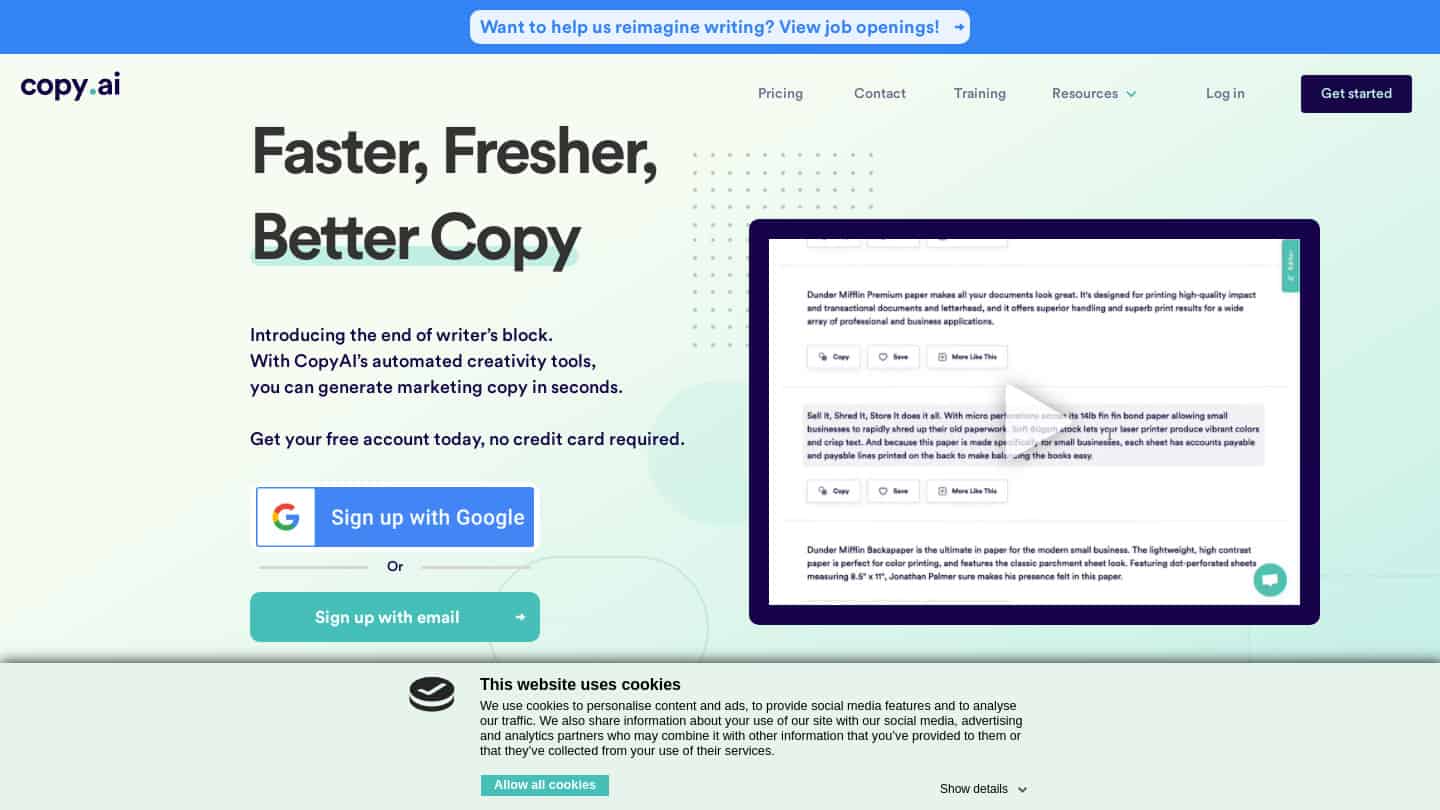 In terms of benefits, Copy.ai offers a good range of content generation options including product descriptions, ad copy, website copy, email and sales copy, as well as brainstorming and personal tools.
Copy.ai also supports 25 languages. While most of the languages on offer are European it also supports Chinese, Russian and Japanese, giving you a range of options to choose from.
It has a 'Free Forever' plan that comes with 10 free credits per month. The Pro Plan comes with unlimited credits and the pricing starts at $35 per month.
The Chrome extension also has potential to be useful, although you still need to feed in all required information manually and select an output. If you're in the process of writing and looking for inspiration then this could be handy, but we were hoping for a bit more from this feature.
Long form content is where Copy.ai begins to fall short, however. The bullet point to paragraph development tool often adds unnecessary filler words, or goes in a completely different direction than you want it to. The result is an often less qualitative output compared to the input.
There also aren't any real native integrations, aside from the Google Chrome extension which allows you to pull up the Copy.ai interface when working on another tool, like Google Docs.
Additionally, whilst it does offer organizational tools to build folders and to organize your content generation, you'll need to get in touch with the team to access its collaboration features as they're not available on the standard plan.
2. Copysmith: Built for Ecommerce Content Generation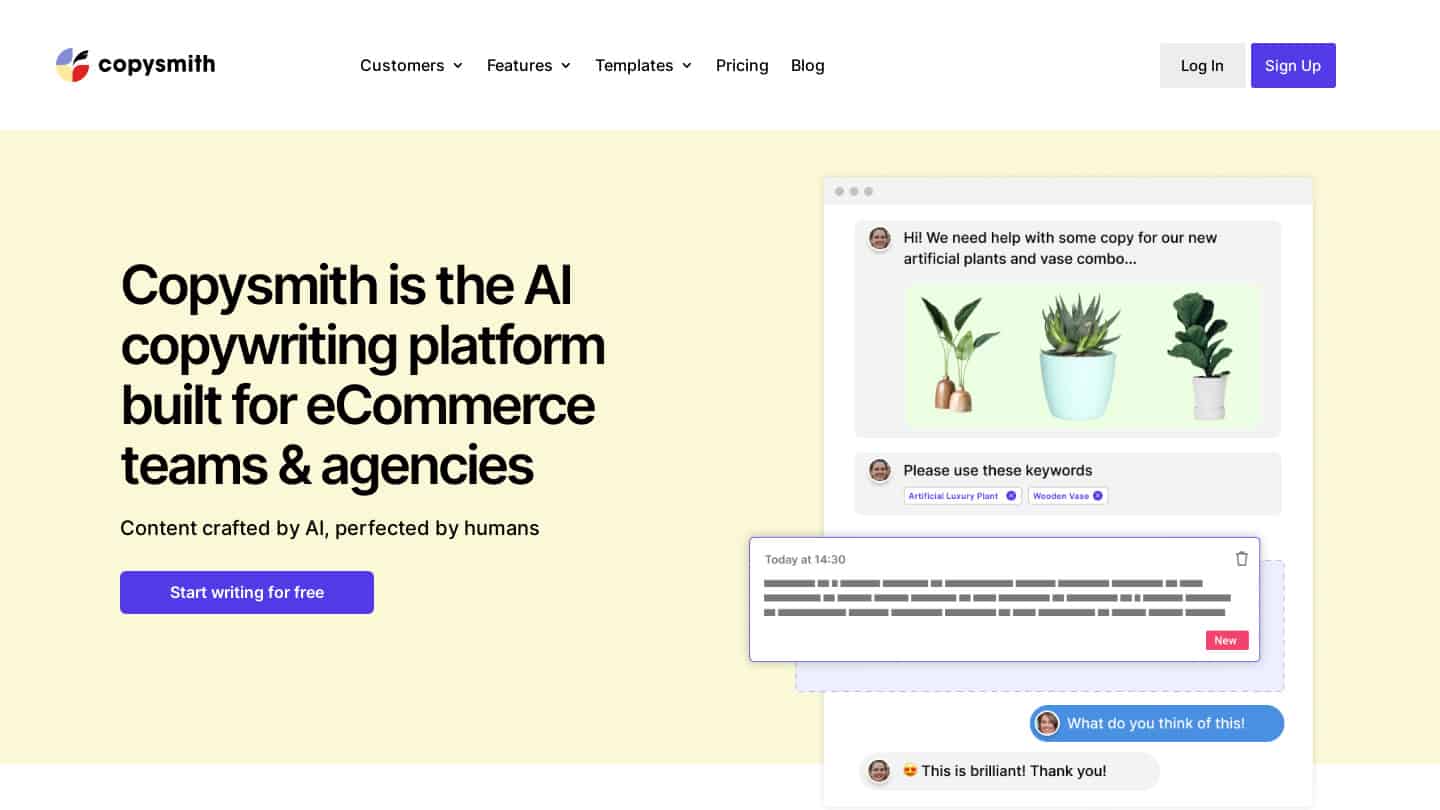 The integrations on offer from Copysmith offer a distinct comparative advantage for ecommerce.
The Shopify and Woocommerce integrations pull your product feed directly into Copysmith. All you have to do is add a few keywords and basic description and Copysmith will generate thorough sales-optimized copy. 
You can then choose a suggestion to update a product description in one click directly on your website.
Copysmith allows you to both generate and launch new ad groups and copy directly from the tool itself. This includes headlines, descriptions and even A/B tests, so the content optimization process becomes a lot easier. 
Frase is a Clearscope alternative for SEO optimization. The integration brings this valuable information inside Copysmith to optimize AI generated content, which works particularly well for keyword density. 
You can send inputs programmatically to Copysmith over Zapier or their open API and get the outputs sent back to your own program. This can be helpful for some specific cases, most of which revolve around content spinning with their built-in plagiarism check—we advise to use this feature with caution!
There are some good collaboration features available in Copysmith, particularly the team workflow feature. You can add a content piece to a workflow and assign it to someone. This helps put your content plan into action by breaking down content publication into stages.
Copysmith supports a huge range of languages, many more than Copy.ai.
Pricing starts at $19 per month, with 50 credits per month and 20 plagiarism checks (for reference, 1 credit can generate you around 400 words). The next plan starts at $59 per month for up to 400 credits per month.
3. Jasper (formerly Jarvis): for Longer-Form Content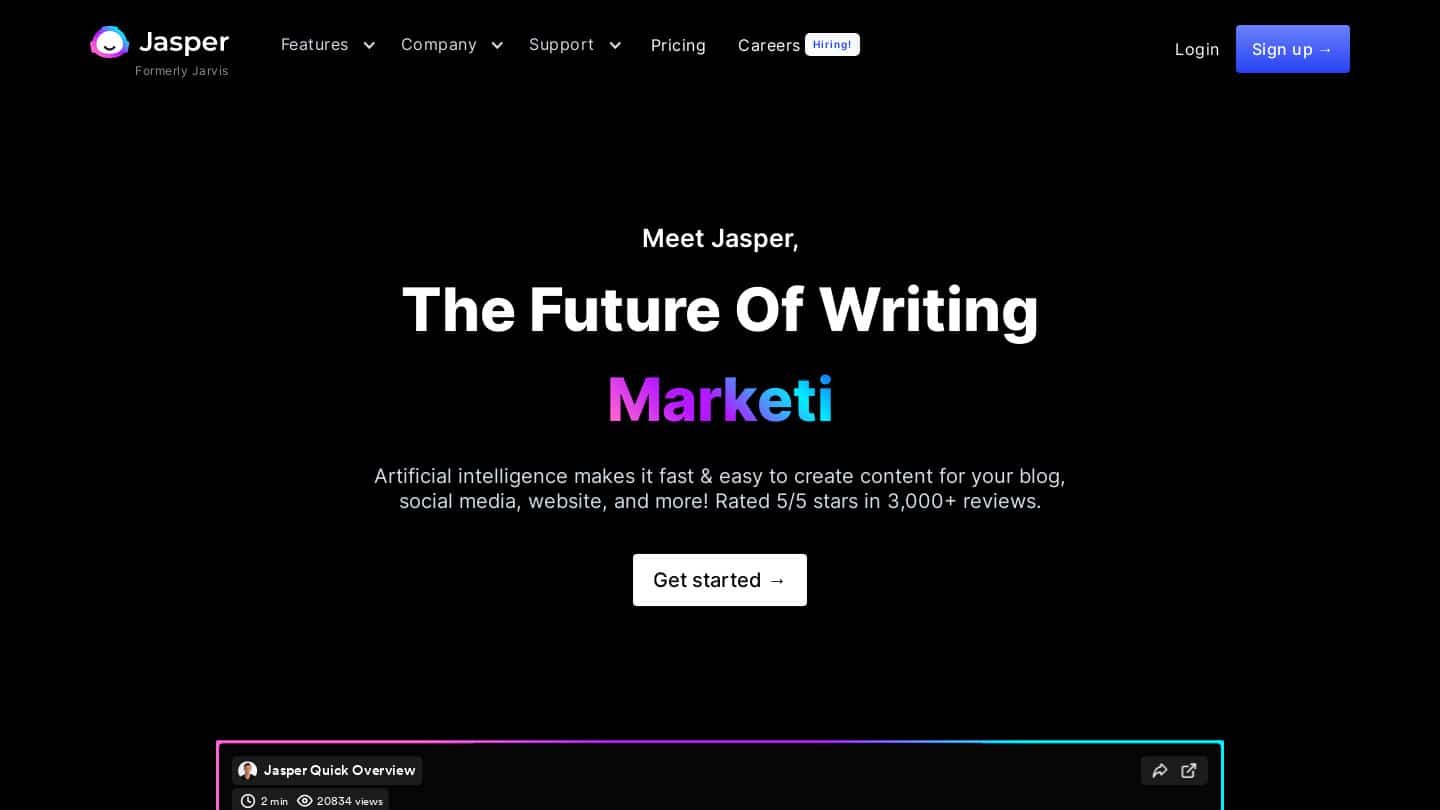 The key feature of Jasper is its long-form content editor which is great for bloggers—it helps you write entire articles from just an outline and some concise bullet points. Jasper then expands on that content one bullet point at a time to create a complete blog post. 
You'll need to be careful using Jasper, though, because the tool will often write factually incorrect copy, which can obviously lead to a blog post filled with incorrect statements. 
Jasper does integrate with Surfer SEO, a tool that claims to automate optimized brief and outline production. We did try it ourselves, and unfortunately we found the results to be disappointing. 
If you're working in any remotely competitive market, the Surfer SEO integration isn't likely to impress you. The best use of this integration would be if you're looking to fit thousands of pages with 300 words to help with indexation issues.
Jasper supports 25 languages, and it also boasts a range of templates for short-form copywriting to help you produce the best piece of content.
Jasper's pricing is based on word count rather than the number of content generations, which is in line with its focus on long-form content. There are three pricing plans, from the Starter Plan to the 'Boss Mode' plan.
The Starter Plan starts at $29 per month for 20,000 words, but we'd recommend the Boss Mode plan for long form content production which allows up to 50,000 words for $59 per month. You can also adjust the pricing based on exactly how many words you'd like too—useful!
4. Outranking.ai: For Bloggers & Website Content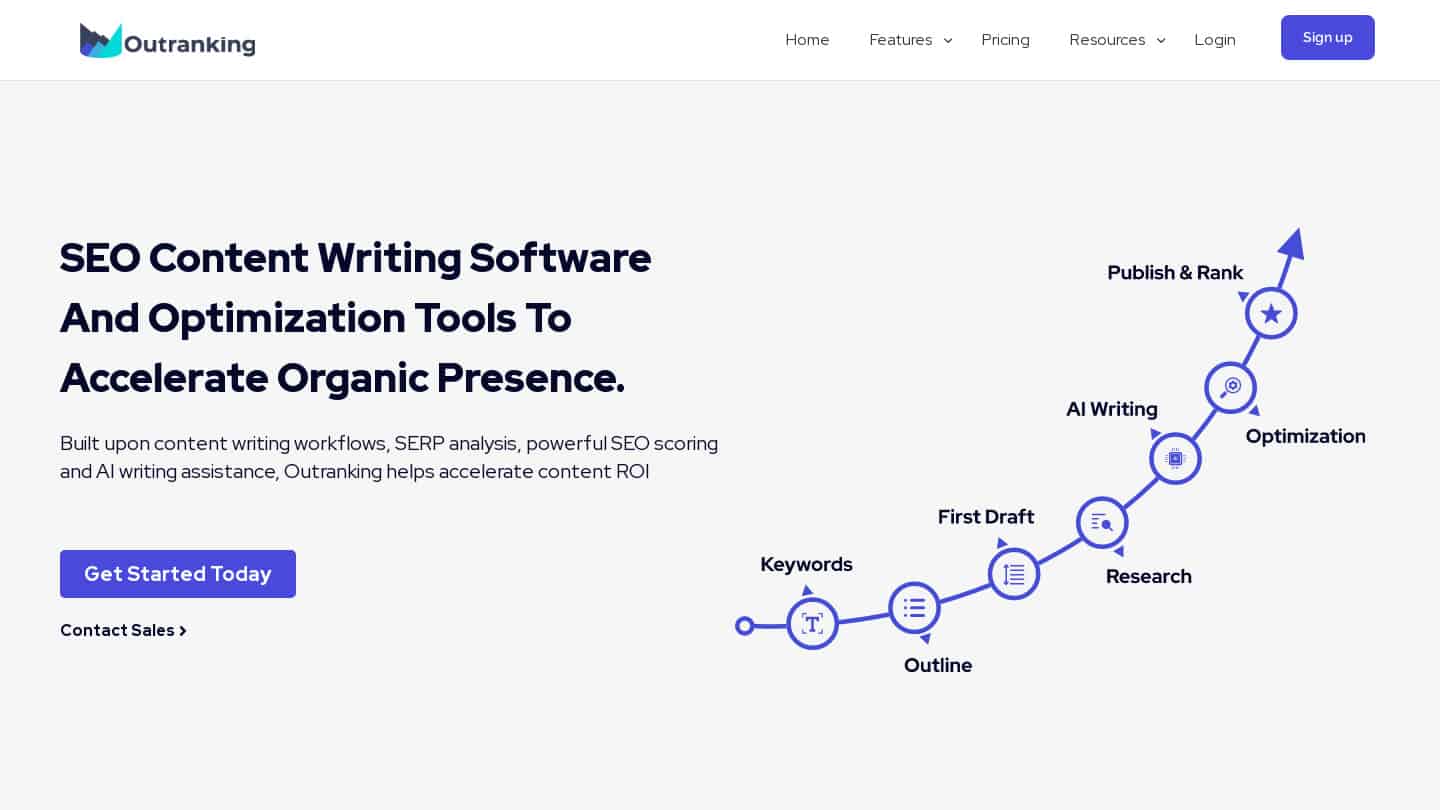 Outranking.ai is also focused on long-form content production. It has a solid end-to-end workflow entirely dedicated to creating a proper outline, before producing an entire blog post or website copy. 
This is the only tool we tried ourselves that came remotely close to something we'd be happy to use on some (select) websites.
Outranking.ai also has a very powerful content generation feature which generates content that covers areas including:
FAQs
Default
Answer
Features
Key points
Disadvantages
Benefits
Highlights
Related
This feature is brilliant on paper, but in reality it only works 25% of the time. The difference between features, key points, benefits and highlights is small, and the content is also missing pricing, reviews and pros and cons compared to other solutions.
Another downside of Outranking.ai is the lack of specificity on their 'SEO blog post' content type. The only content type more specific is the 'Recipe' option, there's no option for categories like listicles or reviews.
Inexplicably, you need to enter the meta title and description of your post at the beginning of the workflow process. We can't find any reason for it being this way instead of the last point of the content creation process. 
Outranking.ai's pricing is interesting, as you can opt for a pay as you go plan so you only pay for what you use. It offers a base plan at $29 per month for 10 documents and 30,000 words. 
You can then add on extra AI characters, documents and users for an additional cost. For instance, an extra 50 documents and 200,000 words costs $208, which doesn't expire until you've used it all.
5. Writesonic: The All-in-One Player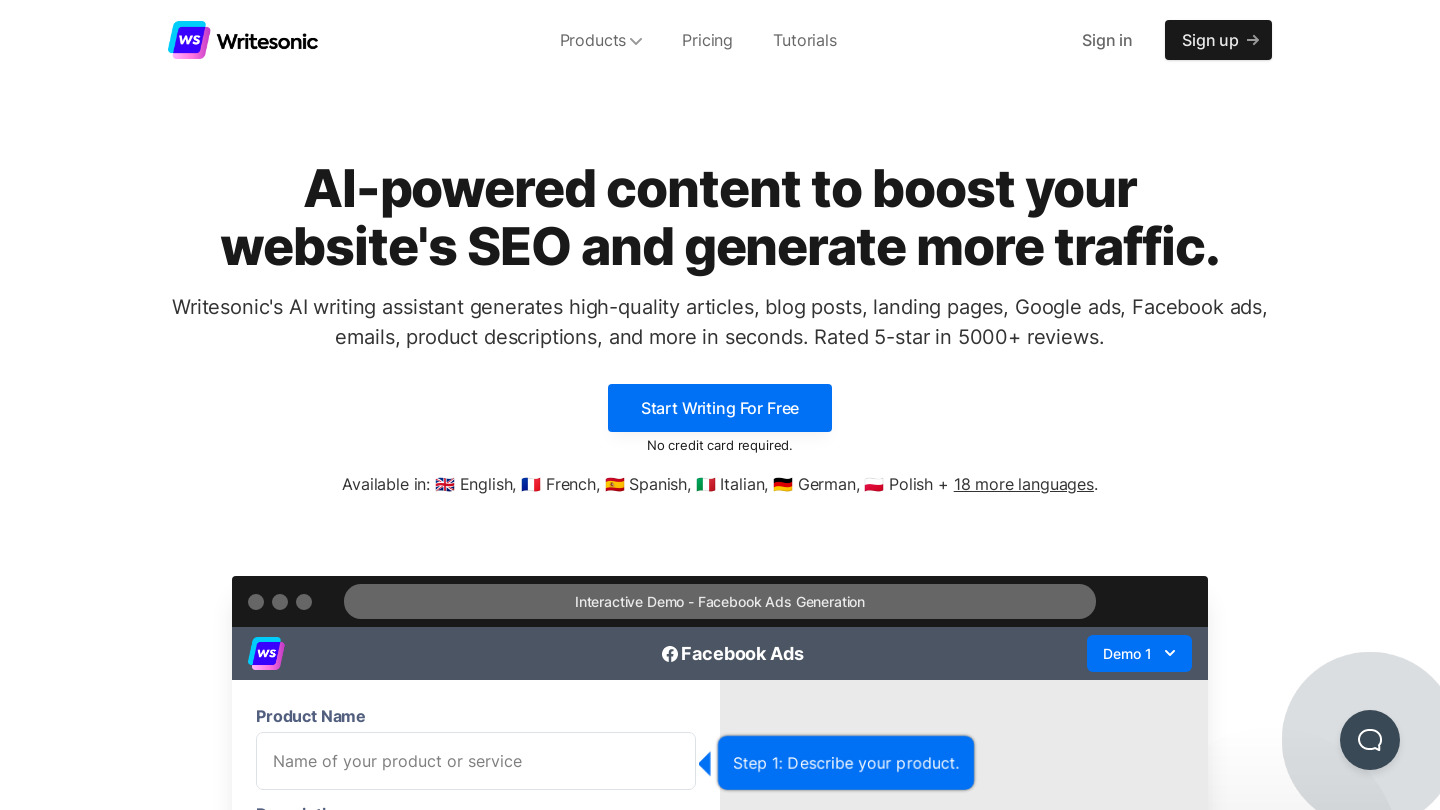 Writesonic is an all-rounder tool that works especially well for agencies and diverse marketing teams. 
There are 25 language options and over 40 content templates to choose from that cover everything from landing pages to ads. The tool also offers integration with SEMRush which is great for keyword data.
The free trial on offer gets you 10 credits which gives you access to all the basic features. The pricing then starts at $15 per month for basic features like the long-form writing assistant and SEMRush integration.
The pricing goes up to $195 for agency use, with up to 4 users and higher quality content generation.
6. Contentbot.ai: The Low Cost Option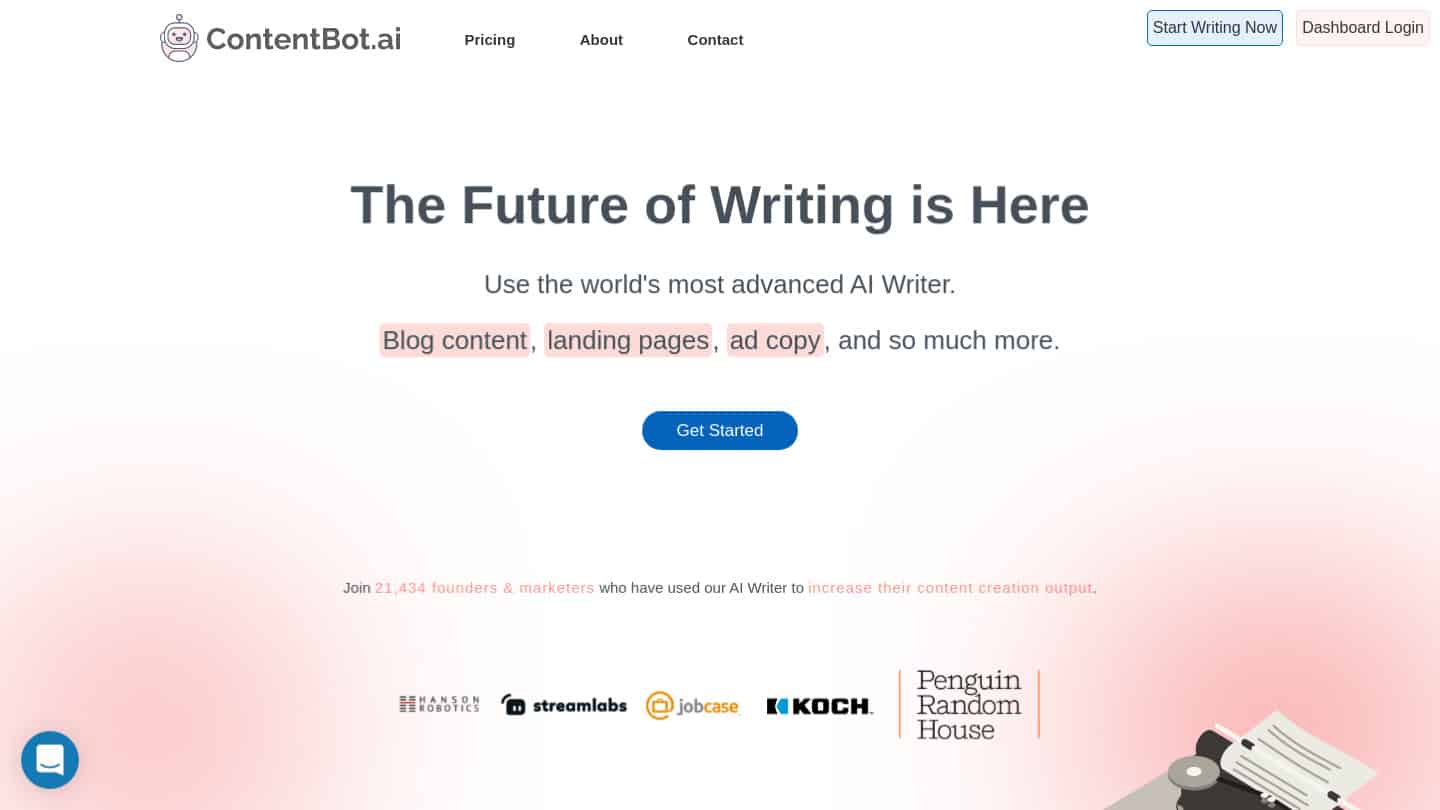 As one of the most reasonably priced tools, Contentbot.ai is a great tool if you want to try out AI writing. Prices start at $1 per 1000 words, with another free 10,000 words on your first payment. 
The standard plan gets you 40,000 words per month, with over 30 AI skills at $29 per month. To access tools like the long-form editor, SEO tools and plagiarism checker, however, you'll need to pay at least $59 per month. 
One tool we particularly liked is the Q&A feature—you type in the question and click the corresponding button, creating a ready-made answer.
7. Smartcopy: The Free AI Content Generator by Unbounce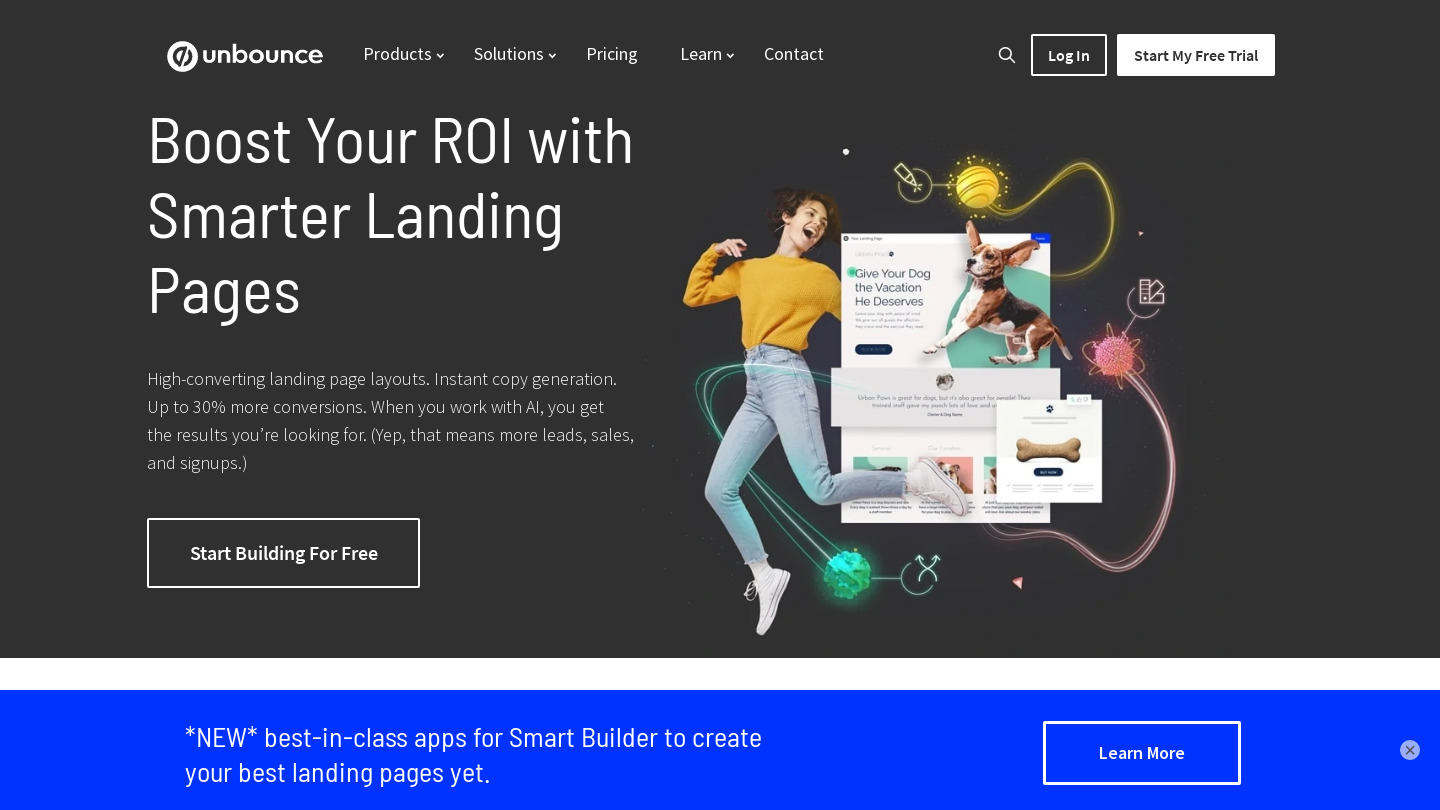 Built by unbounce, Smartcopy is the leading AI landing page builder on the market. This tool is good for sales-focused copy for headlines and ads, offering different iterations of content to target multiple audiences, with over 30 content templates and a good content repurposing feature.
Smartcopy has 6 languages, a free Chrome extension and it's free to create up to 5 generations a day. The other pricing option offers unlimited generations for $49 per month, along with a 14 day free trial.
8. Anyword: Continuous Optimization for Sales Copy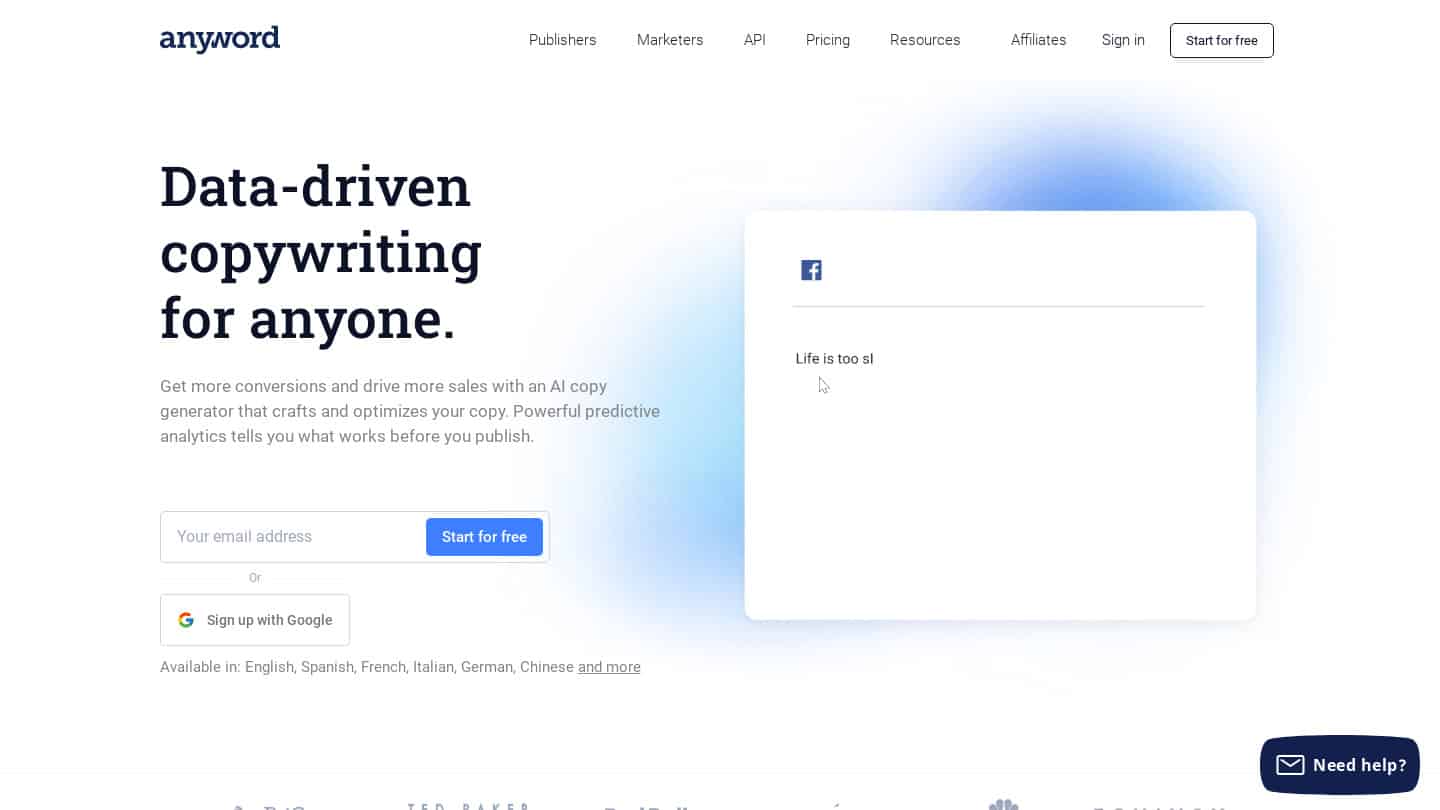 Anyword also focuses on sales copy for ads and headlines. One of the best features is its predictive performance score that helps you choose the best copy as you create content.
Advanced features include the custom mode that writes copy in your brand voice, and the continuous optimization feature that optimizes your copy automatically based on conversion performance.
Anyword has a free forever plan with up to 1000 words per month, but pricing starts at $79 per month for 30,000 words, making it a premium choice.
9. Rytr: The Grammarly of AI Content Generation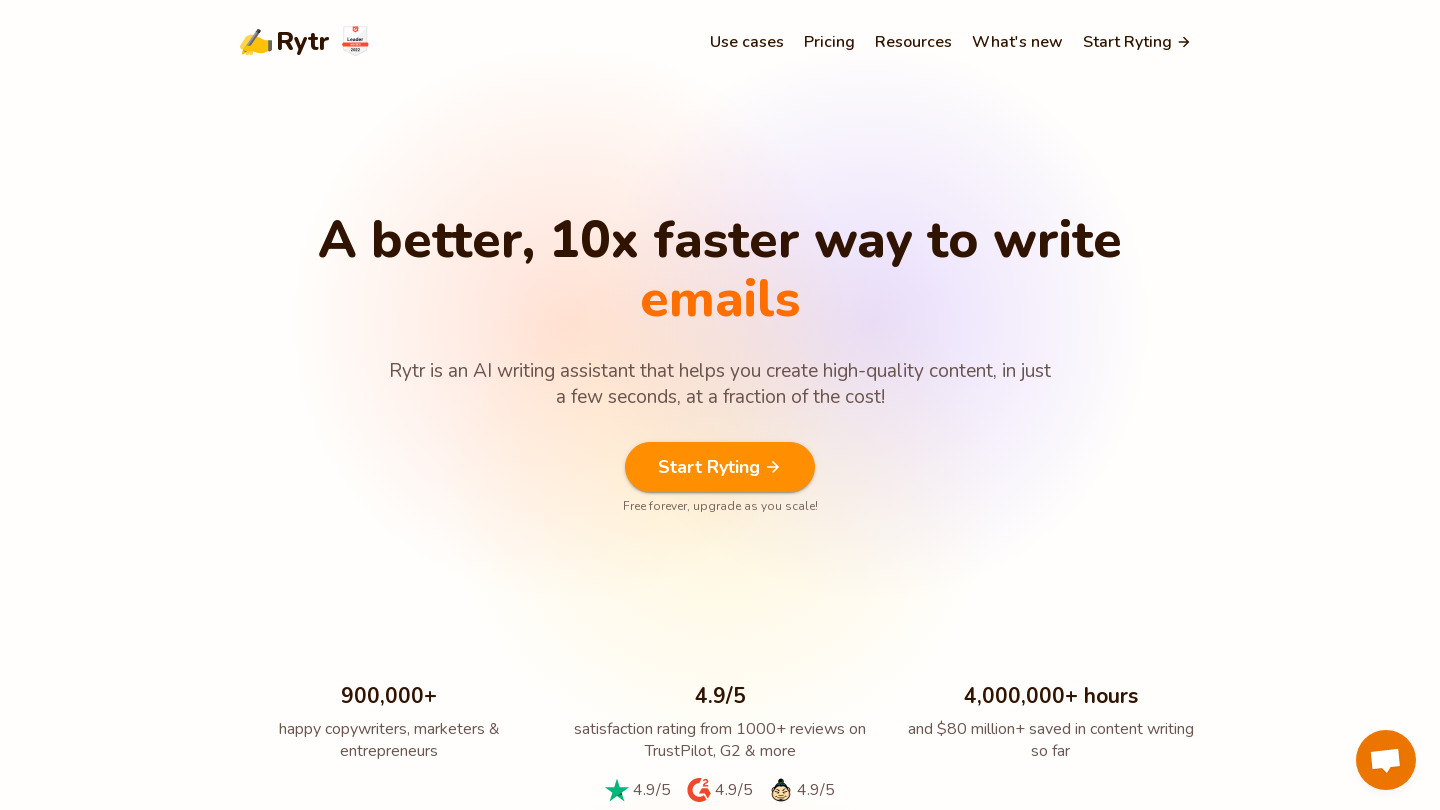 Rytr is a great all-in-one writing platform, with an excellent Chrome extension, optimizing copy on platforms like Gmail, Google Docs and social media. It works like Grammarly, suggesting and optimizing copy as you go to spice up your copy and make it work hard for you.
Ryter has a great free plan, with all its standard features and a 5000 character per month limit. Standard pricing costs $9 per month for 50,000 characters per month and the unlimited plan costs $29 per month for unlimited characters and a dedicated account manager.
10. Writecream: For Cold Email and LinkedIn Outreach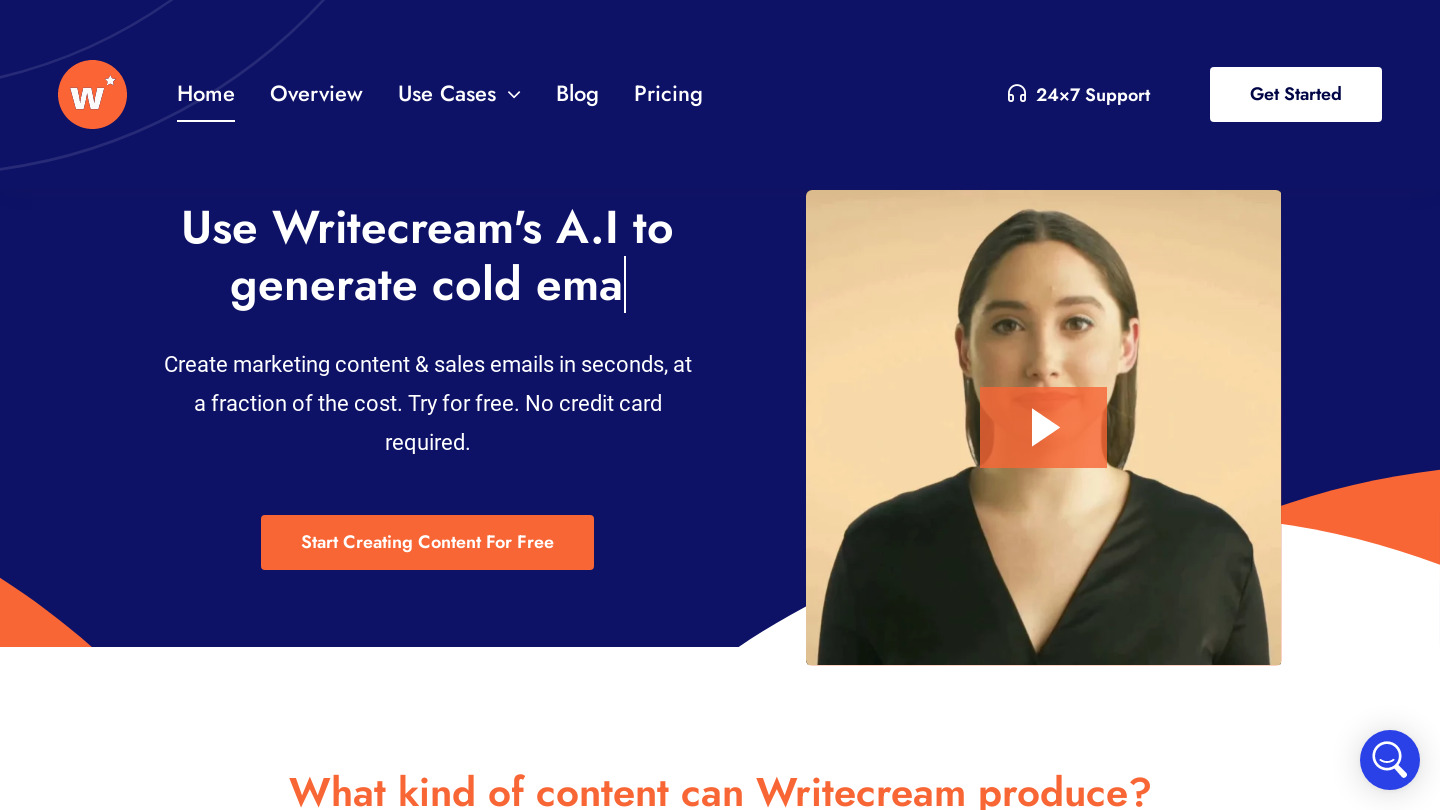 Writecream was built to help write cold emails, specifically icebreakers. It works by receiving input in the form of a LinkedIn profile, before outputting a few personalized cold approach options. There's a wide range of sales-focused templates including AIDA formatting.
Writecream can produce image and audio icebreakers as well as text, and it can work in bulk. This sounds excellent, but in reality all of the features only work around 50% of the time. 
Pricing options include a free forever plan which includes 40,000 characters a month and a standard plan for $49 per month. If you want customized cold approach emails, there are also customizable price plan.
11. Peppertype: For Enterprise Organizations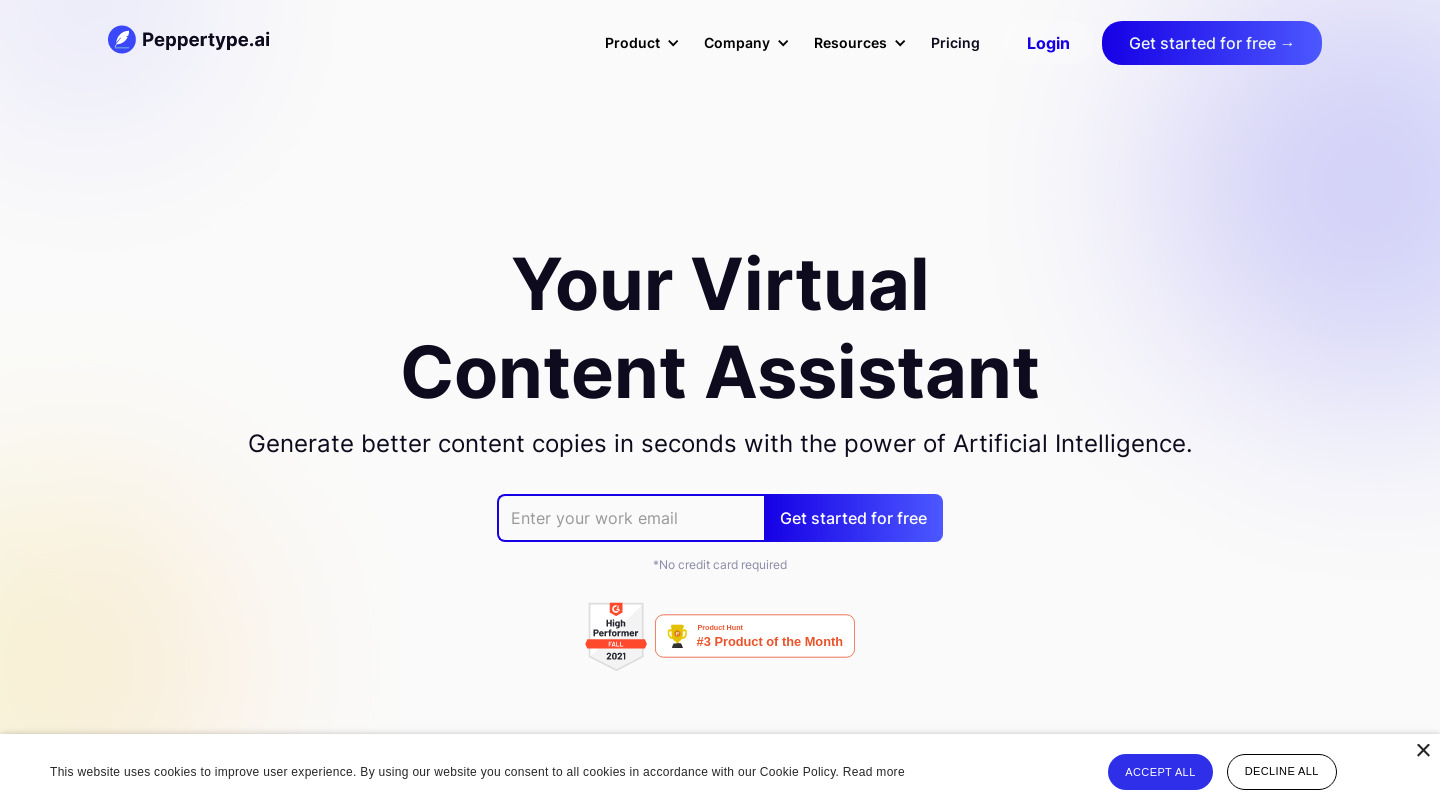 Peppertype is an enterprise player, with lots of customization possibilities and over 20 content templates. Choose from blog title ideation and content creation to engaging question formulation.
The tool also includes active customer support & onboarding to get you started, even with their starter plan. 
The starter plan pricing is $25 per month for 50,000 words, but they offer a free trial.