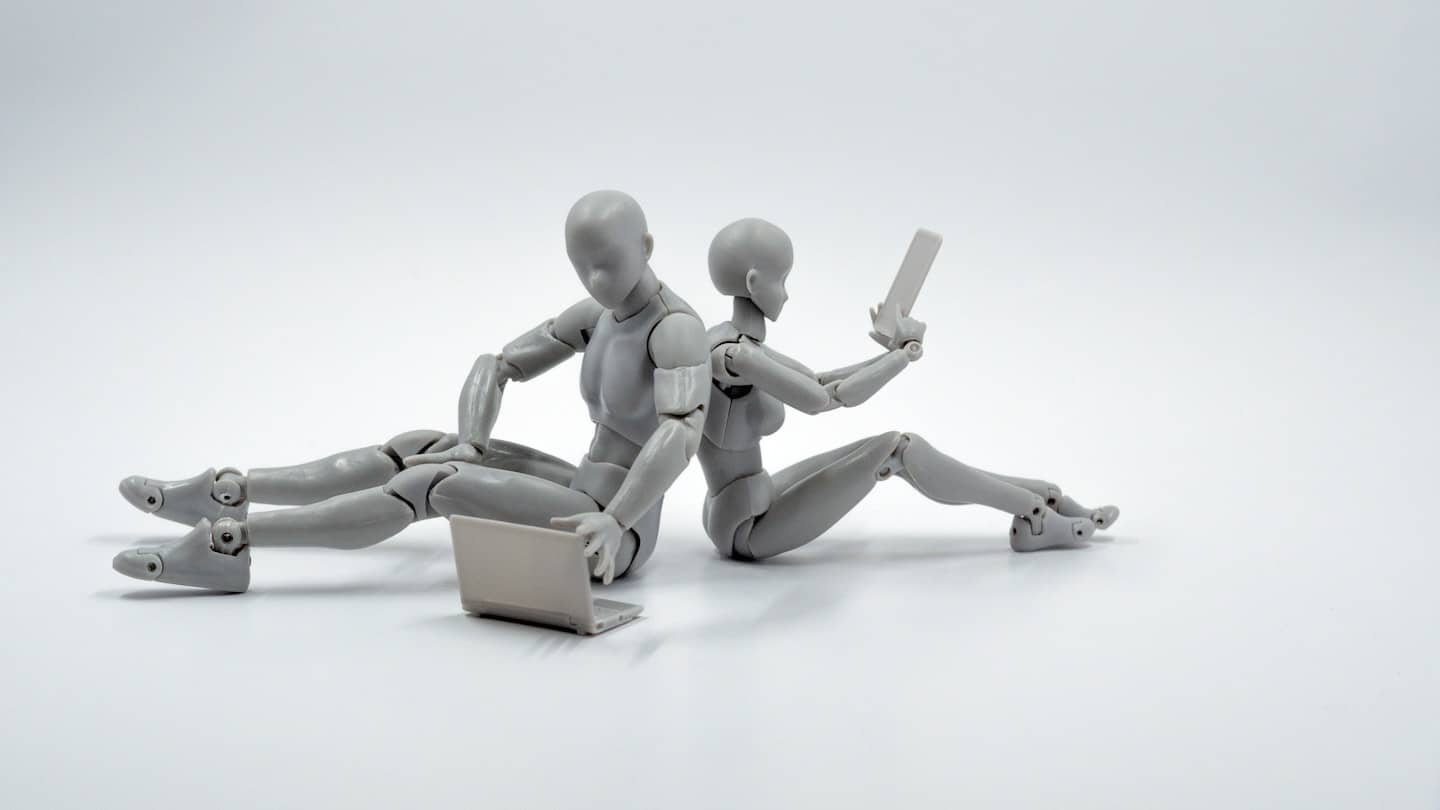 Despite there being a range of AI-powered copywriting software on the market, they all predominantly use the same technology openAI's GPT-3.
AI-powered software leverages GPT-3 to produce and repurpose content. This is done using internet data to produce huge volumes of machine-generated copy.
Copy AI's strength is in using the technology for short-form content. These could be online ads, headlines, social media, email copy, etc.
It also comes with a ton of tools, templates, and a tone modulator that all harness GPT-3. It uses the technology more creatively than most of its competitors to find use-cases others do not offer.
However, Copy AI falls down on its provision of long-form content. Preferring to focus more on the short-form market. Many of its competitors also offer collaboration tools and integrations, which Copy AI lacks except for a Google Chrome extension.
Copy AI's vision really is to help and enable marketers in their everyday writing needs, rather than replace writing altogether which quite frankly is still unable to convince humans in the vast majority of cases.
It's also of great help for repurposing content that needs to follow specific guidelines: like repurposing a blog post into tweets, or linkedin posts for example.
Our review of Copy AI: recap table
Copy AI pros and cons, in a nutshell
Pros:
Copy AI has an extremely large template catalog with innovative and creative use cases rarely seen in AI content generators. The tone modulation option is a nice addition too.
It has a free trial with 100 credits when signing up and all tools and templates are available.
Very easy to use, with extremely useful tutorials in the help center.
Cons:
Lack of integration with other platforms. They do offer a Chrome extension but it's a fairly basic workaround.
Lack of options for long-form content writing.
Copy AI lags behind competitors in its lack of collaborative features and no live chat support.
Try Copy AI for free
No credit card required – Up to 10 credits / month for free
Feature set for Copy AI
Content type templates on Copy AI
Copy AI has one of the widest varieties of content types and templates on the market, offering over 90 options for users. This includes templates for writing product reviews or descriptions, digital ads, emails, brainstorming, personal ads, and blogs.
Using these, you can craft content for anything from social media, to landing pages and other website content. Although admittedly the short-form content like social ads, YouTube descriptions, Instagram captions, and so on, is where it shines.
Their headline generator for example is a great way of iterating a lot more on your landing page titles, which is where 80% of the value lies.
It also offers an extremely useful and unique feature called a tone modulator. This wonderful extra allows the AI to refine its content structure and style approach, based on the audience you are speaking to. Users can choose from 9 tones including happy, professional, bold, and relaxed. There's even a custom option to make your own.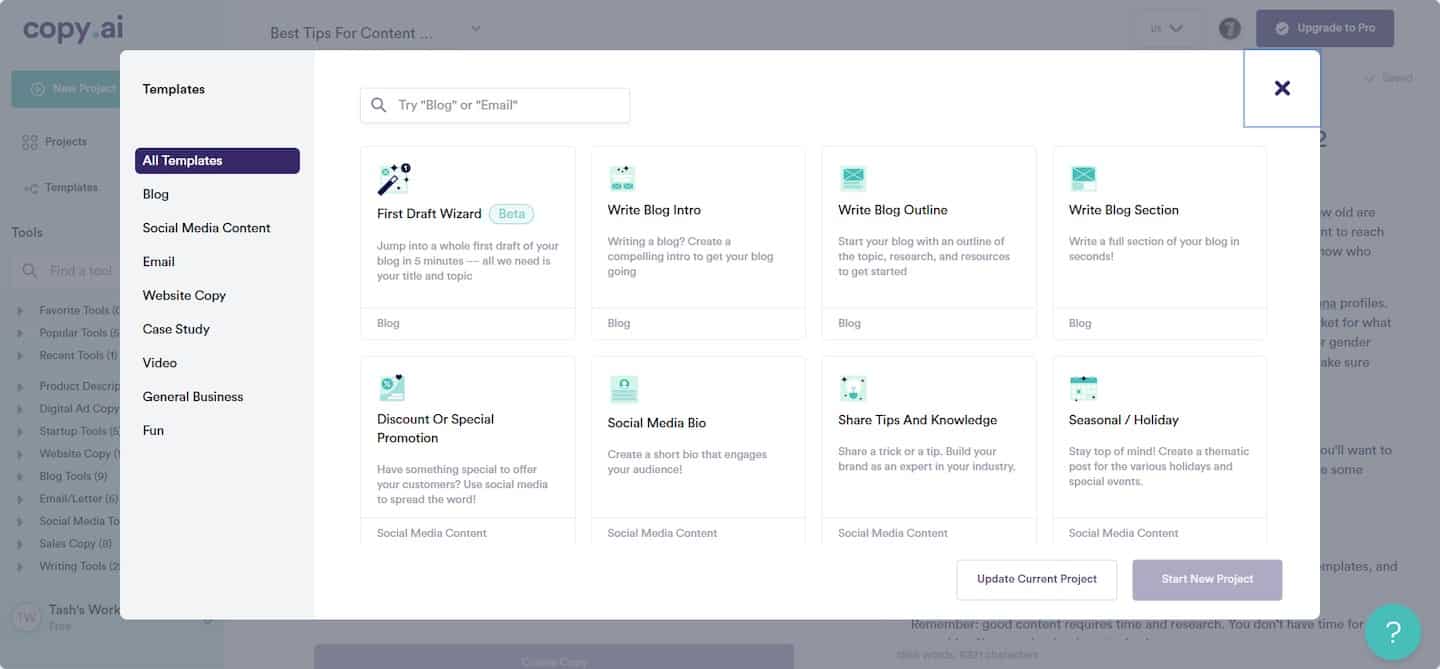 Content styles library: one of the main pros of Copy AI
Copy AI's library offers a large selection of styles for you to use. The tone modulator can help further alter your approach, meaning users can be very exact with how they want the AI to help in their content production process.
It's also the only writing software to offer a personal style option for things like birthday cards or resumes, giving it an edge over competitors. Whether it's for creating fictional stories, brainstorming ideas for start-ups, or crafting promotional content like digital ads, you can use Copy AI to prompt ideas and spark inspiration.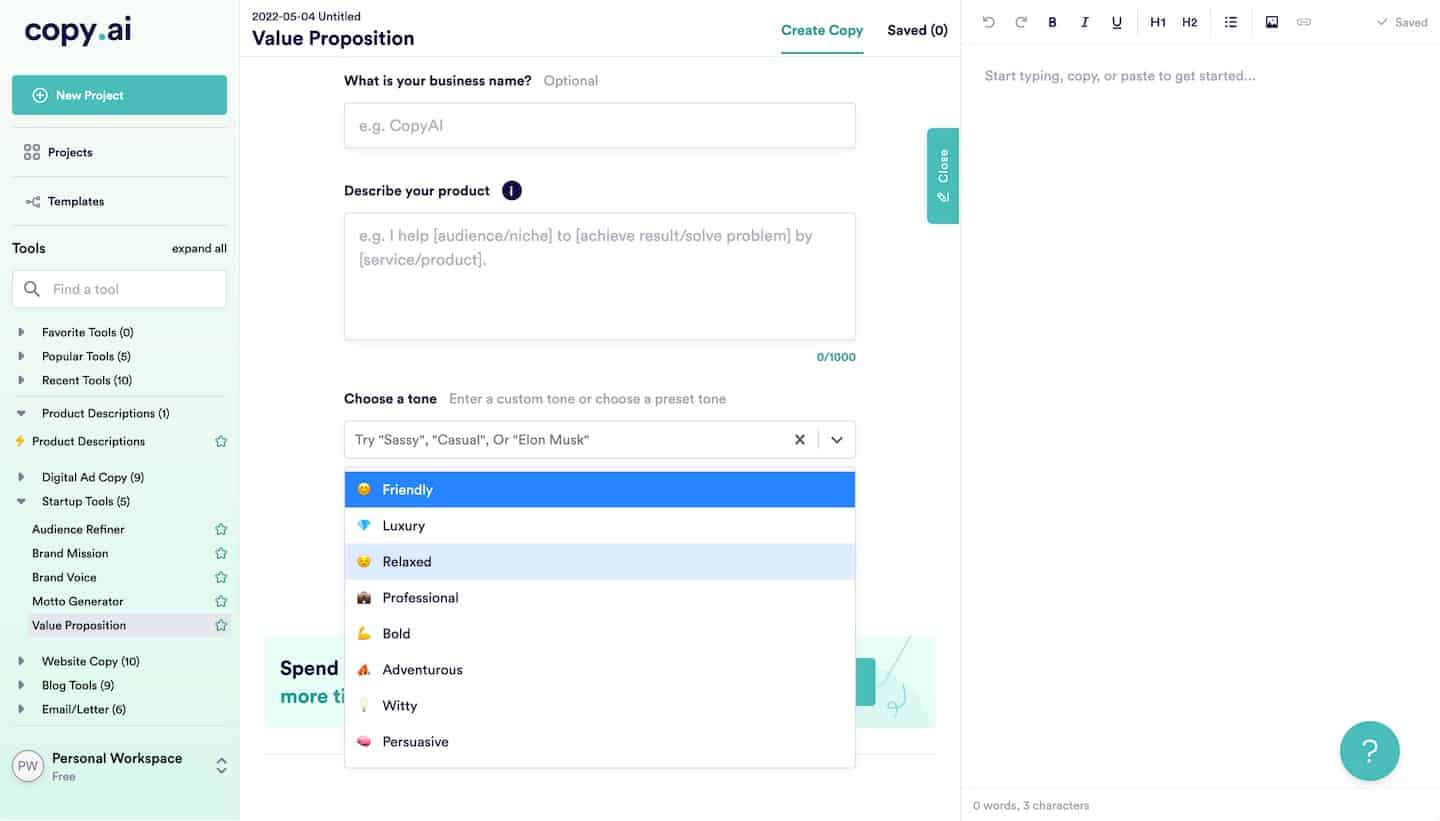 Usability
Copy AI boasts a very simple UI design that makes creating content easy and fast for anyone at any skill level. The downside is that saving content has to be done manually and Copy AI does not keep its history of everything you've created. This means if you don't save it elsewhere, you're in danger of losing it entirely.
And although it does offer a Chrome extension you can use with Google Docs, it doesn't really provide any integration options. This means you have to edit in-app and manually add information to the extension.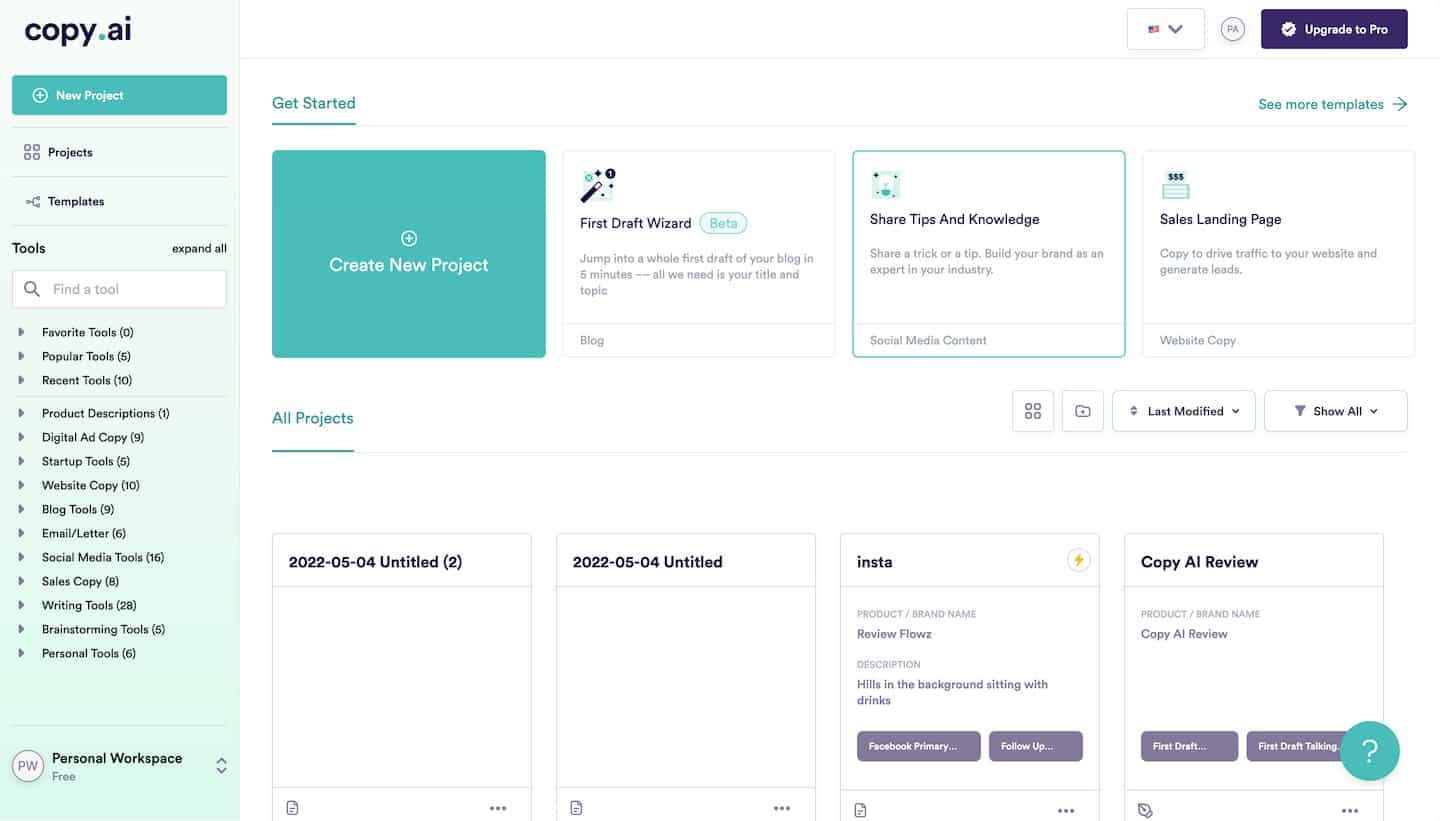 In-app collaboration options
Copy AI does have some collaboration tools, but they're only available to those on the Enterprise plan. Users below this level will find collaboration is limited to sharing the content once it's been output. Which obviously, you don't need AI software for.
For larger marketing teams that need the collaboration features, they may find getting access to them quite expensive.
Try Copy AI for free
No credit card required – Up to 10 credits / month for free
Customer reviews of Copy AI
Users consider Copy AI a more cost-effective alternative than competitors, while still offering a good range of features.Users love its creativity in providing different angles and approaches to help you think of options you wouldn't have otherwise. Most reviewers also praise the large variety of templates available.
However, we've seen some users find the UI a bit dated, and not as suitable when it comes to generating long-form content. Also, an inherent limit of GPT-3 is sometimes pointed out: the AI will sometimes spit out content that is irrelevant to the input.
Try Copy AI for free
No credit card required – Up to 10 credits / month for free
Customer support at Copy AI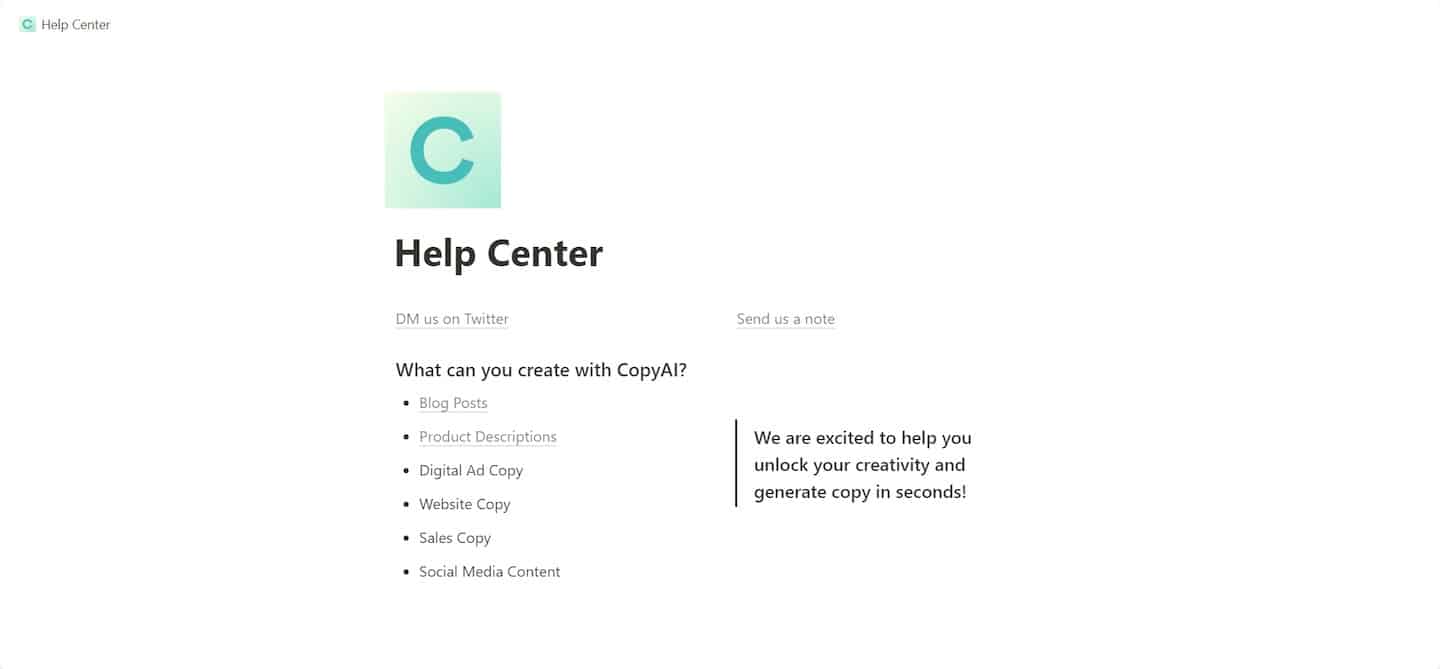 Copy AI's free plan comes equipped with all the tools and there is a very thorough help center to support users online. There are a ton of both text and video-based tutorials that are all very easy to understand and follow.
But unlike some of its competitors, Copy AI doesn't offer live chat support. Instead, you have to reach out to the company by filling in a form on their website, messaging them on Twitter, or sending an email.
Try Copy AI for free
No credit card required – Up to 10 credits / month for free
Copy AI integrations: Our opinion
Integration on Copy AI could be better. Although it has a Chrome extension for Google docs, that is the only thing it offers, as opposed to its competitors, which have a larger range of integrations.
Copy AI Chrome extension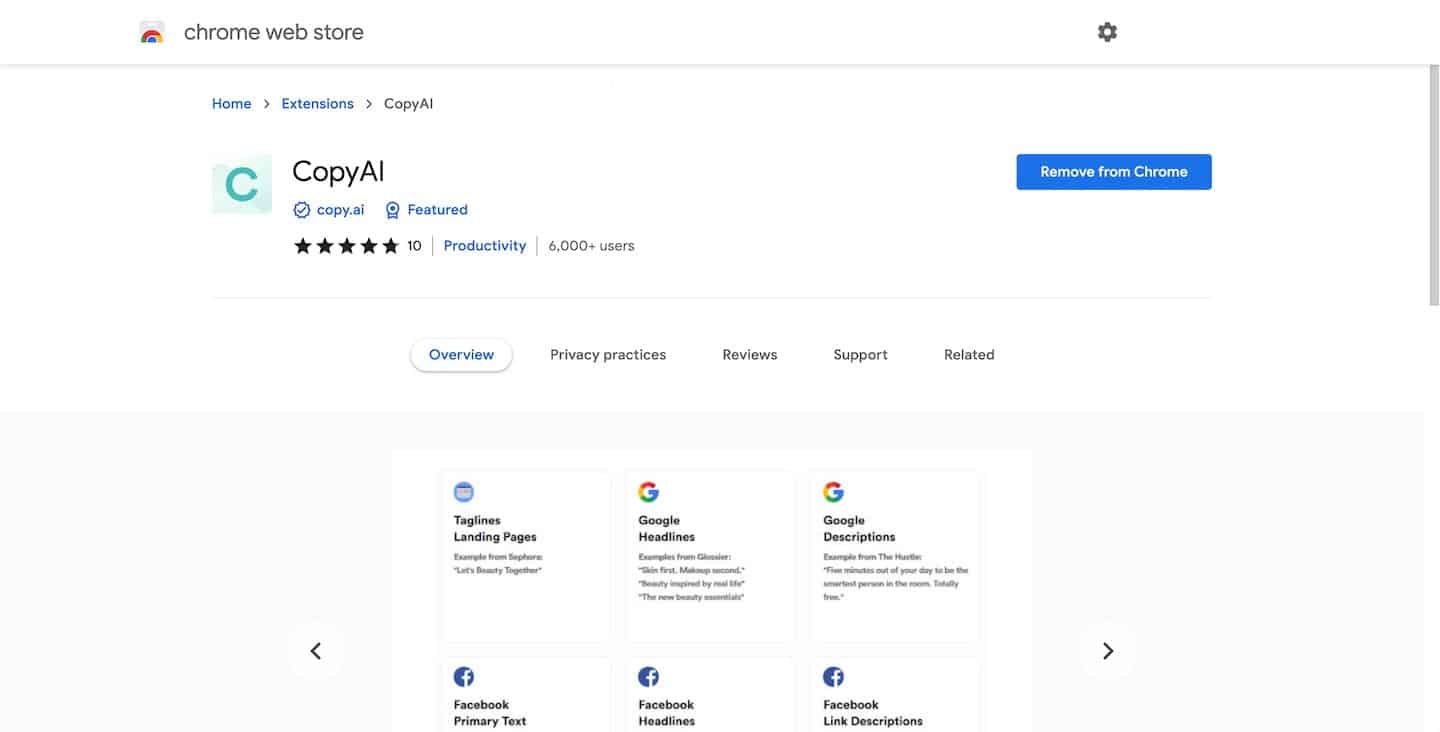 The Copy AI Chrome extension saves the user time as it integrates with Google Docs and has all the features of the full website. That being said, all required information still needs to be fed in manually and select an output, as the extension will not do that for you.
Try Copy AI for free
No credit card required – Up to 10 credits / month for free
Copy AI pricing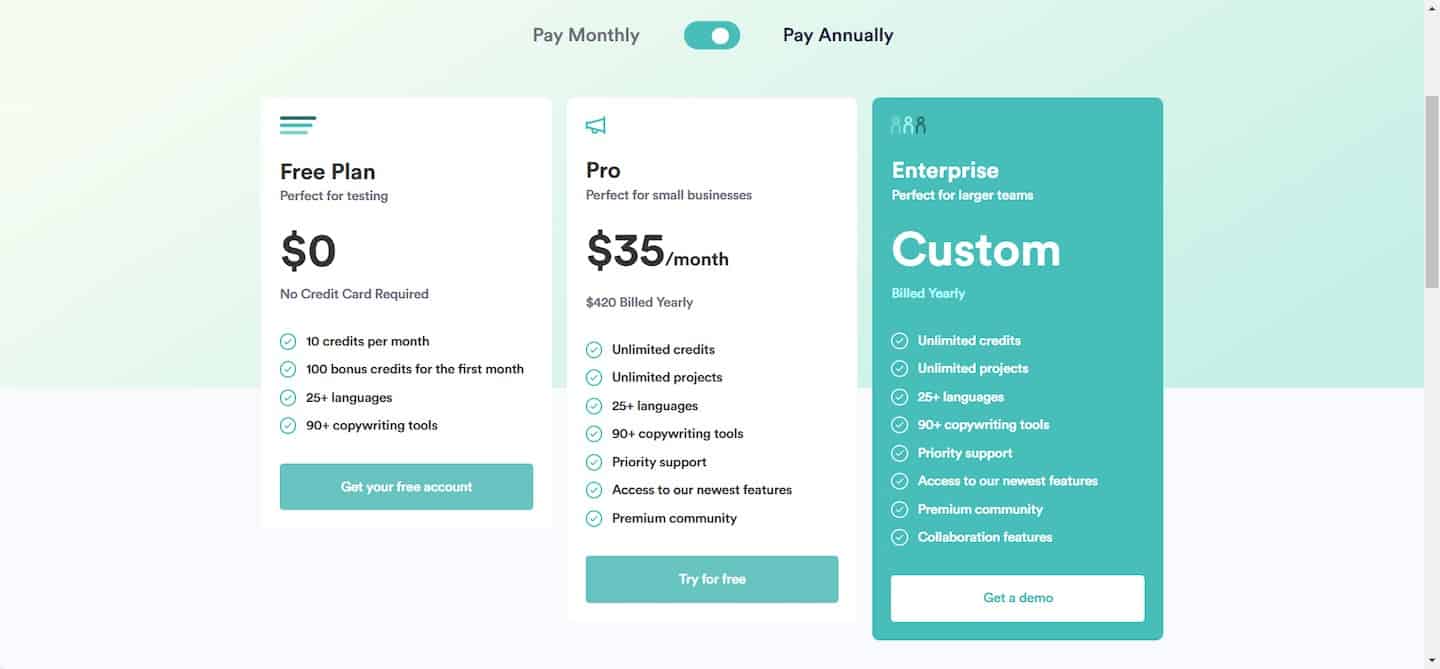 Copy AI has 3 tiers of membership that you can purchase monthly or annually.
With the free plan, you receive 10 credits a month and a bonus 100 credits the first month. It also provides access to all languages and copywriting tools but doesn't offer priority support or access to the newest features.
This is unlike the Pro, which has all the above, plus unlimited credits, projects, and access to a premium community for $49 a month or $420 annually.
The final tier is Enterprise, which offers everything in the Pro plan, plus collaboration features for wider teams. It's a custom package, so you need to contact them to discuss and receive a quotation.
Try Copy AI for free
No credit card required – Up to 10 credits / month for free
Copy AI alternatives
There are many Copy AI alternatives on the market. We've already written a whole post on this, so we won't go into too much detail here. But, when looking at other options, there are several things that it's important to consider, including features, content options, and pricing.
For example, look at what features other AI content generators offer that Copy AI doesn't. These will be things like integrations with other key tools, in-app collaboration options, and better choices or output for long-form content.
You should also consider the pricing. Copy AI has very competitive pricing, so it's a matter of weighing up the additional features and if they are worth the price tag. If you are looking to craft a lot of long-form content, it may well be worth paying a little more for a different tool.
Copy AI vs. Jasper (Jarvis)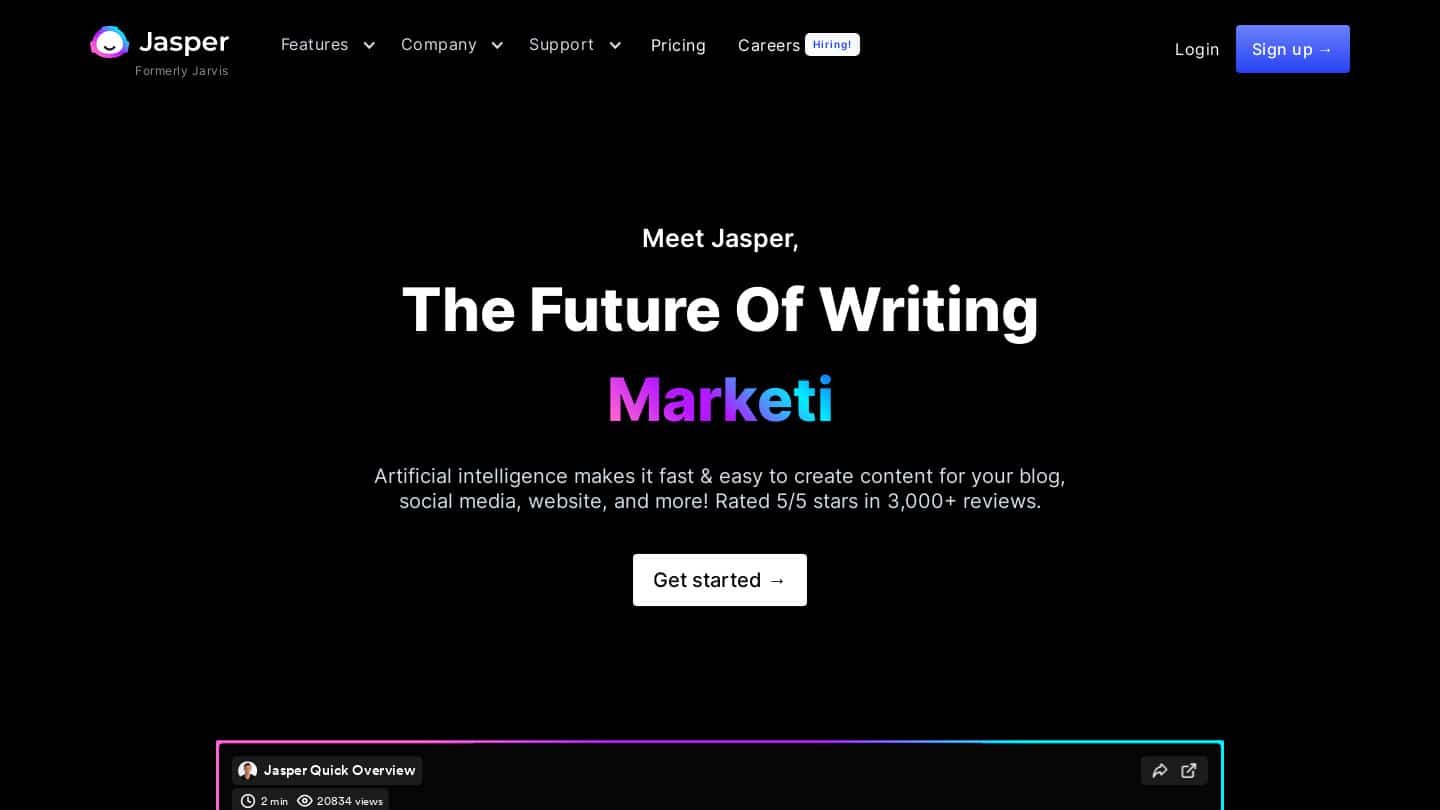 Copy AI is predominantly focused on short-form content for social media, whereas Jasper prioritizes long-form content writing, like web pages and blog posts. So, if you're looking for something to specialize in long-form, Jasper may be the better bet for you.
Also, Copy AI offers no SEO tool or other integrations. In comparison, Jasper integrates with Surfer SEO, which is useful as part of your checklist when optimizing your blog for SEO. It also integrates with a plagiarism checker.
Jasper was really built to help "black hat" SEOs spin massive amounts of content on low value and low competition keywords. If we're honest, while it's pretty impressive to see the output for the sheer amount of words and time saving, generating value out of a tool like this is really hard.
The biggest limitation in my mind is that it will sometimes write things that are factually wrong. That makes it incredibly hard to use. Even for an introduction or a short paragraph, and even with pre-checked sources, you'll need to fact check everything as it might add factually wrong statements from other sources.
Unlike Copy AI though, Jasper fails to provide a tone modulator. This is a great addition to Copy AI and allows you to alter the style of your writing more easily. It's something that helps tip the scales in Copy AI's direction as it's a far more unique feature.
Copy AI vs. Copysmith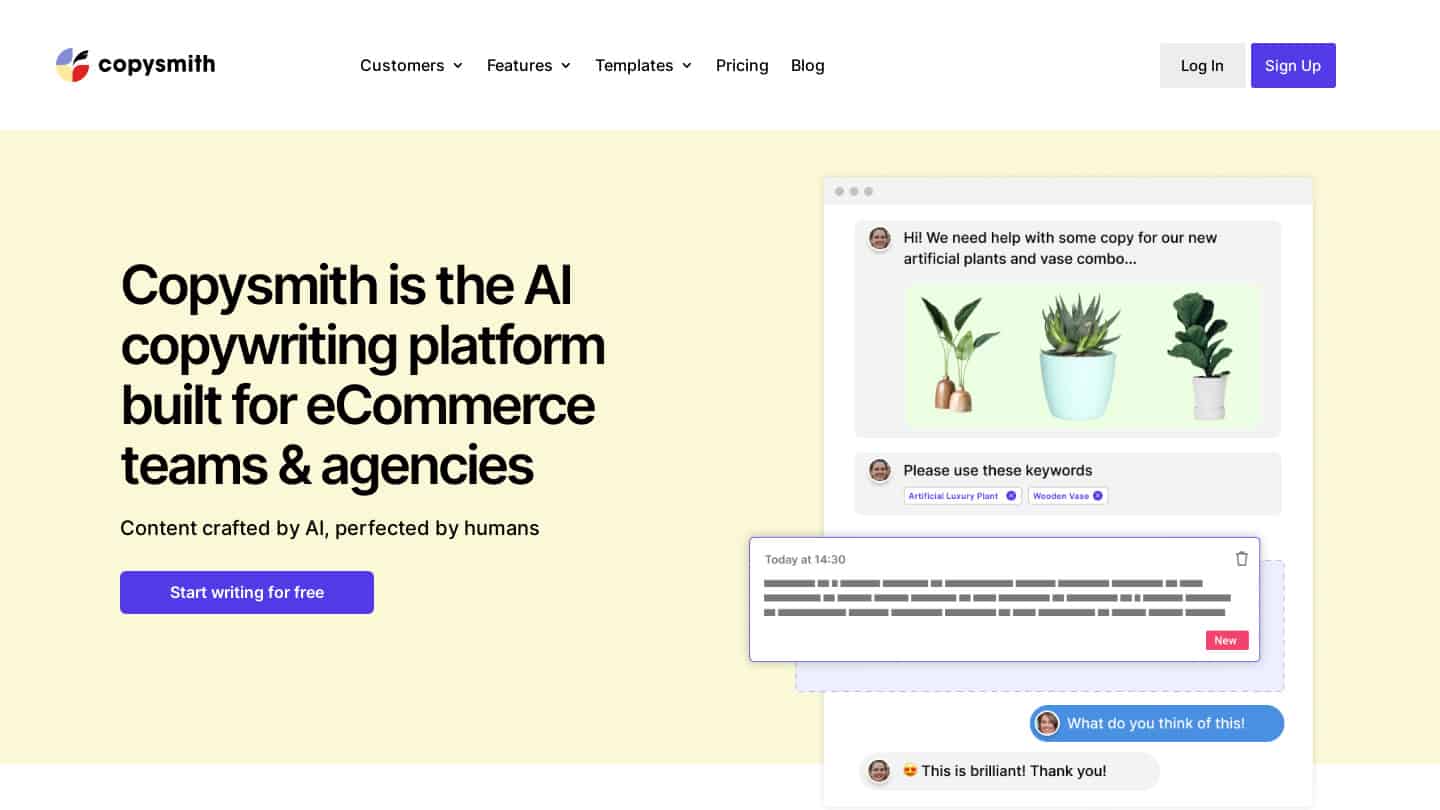 Copysmith specializes in e-commerce and has the best integrations for Shopify available on the market. Overall, its integration options are strong, going over a number of platforms and Google ads.
However, Copysmith users will find themselves spending more for access to these options. Unlike Copy AI, it does not offer a free plan and is generally priced higher across the board.
Copy AI vs. Rytr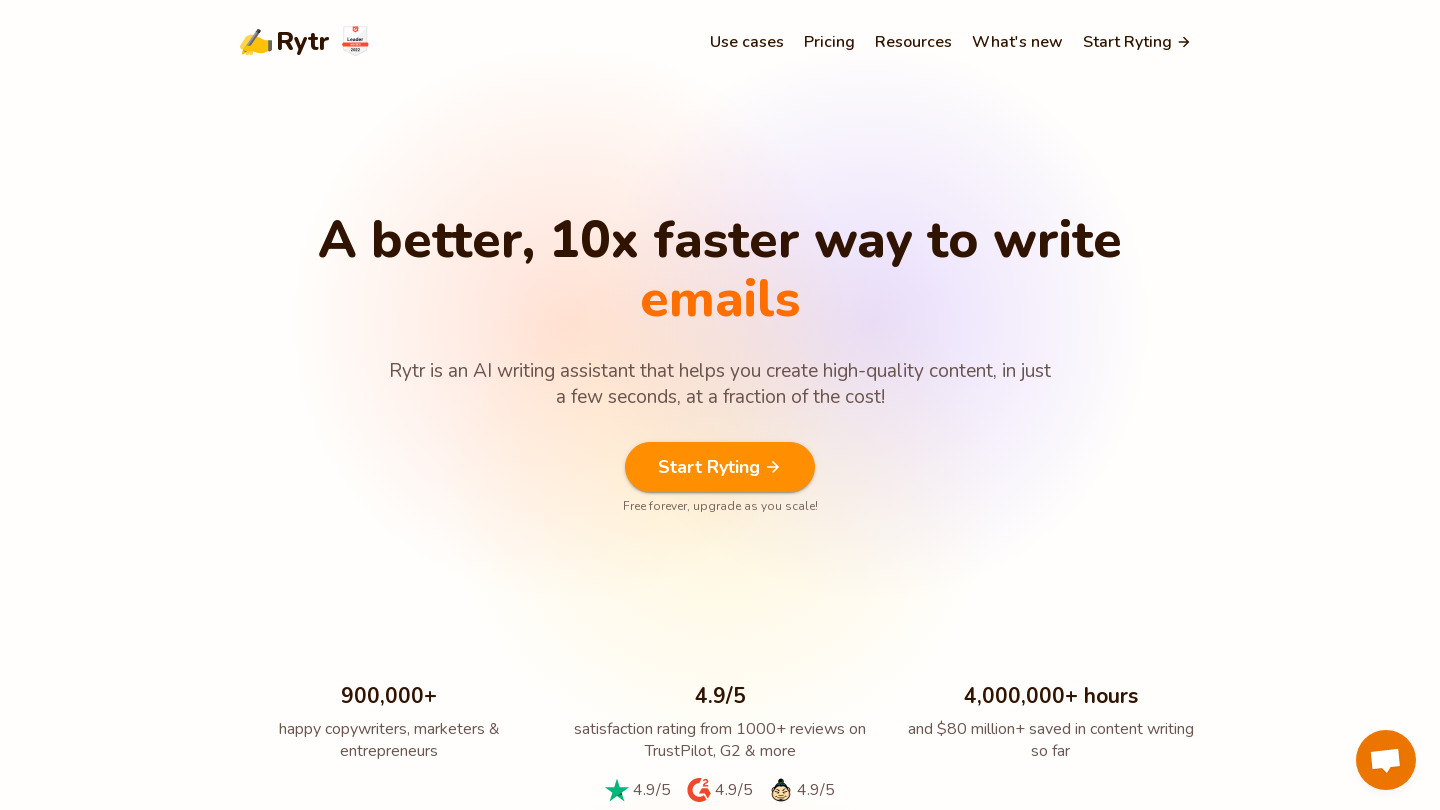 Rytr has better support options than Copy AI, offering live chat support for its clients.
However, Rytr's primary keyword is limited to 50 characters, which can then produce vaguer content. Copy AI doesn't have this limitation, meaning it requires a very precise input description, with arguably better output results.