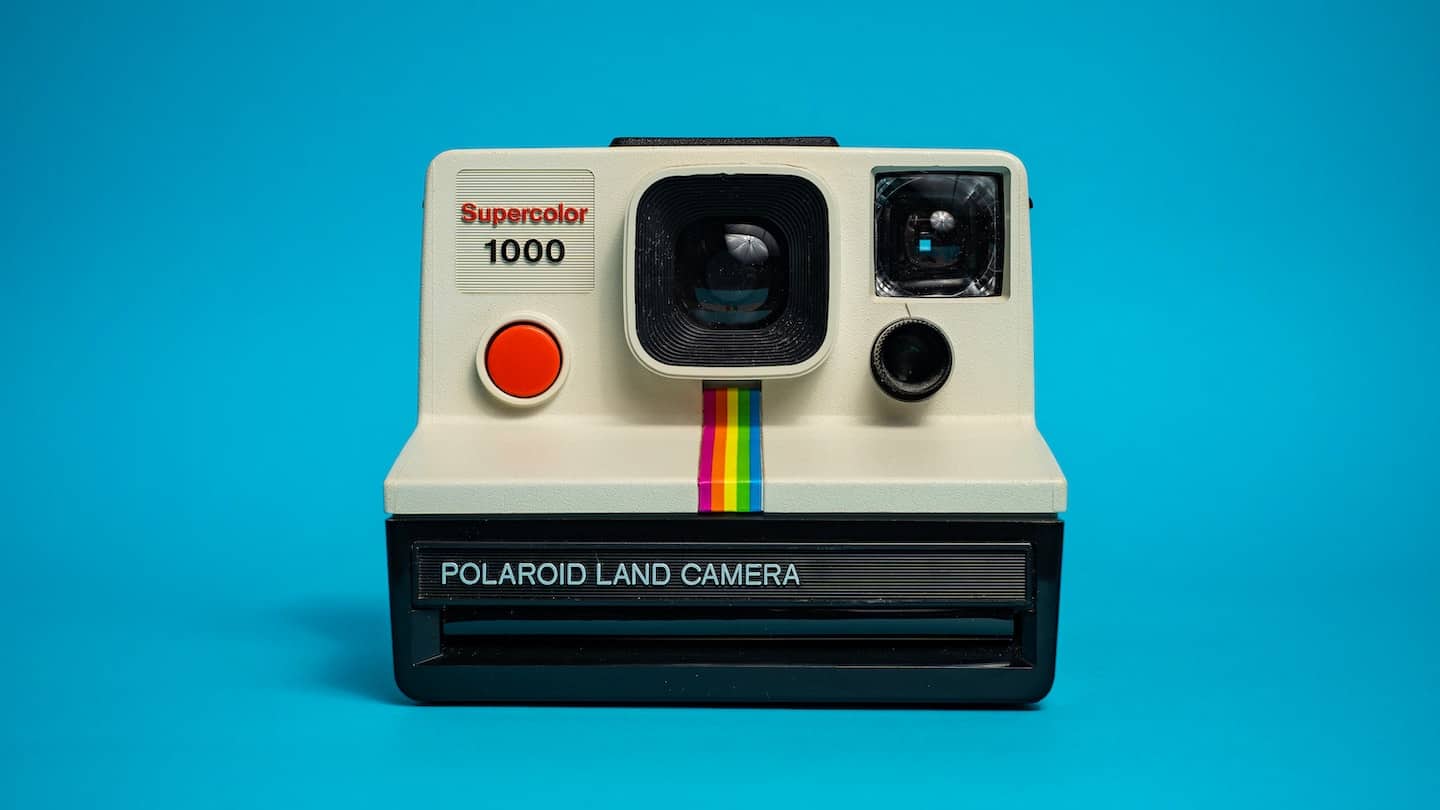 59% of consumers turn to Google for reviews, edging out Amazon as the most popular channel.
As a blogger and reviewer, you have an incredible opportunity to capture this traffic and bring in a consistent flow of affiliate income.
This guide will provide a framework for writing product reviews that attract eyeballs, add genuine value to your audience, and make sales.
Why you should write product reviews
1. They're cheap
Product reviews are cheap to produce once you get the hang of it, especially compared to other content types.
You need a good understanding of your niche, solid processes, and some experience. With that, you can quickly identify the significant benefits and drawbacks of any product.
2. They're very effective
A product review typically gets traffic from one keyword and one keyword only—for example, product name + review.
What's more, 90% of people who search for that query have already decided to buy the product—or at least, strongly considering a purchase. A good portion of these buyers is likely googling this product while the checkout page is open on another tab.
It's this "intent to purchase" that makes these keywords so lucrative. You have options to redirect traffic to your products or take credit for the conversion as an affiliate.
3. They help build authority
By demonstrating an in-depth understanding of the pros and cons of products in your industry, you show browsers that you're worth trusting.
Additionally, if you can show you know the landscape of your market inside out, you'll get on the radar of the brands in your niche.
Whether these potential partners reach out to you or not, don't be mistaken—they know who you are and what you do—which may lead to future collaborations.
Product review template: an example
Above the fold
The top section of the review (above the fold) should include a summary of the key information of the product. This makes it easy for browsers to understand what the item is about and whether it's in line with what they need.
Below are some ideas to include in your above the fold content:
Positioning: In complex or competitive markets, the subtle differences between 2 equivalent products often boil down to a clear claim on the product's homepage. For less crowded markets, these disparities are more challenging to determine. It comes down to the "built for" claim that aims to communicate which audience this tool is trying to reach. Think, "email marketing tool for bloggers" or "backpack for skaters," or "activewear for tall women."
Pros and cons: This is the more detailed analysis of your review. Pros and cons help the reader understand where a product is a lot better or worse than the market average.
Pricing information: For "self-service" products, mention the existence (or absence) of a free trial/free plan, the "entry price," and the "full-featured" price. Nobody wants to read a full copy of a product's pricing plan. Sometimes these products don't publicly display pricing, and you need to sign up to get a custom quote. Research to see if someone has posted the quoted price range and present that information in your review.
Customer reviews: It's hard to write a decent review without any consideration for customer reviews. We like to include reviews from trusted platforms. For software, for example, use websites like Capterra and G2. For other products, you can use customer reviews from online store product pages to substantiate your points.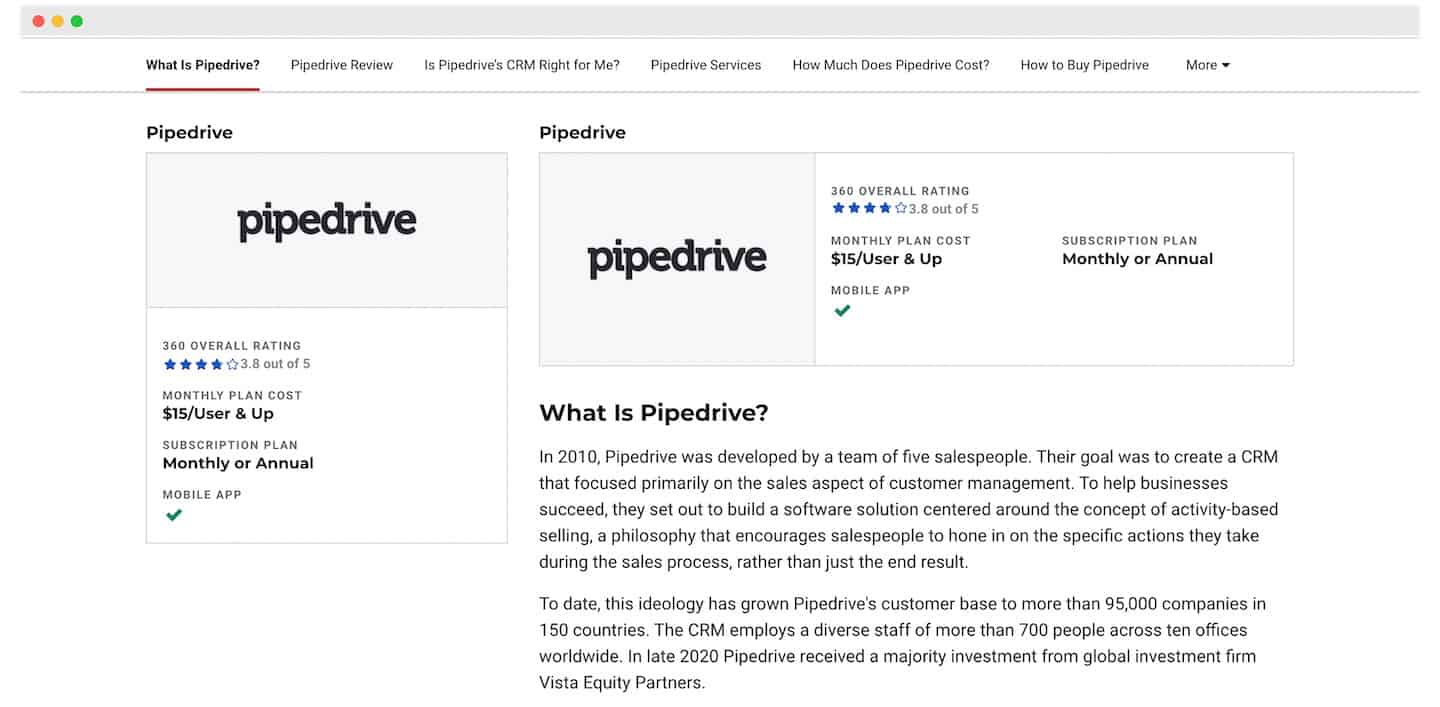 It's in this section that your ability to research and present information is critical. Decide on 4-5 criteria that are essential to evaluate the chosen product.
Then show a grade based on your evaluation and detail in less than 10 words why you've made that claim: For example:
Value for money
Ease of use
Customer support
Feature set
And you can get even more specific. If, for instance, you were reviewing CRM software, your evaluation would include:
Reporting
Mobile app
Lead management
Installation complexity
Summary table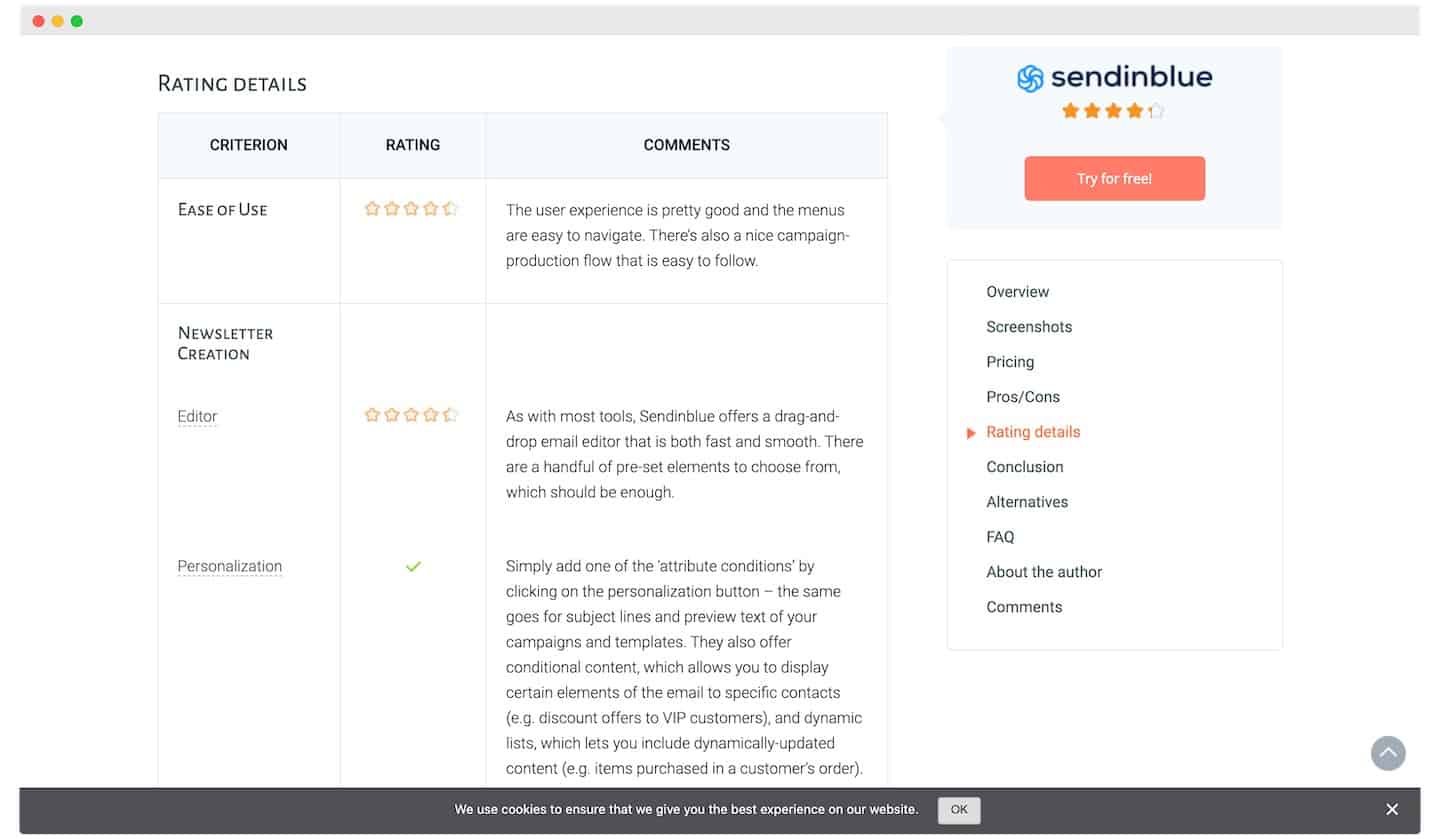 Everyone who's considering buying a product is seeking validation. Whether they're on the checkout page and want a bit of reassurance before they enter their credit card information, or they're just starting their research process and shortlisting options.
Your product review needs to address the most conversion-ready audience immediately. That means including a call to action above the fold.
Then address the slightly less conversion-readers browsers with a thorough table summarising your review.
From our experience, this is the hardest part of your review to execute. Every single word counts as you'll need to boil down 2,000 words to 100.
Only after you've made a powerful first impression can you address each criterion in detail.
Introduction
Keep it simple here and explain who the product is for and when it's a good option.
H2: Feature set
In this part, go through every core feature of the product in detail. Give personal insights as to how it works and how it compares to the market. This is also an excellent opportunity to build internal links across your content to strengthen your topical authority and SEO.
It might be a good idea to break down this H2 into a few H3s. You'll want to include a lot of illustrations here, so the paragraphs are longer, and it's good to bring structure to the review to not confuse readers (and writers).
H2: Custom criterion
If you feel like including this criterion as part of the feature list wouldn't do it justice, this is what this placeholder is for.
In most cases, the feature set h2 should be enough.
H2: Customer reviews about Product Name
Don't merely list customer reviews in this section, as it's unoriginal, and anyone can do it.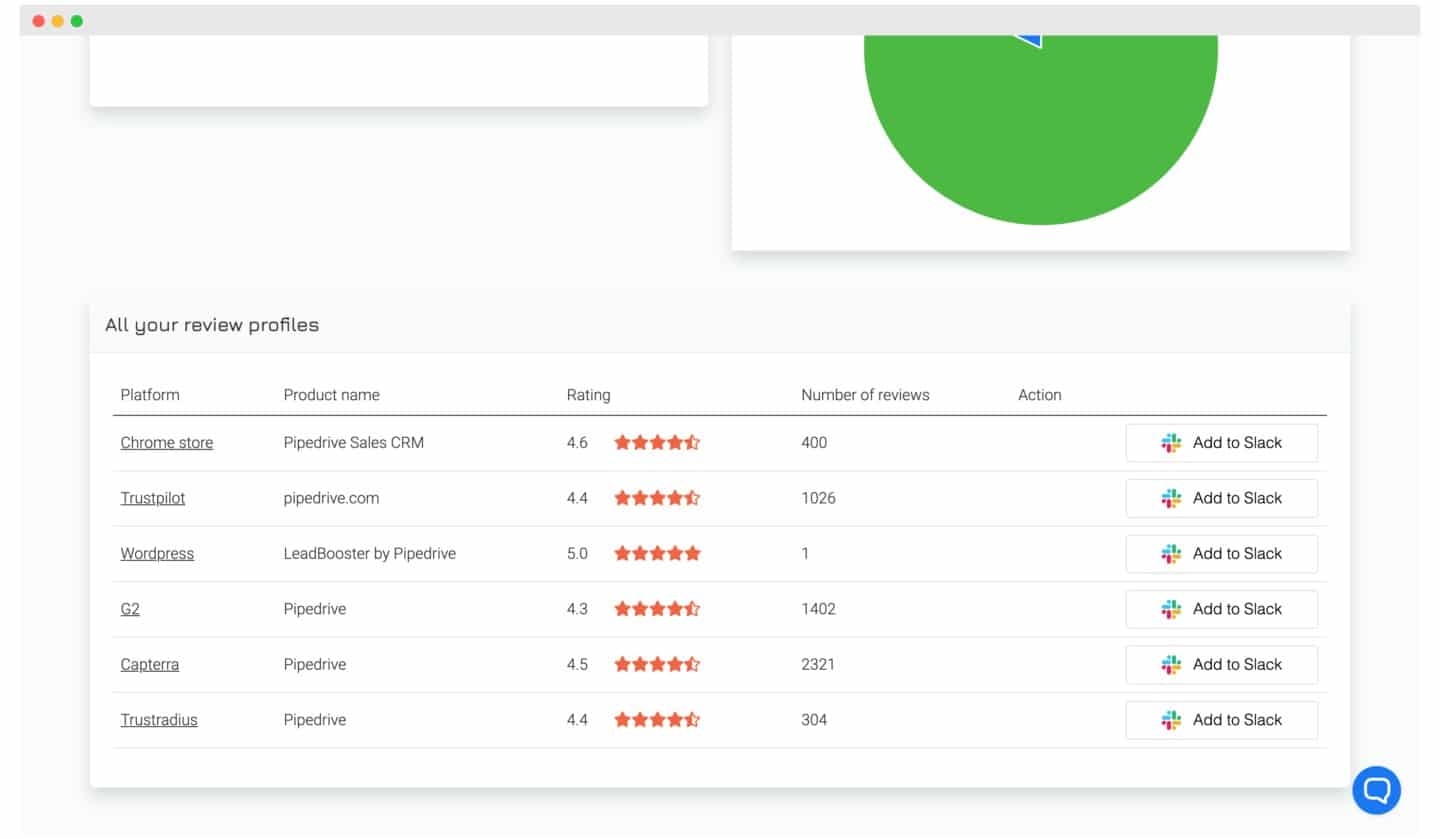 Take it up a notch and provide a high-level analysis of customer reviews. For example, curate grades and the number of reviews on the leading platforms and aggregate the data into a table.
Another thing is to give a detailed picture by pointing out the pros and cons of the product according to customers.
As a bit of a test, if you've done your research properly, customer review data should approximately match your own pros and cons.
H2: Customer support for Product Name (when applicable)
First, list the contact options, e.g., email, phone, tickets, and chat. You can even reach out to customer support and see what kind of answer you get and turnaround time.
Next up, evaluate the help center if they have one. If you're in a coding-related niche, assess the documentation.
Lastly, review all the content the company behind the product is producing, and ask yourself:
Is the content helpful?
Are there YouTube videos that you found useful?
Do they have some sort of action-driven tutorials?
Do they have a directory of agencies or specialists that you can call for help?
Upon onboarding, do they provide personalized support?
Is the software support integrated into the user interface for easy access?
When doing this exercise, you're trying to understand whether the company will help you to get the most out of the product.
H2: Product Name integrations
The word "integration" sounds software-specific, but the idea is to see how the product will work for you in real life.
Whether it has to do with your lifestyle, your company's technical infrastructure, or your cat's favorite food, it's the same idea.
H2: Product Name pricing
Don't list pricing plans or versions of features and benefits in your product review, as we mentioned previously.
These pricing tables are tough to read on the company's website because they're afraid of litigation and need to avoid anything that could be held against them.
You don't. So do the work and explain (in plain English) why it makes sense to go for the premium plan and when the light plan is enough.
How to optimize a product review for SEO?
1. Go for the right keyword
Product name + review: That's the keyword you're going for…period.
It's tempting to go for "Product Name" as it has 40x more impressions. And "Product Name alternatives" sounds like a cool keyword. Oh, and don't forget "Product Name pricing." They all sound great. Right?
No.
Let's break this down:
Product Name: Folks entering this query don't want to read a review. They're generally looking to buy, signup, log in, or find a coupon.
Product Name alternatives: This is a pretty good keyphrase, but we suggest you only target if the search volume is high enough. Even then, you can't seriously address that intent with a review post.
Product Name pricing: It makes sense to target this keyword with a specific post in some very unique cases. These situations are mainly relevant to open-source software. Some people think that open source is free, at least on the surface. However, it's not free. They don't come cheap by the time you factor in hosting, setup, maintenance, etc. Pricing is then (and only then) a very opaque topic you can help readers understand better.
2. Work on your title
Write an enticing meta title and description.
If you google your keyword, you'll notice it's a pretty crowded space. Your page meta information will help you stand out and drive higher than average CTRs, which in turn will help your rankings.
Engagement is everything on (realistic) single keyword posts.
As a reminder, your meta title can be different from your page title, providing an opportunity to add more relevant keywords across both titles.
3. Use schema.org rich data: review & product objects

Schema provides a consistent method for structuring data online and on web pages. There are specific schema data for reviews and products that you can implement to your post for improved searchability. For instance, the schema will show product ratings, votes, and pricing as rich snippets on the SERPs.
While intimidating at first, it's quite straightforward to optimize your product post review for schema. A quick google search will show that there are many wordpress plugins built for blogs that handle this all for you.
But don't skimp on this step, as your CTRs and engagement will drastically improve as a result.
4. Build links to your reviews
Link aggressively to your review within your site. Some bloggers are tempted to add an affiliate link for every mention of the product on the site.
Without context, an affiliate link is rarely clicked. And even then, it won't convert.
Put an internal link to your review instead and leverage the ranking on a high intent keyword.
We suggest you group a few reviews in a listicle, which you can get external links for. On the list post, be sure to have links to each individual review. This way, you build a "link farm" (listicle) and distribute the authority to "children" (reviews).
5. Great high definition images to visually show the product
In eCommerce, not being able to see and touch a product is the main reason for hesitation. People searching for reviews want to see the product for themselves.
For software products, even with free trials, people also want to see and feel what the UI is like.
If you're doing reviews for physical products, invest in a solid camera, some photo editing software, and training. Good lighting, whether natural or artificial, is also fundamental.
Commit to improving your visuals over time, as it's crucial to writing a great review.
Once you have a good process, it becomes way more manageable.
If you're reviewing software, you'll need access to the product. For "self-service" SaaS tools, it's not a problem to get on a trial. For demo-first products, you'll need to ask or pay for access.
Pro tip: If you sign up for an affiliate program, you'll get access to the tool in most cases.
Pro tip 2: Affiliate marketing typically works a lot better for self-service software for two reasons:
Conversion rates are higher, and sales cycles are a lot shorter.
They're usually based on marketing growth engines that rely heavily on clean marketing attribution. Tracking what channel a lead comes from is something these brands take very seriously. Conversely, sales growth engines typically rely more on human interaction and value closing the deal rather than tracking the source. So there's a lot less money and effort invested in finding the right sources of traffic. In other words, they don't care much for your traffic.
6. Take care of the comments section
Don't become a problem for your partners. For example, some frustrated users might come to your site to post negative comments about your recommended solution.
While you really shouldn't filter this feedback out, it's usually a good idea to reach out to the product team to let them know about this criticism. Odds are, they're not monitoring your blog, and they can fix the problem if they contact the customers in time.
Otherwise, encourage feedback where you can. Embed a few CTAs on the page to increase your readers' motivation to write about their experience in the comments section.
Comments also help build authority and trust for your product reviews. Furthermore, you'll attract regular fresh content to your post, which Google loves.
Wrapping up
To recap:
Keep your product review keywords simple
Use the products you recommend
Present your points clearly and visually where possible
Add your unique perspective
When you nail these factors, you'll start producing exceptional product reviews that cut through the noise and start ranking and converting.
Happy reviewing!