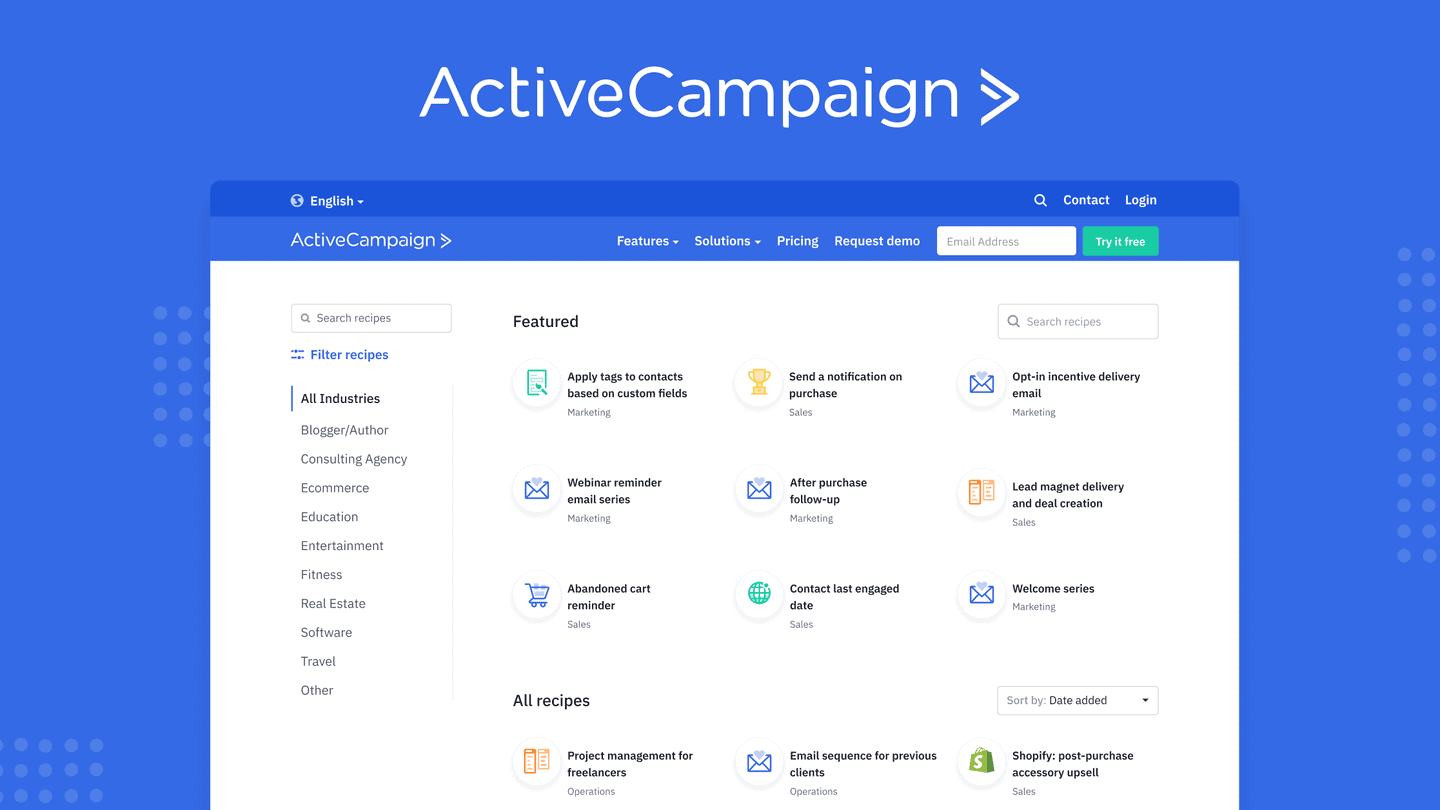 ActiveCampaign offers a complete marketing automation solution at an affordable price—ideal for new business owners looking to promote their blog. The platform boasts a solid email sender reputation, great deliverability scores, and an excellent email builder.
Even beginners to automation will feel at home creating their experiences using ActiveCampaign's easy drag and drop sequence designer.
Another of ActiveCampaign's unique selling points is its sales CRM suite, differentiating it from other solutions and making it the go-to solution for small B2B companies.
The only serious alternative to ActiveCampaign's integrated sales and marketing CRM is Hubspot, but Hubspot's offerings come with a hefty price tag, and most of its features won't be relevant to ActiveCampaign's audience.
ActiveCampaign can be pricey if you have a lot of low-value contacts, but ultimately it's a solid solution for bloggers looking to sell digital products without breaking the bank.
Where ActiveCampaign falls slightly short is its e-commerce offerings. While ActiveCampaign does have some B2C and e-commerce features, it's not on par with alternatives such as Klaviyo or Omnisend, which are more e-commerce focused.
Our Opinion Of ActiveCampaign
ActiveCampaign Pros & Cons in a Nutshell
Pros
ActiveCampaign is the go-to solution for email building thanks to its excellent email marketing reputation. The platform has earned this reputation with its simple drag and drop designer and excellent deliverability scores.
ActiveCampaign boasts the best in-house contact database out of any marketing automation platform. You can expect list and subscriber management, contact profiles, task tracking, task automation, lead scoring, and interaction history, all in one place.
ActiveCampaign's in-built sales CRM links up to all your email marketing data, so all your sales data lives in one place. Lead scoring and social data streamline your sales follow-up process, allowing you to dedicate your time to leads with the highest chance of return.
Cons
If you only want to set up basic email sequences, consider more budget-friendly options like Sendinblue. If you opt for ActiveCampaign, you'll be paying for tons of features that you don't need.
ActiveCampaign is missing key features such as a survey builder and support for transactional emails.
Useful features such as on-site chat and pop-ups are only included in the pricier plans.
Try ActiveCampaign
Get a free 30 day trial on activecampaign
ActiveCampaign: A Leader in the Email Marketing Market for Good Reason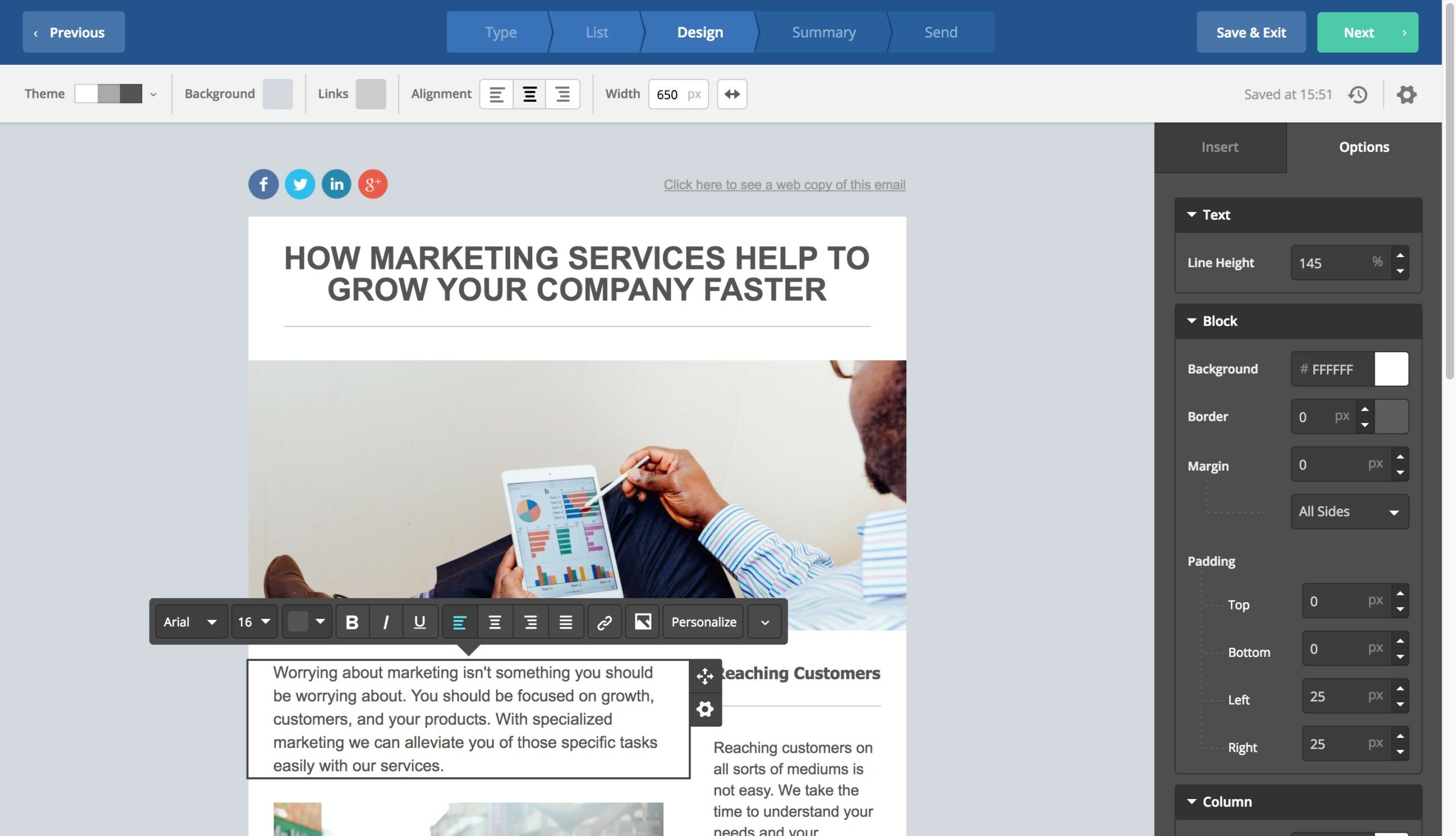 ActiveCampaign has impressed business owners for years with its extensive email marketing features. While there are plenty of ActiveCampaign alternatives, it's still one of the most popular for good reason.
The platform's drag and drop email builder is quick and easy to use, even for the most technophobic users. You can also personalize emails for each recipient depending on your previous interactions with a contact or the type of content they've expressed interest in.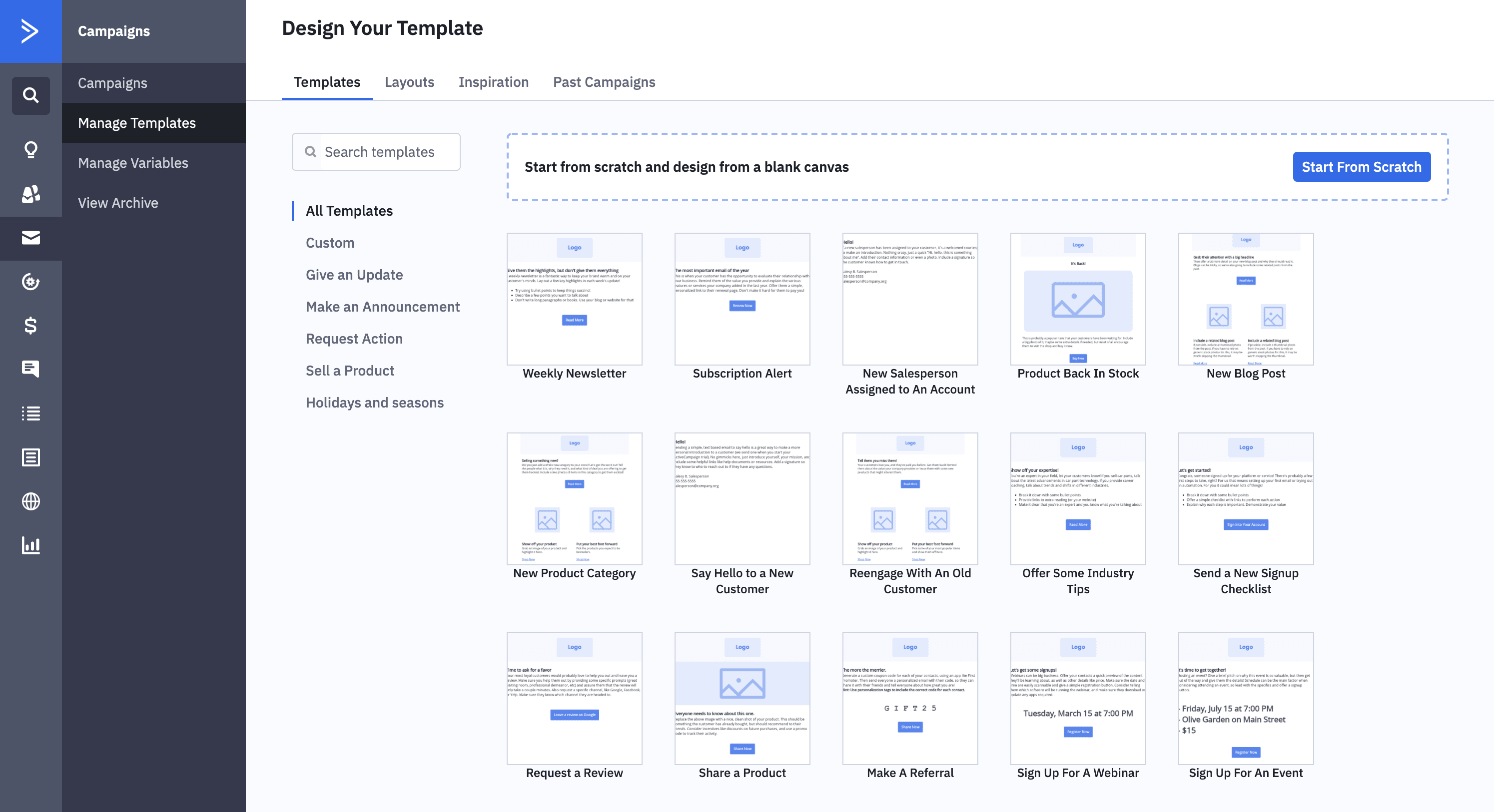 The only downsides to ActiveCampaign's email builder are the constant auto-saves making it tricky to undo changes and the lack of preview option. The lack of ability to preview your email without going into the email settings feels a bit clunky for such an advanced platform.
Additional Channels You Can Leverage With ActiveCampaign
1. Site messages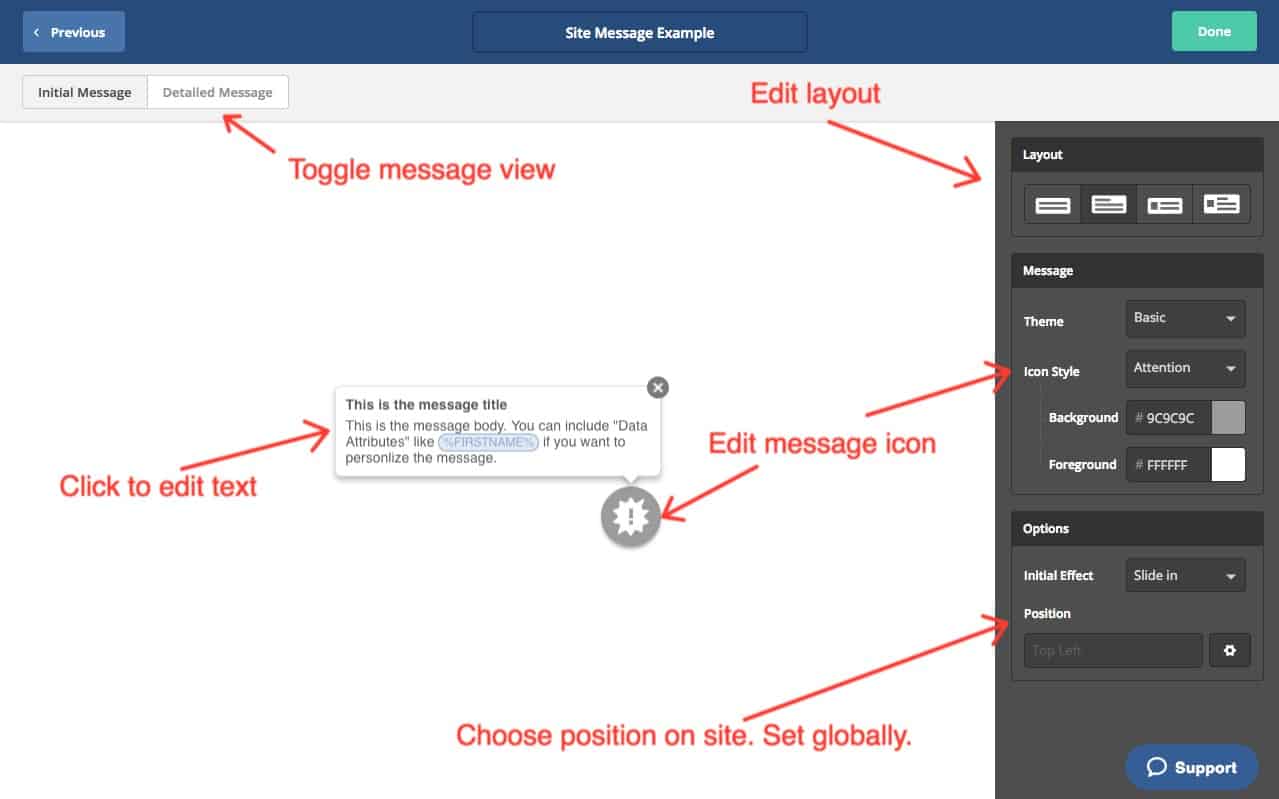 Site messages pop up in the corner of the screen to target your site's visitors just at the right moment. They work best when used for company updates, qualifying leads with a call to action (such as 'schedule a demo'), or adding a personalized message.
Site messages are also handy for pushing promotions or discounts just at the moment when customers are scrolling through your products.
The key benefit of using site messages is personalization. In a world where most ads are targeted, customers want to feel that offers or experiences are specifically tailored to their needs.
Personalized site messages do just that, creating a connection between you and your customers. You can trigger site messages using automations, so they reach your contact at the perfect moment.
Site messages can be based on contact segments, meaning they'll be individually targeted on each visitor based on data you have about a particular contact. This data can include email interactions, contact attributes, or location.
2. Conversations & chat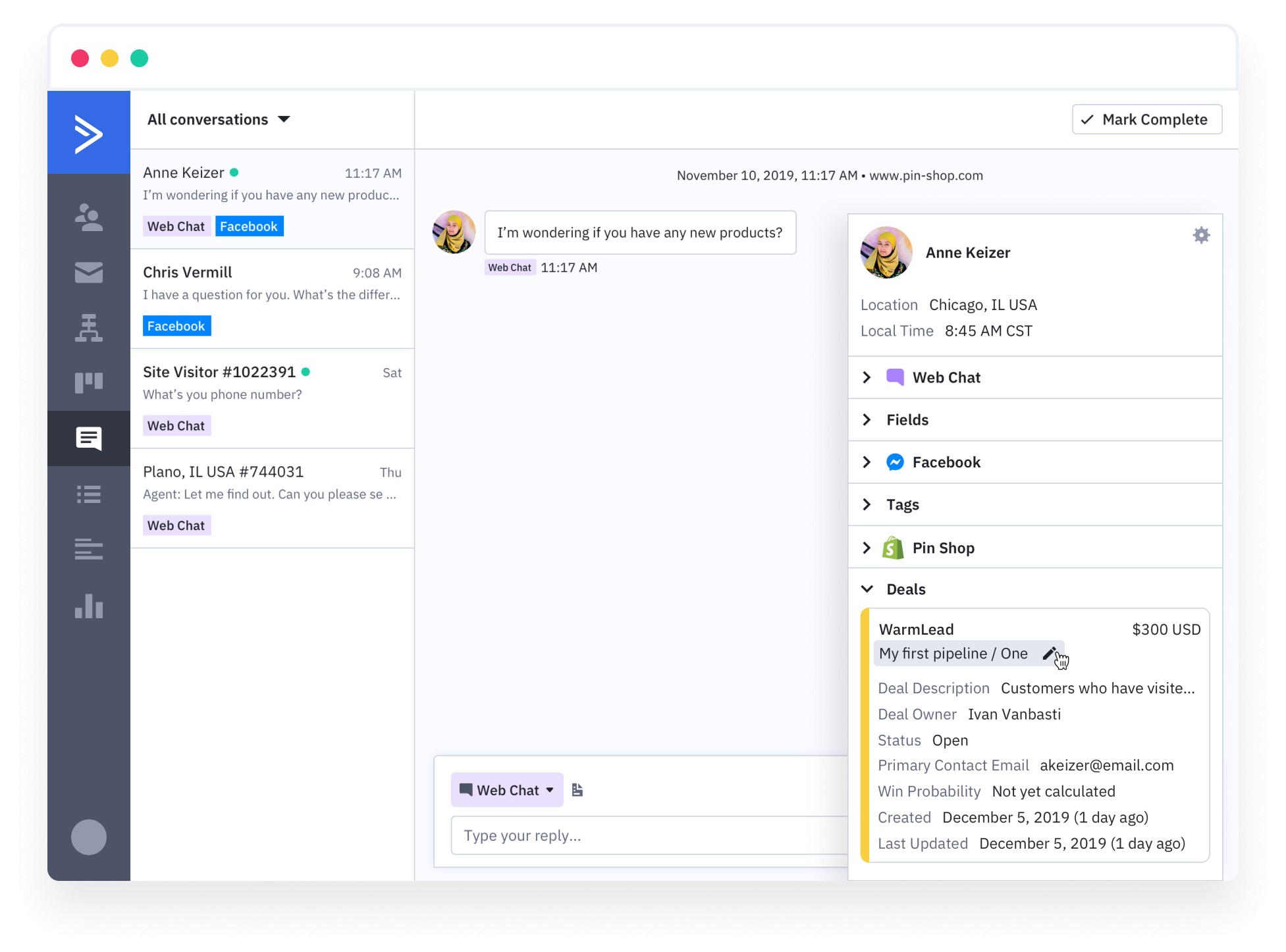 Conversations combines live chat with automation to create a streamlined experience across all channels. The Conversations feature makes your sales teams' lives easier by automatically creating a deal in the CRM when a contact engages with the live chat.
You can also create an automated chatbot experience for site visitors, complete with automated messages and content blocks that gather information about a contact.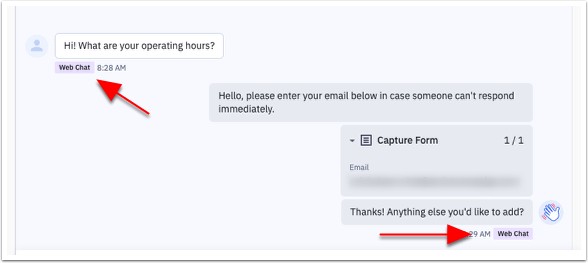 If you use Facebook for your company, you can even link with Facebook messenger to create a unified inbox. This way, you can support all contacts from one place.
With ActiveCampaign's Conversations, you can create a streamlined chat experience, allowing you and your staff to provide an excellent customer service experience to each contact.
Having a live chat or chatbot also helps you qualify visitors efficiently, especially in a B2B setting.
3. SMS
Unlike other marketing automation platforms, ActiveCampaign integrates SMS as a channel that you can leverage for campaigns or as part of your automation, such as reminders.
ActiveCampaign uses third-party apps such as Twilio and Whatsapp for this type of communication.
Try ActiveCampaign
Get a free 30 day trial on activecampaign
Lead Capture Features: Grow Your List With ActiveCampaign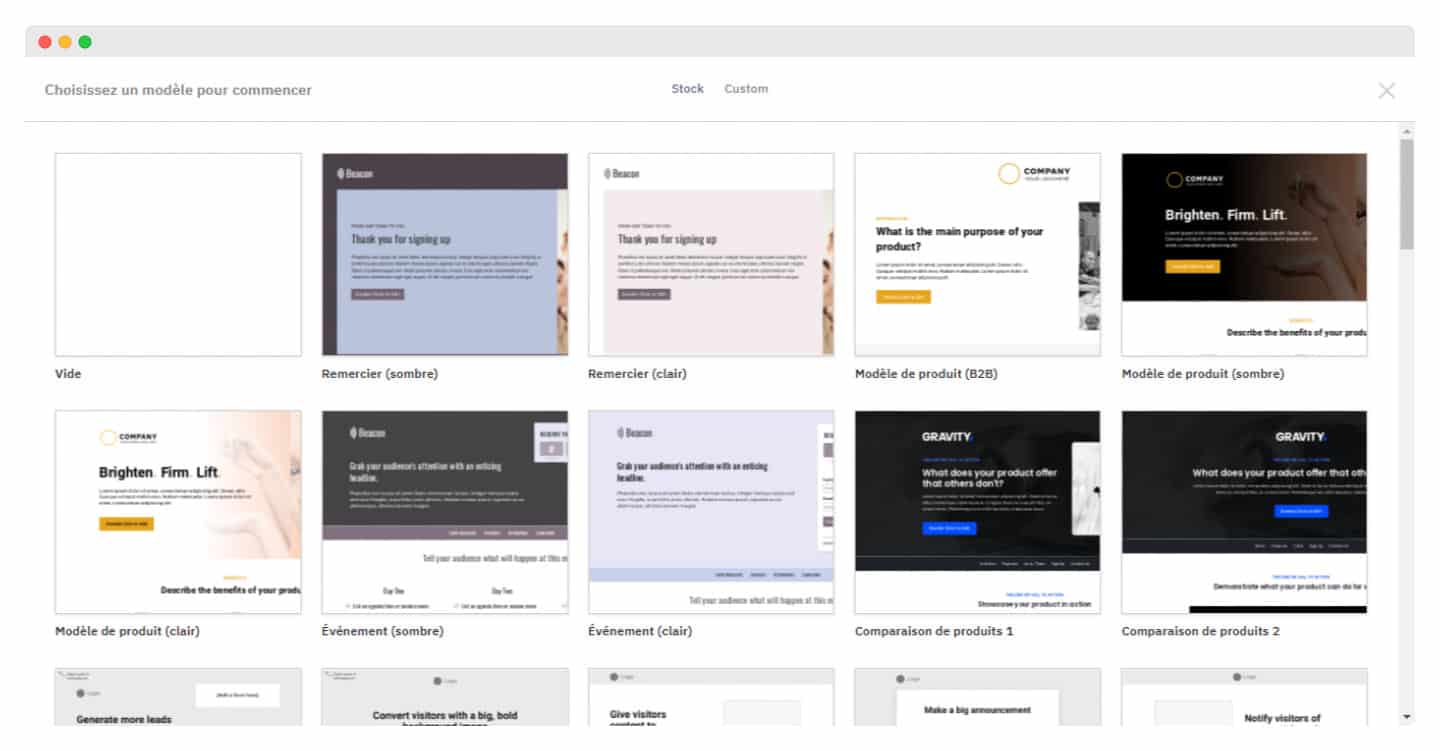 Let's start with one of ActiveCampaign's best lead capture features: registration forms. These forms are easy to set up and allow you to create your own custom fields.
As well as standard forms, ActiveCampaign offers the option of creating floating forms and modals (pop-up forms), so you won't need a dedicated popup plugin.
This means if you're on an e-commerce platform, you can easily embed a floating form featuring a discount code or promotion on your website—a simple and effective way to upsell your products.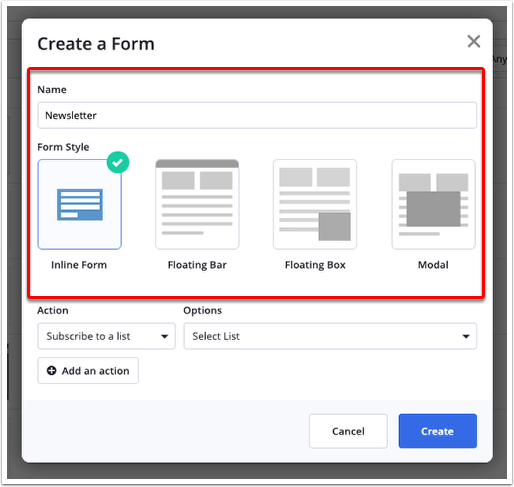 ActiveCampaign's landing page builder is another popular tool among its users, with a huge variety of easily customizable templates that can be hosted on a custom domain or subdomain.
With ActiveCampaign's drag and drop builder, even the least proficient tech users can build an attractive landing page with no need for code.
On the priciest plan—the Professional plan—users can hide or remove certain elements to create a customized web experience for each visitor.
Contact and Lead Management on ActiveCampaign: Our Review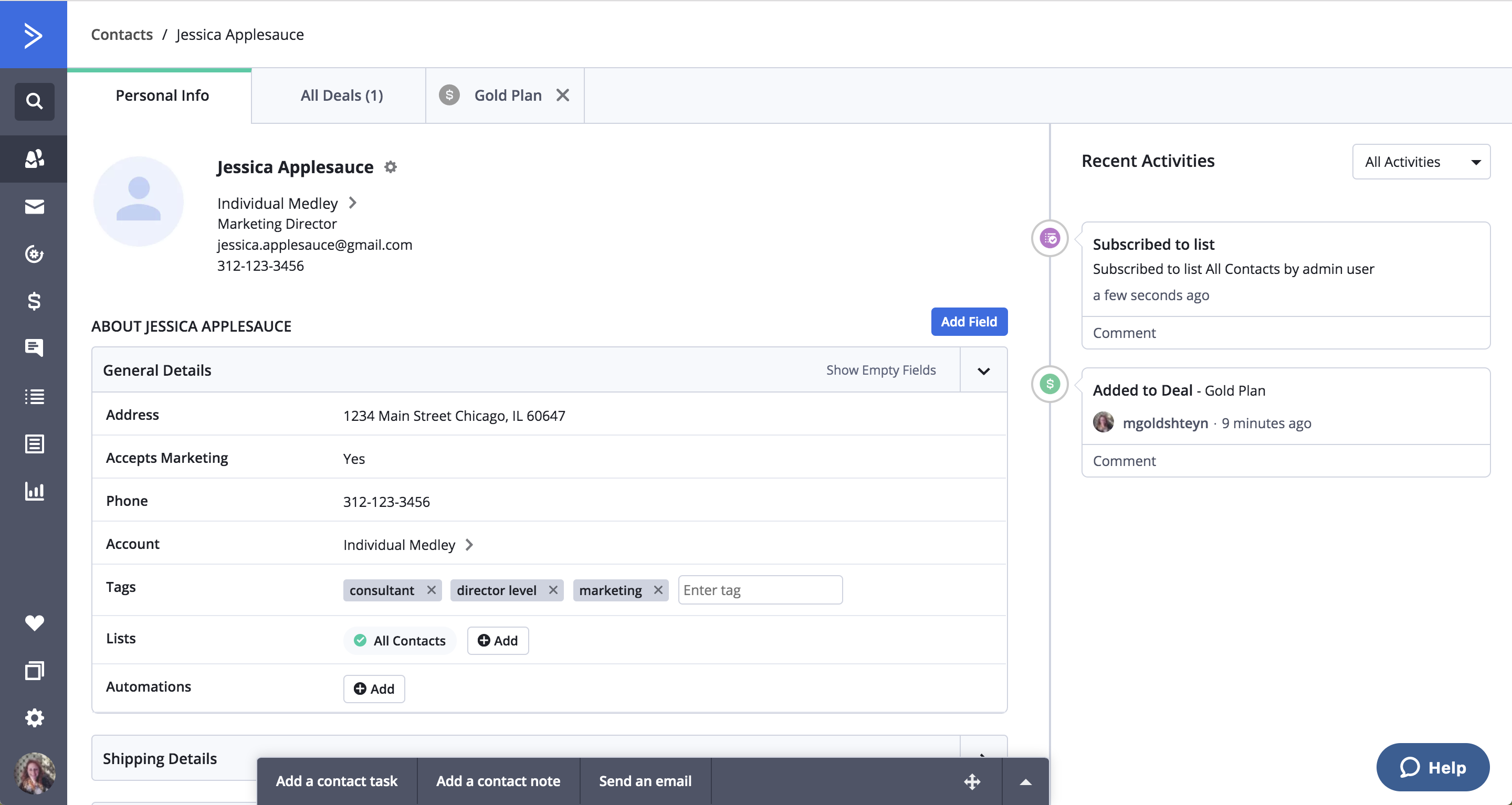 Email marketing is one of the best channels to drive traffic and engagement, and ActiveCampaign will help you do just that. It offers segmentation tools that allow you to separate your customers into data-driven segments.
Targeting your content towards particular segments ensures your customers are only receiving information that's relevant to them—reducing the chance of email fatigue.
You can segment customers based on various data, including geographical location, contact information, and contact activity. Location-wise, you can segment contacts based on area code, city, country, region, and more.
In terms of contact activity, ActiveCampaign allows you to segment by total page visits, whether the contact has clicked on a link, whether they've opened an email, and more.
For contact information, ActiveCampaign offers segments such as subscription date, email address, and IP address.
ActiveCampaign comes with a built-in lead scoring feature based on the criteria you input and allows you to update contact information and move them across the CRM funnel based on specific actions.
ActiveCampaign also comes with complete interaction history for each contact, so you can dig into your brand's interaction with any specific contact from lead capture all the way to conversion.
Try ActiveCampaign
Get a free 30 day trial on activecampaign
The Automation Platform That Brings It All Together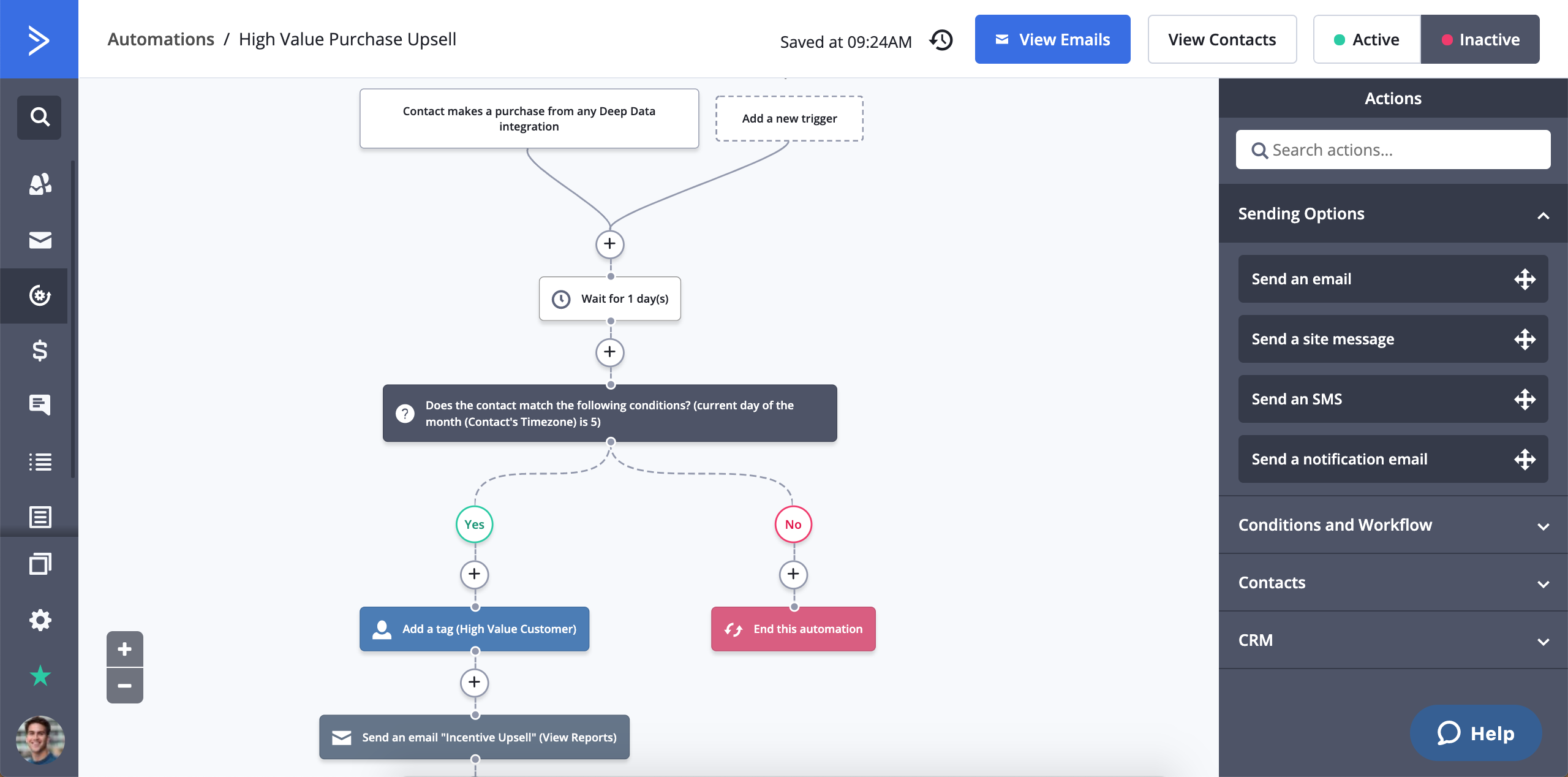 The ActiveCampaign automation functionality truly sets it apart from its competitors.
One of ActiveCampaign's key strengths is its workflow customization, allowing users to customize pre-built workflows to their specific needs with the help of step-by-step navigation and simple drag and drop functionality.
Workflows can be activated by a huge variety of triggers, including a web page visit or user birthday, and multiple triggers can be added throughout one workflow. This allows for automation at various steps throughout the user journey.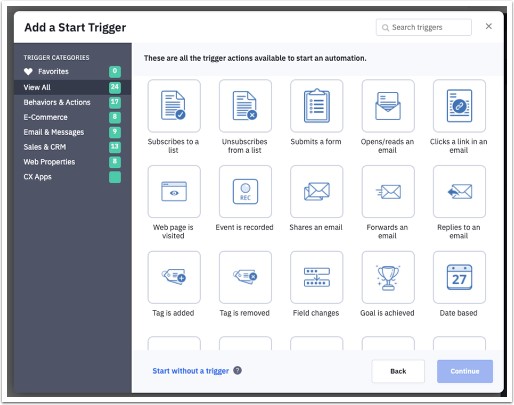 ActiveCampaign's USPs include the ability to add SMS into any workflow and the option to A/B test for everything from emails, wait times, or any custom actions you've added.
You can even bypass stages of the automation if a potential customer performs a particular action, so you're not pestering customers who are already bought into your product or service.
Reporting Features on ActiveCampaign: Our Honest Opinion
Analytics are invaluable for any blogger who wants to know what's working and what isn't. You can use the data collated to inform your future marketing strategy and make sure you're getting the most out of ActiveCampaign.
The Campaigns Report section shows you the analytics of recent campaigns, including open rates and clicks. For a more granular look at your campaigns, you can divide the metrics by:
Client
Location
Bounces
Social shares
Unsubscribes
As with most of its features, ActiveCampaign's strength is in its customizability. Whatever metric you need, you'll probably find it on ActiveCampaign.
You can use these metrics to inform your new campaigns, such as sending a follow-up email to people who opened your last email but didn't click on the call to action. You can even integrate with Google Analytics for a super in-depth look at how your campaigns are performing.
The biggest downsides to ActiveCampaign's reporting features are its slow loading time and general user experience. The screens aren't great for beginners, so it might take time to get used to them.
Try ActiveCampaign
Get a free 30 day trial on activecampaign
ActiveCampaign Integrations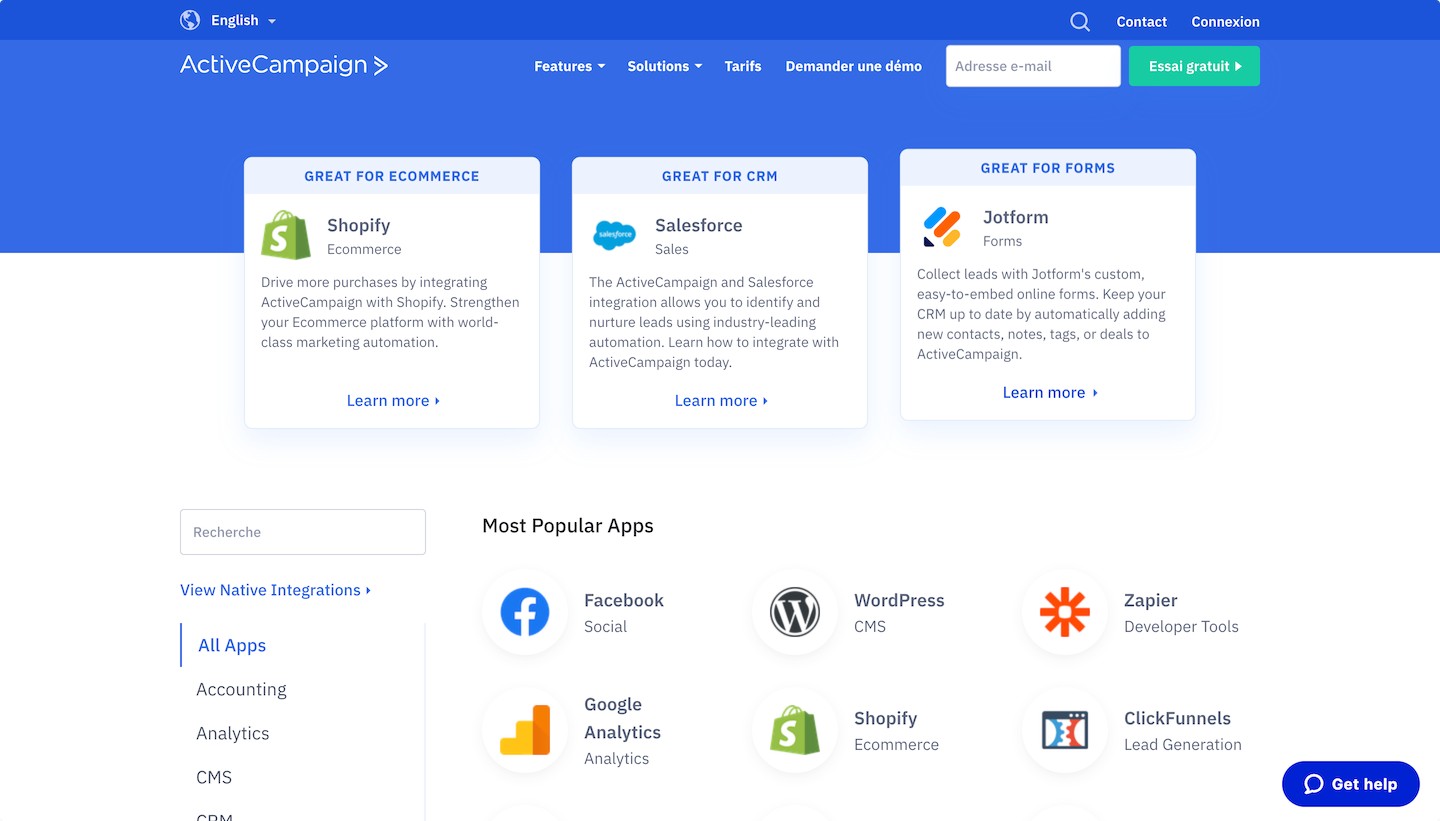 Screenshot of the integrations marketplace
If you're looking for a platform that works well with tons of other platforms you already have in place, ActiveCampaign is ideal.
Here are some of the most popular apps that ActiveCampaign integrates with.
Ecommerce: Activecampaign integrates with the biggest e-commerce CMS like Shopify or Woocommerce. They also built dedicated integrations with payment platforms like Paypal and Stripe. Drive more purchases, track sales, setup personalised emails.
Sales CRM & reporting: Activecampaign comes with a built-in sales CRM but they also built integrations with the leading CRM platforms like Salesforce, Pipedrive, etc.
Forms & lead capture: Despite pretty solid lead capture features, AC integrates really well with landing page and form builders. They also built a really powerful integration with Facebook lead ads.
Customer Reviews of ActiveCampaign
ActiveCampaign users praise the professionalism and friendliness of the company's customer service staff and the quality of demos and webinars to onboard new users.
Other users find ActiveCampaign easy to use for segmentation and tracking customer behavior, even for CRM beginners. The automation seems to be a hit among users, as does the customization of forms and landing page templates making list building a lot easier.
On the other hand, ActiveCampaign has received criticism for its email editor, which some users have called tricky to format.
Other cons of ActiveCampaign include confusing terminology and the platform's API, which one user called 'defective'. Users have asked for more API support for developers, too.
Try ActiveCampaign
Get a free 30 day trial on activecampaign
ActiveCampaign's Customer Support: Our Review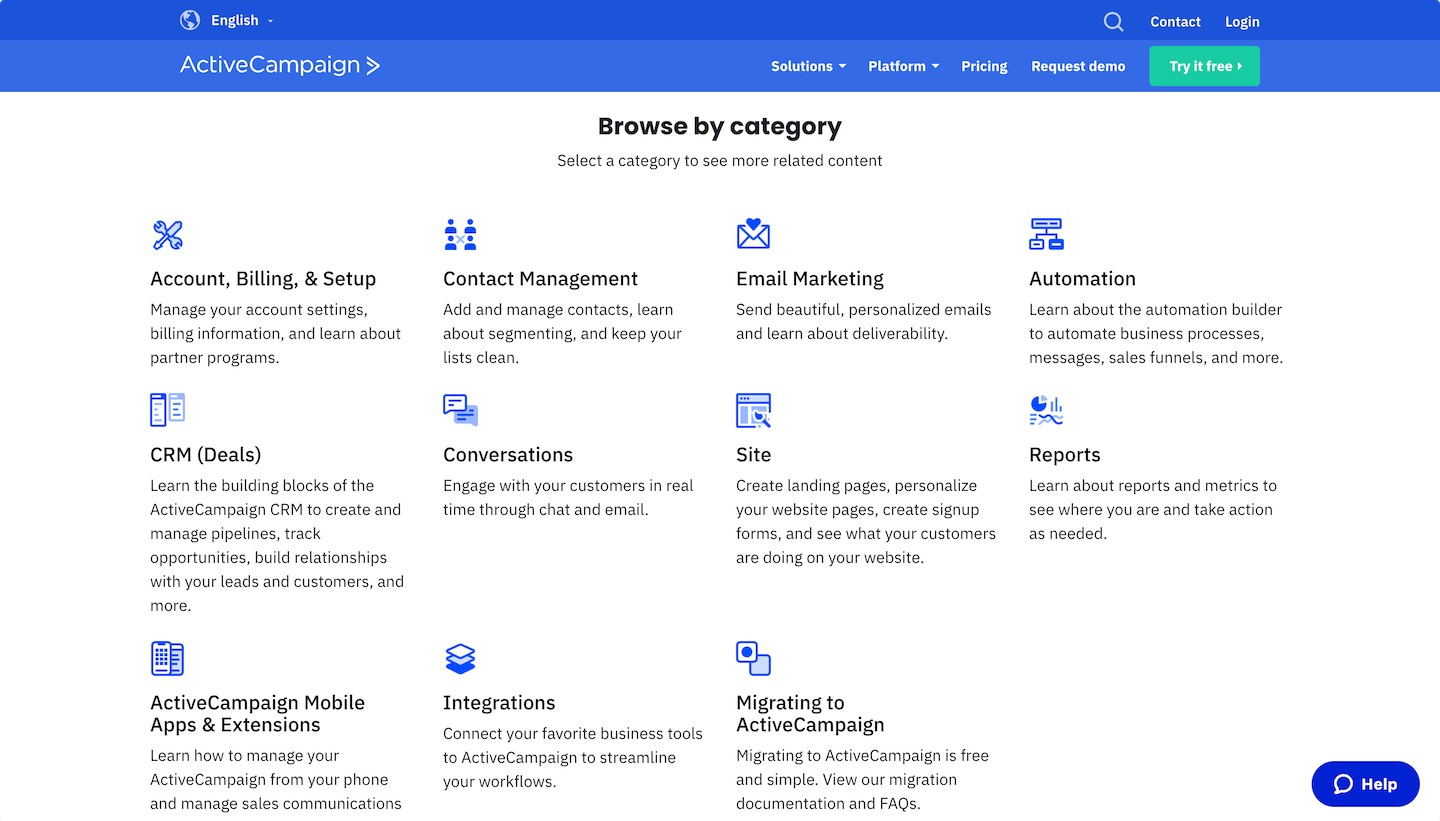 ActiveCampaign users can contact the support team by:
ActiveCampaign provides a phone number (+1 (800) 357-0402), but it takes you through to the sales team for booking demos and discussing your pricing plan.
Where ActiveCampaign really shines is its support center, which offers tons of written guides and video tutorials to help you get the most out of ActiveCampaign. Users who need a refresher on using the platform can sign up for a 90-minute webinar to brush up on their skills.
Activecampaign Pricing Plans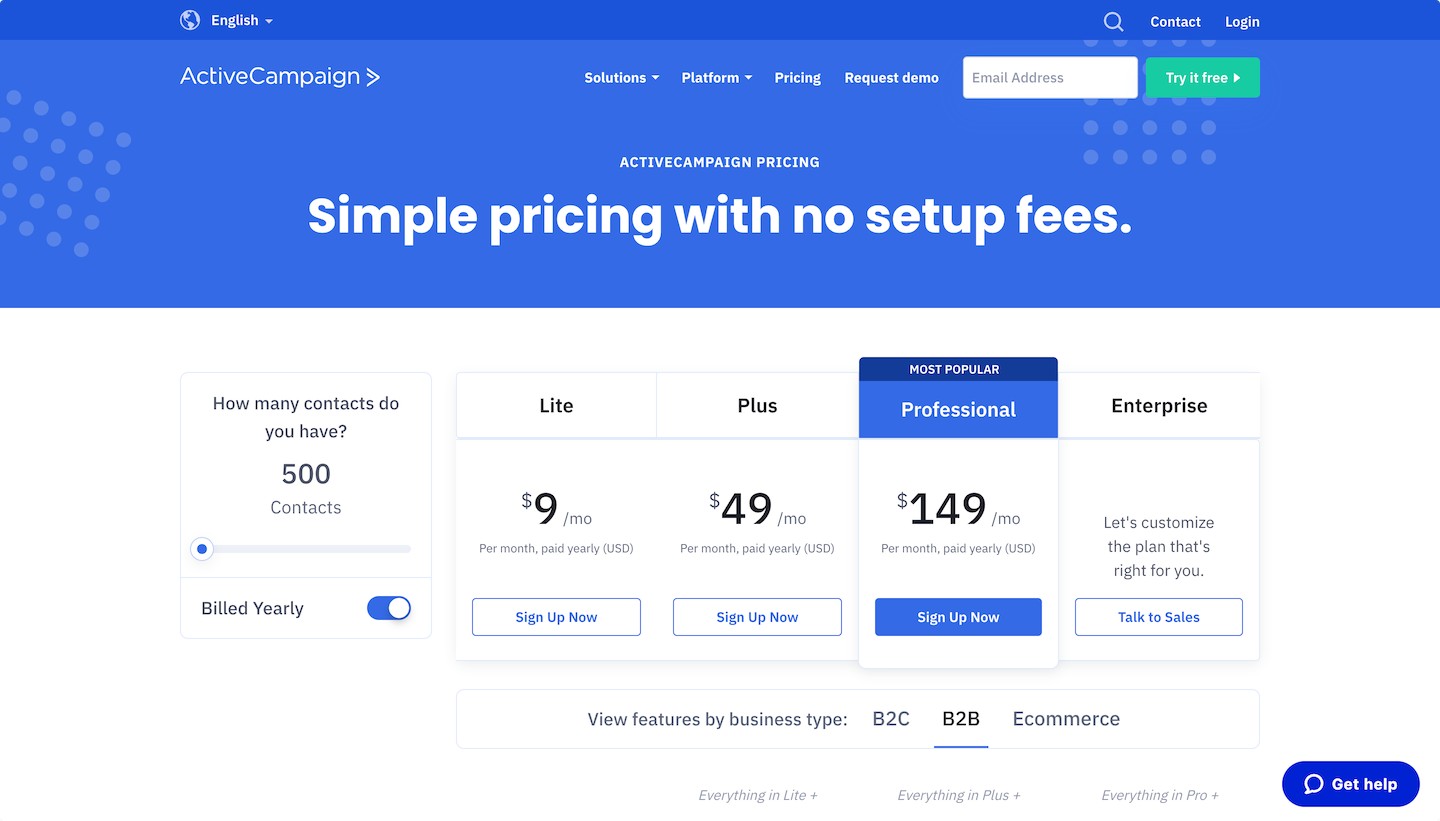 ActiveCampaign doesn't offer a free trial or free plan, so make sure the platform offers value for money for your business before signing up.
ActiveCampaign's cheapest plan—the Lite plan—starts at $9 a month for only 500 contacts and comes with a marketing automation editor, lead tracking, API, webhooks, and integrations. For 50,000 contacts, you'd be looking at a relatively pricey $339 per month.
One up from the Lite plan—the Plus—starts at $49 per month for 500 contacts. The Plus plan offers extra features such as lead scoring, Facebook & SMS, and landing pages.
25,000 contacts on this plan will set you back $379, and for 50,000+ contacts, you need to agree on a custom price with the sales team.
ActiveCampaign's priciest plan is the Professional plan, which comes in at $149 a month for only 500 contacts. The reason for the significant jump in price is the Professional plan's added features, which include pop-ups, live chat, and attribution marketing.
For 25,000 contacts, you're looking at $549 per month, with 50,000+ contacts or more requiring a chat with the sales team.
Try ActiveCampaign
Get a free 30 day trial on activecampaign