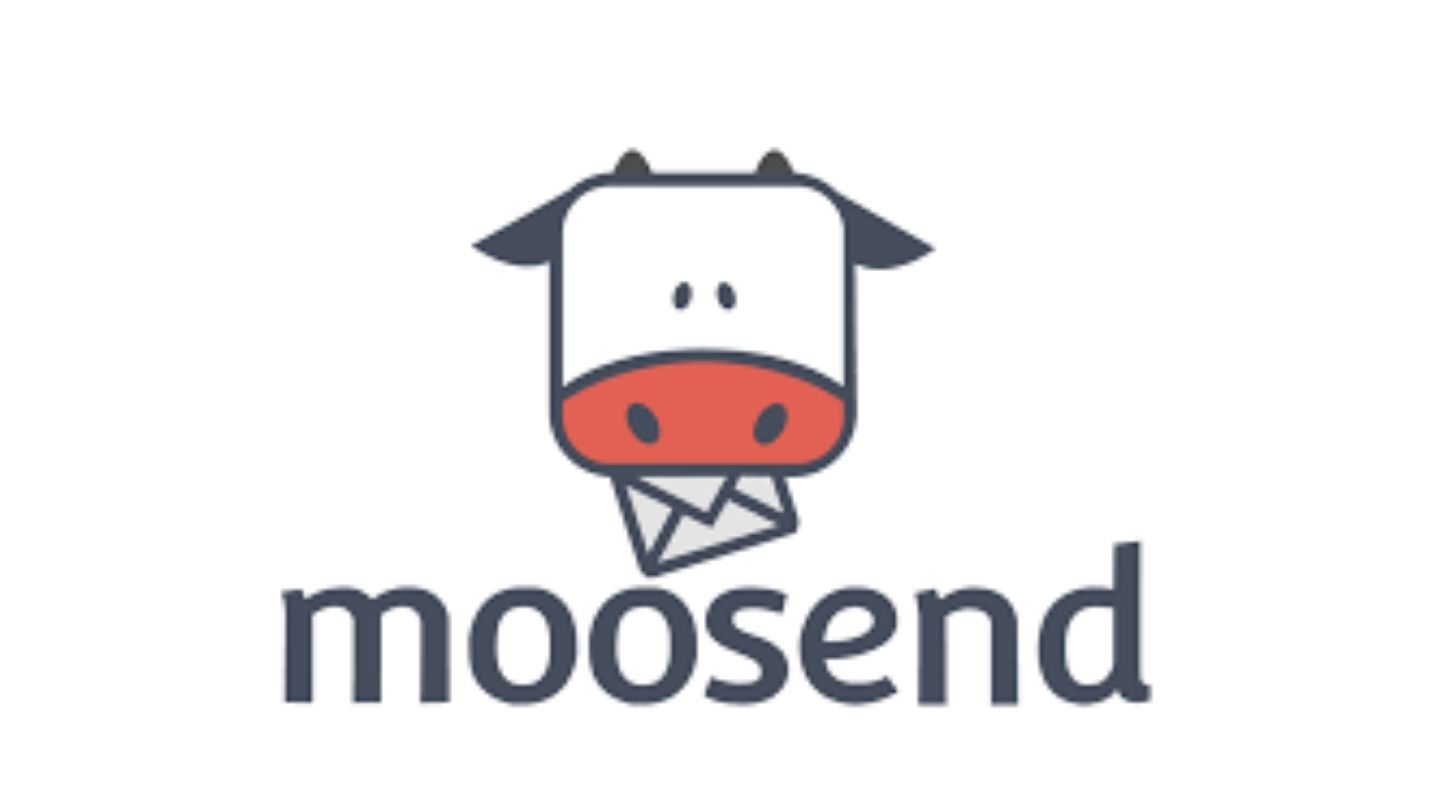 Moosend is the ideal email platform for small e-commerce businesses and publishers.
It has advanced marketing automation features, good deliverability, and supports transactional emails. It also offers solid support and has vast amounts of educational content.
Overall, Moosend is a smart, and easy-to-use solution for clever marketers, offering fantastic bang for your buck.
Our opinion on Moosend
Moosend's pros and cons, in a nutshell
Pros
Moosend is incredible value for money. It's one of the cheapest marketing solutions available, and yet still offers highly robust automation features and integrations, including for e-commerce! It's one of our top activecampaign alternatives
It has advanced and highly customizable reporting. This includes direct revenue attribution to email campaigns.
Excellent and very available support team.
Cons
Moosend doesn't offer additional channels like SMS, live chat, Facebook ads and further integrations. If you're in the market for an all-in-one tool, it won't be the right fit. Need more channels? Check out our Activecampaign review.
The email editor isn't as flexible as some might like. But it arguably makes up for that by being very straightforward and easy to use.
Try Moosend for 30 days
Get a free 30 day trial on moosend
Building your email marketing campaigns on Moosend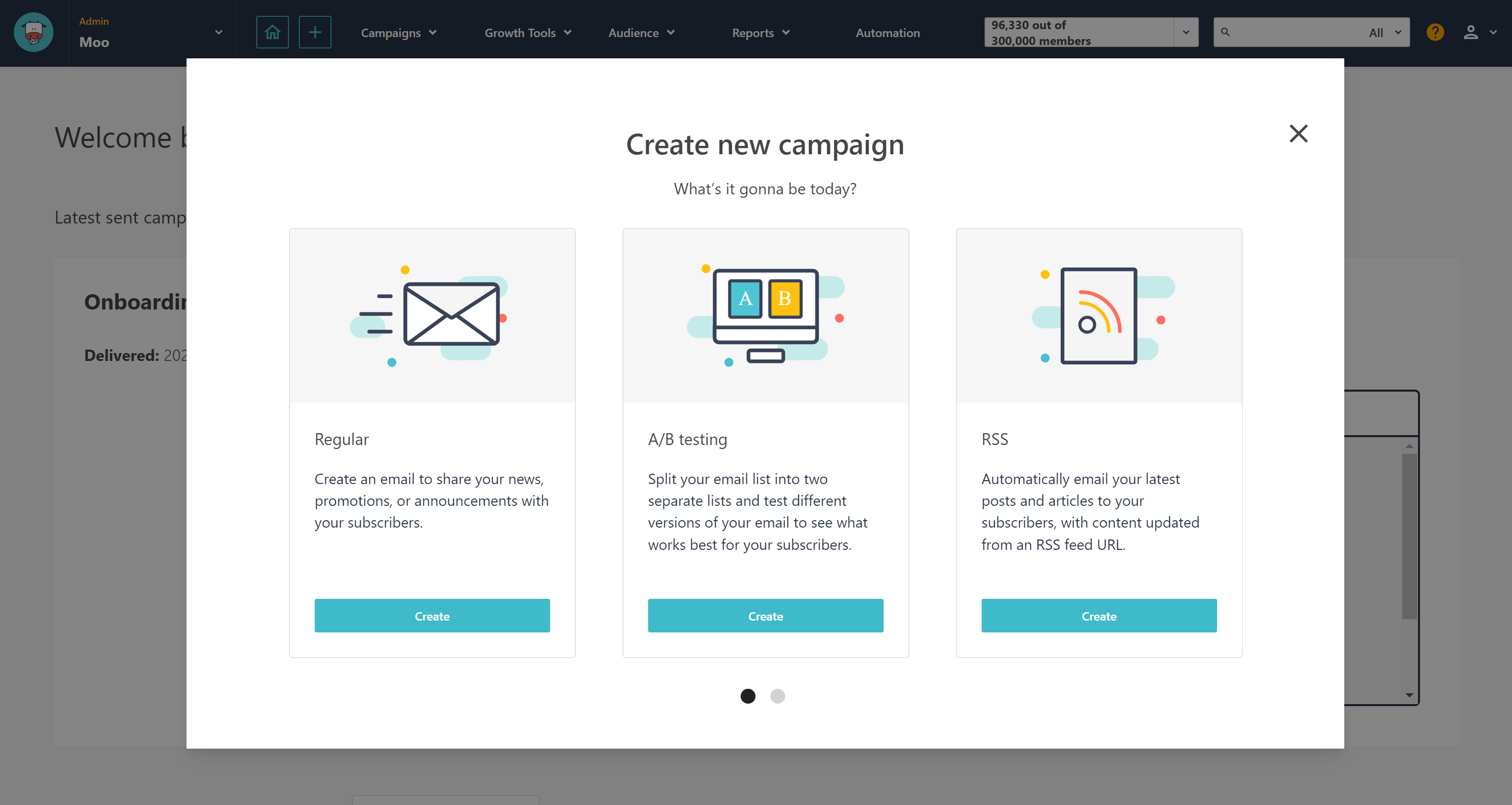 Moosend's email builder allows you to build customized professional emails quickly and efficiently.
The downside is that it only offers 71 free templates, much less than most email builders. You can edit the templates to suit your business needs and save your favorites in your template library.
They're not necessarily the most inventive template designs out there. But they're clean, simple, really well organised, and professional, which goes a long way.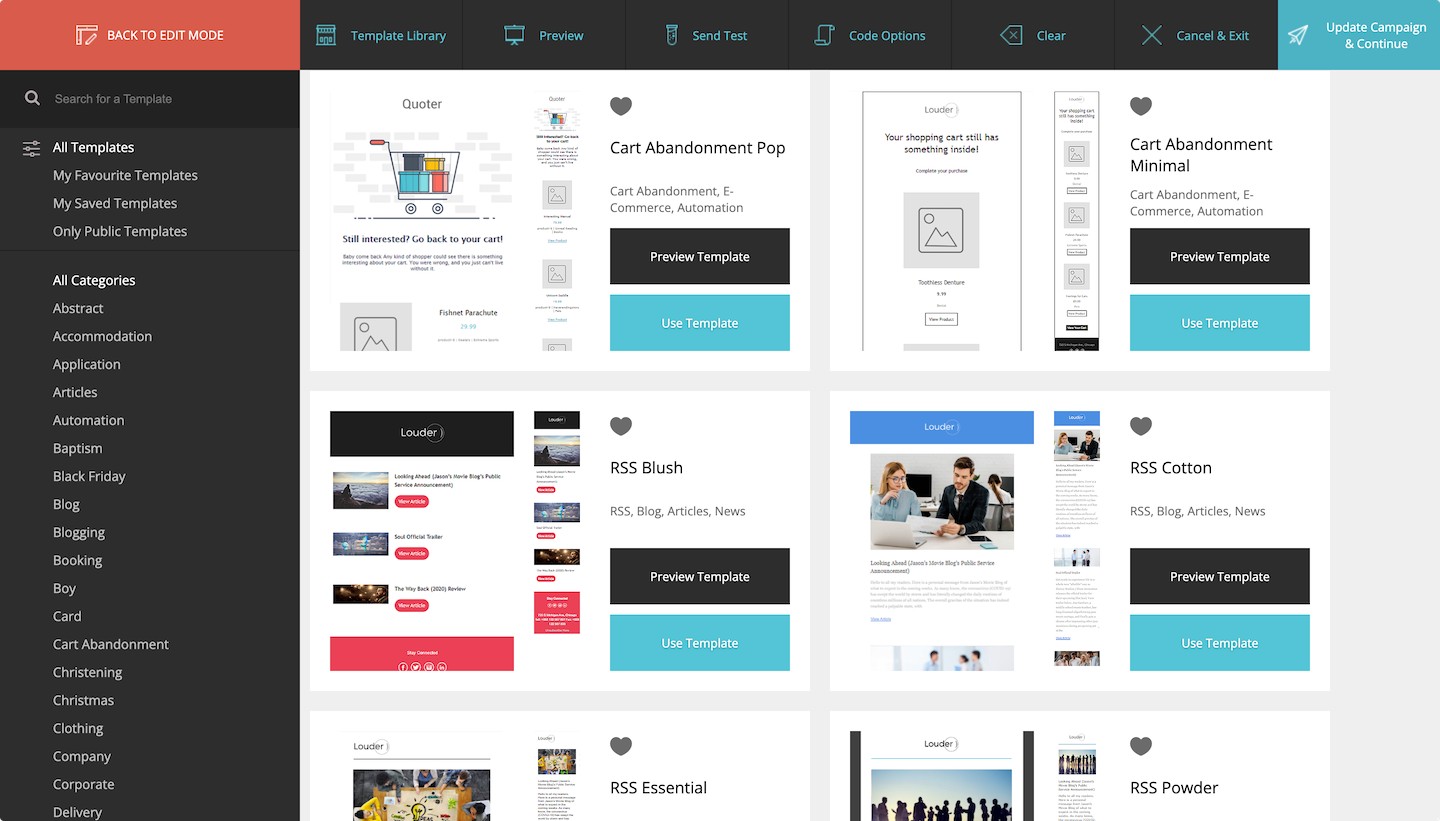 Plus, you can import your own, by either uploading it from your computer or importing from an online source via its URL or HTML code.
You can also design your email marketing campaign from scratch using drag-and-drop content blocks like image, button, text, HTML blocks, video, timer, or dynamically fetched products: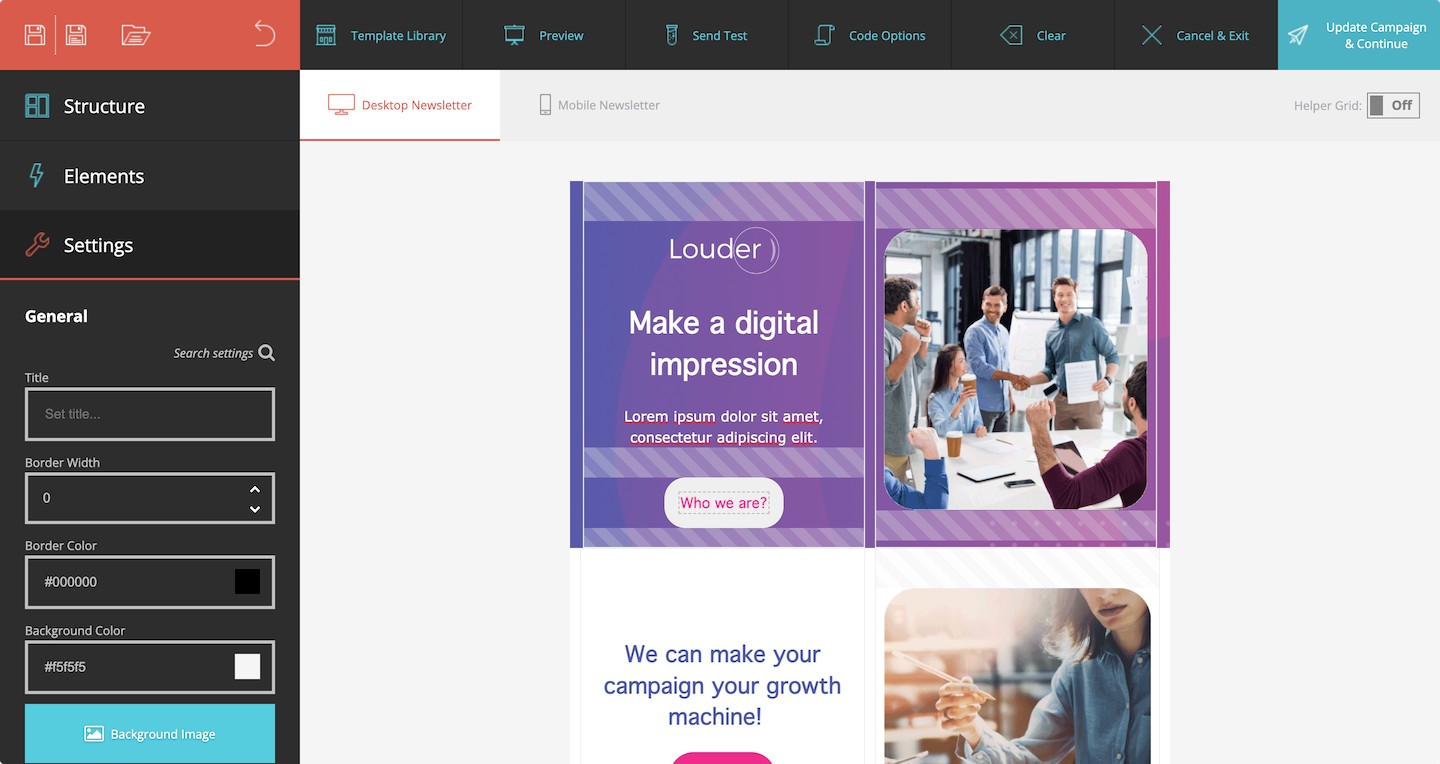 The editor is easy to navigate, and it splits your email design into 3 sections:
Structure (size and shape of your email)
Elements (drag-and-drop content blocks)
 Settings (colors, text and conditional formatting)
We love how clean and easy it is to use. If you're not too adept at creating emails yourself, the Helper grid that you can toggle to 'on' in the top right corner shows you what elements will fit your email layout as you go.
There are lots of options for customizing how every element looks.
Dynamic content ensures your email is personalized to each person who receives it. And you can alter what they see depending on certain factors or triggers.
For example, you can add personalization, like their name, by adding merge fields. Or show or hide specific blocks depending on their location and contact tags.
You can even set dynamic product recommendations or offers based on pages they've visited on your site.
As with most platforms, you can A/B test your campaigns. Moosend will let you test three parts:
Sender name
Subject line
Email content
Finally, before sending an email, preview how it looks on desktop and mobile, and send it to yourself to check it looks okay inside your email client.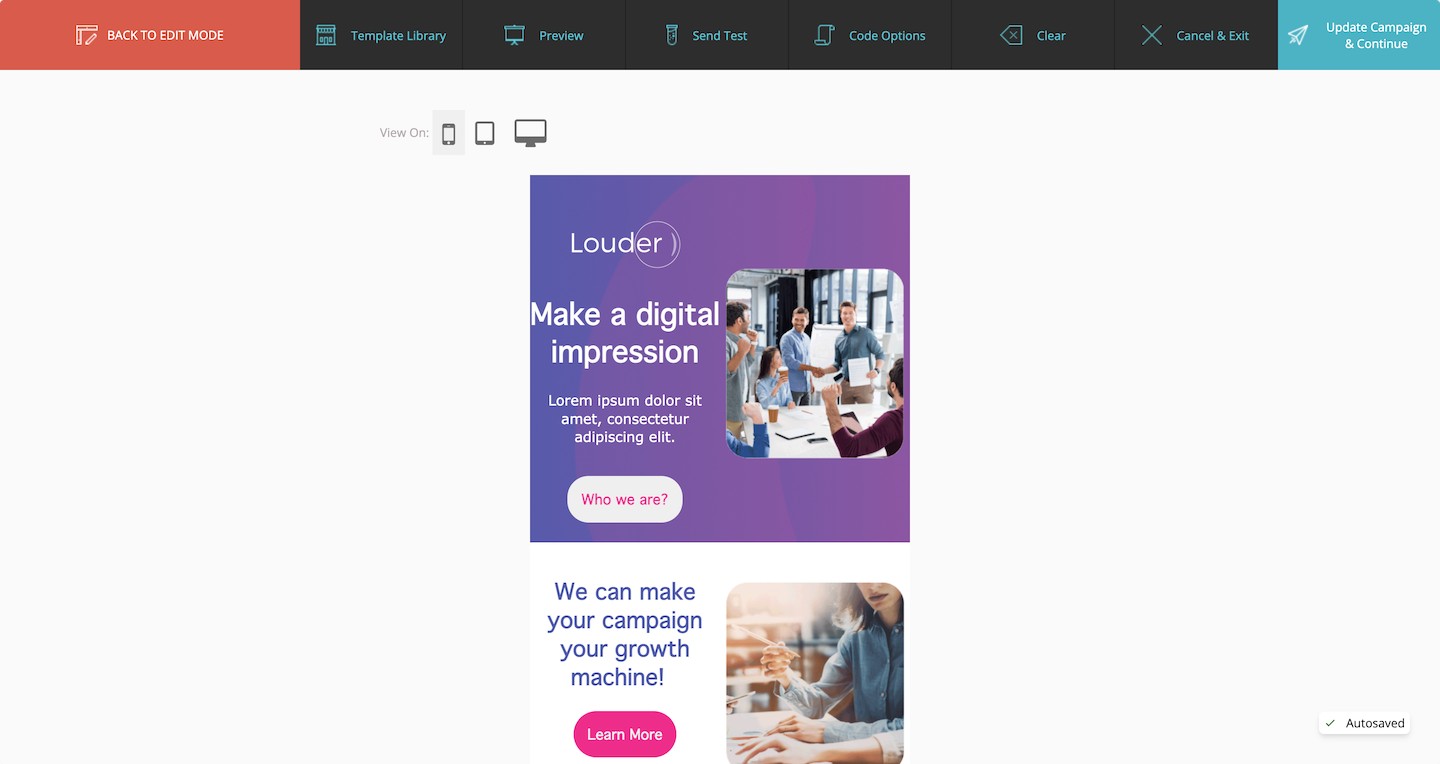 You can also trigger the free spam test to ensure it will pass the filters of all major clients. For those it doesn't, Moosend will offer suggestions to increase its chance of passing. The only downside is not being able to visually check how it will deliver to each email client.
Try Moosend for 30 days
Get a free 30 day trial on moosend
List building features on Moosend
Capturing leads is also made easier with Moosend. It uses the same drag-and-drop editor for its landing page and form builder as it does for emails.
This isn't something you see across many platforms, and it's a great addition to Moosend. It means that you only need to learn one type of usability, reducing the learning curve.
And like the email builder, you can choose from a selection of templates, or fully customize elements as you add them to your own design. This can be anything from moving them to resizing, cropping, or grouping features.
The landing page offers the same elements as the email builder, meaning you can do things like set timers to make offers seem more urgent.
Moosend's landing pages are some of the easiest to create and launch. Plus, they promise ultra-fast loading and SEO settings like Google ranking guidance.
And it integrates what Moosend calls 'success booster' modules to optimize and secure each stage of your lead journey — from creation to analytics and tracking, including:
Google Analytics Pixel
Facebook Pixel
Custom JavaScript options
WordPress plugin
These modules are all ideal for optimizing your tracking and integration to inform your marketing strategy.
It also offers built-in, floating, and pop-up subscription forms for email capture, with a wide variety of templates to choose from and impressive customization options:
Custom fonts
GDPR compliance
Built-in forms
Labels
Page versioning
And its additional security features keep your information secure:
Free SSL
Anti-bot protection
Moosend's marketing automation engine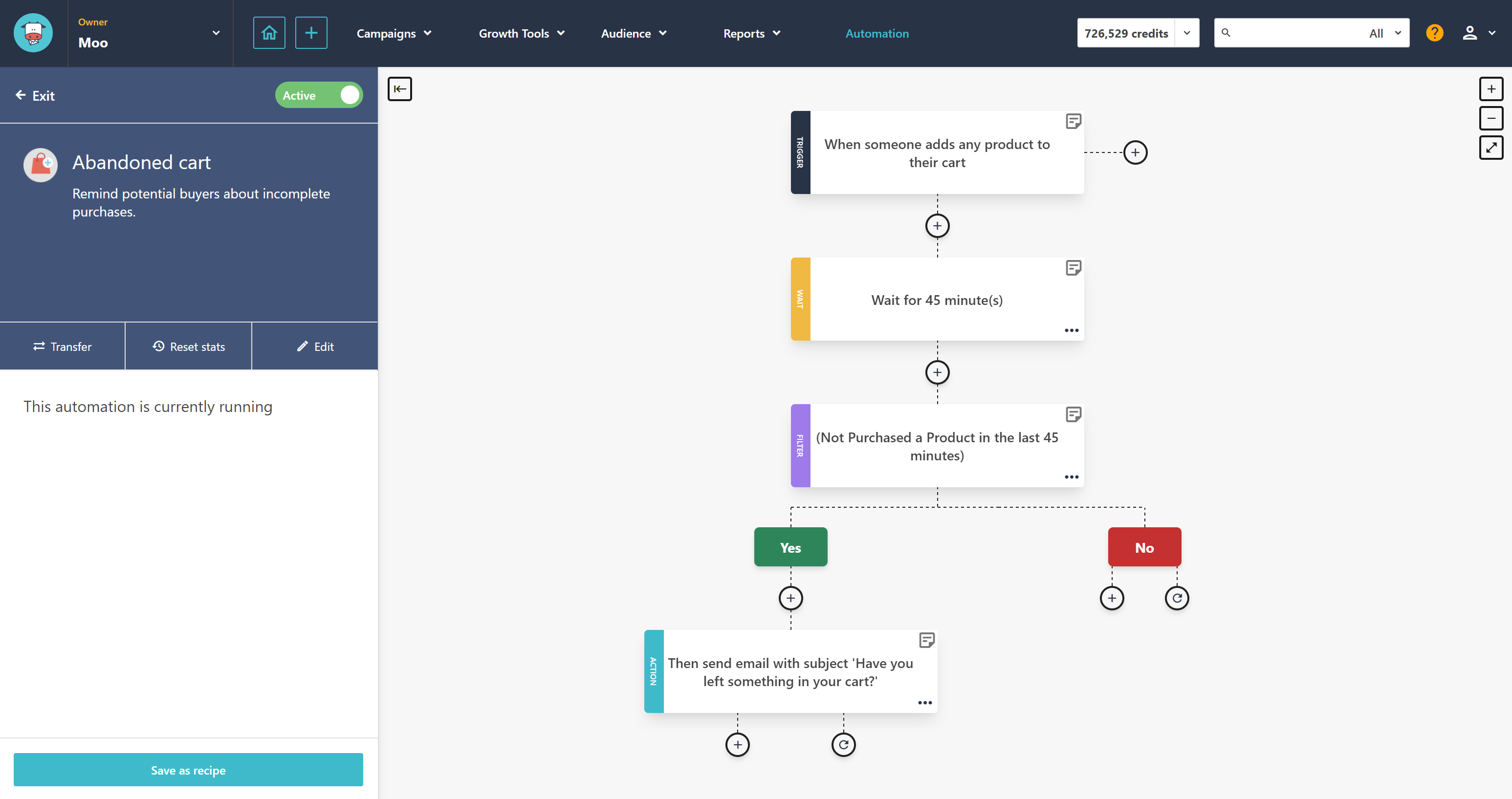 Automation is an important and necessary feature from anyone looking to scale their business.
No one has the time to send hundreds of emails manually. Instead, you want a tool that will automate campaigns and offer drip-down features for more effective marketing.
Moosend is great for this, making the entire process super easy.
Once you've decided on your campaign and email layout, the easy flow builder allows you to automate the entire process. Set triggers, sequences, and buckets so the user's email journey is completely automated from start to finish.
For example, if someone signs up via a lead form, you can send them a welcome email, and then 1-day later trigger a follow-up if they fail to open it.
Moosend's marketing automation solutions get you started, including:
User onboarding
Cart abandonment
Reminders
Lead scoring
VIP
With each trigger, Moosend makes it easy to set multiple pathways. You can set filters depending on the trigger performed and choose which corresponding action you want to occur.
Moosend offers pre-designed automation steps and straightforward selections to make the process smooth and simple.
Along with these well-designed templates and automations is the option to design your own workflows and user journeys.
There's also a VIP campaign that generates exclusivity and encourages higher purchase volumes off your biggest leads.
Moosend's repeatable campaigns & RSS to email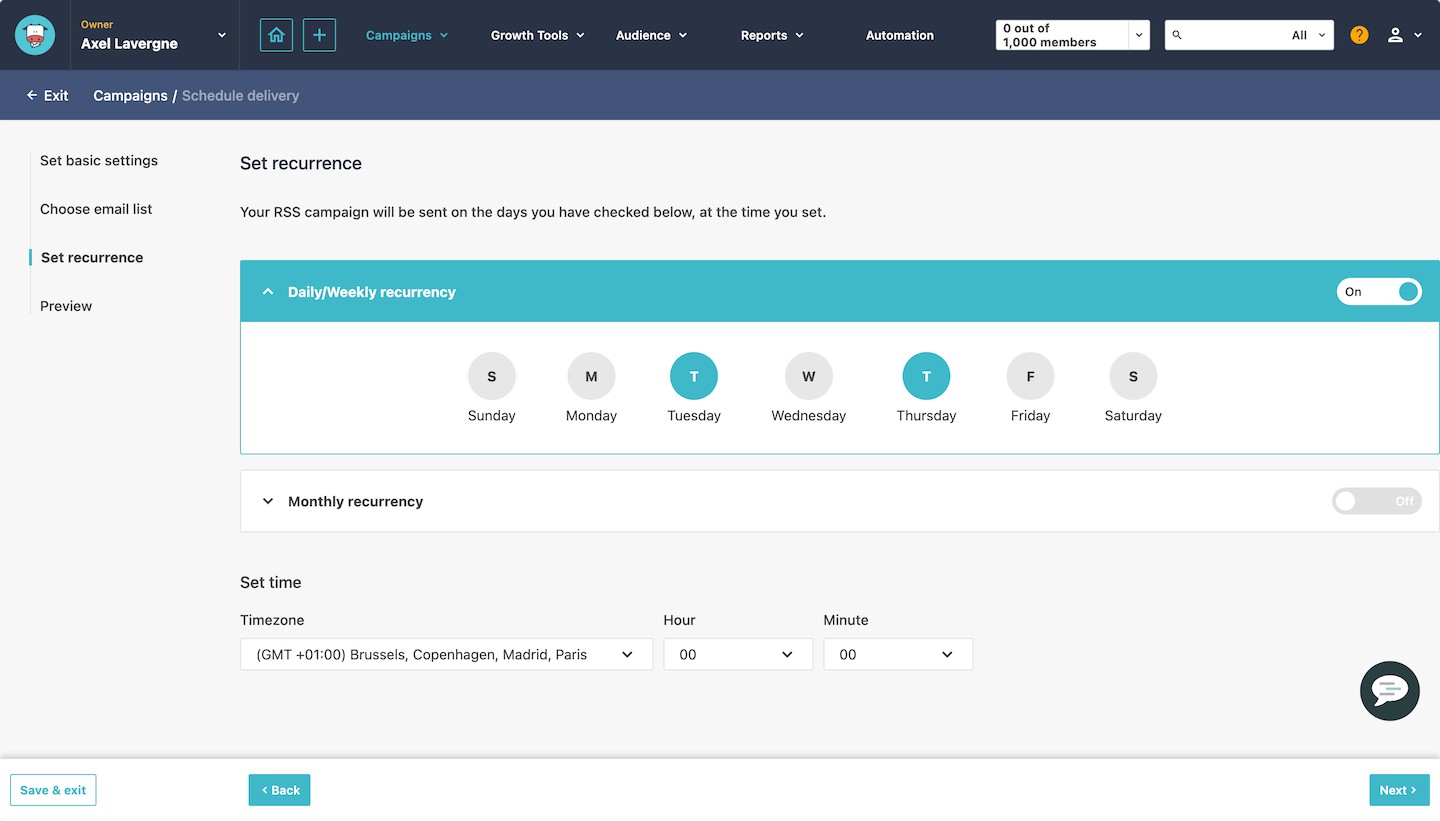 RSS feeds are super useful for sourcing content. All relevant articles are delivered directly to your inbox. Using content curation tools, you can then choose, edit and repurpose this information.
A pretty cool Moosend feature is that it offers the ability to leverage these RSS feeds into its newsletter service campaign. Connect your RSS feed to multiple mailing lists and design a newsletter through the Campaign Creation Wizard. Using RSS tags, Moosend will pull relevant articles and information straight into your newsletter.
In the same vein, you can use their repeatable campaigns feature to get updated content from specific URLs, directly into your email.
For example, say there are "latest post" or "best sellers" pages on your site. Set Moosend to periodically fetch the content from this page and automatically build up an email blast campaign from the information.
You can integrate Google Analytics for direct tracking, and Moosend will automatically ensure only active list subscribers receive the campaign.
Try Moosend for 30 days
Get a free 30 day trial on moosend
Contact management on Moosend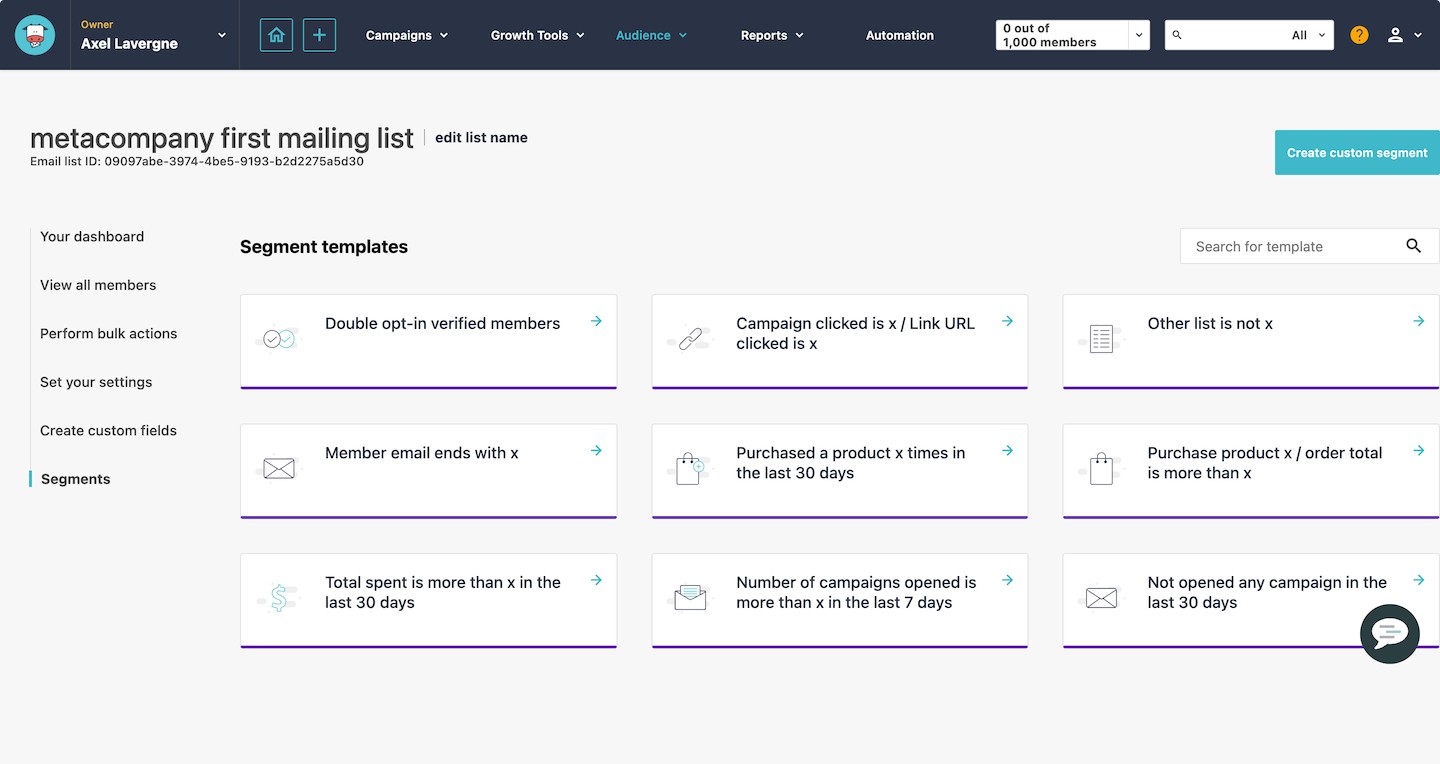 Managing your subscriber lists is pretty easy on Moosend.
In a post-GDPR world, ensuring compliance is a legal essential. That's why a lot of email platforms have introduced options like making your subscribers double opt-in. Usually once when signing up, and then again via email.
These are expected extra features, but it's still worth mentioning that Moosend covers all your bases.
Email suppression lists are basically a blacklist of all contacts who shouldn't hear from you again. It's something that isn't necessarily expected on every email platform though, so it was a happy surprise to see Moosend includes this feature.
Sending emails to these people is a privacy breach, so suppression lists ensure a blanket block on their email address across all your campaigns and mailing lists.
And once you have your list, you want to work on segmentation so you can adjust campaigns based on subscriber behavior. Most email clients offer the ability to segment, but Moosend has a bunch of pre-set filters that really help set it apart.
There are 9 pre-made segment templates and 33 criteria you can filter by. But a unique feature and something we love is that you can use web tracking to change your filters depending on a contact's actions.
This is some advanced stuff you wouldn't expect to find on such an easy little platform.
Reporting on Moosend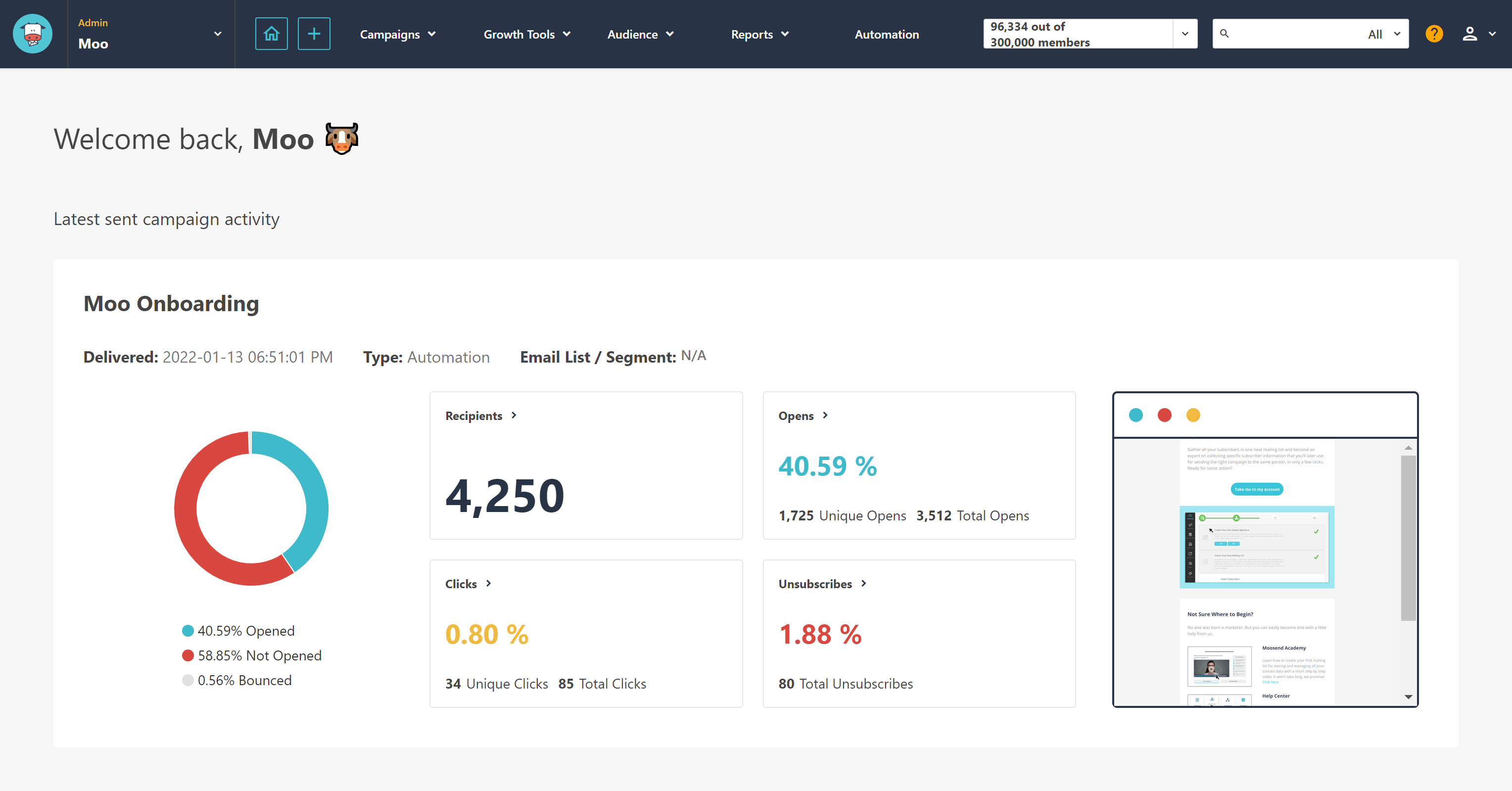 Moosend offers a lot of the typical analytic features we expect to see in any email platform, including open, click, unsubscription and bounce rates.
Moosend also includes a very handy click heat map, and information on the location and device used by openers.
Moosend gets the job done and delivers all the information you need to optimize your next campaign.
Try Moosend for 30 days
Get a free 30 day trial on moosend
Moosend integrations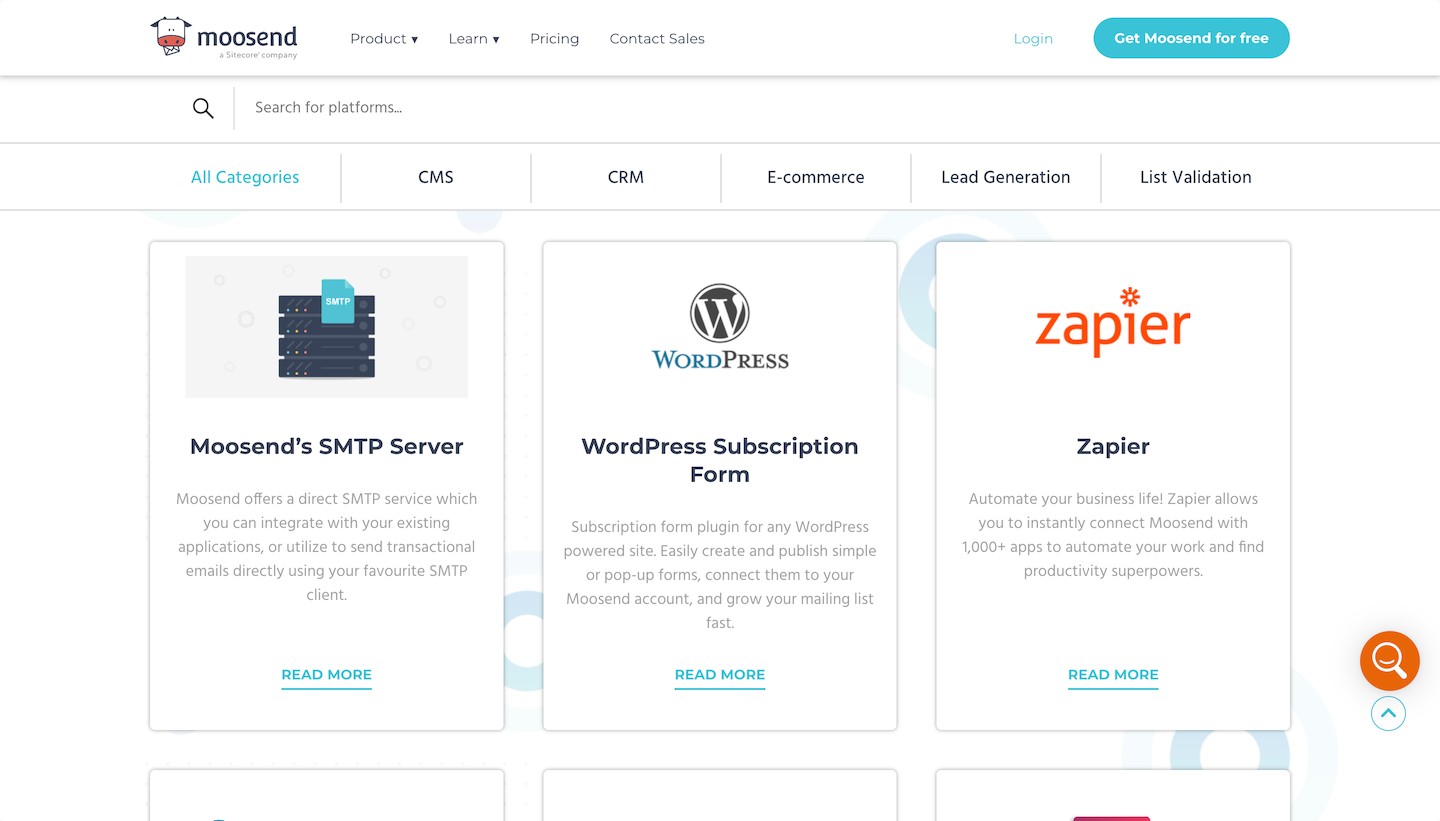 MooSend has a limited, but still decent, number of integrations for most major sites, making it an easy-to-use email platform:
CMS: Moosend has really limited CMS integration options, only working with WordPress subscription form and Drupal.
CRM: Moosend integrates with leading CRMs like Zoho, Salesforce, Hubspot, Pipedrive, and Microsoft Dynamics.
Ecommerce: Moosend offers integrations for multiple e-commerce sites, including WooCommerce, but is notably lacking an integration for Shopify which could be problematic for some users. It also lacks any sort of payment platform integration such as PayPal.
Customer reviews on Moosend
Overall, Moosend scores well on review sites.
Users particularly compliment how user-friendly the software is. They love that the people at Moosend actually listen to their customers. They'll add useful new features when requested, providing great value for money.
But the biggest complaint by far is that the site isn't currently mobile-friendly. This makes it hard to use on the move. Users also point to some issues with the more advanced features not working, and apparent reputation issues with anything related to Yahoo!, AOL and Verizon.
Try Moosend for 30 days
Get a free 30 day trial on moosend
Customer support at Moosend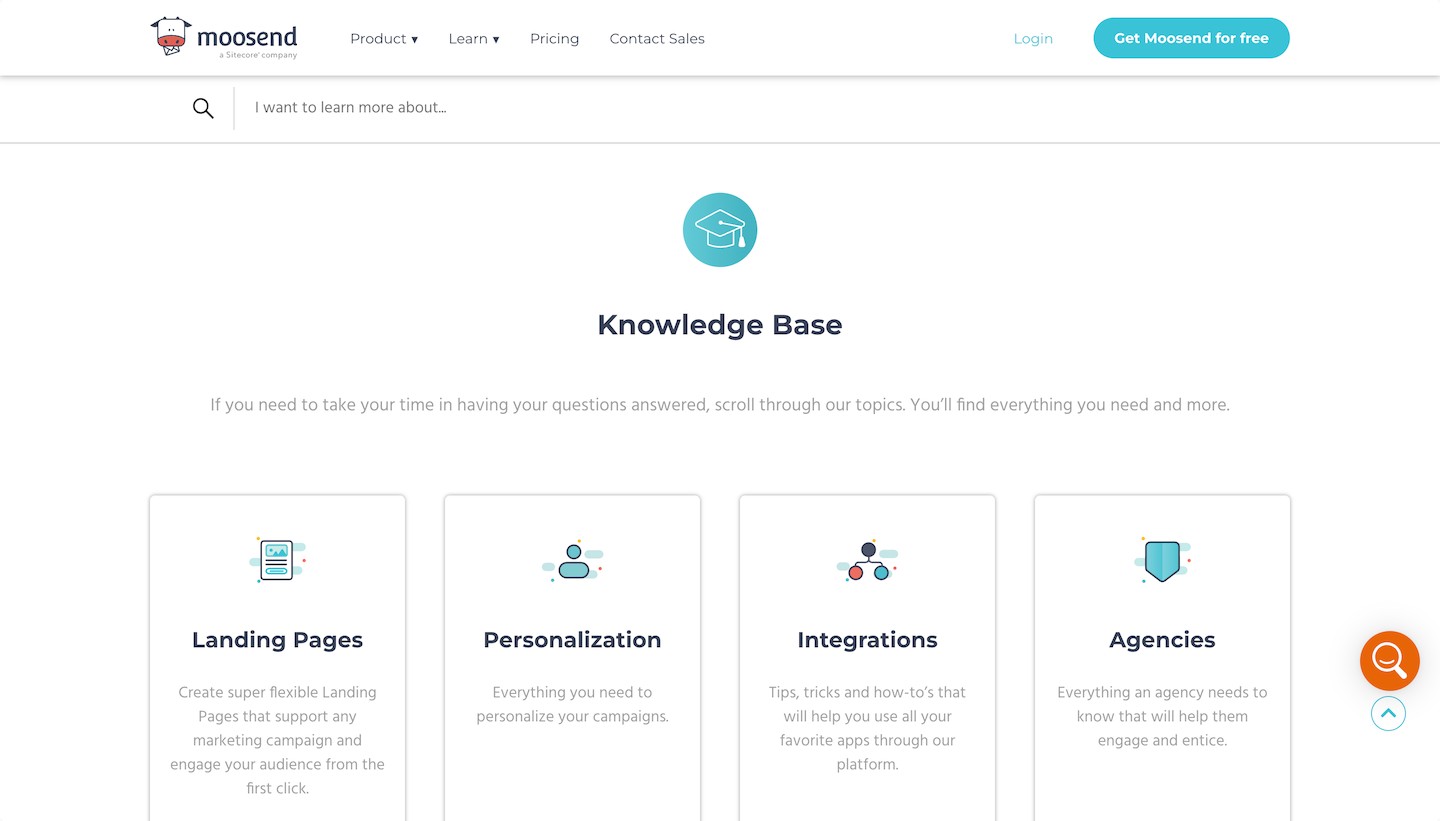 The easiest way to get in touch with Moosend is through their live chat. Although there are two email addresses on-site, they are specifically for sales and marketing, so we don't know how much traction you'll get there for customer support issues. Otherwise, you could also message them on Facebook or Twitter.
If you're a new user looking to get started, there's also a bunch of super detailed online sources.
There are two free webinars you can download at any time. And there's infographics, a very content-rich blog, and even an academy to help guide you through Moosend best practices.
That's before you even get to the FAQs.
There are over 20 categories divided into help articles, video tutorials, and information for their affiliates. Each section is really in-depth and there are easily 600+ articles to address pretty much any issue.
We love it because each section is well written, easy to follow, and provides screenshots to ensure you don't get lost.
Try Moosend for 30 days
Get a free 30 day trial on moosend
Moosend pricing plans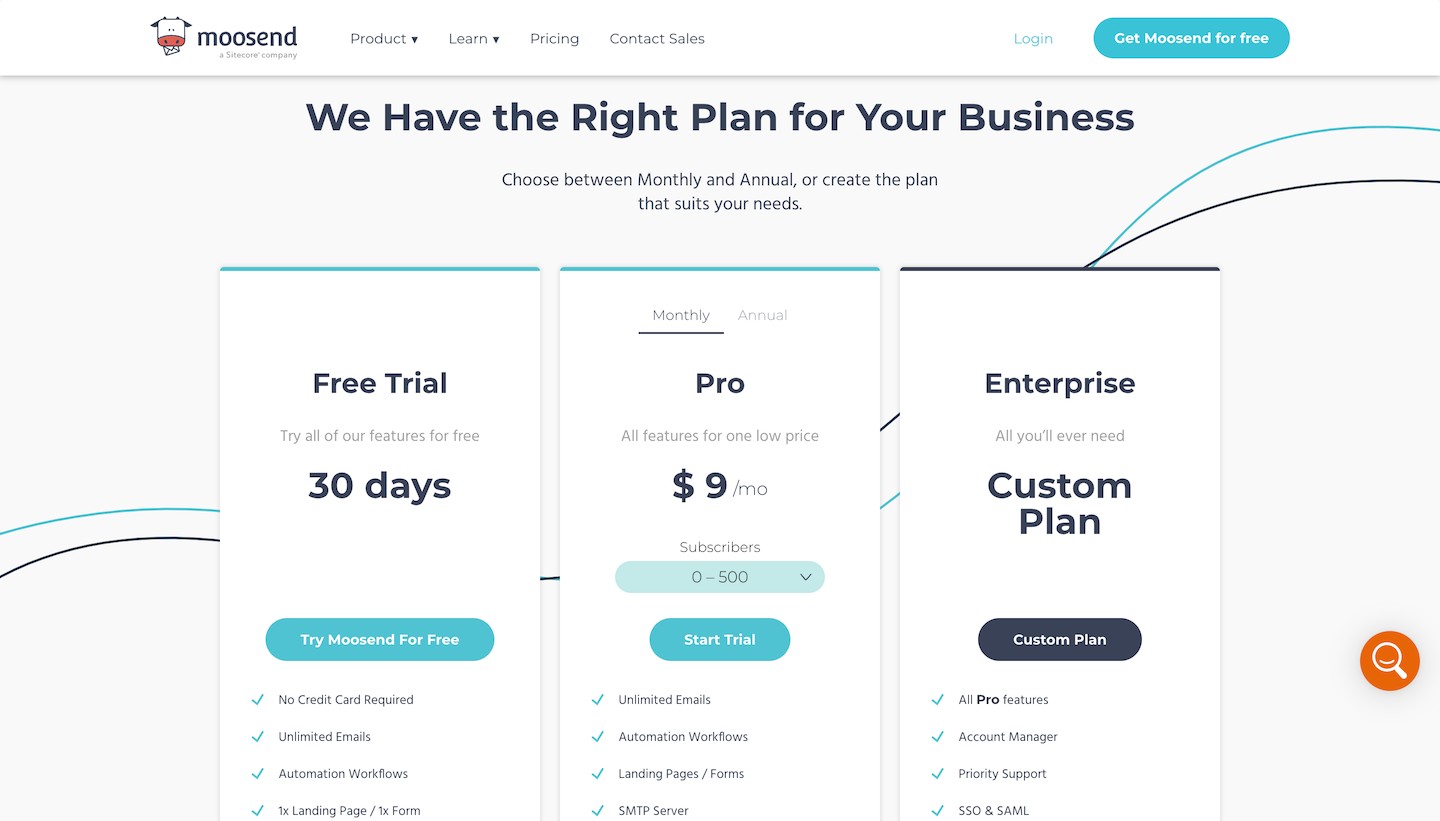 Now the downside: there's no free plan for Moosend (anymore). Instead, all it offers is a free 30-day trial.
There are two plan levels, Pro and Enterprise, with the Enterprise plan of course providing access to more features than the Pro.
Each plan works on a sliding cost scale, depending on your number of subscribers.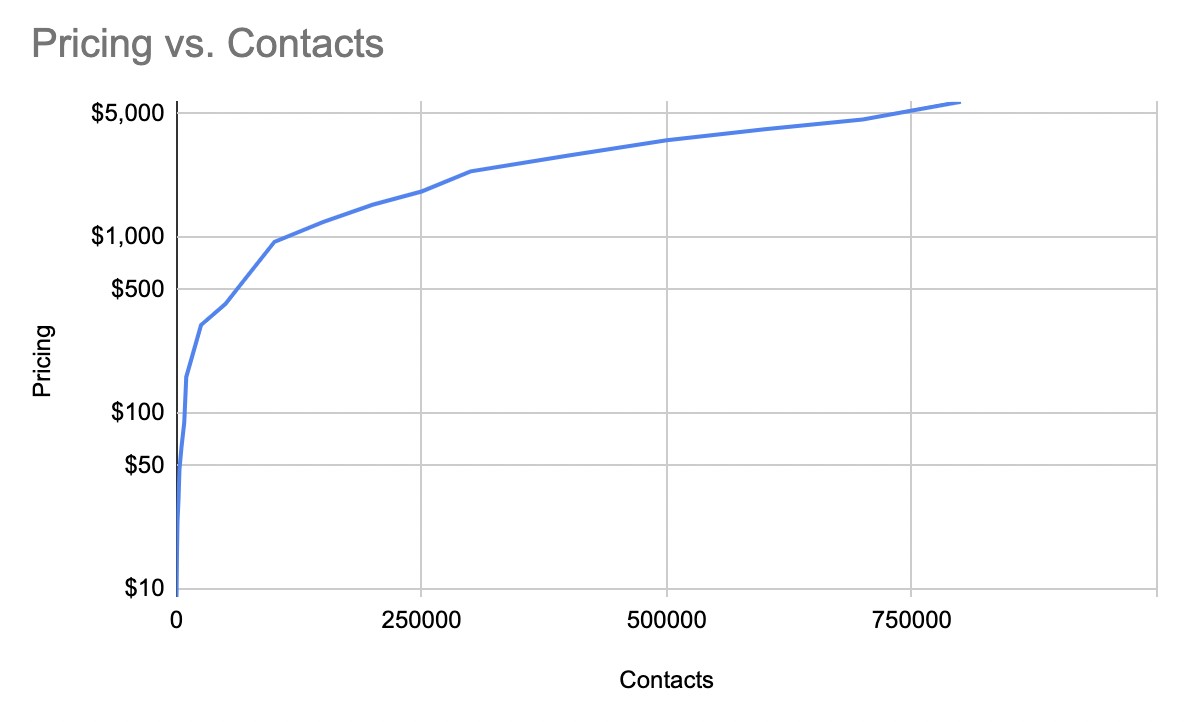 The Pro Plan still has a wide range of features available. This includes unlimited emails, automated workflows, landing pages, and tracking and reporting insights. The main loss is that custom reporting and strategy optimization are not available.
The Enterprise Plan is customizable, and it's the top-level option, it provides access to all the features we've covered. You also get your own account manager, 10+ team members, priority support and deliverability and strategy optimization suggestions, and added security features. This includes SSO and SAML, an SMTP server, and a service-level agreement.
Try Moosend for 30 days
Get a free 30 day trial on moosend