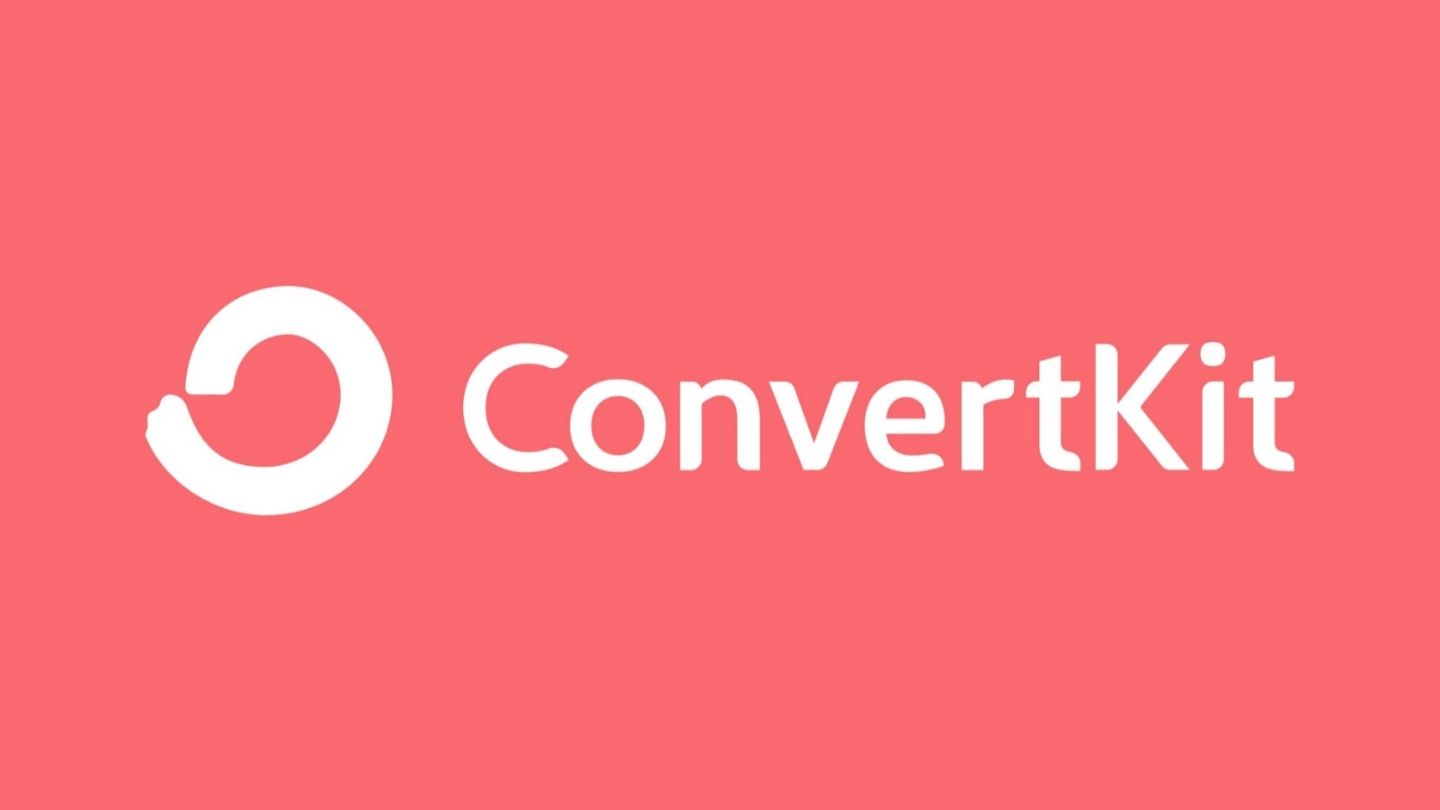 ConvertKit is a software tool that takes care of all facets of relational marketing, with a strong focus on bloggers and content creators. From growing your subscriber list to monetizing access to specific pieces of content, its features are built to cater specifically to content creators.
A big appeal of ConvertKit is it's free forever plan. This is an excellent option for creators who are beginning to build their email list. ConverKit offers a free plan for up to 1,000 subscribers, but it doesn't give you access to all tools.
Our ConvertKit review gives an in-depth look at its features if you want to learn more, but here are the highlights: ConvertKit is simple to use and provides comprehensive email marketing tools. Its accessibility is what makes it one of the leading services of its kind out there right now.
Limitations of ConvertKit
There are a lot of other services on the market that are just as good, or better, than ConverKit.
A significant limitation of ConverKit is pricing. ConvertKit plans are priced based on the number of email subscribers you have. The Creator Pro plan comes in at over $250/month for 20,000 contacts- a steep price to pay for small businesses and entrepreneurs.
If you have a large list, cheaper alternatives are out there such as Sendinblue (Lite is $20/month for a monthly newsletter with 5,000 subscribers) and Moosend ($64/month), not to mention Substack's very attractive pricing plan.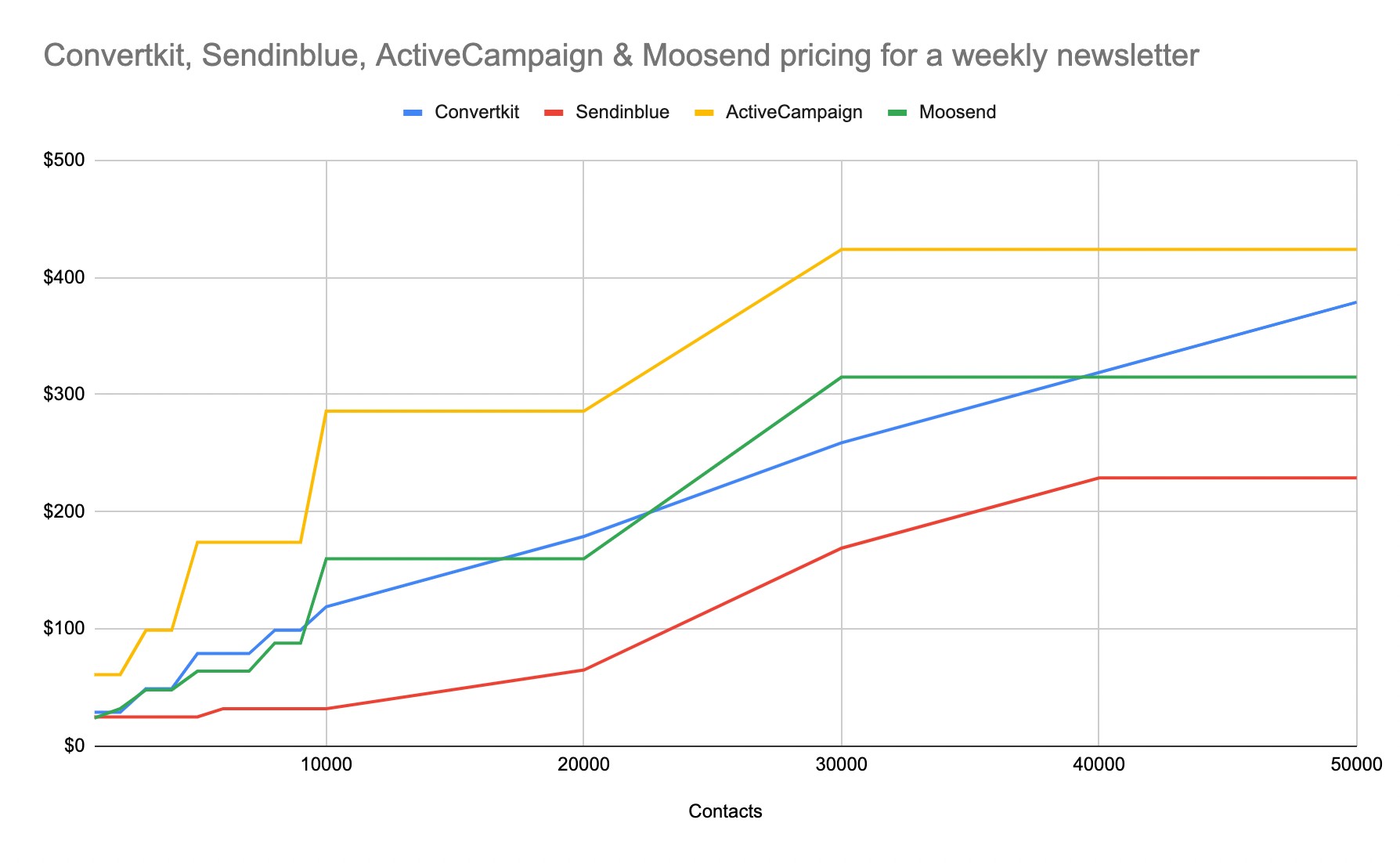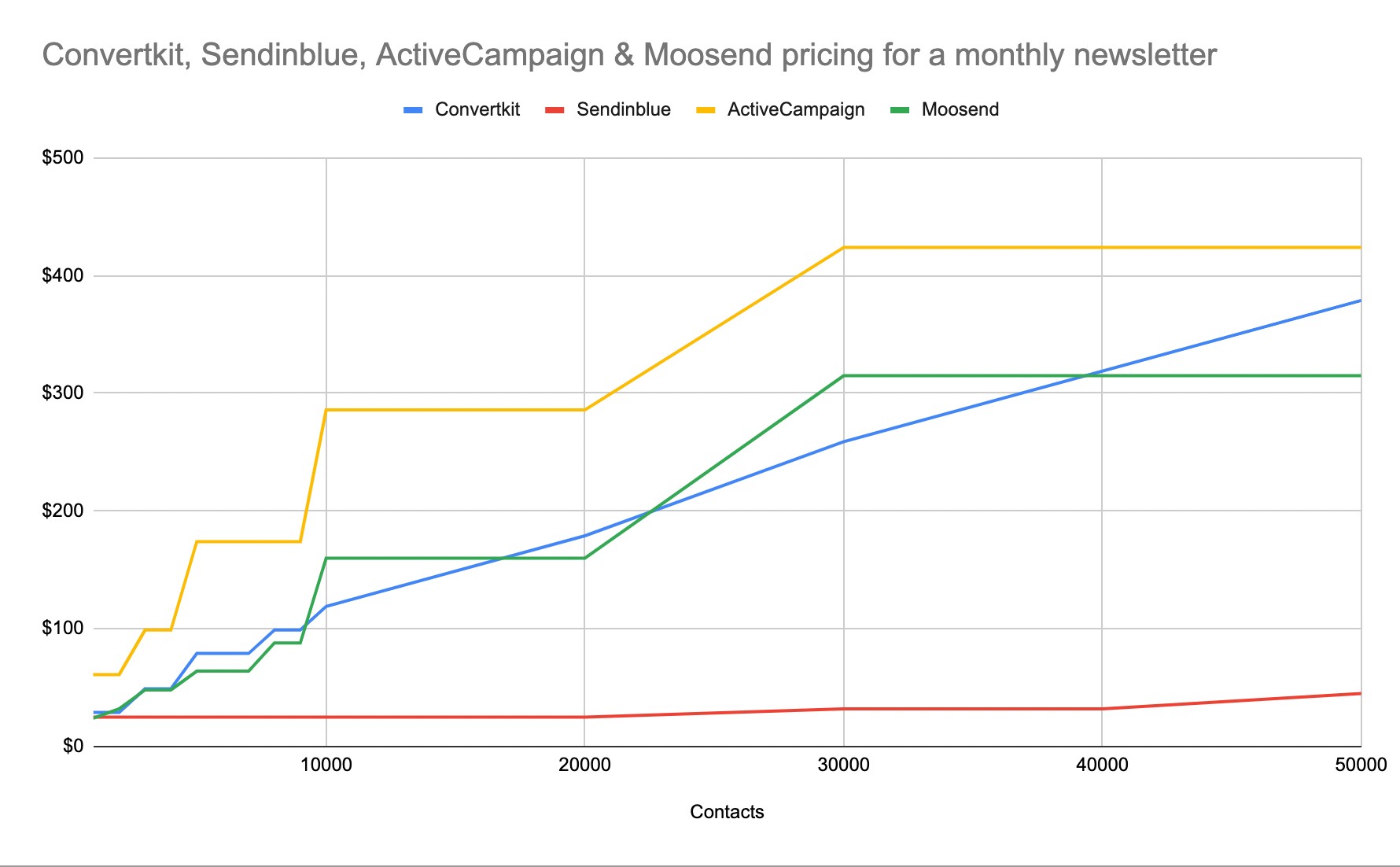 ConverKit's hyper-focused features are great for bloggers and other creatives. If you don't fit into the content creator mold, ConverKit alternatives like Drip or Moosend might be more relevant to your use case. ConvertKit has commerce features for digital products, but that's probably not going to cut it for those looking to scale their ecommerce business.
If you're an advanced user, ConvertKit's offerings can be limiting. The A/B testing and reporting features aren't as sophisticated as some alternatives like ActiveCampaign or Drip. The email templates are beautiful and easy to use, but you can't design your own customized HTML emails. This isn't the best option for completely customized newsletters, e-commerce promos, and things like that.
What to Look For in ConvertKit Alternatives
If you're not a content creator, or if you're priced out of ConverKit's paid subscriptions, not to worry. There are plenty of ConvertKit competitors out there that will meet your use case. Here's what we considered when scoping out the best ConvertKit alternatives:
Pricing: Plenty of services offer comparable tools at a better price. ConvertKit is one of the pricier options on the market, especially if you have tons of email subscribers.
Automation features: You want your email marketing tool to make your life easier, not harder. Alternatives we selected offer features like email campaign automation and marketing process automation.
Integrations: You'll want integrations with tools like Stripe, Zapier, Shopify and other services already in your rolodex of tools.
Contact management & segmentation: Organizing and segmenting your subscribers based on their interests is key to any successful email marketing strategy. The services we chose offer useful segmentation tools that maximize the ways to target your subscribers.
Email builder & templates: ConvertKit's library of beautiful email templates has a wide appeal because it's easy to use. Competitors offer similar email-building tools and templates, sometimes with the ability for more customization. Consider your personal level of experience and need for customization when looking through these alternatives.
Top 10 ConvertKit Alternatives
1. Sendinblue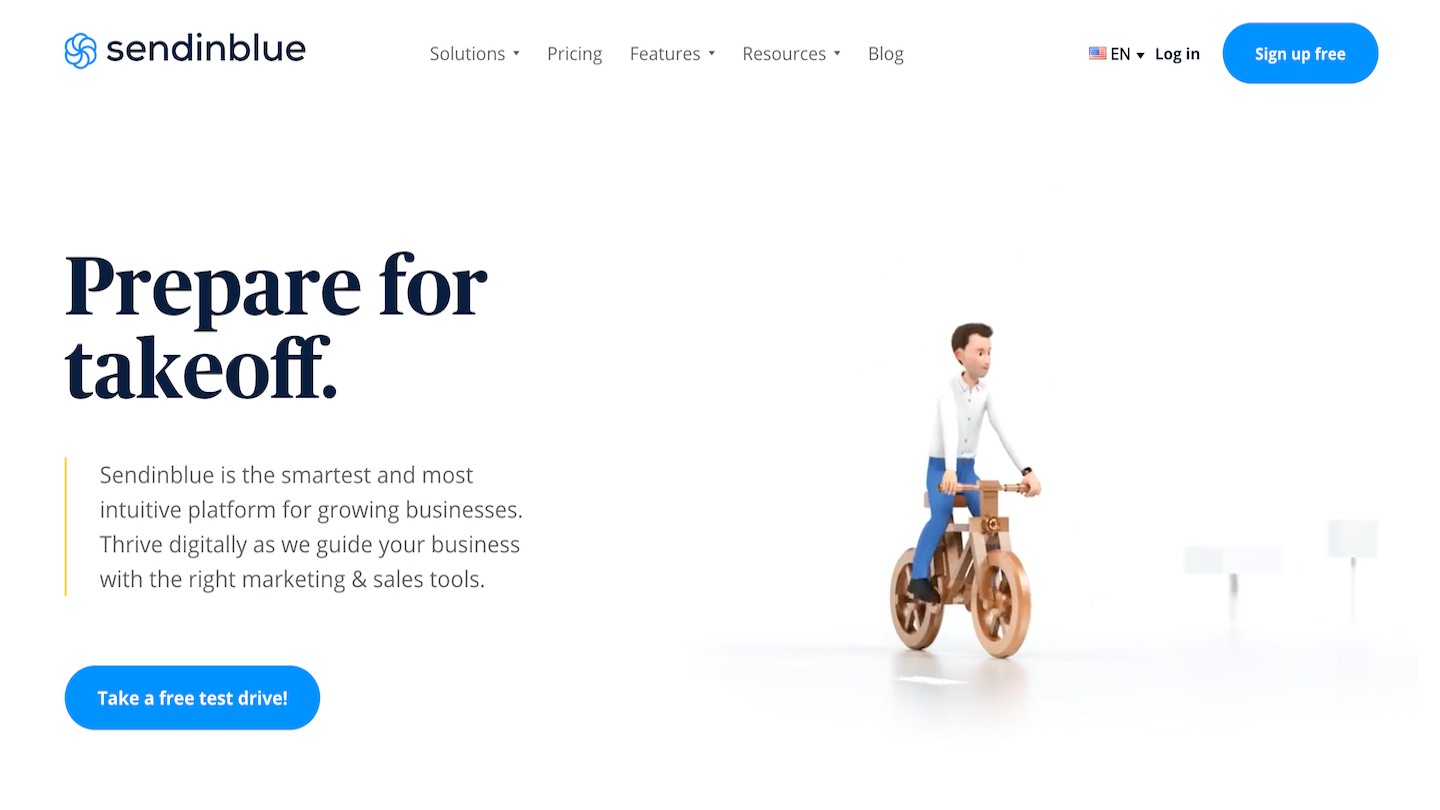 Known for its reasonable pricing, it offers comprehensive email marketing tools that are comparable to Convertkit. We've been using this platform for about five years, and our Sendinblue review takes a deeper dive into its usability.
Sendinblue offers automation features that are superior to what Convertkit has to offer, including A/B testing and advanced automation workflows. It also has a live chat widget that you can use on your own website. Overall, it's a great platform for small businesses and entrepreneurs just starting out.
Sendinblue has a free plan with unlimited contacts and 300 emails per day. The paid plans are priced based on the number of emails sent, not contacts. The Lite plan is $25/month with optional add-ons like A/B testing and advanced reporting. The Premium plan is the most popular option at $65/month and includes marketing automation, live chat, and a number of advanced features.
2. ActiveCampaign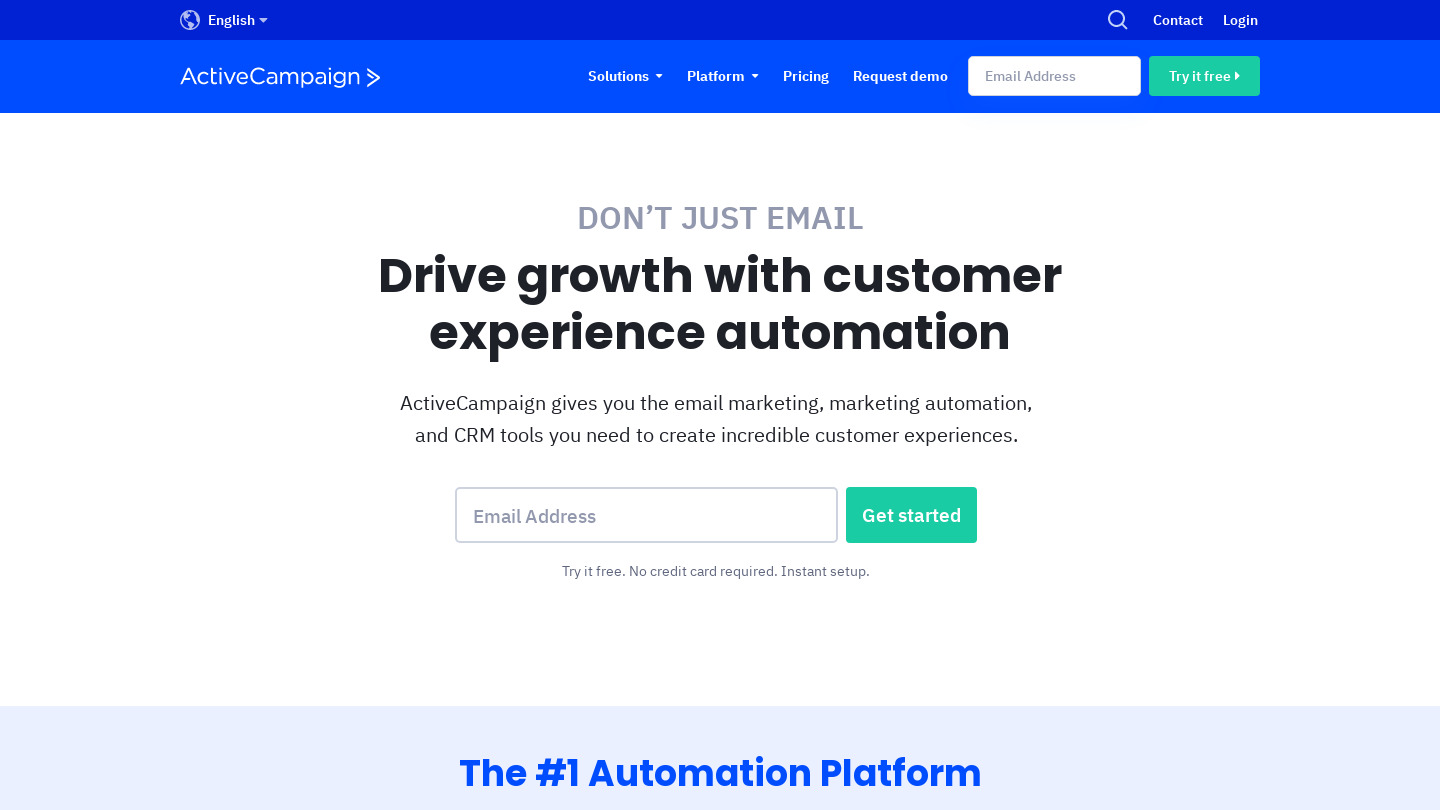 ActiveCampaign has similar features to Sendinblue, but with targeted offerings for ecommerce, B2C, and B2B companies. It's one of the best automation platforms out there, with advanced features and customizations available.
The email marketing features are quite detailed. Segment your subscribers into as many groups as you want and use automation tools to reach and engage your audience.
ActiveCampaign's A/B testing and reporting features are much more comprehensive than what ConverKit offers. Other features include live chat widgets, easy integrations, and a huge library of professional email templates.
ActiveCampaign's pricing is pretty flexible and is based on how many contacts you have. For up to 5,000 contacts, the Lite plan starts at $79/month and you can get started with a 14-day free trial. From there, plans range from $149/month for Plus to $209/month for Professional.
3. Moosend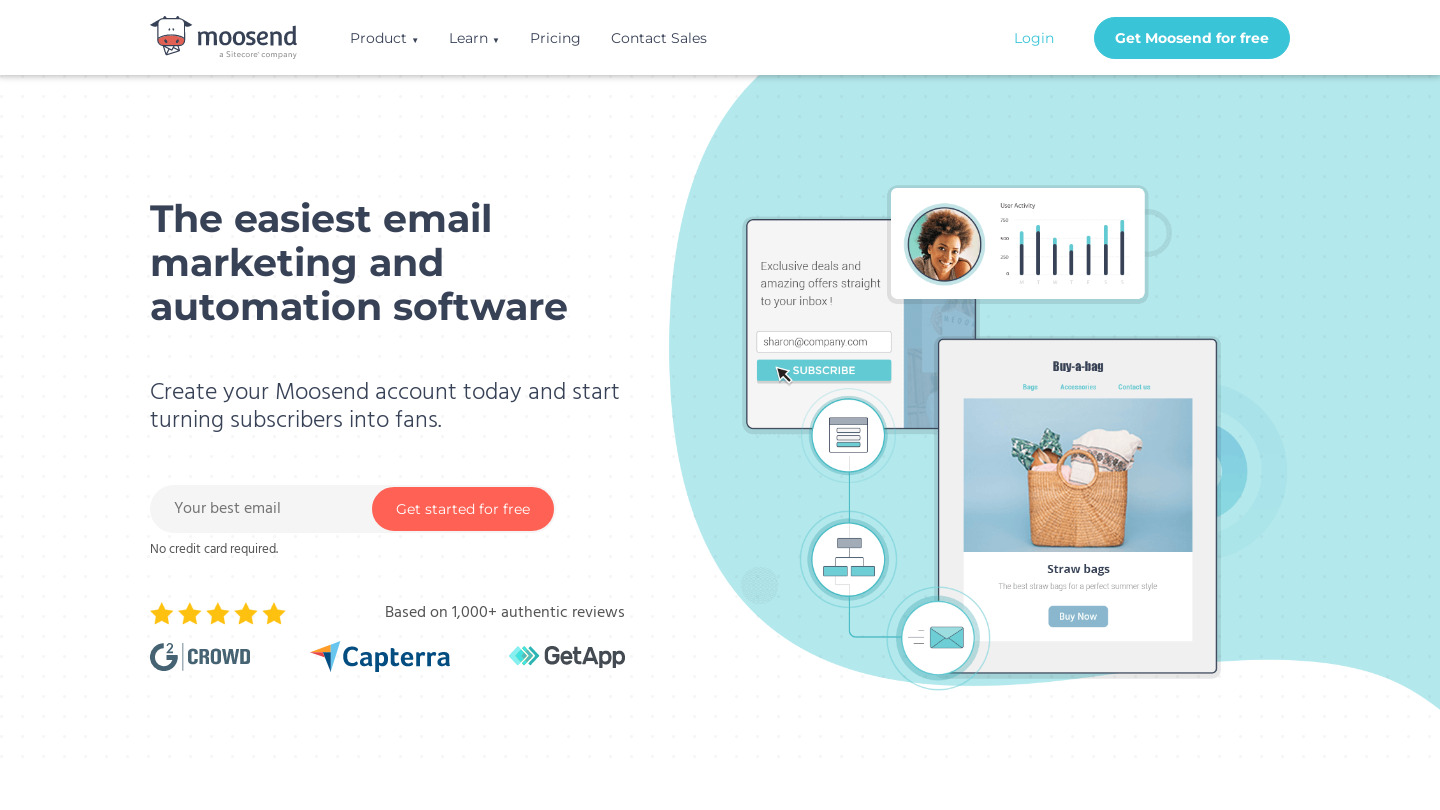 Moosend offers many of the same features as ConvertKit for a cheaper price. It has a comparable email-building tool that delivers for novices and experts alike. Unlike ConvertKit, Moosend has HTML capabilities for more advanced users.
Moosend's marketing campaign automations make it a great option for ecommerce users. In-depth analytics and personalization options will help you convert subscribers into customers.
Moosends is cost-effective, offering a wide selection of plans based on the number of subscribers and you can get started with a 30-day free trial.
The Pro plan starts as low as $9/month for up to 500 subscribers and goes up from there. It's one of the best options for growing contact lists, coming in at $48/month for up to 5,000 contacts. Features include unlimited emails and automation workflows.
4. GetResponse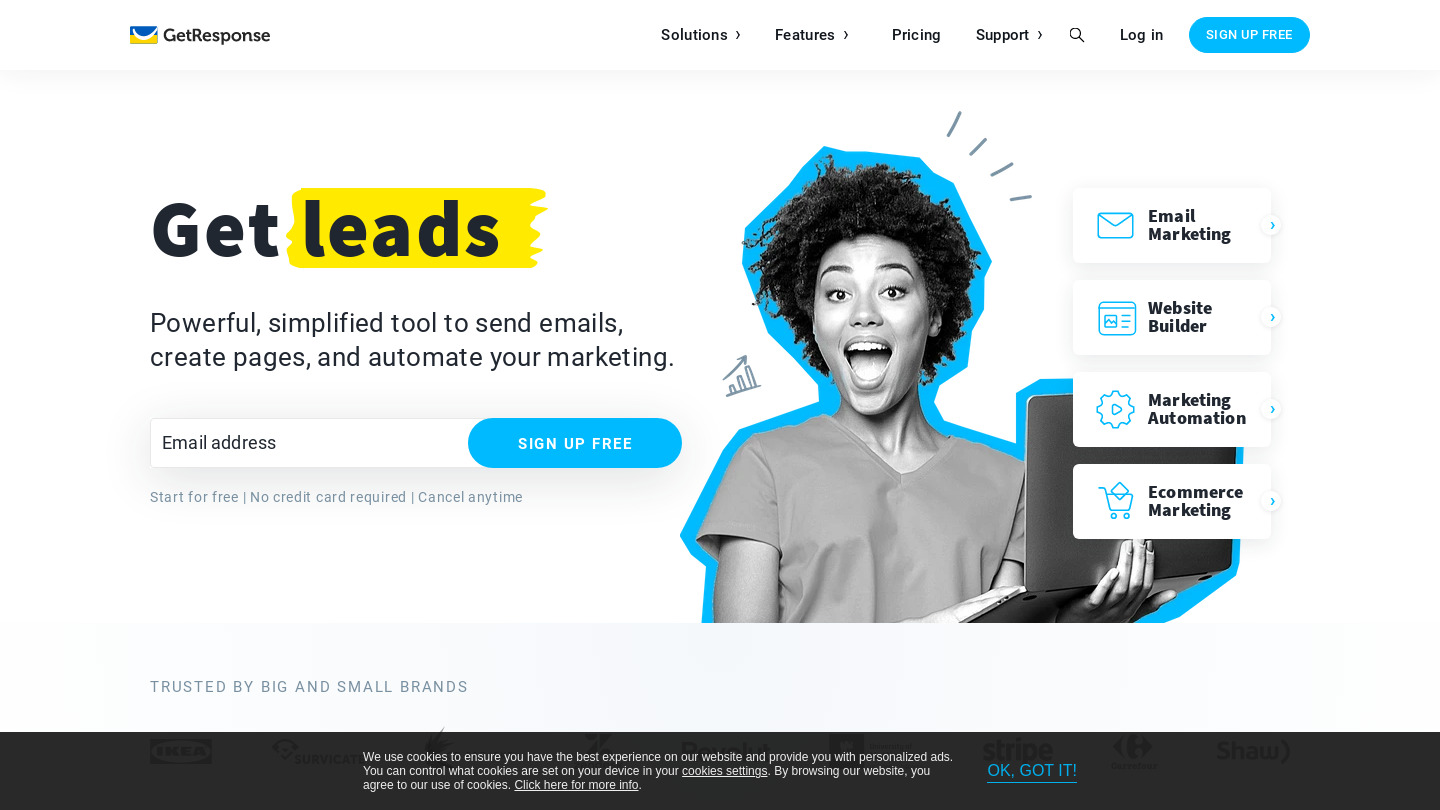 GetResponse has a funnel-first approach and is best for ecommerce users. With GetResponse, you get comprehensive contact management tools and better automation features than ConvertKit.
The free landing page builder is more versatile than ConvertKit, since it's not just focused on features for bloggers and content creators.
GetResponse's free plan offers unlimited newsletters for up to 500 contacts. If you're looking for more, paid options are tiered based on email marketing, marketing automation, and ecommerce marketing needs.
The popular Marketing Automation plan is $77.99/month for up to 5,000 contacts and includes all GetResponse's email marketing features plus marketing automation and advanced segmentation. The highest Ecommerce Marketing plan is around $139/month up to 5,000 contacts.
5. HubSpot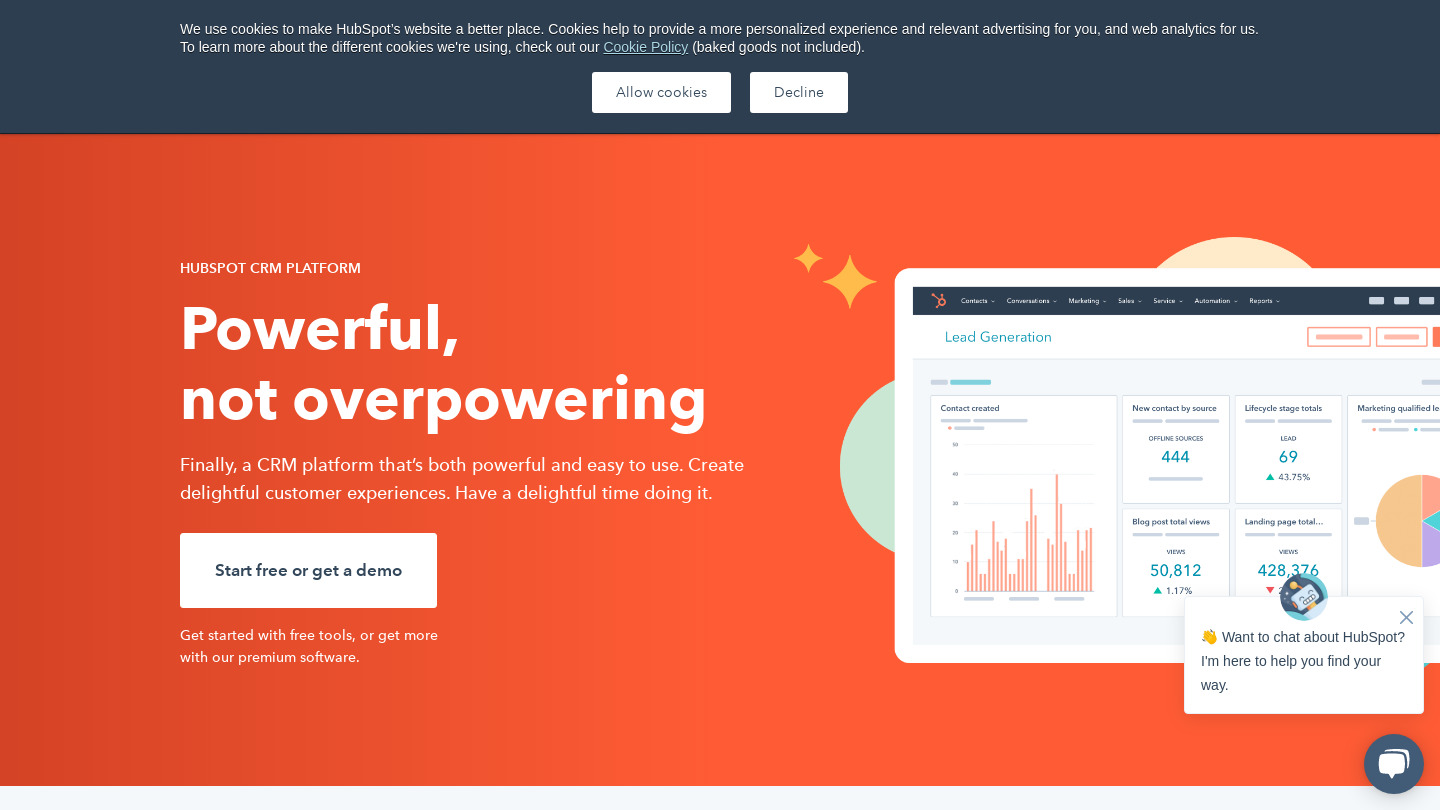 HubSpot isn't just an email marketing tool, it's a powerhouse. It's CRM software that has all the tools and integrations necessary for marketing, content management, and sales.
It offers robust reporting views and analytics. If you're looking to expand your reach beyond email marketing, HubSpot's Marketing Hub offers landing pages, marketing automation, and lead tracking.
HubSpot's Marketing Hub offerings are comprehensive, and it's going to cost you. The Starter plan is $216/month with 5,000 contacts and includes email marketing and automation tools. Plan pricing quickly increases when you bump up to the Professional plan, which is $800/month with 2,000 contacts.
If you want to try it out, HubSpot does offer a free plan with limited features.
6. MailerLite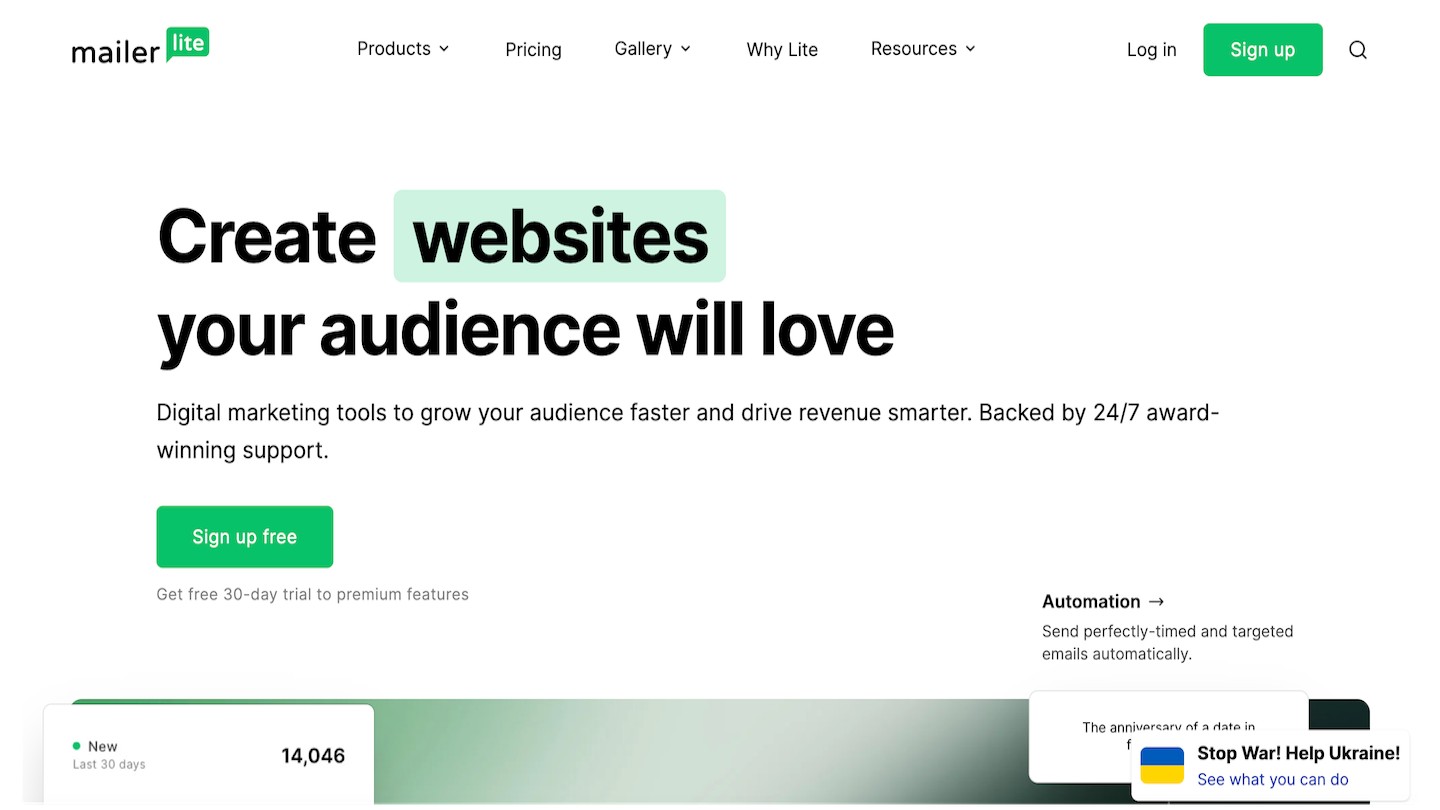 MailerLite features many of the same features as ConvertKit. The main advantage is its accessible price point.
Its email builder features are comprehensive, with rich-text and HTML editor options available. MailerLite's contact management is overall better than ConvertKit's, with more detailed email automations such as multi-trigger email automation.
MailerLite has a great free plan that offers 12,000 monthly emails for up to 1,000 subscribers.
With 5,000 subscribers, the Growing Business plan ($29/month) gives you unlimited emails, unlimited templates, dynamic emails, and much more. The Advanced plan ($35/month) adds on features such as an HTML editor and multiple trigger automations.
7. Drip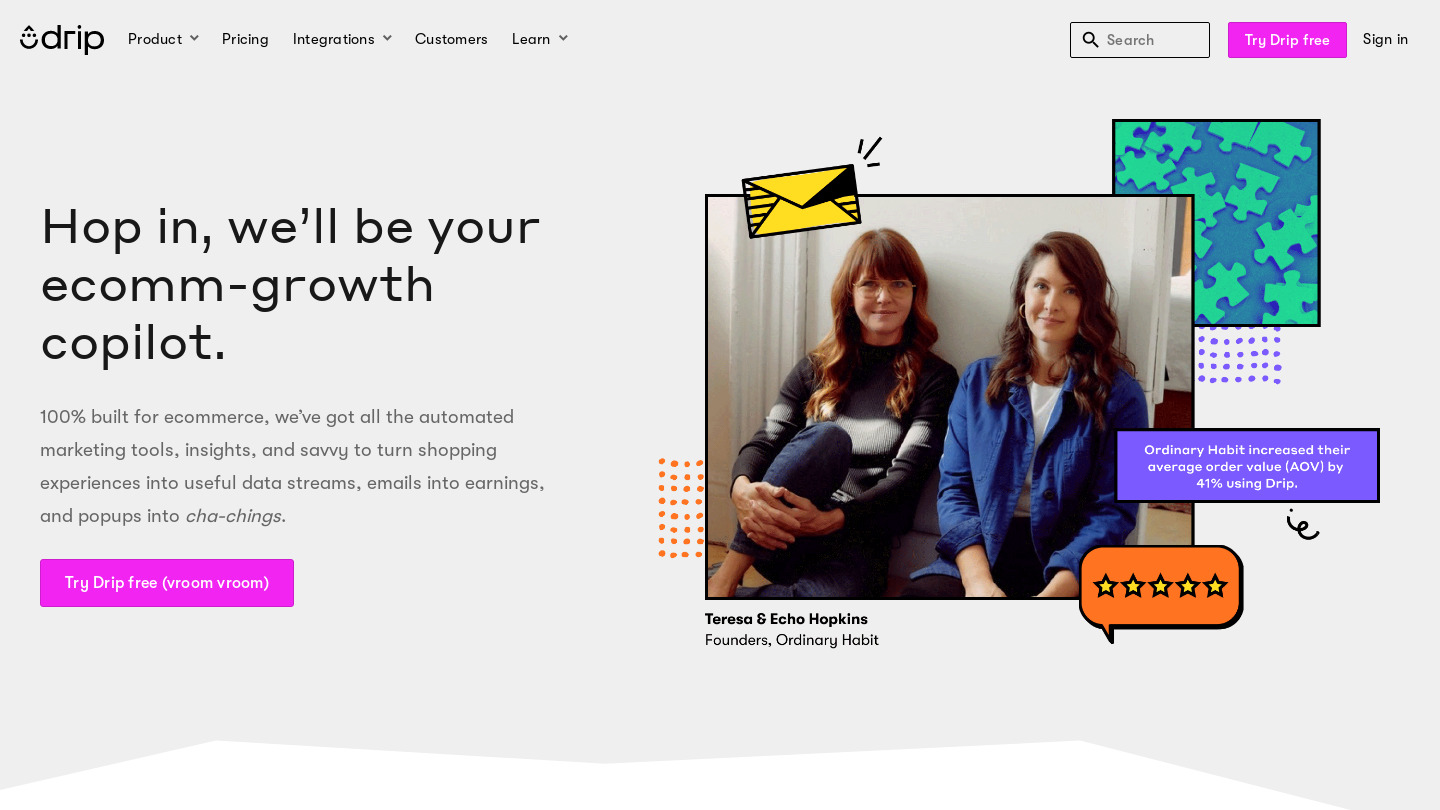 Drip is one of the best ConvertKit alternatives for ecommerce businesses, offering excellent forms, popups, and integrations that will help you grow.
Drip's automation and email builder features are much better than ConvertKit's offerings. Features include an HTML builder for full email customization super simple pre-built workflows.
A nice feature of Drip is the live chat support option on their site, which ConvertKit lacks. Poor customer service is often cited as a drawback for many users.
Pricing is flexible and based on how many contacts you have. You can try out Drip with a 14-day free trial and choose your plan based on your use case.
Plan prices are as low as $39/month for up to 2,500 contacts, $89/month for 5,000 contacts, and $154/month for 10,000 contacts. All plans include the same features, plus added customer support as you scale up.
8. SendX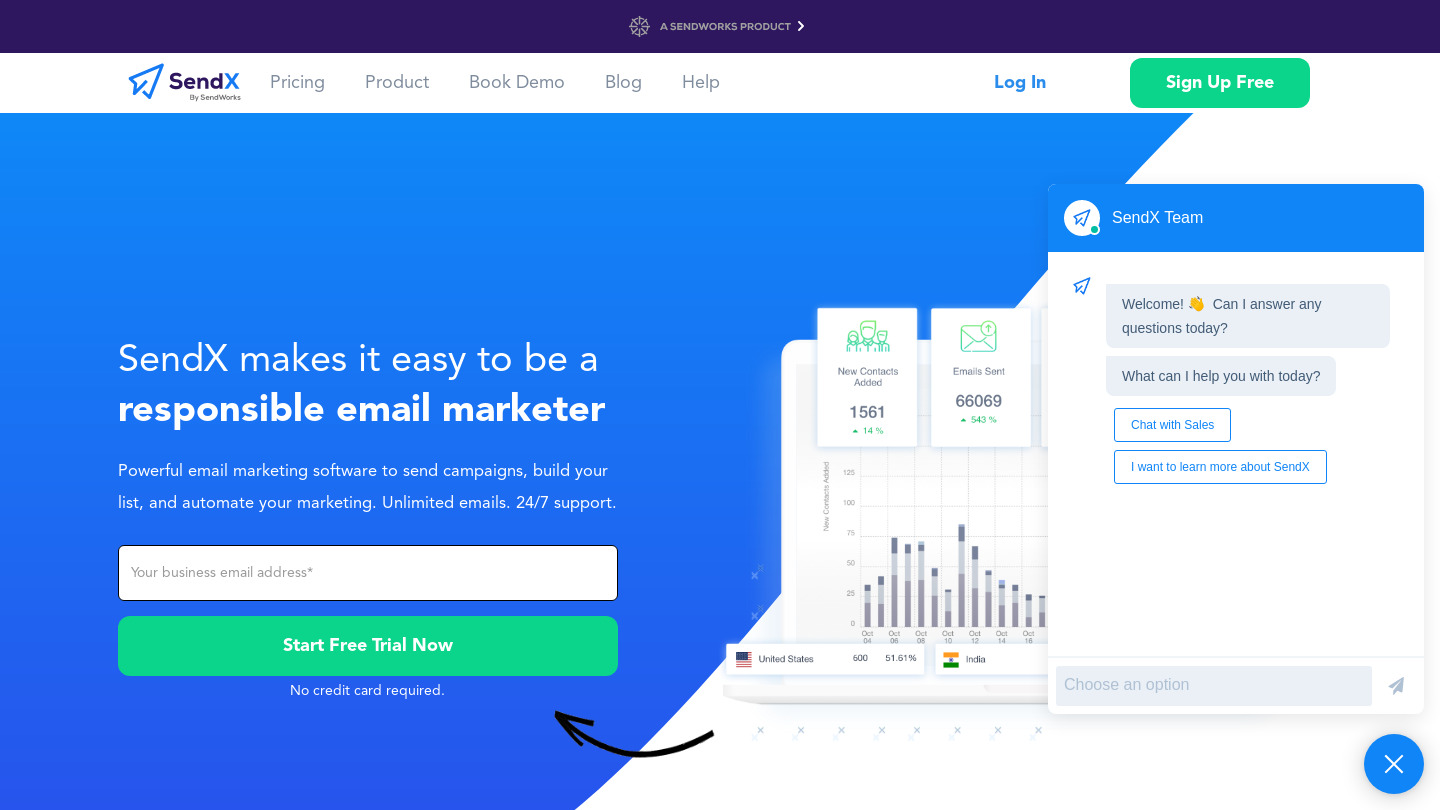 SendX markets itself as a more effective alternative to other big-name email marketing services. It's a lot cheaper than ConvertKit and offers many of the same features.
SendX is fully focused on email marketing. Features include A/B testing, powerful reporting, and API integrations. Overall, it's easy to use and has great advanced automation features.
Much like ConvertKit, SendX has an affiliate program. It's a pretty good program, with a 30% recurring commission for referrals.
SendX is reasonably priced and based on your subscriber count. Get all features and unlimited emails for $29.99/month (up to 5,000 subscribers), $44.99/month (up to 10,000 subscribers) or $59.99/month (up to 15,000 subscribers).
Before you commit, you can try out SendX with a 14-day free trial.
9. MailChimp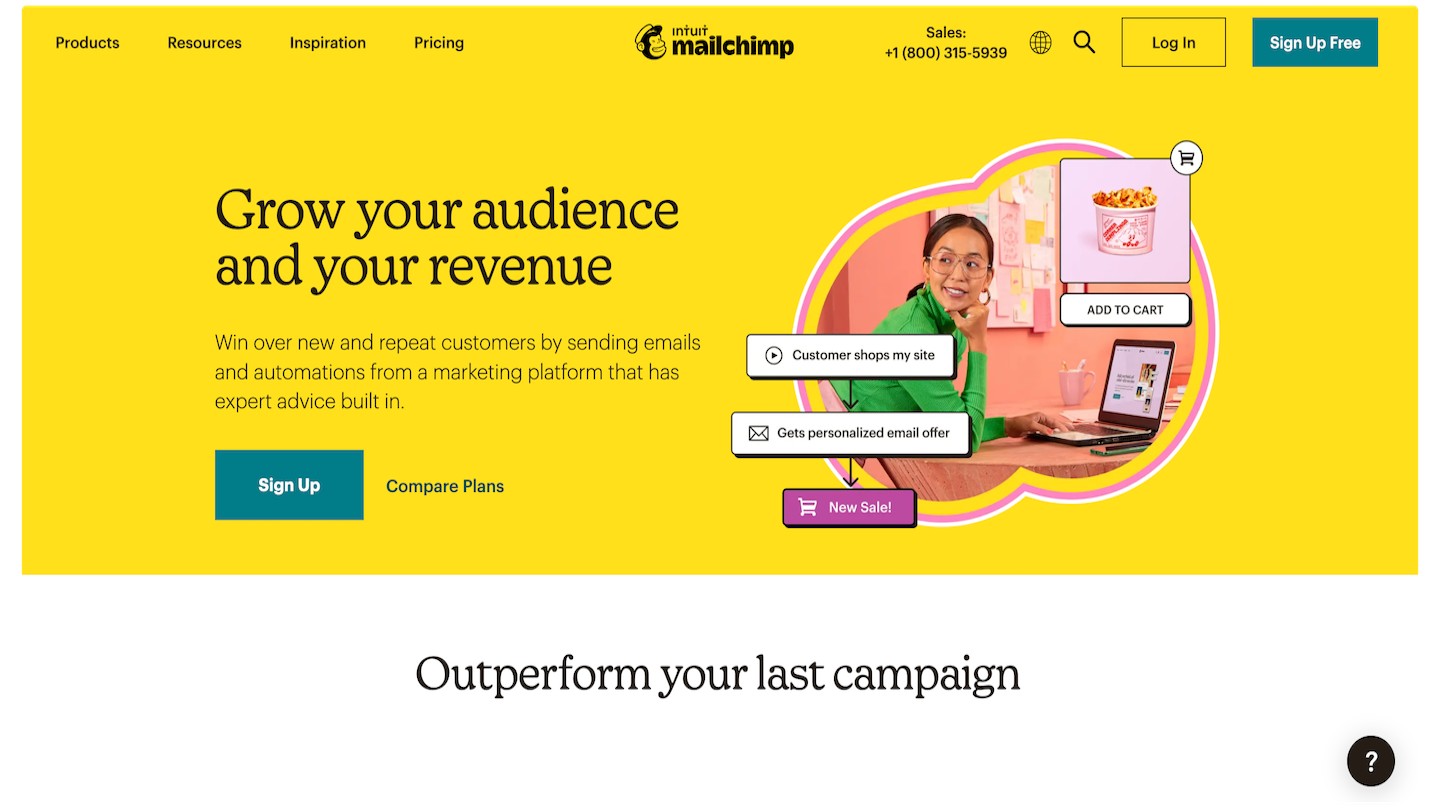 MailChimp is a popular alternative to ConvertKit, but the pricing is very high for what it is.
MailChimp is great for ecommerce companies with its marketing CRM and behavioral targeting features, but it lacks in other areas and isn't that great for bloggers.
The automation features aren't very good. You can get more value for a better price with other alternatives on this list.
MailChimp offers a free plan up to 1,500 subscribers with access to all multi-channel tools. From there, they offer Essential, Standard, and Premium plans based on the number of contacts.
The Essential plan offers email-only features and clocks in at $59/month for 5,000 contacts. The Standard plan is $90/month for the same amount of contacts and offers automation tools for growth. The Premium plan offers the most customization tools and costs $299/month.
10. Substack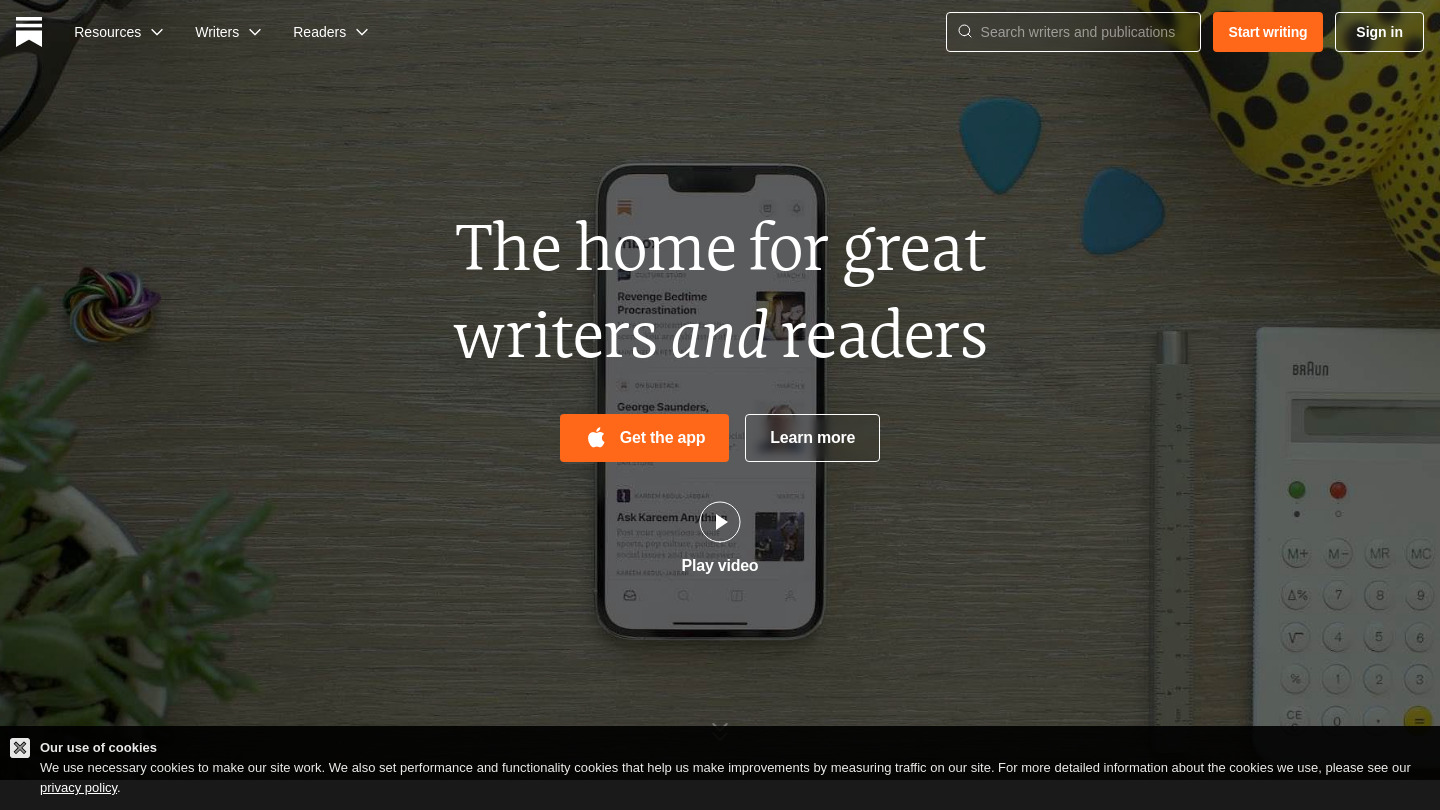 Substack is a great alternative for bloggers and content creators who are just getting established. It's a newsletter and website platform perfect for building an audience for your work.
It's easy to sign up and there are no country restrictions. The built-in subscription management makes it easy to monitor and analyze your audience growth. Substack's subscription publishing options are flexible. You can choose which posts are free and which ones are for paid subscribers.
Substack is free, and you can keep it that way if you don't want to enable paid subscriptions. If you choose to go paid, pricing is based on subscription revenue with Substack keeping 10%.