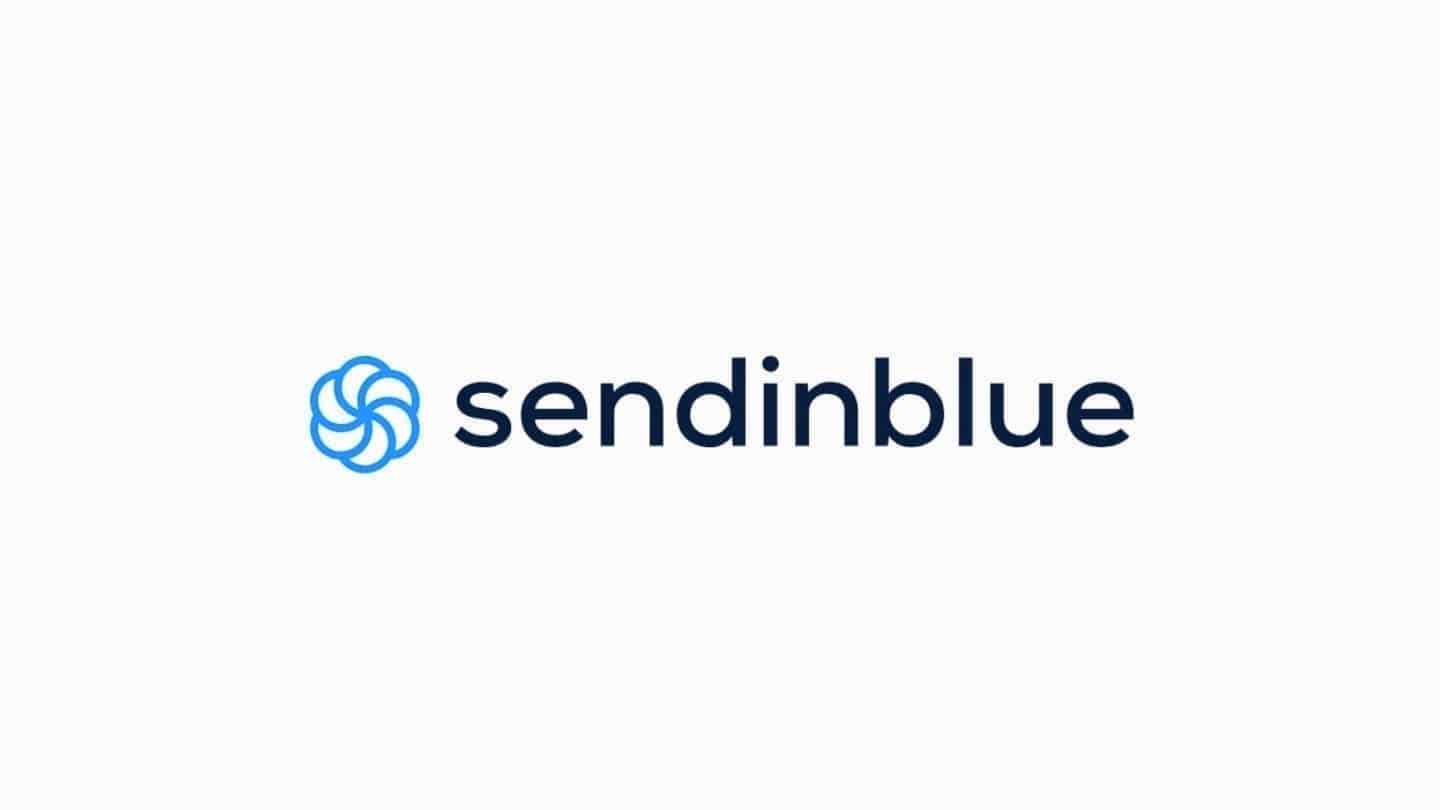 Sendinblue is the ideal email campaign and marketing automation platform for people with small businesses.
After spending five years using Sendinblue we can attest to its usability and affordability. Its cheaper price tags make it ideal for newbies to email campaign tools and newer businesses.
The platform is one of the few email tools that prices its tiers according to the number of emails sent, rather than contacts. This is useful because you can then store an unlimited number of contacts in the database and use it as an effective lead management tool. And its SMS functionality is a nice added extra touch you don't see across many platforms. '
Fundamentally, those just starting out will find Sendinblue ideal, but more advanced users may struggle. They may find the tool a little lightweight and will have to fiddle a lot to get it to function according to their needs (assuming they are more advanced).
Our opinion on Sendinblue
Sendinblue pros and cons in a nutshell
Pros
Sendinblue's email campaign editor is super easy to use with drag-and-drop functionality that even the most technologically inept, or totally new to the world of email marketing, can figure out.
Pricing is really flexible with the ability to create a wealth of custom plans. It's also a lot cheaper than alternatives like Mailchimp and comes with more features.
Very impressive workflow-based automation feature. It can trigger campaigns by users' emails, or website interactions and send transactional messages and so on, depending on their actions.
Cons
Sendinblue lacks specification so is good for generalists but not for those more advanced at email marketing. Advanced users will find it quite lightweight and will end up fiddling around a lot to get their desired output.
The free and Lite plans only offer one user login, which means there's a lack of flexibility for marketing teams. Even the Premium plan only provides logins for 3 users and if you want any more, you have to pay an additional sum.
 For people on the free or Lite plans, there is no phone support available.
Try Sendinblue for free
No credit card required – Up to 300 emails / day for free
Sendinblue: Feature set
Building your email campaigns on Sendinblue
The email campaign builder for Sendinblue offers all the nice, easy functionality unconfident users will be able to master. Their interface is straightforward and the drag-and-drop tools make building attractive campaigns simple.
From the email builder, you can choose whether to use the simple drag and drop editor, rich text editor, or, for more advanced users, you can also copy and paste your own HTML code.
There are also helpful templates inside the builder with suggestions of the most common blocks to include. This gives users direction, guides them with which content blocks are most commonly used in email, and ensures the resulting output is also fully mobile compatible.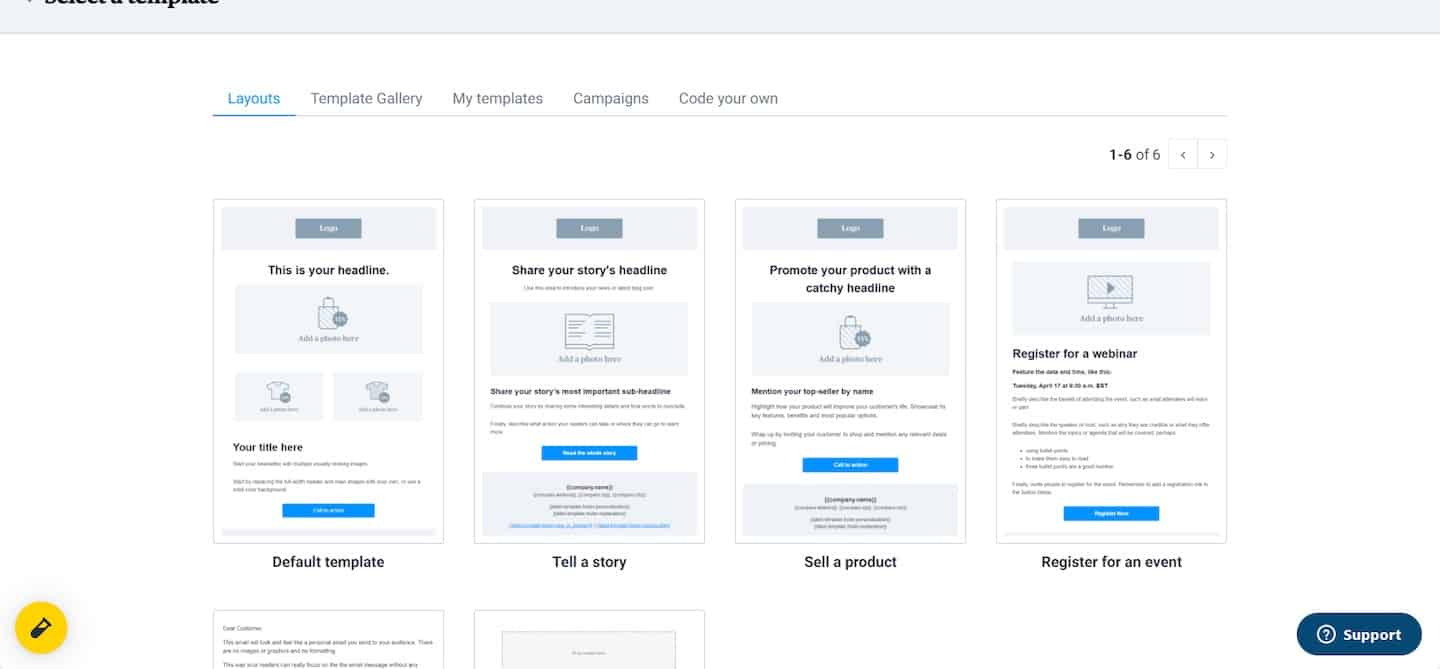 Sendinblue's email template options are also quite varied, with over 65 options split into categories. This includes lead generation, newsletters, e-commerce, sales-based, and so on. There's also an option to customize and create your own, which you can then save in the "My Template" section of the builder.
You can also build email campaigns using Sendinblue's automation features. This is great as it's something very few email tools offer as standard.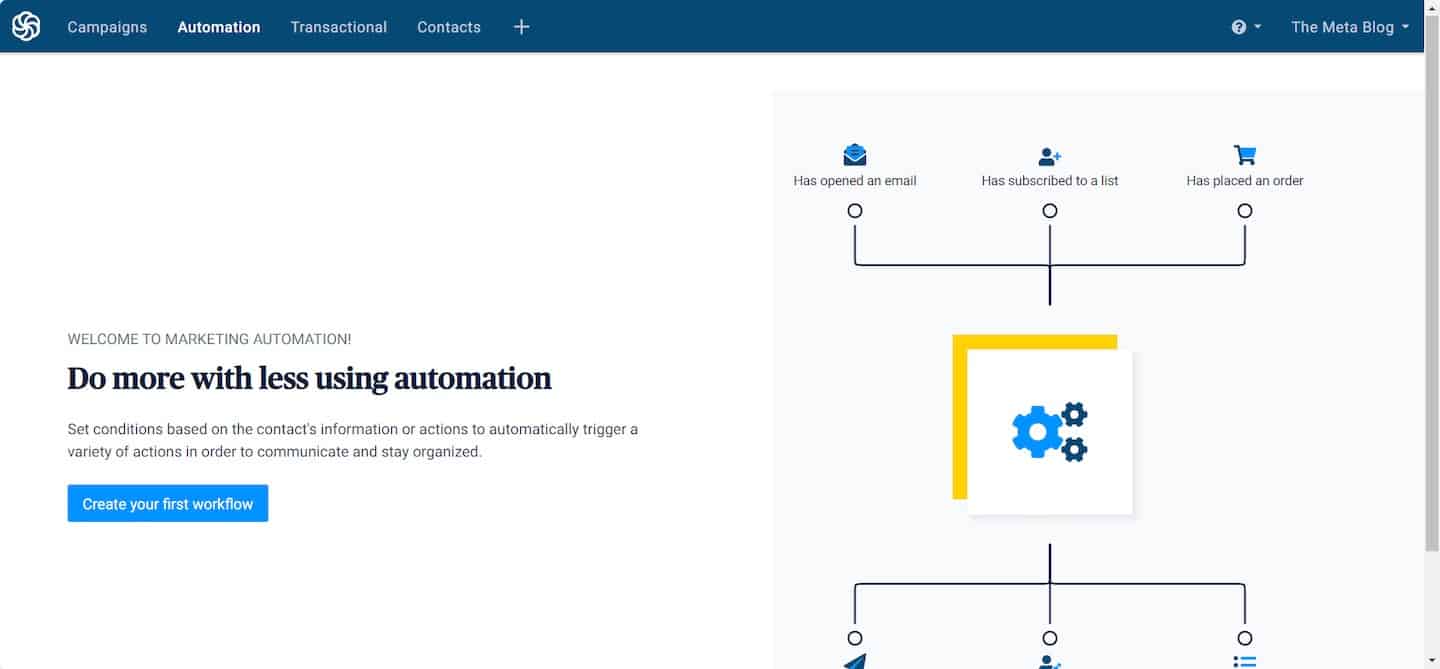 In a nutshell, users can set triggers for customers that will kick off a chain of email events. For example, if someone visits your webpage and downloads your ebook, this could kick off a chain of emails on that specific topic.
There are plenty of options to choose from, including for abandoned shopping carts, new subscribers, or users who have clicked specific links on your site.
Using Sendinblue's features, you can kick off a whole chain of automation by building a trigger sequence, based on the user journey. And it offers you a range of pre-made automation sequences, or the ability to create your own.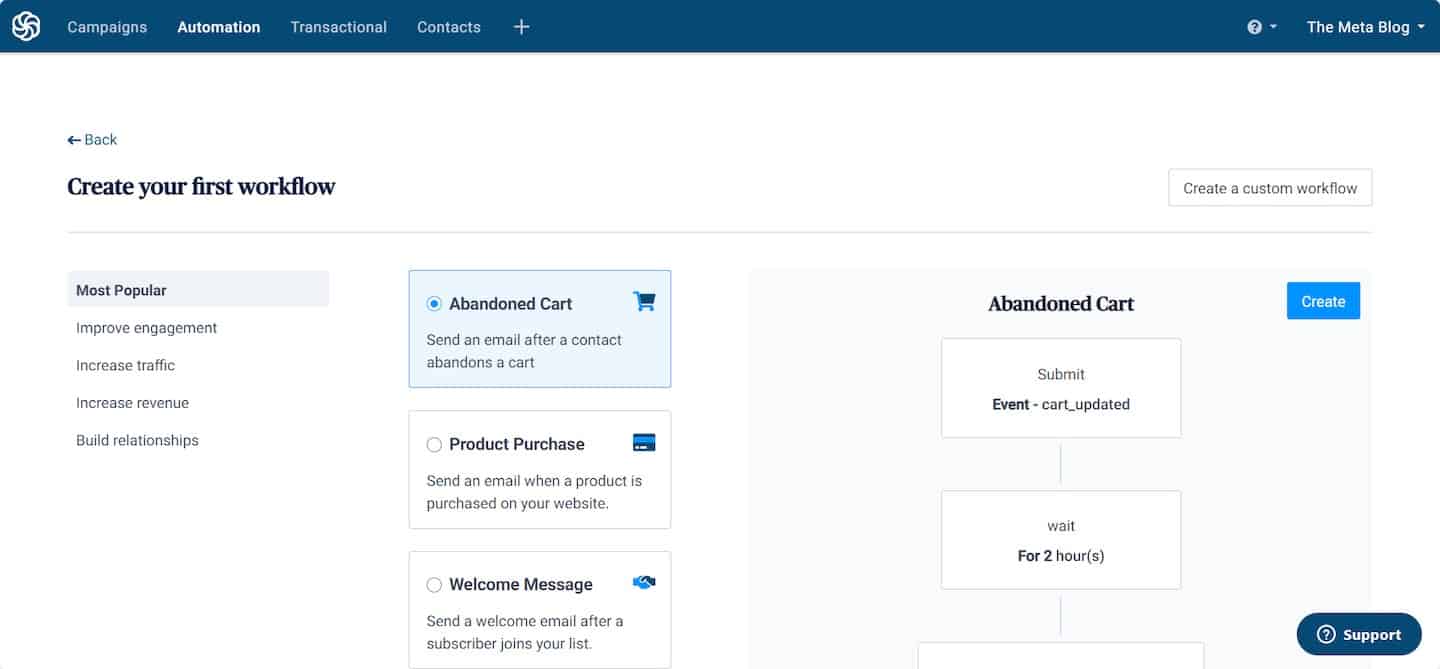 These standard workflow automation types include welcome emails, anniversary dates, page visits, product purchases, and marketing activity, among others.
Creating a workflow automation campaign is simple in Sendinblue. Once you've chosen the type you'd like to create, its guide will take you through the automation process step-by-step. Choose how long you want to wait in between email triggers, how you want to track the campaign, what event data will trigger the workflow, and what default email templates to use.
From there, you just need to create the emails and attach them to the automation workflow in order for Sendinblue to trigger on these specific events.
Contact management on Sendinblue
Like pretty much all email platforms, Sendinblue contact management is presented in list format. But it also offers some more advanced options in that you can then also create folders and lists to sort your contacts into. It doesn't place any limitations on the number of contacts, lists, or attributes per plan, so you can usually do some quite advanced segmentation.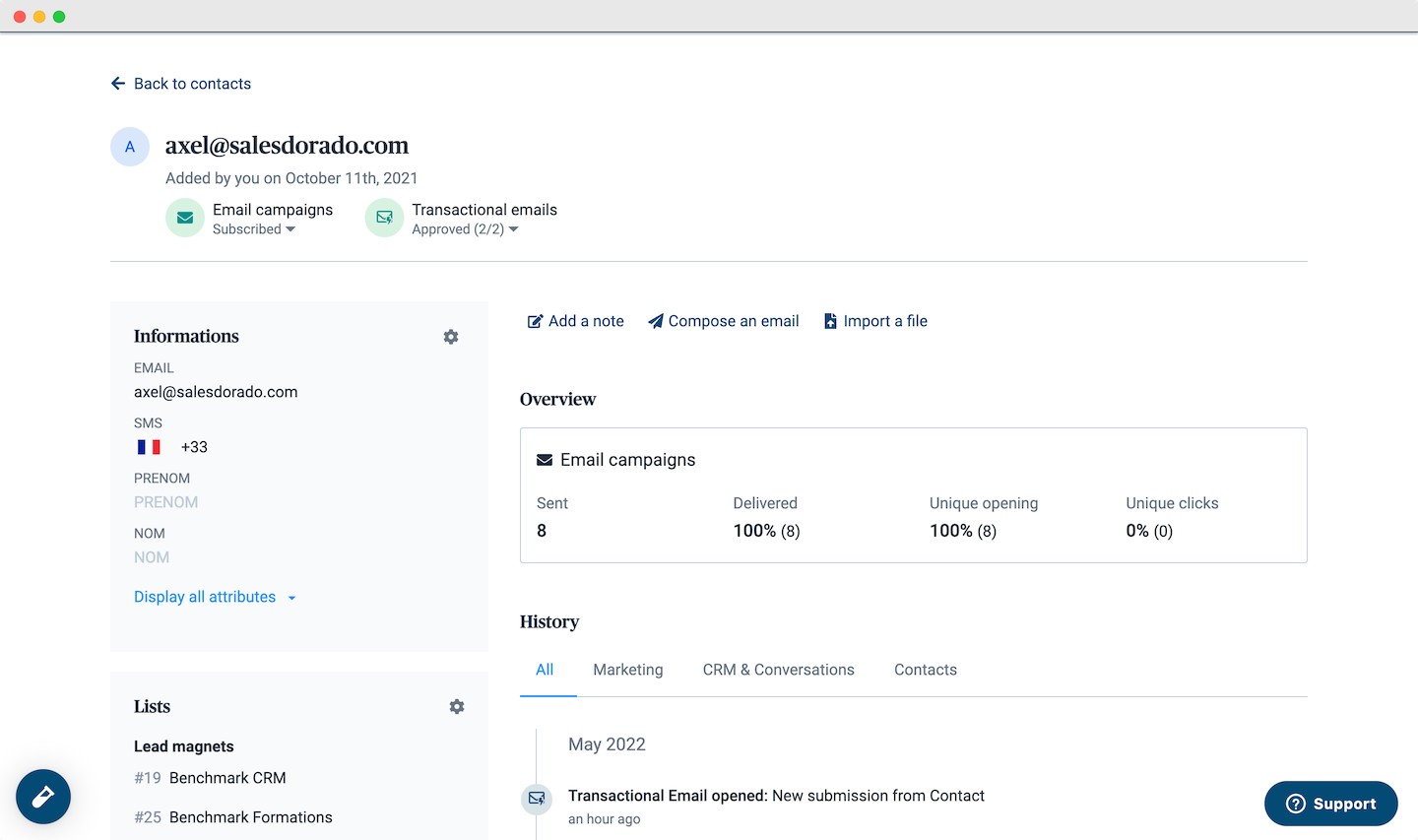 Attributes are what Sendinblue calls the tags used to help with segmentation. They can be used to personalize emails or select relevant contacts for a campaign, based on their data. You can then save them inside Sendinblue as filters. Using the segmentation engine, you can choose 'AND' or 'OR' options to cross-reference attributes and contact activity/behavior. All of which help define your email campaigns.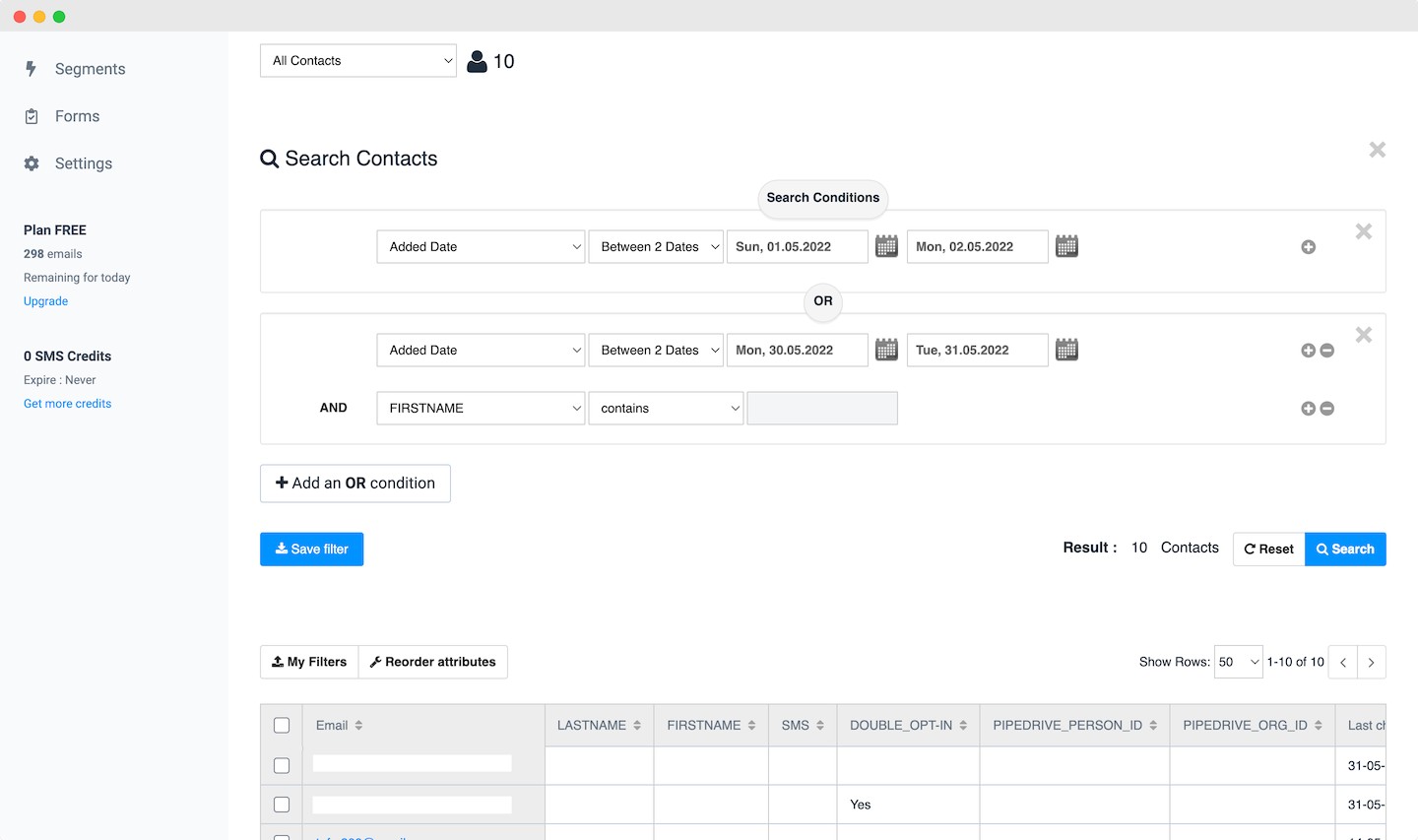 When looking to import existing contacts into Sendinblue, there are 3 easy options.
You can either import contacts via .csv or .txt file, copy and paste them from a list, or simply just enter the information manually.
Lead capturing to grow contact lists with Sendinblue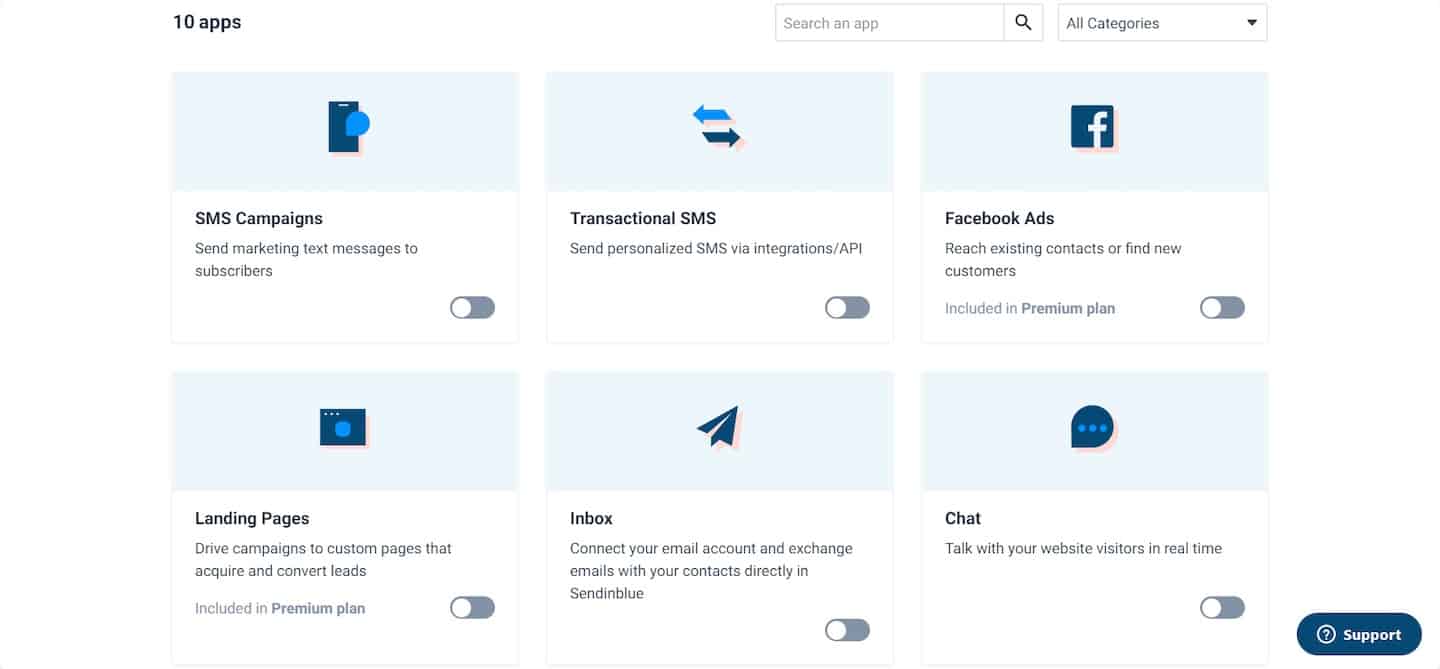 Although Sendinblue offers some good lead capture form options, its landing pages are only available to those on the Premium and Enterprise Plans.
But its registration form editor is easy to use to create attractive, simple lead generation forms. Like the campaign manager, it uses simple drag-and-drop functionality, so there's no need to master multiple skills across the platform. And it comes with plenty of options to collect the data like drop-down lists, text fields, radio buttons, and so on.
Unfortunately, though, there is no email validation in Sendinblue. It instead asks you to install captchas on the site you place the lead form on, which can be to the detriment of the user experience.
If you are a Premium or Enterprise user, then the landing page template options are extensive, if not a little dated. They can be personalized similarly to the campaign builder and it's easy to change fonts, colors, images, and text. It also offers complete freedom in how many fields you'd like, leaving it totally up to you to decide what information you'd like to collect using your email capture tool.
Try Sendinblue for free
No credit card required – Up to 300 emails / day for free
Customer reviews on Sendinblue
Overall users do like Sendinblue. They complement its usability and the variation of mobile-friendly templates. It's popular for how easy and seamless it is to slot it into the backend of different users' websites and that they can start with a free account while getting their business off the ground. One of the particular features that users highlight as a great addition is the segmentation and filtering choices in the contact management, with excellent lead-scoring capabilities.
On the other hand, some users have criticized these CRM features as confusing, finding setting it up initially fiddly and difficult. They've mentioned issues with configuring the dedicated IP and the overall limitations of the system. More advanced users have also critiqued the transition between the drag-and-drop option and raw HTML.
Try Sendinblue for free
No credit card required – Up to 300 emails / day for free
Customer support at Sendinblue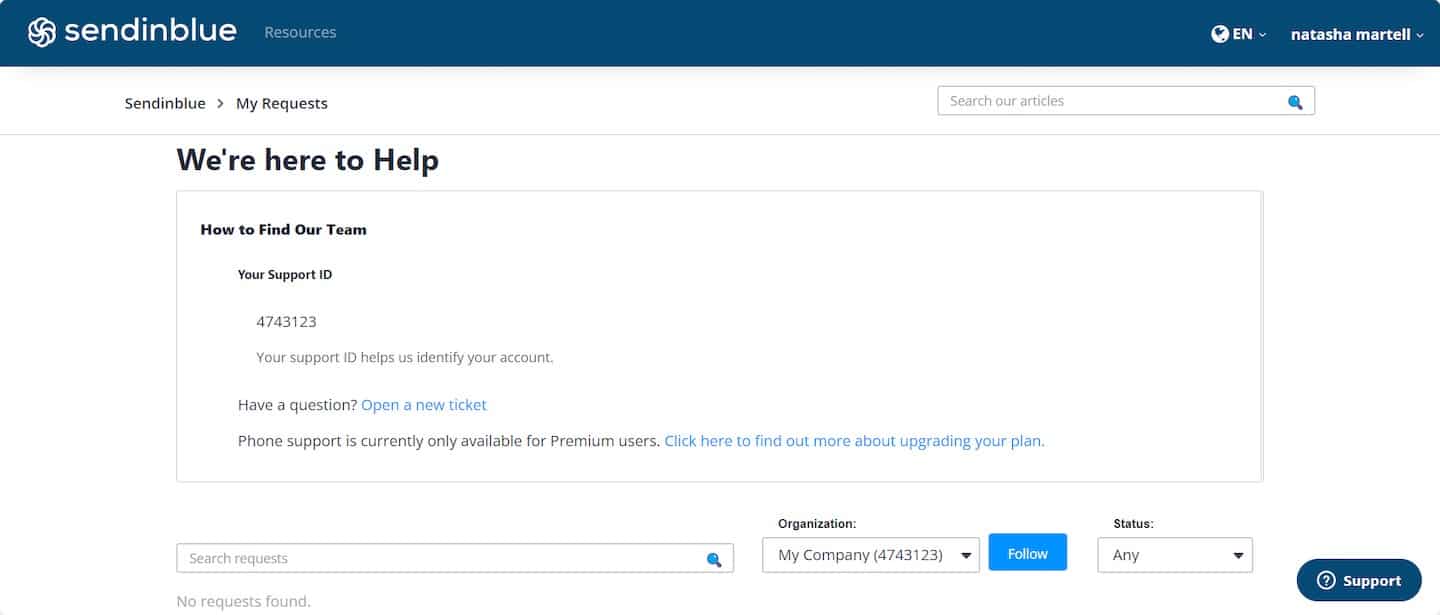 Everyone from free users and up has access to several support options: live chat, email support through a messaging system, and the ability to create tickets to receive dedicated help for technical issues.
The only downside is the inability to contact Sendinblue over the phone unless you pay for the Premium or Enterprise plan.
It does also offer a pretty extensive help center split into 15 categories with multiple sections to cover a wide range of topics. The articles are easy to follow but could offer some more screenshots or videos as guides, as they are largely text-based.
A nice additional feature is that they offer some simple tutorials on using email campaigns as a whole, rather than just specifically how to use the features within Sendinblue. For example, they have a 3-part series titled "Introduction to Marketing Automation".
Try Sendinblue for free
No credit card required – Up to 300 emails / day for free
Sendinblue integrations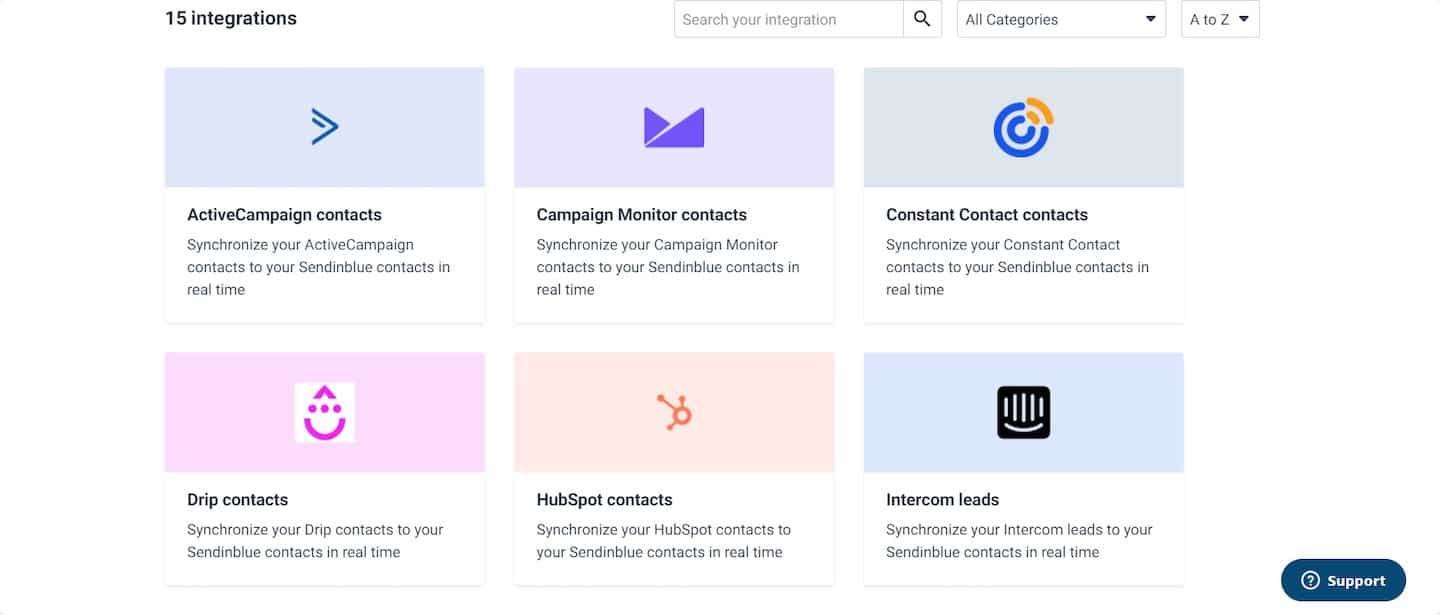 Sendinblue integrations can be easily split into 3 categories: for lead generation, CMS', and CRMs.
Its lead generation integrations are limited. Very few are actually maintained by the platform and to be honest, there could easily be a lot more options.
Its CMS integrations are on a par with the industry standard, but it's not particularly exciting or amazingly extensive. It does offer a good WordPress plugin but unfortunately, it is getting a bit dated and could do with a revamp.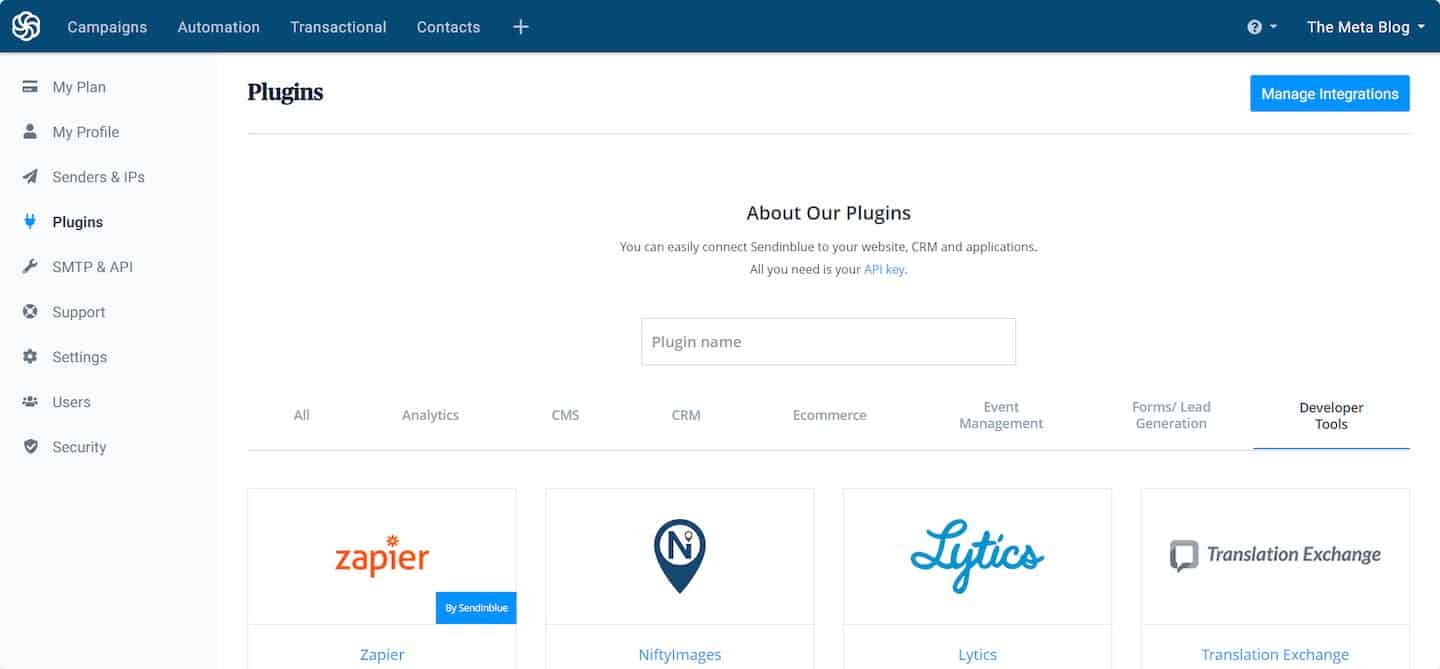 Depending on the platform, Sendinblue's integrations can vary from very good to not-so-great. As it has unlimited contact, Sendinblue can be used as a lead management tool, but it needs solid CRM integration for this to work. Its Pipedrive and Hubspot integrations are really solid, but its Salesforce integration is less so, for example.
Try Sendinblue for free
No credit card required – Up to 300 emails / day for free
Sendinblue pricing plans
Sendinblue offers 4 tiers of pricing for its users – Free, Lite, Premium, and Enterprise.
Its free plan offers unlimited contacts and the ability to send up to 300 emails a day, before progressing to offering no daily sending limit and additional features like A/B testing and advanced stats on the Lite plan.
Marketing automation, landing pages, and multi-user access aren't offered until you reach the Premium tier before the Enterprise offers the full suite including priority sending, custom volumes of emails, access to SSO, 20 + landing pages, and priority support.
Try Sendinblue for free
No credit card required – Up to 300 emails / day for free
Sendinblue Vs. Mailchimp
In our opinion, Sendinblue is better value for money than Mailchimp. Rather than charge by the number of contacts, it charges by the number of emails sent, making it the lower-cost option.
Importantly for European customers, Sendinblue is based in Europe and therefore is fully GDPR compliant – something Mailchimp lacks as its data is stored in the US.
All that being said, Mailchimp does have better analytics than Sendinblue and integrates with a lot more top platforms from its marketplace.
Mailchimp might be the more reliable and better performing option of the two, if not more costly.
Sendinblue Vs. ActiveCampaign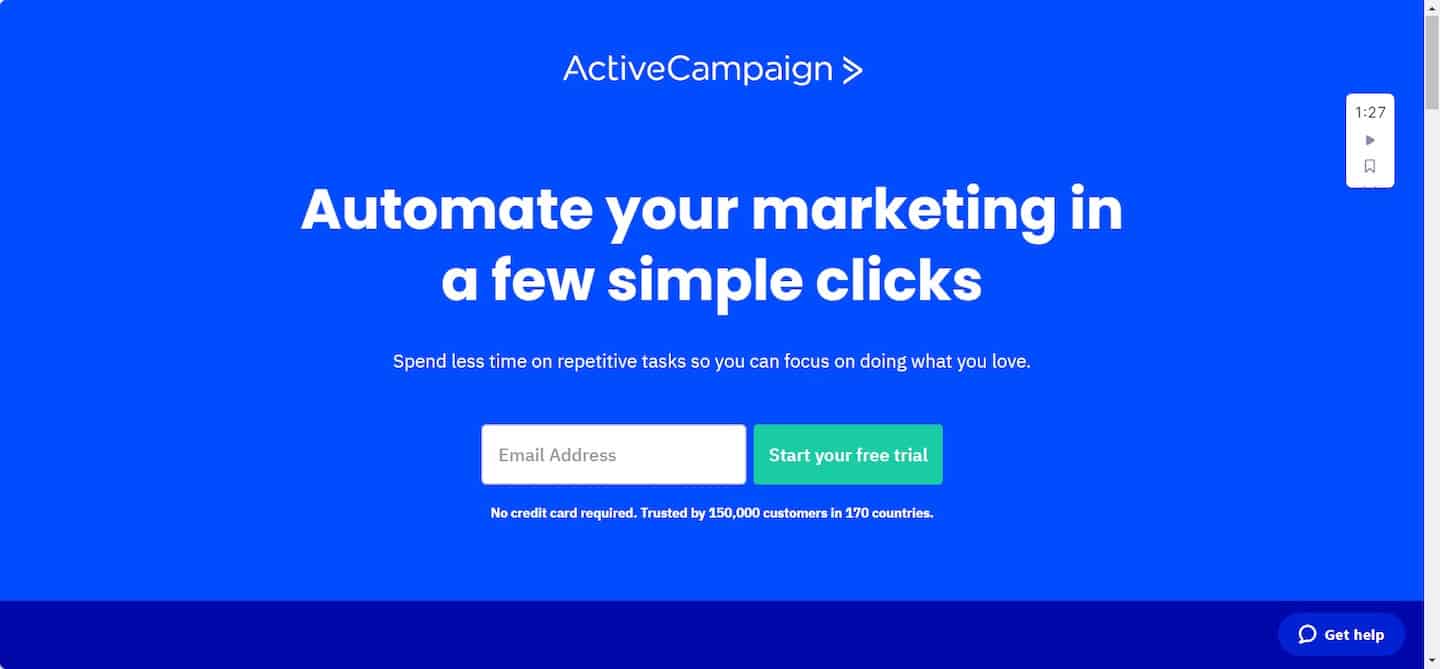 ActiveCampaign is another alternative to Sendinblue. It also bases its pricing on the number of emails, rather than the number of contacts, and its fees come in slightly lower than Sendinblue.
The difference between these two email platforms is really what you're looking to achieve. For example, Sendinblue offers more templates than ActiveCampaign, but no social media integration on emails like ActiveCampaign has.
That's why it might come down to your business size. Sendinblue is better for small business owners as it's so easy to use. But ActiveCampaign will shine among more advanced users. It offers better CRM capabilities and automation features but does require a little bit more tech knowledge.
For a full review of ActiveCampaign, click here.
Sendinblue Vs. SendGrid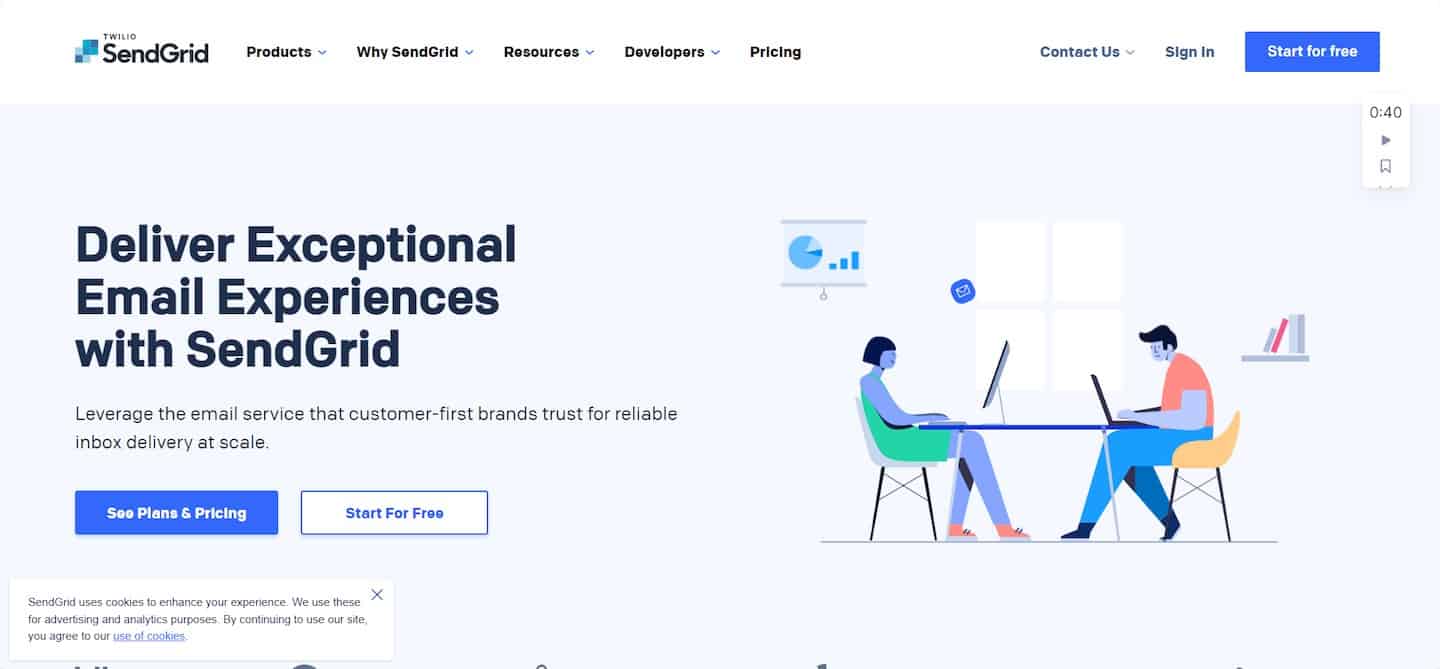 Both Sendinblue and SendGrid have affordable pricing options, but SendGrid's plan is even more flexible.
While SendGrid is better for enterprises with higher levels of need in terms of email quantity and consistency, Sendinblue is better for e-commerce stores and high traffic websites. And, as always, Sendinblue wins on its simplicity and how easy it is to use.