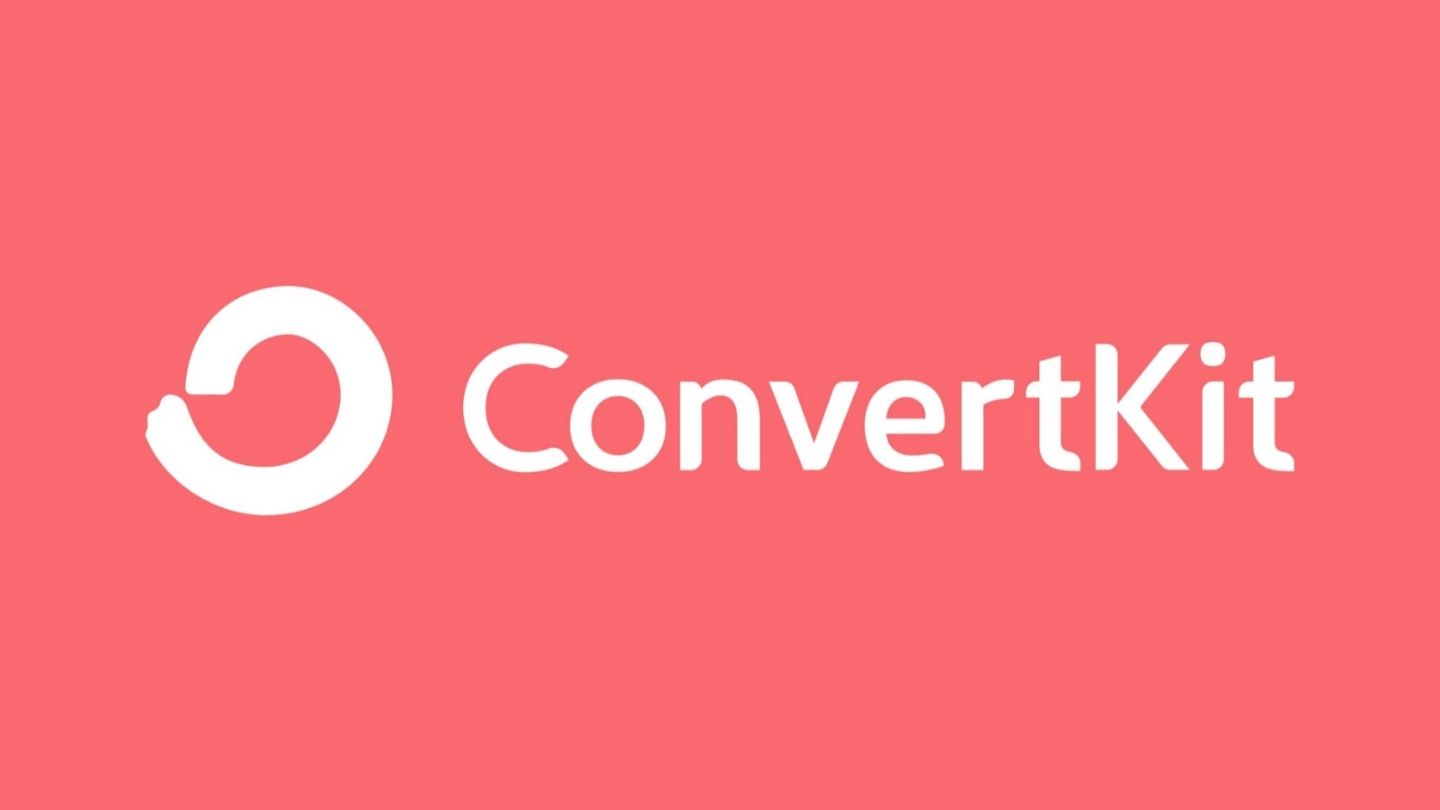 Creators assemble! ConvertKit is an email marketing and automation software built specifically for creators' needs.
The marketing solution's unique selling points include its plain text only templates, smart automation builder with recommendations tailored to creators, and ability to sell digital products easily, with tags and no lists.
ConvertKit was built with simplicity in mind and a focus on the creator economy, making it one of the leading email marketing and automation tools on the market right now. Let's dive in and find out what all the fuss is about.
A Word About Deliverability
First, let's clear up some things about deliverability. ConvertKit is incredibly well-known in the blogging niche, and they offer an attractive affiliate program, so you'll read tons of reviews claiming that ConvertKit has better or worse deliverability than comparable platforms. It's simply not true.
Having worked at one of the leading ESPs on the market for four years, I'd like to put things in perspective.
One argument you'll frequently encounter on affiliate reviews is plain text email. On paper, it sounds like a convincing argument. To you, ConvertKit's emails look like natural emails, the type of email you'd send to friends or family.
To Gmail, Outlook, and other email providers, they don't. Part of the reason is the inclusion of 'marketing email' and other headers, which are mandated by law.
Not to mention that spam filters are pretty familiar with the best-known email marketing solutions on the market, including ConvertKit.
Deliverability ultimately comes down to the email provider's ability to flag and ban spammers to protect their sender reputation.
You might assume that the ability to detect spammers is determined by the provider's size. The more accounts and data that a given provider has, the more experience detecting spammers. This is true to a certain extent.
But on the other hand, smaller players in the email provider world will have stricter rules to compensate for their size, therefore sacrificing onboarding conversion rates to protect their customer base.
Also, if we're honest, most email providers buy data from the same providers (ehawk or sift science, to name a couple) to flag suspicious activity, so the difference is minimal from one provider to another.
Of course, deliverability is a factor to consider when reviewing a marketing automation tool, but it's mostly a reminder not to configure an email server yourself, and not to go for a newer solution with a handful of clients and claims of "cutting-edge deliverability technology'.
It's not, however, a factor that should influence your choice between established solutions like ConvertKit, ActiveCampaign, Mailchimp, or Sendinblue.
Our Opinion on ConvertKit
ConvertKit Pros & Cons in a Nutshell
Pros
Unlike Active Campaign and other competitors, ConvertKit boasts a free plan and 14-day free trial.
ConvertKit is hyper-focused on creators and their needs; building engagement with smart segmentation, automation, and sales. The platform's builder, Nathan Barry, is a creator himself, and it's clear that his previous experience has informed ConvertKit's features.
The user experience manages to impress despite ConvertKit's huge number of features.
Their customer-first approach is proven by the insane amount of high-value educational content they put out—content that's invaluable to new creators.
Cons
ConvertKit pricing gets really steep after a few thousand contacts, making it a hard sell compared to more generalist, cheaper options like ActiveCampaign or Sendinblue.
The hyper-focused features are great if you stay within the tool's boundaries. However, they can be pretty limiting for more advanced tools. For example, the A/B testing feature could be more sophisticated, and there's room for improvement with the reporting options.
Building Email Campaigns With ConvertKit: Our Opinion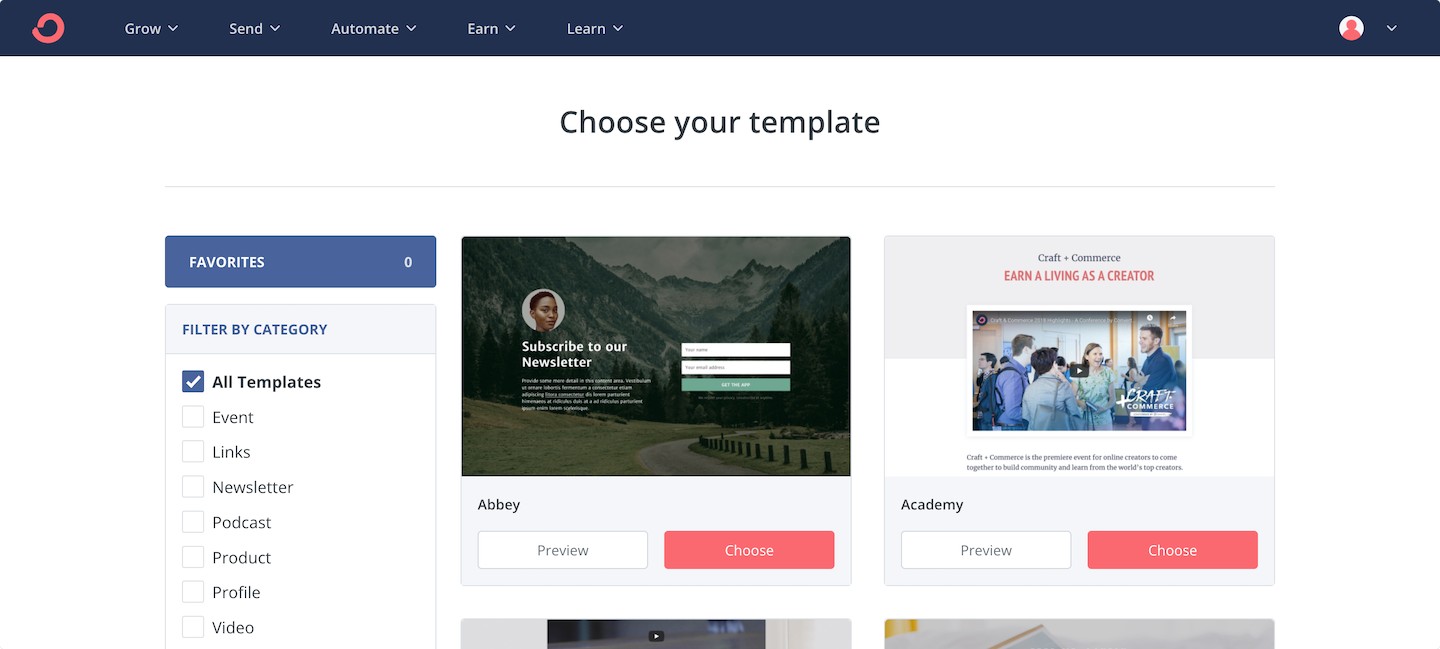 Simplicity, customizable templates, and a fast drop and drop editor are the ingredients for an effective email builder. The good news is, the ConvertKit creator ticks all these boxes.
ConvertKit offers 9 email templates, all of which focus on text over visuals. ConvertKit explains the choice of plain text emails by saying they perform better than overly complicated sales emails, which can look spammy.
ConvertKit's email editor is straightforward to use. In the content section, you write your email similarly to any other email provider. You can incorporate personalization and HTML into your email, too.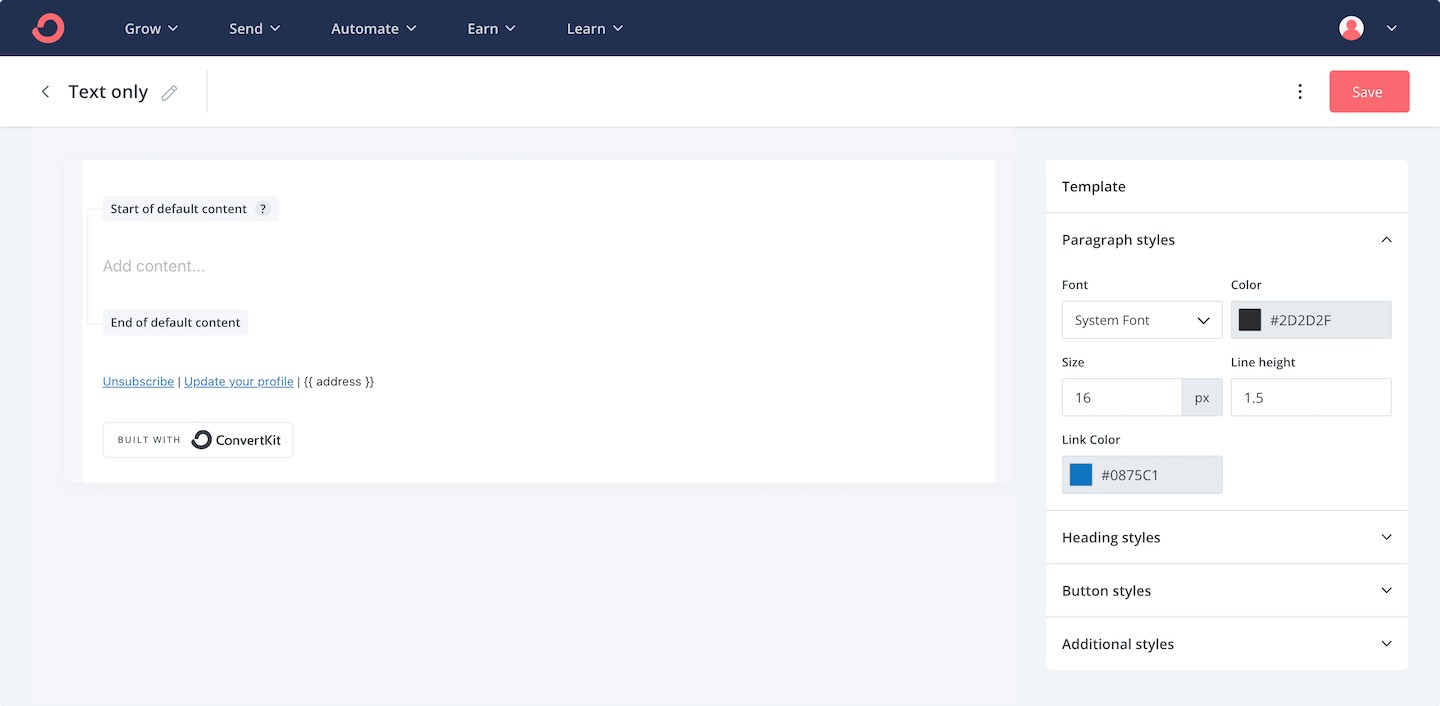 You can preview your email before sending it out, and then in the final step, the editor will warn you of any mistakes, for example, if the subject line needs changing or you haven't added recipients.
List Building Features on ConvertKit
For your email marketing to be successful, you have to have a decent list of subscribers. ConvertKit allows you to capture emails for your list using forms, landing pages, and newsletter subscription boxes.
You can choose from 4 types of solutions for forms; inline, modal, slide-in, and sticky bar. The different formats appear differently on your screen. Sticky bars, for example, live at the top of your web page like a header, whereas inline appears as part of your text.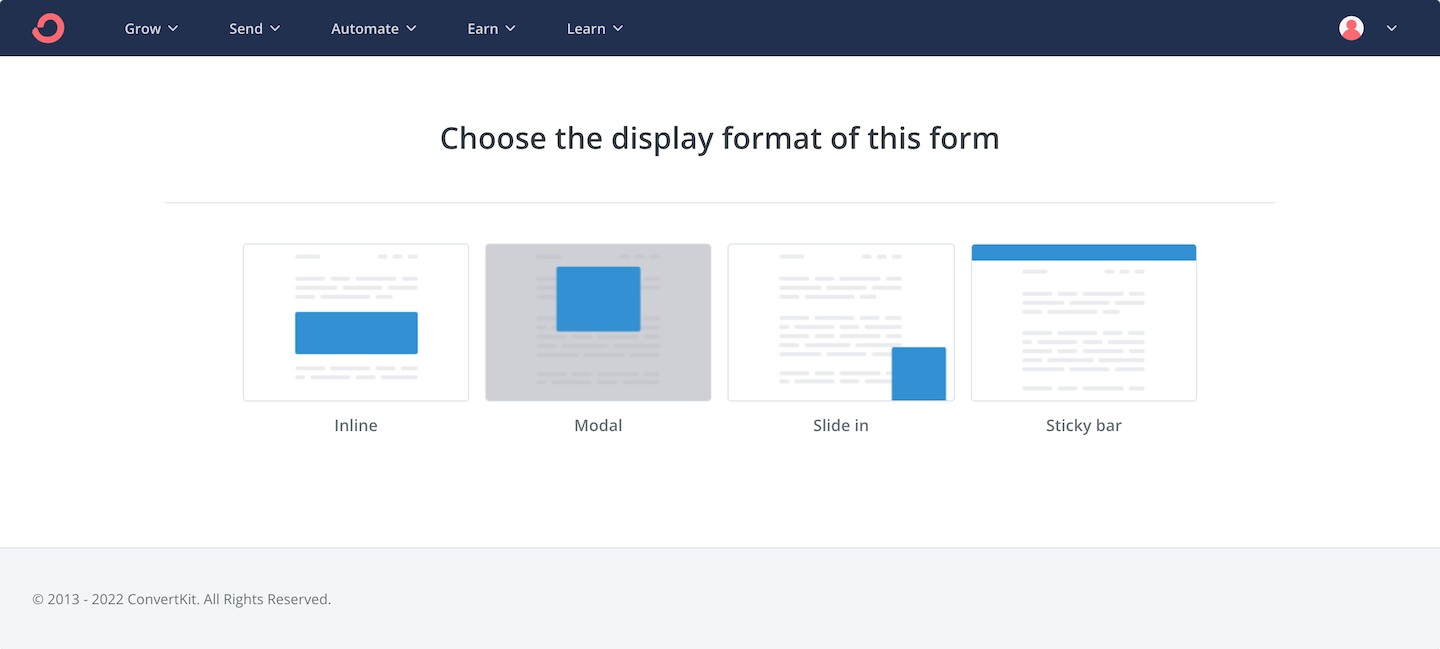 Once you've chosen your form solution, you can choose from 9 simple templates to pick the aesthetic that best fits your site.
The same goes for landing pages, where you can choose your preferred style from ConvertKit's numerous templates. ConvertKit's templates win bonus points for each element being customizable, allowing you to easily adjust the landing page to your taste.
Contact Management and Segmentation
ConvertKit lets you organize subscribers two ways—with tags and with segments. Why is this useful? It allows you to separate your subscribers based on set criteria, to ensure they only receive information that's relevant to them.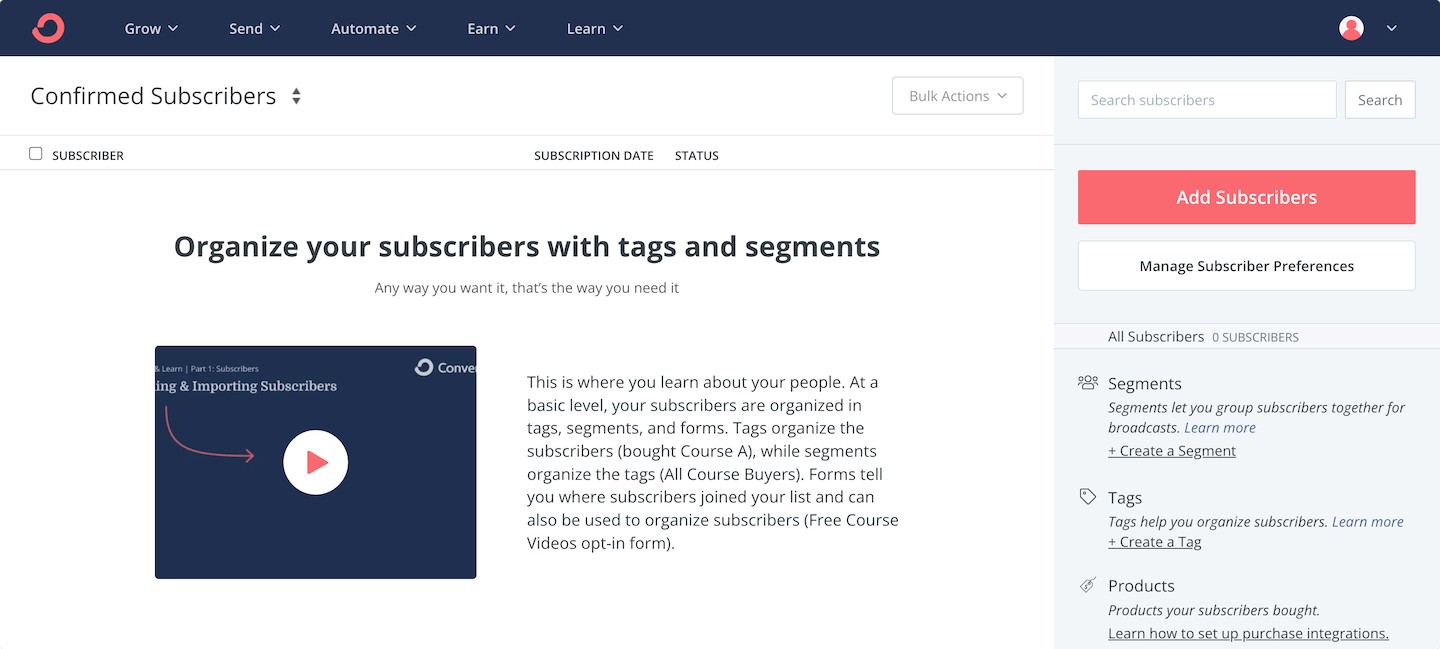 If you sell a product or service, for example, you don't want to send out comms promoting your product or service to people who have already bought it.
Only 15% of email users find marketing emails 'often' or 'always' useful. ConverKit's contact management tools help you make sure your emails are part of that 15%.
The contact management feature doesn't use lists, but tags instead. You can add 'topics of interest', which act as macro tags, grouping similar content segments together by interest.
So how do ConvertKit's tags and segments work? Let's say you sell magazine subscriptions. You can tag all email subscribers with an individual tag for every magazine they've signed up to.
You can then use these tags to organize your user into segments. For example, you may have a segment containing all previous subscription buyers. You'll want to opt them out of marketing your previous magazine subscriptions, but you may want to add them to an email about a brand new magazine you'll be selling.
You can also use forms to tell you where the subscriber joined your list and organize subscribers on that basis.
One of the tool's main focuses is subscriber growth. It's one of the only platforms to give you such transparent data on list growth, allowing you to rapidly grow your subscriber list.
Automation Scenarios on ConvertKit
ConvertKit automation is user-friendly and effective, allowing you to automate multiple outcomes for various scenarios.
If this, then that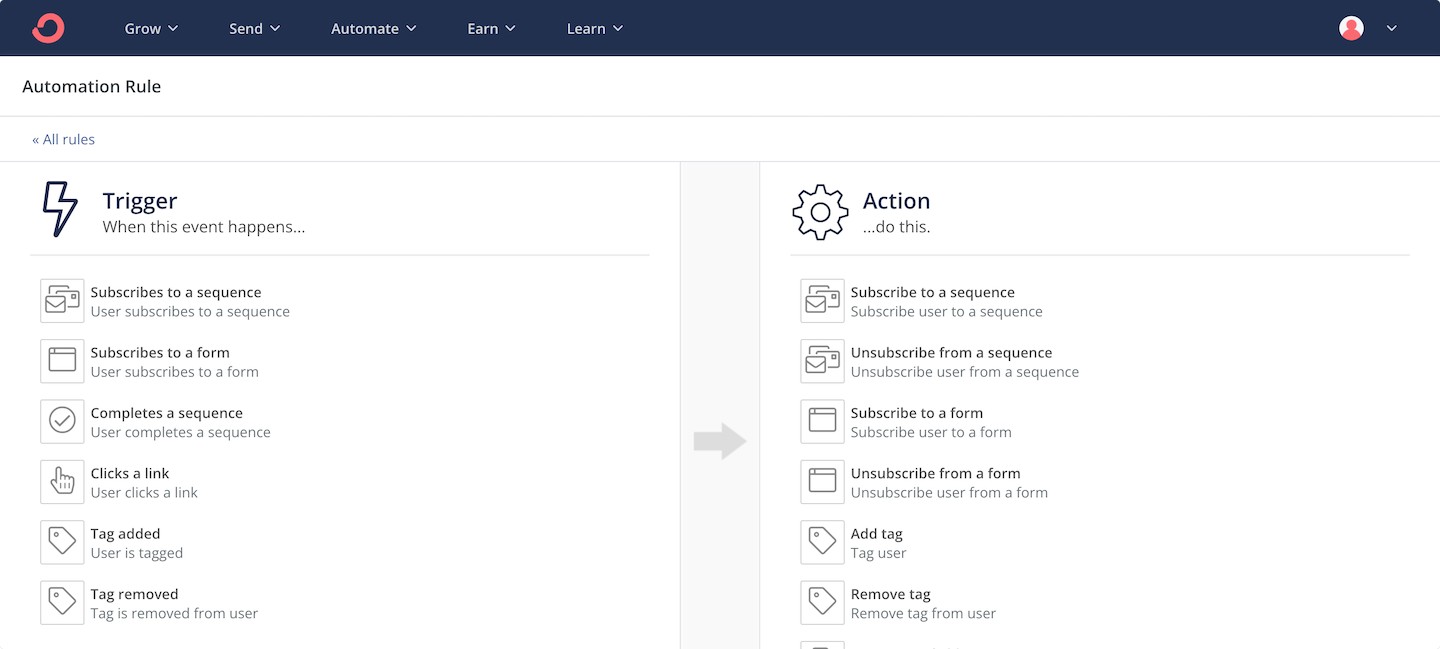 You can set up scenarios to trigger events. For example, if somebody clicks a link, it subscribes them to a form or adds a tag. These custom automation options allow you to automate your email capture or list building process at a granular level.
RSS feed automation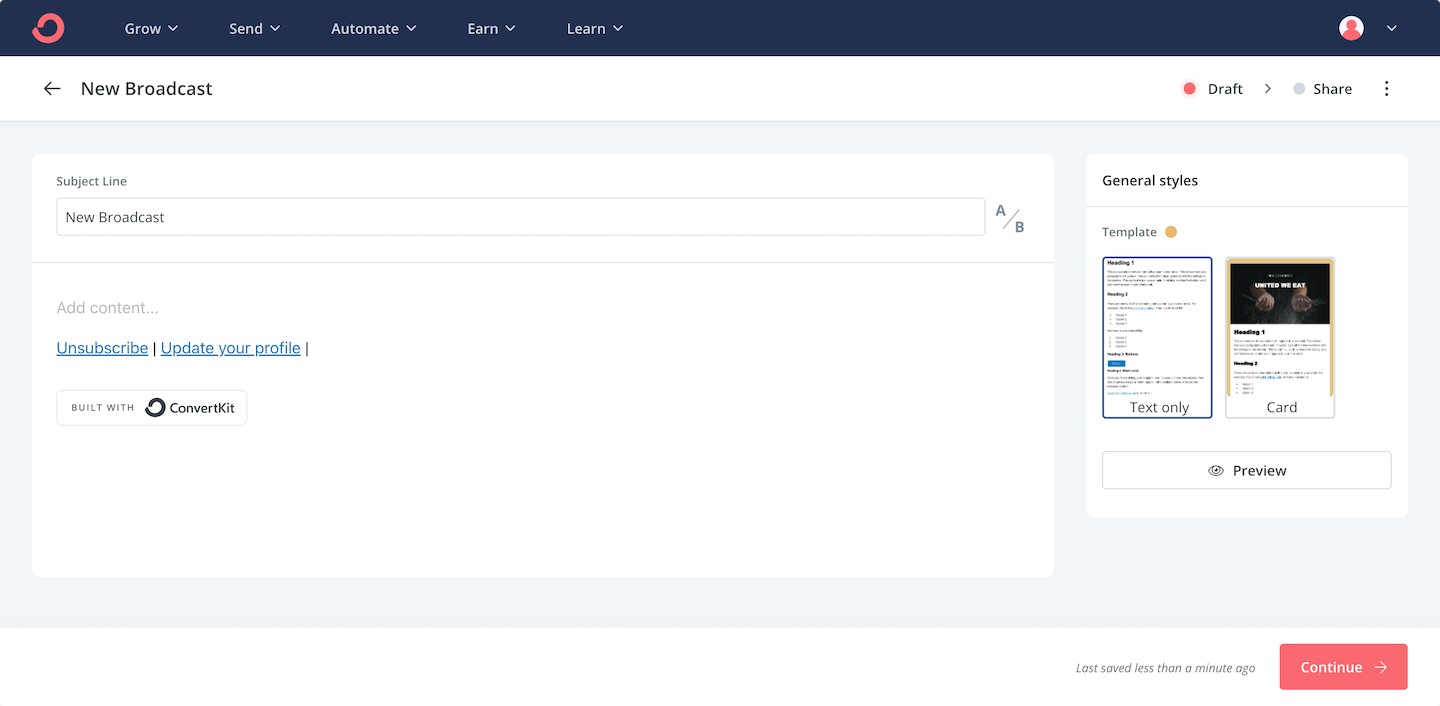 ConvertKit's main audience is bloggers, so with that in mind, the solution lets you send out every new blog post automatically to your subscribers. You can either send each new post individually or condense them into a digest, sent every week or every month.
The automation sequence builder
Visual automations, also known as "funnels", let you send perfectly-timed targeted content to your audience when they perform an action.
You can even ask your audience questions to create "conditions" that act as a fork in the road—pushing the user in one direction or another depending on their response.
Reporting and A/B testing with ConvertKit
ConvertKit doesn't offer a central reporting feature. Instead, you access reports based on the section of the tool you're using.
For example, in the subscribers section, you get reports on list growth, engagement, and product sales (if any).
There's no heatmap, e-commerce conversion tracking, or social media report, nor does it integrate with Google Analytics. You also can't see the email's bounce rate—a feature that would improve ConvertKit's offering.
ConvertKit Integrations
If you already use other tools to run your blog or e-commerce site, the good news is, there's a chance ConvertKit integrates with them.
Get paid with Stripe
ConvertKit's impressive Stripe integration allows you to get paid for your content and connect with your audience.
ConvertKit streamlines your payment process by bringing over all your old subscribers and purchase history—so you don't have to waste time transferring the data.
The integrations marketplace on ConvertKit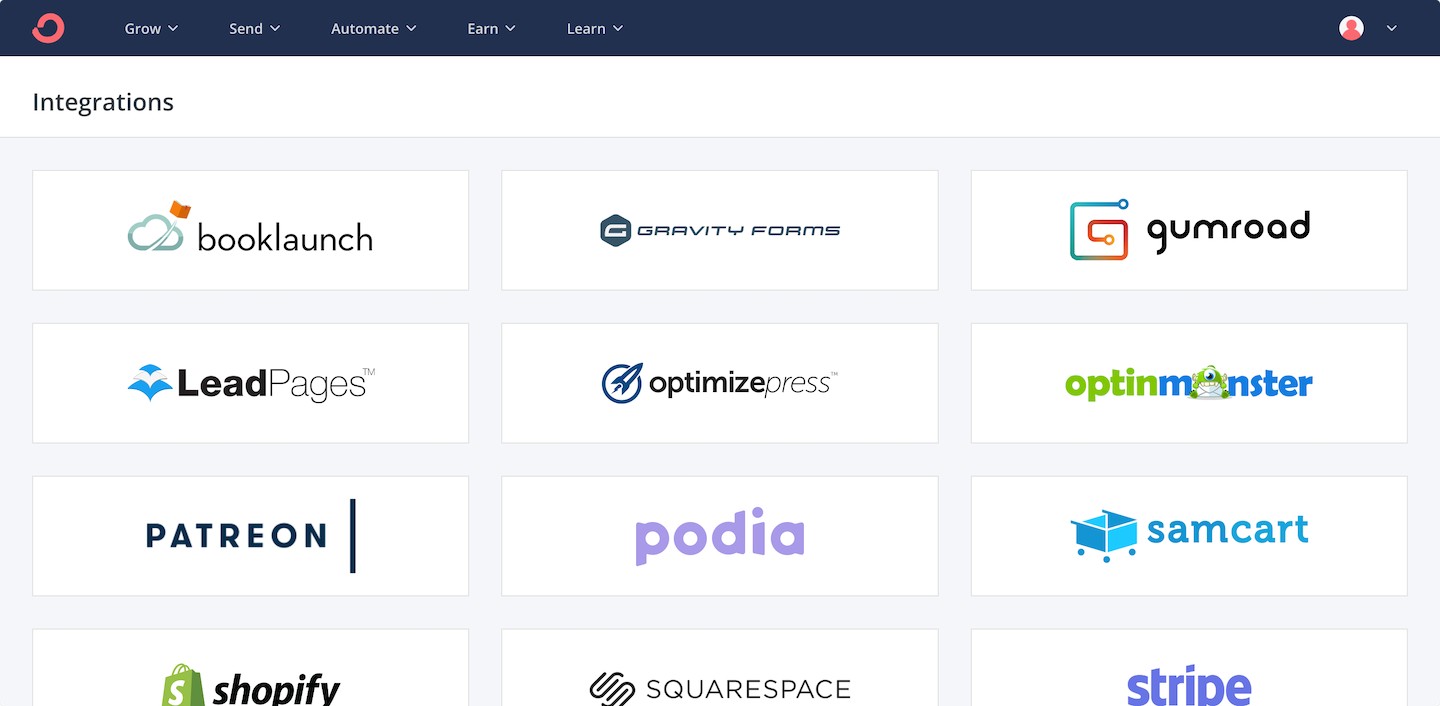 Lead capture, surveys & quizzes: ConvertKit integrates with some big players in the world of lead capture, including Unbounce and Groupboss. They also integrate with survey and quiz providers such as Typeform and YesInsights, to help you gather useful lead data.
CMS: If you already use Flow.ly or Monday.com, you're in luck. ConvertKit allows you to integrate with CMS tools to streamline your content management.
Course management: Manage all your courses from one easy place with ConvertKit's various course management integrations, including MembersPRO, CourseCats, and Memberful.
Facebook custom audience: Sync with your social media account with Converkit and sync your segments directly to Facebook. That way, your ads will only be shown to the relevant contact segments, ensuring every step of your marketing campaign is personalized.
ConvertKit's handy API feature even allows you to build your own integration if there's a platform you're just dying to use with your ConvertKit account.
Customer Reviews of ConvertKit
ConvertKit users praise the platform's help center—with its easy-to-follow articles, how-to guides, tutorial videos, and webinars.
Other users find value in ConvertKit's metrics feature, so you can see how well your email performed and use the results to inform your marketing strategy. There's a lot of love for the tagging feature too, which lets you send users targeted emails based on the data you have on them.
Where users say ConvertKit falls down is its customer service support, with some users complaining of being passed from team member to team member with no phone number to call and slow responses.
Other cons of ConvertKit include its high pricing, with the free plan not including the coveted automated sequences and funnels feature. Users also claim that using ConvertKit can be a learning curve, and it isn't the most beginner-friendly automation platform.
ConvertKit's Customer Support: Our Review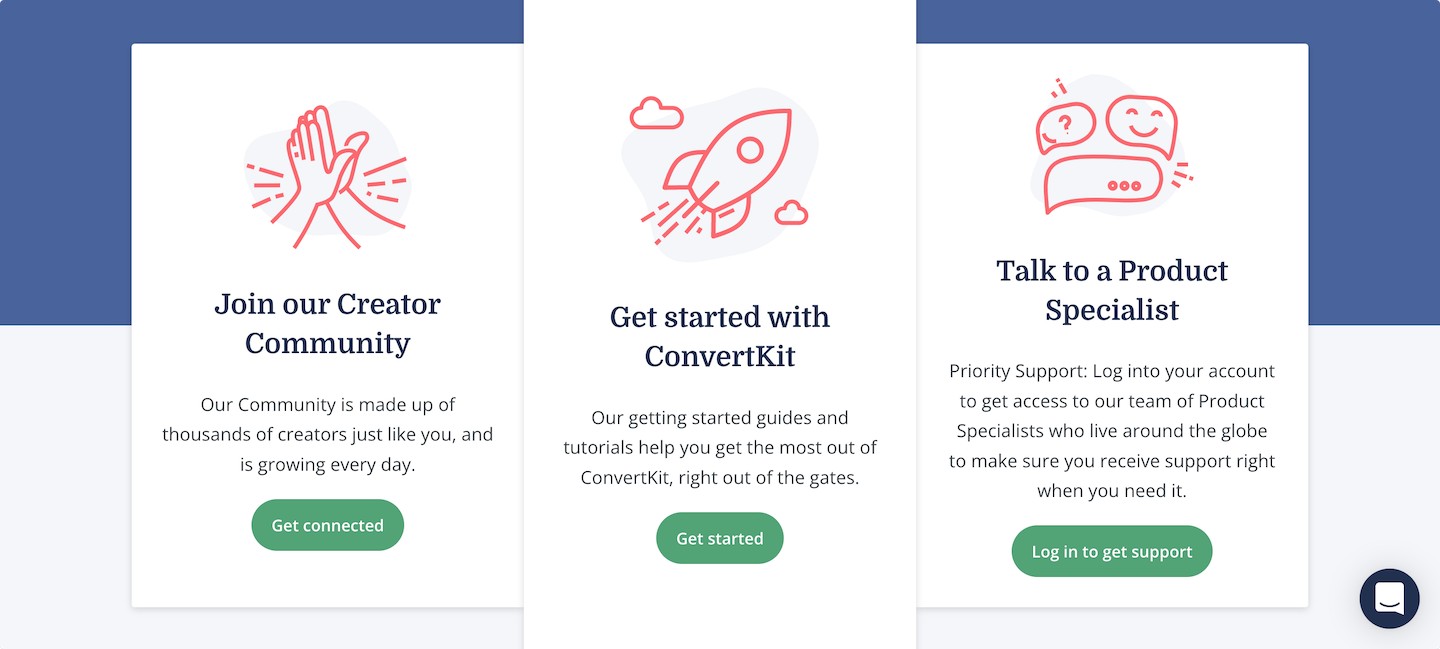 Like many of its competitors, ConvertKit doesn't have a phone number for support. Instead, you can get in touch with the team:
The help center is where you'll find the majority of ConvertKit's support offerings.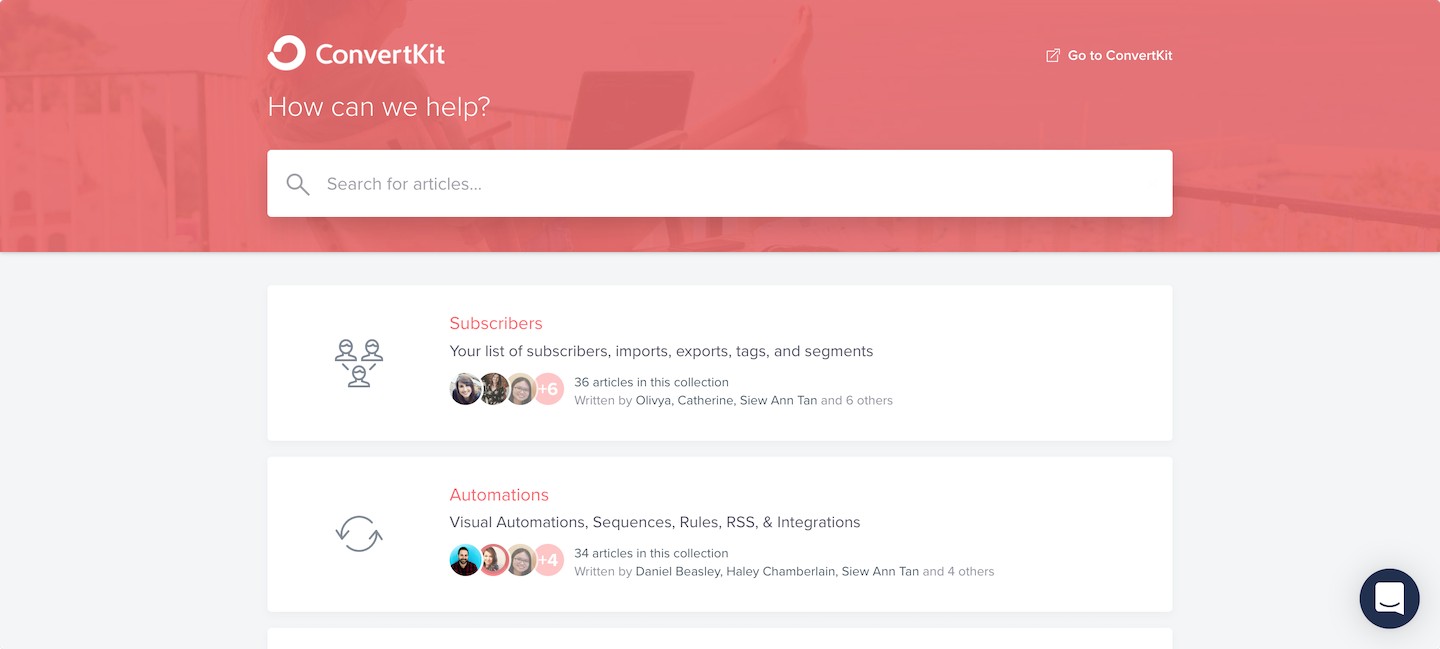 The help center consists of:
Tutorial articles
A knowledge base
Video training
Community forums
Workshops
Users complain of long wait times on live chat responses, so if you need extra help on your ConvertKit journey, the help center seems like the best place to get it.
ConvertKit's Pricing Details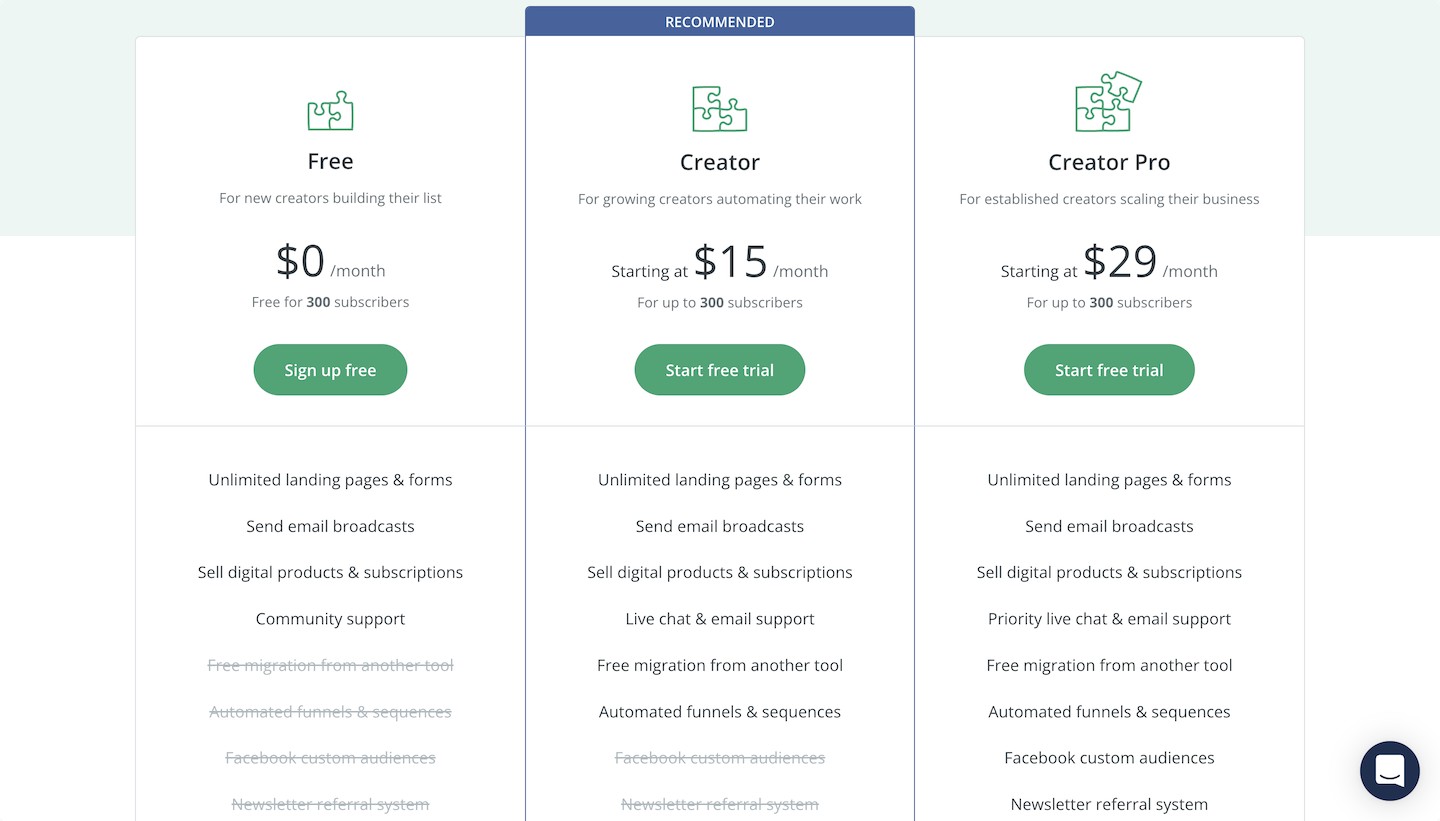 One of ConvertKit's biggest selling points is its free plan. Creators with less than 300 subscribers are eligible for the ConvertKit free plan, which includes unlimited landing pages and forms, community support, and the ability to send email broadcasts and sell digital products.
If you're just starting to build your list, it's a pretty impressive option for $0 a month.
The next plan is the Creator plan, starting at $9 per month for 300 subscribers a month and increasing to a whopping $1,916 per month for 400k subscribers.
On top of the free plan features, on the Creator plan, you'll also get live chat and email support, free migration from another tool, and automated funnels and sequences. Creators with 500k+ subscribers have to talk to the sales team for a customized plan.
The most expensive pricing plan is the Creator Pro plan, which starts at $25 per month for 300 subscribers. 400k subscribers will set you back $2,166 per month, with 500k+ subscribers requiring a call with the sales team.
The Creator Pro plan offers the same features as its cheaper counterparts, with the addition of Facebook custom audiences, a newsletter referral system, subscriber scoring, and advanced reporting.
ConvertKit also gives you the option of a full-feature 14-day trial, so you can see if the platform works for your business before committing to a paid plan.
While ConvertKit offers a free trial, unlike ActiveCampaign and other email marketing solutions, its paid options get pricey pretty quickly if you've got a large audience.