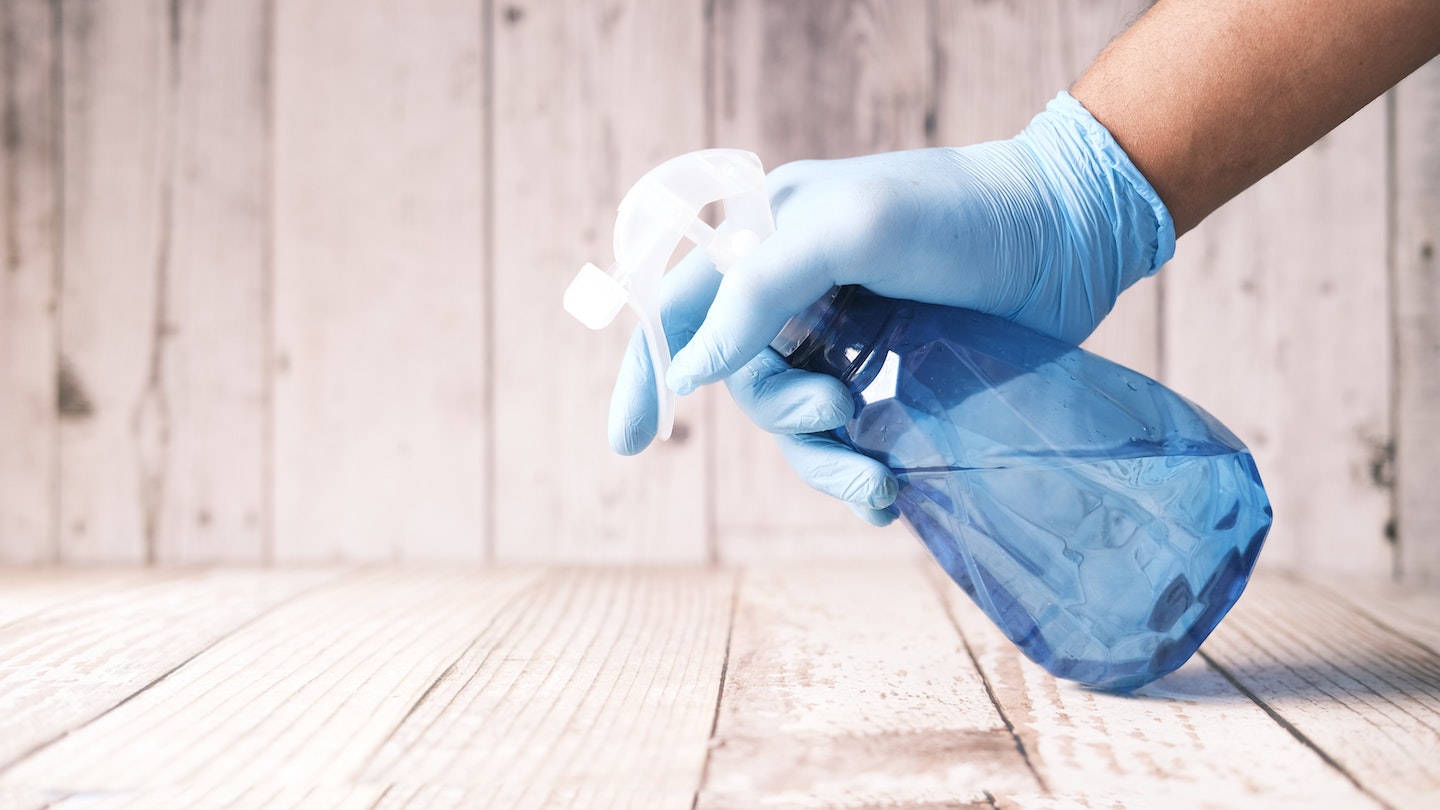 Email verification and list cleaning are essential with today's complex rules about having and storing people's data. A database full of old, defunct, and useless addresses costs you time and money. That's why it's important to regularly use an email validation service.
A solid one will clean your data, ensuring all email addresses are valid and up-to-date. This will guarantee you're not repeatedly sending emails to inactive addresses, which can hurt your spam rating.
Keeping your data clean also allows you to track your customers' online presence across social media and other sites. This provides more information for your wider marketing strategy and helps fine-tune your automation processes.
How does email validation work?
Email validation and list cleaning software typically check (in this order) whether an email address is:
Valid: A simple syntax check to detect email addresses that cannot exist. For example, joebloggs@gmail cannot exist without the .com on the end.
Not disposable or role-based: If you're list building with lead magnets and such, this is typically the biggest problem. Disposable email addresses (Mailinator, Temp-email, etc.) are hard to detect and can easily cause deliverability issues. Role-based email addresses  (contact@, hello@) are also often unusable and can cause similar problems.
Registerable: DNS requests should be performed with the declared domain to check whether it can receive emails. As DNS records are public this is fairly simple. For example, while themetablog.io has the required MX records to send and receive emails, themetablog.co does not. This means [email protected] cannot exist.
Not used as a spam trap: Spam traps are when Internet Service Providers use invalid, outdated email addresses to catch spammers. But if you're not buying lists, or using email finders and if your list is less than 5 years old, you shouldn't encounter this.
In B2B, some email marketers also decide to remove any non-professional email addresses like Gmail or Outlook. This is because they're a lot harder to enrich.
For example, if you've spent 3 months working on a white paper, you want to ensure it's reaching the right people. To do that, always ask for professional email addresses.
What to look for in an email list cleaning service
Not accuracy
A common claim of email cleaning and validation services is that they have "the highest accuracy on the market"!
But whether this is true or not, doesn't really matter if you're already following best practices. One bounced email won't affect your deliverability and it's easy to check if an email is valid, and not disposable or role-based. That's something any service can do.
Email validation services will advertise on this basis though, because of their spam trap detection. This is a harder thing to achieve and requires years of experience and massive databases.
If your list is already tidy, and you're just looking to expand with lead magnets and other classic list-building methods, then there's no reason for you to encounter these traps, anyway. Especially if you're already cleaning up by removing inactive subscribers.
If you're benchmarking your blog list against well-established solutions, there's no reason for this to be a deciding factor.
Integrations
A seamless, easy to "set up and forget" integration with your email service provider is absolutely vital.
Honestly, yes, email validation is a pure cost. It doesn't create value, but it does remove the destruction of value caused by people using disposable and invalid email addresses.
If you also use pop-up plugins or dedicated email capture software, make sure to check that the email validation service also integrates with these. It's especially good if it includes ways to enable direct front-end validation.
If someone puts a fake or invalid email into a submission form, two things could happen. One, it's rejected immediately, and the form tells them to put in a valid address. Or two, it accepts the email and then automatically removes it from your list, anyway.
Obviously, the first option is preferred because the user may try again with a valid email. Plus, it ensures you're never at risk of sending to an invalid address, even if just for a welcome email.
Email validation options
The best email validation services will offer the option to accept or refuse email based on type, depending on your list-building strategy.
For example, if you're looking for accounts that might be interested in your product, role-based emails might be totally fine. They'll still tell you which companies showed interest, even if you don't have a direct contact.
But if you're trying to build a personal relationship with your subscribers, you'll absolutely need a personal email address. Whether or not it's professional matters less here.
Pricing
Email validation services come with a variety of pricing scales.
Typically, they'll have a sliding scale where cost per email validation will decrease with volume. But prices don't follow the same pattern from service to service. Some tools can look a lot more interesting in that case, depending on how you expect your list to grow.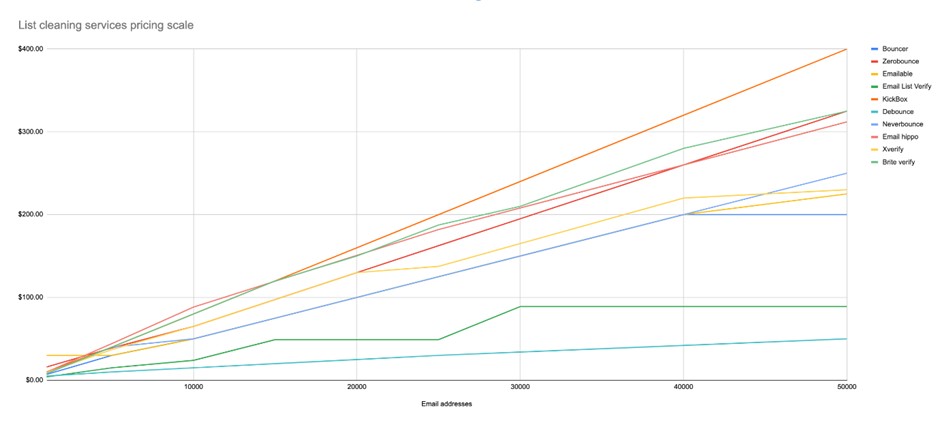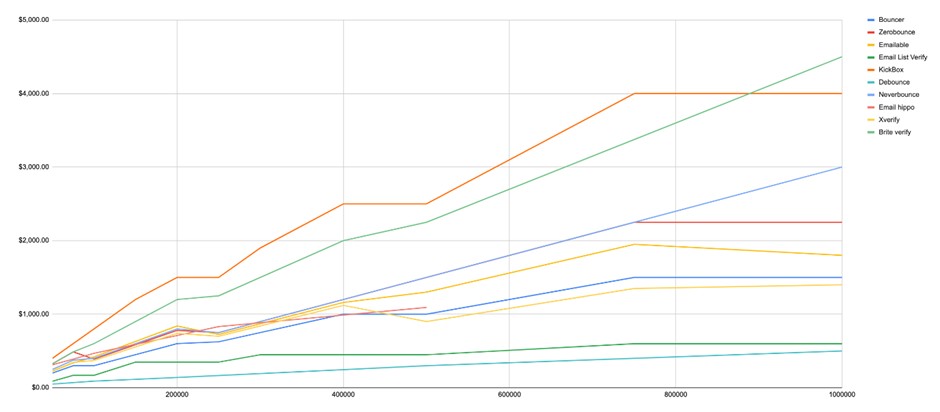 List cleaning services compared
#1 Bouncer: The GDPR compliant one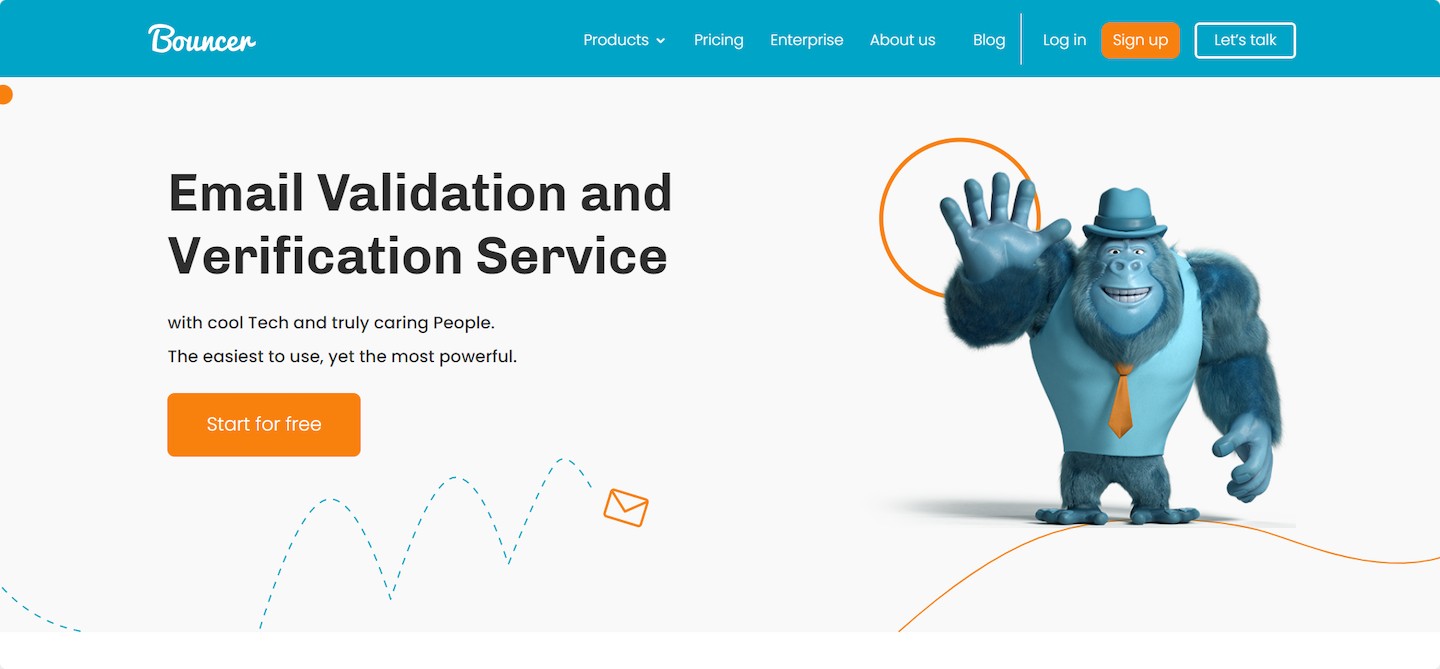 Bouncer is based in Warsaw, Poland, making it 100% GDPR compliant. This means you can permanently delete verification results on demand, and be assured of complete data protection compliance.
Bouncer integrates with email marketing platforms like ActiveCampaign, Moosend, and Convertkit. It also comes with a web app for bulk validation, APIs, and other native options. It has front-end options and integrates well with different automation software.
It's available both on a pay-as-you-go rate, and a monthly subscription option. The pay-as-you-go plan starts at 1000 email credits for just $7, with the price decreasing the more email products purchased.
The monthly subscription option comes in four packages: Apprentice, Adept, Master, and Custom. This starts at $40 a month for 10,000 verifications / month and increases to 1 million, depending on your subscription.
Try Bouncer
Get 100 free credits with Bouncer.
#2 ZeroBounce: the one with AI email scoring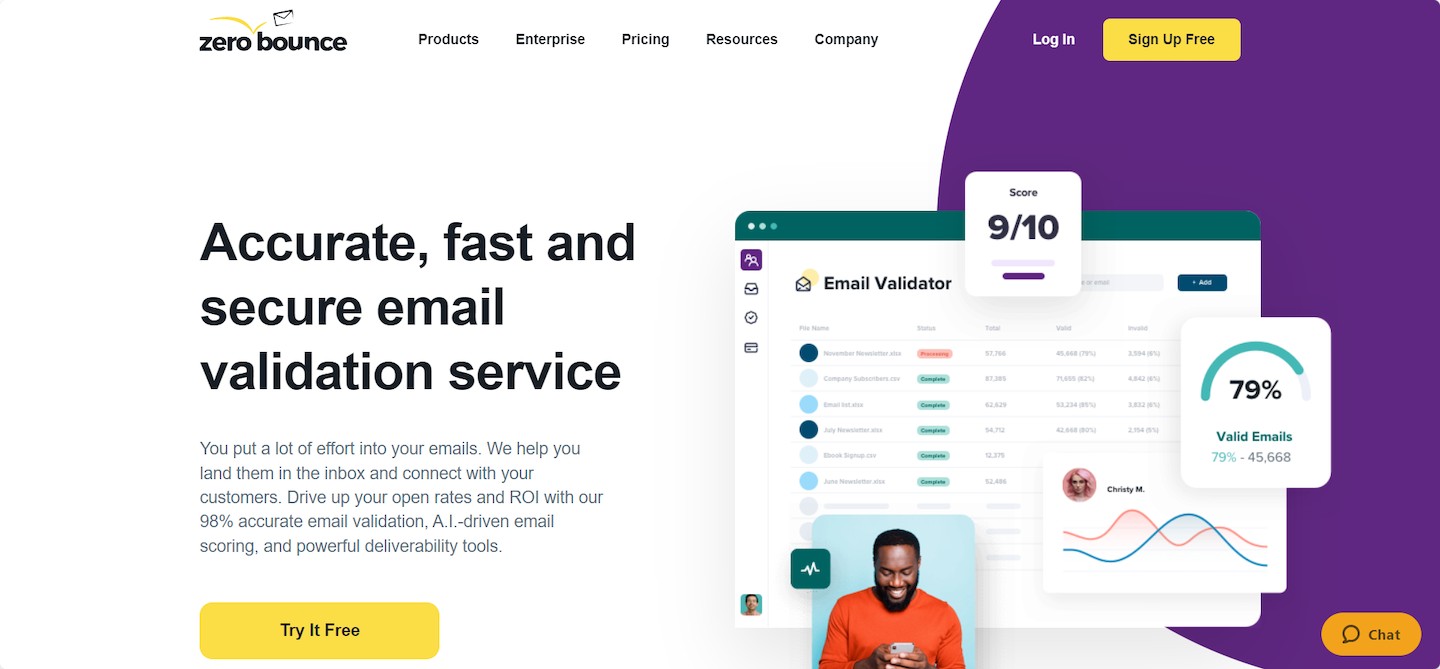 ZeroBounce offers AI email scoring, letting you see the identified quality of your leads. It also offers a variety of deliverability tools and activity data to inform your email strategies.
ZeroBounce integrates with a ton of official, 3rd party and Zapier apps. This includes well-known email marketing clients like Mailchimp and ActiveCampaign, APIs, automation services, and native front-end options.
You can get 100 credits free to start. Pricing is on a sliding pay-as-you-go scale, starting at $16 for a minimum of 2000 emails. For over 1,000,000 you can contact them to learn more about their Enterprise pricing.
Get started with ZeroBounce
Get 100 free credits.
#3 Emailable: the best for front-end validation technology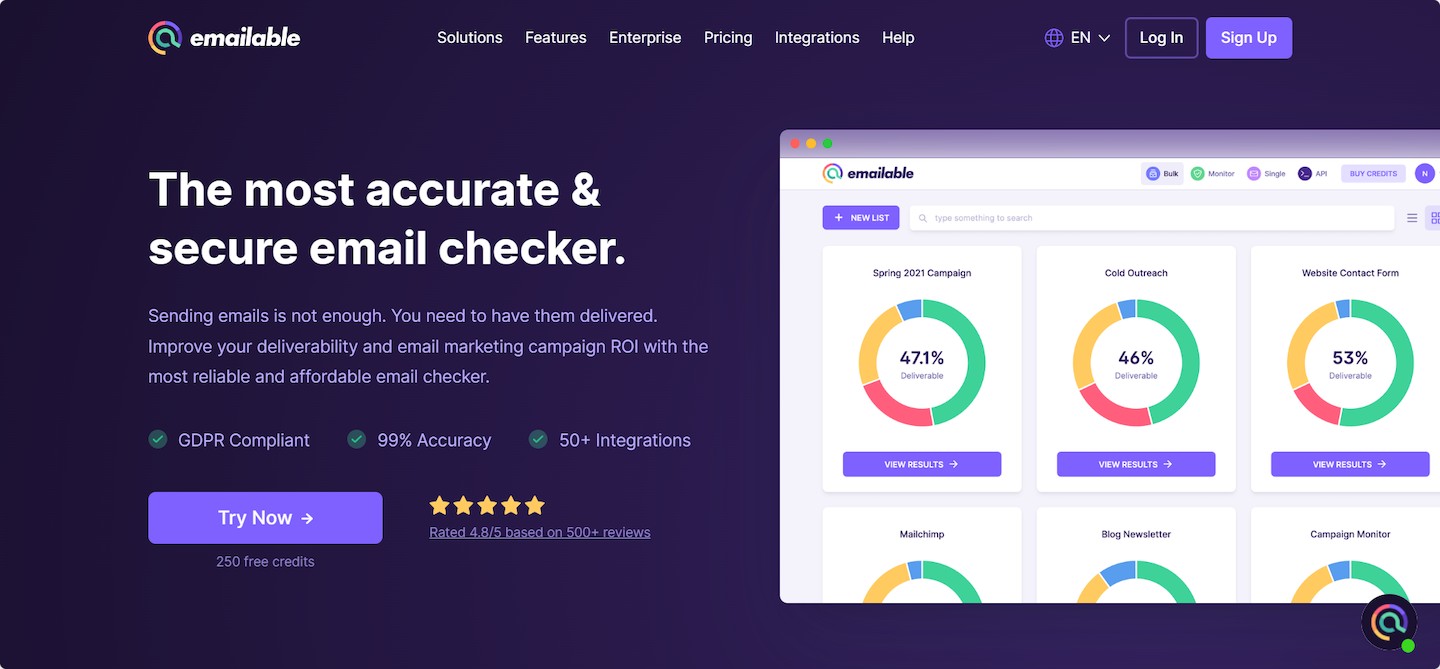 Emailable has a ton of front-end validation technology options. It offers immediate verification direct on your platform through its advanced email detection and validation technology.
Emailable has a vast integrations list including 3rd party apps, API software, and loads of front-end validation integrations. The list includes all the big names including a variety of CRMs like Hubspot and Act-on, email clients like Mailchimp and Convertkit, and front-end Zapier applications like Google docs and Zoho Forms.
The pricing at Emailable has a few different options, which reflect its more advanced features. You can either purchase by email credits for verification, monitoring only, or choose a monthly deliverability solution.
The verification is on both a pay-as-you-go sliding scale and a monthly option, starting with a minimum of 5000 credits.
To monitor existing emails, you can start at 1,000 emails instead and take up either a monthly or yearly subscription for 9€ / month.;
Its deliverability option is a more pricey monthly or annual solution – starting at 149€ / month – but you'll receive 500 inbox reports, 12-hour cyclical blacklist checks, and 50 blacklist monitors.
Any Emailable account comes with 250 free credits to get you started.
Sign up to Emailable
Get 250 free credits free
#4 EmailListVerify: the best for simple, straightforward email verification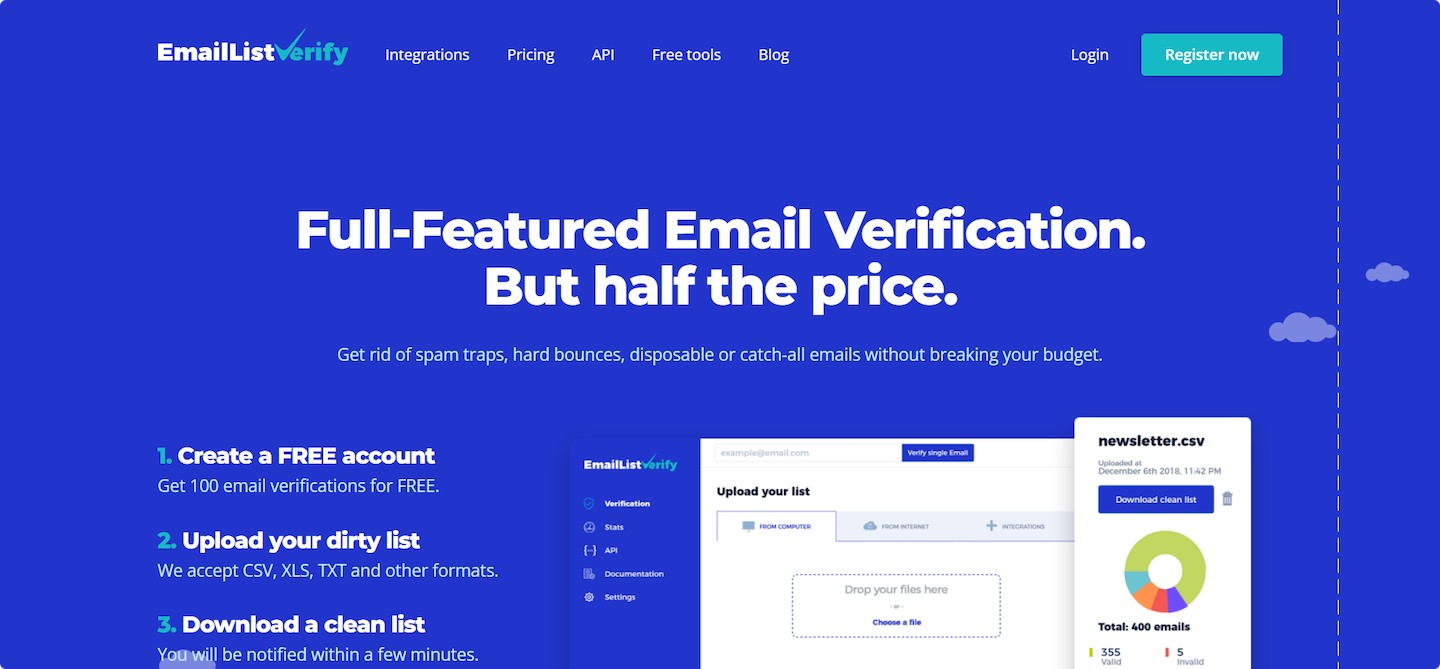 EmailListVerify doesn't offer a lot of added bells and whistles tools. It has some free options anyone can use, but its email validation service focuses on simple, straightforward verification. Upload a list and get results in minutes.
EmailListVerify offers back-end integration only with limited options. Its focus is on the major email service providers and it has no front-end apps or Zapier options. However, it has its own free API key.
Pricing is pay-as-you-go or monthly. The pay-as-you-go scale goes from 1,000 to 10 million emails with a sliding discount the more you purchase. It starts at just $4.
The monthly option is based on how many emails you want verified per day, so is probably best for major companies with a lot of constant new email lists. This starts at 5,000 emails a day and $139.
Try EmailListVerify Free
Get 100 verifications for signing up.
#5 DeBounce – the cost-effective option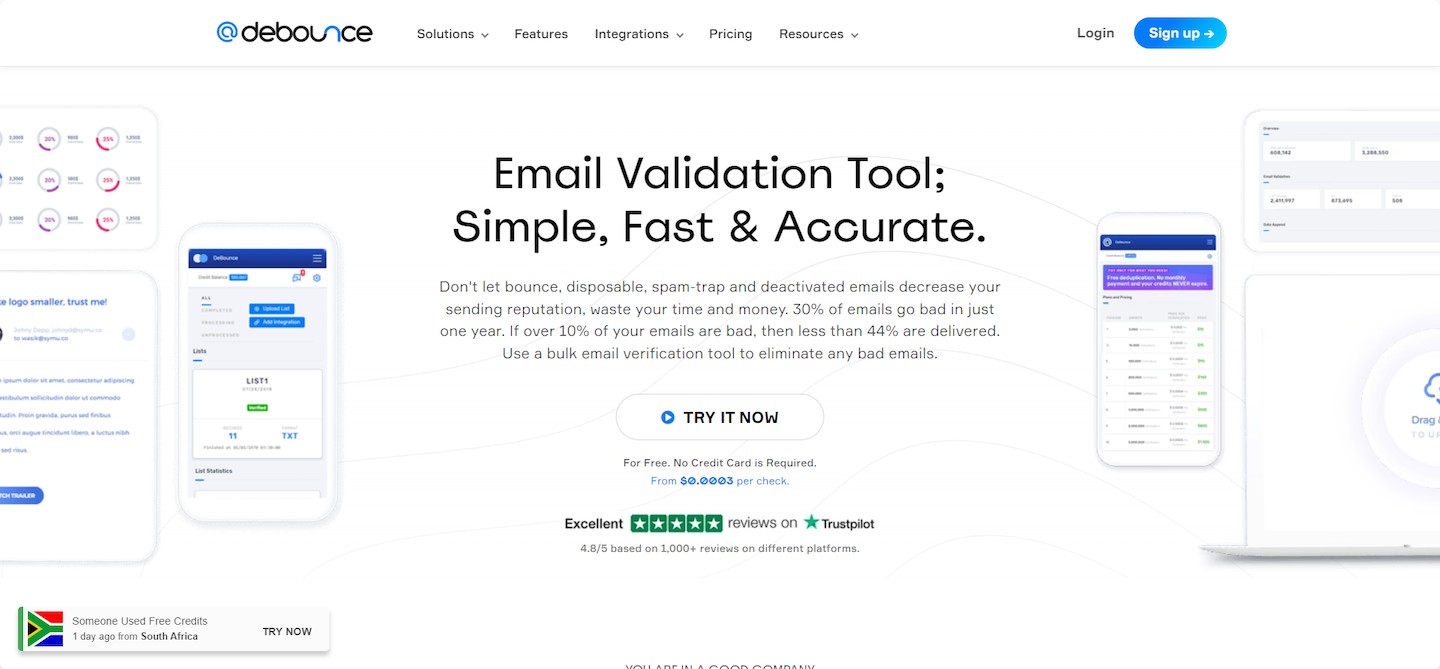 DeBounce offers a simple list of traditional email validation service features you can access from a dashboard and API.
It integrates with major email service providers like ActiveCampaign and its alternatives, and Salesforce as well as Zapier apps, some CRMs, and JavaScript front-end integrations.
DeBounce pricing starts with 5,000 verifications for $10 and goes to 5 million at $1,500.
Sign up to DeBounce
Get 100 free credits.
#6 EmailHippo: the multi-product option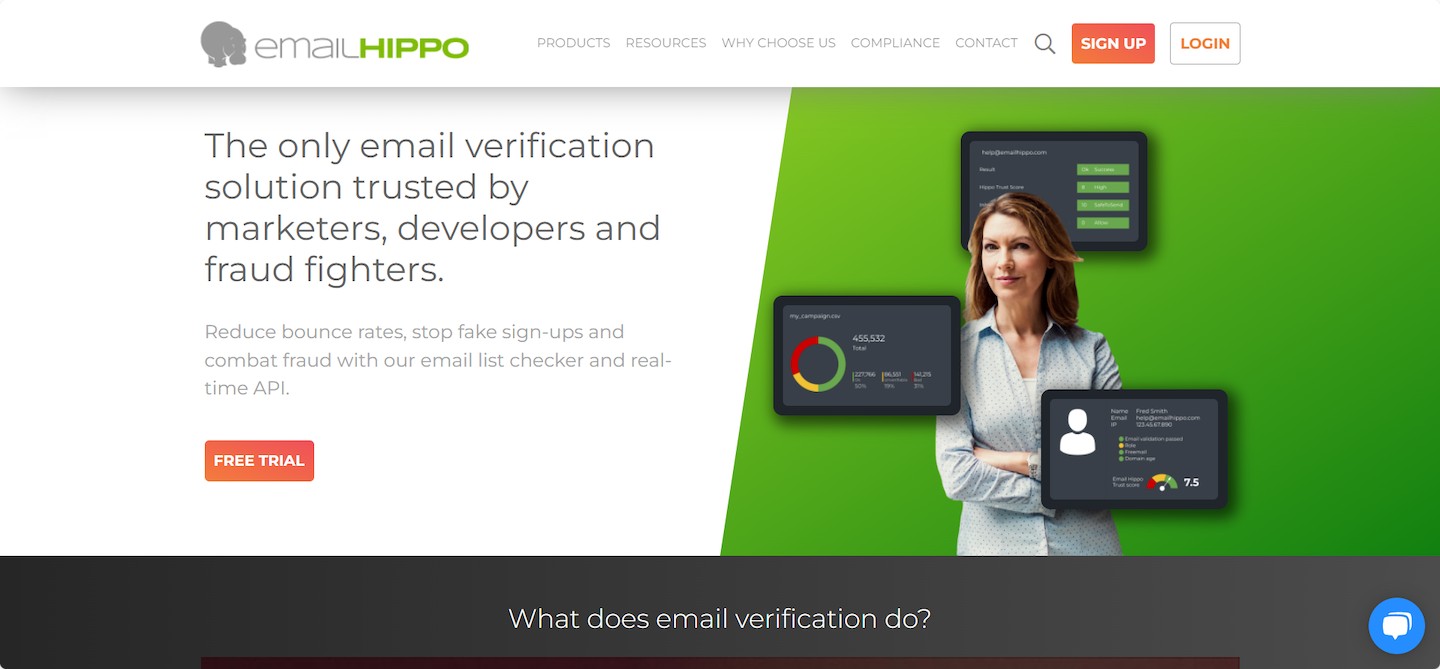 EmailHippo splits its verification services into multiple categories: Core, More, Assess, and WhoIs. Core is for cleaning up existing lists of up to 500,000 emails.
More is for email verification in business systems using EmailHippo's API integration.
Assess is for email verification in real-time on sign-up forms.
WhoIs is for structured data analysis across thousands of databases.
EmailHippo understands the importance of integrations and has an extensive list of options. From front-end to back-end, CRMs and CMS', APIs, form builders, and Zapier apps. Their list includes the major players like WordPress, Hubspot, and Salesforce, and the ability to check emails at the point of sign-up.
Each EmailHippo product has different pricing, with different length plans, and editions, so it's impossible to list all the options here. But they offer pay per file, monthly, annual, and by-list options, as well as a free trial with 15 free email validations.
Try EmailHippo
Get 15 free email validations.
#7 NeverBounce: the one with custom API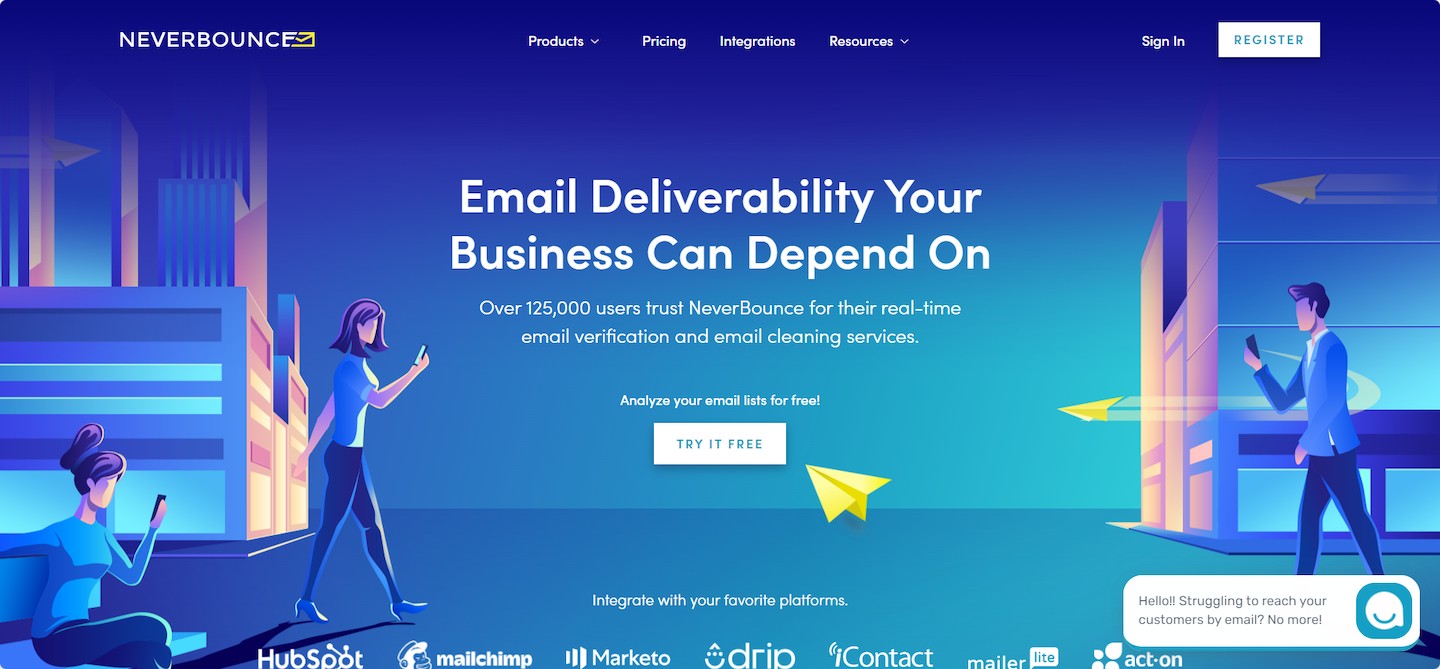 NeverBounce is fully GDPR compliant and offers bulk email list cleaning, real-time verification, and automated list cleaning.
It has dashboard, JavaScript, and Zapier integrations. NeverBounce's options include most of the major email service providers and some front-end native integrations. Its API is among the fastest on the market.
Pricing is on a pay-as-you-go sliding scale that decreases with the number of emails verified starting at $0.008 for up to 10,000 emails. Alternatively, if you're looking for daily clean-ups, their subscriptions start at $10 a month for up to 1,000 emails.
Get started with NeverBounce
Get free test credits.
#8 XVerify: the one that verifies multiple contact methods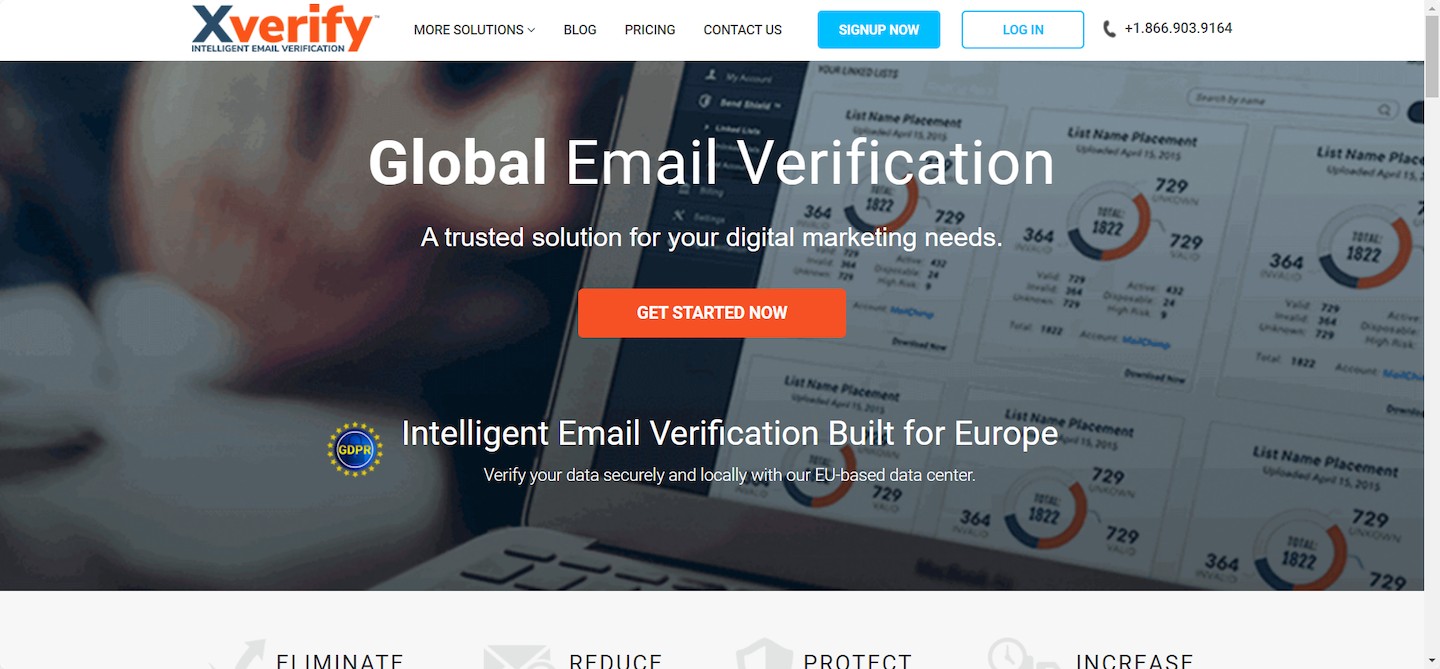 XVerify checks email addresses, telephone numbers, and postal addresses for utmost data accuracy. All while still complying with GDPR.
It integrates with email service providers like Mailchimp, Mailgun, and Marketo, front-end JavaScript integration for form builders like JotForm and Formstack, and offers API integration.
Pricing is offered on a pay-as-you-go scale starting at $0.01 for up to 5,000 emails, extending all the way to 2.5 million verifications for a reasonable $2,500.
Register for XVerify
Sign up today to reduce hard bounces.
#9 BriteVerify – the data management all-in-one solution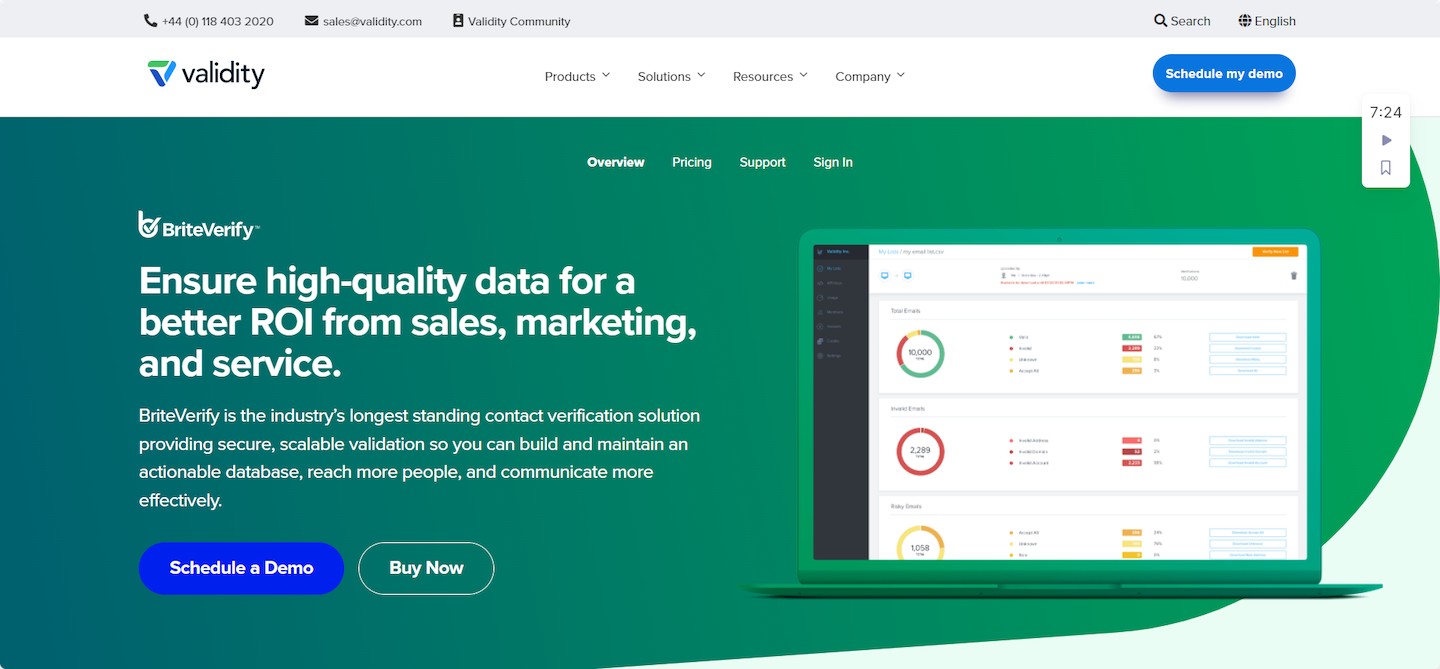 BriteVerify's email validation service integrates with other tools owned by Validity. With it, you can do your email marketing, data management, and email validation all from one platform.
BriteVerify offers integrations with major marketing platforms and email service providers like CampaignMonitor and Mailchimp, respectively. You can also build your own integrations using its API suite.
For BriteVerify's subscription pricing you need to contact them directly. But their pay-as-you-go is scalable from 5,000 verifications at $40, up to 500,000 at $2,250.
Schedule a BriteVerify demo
Get started with a free account.
#10 Kickbox – the one for cold email campaigns
Kickbox built its infrastructure in-house, focussing on quality, and opt-in services only. It provides you with accurate, actionable data to edit and alter your email campaigns accordingly. It uses white-hat practices to ensure you'll receive prime inbox placement.
Kickbox is more about the back-end. It doesn't offer any front-end validation integration options, but it has native real-time API integrations and works with the top email service providers.
Pricing is split into verification and deliverability. Kickbox is definitely a more expensive option with just 500 verifications costing $5, and 1 million costing $4,000. Its deliverability tools are on a monthly subscription, starting at 20 IP domain monitors and 40 inbox placement tests for $199 a month. But there is a free option for 2 IPs and one test a month.
Sign up to Kickbox free
Get 100 free credits, a free inbox test, and blacklist monitoring.