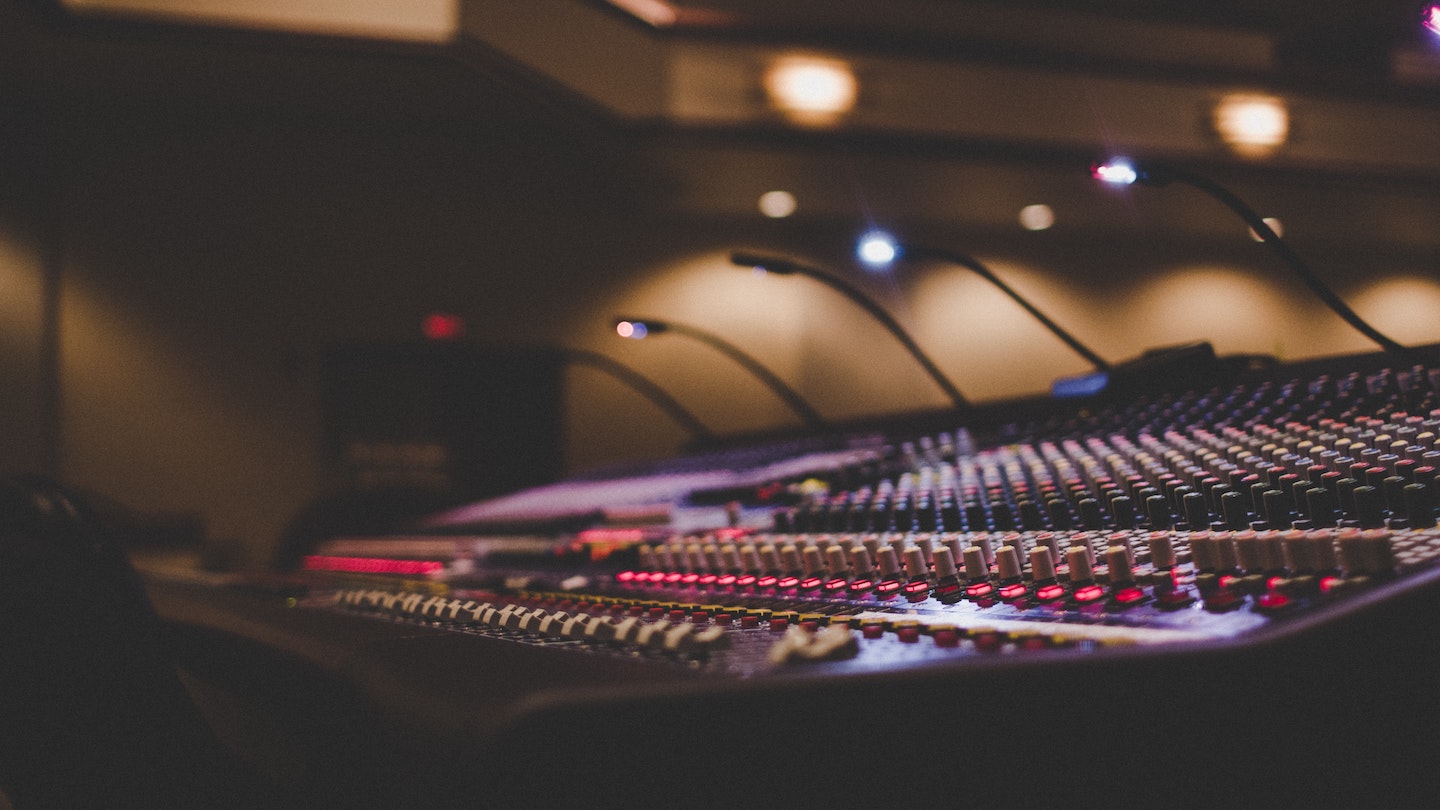 Picture this: you've just finished what you believe is the perfect piece for your blog. You've spent hours, if not days, curating each word, researching the best SEO terms and editing until you're finally happy with it.
You publish it, only to find that it's not performing as well as it should be. Why? Because you haven't promoted your blog properly.
If you've found yourself in this position and you're wondering how to promote your blog, don't worry—you're not alone. Many bloggers spend more time on blog post production rather than blog promotion (also known as content distribution).
Neglecting blog promotion is a mistake: you should have a promotion plan or checklist to go through every time you publish content.
Even if your main content marketing channel is organic search, it can take time for your content to rank. To give your blog the best possible chance of success, you should still be looking at other outlets and strategies to promote your blog.
1. Promote the blog to your newsletter subscribers
Promoting your blog via newsletter works wonders if you have an existing audience of engaged email subscribers who already know (and hopefully love) your content.
That said, it's not as simple as emailing your audience saying "Hey! We've just published a new post, come and read it!" You need to sell your blog post as something valuable to your potential readers in your newsletter.
So how do you sell it? It's a good idea to include some teaser content to tempt them into reading the full thing. You should still outline the most interesting points the post has to offer, though, to make the reader click through to learn more.
The SEO agency Grow and Convert has built a reputation for being great at newsletter blog promotion. Here's an example of how it promotes its blog to email subscribers: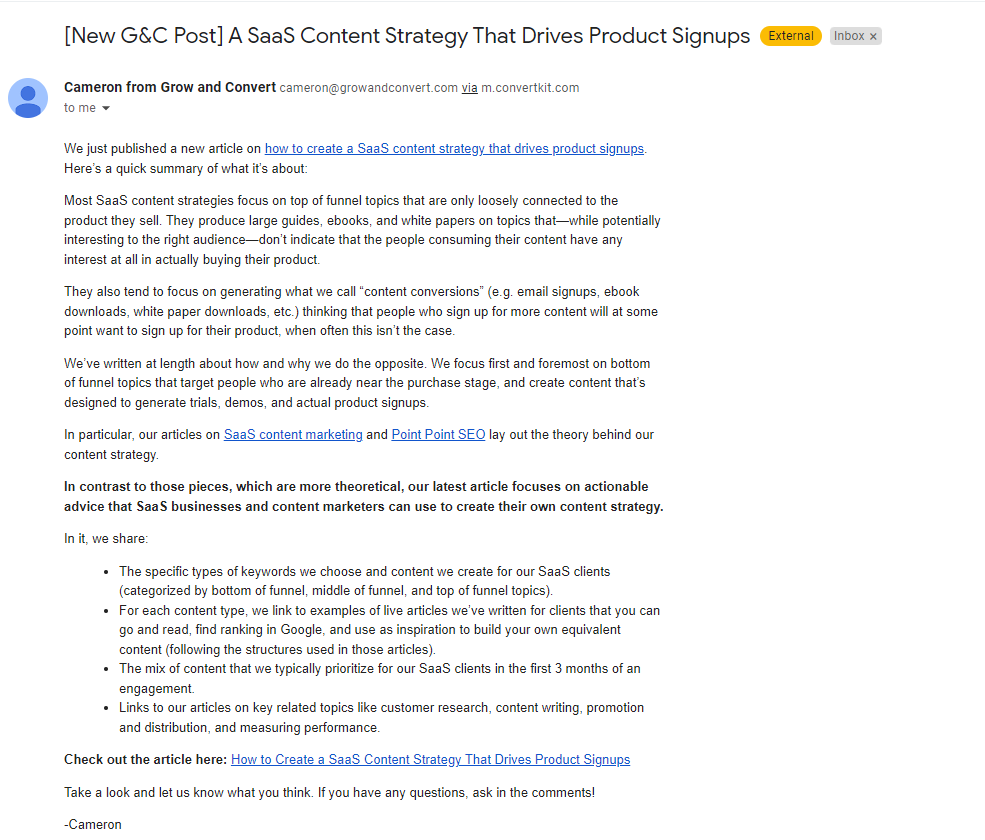 As you can see, this email looks vastly different from a typical marketing email. There are no eye-catching images and there's no color, which works well by drawing the reader to focus on the content.
Other reasons that this email works well are:
It explains the issue, why it might affect the reader and highlights that the article will address the problem
It lets the reader know exactly what they can expect from the article, Calls To Action (CTA's) to the article and other links to related content
It generates curiosity with teaser content. For instance, "The mix of content we typically prioritize for our SaaS clients" makes you want to click to find out what exactly they're recommending.
Don't have your own email list yet? Start building one with the help of email capture software.
2. Share the blog post on social media channels
Marketing your blog on social media channels is a pretty obvious tip. You should of course push your blog content on your blog or business's social media as well as your personal social media channels (if appropriate).
Keep in mind that social media users have become immune to blog links shared across most platforms. Most people don't want to leave the app unless it's for a good reason, so it's not as easy as popping a link up on your channels and waiting for the clicks to start stacking up.
Just like the email newsletter, if you want any traction from social media you need to put in the work to make it happen. See it as an opportunity to get creative!
As yourself, how can I create intrigue and curiosity? What will grab people's attention and convince them to read the blog?
Two blog promotion tactics that work well for this on platforms like LinkedIn are story telling and using personal experiences to connect with your potential blog audience. One person in particular who really nails these tactics is freelance writer and SEO Strategist Chima Mmeje.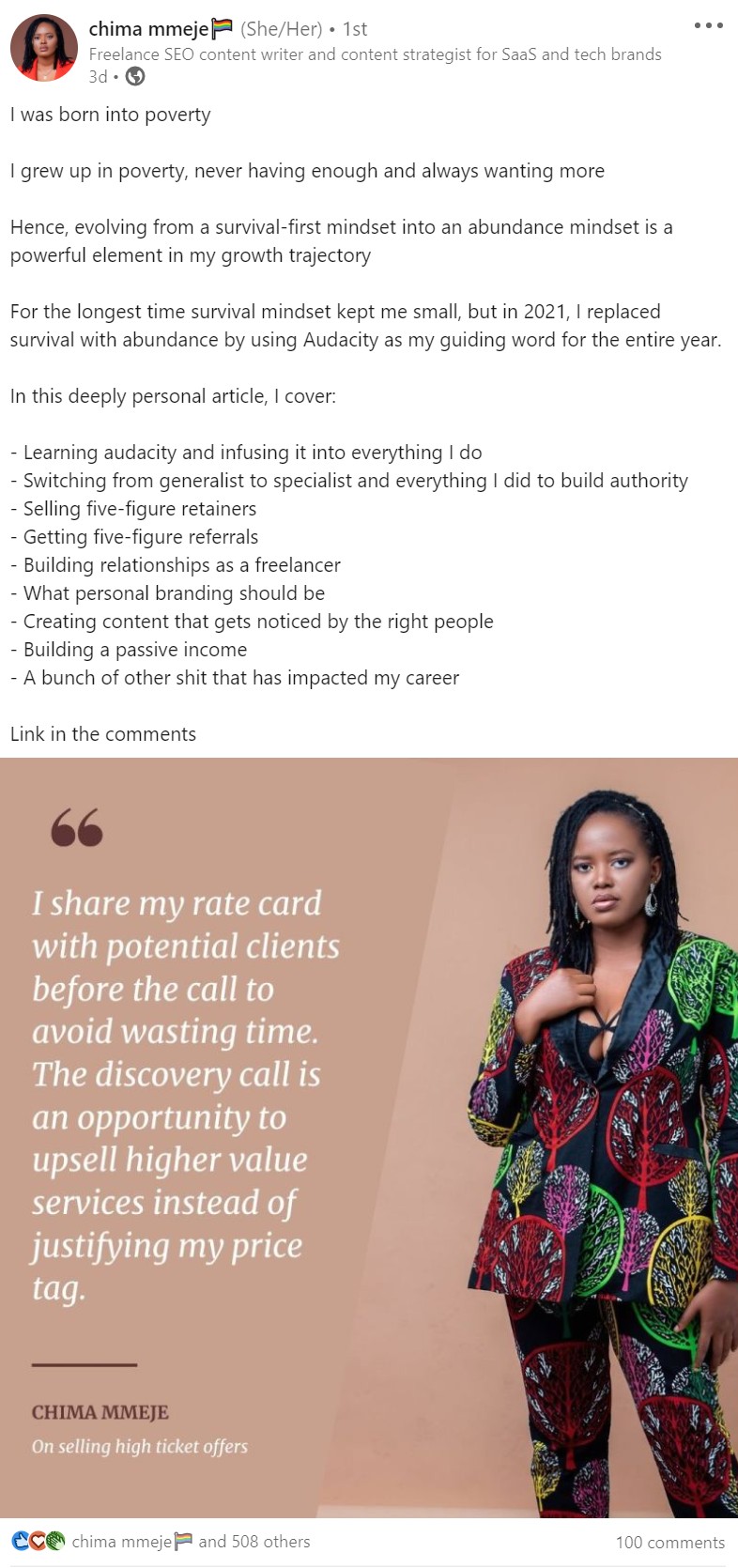 You can tell this works—just look at the engagement this post attracted! Here's why:
Chima puts herself out there and shares intimate, personal experiences. People are interested in other people, not brands, and are naturally drawn to a person they can relate to. So by making her post personal, her content becomes more appealing
She outlines the value her post will provide for the reader and focuses on the success elements, throwing in numbers and the financial gain potentially available to the reader using terms like "five-figure retainers" and "five-figure referrals"
The cherry on top is the attention-grabbing image of Chima herself. Again, this helps readers connect to her on a human level rather than on a brand level. If she had used a generic stock image, it would have been much easier for people to just skip straight past the post
3. Promote your blog on forums and online communities
When this tactic works, it can send thousands of readers in your niche to your blog. But marketing your blog on forums and online communities is far from easy. Don't think you can just spam every Slack community, Facebook group, and Reddit forum with your newly published blog post.
The moderators of these communities usually have strict rules around promotion.These rules protect group members from getting spammed. This makes sense—would you enjoy an online forum where you're constantly having links and promotion shoved in your face? Probably not.
The other thing you may see in a Slack community is promotion being separated from other content in its own promotion channel, just like in the Superpath Slack for content marketers.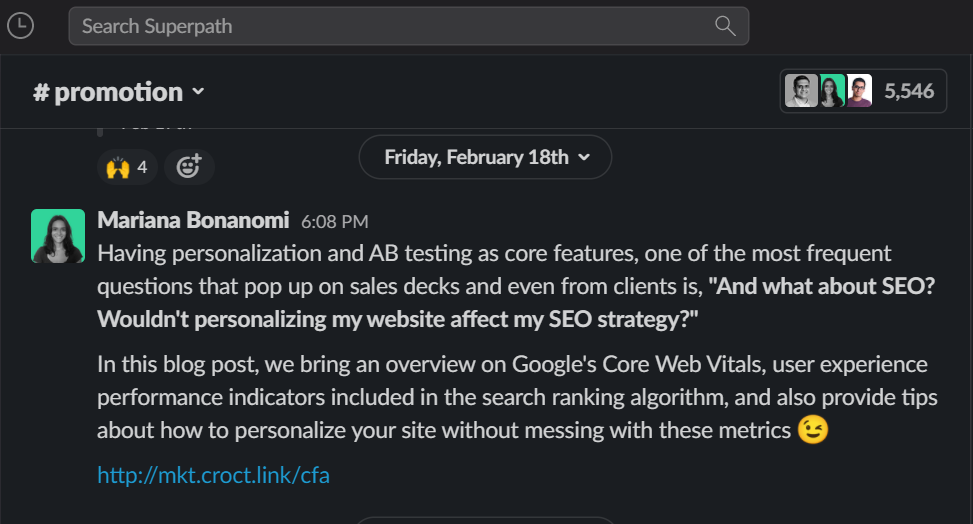 So now we've highlighted the difficulties of promoting in an online community, is it actually possible to leverage niche online communities to get blog traffic? The answer is yes, but you need to follow the golden rule: Offer value first.
Here's what we mean by that:
Become a regular contributor in the community. Engage with other members, answer questions you know the answer to and offer ideas to highlight your value as a member
Be consistent with your community engagement—this work needs to be put in over the long term if you're to become a respected member and earn trust
When you do promote your blog, whatever you post in the community should be helpful and offer value upfront. The link needs to be presented as a subtle bonus where people can go to learn more if they choose to
You can also promote your blog by commenting in online communities, when the content is relevant and can bring extra insights to the topic being discussed.
See a good example of this below: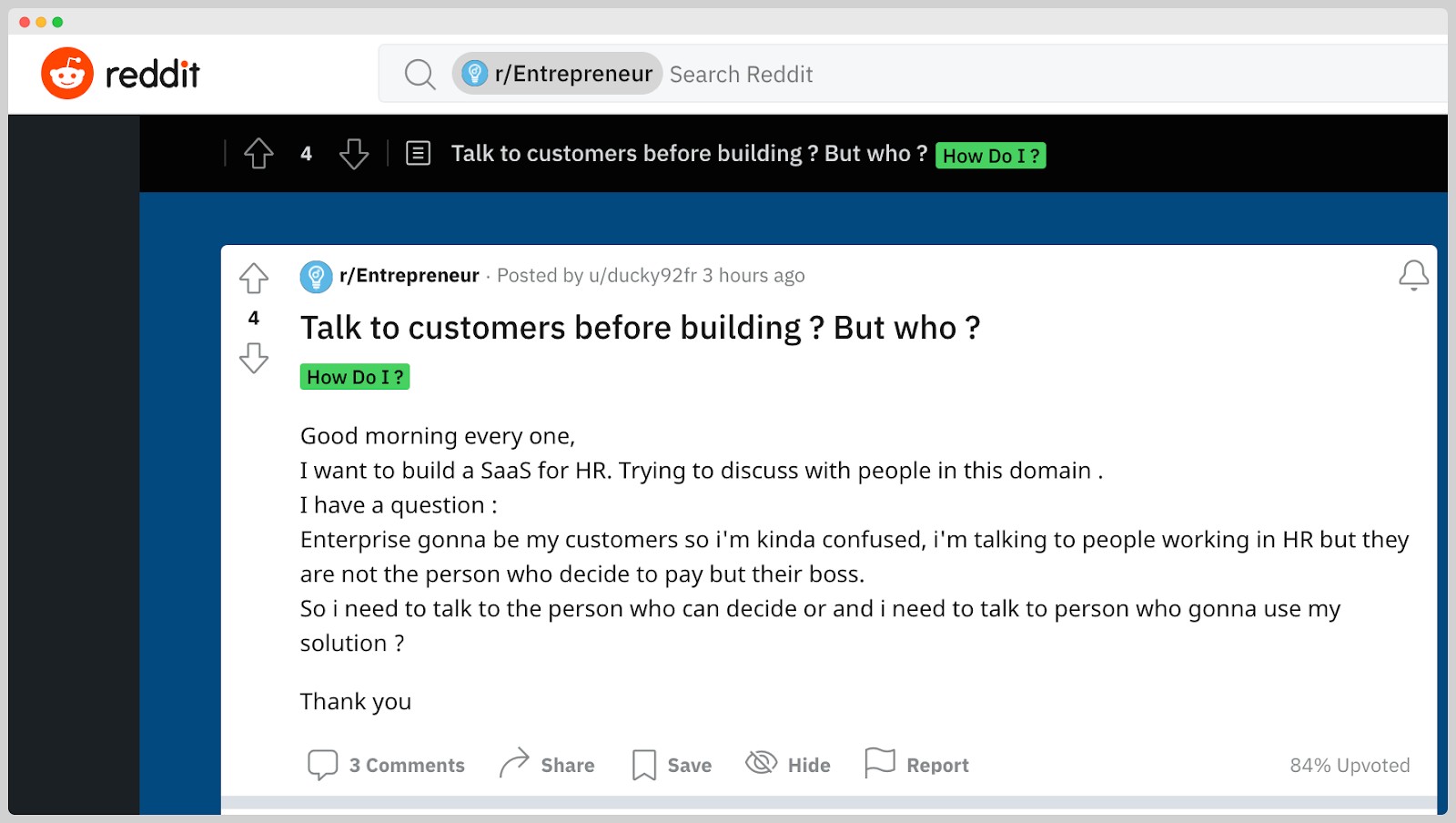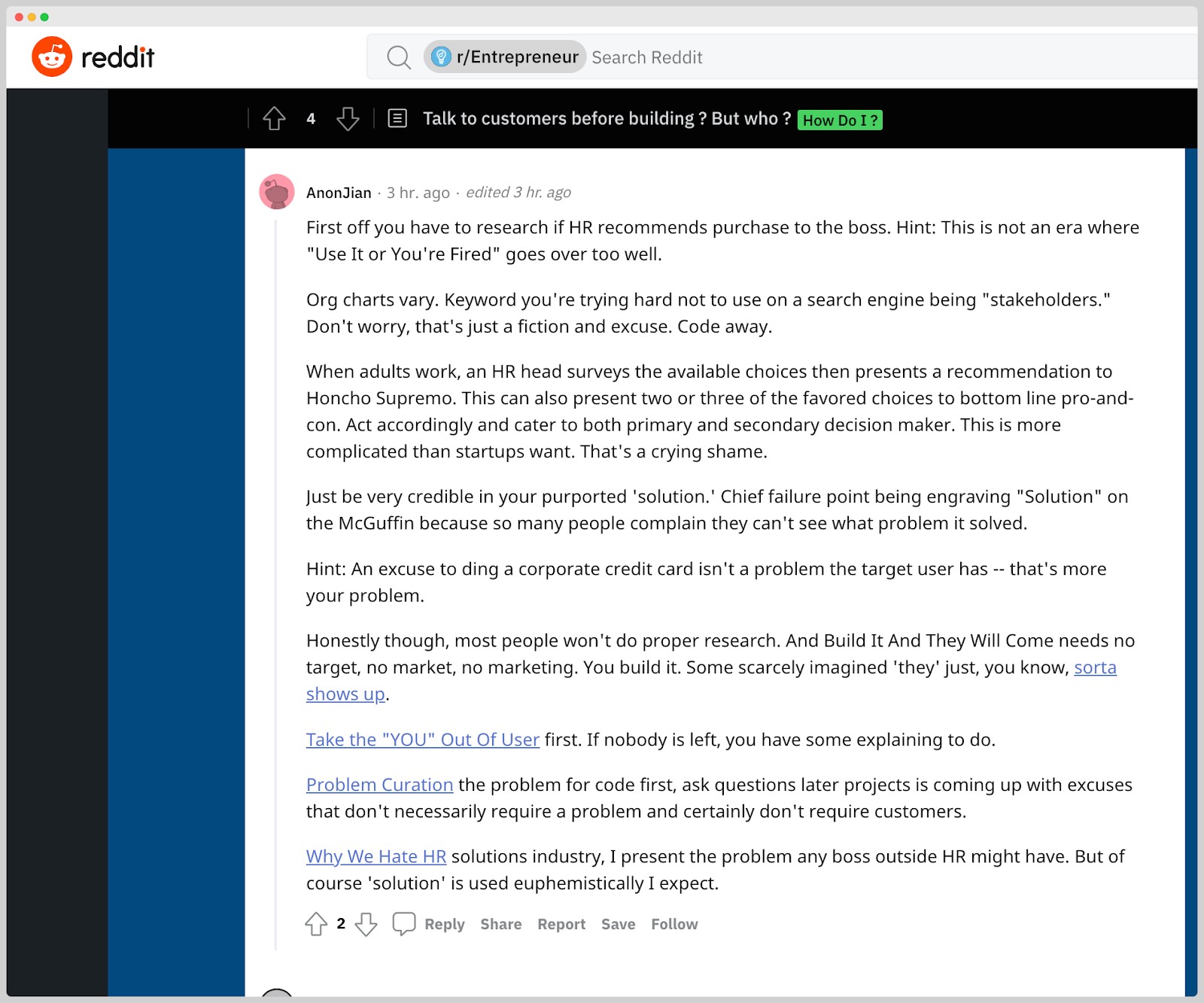 4. Pinterest blog promotion
In contrast to the rules of online forums, Pinterest is a channel where you can post as much as you want without running the risk of getting banned by other users.
Pinterest acts as a visual search engine. You create 'pins' which are a combination of an image, description, and a link. Just as you'd optimize blog posts for SEO, you can also optimize your pins to rank on Pinterest search.
We tried Pinterest for the SaaS/software niche, but it didn't bring many results in our case. Ahrefs had a similar outcome—you can read about that in this case study. That said there are some niches (especially in B2C) that work really well on Pinterest.
It all depends if your content lends well to visual representation: Pinterest is a site that people generally use as visual inspiration. Here's the pinterest SERP for email marketing templates.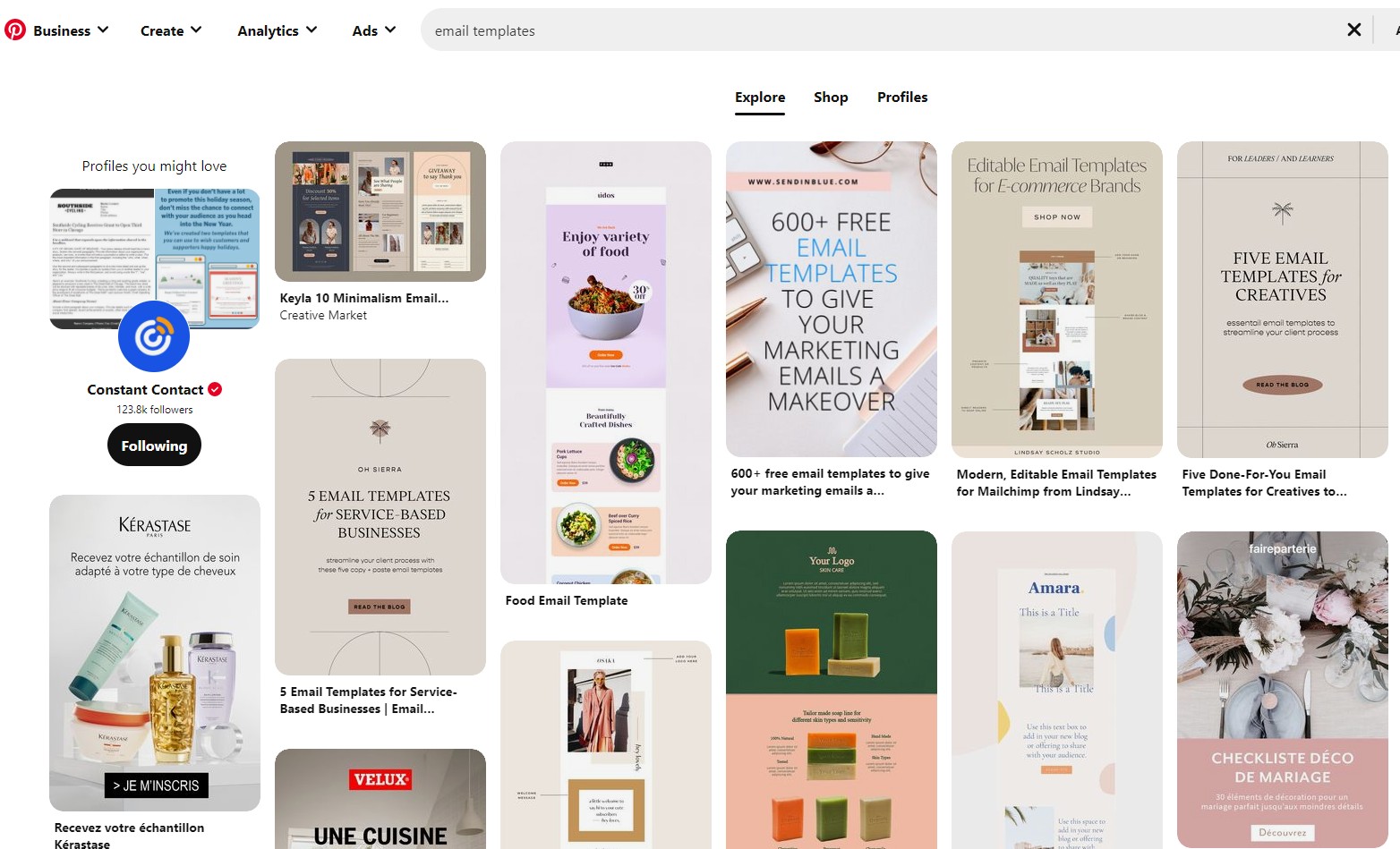 Certain niches can really see their traffic explode thanks to Pinterest, but the channel has its downsides::
Pin creation takes a lot of time.ou need eye-catching visuals to stand out and attract attention
You have to be consistent with your pinning and repinning to attract and maintain engagement (the algorithm seems to favor high activity accounts)
The algorithm is difficult to predict and it's hard to spot patterns.. A certain type of pin may do well one day, but that same type might fail miserably the next day.
5. Guest posting on high authority sites
Guest posting is a great way to drive traffic back to your own site. If you land a guest post on a high-traffic, you can link back to your own site and reap the benefits of referral traffic.
The backlink will boost your domain authority and rankings while the content itself will give you visibility in front of a new audience.
While guest posting sounds great, the biggest challenge you'll face is getting sites to accept your guest post. You'll need a good pitch to stand out from the countless other pitches they'll receive. You can check out our guest post email template for inspiration on how to nail the approach.
6. Answer related questions on Quora
This strategy for promoting blogs can be easily worked into your post-publishing process. A great way to plan your Quora promotion strategy is to set yourself a target. For example, to find three questions relating to your blog post topic and provide answers with a link to your page.
As with Reddit and online communities, you should add value in your answers before promoting your blog post. Make sure you're actually answering their question before pointing to your blog post as a further source, or to back up your point.
Here is a great example of Quora blog promotion in action: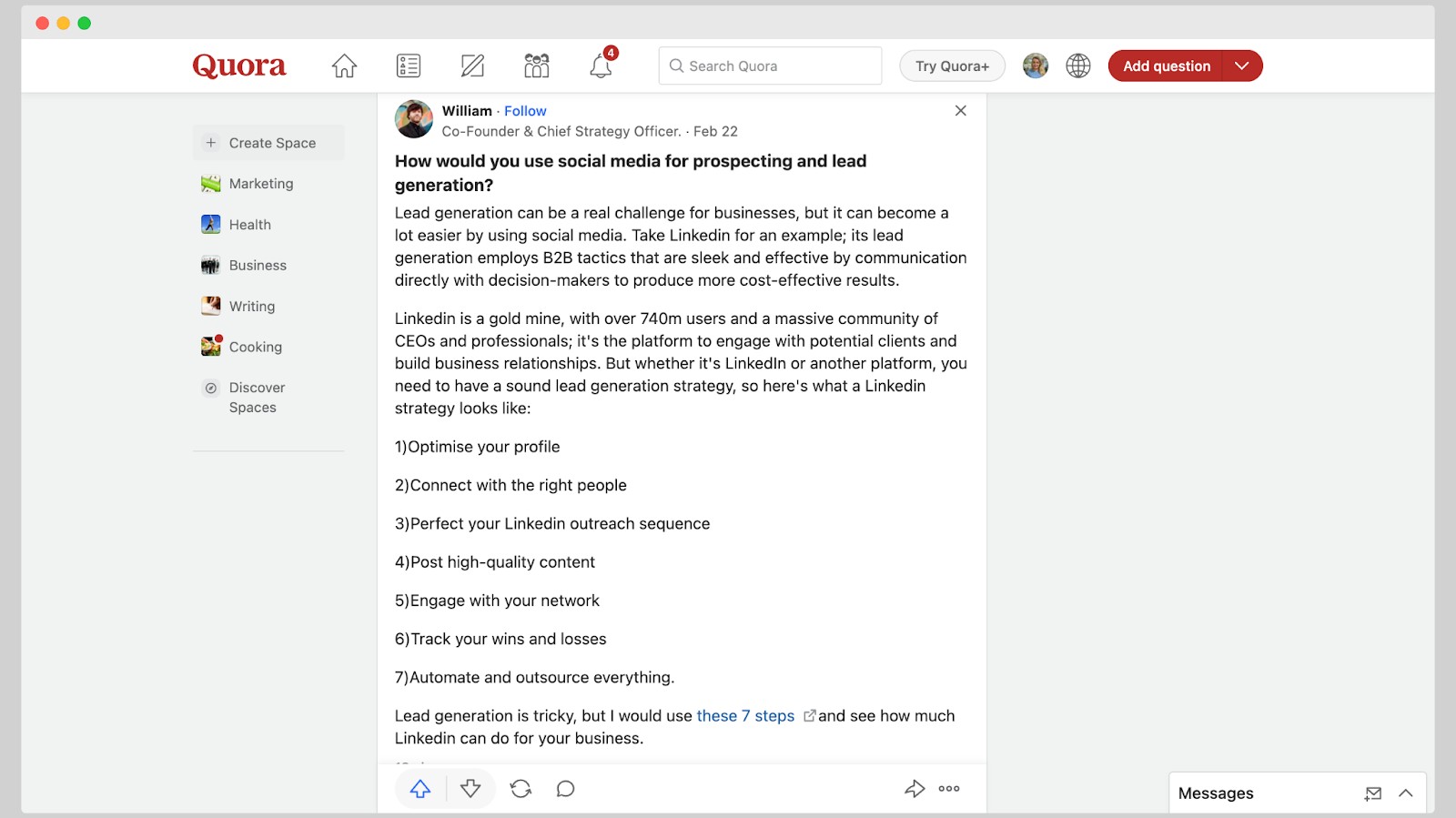 If you're working with freelance writers, you could ask them to prepare the answers to 3 relevant questions as they write the blog post content. Allie Decker from BeOmniscient talks about this approach of capturing promotion during production in her content briefing process here.
She reasons that it's a lot easier to answer such Quora questions when you've already researched the topic and you're in that 'writing bubble'. We totally agree with her on that one!
7. Share with any blogs/brands mentioned in the post
Choose carefully who you mention in your post. Mentioning other blogs or brands in your blog gives you a convenient excuse to reach out to them once the article goes live, with a personalized and relevant point of conversation.
This doesn't work all the time but you'll notice people are often flattered by mentions and they'll willingly reshare the content on their channels. This is also a great way to build long term relationships that you can leverage later on.
If you really want to create a buzz on social media, one common growth hack is to do an expert roundup and ask people to contribute their thoughts to the blog article directly—e.g. "15 Email Marketing Experts Predict This Year's Top Trends".
8. Get included in other people's newsletters
As people have grown tired of the "noise" on social media feeds, the popularity of newsletters on niche topics has sky-rocketed as people look for quality content that actually interests them..
For instance, even just within the SEO space there is a wealth of high quality newsletters: 'SEO for the Rest of Us', 'SEO FOMO', 'The SEO Notebook', and 'Ahrefs' Weekly Digest', to name but a few.
A lot of niche newsletters do a roundup of their favorite articles of the week/month, here's an example from SEO Fomo by Aleyda Solis: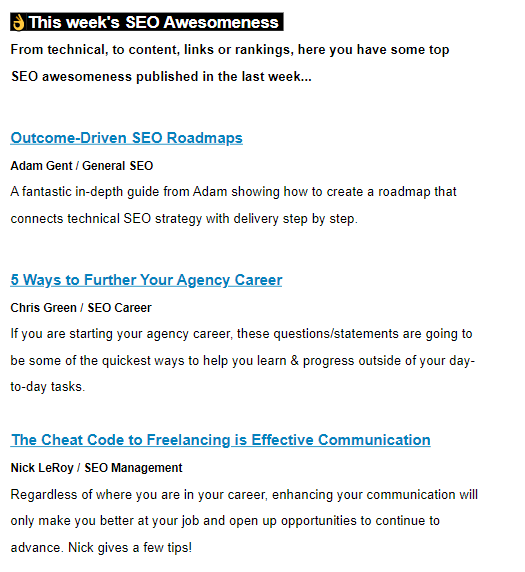 So, how can you get featured?
Research the most popular newsletters in your niche and sign up
Follow/connect with the newsletter owner on all of their social media platforms and begin to (authentically) engage with their posts so they become familiar with your name
Once you've spent a bit of time engaging with them, reach out and let them know when you've got a top class piece of content you believe will bring value to their audience. Or link to them in a post about blog promotion & pray 🤞
9. Repurpose the content to different formats
Content repurposing is about reusing the content from your blog post in another format to give it a new lease of life.
New format possibilities include: infographics, charts and graphs, lead magnets, podcasts, or short videos/stories for social media. If you speak at events you could also reuse that content for webinar and conference topics.
The beauty of content repurposing ensures you get maximum value from every piece of content you produce. It also opens you up to a whole new range of channels and audiences, to help grow your blog, brand and business.
Got any other blog promotion tips you swear by? Let us know in the comments 👇