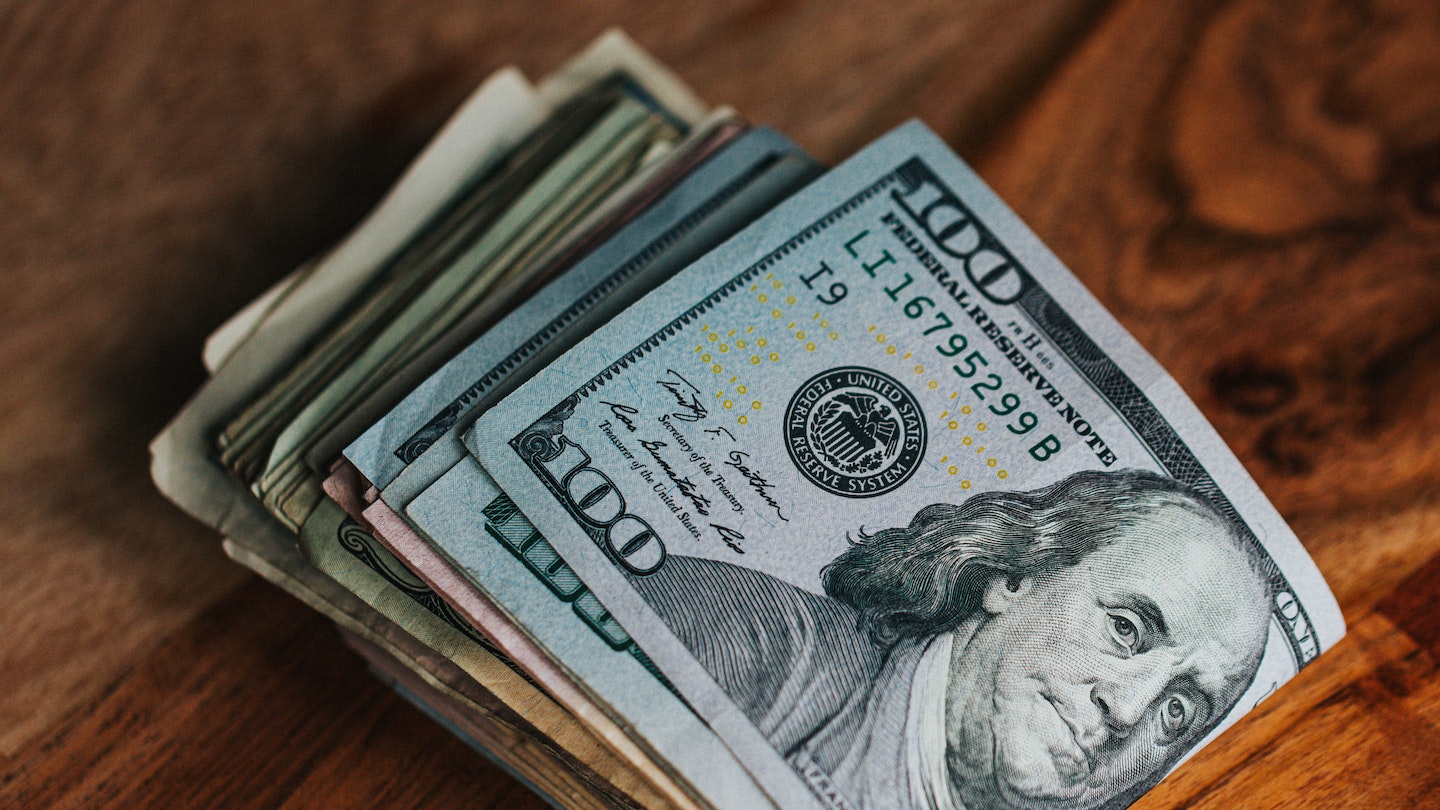 What to Look for in B2B Affiliate Programs
When researching the best affiliate programs, it's important to understand the key features of each and how to compare them. Below are our five key aspects to consider for any B2B affiliate program.
1. Deep pockets
It may sound obvious, but the best affiliate programs are run by companies that have a strong need to scale. Every affiliate manager out there is constantly looking for their golden nugget—the one affiliate that will make up 20% of their channel's performance.
There are a few questions to ask yourself to evaluate how deep the pockets of a potential affiliate program really go:
Is the brand willing to pay upfront?
Stay away from affiliate programs where people promise heavy commission rates, but are unwilling to offer any acquisition payment upfront.
Has the brand implemented affiliate tiers?
SaaS companies don't generally advertise this, but they usually have a few different tiers affecting the rate of commission for affiliates. The bigger the affiliate, the bigger the commission rates or CPAs (Cost Per Action). It's worth trying to gauge how big these tiers go. This will tell you how much they're willing to pay in terms of acquisition costs.
What channels is the brand using?
Take a look at their content distribution channels. If their top affiliates are running Facebook ads and Google ads, their affiliate budget is more than likely pretty substantial.  Likewise, if you see them burning cash like there's no tomorrow on Google, Capterra, and every possible PPC platform, it's usually a good sign—provided they consider affiliation a performance marketing channel.
2. Product potential & conversion rates
Naturally, you'll want to ensure you're picking a good product to promote, where consumers are likely to spend a substantial amount of money over a long period of time. A good product will impact your own performance directly, inflating the acquisition cost that companies are willing to pay—which can only benefit you!
Look for products that have a potentially broad client base. Hyper-competitive, mature, massive markets like email marketing and hosting are an affiliate marketer's holy grail..
It might be tempting to go for the all-in-one product that promises to be the next big thing, but nobody's ever heard of. Your best bet, however, is to select products with a broad range of features for you to be able to market it across several blog posts. Whilst single responsibility principle (or SRP) software is great for the issue it fixes, when it comes to affiliation, it's a lot easier to be a small fish in a big pond rather than the top dog in a niche market.
3. Sales led VS product led culture
Whether a company is sales-led or product-led affects how the affiliate program will work, as well as how lucrative it will be for you. This really comes down to the company's growth engine and culture.
Sales-led companies will typically value conversion over discoverability, and if you're in the affiliate business, you're merely sending traffic their way. If the company has an army of Sales Development Reps (SDRs) calling every single business in the country manually, it'll be much harder for you to prove you can provide marginal value to them.
It's not all bad, though. If you can capture leads yourself with a form, and then sell those Marketing Captured Leads (MCLs) directly to sales-led companies, you'll find yourself in a great spot. This way, you can bypass any kind of attribution logic, and benefit from sales reps aggressively calling up and converting your leads.
Conversely, product-led companies are generally much easier to work with. They're used to the dynamics of performance marketing, Conversion Rate Optimization (CRO), and most importantly, tracking and attribution. They usually scale acquisition through performance marketing channels like Facebook ads, Adwords, and SEO.
4. Effective conversion rates and earnings per click
Your conversion rates and how much you earn per click are the most important aspects to look for in a B2B affiliate program. High commission rates won't help if your reported conversion rates are close to zero. EPC, or Earnings Per Click, is the only metric that matters to you as an affiliate. How much will an outgoing click get you, on average?
Unfortunately, affiliate programs do not guarantee fair attribution. The marketers running the programs are often unaware of how best to set up their own platform, and don't look hard enough into the conversion data their clients send.
Ultimately, you have no control over the affiliate marketing program. You have to adhere to its rules, even if they're not necessarily effective. Most affiliate marketing software will simply give its clients a JS tag (JavaScript tag) to put on each page of their site, and another one to trigger every time an account is created.
What the client company does with those tags is really up to them. In fact, everything from how they deduplicate between affiliate traffic, to how they handle cross-device attribution, to whether they value the first, or last click is all up to them.
What really matters is how many conversions are attributed to you as the affiliate with your existing traffic. Reported conversion rates will vary substantially more than commission plans, at 20-30% for your first year as an affiliate.
All this points to the main issue with affiliate programs. The only real way to find the best affiliate programs is to constantly test new ones, which is obviously time consuming. You'll need to analyze the EPC you're receiving after a full sales cycle of over 100 clicks, give or take any free trial period length.
To save you some time, you can use tools like popup plugins—they offer a lot more flexibility and require less labor than updating your listicles and writing new reviews each month.
5. Attribution model
Last but not least, make sure to research the attribution model for each affiliate program. The type of attribution model will affect your performance, particularly if you're looking to monetize your existing traffic.
Two of the main attribution models are last click, and first click models. 
Last-click programs are usually run by the leaders on the market. They work by giving 100% of the credit to the last touch point passed by the lead before they convert.As an affiliate, there's money in a last-click attribution model if you have solid positions on branded keywords in reviews and comparison posts. For instance, topics like 'Semrush vs Ahrefs', or 'How much does Semrush really cost?' do well with this model.The primary limiting factor to last-click affiliate programs is the fierce competition you'll face. Content like product reviews and comparison posts are very cheap to write, and it's pretty hard to outrank a massive site that has been in the game for 10 years and has 45 incoming links to a single review post. It's not easy to even stand out when it comes to content on these posts as they're so easy to write that any site can get in on the act.The other limit to last-click programs is the size of the brand. If you're on a last click program for software nobody knows about, you won't get volume on the branded queries. The result is you won't see any money unless you manually call up leads to convert them yourself.
First-click programs give 100% of the attribution to the first point of the customer's interaction. They're usually run by challengers, companies who've recently raised significant funds to tackle a massive market. They're looking for visibility.As an affiliate, there's money in first-click programs if you have solid positions on consideration-stage keywords. For instance, posts with the topic 'Top 10 X Software' or 'Cheap/Free X Software'.The main limit to first-click programs is trying to stay low-funnel whilst still getting that first click. If the brand is running TV ads, YouTube ads and Facebook ads like, you'll have a hard time being the source of a first click without going for very broad, informational keywords. In turn, those keywords have a bad habit of yielding very poor conversion rates and very long sales cycles.
The Top B2B Recurring Affiliate Programs
Recurring affiliate programs are the best models for big affiliate sites. The beauty of these programs is the recurring revenue, with new marginal revenue every month. The total adds up to much bigger numbers than cost per lead (CPL) or cost per acquisition (CPA) programs after a period of time.
You do need critical mass for recurring affiliate programs to work, since the recurring fees require paying customers. Otherwise you end up not hitting the cashout limit for months. Most affiliate programs do not pay out under $50 or $100 in commissions, so if you don't hit this mark it'll take you a lot longer to see the benefits of using a recurring affiliate program.
Recurring programs are usually available on massive SaaS products that are widely known, which attracts big players—so they're very competitive as a result. Your best bet is to look for low churn, self-service software like Activecampaign or Pipedrive to give yourself the best chance to compete with these big hitters.
PDFLiner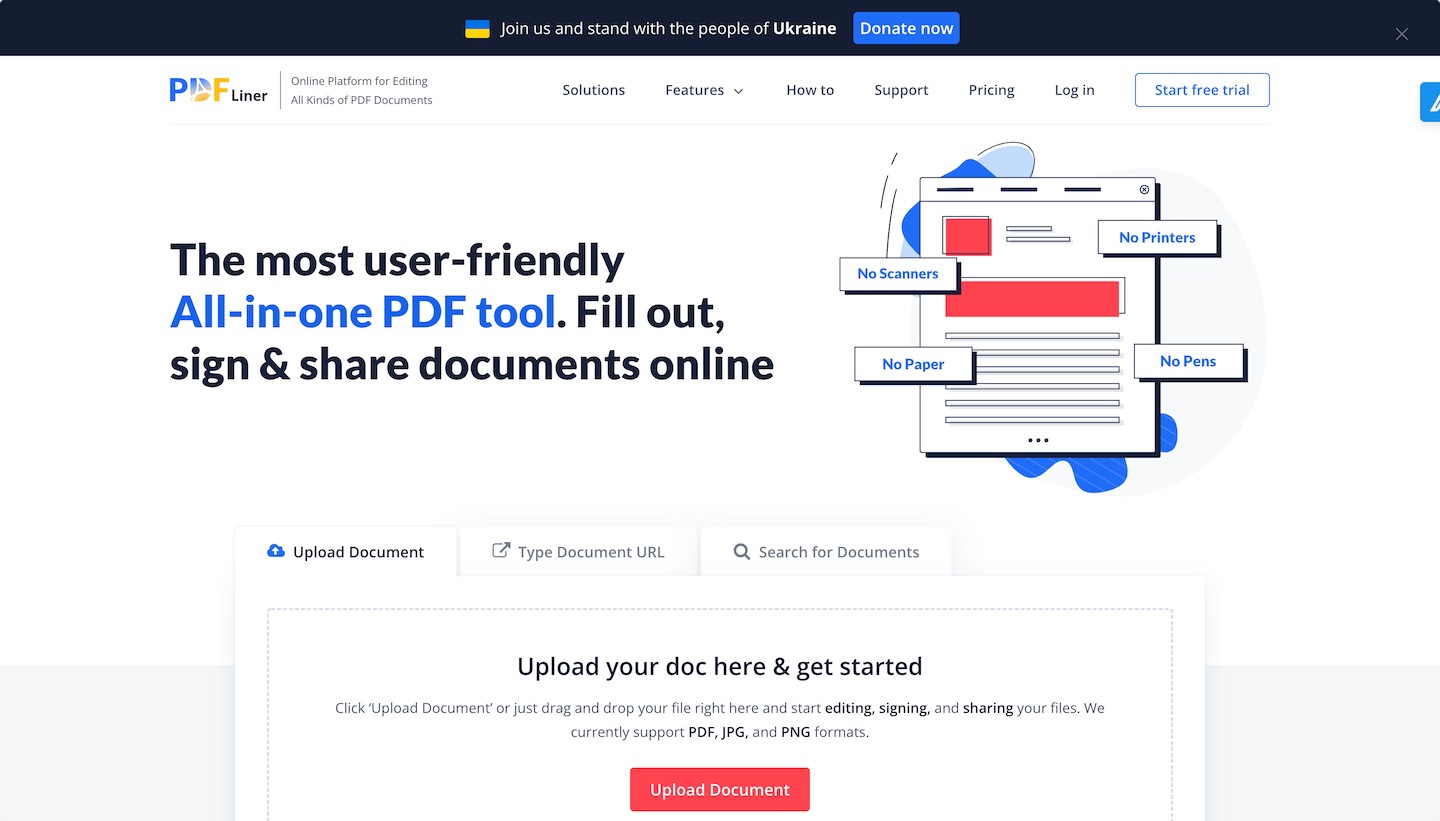 PDFLiner is a platform for working with PDF files (creating and editing files, adding electronic signatures, filling out forms) and electronic document management (cloud storage, form catalogs, document sharing, PDF conversions, locking and unlocking PDFs). Its affiliate program offers solid commissions rate, marketing assets, and dedicated support
SocialBee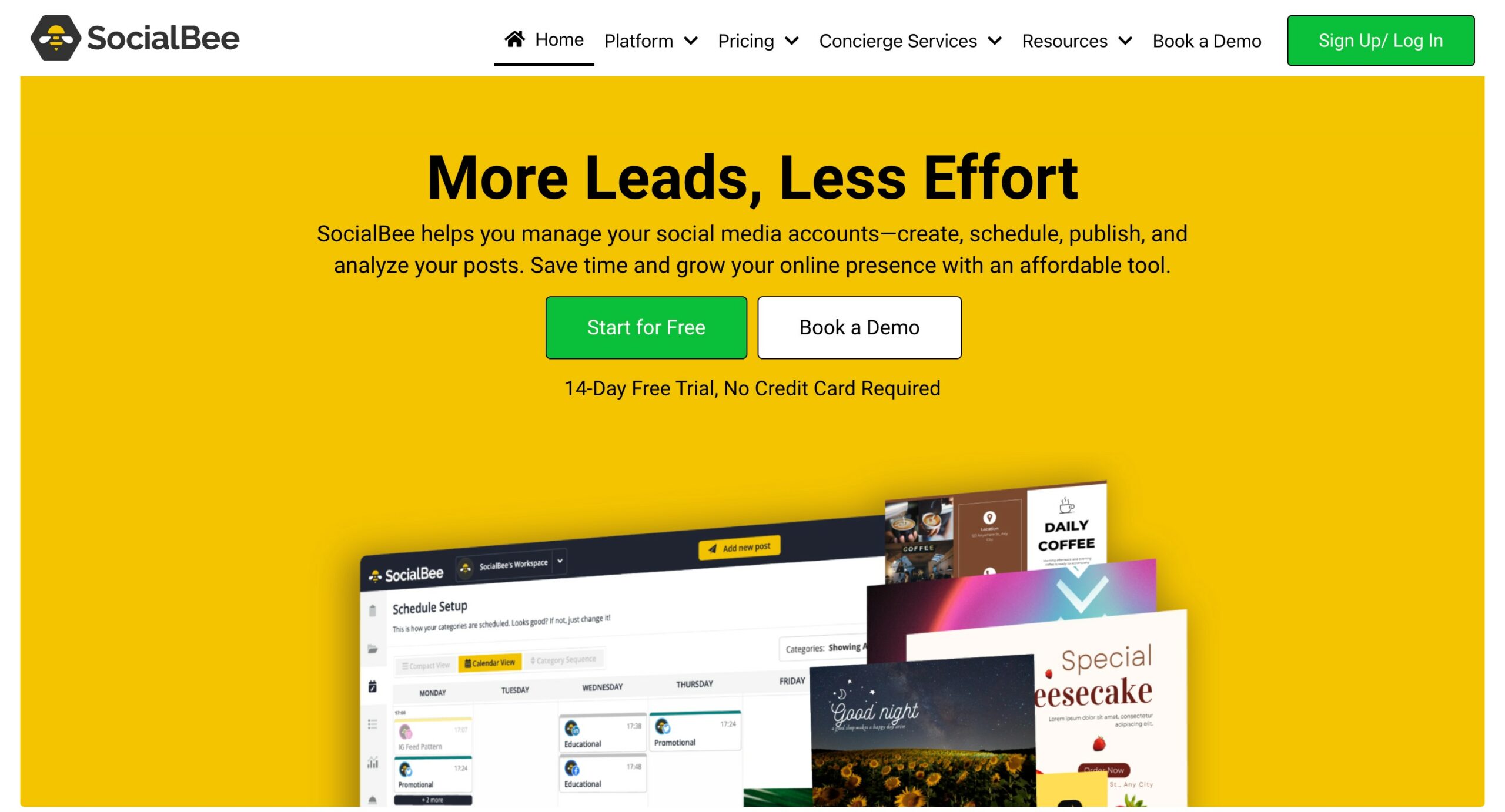 SocialBee is a social media management tool that you can use to plan, share, and analyze your social media content – all from one place, for all your profiles.
You can use the platform to create content thanks to numerous integrations such as Canva, Unsplash, GIPHY, and then customize your posts for specific networks. Once you're done editing, all you have to do is save your work and all your content will be shared according to a posting schedule you set.
Improving your content engagement is easier with SocialBee, thanks to advanced analytics and insights you can access right inside the platform.
Best B2B Pay-Per-Lead Affiliate Programs
Pay-per-lead (PPL) or cost-per-lead (CPL) programs can make getting started a lot easier, as they pay a flat rate for each lead you send their way, meaning that getting that first payment is much simpler than with other programs. PPL programs are cost effective for both parties, making them a great option if you're on a budget.
It's worth noting that while PPL programs generally don't pay very high rates, they're a great option for beginners to get started with affiliate marketing and to get a good insight into how the market works. For instance, you get a good idea of how conversion rates and volumes work.
Best Hosting Affiliate Programs: Our Top Picks
Bluehost
Bluehost is part of EIG—who boast an impressive list of hosting brands. Bluehost is certainly one of the leading service providers in the industry, with a very strong affiliate marketing culture. Additionally, they own Constant Contact—one of the best email marketing affiliate programs.
WPEngine
WPEngine is a high end hosting affiliate program that is slightly less cost effective, but is still very much a leader. It also sells WordPress themes and you can refer to both businesses for both sites. So, if a visitor clicks to learn more on its plugin and ends up buying WPEngine a few days later, you'll be credited for the sale.
Best SEO Affiliate Programs
SEMrush
SEMrush is one of the leading all-in-one SEO software with many different features on offer for affiliates, including competitive analysis and valuable site performance data. SEMrush works best if you have a high conversion rate and a large target audience, particularly with the great deals it has on offer.
SERanking
Another solid SEO solution, SERanking offers a good budget solution as an SEO affiliate program. It's a cloud-based platform with a range of tools and SEO research. SERanking is not as established as Ahrefs or SEMrush, but it does offer recurring plans and solid attribution.
Best Email Marketing Affiliate Programs
Sendinblue & Constant Contact
Both Sendinblue and Constant Contact have very similar programs, with similar pricing, excellent CPAs and the ability to scale very effectively. They're both great for beginners and offer all the basic features you'd expect from a good email marketing affiliate program.
Activecampaign
Activecampaign has very solid recurring tiers, with up to 35% recurring lifetime commission—a figure not to be sniffed at! This commission adds up after a while, making it a great choice for an email marketing affiliate program. Activecampaign also offers great analytics reports and automated workflows.