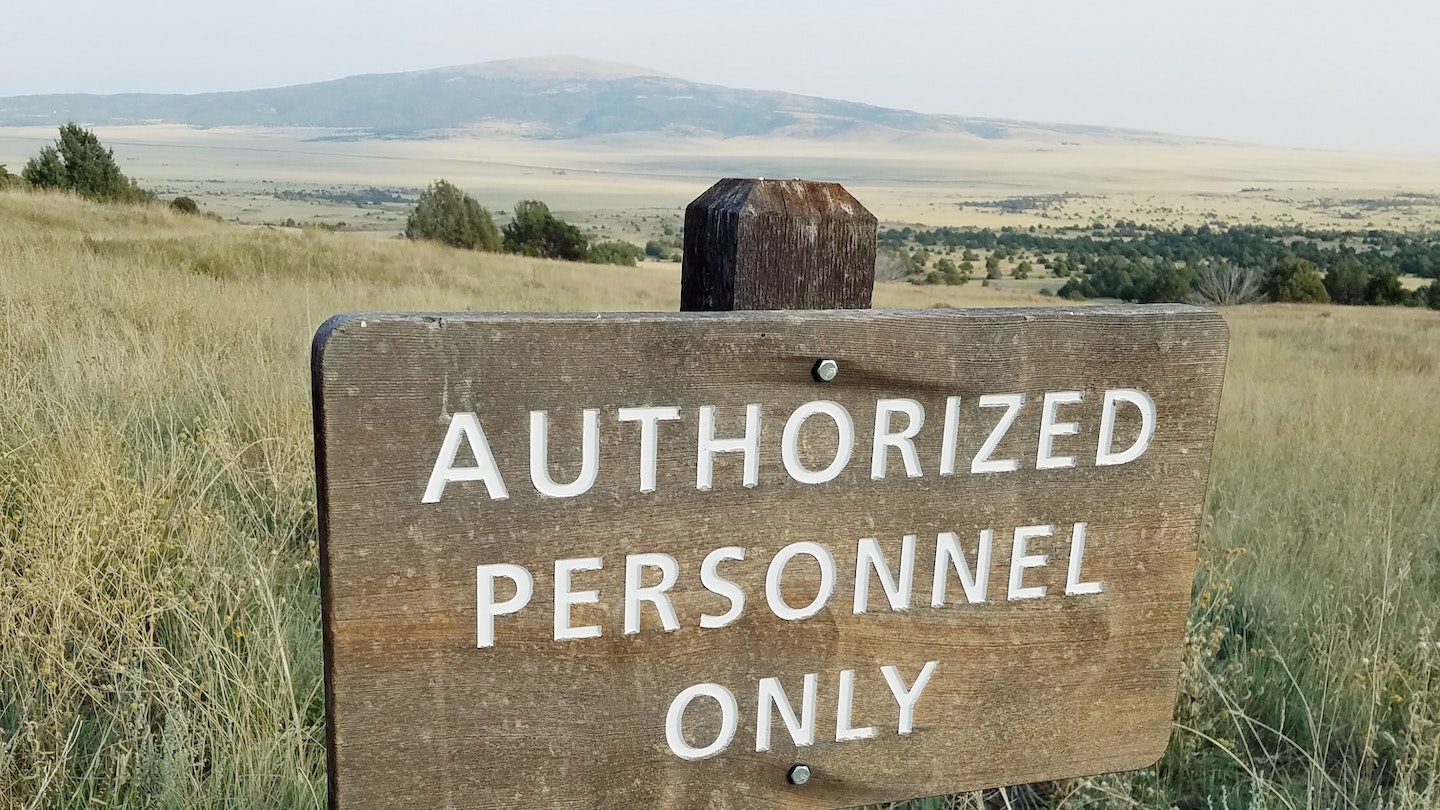 Guest posting is the process of submitting content to another site to increase both the popularity of your own website and your SEO ranking. It's one of the most effective white hat SEO techniques for link building.
Guest posting is a popular way for businesses of any size to establish their online presence and bring their products to a new market.
What are guest post services?
Writing these guest posts is time-consuming. Not to mention all the energy that goes into finding and reaching out to viable sites that will accept your post once it's written.
First, you need to source relevant sites in your niche. From there you need to check whether they share an audience and whether they accept guest posts.
Next, you need to identify the right people to reach out to at these sites. Then you need to pitch an angle or topic directly to them and convince them your expertise is beneficial to their site.
Then you need to actually write the guest post for them, before finally following up to ensure your post goes up with the right links and contextual information.
All this takes time, time many businesses simply don't have. That's why many now turn to guest post services to do the job for them, from content creation to content distribution.
How much should a guest post cost?
Guest posts can cost anywhere between $200 and $700, depending on the blogger, niche, and expertise. A lot of agencies use SEO metrics built by Moz, Ahrefs, or Majestic and rank tracking software to determine what price to charge for a guest post.
This is an interesting tactic as it suggests the value of a guest post is based on a site's traffic, which can be a tricky metric to use. Quantity does not mean quality. It's easy for a site to build up a ton of useless traffic, so it doesn't mean your link will be any more valuable.
That's why generally speaking we suggest looking at the price. We wouldn't advise accepting any posts below $200, as they are usually poor content. And any posts above $700 are usually sponsored. This means the content alone doesn't provide enough value to be published. So, the blogger requests more money in order to accept and publish the content as part of their process.
Should you outsource guest post services?
If you haven't done blogging outreach before, have no connections, and aren't sure how to produce top-quality content at the best price, then you'll be a lot less efficient at securing guest post positions.
Plus, if you're eager to publish on high authority sites, you usually need some sort of "in" with the publishers there. That trust can take a lot of time to build.
All of this means outsourcing to specialised link building services can be a highly efficient and effective way of securing guest post placements.
Let's take a look at some of the best guest posting services in 2022
Top 11 guest post services for 2022
#1 Fatjoe – the straightforward guest post service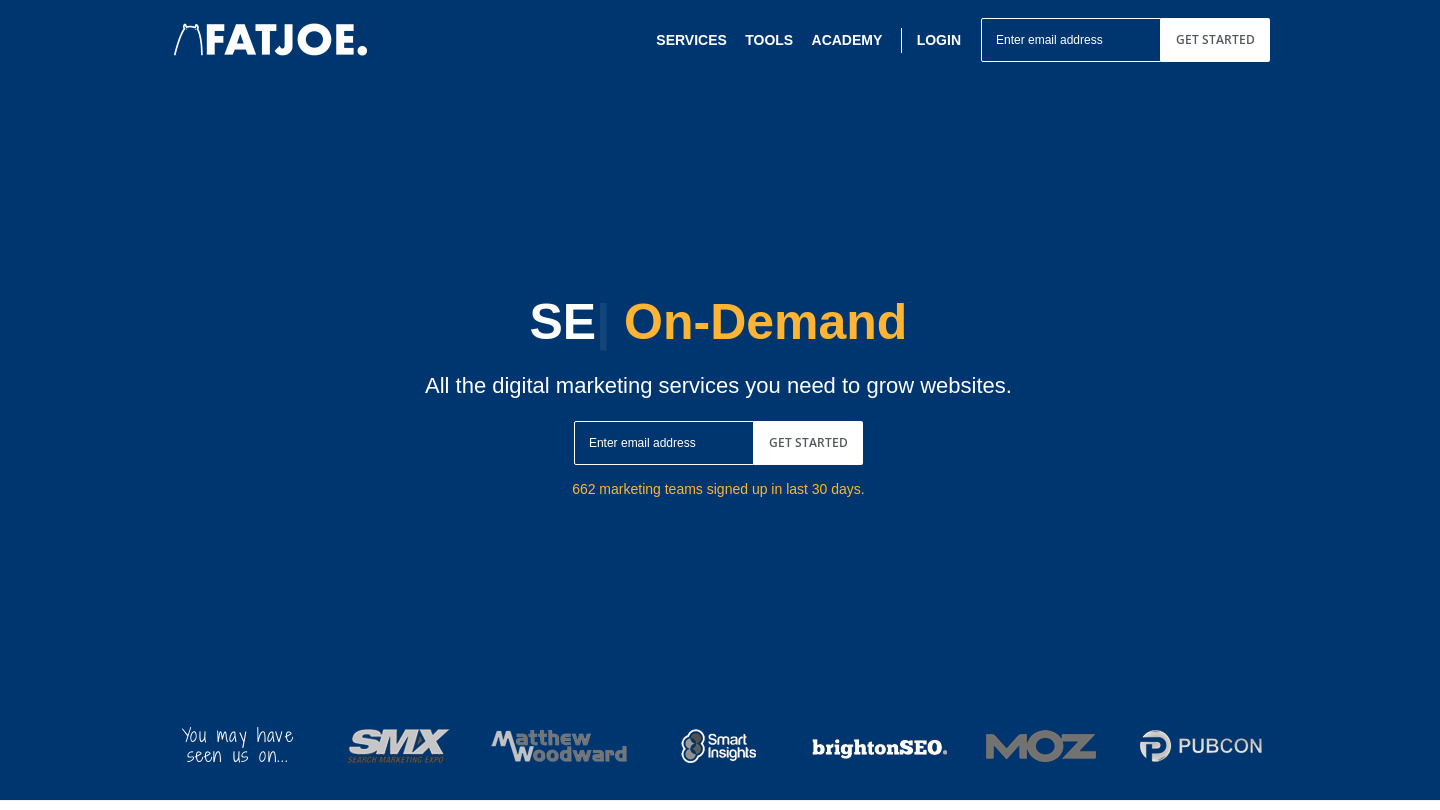 Fatjoe is a straightforward platform. It doesn't do anything particularly unique, but it offers solid outreach and natural in-text content links. Fatjoe's team reaches out to sites with high domain authority metrics and ensures there's no duplicate placement across domains.
Pricing is in 5 tiers, beginning at $45 for sites with a domain authority of around 10 and increasing depending on the DA of the blog you are looking to target. On each tier, bulk discount options are also offered.
#2 uSERP – the full PR service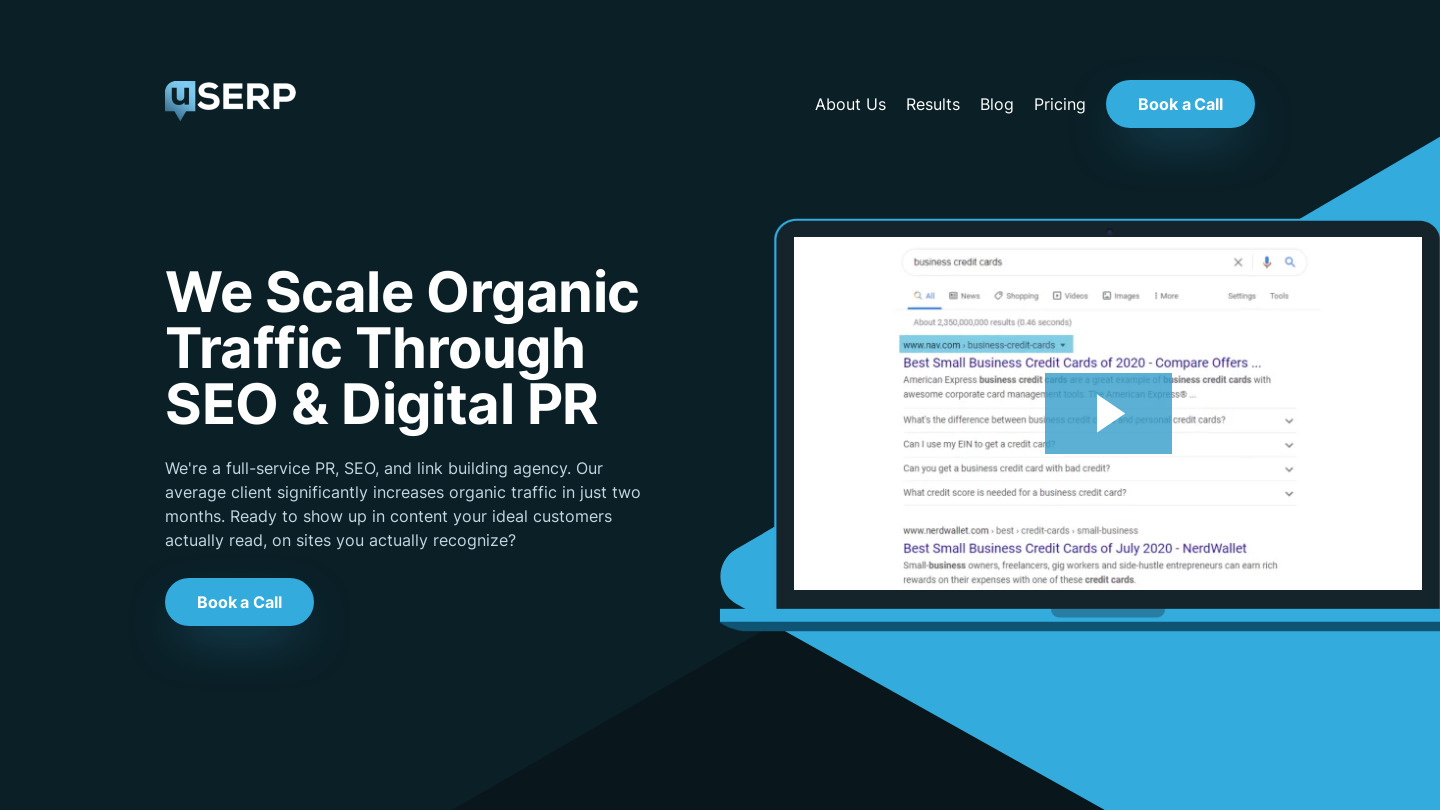 uSERP will conduct a full audit of your site to develop an effective link-building strategy. It will work to scale your industry authority until you outrank your competitors.
The service will produce a series of assets to help skyrocket existing content and then create new around high-value keywords. From there, uSERP uses its PR chops to build press momentum and earn coverage from otherwise unattainable sites.
uSERP is one of the priciest options on the list, starting at $6,000 a month for 6 editorial mentions on sites with a domain authority of 55 or higher. The other two tiers are for higher domain authorities and include a few more editorial mentions.
#3 Samurai Marketers – the partnership-based guest post service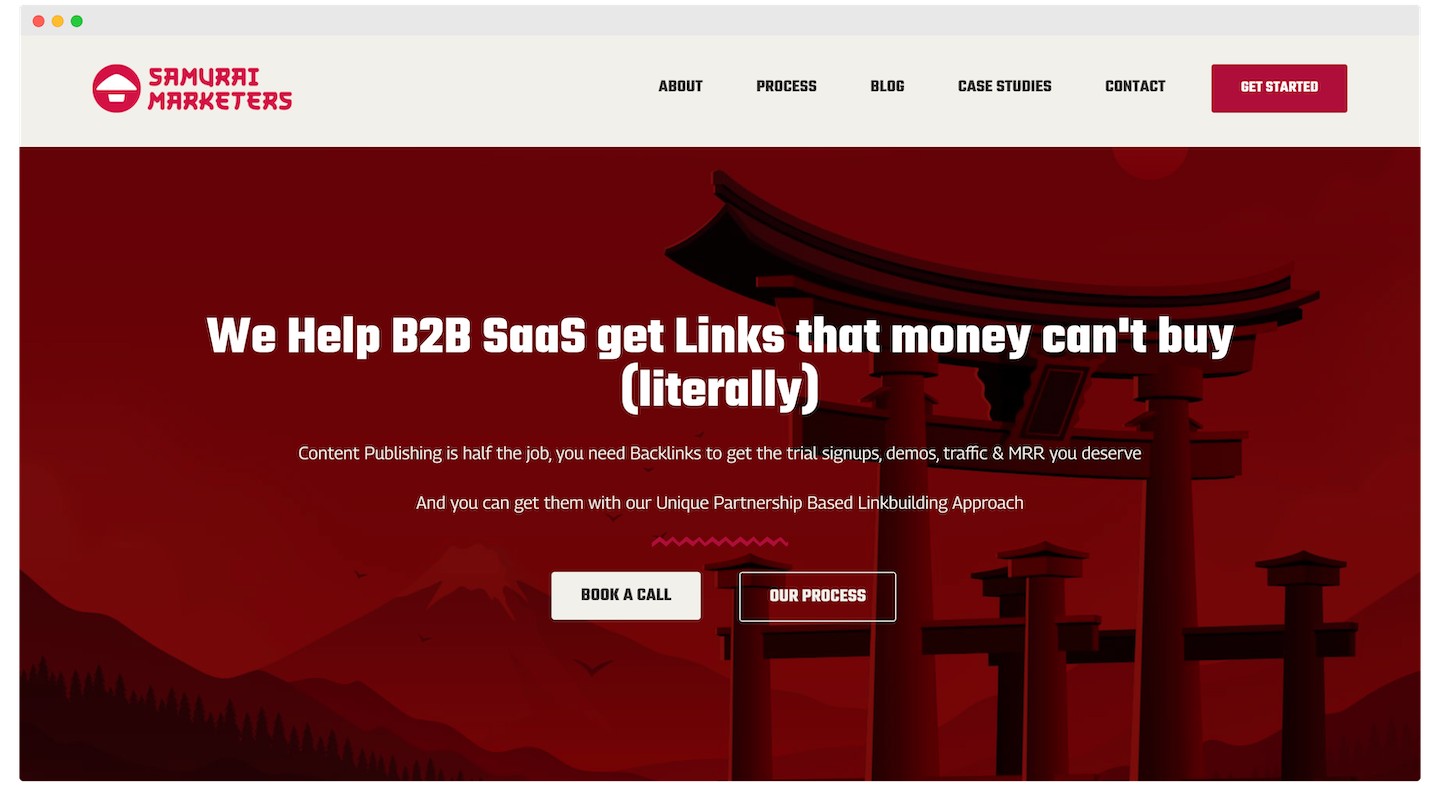 Samurai Marketers analyze businesses in your niche with an extensive 20-step process. It will analyze key metrics but also delve deeper into site data to ascertain their true legitimacy. It will consider organic keywords to organic traffic ratio, links to spammy sites, if they are investing in content marketing, and more.
Samurai Marketers will reach out to each identified prospect manually. Their approach treats the guest post process as a partnership and asks how they can provide value to the site to gain the guest post link in return.
Pricing is totally hidden behind a call wall. To find out more, you'll have to book a consultation with Samurai Marketers.
Consult with Samurai Marketers
#4 Loganix – the guest posting service that tracks historical data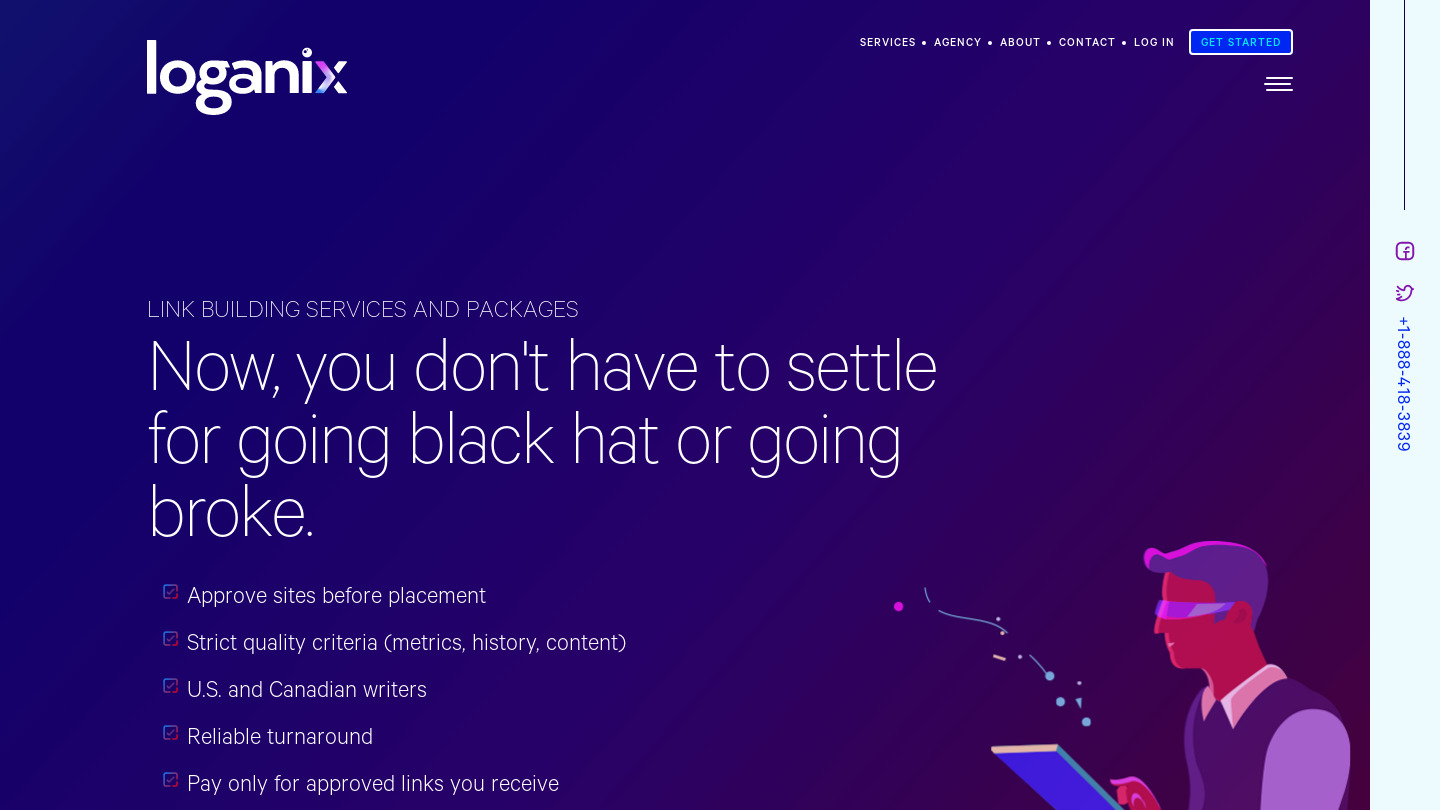 Loganix analyzes core metrics to ensure the sites they approach are legitimate. But it goes even further than a lot of other outreach agencies by analyzing historical data as well to weed out gamed metrics.
It then analyzes their most recent posts to check they're not all paid, are regularly updated and are well-written. This ensures the links are sent to verified, legitimate sites.
Loganix has a basic and premium guest post pricing package. The former is $200 a month, including content creation for sites with 100+ monthly visits. For an extra $100, you will only be placed on sites with 500+ monthly traffic.
Get started with Loganix
#5 Digital Web Solutions – the one for outreach to genuine bloggers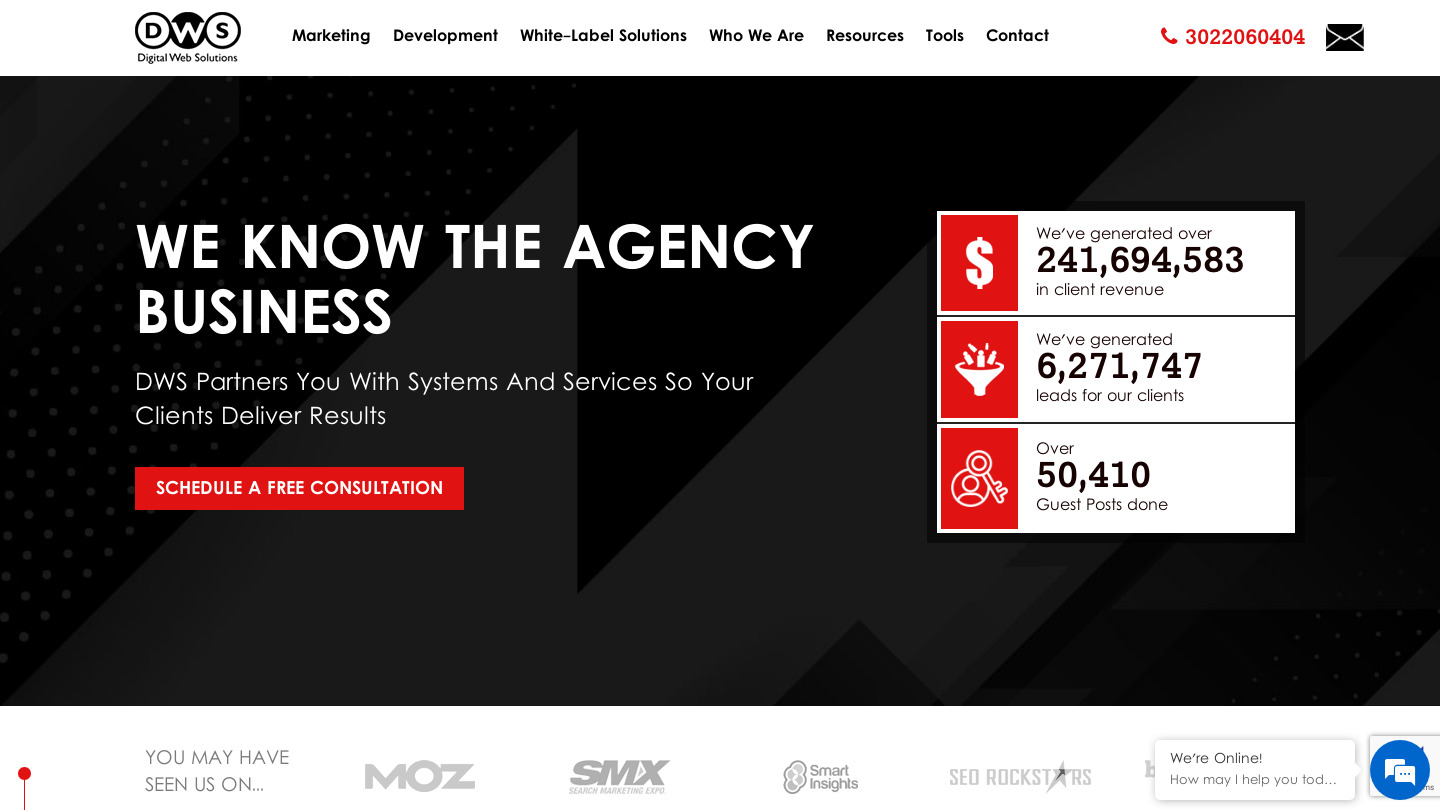 Digital Web Solutions only approach genuine bloggers. It focuses on making the guest post process look as organic as possible so Google doesn't penalize you. This means no PBNs and versatile linking across high DA sites.
Digital Web Solutions considers multiple metrics, keywords, and traffic to choose links with good overall health. It also provides a white-label report so the agency can remain totally behind the scenes.
No pricing is available on the site as they request you set up a 30-minute consultation call. But after some sleuthing, we can confirm pricing starts at $140 for a domain authority of 30 and around 600 words.
Set up a call with Digital Web Solutions
#6 ForwardLinking – the one for strategic guest post placements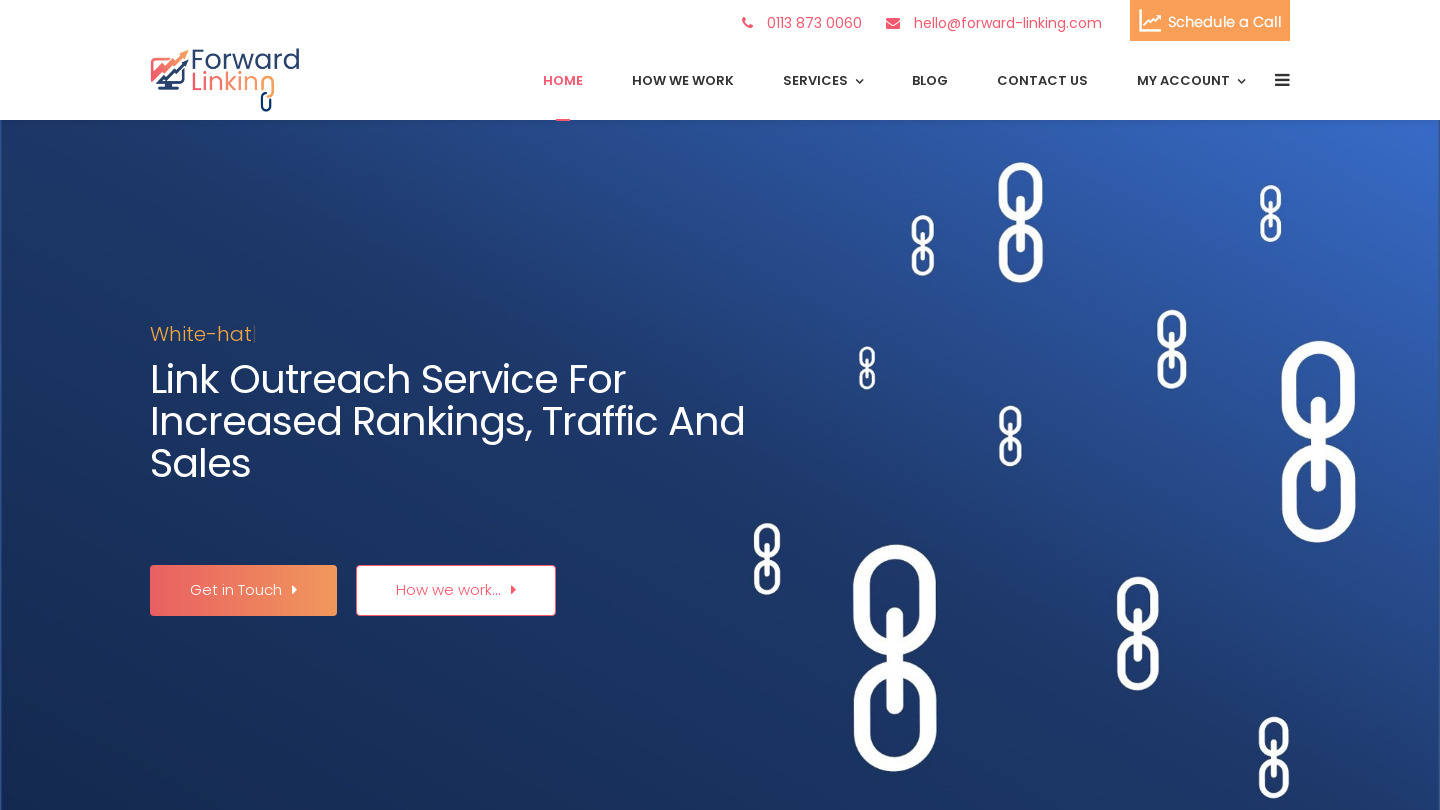 ForwardLinking audits your website as well as competitors to ascertain your target pages for backlinking opportunities. It creates a bespoke strategy for guest posting, depending on your personal requirements.
ForwardLinking will also provide dedicated strategists who will identify what specific techniques to use that will be unique to your business. It then chooses relevant sites based on their quality and levels of real, organic Google traffic. Plus, all the information is shared with you so you can see how it's working in real time.
ForwardLinking's pricing starts at $250 for sites with domain ratings of 30 or higher with a minimum of 500 monthly traffic. For sites with higher domain authority and monthly traffic, they offer two more pricing tiers.
Schedule a call with ForwardLinking
#7 BibiBuzz – the competitor comparison outreach platform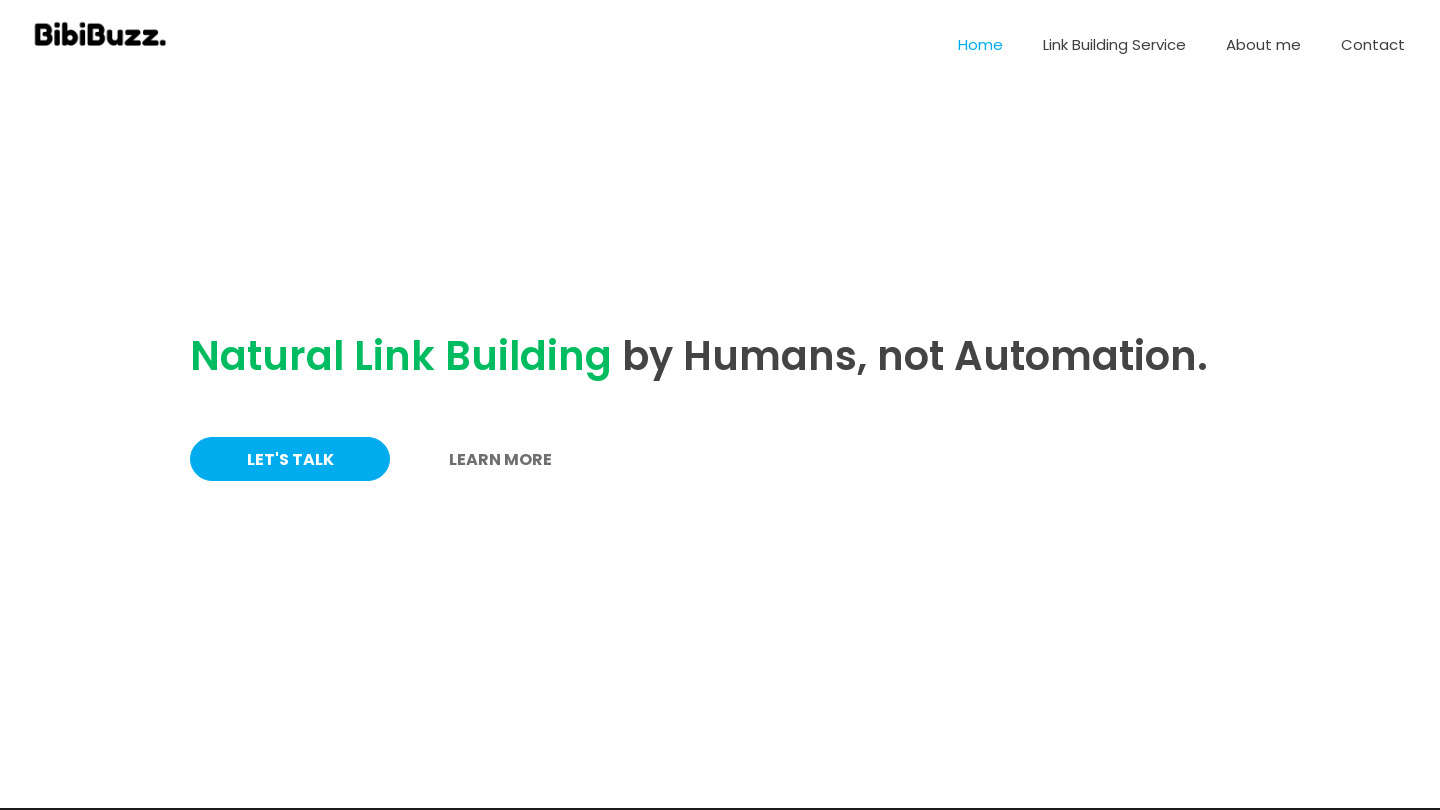 BibiBuzz asks a series of dedicated questions to understand your business and tailor your results. It looks at competitors across multiple SEO platforms and performs a content audit on your post.
Instead of focusing on metrics, BibiBuzz defines your best prospects by competitors, high ranking pages, and creative angles for link opportunities. It then reaches out using personalized messaging for each identified prospect.
BibiBuzz focuses on linking beyond guest and sponsored posts, offering up suggestions for collaboration and joining you with prospects across social media as well as websites.
BibiBuzz delivers 10 links for $6000, including content costs. Most of their pricing information and specifics are hidden behind a "let's talk!" wall.
#8 OutReachFrog – the best for manual outreach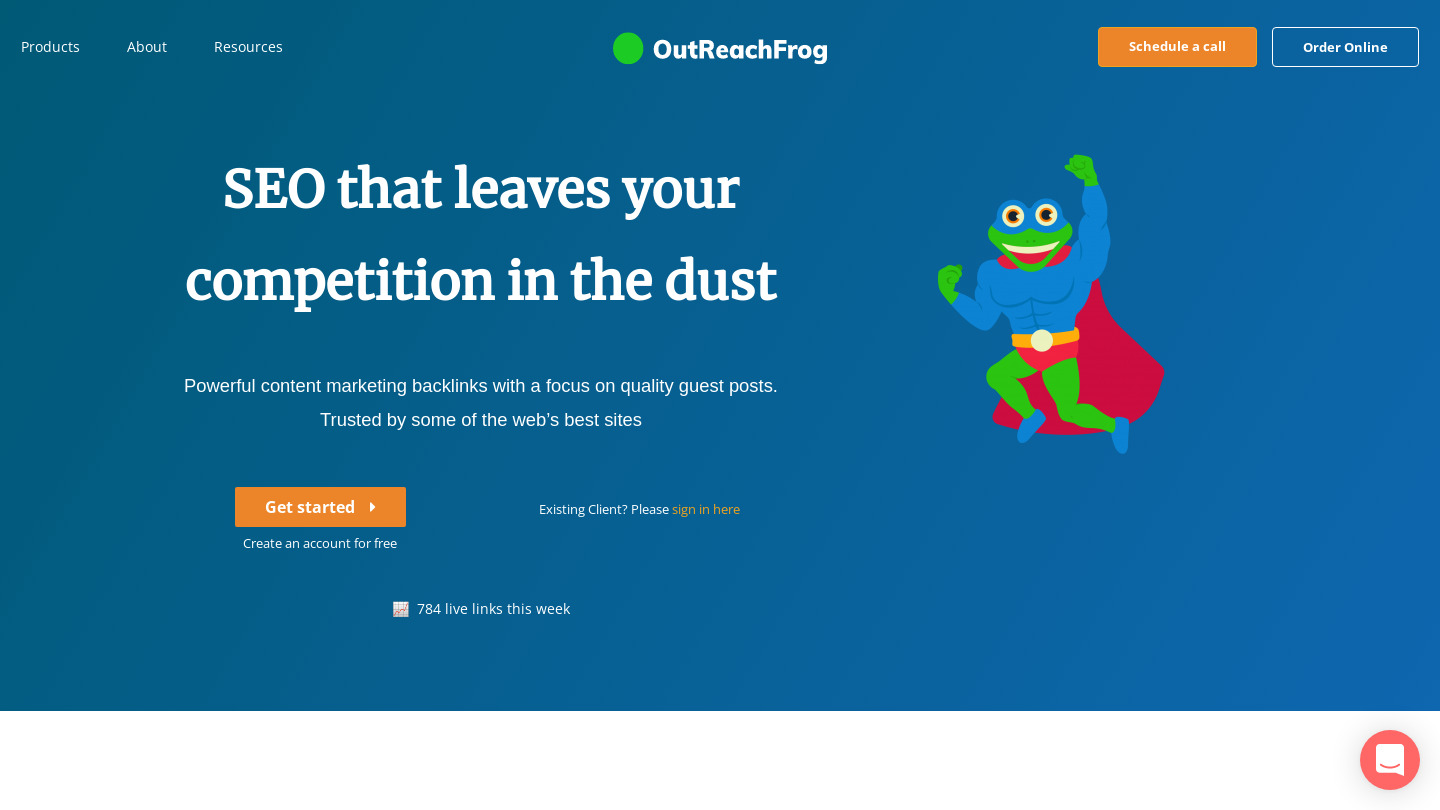 OutReachFrog contacts each prospect for your guest posts manually. It works on outreach, finding the best sites within your niche from manual sourcing.
It's the only provider that places links using US professional writers with industry experience. As a result, OutReachFrog boasts finding the highest quality links possible and removes PBNs completely from the equation.
OutReachFrog pricing starts for sites with a domain authority of 10 and increases per 10 domain authority gained. Its pricing is also dependent on the number of words and the volume of content you would like to order.
Schedule a call with OutReachFrog
#9 Outreachz – the link-building marketplace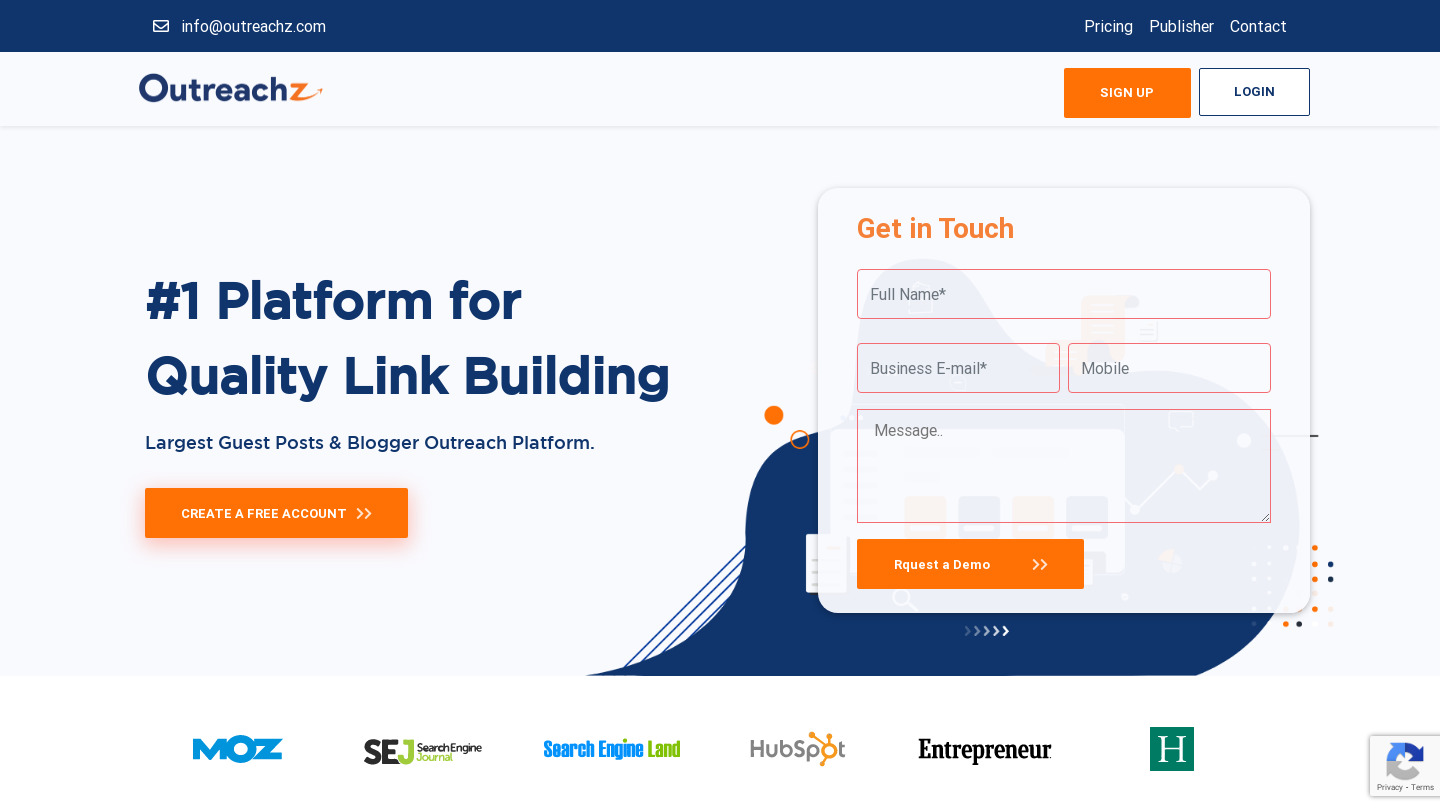 Outreachz focuses specifically on link building and guest posts in its marketplace. It guarantees all links will be live for a minimum of 12 months and you can filter prospects by niche, authority, cost and more.
It markets itself as keeping its database up-to-date and removing any potential "bad seeds" to ensure your content reaches the right publishers.
Their pricing is completely varied depending on the publisher you approach.
Depending on the publisher's domain authority, their publishing fees are $50, $80 or $120, and they then charge 15% on top for using their platform.
#10 Adsy – the guest post marketplace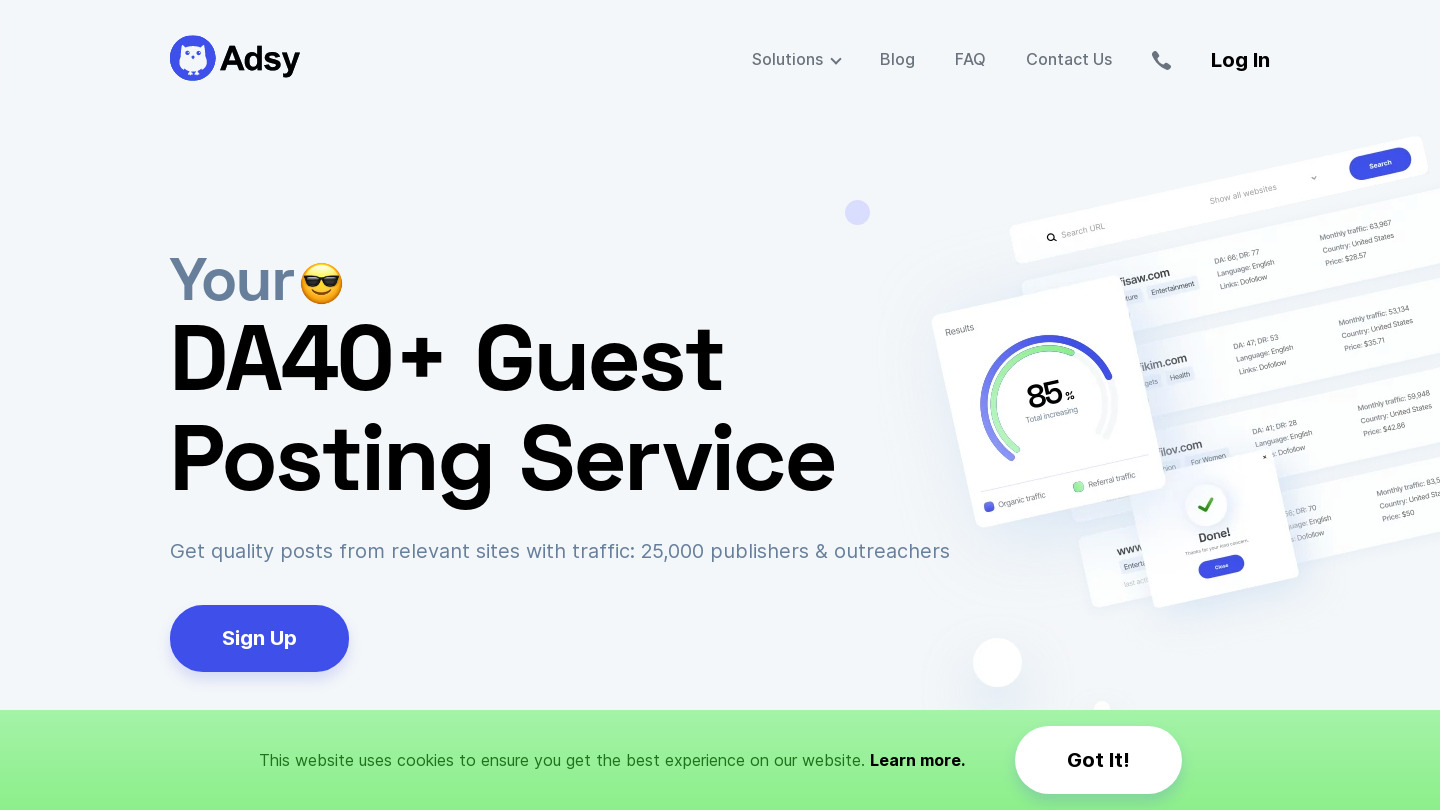 Adsy offers two options – either just writing the guest post, or both writing and placing it on high domain authority sites.
It focuses specifically on the creation, purchase, and distribution of guest posts. Sites sign up as a publisher and if they meet the buyers' requirements, Adsy will facilitate getting a guest post on their site.
There's no pricing shown on site as each publisher sets its own requirements. This means pricing can range from $10- $10,000.
Instead, you fill in a form and, depending on the number of words, DA, and other factors like your requested monthly traffic, and they'll get back to you with a price.
#11 Accessily – the all-in-one marketplace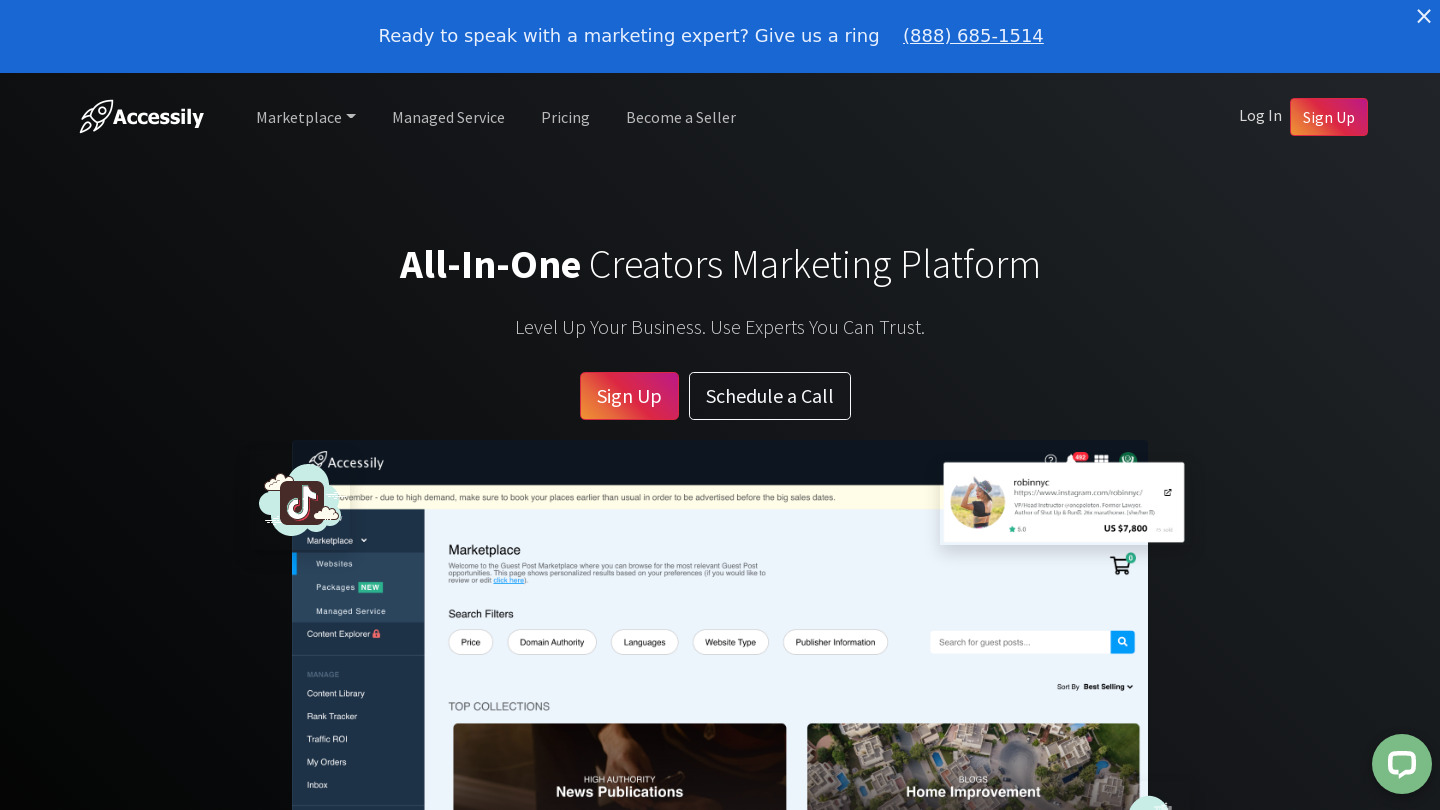 Accessily's marketplace is for link building, guest and sponsored posts, shoutouts, and press releases. It provides a platform for you to search hundreds of sites, influencers, and authors. You can even track your content on their platform to see how well it performs.
Accessily offers a free limited plan and then 3 paid-for tiers of service at $15, $27, and $50. In each tier, you receive access to all the features, except for the content library, which is only offered on tiers 2 and 3. Pricing depends on how many keywords you'd like to track.
Get started with Accessily free
Guest post services and PBNs
When doing outreach, free content is a hard offer to beat.
You might have read somewhere that sites that say "write for us" are dangerous and you should never buy links from them.
But a lot of agencies build their own private blog networks to build up authority, and so link blogs between them. They do this using "black hat" techniques like buying expired domain names with impressive metrics.
They own these sites but still sell guest posts from them as if they were legitimate, with real traffic, authority and outreach.
And while it's pretty easy to craft impressive SEO metrics this way, it's a lot harder to fool Google.
For example, Majestic is widely known for overvaluing a site's age. This means that old sites with zero traffic will still get scores of 40+ on Majestic's Trust Flow Rating. And you'll see sites with scores of under 10 on Majestic Trust Flow, despite having lots of authority and high rankings, simply because they are a younger sites.
Ahrefs also overvalues traffic. They've bestowed high DRs to sites with garbage traffic, spinned content, and cheap "hacks" simply because the estimated traffic volume is high. Similarly to Majestic, you can find sites with high authority on niche topics but low DRs on Ahrefs.
Basically, these sites are trying to copy Google's PageRank metric, to varying levels of success. Most do a good job across the board, but there can be large inaccuracies hidden within. And agencies who are experienced in this area know how to inflate their metrics for sites like Ahrefs and Majestic.
One of the biggest trends in B2B right now is SaaS websites. Agencies have gotten creative with these, inflating SEO metrics on some client sites in order to sell their content and links to others.
We've called these PBNs, but they are slightly different. They're not necessarily all owned by one group, but they come down to the same thing. They are using artificial linking and fake authority distribution through a network of websites.
At the moment Google might not notice, but one day, out of the blue, they'll do an update and a lot of sites will find themselves suddenly going down with the PBN ship.
Guest posts and sponsored posts
Some sites only allow you to publish guest posts for a fee. This is called a sponsored post.
To get a site to accept your content, you need to provide top-quality and high-value. With guest posting to high domain sites, you can get your content in the top 3 SERPs far more easily, and then link to your site from there.
Sponsored posts are less favorably looked upon. They're typically 300 words, not always well written, and provide little value to boot. Google recognizes this to the point where it rarely indexes their content.
Google does not have a domain rating, only PageRank. Domain ratings are something created by sites like Ahrefs, Majestic, and SEMrush to try to emulate Google's own process. This post explains this in more detail.
This means the only authority Google truly recognizes is on an individual page level.
Buying sponsored posts to leverage domain authority instead is a pointless exercise.