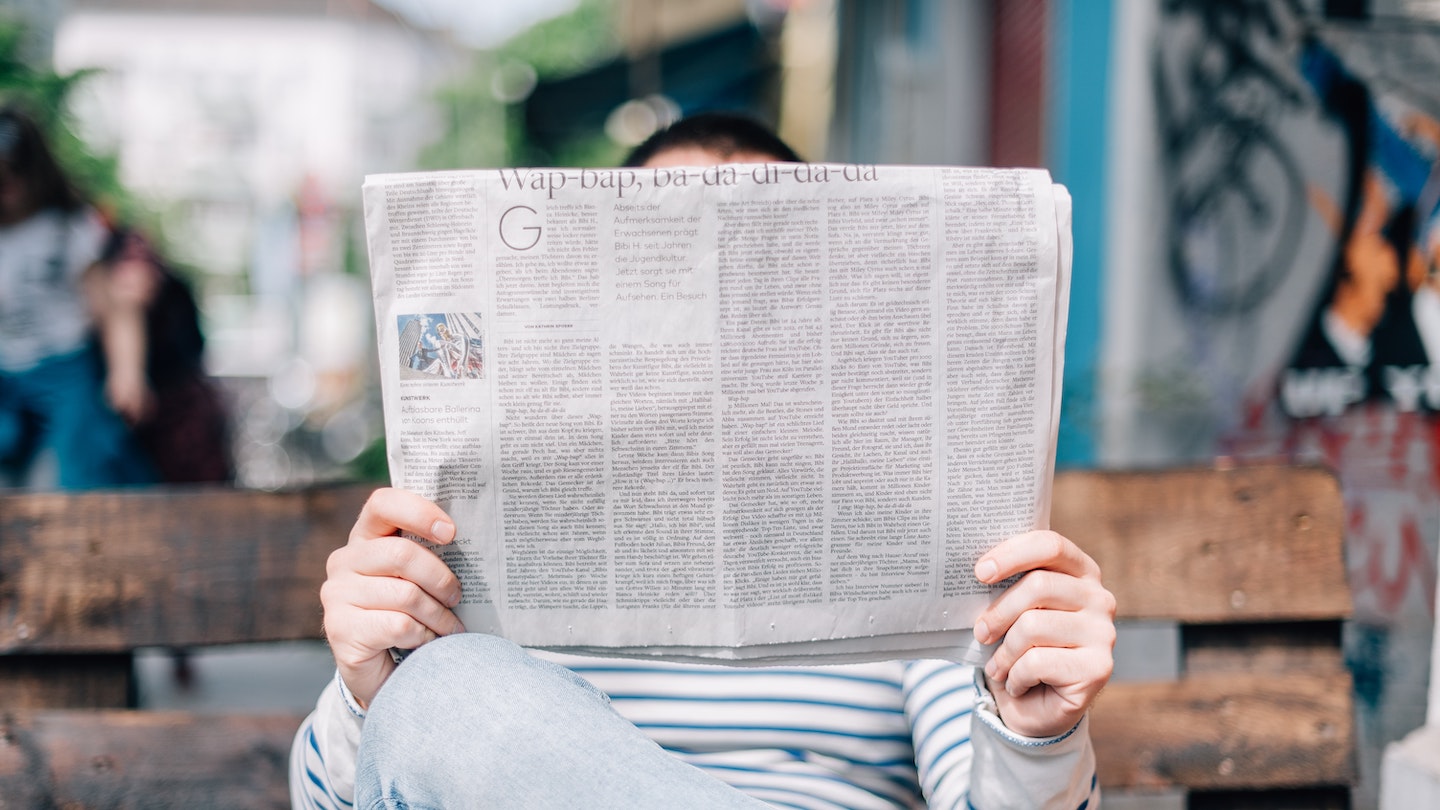 Like most budding bloggers, you're probably time-poor. You want to know about the best ways to improve your copy, create an effective blog promotion strategy, and rank at the top of Google, but you just don't have the time to research it.
The good news is, we've collated a list of our favorite newsletters covering topics such as SEO, copywriting and content writing, PR, growth, link building, and marketing, so you can get a regular hit of inspiration to your inbox without having to lift a finger. (Well, maybe just one to hit subscribe)!
If we've missed one of your favorites, let us know in the comments.
Our Top SEO Newsletters
SEO for Lunch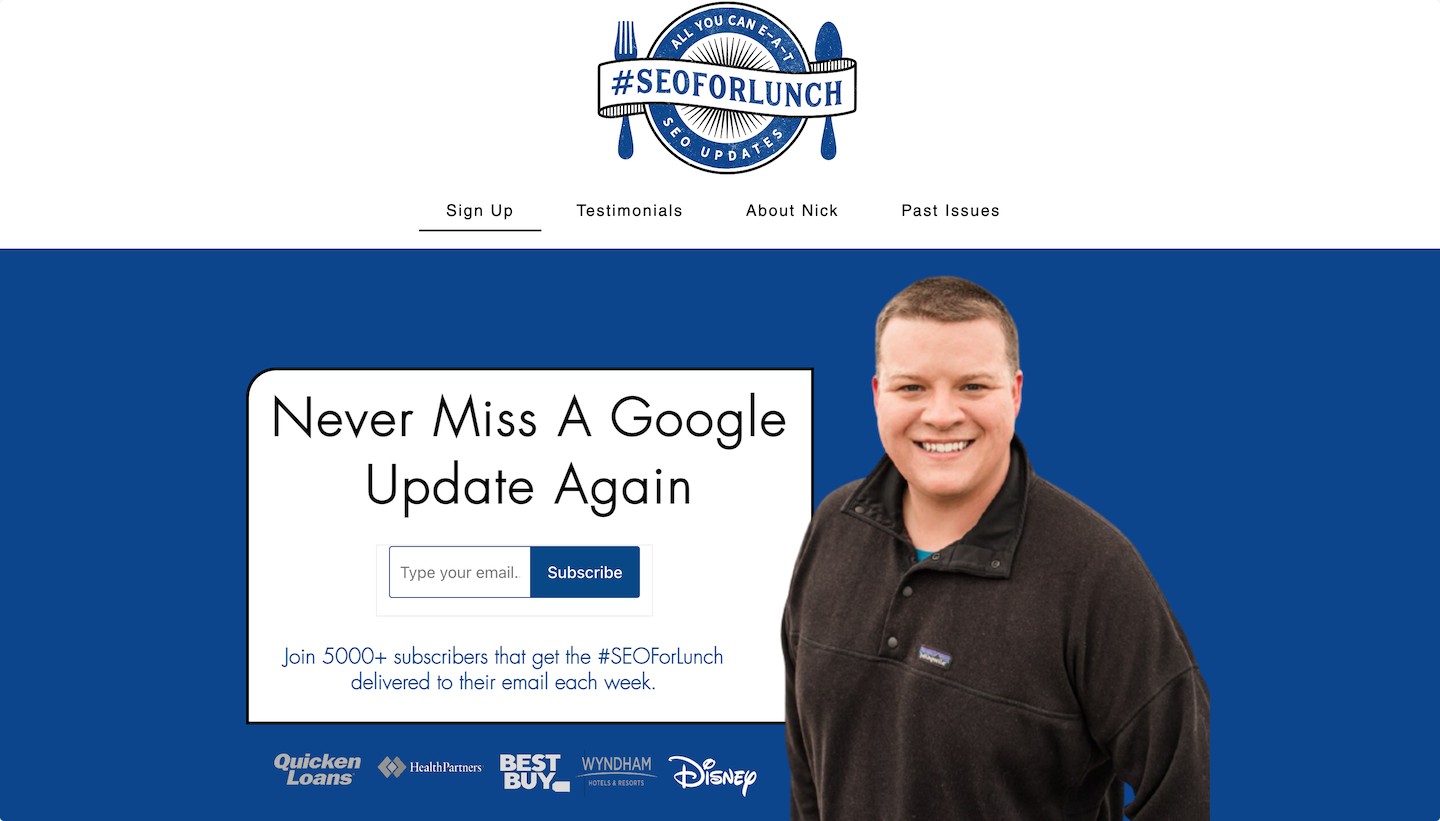 SEO for Lunch is brought to you by Nick Leroy, a professional SEO consultant with over a decade of experience.
Created using Substack – one of our favourite ActiveCampaign alternatives – the newsletter itself promises 'All You Can Eat SEO Updates'. This weekly email informs creators of the latest Google algorithm updates and how you can optimize your content to rank at the top of search engines.
Over 5,000 users have already signed up for SEO for lunch, including marketers at some of the world's best-known brands, such as General Motors and 3M.
SEO Notebook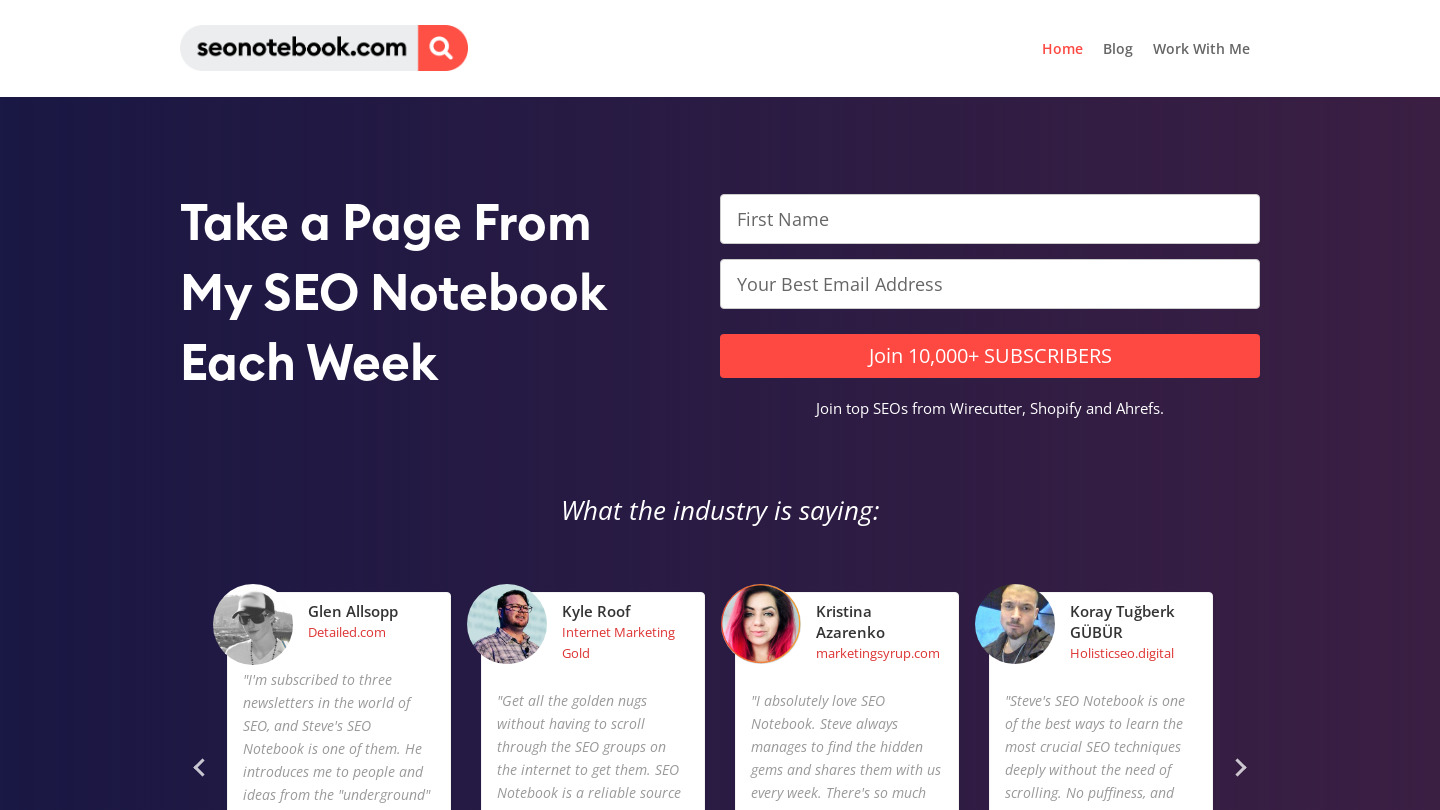 SEO Notebook is the brainchild of Steve Toth, the former SEO Strategy Lead at FreshBooks.
Each week, Steve shares a page from his SEO Notebook with his 10,000+ readers, outlining the secrets to modern SEO that he promises you won't find on any mainstream outlets.
The Weekly SEO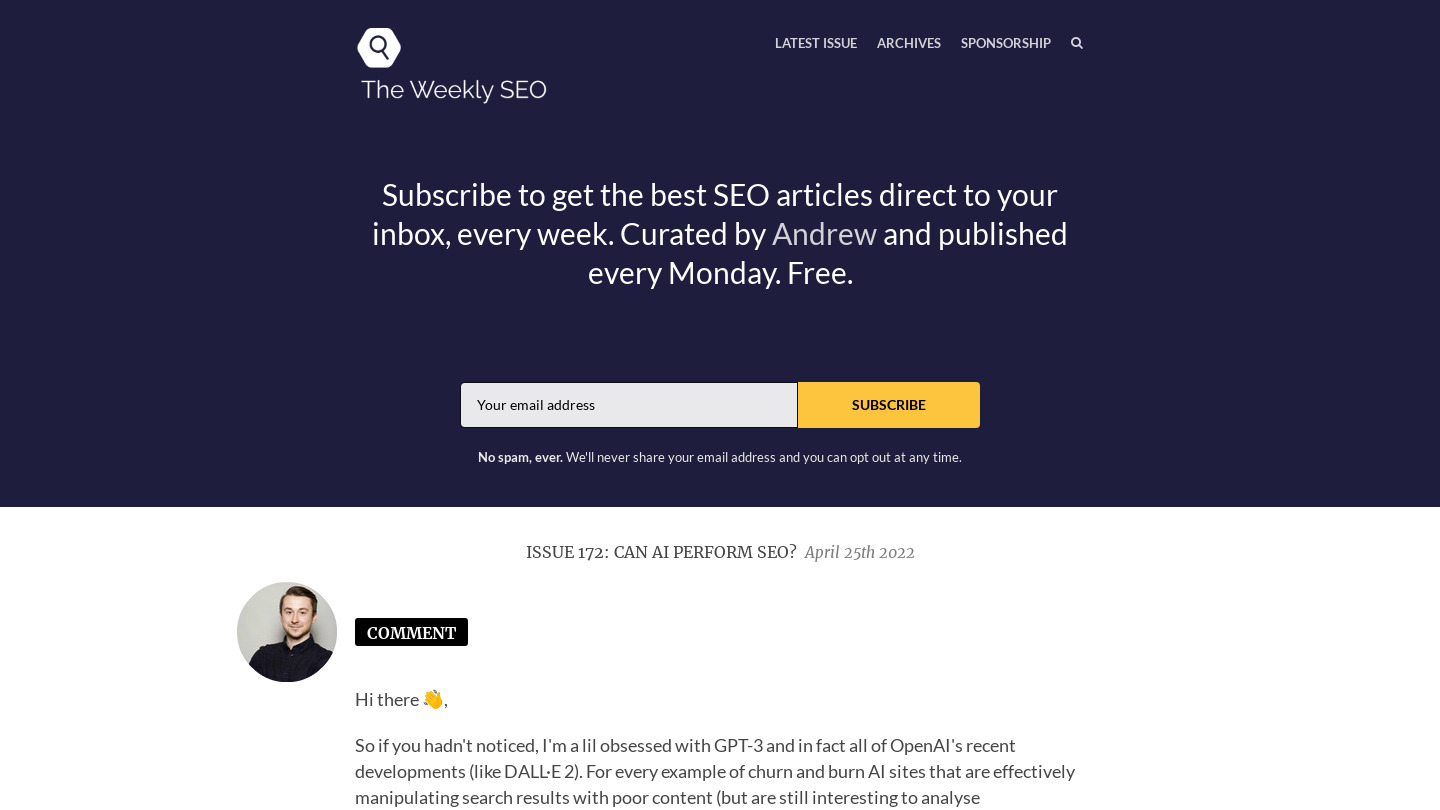 The Weekly SEO was created by Andrew Charlton, a British freelance SEO consultant with over ten years of experience in the ranking biz.
As the title suggests, this well-researched newsletter is sent out to subscribers on a weekly basis. Curated by Andrew, The Weekly SEO finds the best SEO articles and lands them directly in your inbox. As he mentions himself, he's pretty obsessed with GPT-3 and AI writing tools these days.
Search Engine Land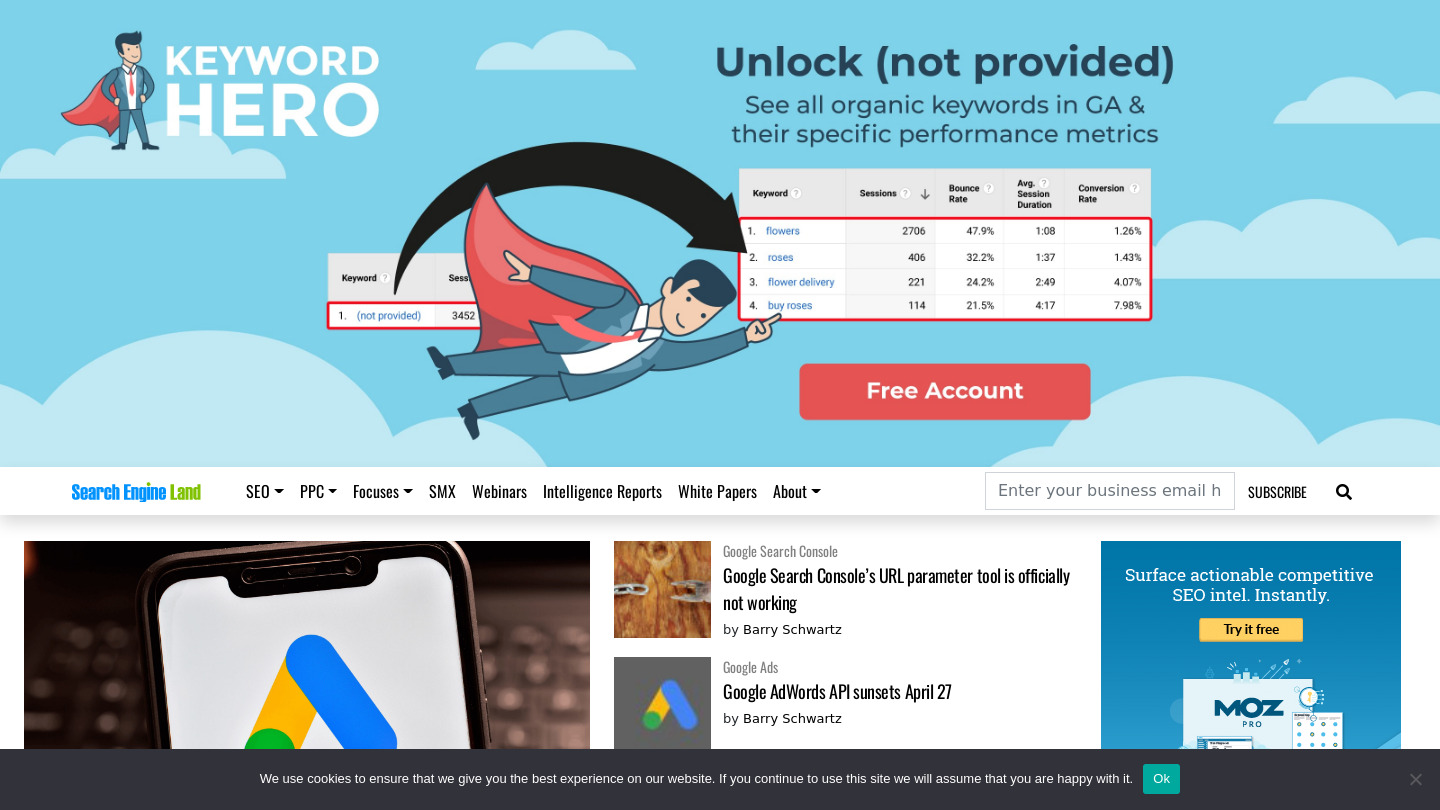 Search Engine Land is a news site dedicated to informing readers of the latest updates in SEO, digital marketing, and the MarTech landscape.
Search Engine Land's daily newsletter promises readers the latest news in the search marketing landscape, as well as a pro tip of the day and a list of must-read news from the web.
Sign up for Search Engine Land's newsletter
Search News You Can Use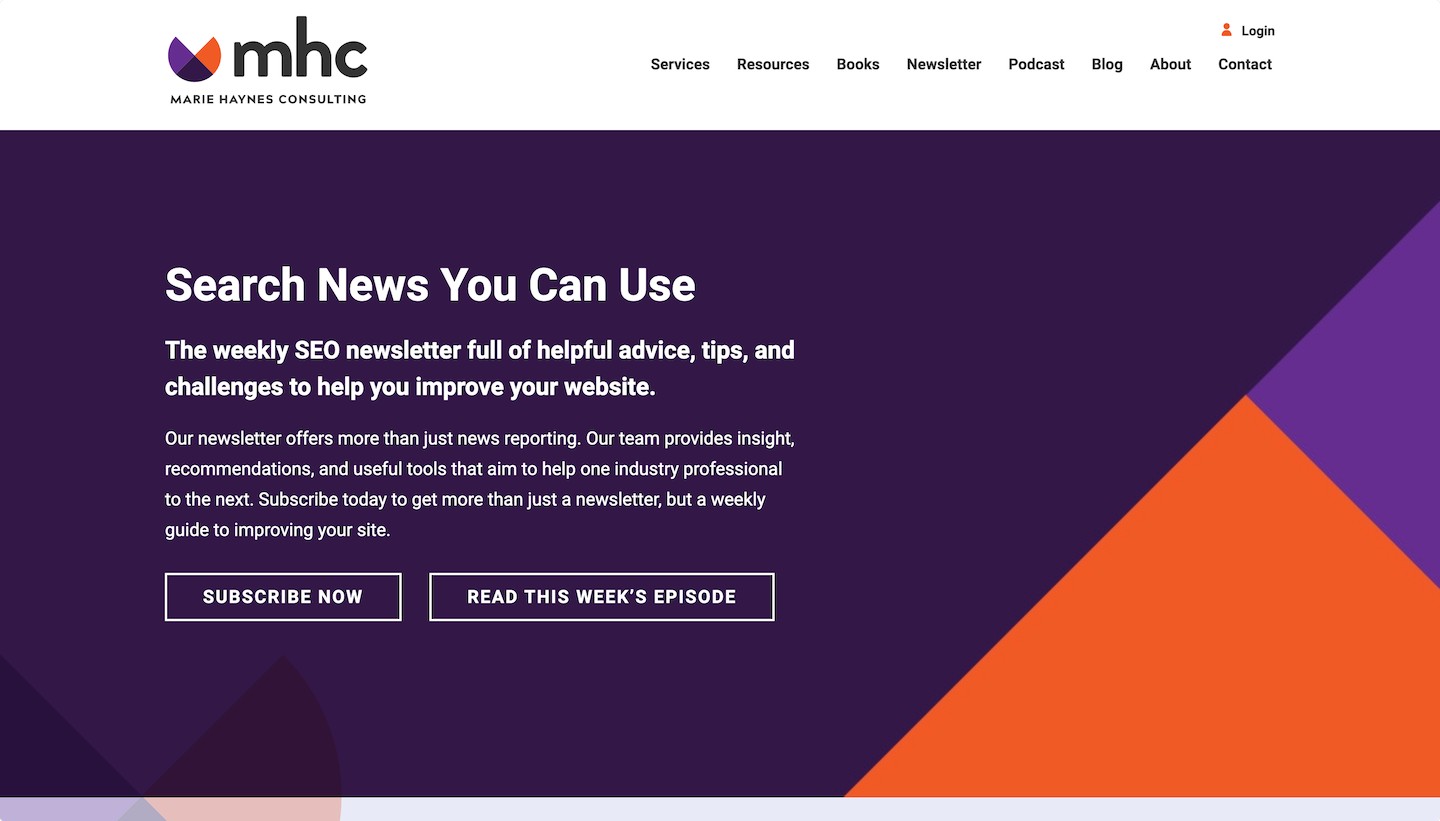 The creator of Search News You Can Use is Marie Haynes, an SEO expert and owner of Marie Haynes Consulting, an SEO consultancy.
This weekly newsletter has a paid and a free option, with the free option offering Google algorithm updates and insights from Marie herself. Paying subscribers get 50% more content, advanced SEO tips, access to all previous newsletters, and recommended reading.
Sign up for Search News You Can Use
Think with Google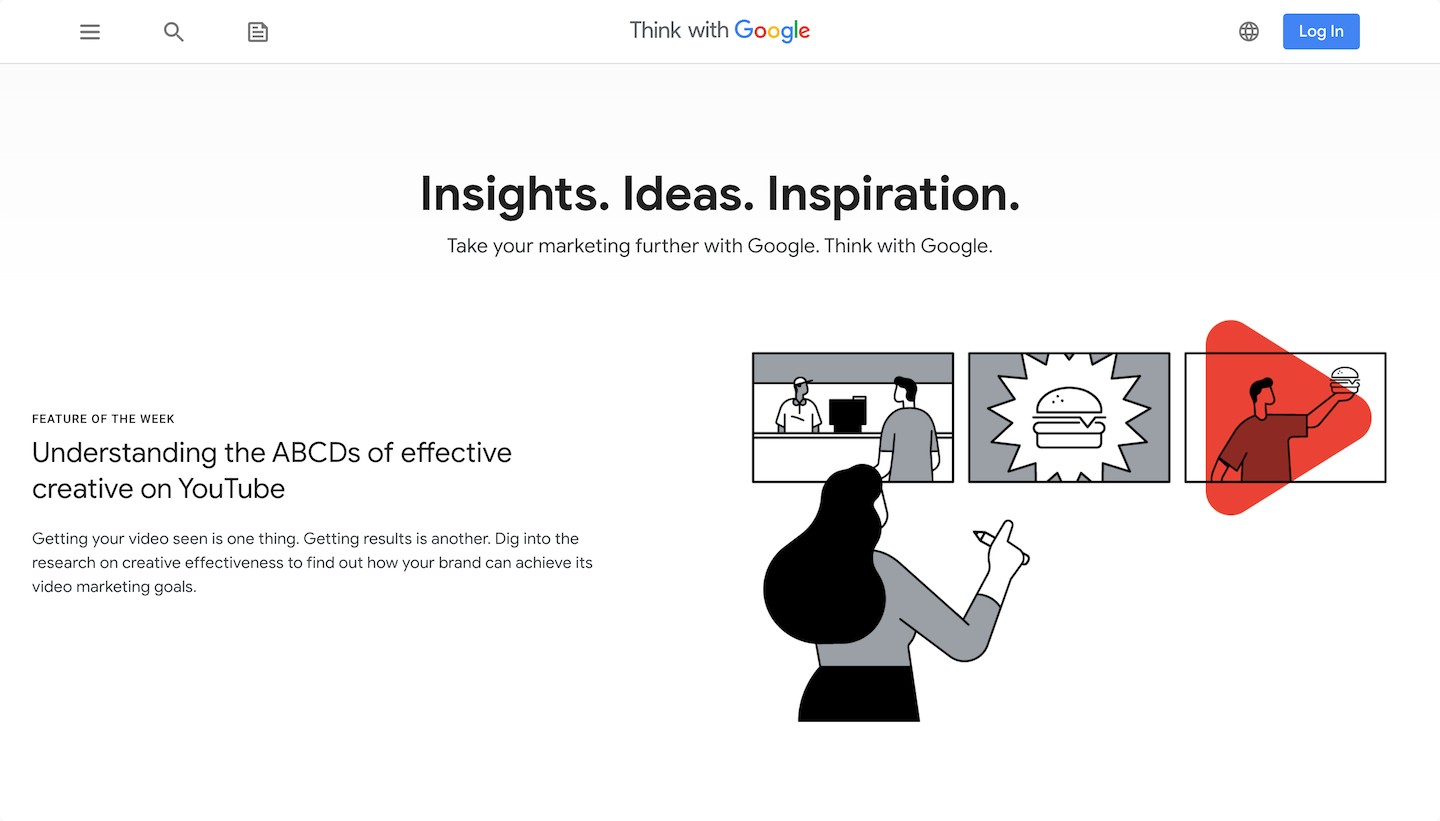 Think with Google is brought to you by Google itself, the search engine that all website owners are desperate to top.
This monthly newsletter offers subscribers access to the latest industry research, marketing insights, and consumer insights.
SEO MBA

The SEO MBA is the creation of Tom Critchlow, a businessman with 15 years of digital marketing and SEO experience.
This semi-frequent email doesn't just focus on the technical aspects of SEO. The SEO MBA is filled with useful leadership, management, and career advice for SEO professionals.
#SEOFOMO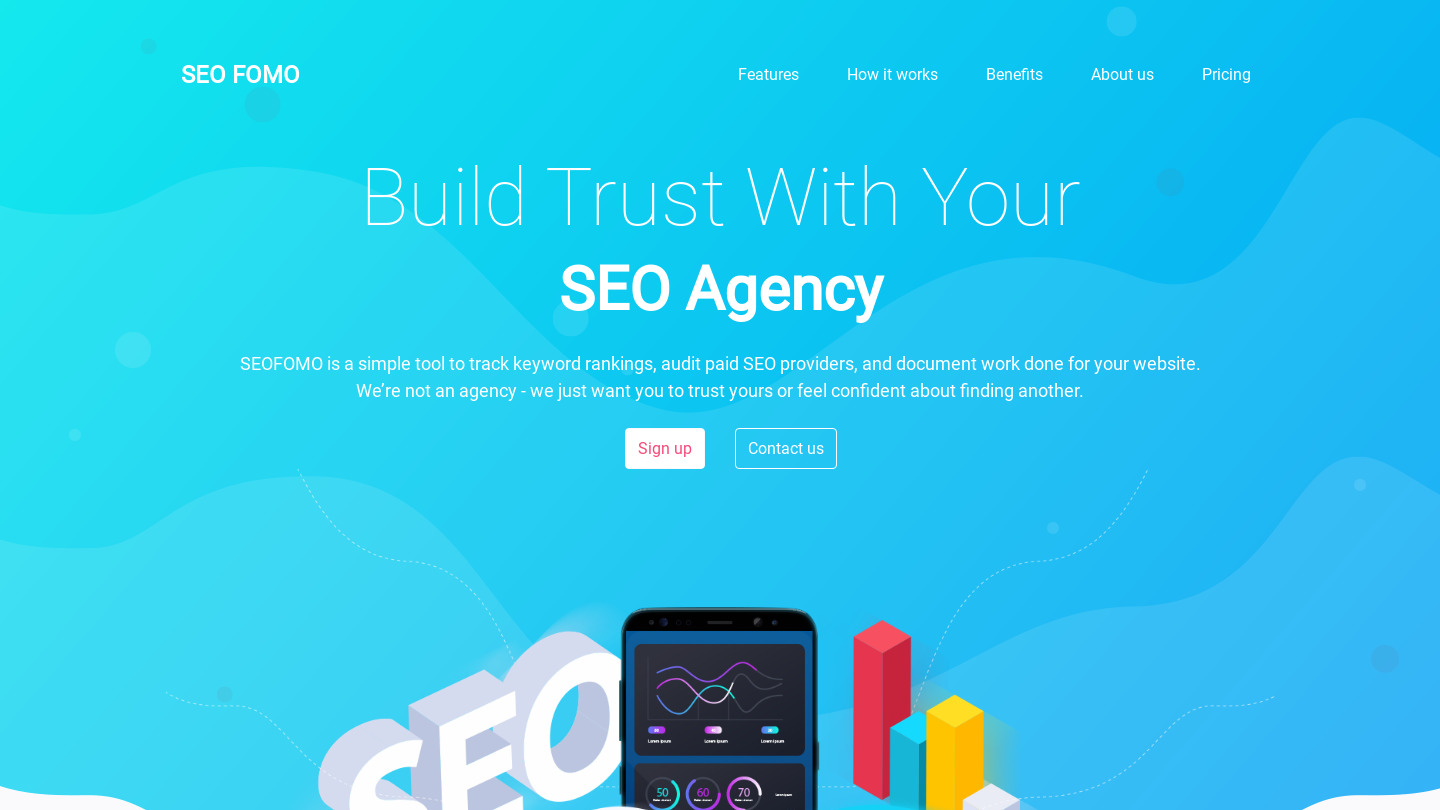 The brain behind #SEOFOMO is Aleyda Solis, an SEO expert and founder of digital marketing agency Orainti.
Join Aleyda's 20,000 other subscribers by signing up to #SEOFOMO, the weekly newsletter which promises readers a rundown of the best SEO news, resources, jobs, and tools.
Backlinko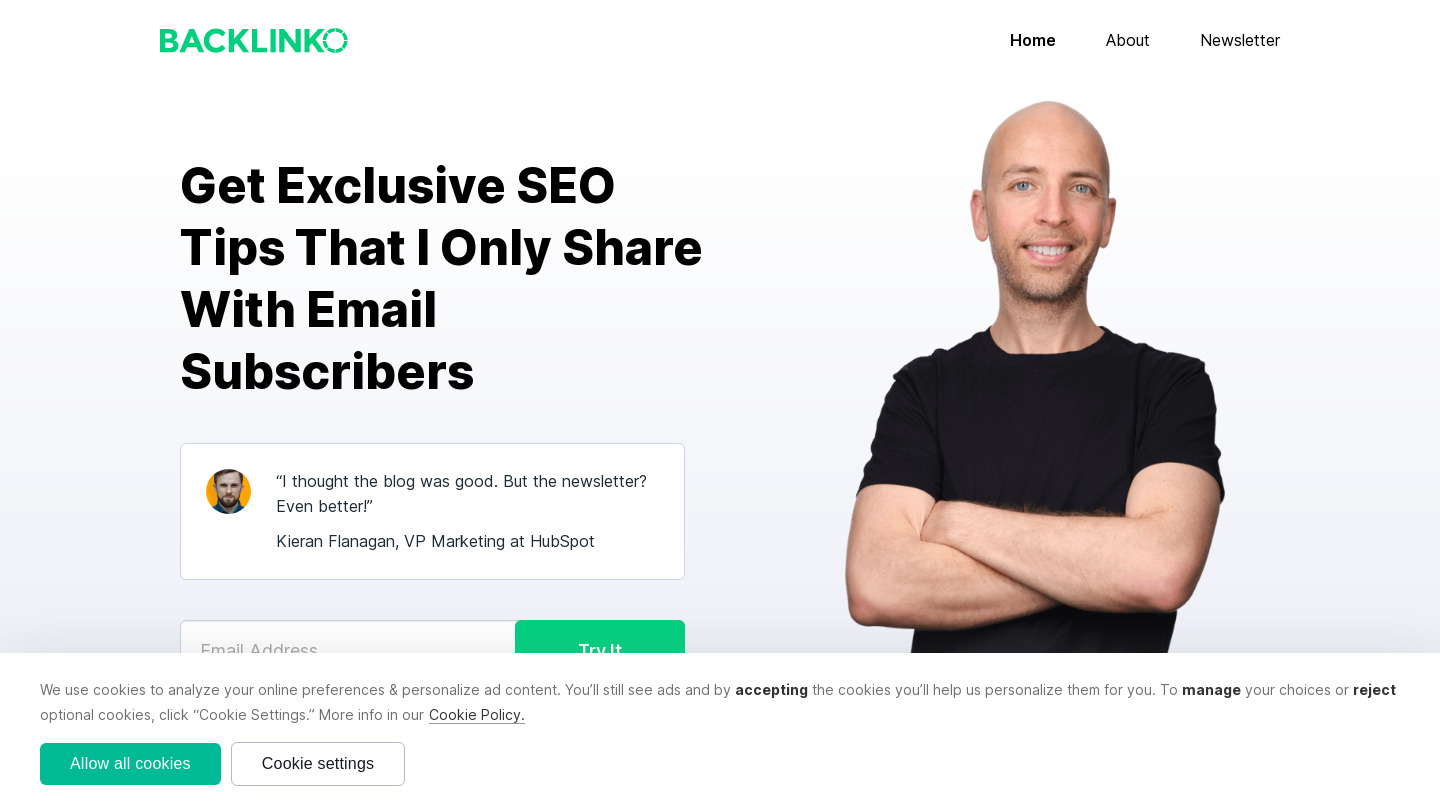 Described as an SEO genius, the creator of the Backlinko newsletter is none other than SEO expert and entrepreneur Brian Dean.
The weekly Backlinko newsletter offers exclusive, never before seen SEO tips and tricks straight to your inbox.
Sign up for The Backlinko Newsletter
Our Top Copywriting and Content Marketing Newsletters
Animalz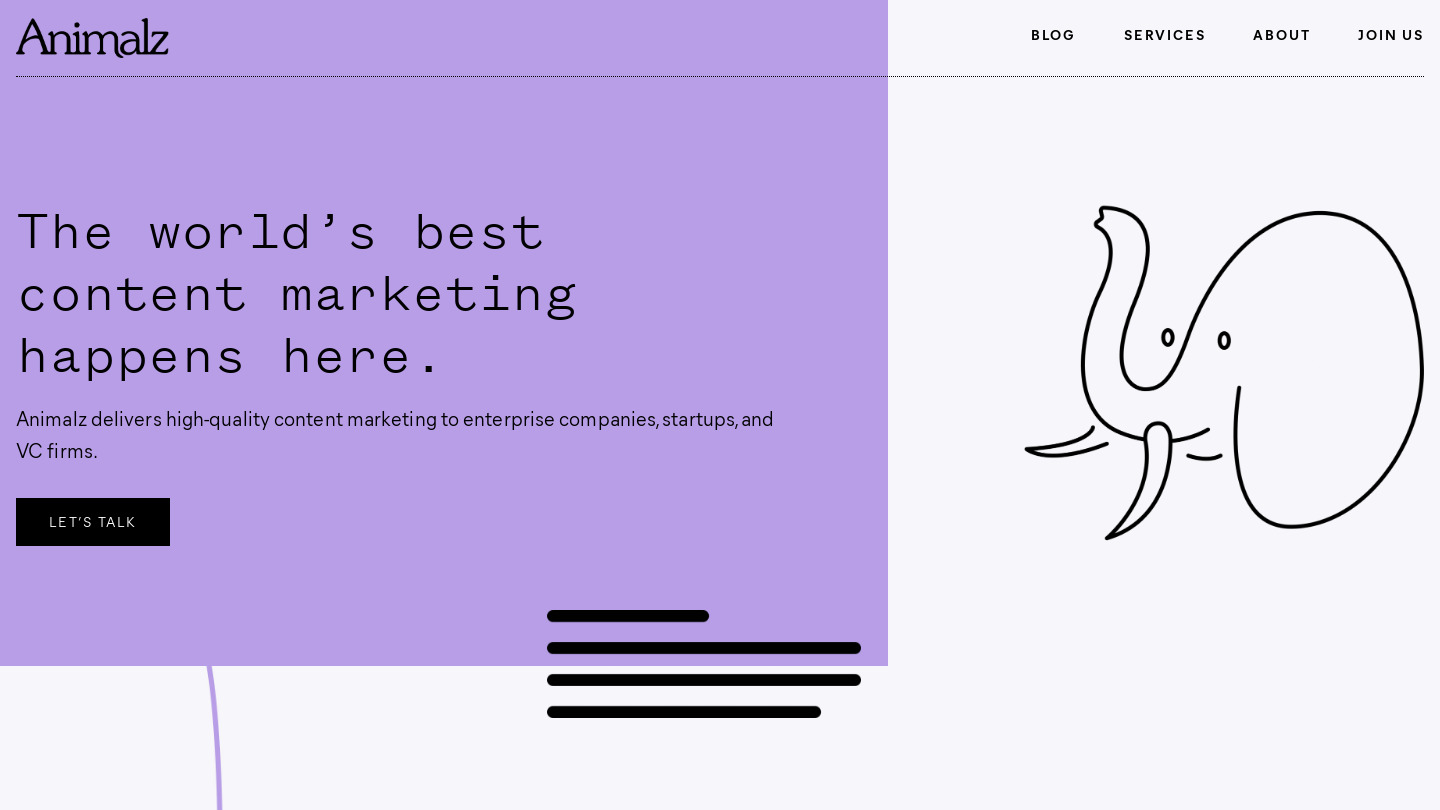 Animalz is a well-known marketing agency that works with the likes of Amazon, Google, and GoDaddy.
Their weekly newsletter offers insight into marketing trends and techniques used by successful start-ups and tech companies worldwide. Animalz is all about content strategy from content planning to content operations, so if you're a first-time marketer looking to refine your content, this newsletter's for you.
Sign up for Animalz's newsletter
Foundation Inc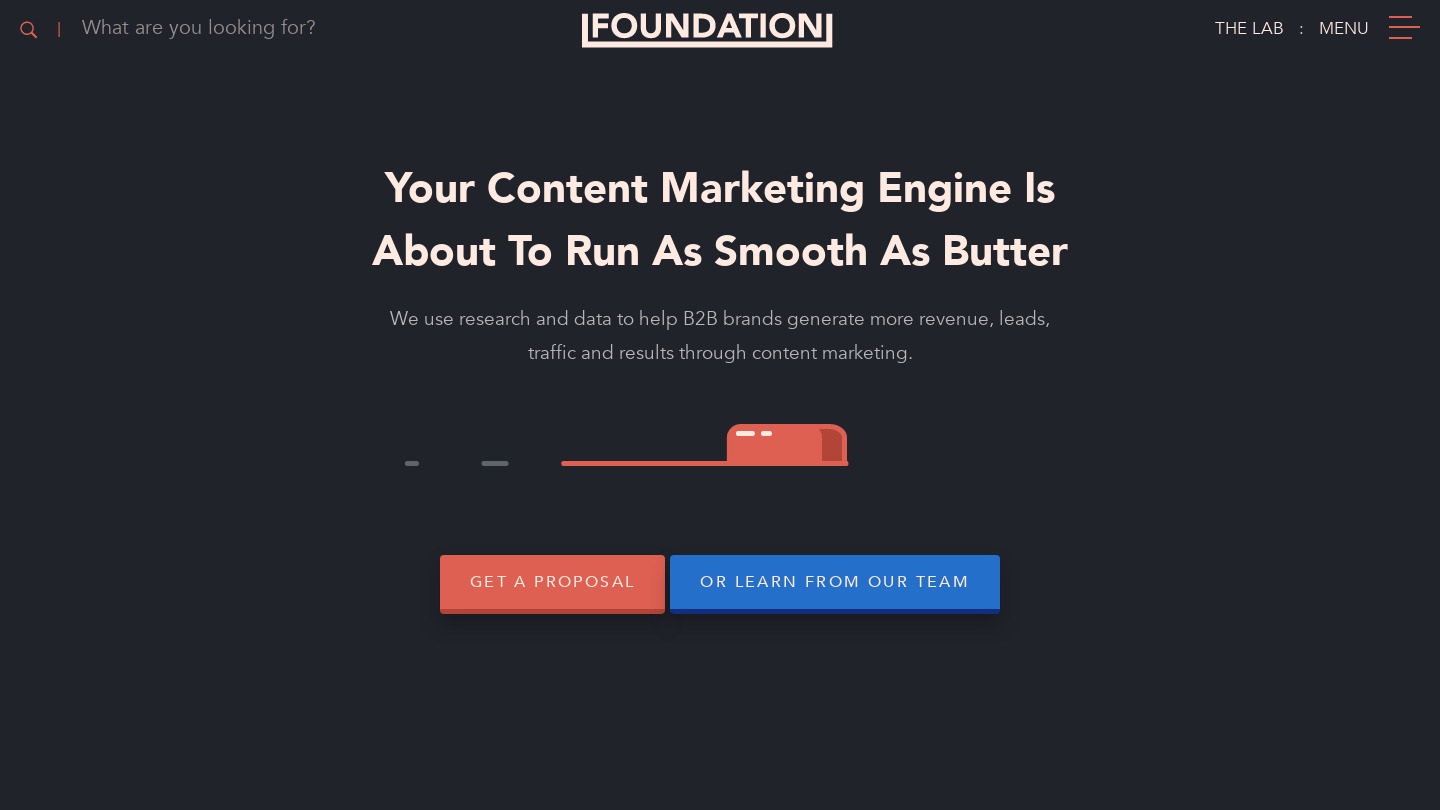 This newsletter for budding marketers is brought to you by Foundation Marketing, a content marketing agency that offers end-to-end content marketing strategy implementation.
Twice a week, subscribers enjoy exclusive B2B marketing insights delivered directly to their inbox and access to the archive—all completely free of cost! That's a pretty good deal if you ask us.
Sign up for Foundation Inc's newsletter
The Content Odyssey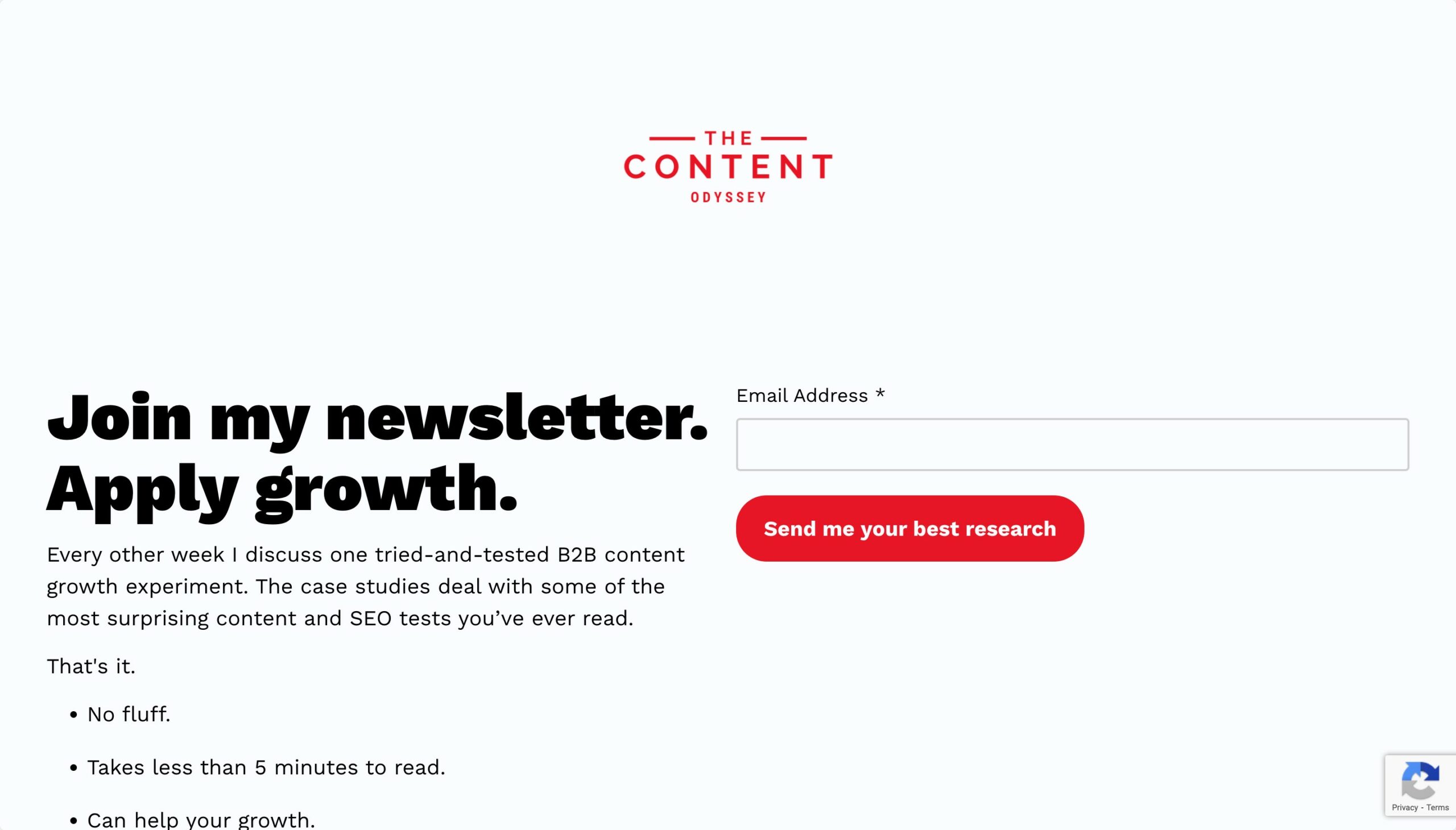 Not to be confused with Homer's offering (although he did know a thing or two about content), the Content Odyssey newsletter is brought to you by Alex Cote, a successful SaaS growth marketer.
The Content Odyssey newsletter—which is sent out twice a month—gives readers an insight into the most experimental B2B content growth case studies and best content marketing tools, so you can learn what works and what doesn't when it comes to growing your business.
Alex promises that this engaging newsletter takes only five minutes to read, is entirely fluff-free, and will help your growth.
Sign up for The Content Odyssey
Copyhackers
Copyhackers is the brainchild of conversion copywriting expert Joanna Wiebe.
Her newsletter, From Jo's Desk, costs $9 per month for subscribers and arrives in your inbox twice per month. Curated personally by Jo, the newsletter gives you a behind-the-scenes insight into Copyhackers, as well as exploring what does and doesn't work when it comes to writing killer copy.
Copyblogger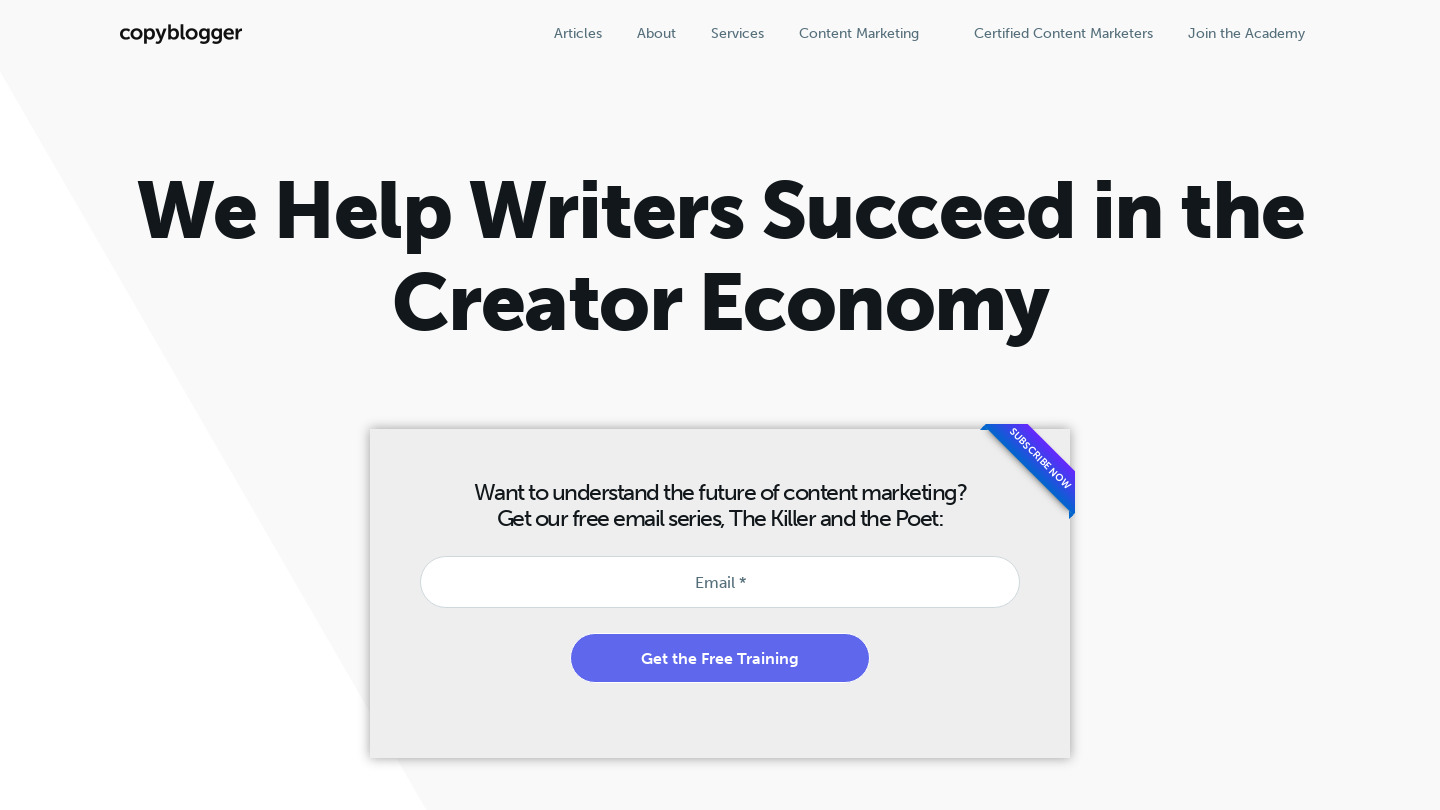 Copyblogger is a marketing training organization that aims to make your copy and content the best they can be.
It offers a premium, $49-a-month monthly newsletter series. Sign up to receive insightful material about SEO, email marketing, content promotion, and how to create that all-important killer headline.
Very Good Copy
Very Good Copy's newsletter is brought to you weekly by the company's founder and resident copywriting expert, Eddie Shleyner.
Join over 38,000 email subscribers by signing up for Very Good Copy, the weekly newsletter that aims to turn its readers into copywriting wizards and creative thinkers.
Subscribers to the newsletter will also unlock access to exclusive subscriber-only content, including courses on persuasive writing and expert copy.
Our Top Digital PR Newsletters
Pr@ctically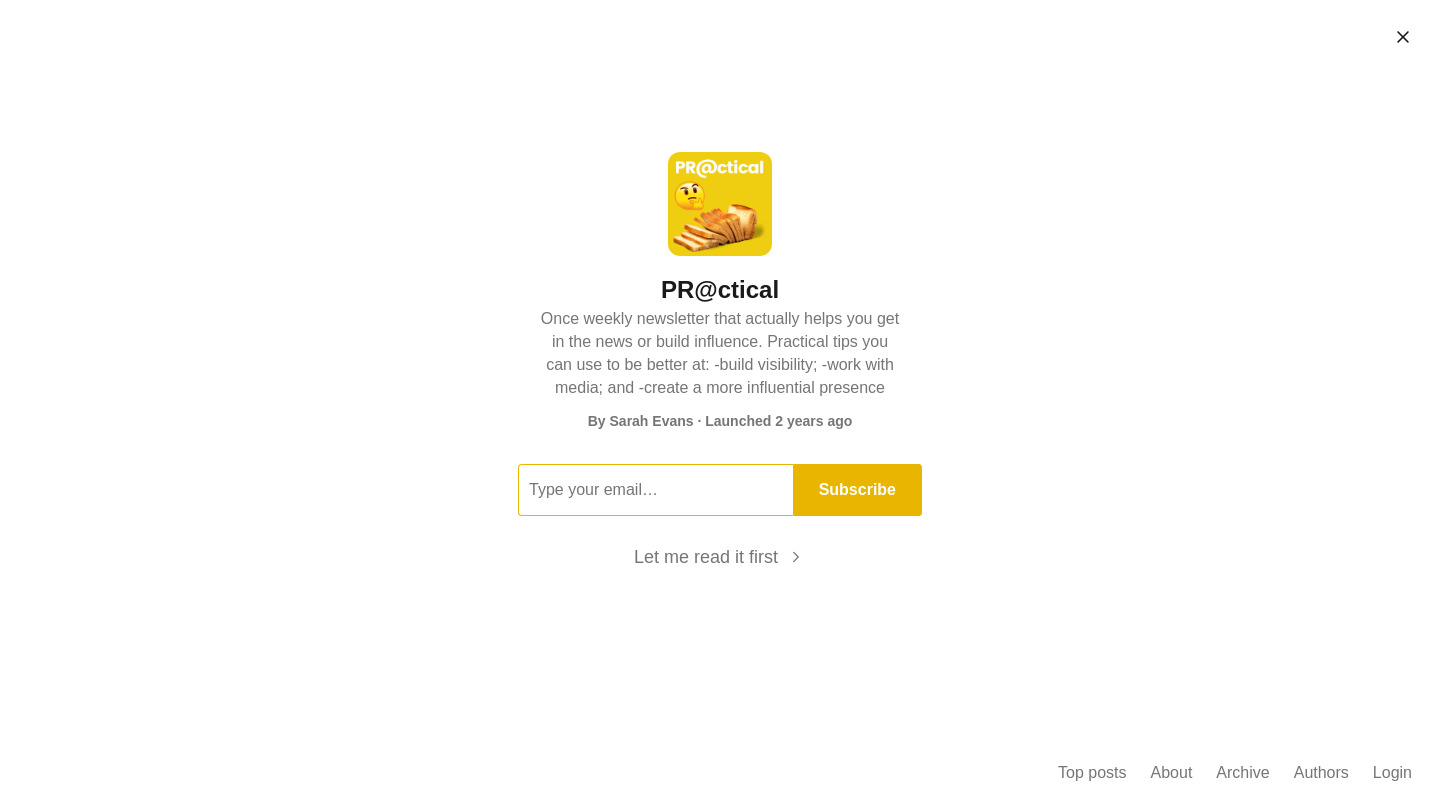 Pr@ctically's creator is Sarah Evans, a PR expert and founder of Sevans PR.
Subscribers to Pr@ctically can expect a weekly newsletter complete with practical tips that help you increase your business's visibility, work better with media, and become more influential.
You'll even have access to previous newsletter editions. Win–win!
The Weekly PR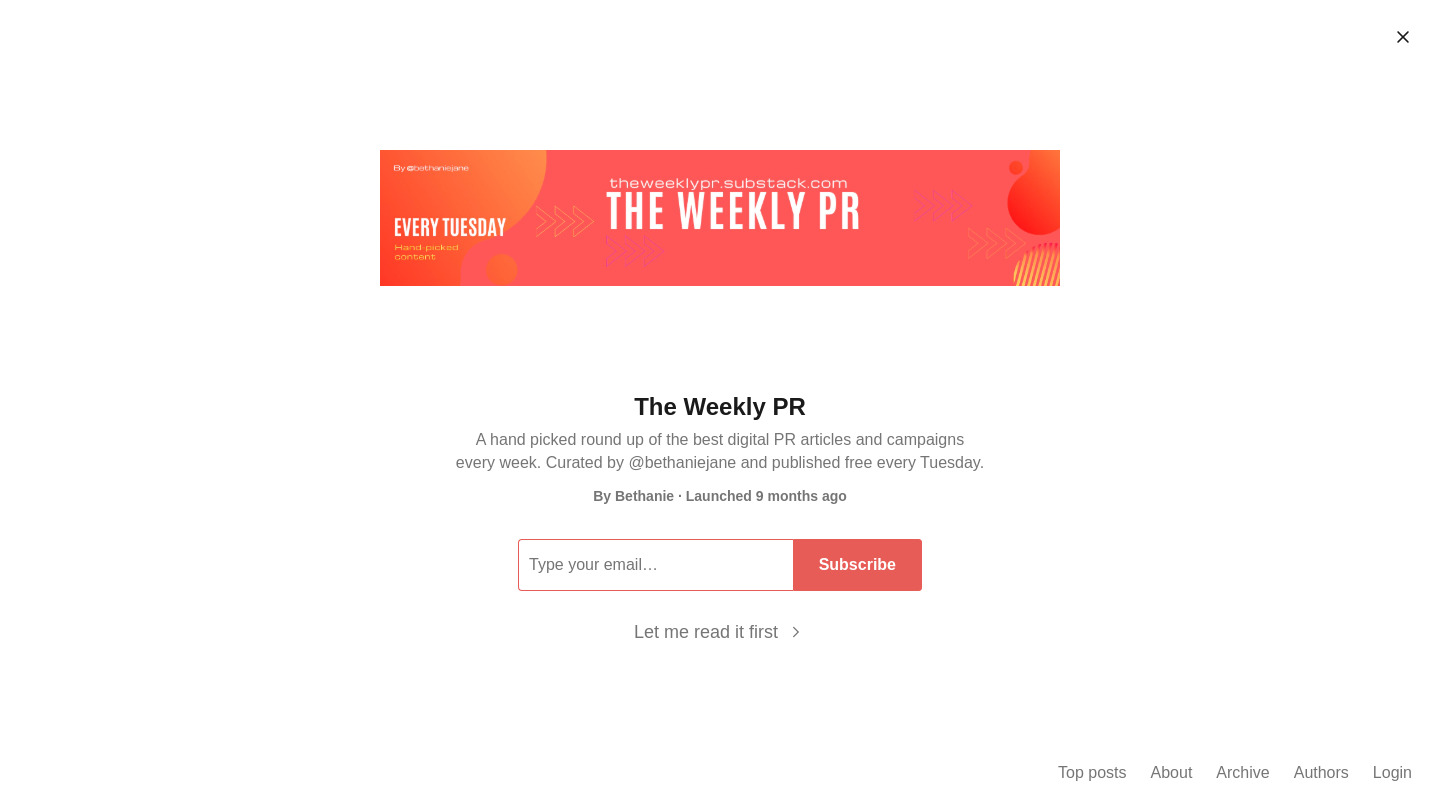 The Weekly PR's creator, Bethanie Durham, is a British PR expert and head of content and digital PR at NORTH.
This weekly newsletter, created on Substack, offers readers a curated selection of the best PR articles and campaigns in the industry, completely free of charge.
Muck Rack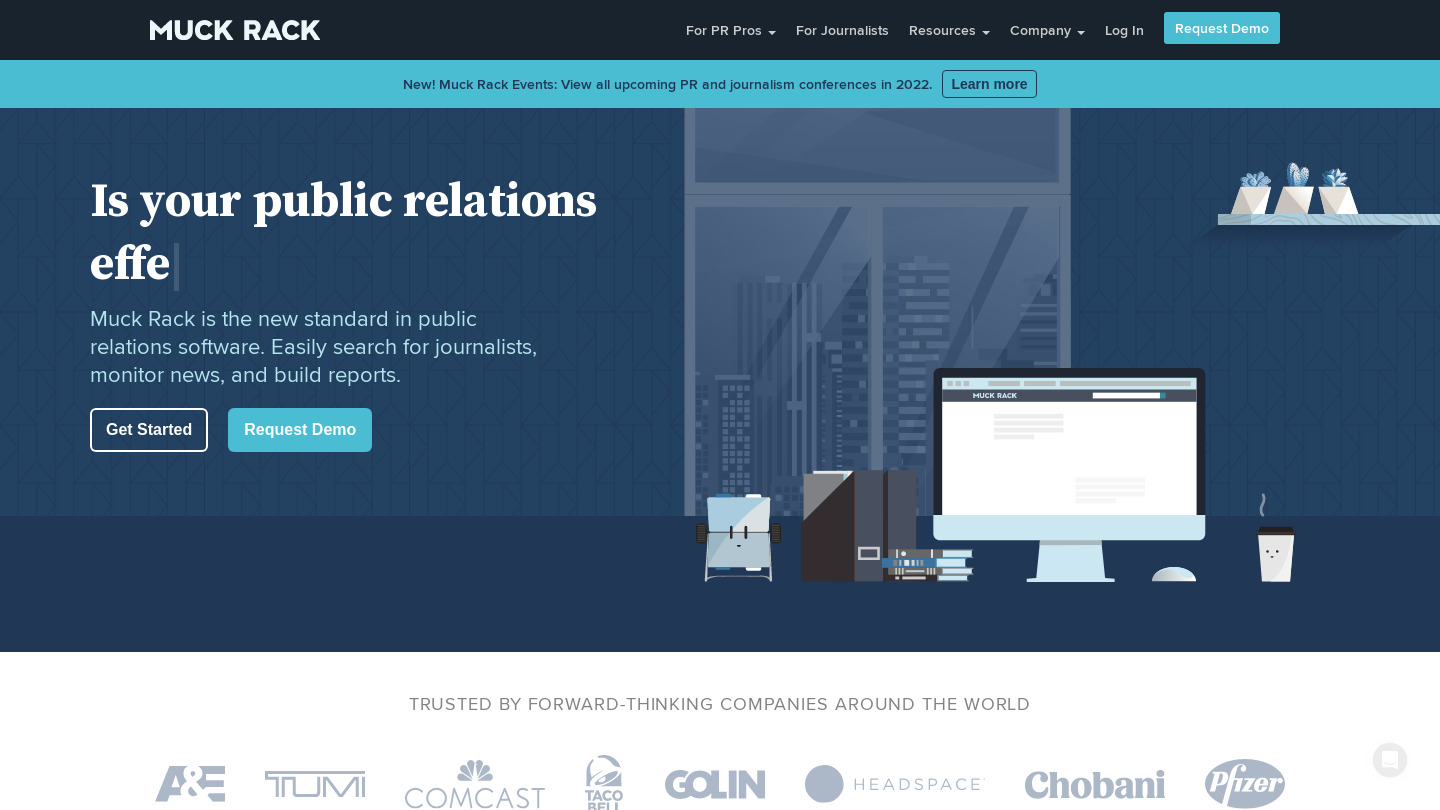 Muck Rack offers easy-to-use software aimed at journalists and PR professionals.
This innovative company doesn't muck about with its newsletter offering—a daily digest of journalism and PR's latest news, as well as the latest trending topics.
Sign up for Muck Rack's newsletter
Spin Sucks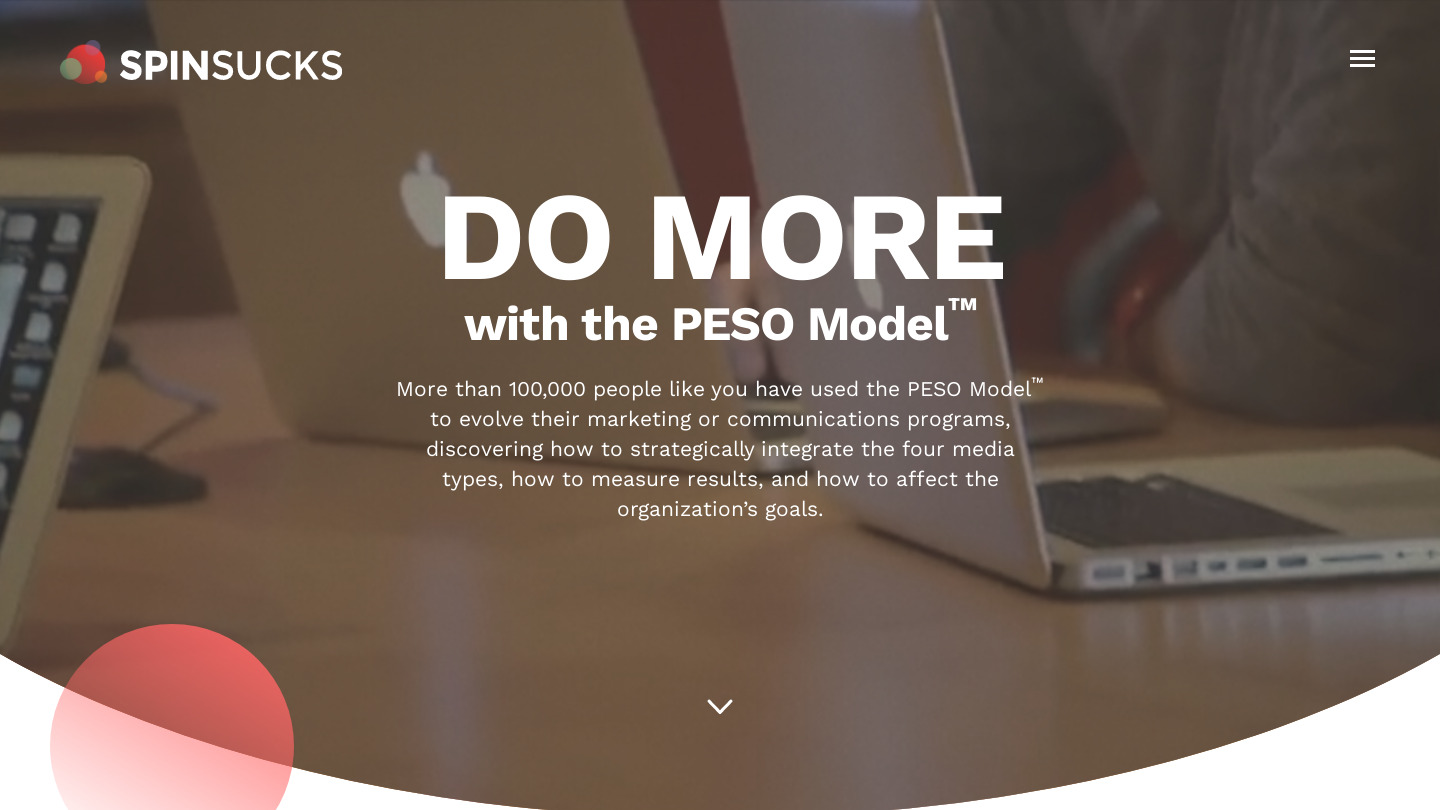 This newsletter is the brainchild of Spin Sucks, a Chicago-based platform aimed at PR professionals.
Join a community of over 50,000 marketing and PR professionals in receiving daily tips on which metrics to track, the latest trends in PR, and how to build on those trends using the PESO model.
Sign up for Spin Sucks's newsletter
Michael Smart PR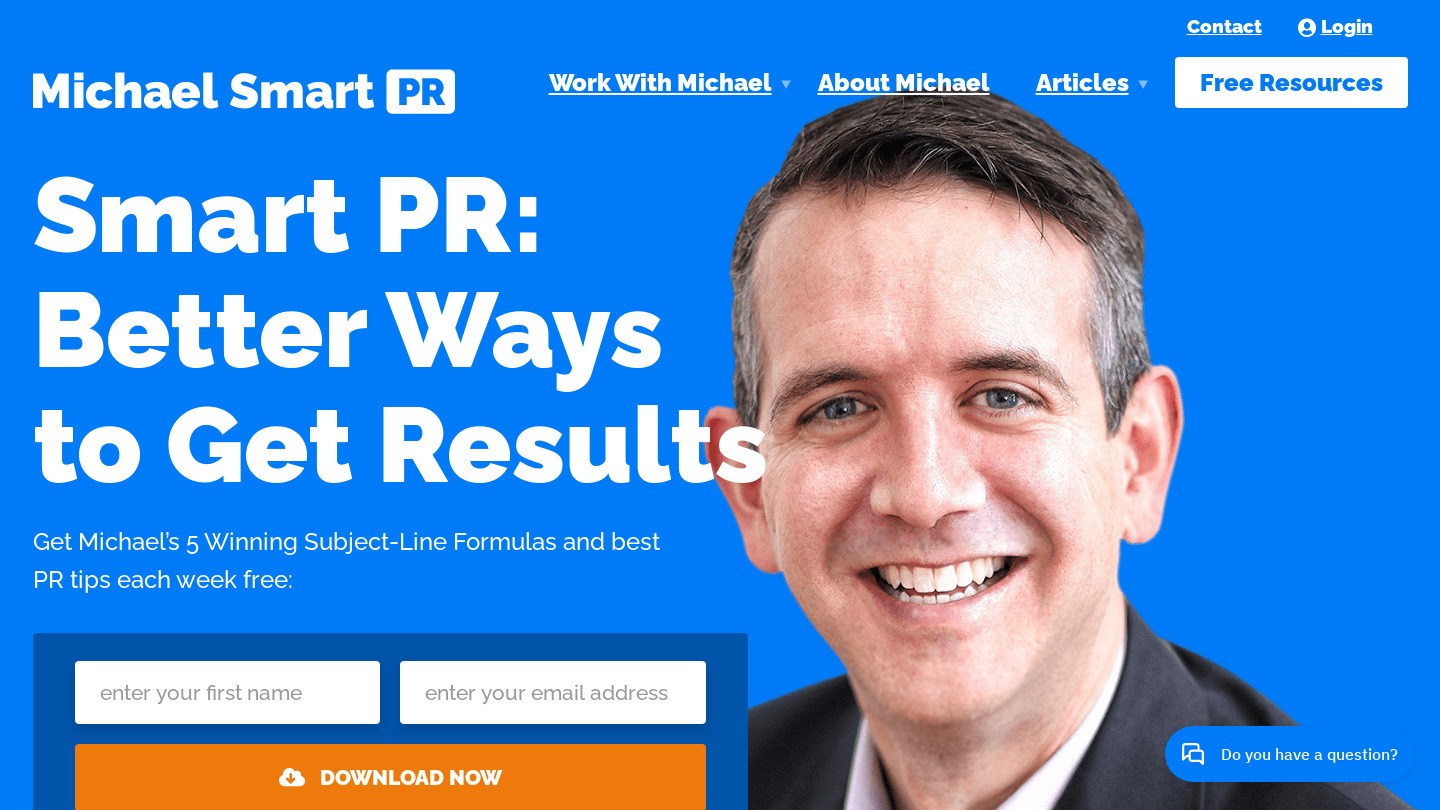 Michael Smart PR is founded by the peerless PR coach of the same name.
Michael Smart not only offers access to his groundbreaking monthly newsletter Good Lessons from Bad PR Pitches (which does what it says on the tin), but visitors to his site can also sign up for online courses, e-books, articles, and more.
Sign up for Michael Smart PR's newsletter
Our Favorite Growth and Marketing Newsletters
Lenny's Newsletter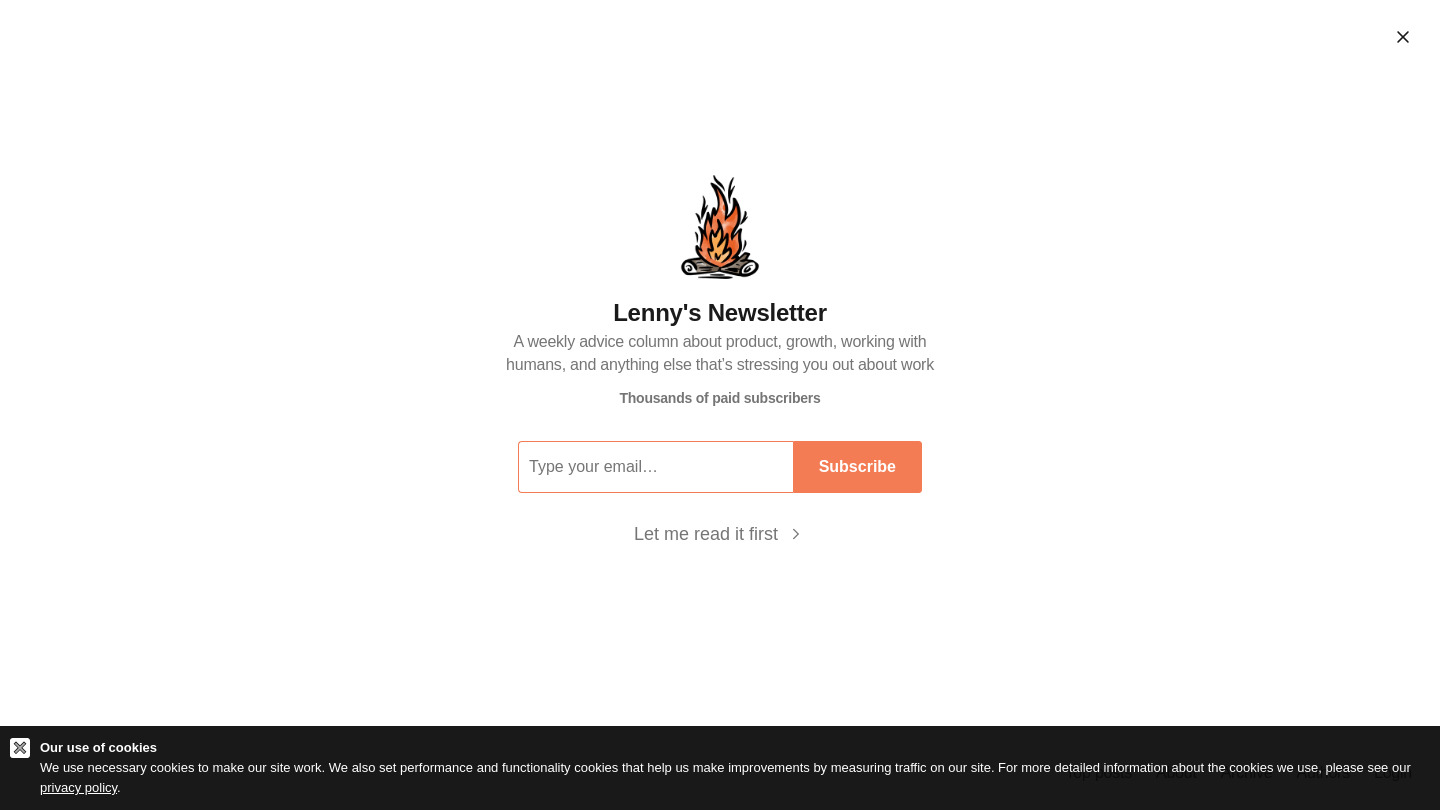 Previously a product lead at Airbnb, Lenny Rachitsky knows his stuff about business and growth.
His weekly newsletter is enjoyed by thousands of subscribers and offers advice about growth, working with others, and general business management.
Sign up for Lenny's Newsletter
First Round Review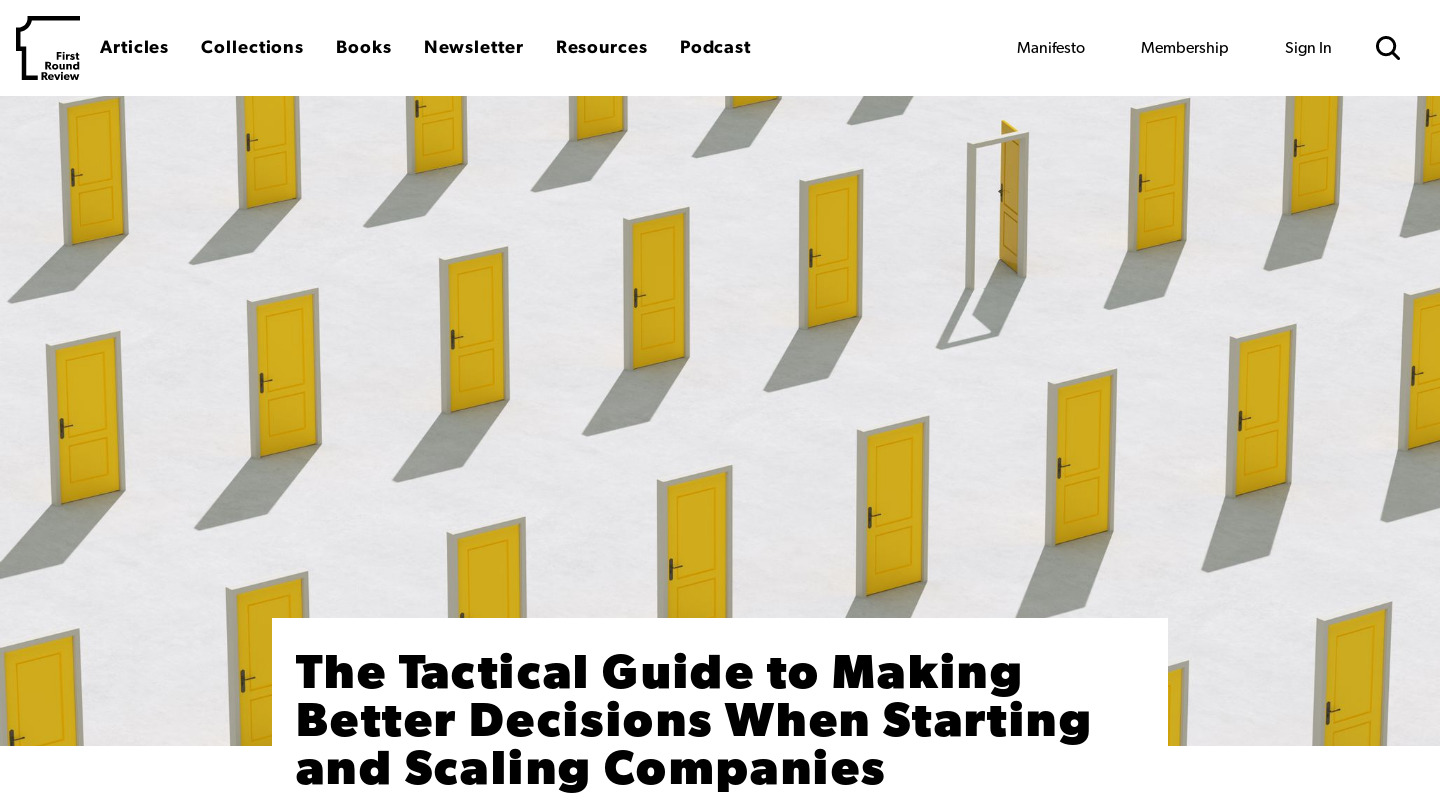 First Round Review is brought to you by First Round Capital, a venture capital company specializing in backing remarkable entrepreneurs.
Their newsletter, First Round Review, is jam-packed with useful advice to help you level up and stay on top of industry trends, as well as tech's best articles, interviews, and threads.
Sign up for First Round Review
Marketing Examples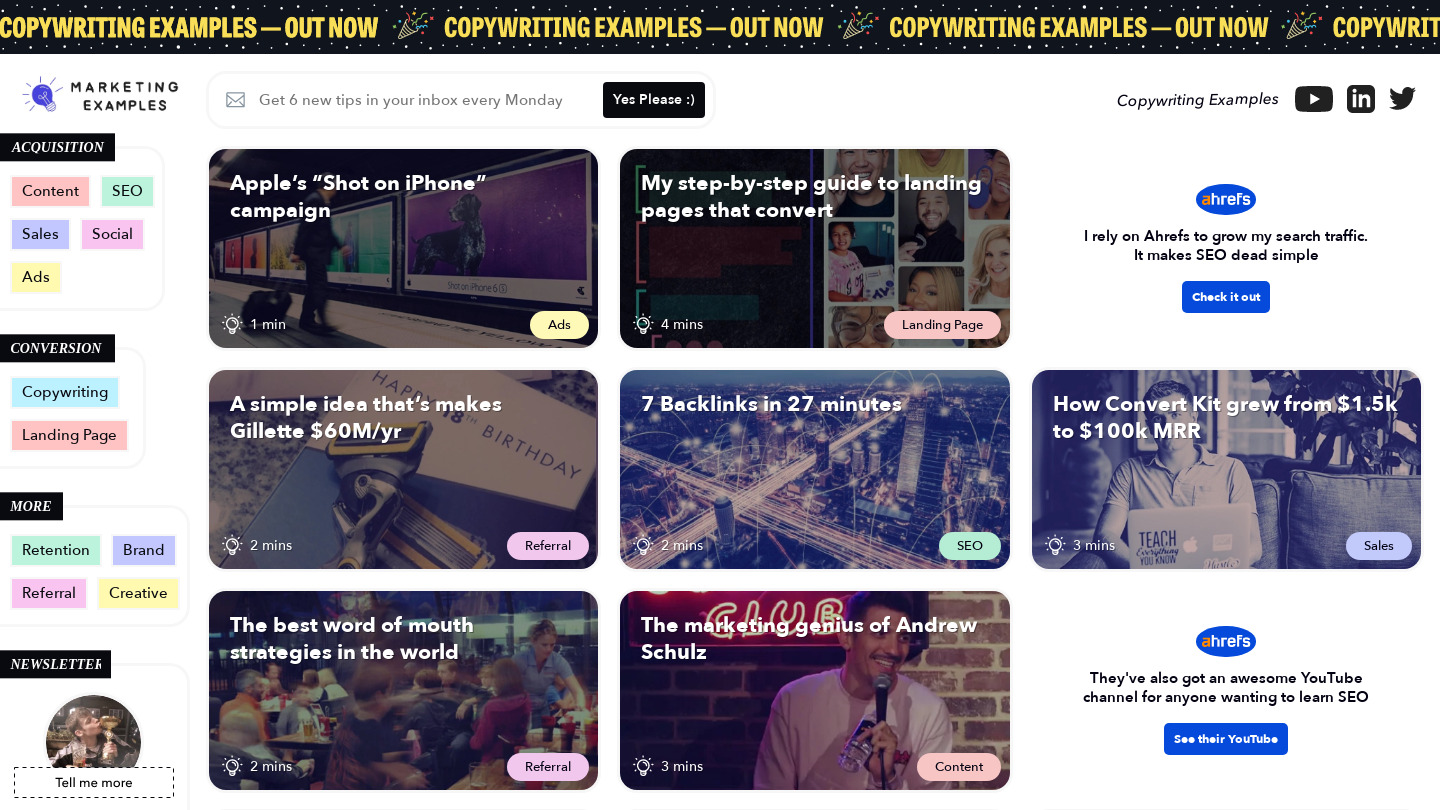 This newsletter is the creation of Harry Dry, marketing expert and founder of Marketing Example.
Read by 85,000 subscribers, Marketing Examples drops six copywriting and marketing tips into your inbox every Monday.
Sign up for Harry's Newsletter
tl;dr Marketing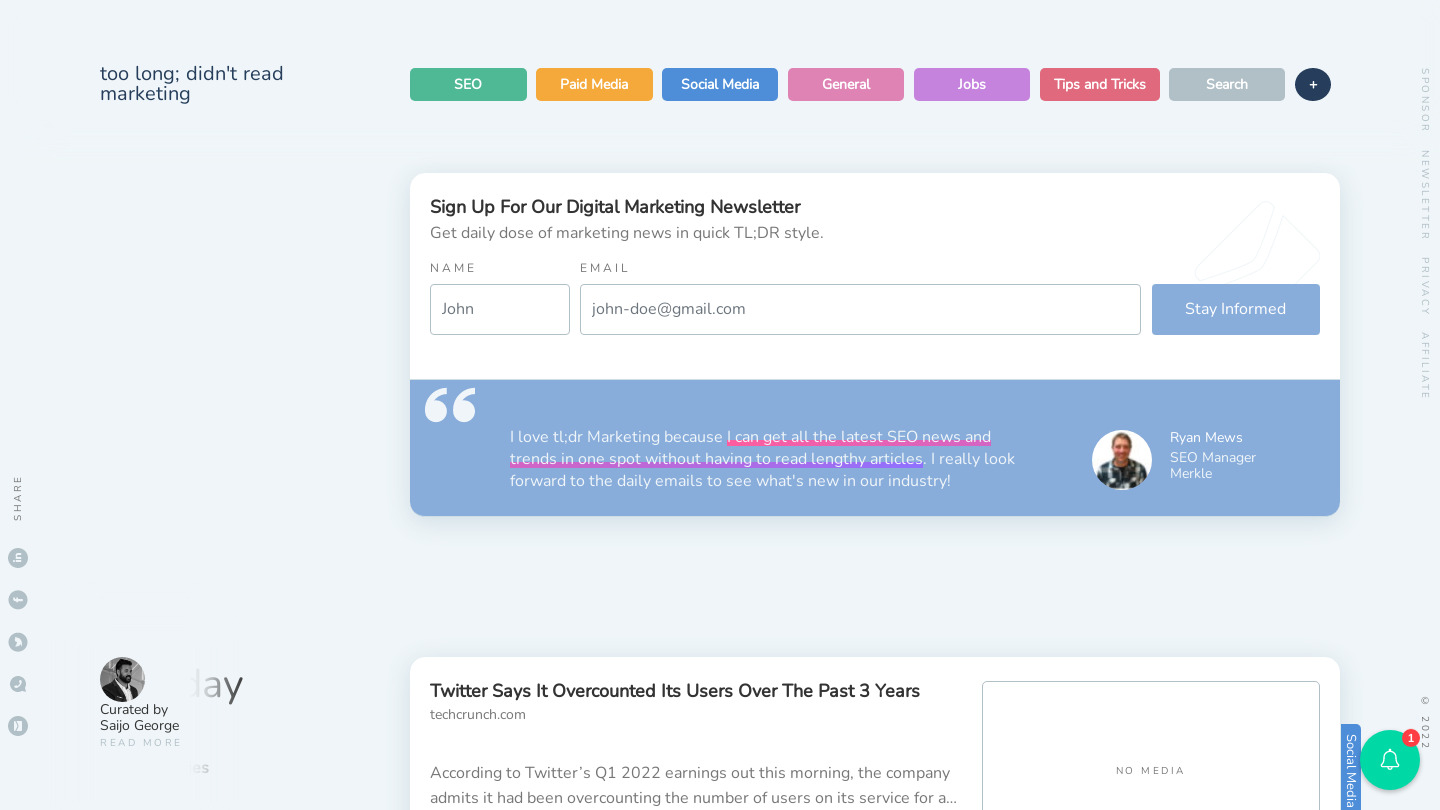 tl;dr is the creation of Melbourne-based marketer, Saijo George — Supple's current SEO Strategy Director.
His daily newsletter hits your inbox with a digest of the latest marketing news and trends, including SEO updates and the hottest new marketing techniques.
Growth Tactics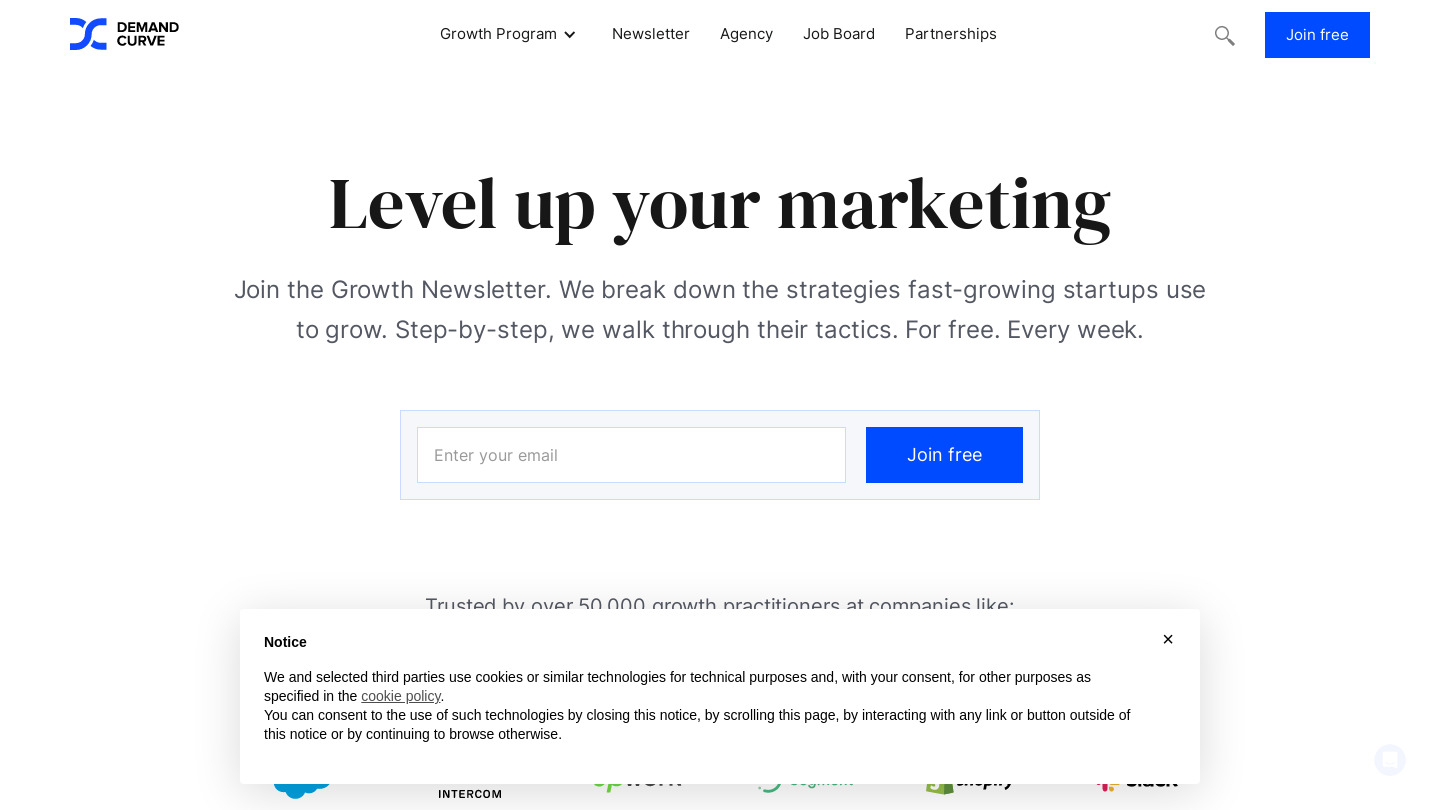 Based in San Francisco, Demand Curve is an E-learning provider aimed at giving business owners the marketing knowledge they need to grow their company.
Demand Curve's weekly newsletter, Growth Tactics, contains insights from industry growth leaders about the latest effective growth tactics. Subscribe and level up today.
Andrew Chen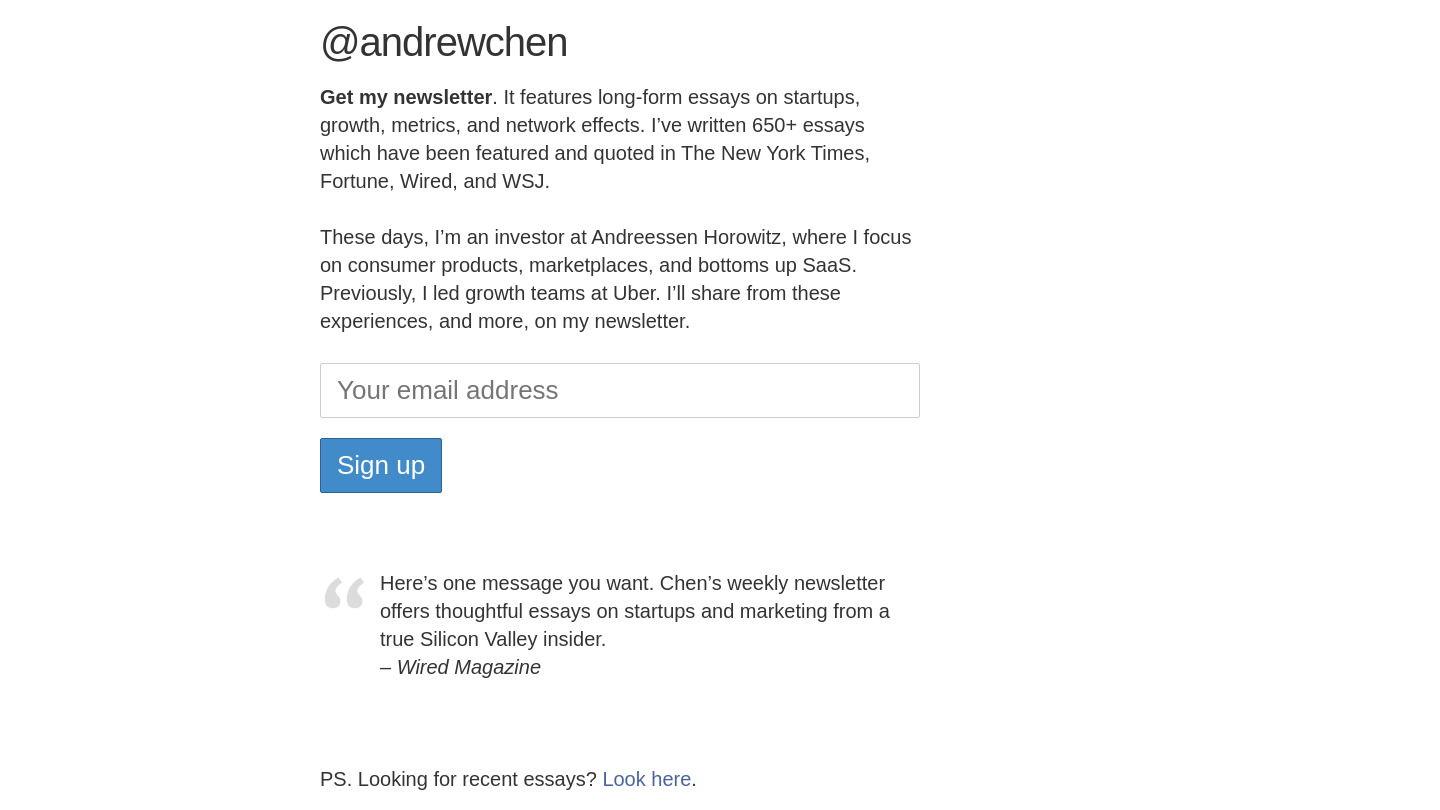 As a partner at venture capital firm Andreessen Horowitz, what Andrew Chen doesn't know about growth isn't worth knowing.
His weekly newsletter contains essays about the latest goings-on in Silicon Valley, plus exclusive access to unpublished decks, essay collections, and PDFs, all about growth.
Sign up for Andrew Chen's newsletter
Growth Unhinged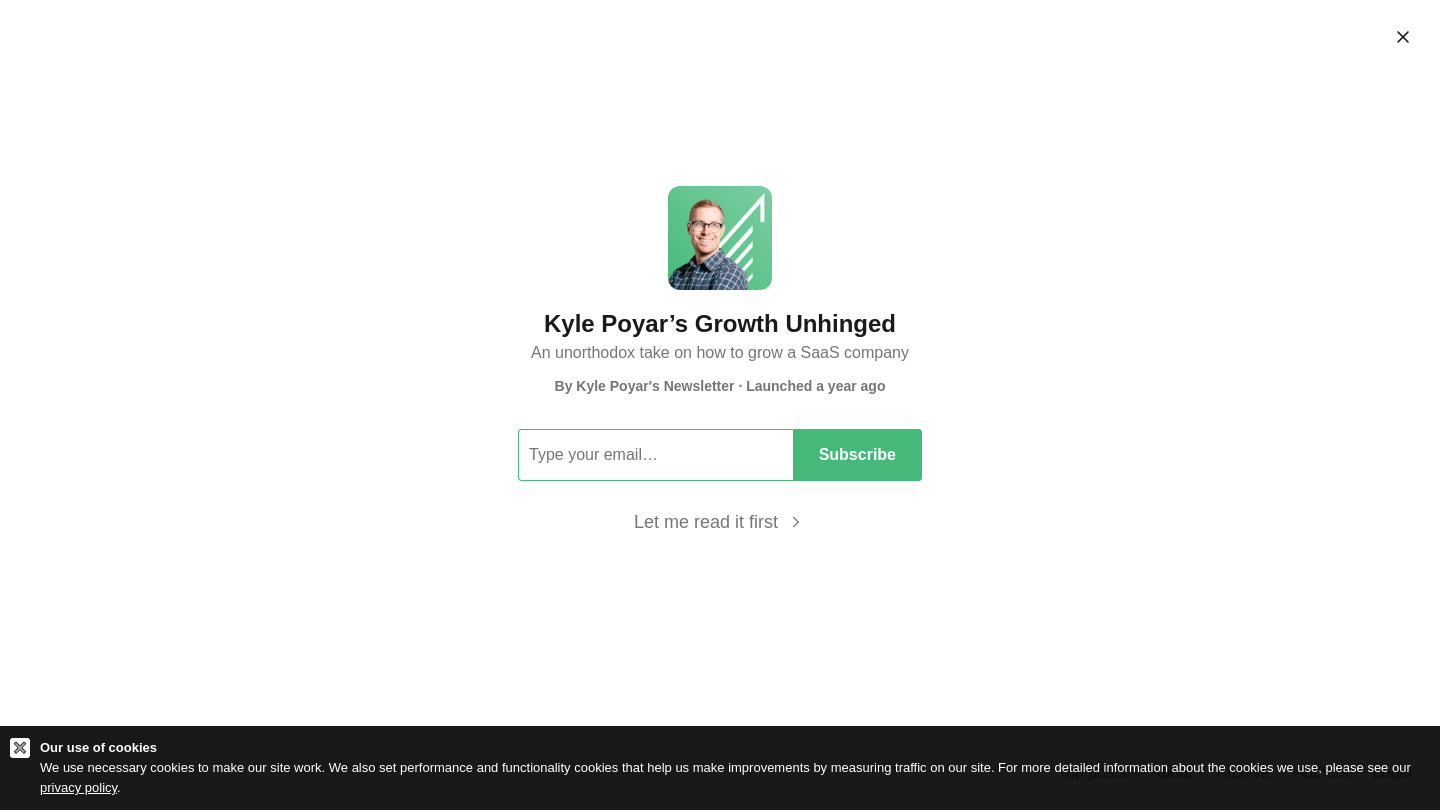 Kyle Poyar is an operating partner at OpenView and an expert on SaaS revenue growth.
Growth Unhinged, Kyle's twice-monthly newsletter, takes a deep dive into what helps SaaS companies grow, SaaS pricing, Product Led Growth, and more.
Seth Godin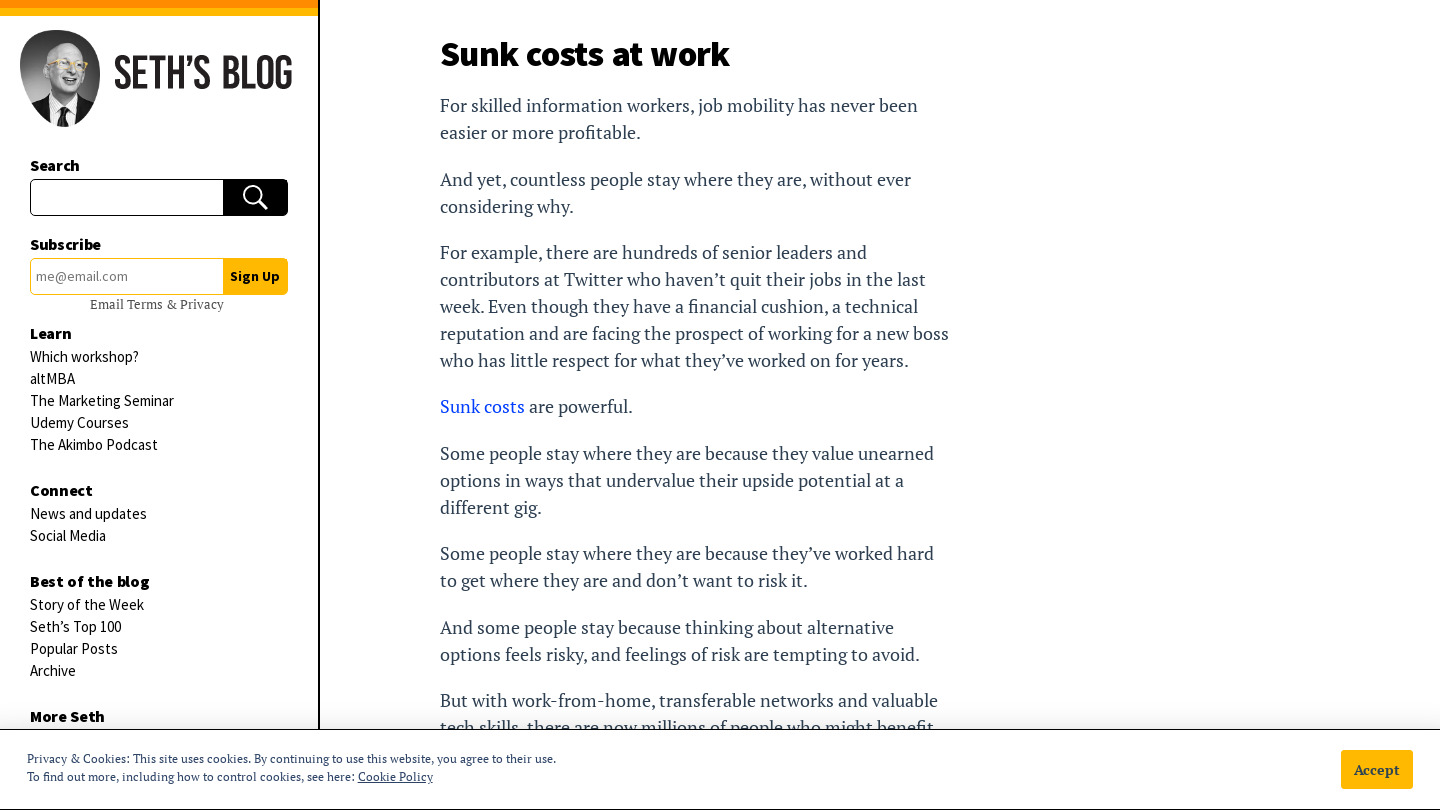 A massive name in business, Seth Godin is a blogger, author, and entrepreneur.
His regularly updated blog, Seth's blog, looks at all aspects of business and life, from marketing to copywriting, customer service to leadership, and more.
Subscribe to regular updates from Seth's blogs so you never miss an insight.
Growth Memo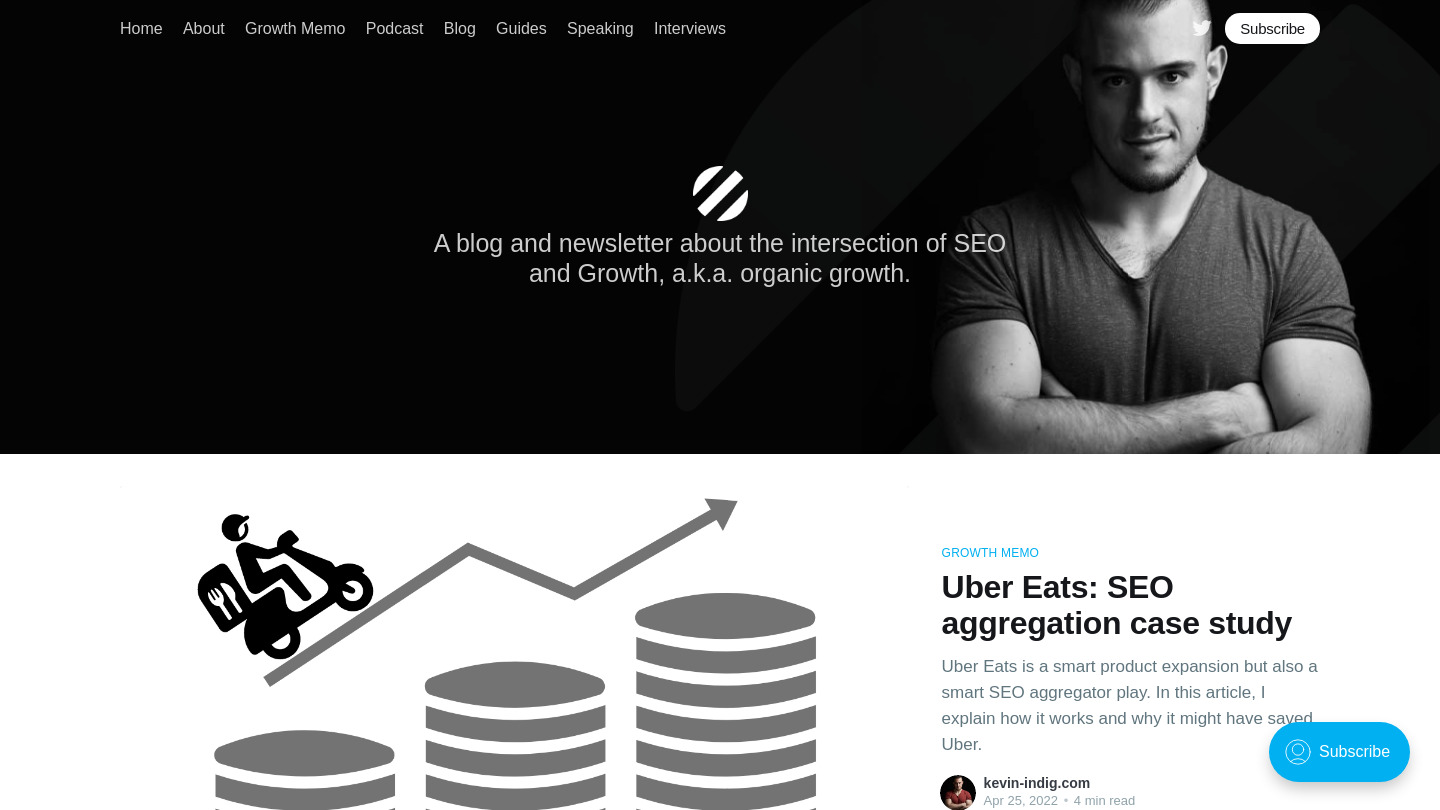 Growth Memo is brought to you by Kevin Indig, the Director of SEO at popular E-commerce platform Shopify.
The Growth Memo is a weekly hit of fresh ideas delivered directly to your inbox. The memo deals mainly with SEO and growth, taking inspiration from exciting, new companies that are experiencing huge growth.
Zero to Marketing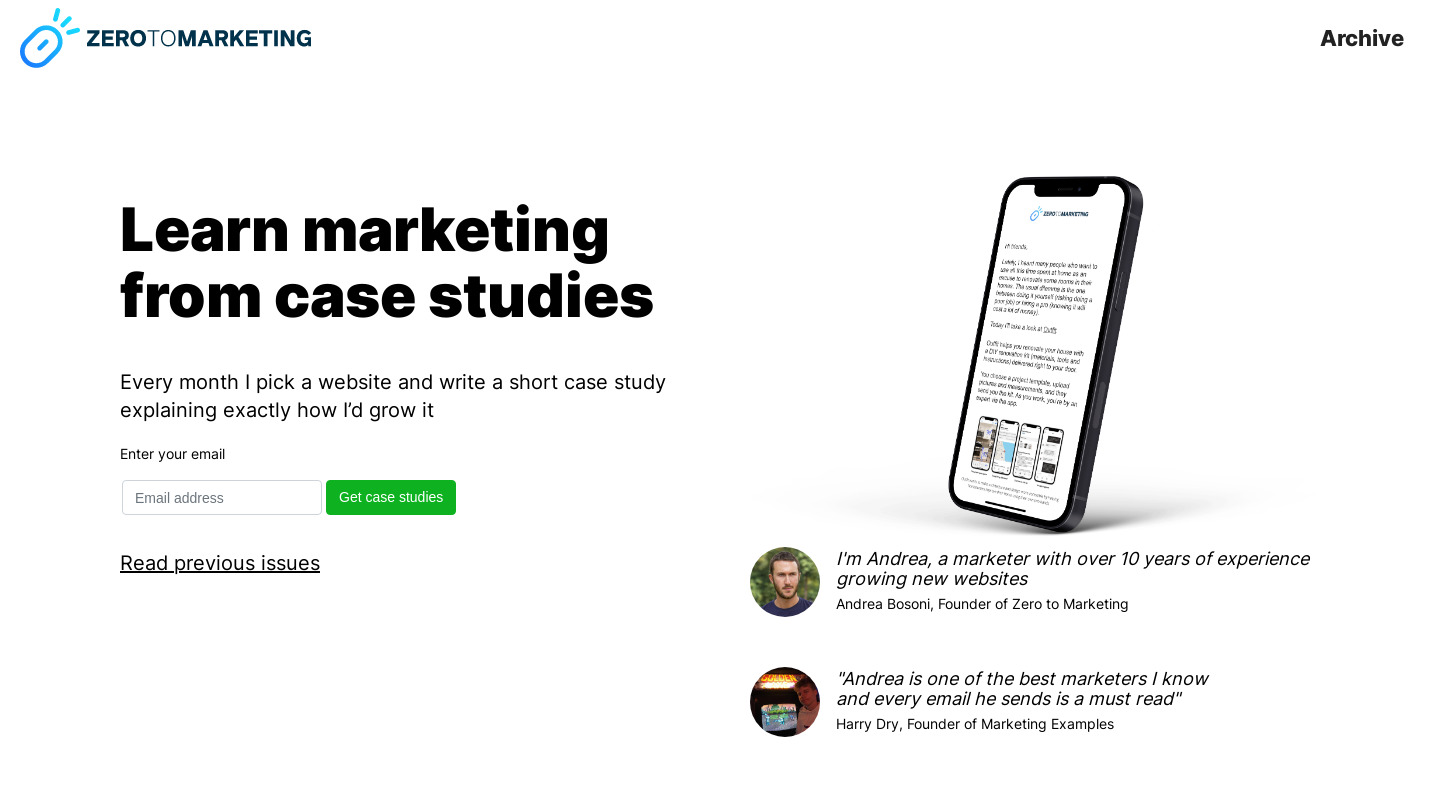 Zero to Marketing was created by Andrea Bosoni, a marketer with 10 years of experience.
Backed by Harry Dry (now, where have we seen him before…), this monthly newsletter focuses on one website and provides a case study detailing exactly how Andrea would grow it. This innovative use of real-life examples is invaluable to new businesses.
MarketingProfs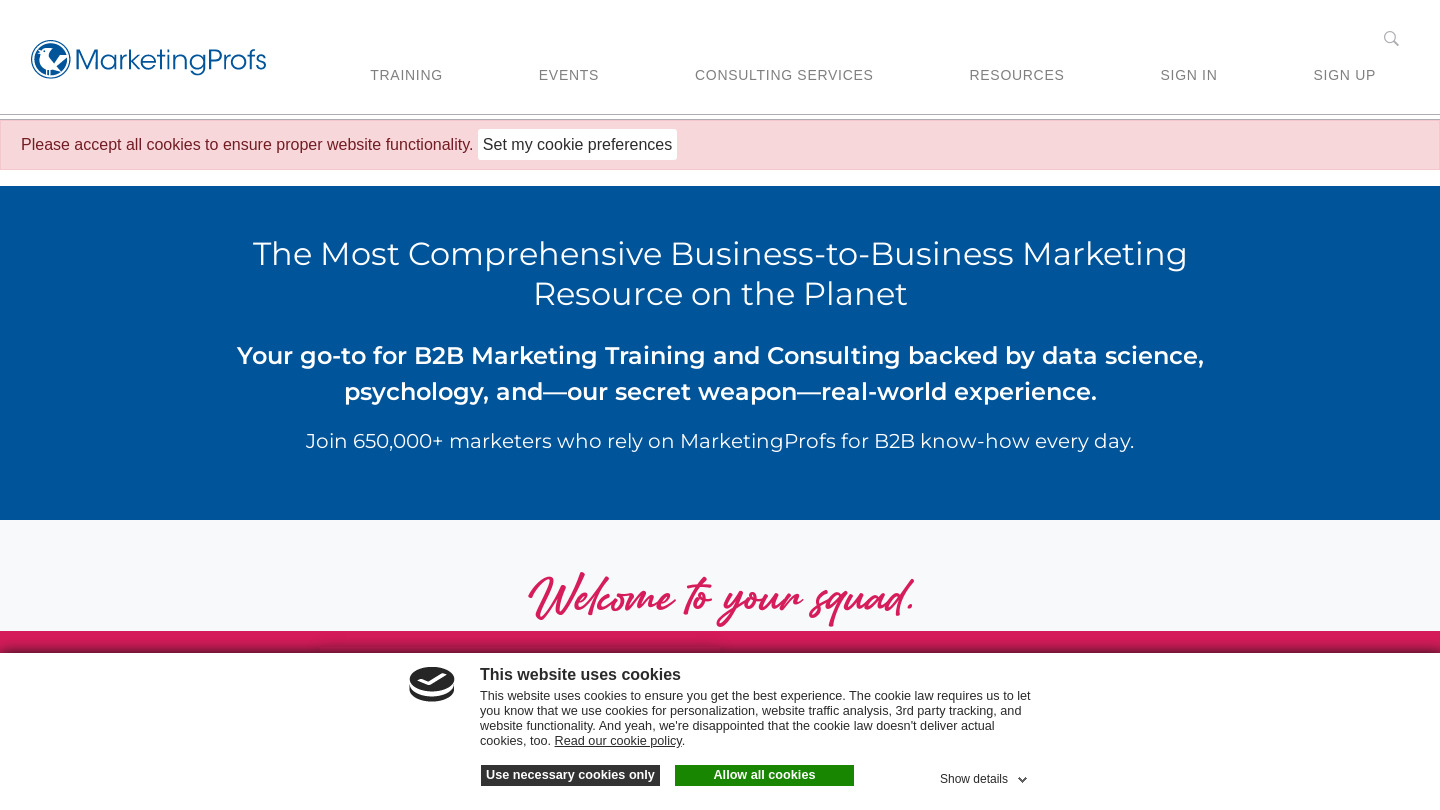 The folks over at MarketingProfs provide expert advice on branding, marketing strategy, and more to over 700,000 marketers. It's safe to say they know their stuff.
This regular newsletter graces your inbox with the latest marketing insights and lessons from the world's experts.